New Cat 352 Straight Boom Excavator Excels in Low-Level Buildings, Bridges, Industrial Demolition Work

28/02/23-FR-English-NL-footer
La nouvelle Pelle hydraulique à flèche droite 352 Cat excelle dans les bâtiments bas, les ponts et les travaux de démolition industrielle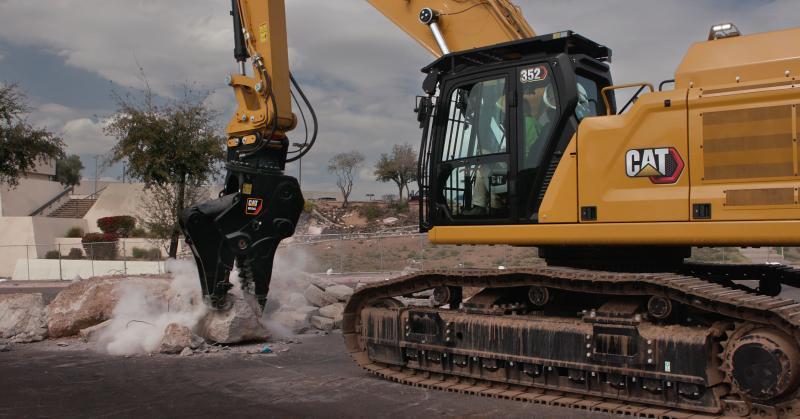 Image-Working with up to a 13,228-lb. attachment weight, the new 352 Straight Boom now features standard Cat technologies for increased versatility, precision and efficiency in both demolition and excavating applications.
Robuste pour un fonctionnement fiable dans les applications exigeantes, la nouvelle pelle hydraulique à flèche droite Cat 352 est spécialement conçue pour les travaux de démolition à faible hauteur jusqu'à cinq étages, les ponts et les infrastructures industrielles. Sa configuration bras/flèche offre une portée verticale supérieure jusqu'à 42 pieds 2 pouces, soit 36 % de hauteur d'axe de bras en plus par rapport à la configuration standard 352 Reach.
Travailler avec jusqu'à 13 228 lb. poids de l'accessoire, la nouvelle flèche droite 352 intègre désormais les technologies Cat standard pour une polyvalence, une précision et une efficacité accrues dans les applications de démolition et d'excavation.
Le nouveau 25 022 lb en option de la pelle hydraulique. la conception à contrepoids amovible augmente l'efficacité du transport et réduit les coûts de transport. Le train de roulement mécanique à voie variable a une largeur de transport de 9 pieds 10 pouces en cas de besoin et s'étend de 19 pieds 7 pouces en mode de travail pour une stabilité maximale tout autour.
Son nouveau ventilateur hydraulique à haut rendement est doté d'une inversion automatique standard pour garder les noyaux exempts de débris et réduire le temps d'entretien.
Fonctionnement simple, sûr et fiable
Conçue pour la démolition, la flèche droite 352 est dotée de flèches, de bras et d'un châssis renforcés, ce qui augmente la durabilité de la machine. Les protections contre les chutes d'objets standard (FOGS) protègent le toit et les fenêtres laminées P5A renforcées à l'avant des chutes de débris pendant la démolition, tout en aidant à maintenir la visibilité du chantier.
Inclinée pour empêcher l'accumulation de boue et de débris, la conception du cadre de chenille aide à réduire les dommages à la chenille, tandis que les goupilles et bagues de chenille scellées réduisent le bruit de déplacement et contribuent à augmenter la durée de vie du train de roulement. La protection de guidage complète de la chenille est également une caractéristique standard
Sa fonction d'identification de l'opérateur offre un démarrage du moteur par bouton-poussoir et des fonctions de joystick programmables qui sont mémorisées lorsque l'opérateur entre son identifiant unique. La direction standard Cat Stick Steer simplifie les mouvements de la pelle hydraulique avec une commande de déplacement et de rotation d'une seule main et à bouton-poussoir.
Offrant une augmentation automatique de la puissance en cas de besoin, la fonction d'amplification automatique de l'excavation standard offre une meilleure pénétration du godet, des temps de cycle plus courts et des charges utiles plus importantes. Le levage lourd automatique offre plus de puissance de levage en cas de besoin aussi longtemps que nécessaire. Cat Lift Assist informe l'opérateur que la charge se trouve dans la plage de travail sûre de la pelle hydraulique pour éviter le basculement
Les technologies standard de Cat pour améliorer l'efficacité de fonctionnement incluent Cat Grade avec 2D qui affiche la profondeur et la pente sur le 10 pouces en cabine. moniteur à écran tactile. Lors de l'excavation, Cat Payload propose des estimations de poids embarquées en temps réel pour aider à atteindre des objectifs de charge précis. La charge utile peut être associée à VisionLink pour la gestion à distance des objectifs de production, tandis que Cat Product Link fournit des données de fonctionnement critiques de la machine telles que l'emplacement, les heures, la consommation de carburant, la productivité et les codes de diagnostic pour aider à augmenter l'efficacité du chantier et à réduire les coûts.
Pour détecter facilement les objets et le personnel autour de l'opérateur en une seule vue, le 352 Straight Boom est livré en standard avec des caméras de recul et de vision latérale droite, qui peuvent être mises à niveau pour offrir une visibilité à 360 degrés. Des montants de cabine plus petits, des fenêtres plus grandes, un essuie-glace et un lave-glace radiaux de série améliorent la visibilité autour de la machine. Un siège haut de gamme, chauffé et refroidi, est également de série.
Traversant facilement tous les types de matériaux, la flèche droite 352 est dotée d'un système électrohydraulique et est propulsée par le moteur C13B Cat de 330 kW (443 ch) éprouvé sur le terrain. L'attache rapide standard et les circuits moyenne et haute pression augmentent la polyvalence de fonctionnement pour l'utilisation d'une variété d'accessoires de démolition Cat. Trois modes de puissance du moteur - Smart, Power et Eco - permettent d'adapter la puissance du moteur et de la puissance hydraulique à la tâche à accomplir afin de réduire davantage la consommation de carburant et les coûts.
Entretien facile
Exploitant la technologie, la nouvelle pelle hydraulique à flèche droite 352 Cat offre désormais des fonctionnalités de diagnostic et de mise à jour à distance. Le dépannage à distance permet au concessionnaire de diagnostiquer à distance les codes d'erreur et les problèmes de la machine sans interrompre le cycle de production. Remote Flash permet aux mises à jour logicielles d'être envoyées à la machine et installées à un moment qui convient au client.
Regroupés pour un entretien simplifié, tous les filtres à carburant disposent désormais d'un intervalle de changement prolongé et synchronisé de 1 000 heures. Combinées, ces caractéristiques contribuent à réduire les coûts de possession et d'exploitation à long terme.
Les filtres à carburant, à huile et à air longue durée réduisent le temps passé par la pelle dans l'atelier, et les vérifications de l'huile hydraulique et la purge de l'eau du système de carburant sont effectuées au niveau du sol. L'opérateur peut facilement suivre la durée de vie du filtre et les intervalles d'entretien depuis l'intérieur de la cabine. Le système hydraulique mis à jour améliore les performances de filtration, tandis que les vannes anti-vidange aident à garder l'huile hydraulique propre lors du remplacement du filtre.
NJC.© Info www.cat.com.
-------------------------------------------------------------------------------------------------------------------

28/02/23-English
New Cat 352 Straight Boom Excavator Excels in Low-Level Buildings, Bridges, Industrial Demolition Work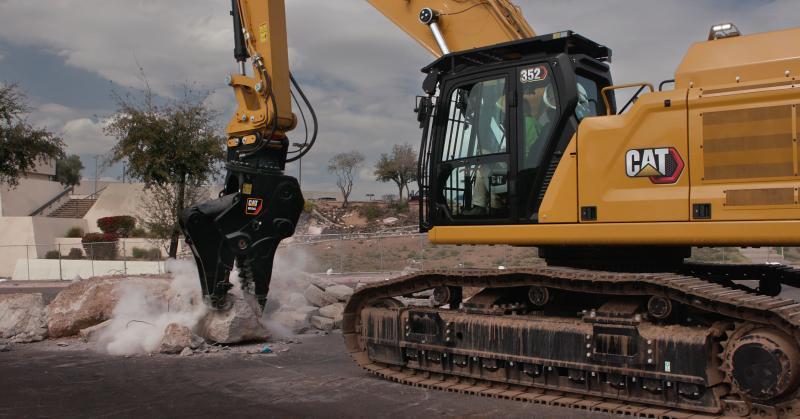 Image-Working with up to a 13,228-lb. attachment weight, the new 352 Straight Boom now features standard Cat technologies for increased versatility, precision and efficiency in both demolition and excavating applications.
Built rugged for reliable operation in demanding applications, the new Cat 352 straight boom excavator is designed specifically for low-level demolition work up to five stories high, bridges and industrial infrastructures. Its stick/boom configuration delivers a higher vertical reach up to 42 ft. 2 in., 36 percent more stick pin height compared to the standard 352 Reach configuration.
Working with up to a 13,228-lb. attachment weight, the new 352 Straight Boom now features standard Cat technologies for increased versatility, precision and efficiency in both demolition and excavating applications.
The excavator's new optional 25,022-lb. removable counterweight design increases transportation efficiency and lowers transportation costs. The mechanical variable gauge undercarriage has a 9 ft. 10 in. transportation width when needed and extends 19 ft. 7 in. in working mode for maximum stability all around.
Its new high-efficiency hydraulic fan features standard automatic reverse to keep the cores free from debris and reduce maintenance time.
Simple, Safe, Reliable Operation
Designed for demolition, the 352 Straight Boom features reinforced booms, sticks and frame, increasing machine durability. Standard Falling Object Guards (FOGS) protect the roof and front reinforced P5A laminated windows from falling debris during demolition, while helping to maintain visibility of the job site.
Sloped to prevent mud and debris accumulation, the track frame design helps to reduce track damage, while sealed track pins and bushings reduce travel noise and help to increase undercarriage life. Full track guiding guard also is a standard feature
Its Operator ID function offers push-button engine starting and programmable joystick functions that are remembered when the operator enters their unique ID. Standard Cat Stick Steer simplifies excavator movements with single-hand and push-button operation of travel and turning.
Offering automatic power increase when needed, standard auto dig boost delivers better bucket penetration, shorter cycle times and greater payloads. Auto heavy lift offers more lifting power when needed for as long as needed. Cat Lift Assist makes the operator aware that the load is within the excavator's safe working range to avoid tipping
Standard Cat technologies to elevate operating efficiency include Cat Grade with 2D that displays depth and slope on the in-cab 10-in. touchscreen monitor. When excavating, Cat Payload offers real-time, onboard weight estimates to help achieve precise load targets. Payload can be combined with VisionLink for remote management of production targets, while Cat Product Link provides critical machine operating data like location, hours, fuel usage, productivity and diagnostic codes to help increase jobsite efficiency and lower costs.
To easily detect objects and personnel around the operator in a single view, the 352 Straight Boom comes standard with rearview and right-hand-sideview cameras, which can be upgraded to provide 360-degree visibility. Smaller cab pillars, larger windows, standard radial roof wiper and washer improves visibility around the machine. A premium seat, heated and cooled, is also standard.
Easily powering through all different types of material, the 352 Straight Boom features an electrohydraulic system and is powered by the field-proven 330-kW (443-hp) Cat C13B engine. Standard quick coupler, medium and high-pressure circuits increase operating versatility for using a variety of Cat demolition attachments. Three engine power modes — Smart, Power and Eco — help to match engine and hydraulic power to the task at hand to further reduce fuel consumption and costs.
Easy Maintenance
Harnessing technology, the new Cat 352 Straight Boom excavator now offers remote diagnostics and updating capabilities. Remote Troubleshoot allows the dealer to diagnose fault codes and machine issues remotely without interrupting the production cycle. Remote Flash allows software updates to be pushed out to the machine and installed at a time convenient for the customer.
Grouped together for simplified maintenance, all fuel filters now feature an extended, synchronized 1,000-hour change interval. Combined, these features help to lower long-term owning and operating costs.
Long-life fuel, oil and air filters reduce excavator time in the shop, and hydraulic oil checks and fuel system purging of water are done from ground level. The operator can easily track filter life and maintenance intervals from inside the cab. The updated hydraulic system improves filtration performance, while anti-drain valves help keep the hydraulic oil clean when replacing the filter.
NJC.© Info www.cat.com.
------------------------------------------------------------------------------------------------------------

28/02/23-NL
Nieuwe Cat 352 graafmachine met rechte giek blinkt uit in lage gebouwen, bruggen en industrieel sloopwerk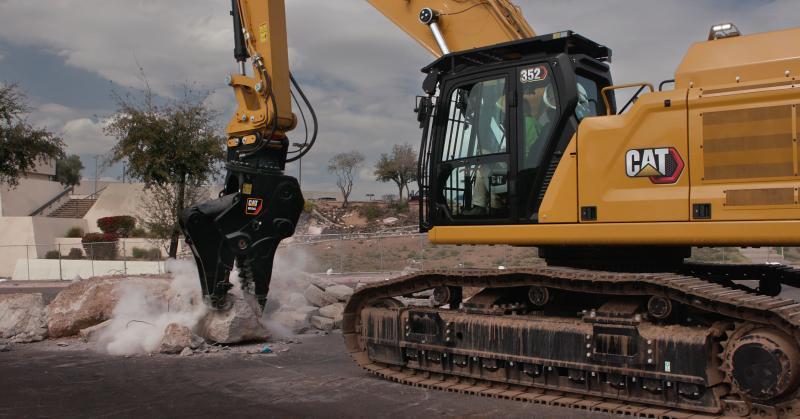 Image-Working with up to a 13,228-lb. attachment weight, the new 352 Straight Boom now features standard Cat technologies for increased versatility, precision and efficiency in both demolition and excavating applications.
De nieuwe Cat 352 graafmachine met rechte giek is robuust gebouwd voor betrouwbaar gebruik in veeleisende toepassingen en is speciaal ontworpen voor sloopwerkzaamheden op laag niveau tot vijf verdiepingen hoog, bruggen en industriële infrastructuren. De stick/giek-configuratie levert een hoger verticaal bereik tot 42 ft. 2 in., 36 procent meer stickpenhoogte in vergelijking met de standaard 352 Reach-configuratie.
Werken met maximaal 13.228 lb. uitrustingsstukgewicht, beschikt de nieuwe 352 rechte giek nu over standaard Cat-technologieën voor meer veelzijdigheid, precisie en efficiëntie bij zowel sloop- als graaftoepassingen.
De nieuwe optionele 25.022-lb. ontwerp met verwijderbaar contragewicht verhoogt de transportefficiëntie en verlaagt de transportkosten. De mechanische onderwagen met variabele spoorbreedte heeft een transportbreedte van 9 ft 10 in wanneer nodig en schuift 5 ft 7 in in werkmodus uit voor maximale stabiliteit rondom.
De nieuwe zeer efficiënte hydraulische ventilator heeft standaard een automatische omkering om de kernen vrij te houden van vuil en de onderhoudstijd te verkorten.
Eenvoudige, veilige, betrouwbare bediening
De 352 rechte giek is ontworpen voor sloopwerkzaamheden en heeft verstevigde gieken, graafarmen en frame, waardoor de machine langer meegaat. Standaard Falling Object Guards (FOGS) beschermen het dak en de voorste verstevigde P5A gelamineerde ramen tegen vallend puin tijdens de sloop, terwijl het zicht op het werkterrein behouden blijft.
Het ontwerp van het rupsbandframe is schuin om ophoping van modder en vuil te voorkomen en helpt schade aan de rupsband te verminderen, terwijl afgedichte rupspennen en -bussen het rijgeluid verminderen en de levensduur van de onderwagen helpen verlengen. Volledige bescherming van de rupsgeleiding is ook standaard
De operator-ID-functie biedt een drukknop voor het starten van de motor en programmeerbare joystickfuncties die worden onthouden wanneer de operator zijn unieke ID invoert. Standaard Cat stickbesturing vereenvoudigt bewegingen van de graafmachine met één hand en drukknopbediening voor rijden en draaien.
De standaard automatische graafboost biedt automatisch meer vermogen wanneer dat nodig is en zorgt voor een betere bakpenetratie, kortere cyclustijden en een groter laadvermogen. Auto heavy lift biedt meer hefvermogen wanneer nodig en zo lang als nodig. Cat Lift Assist maakt de machinist ervan bewust dat de lading zich binnen het veilige werkbereik van de graafmachine bevindt om kantelen te voorkomen
Standaard Cat technologieën om de operationele efficiëntie te verhogen, omvatten Cat Grade met 2D dat diepte en helling weergeeft op de 10-inch in de cabine. touchscreen-monitor. Tijdens het graven biedt Cat Payload realtime gewichtsschattingen aan boord om nauwkeurige laaddoelen te helpen bereiken. Payload kan worden gecombineerd met VisionLink voor beheer op afstand van productiedoelen, terwijl Cat Product Link essentiële bedrijfsgegevens van de machine levert, zoals locatie, uren, brandstofverbruik, productiviteit en diagnostische codes om de efficiëntie op het werkterrein te vergroten en de kosten te verlagen.
Om gemakkelijk objecten en personeel rond de machinist in één oogopslag te detecteren, wordt de 352 Straight Boom standaard geleverd met achteruitkijkcamera's en camera's aan de rechterkant, die kunnen worden geüpgraded om 360 graden zicht te bieden. Kleinere cabinestijlen, grotere ramen, standaard radiale dakwisser en -sproeier verbeteren het zicht rondom de machine. Een premium stoel, verwarmd en gekoeld, is ook standaard.
De 352 rechte giek is gemakkelijk door alle verschillende soorten materiaal heen te werken en heeft een elektrohydraulisch systeem en wordt aangedreven door de in de praktijk beproefde Cat C13B-motor van 330 kW (443 pk). Standaard snelkoppeling, midden- en hogedrukcircuits verhogen de veelzijdigheid van de bediening voor het gebruik van een verscheidenheid aan Cat sloopuitrustingsstukken. Drie motorvermogensmodi — Smart, Power en Eco — helpen het motor- en hydraulisch vermogen af te stemmen op de uit te voeren taak om het brandstofverbruik en de kosten verder te verlagen.
Makkelijk onderhoud
Door gebruik te maken van technologie biedt de nieuwe Cat 352 graafmachine met rechte giek nu diagnose- en updatemogelijkheden op afstand. Met Remote Troubleshoot kan de dealer foutcodes en machineproblemen op afstand diagnosticeren zonder de productiecyclus te onderbreken. Met Remote Flash kunnen software-updates naar de machine worden gepusht en op een voor de klant geschikt tijdstip worden geïnstalleerd.
Alle brandstoffilters zijn gegroepeerd voor vereenvoudigd onderhoud en hebben nu een verlengd, gesynchroniseerd vervangingsinterval van 1.000 uur. Gecombineerd helpen deze functies de eigendoms- en bedrijfskosten op de lange termijn te verlagen.
Brandstof-, olie- en luchtfilters met een lange levensduur verkorten de tijd dat de graafmachine in de werkplaats is, en controles van de hydraulische olie en het ontluchten van het brandstofsysteem worden vanaf grondniveau uitgevoerd. De machinist kan eenvoudig vanuit de cabine de levensduur van het filter en de onderhoudsintervallen volgen. Het bijgewerkte hydraulische systeem verbetert de filtratieprestaties, terwijl anti-aftapkleppen helpen de hydraulische olie schoon te houden bij het vervangen van het filter.
NJC.© Info www.cat.com.
-----------------------------------------------------------------------------------------------------------------