New Cat excavator 'delivering on sustainability'
19/08/22-FR-English-NL-footer
La nouvelle pelle hydraulique Cat « en matière de développement durable »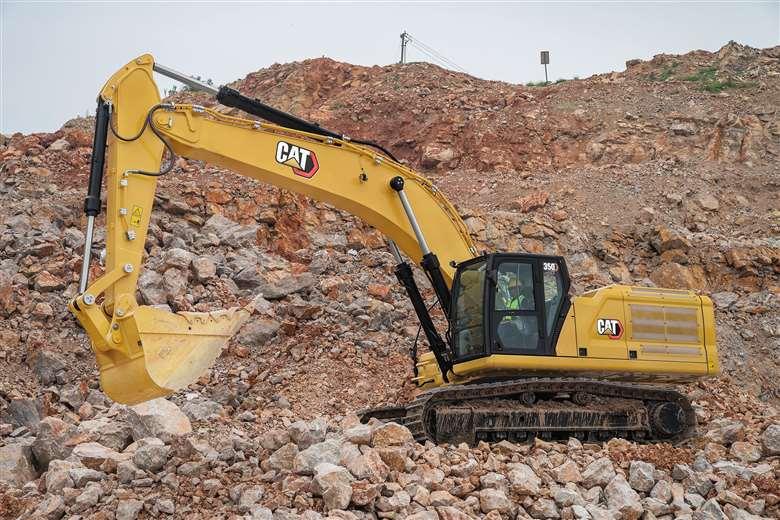 Image-Caterpillar's 350 excavator
Caterpillar a lancé une nouvelle pelle de 47 tonnes, la Cat 350, qui consommerait jusqu'à 13 % de carburant en moins que la Cat 349 pour réduire les coûts, réduire les émissions de CO2 et fonctionner de manière plus durable.
Le modèle, qui sera initialement lancé en Amérique du Nord, dispose également de trois options de mode d'alimentation - Smart, Power et Eco - pour adapter la pelle au travail afin de réduire davantage la consommation de carburant.
« Caterpillar s'engage à réduire les émissions de gaz à effet de serre, tout en aidant ses clients à atteindre leurs objectifs liés au climat », a déclaré Brian Abbott, chef de produit mondial chez Caterpillar pour les grandes pelles hydrauliques. "Le 350 est notre dernier exemple de réalisation de cet engagement."
Le système Cat 2D Grade standard du nouveau 350 indique la profondeur et la pente sur le moniteur avec des alertes pour augmenter l'efficacité de fonctionnement. Grade Assist aide l'opérateur à rester à niveau grâce à l'excavation à levier unique. Pour les applications de chargement de camions et de tranchées, Swing Assist arrête automatiquement le balancement de la pelle à des points de consigne définis par l'opérateur pour consommer moins de carburant.
L'assistance au levage aide à éviter le basculement de la machine en informant l'opérateur que la charge se trouve dans les limites de la plage de travail sûre. Pour contourner les obstacles en toute sécurité, 2D E-Fence empêche la pelle de se déplacer en dehors des points de consigne définis par l'opérateur.
La nouvelle pelle Cat 350 peut être équipée de grands godets jusqu'à 3,2 m3
Le pesage embarqué Cat Payload fournit des estimations de poids en temps réel pour atteindre des objectifs de charge précis et améliorer l'efficacité. Associé à VisionLink, Payload offre une gestion à distance des objectifs de production. Alternativement, le port USB du moniteur permet aux gestionnaires de flotte de télécharger jusqu'à 30 jours de travail pour la gestion de la progression sans connexion Internet ni abonnement VisionLink.
Les mises à niveau technologiques disponibles en cabine incluent Cat Grade avec Advanced 2D pour créer et modifier des conceptions de nivellement via un deuxième écran tactile et Cat Grade avec 3D pour créer et modifier des conceptions sur ce deuxième moniteur et voir toute la gamme de mouvement du relevage avant.
Cat affirme que tous ses systèmes Grade sont compatibles avec les radios et les stations de base des principaux fournisseurs de technologie tiers.
NJC.© Info CAT
-------------------------------------------------------------------------------------------------------------------
19/08/22-English
New Cat excavator 'delivering on sustainability'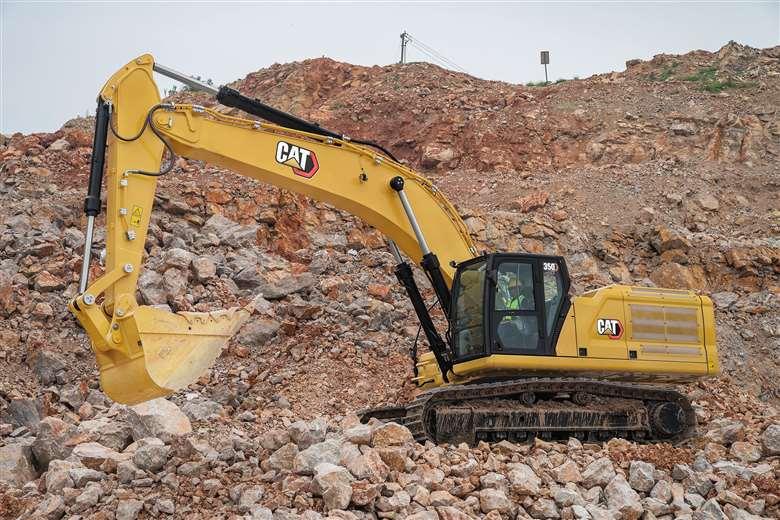 Image-Caterpillar's 350 excavator
Caterpillar has released a new 47 tonne excavator, the Cat 350, which is said to consume up to 13% less fuel than the Cat 349 to lower costs, reduce CO2 emissions, and operate more sustainably.
The model, which will initially be launching in North America, also has three power mode options – Smart, Power, and Eco – to match the excavator to the job to further reduce fuel consumption.
"Caterpillar is committed to reducing greenhouse gas emissions, while helping our customers meet their climate-related objectives," said Brian Abbott, Caterpillar global product manager for large hydraulic excavators. "The 350 is our latest example of delivering on that commitment."
The new 350's standard Cat 2D Grade system indicates depth and slope on the monitor with alerts to increase operating efficiency. Grade Assist helps the operator to stay on grade with single-lever digging. For truck loading and trenching applications, Swing Assist automatically stops excavator swing at operator-defined setpoints to consume less fuel.
Lift Assist helps to avoid machine tipping by letting the operator know the load is within safe working range limits. To safely work around obstructions, 2D E-Fence prevents the excavator from moving outside of operator-defined set points.
The new Cat 350 Excavator can be equipped with large buckets up to 3.2 m3
Cat Payload onboard weighing gives real-time weight estimates to achieve precise load targets and improve efficiency. When combined with VisionLink, Payload offers remote managing of production targets. Alternatively, the monitor's USB port allows fleet managers to download up to 30 days of work for progress management without an internet connection or VisionLink subscription.
Available in-cab grade technology upgrades include Cat Grade with Advanced 2D for creating and editing grade designs via a second touchscreen monitor and Cat Grade with 3D to create and edit designs on that second monitor plus see the front linkage's full range of motion.
Cat says that all of its Grade systems are compatible with radios and base stations from top third-party technology suppliers.
NJC.© Info CAT
-------------------------------------------------------------------------------------------------------------------
19/08/22-NL
Nieuwe Cat graafmachine 'levert op duurzaamheid'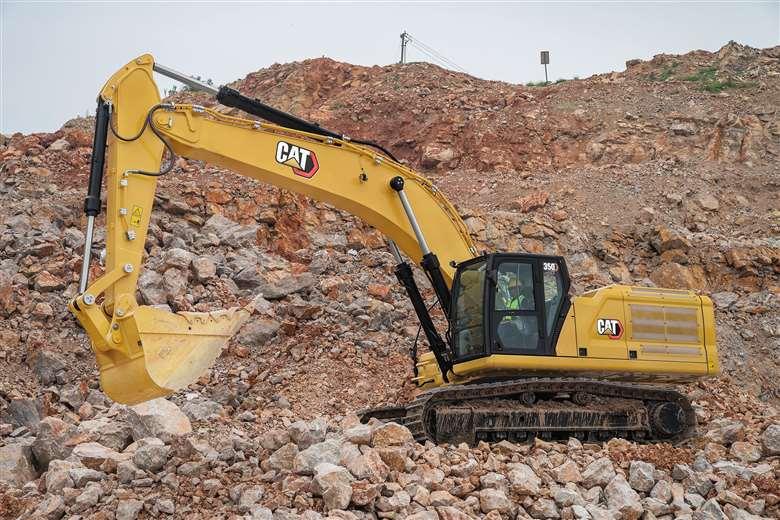 Image-Caterpillar's 350 excavator
Caterpillar heeft een nieuwe graafmachine van 47 ton uitgebracht, de Cat 350, die naar verluidt tot 13% minder brandstof verbruikt dan de Cat 349 om de kosten te verlagen, de CO2-uitstoot te verminderen en duurzamer te werken.
Het model, dat in eerste instantie in Noord-Amerika wordt gelanceerd, heeft ook drie vermogensmodusopties – Smart, Power en Eco – om de graafmachine af te stemmen op de klus om het brandstofverbruik verder te verminderen.
"Caterpillar zet zich in om de uitstoot van broeikasgassen te verminderen en tegelijkertijd onze klanten te helpen hun klimaatgerelateerde doelstellingen te bereiken", zegt Brian Abbott, wereldwijde productmanager van Caterpillar voor grote hydraulische graafmachines. "De 350 is ons nieuwste voorbeeld van het waarmaken van die belofte."
Het standaard Cat 2D Grade-systeem van de nieuwe 350 geeft diepte en helling aan op de monitor met waarschuwingen om de bedrijfsefficiëntie te verhogen. Grade Assist helpt de machinist om op niveau te blijven door te graven met één hendel. Voor het laden van vrachtwagens en het graven van sleuven stopt Swing Assist automatisch het zwenken van de graafmachine op door de machinist gedefinieerde instelpunten om minder brandstof te verbruiken.
Lift Assist helpt het kantelen van de machine te voorkomen door de machinist te laten weten dat de last zich binnen het veilige werkbereik bevindt. Om veilig rond obstakels te werken, voorkomt 2D E-Fence dat de graafmachine buiten de door de machinist gedefinieerde instelpunten komt.
De nieuwe Cat 350 graafmachine kan worden uitgerust met grote bakken tot 3,2 m3
Cat Payload aan boord wegen geeft real-time gewichtsschattingen om nauwkeurige laaddoelen te bereiken en de efficiëntie te verbeteren. In combinatie met VisionLink biedt Payload beheer op afstand van productiedoelen. Als alternatief kunnen wagenparkbeheerders via de USB-poort van de monitor tot 30 dagen werk downloaden voor voortgangsbeheer zonder internetverbinding of VisionLink-abonnement.
Beschikbare technologie-upgrades in de cabine zijn onder meer Cat Grade met Advanced 2D voor het maken en bewerken van nivelleerontwerpen via een tweede touchscreen-monitor en Cat Grade met 3D om ontwerpen te maken en te bewerken op die tweede monitor en om het volledige bewegingsbereik van de fronthef te bekijken.
Cat zegt dat al zijn Grade-systemen compatibel zijn met radio's en basisstations van vooraanstaande externe technologieleveranciers.
NJC.© Info CAT
--------------------------------------------------------------------------------------------------------------------