New Cat® Rotary Cutters Offer Precise, Controlled Breaking for Trenching, Tunneling and Demolition Applications

05/04/23-FR-English-NL-footer
Les nouvelles fraises rotatives Cat® offrent une rupture précise et contrôlée pour les applications de creusement de tranchées, de tunnels et de démolition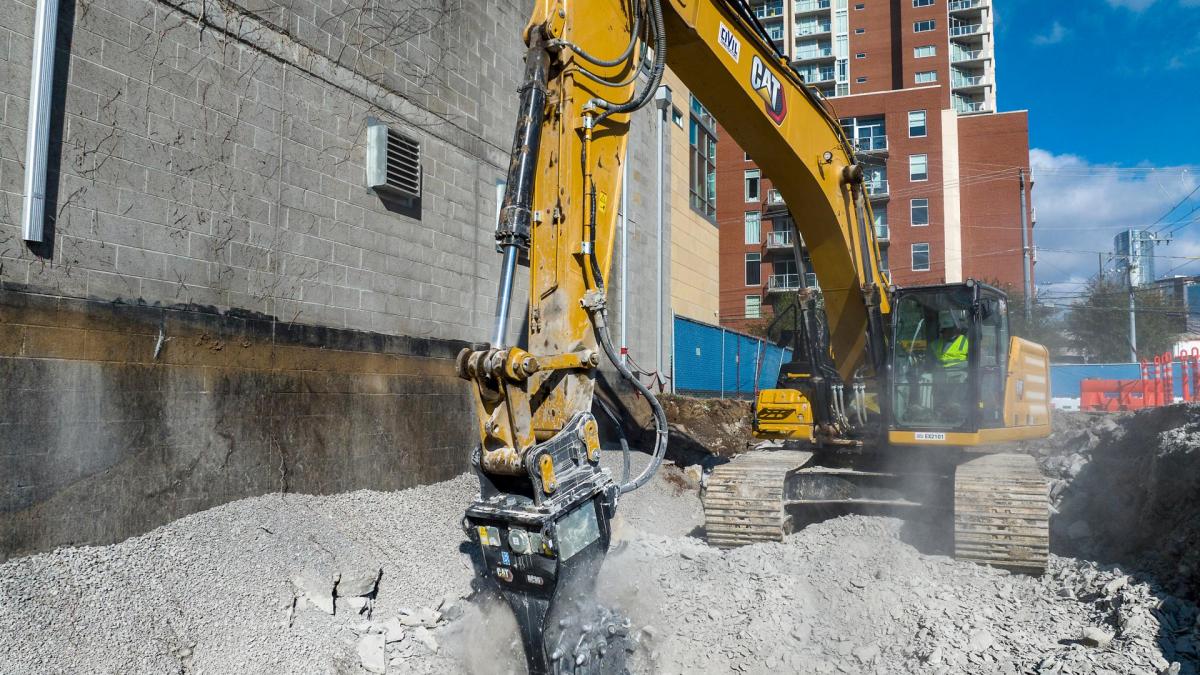 Image- CAT
Les fraises rotatives Cat® pour excavatrices offrent une production élevée de matériaux durs pour diverses applications telles que le creusement de tranchées et la démolition. Avec une rupture maîtrisée et une grande précision, les fraises rotatives sont idéales pour travailler en milieu confiné ou urbain. Les cutters rotatifs peuvent être utilisés dans des zones sensibles telles que les quartiers ou les hôpitaux, car ils produisent un décibel sonore inférieur à celui des autres outils de rupture.
Les nouveaux modèles Cat RC20 et RC30 sont disponibles pour être utilisés avec des attelages à broches, de type S, à pinces Cat ou CW. Les fraises rotatives sont compatibles avec les supports d'outils de travail hydromécaniques Cat, qui permettent aux opérateurs de passer plus facilement d'une tâche à l'autre. Pour les travaux à espace réduit, le couteau rotatif peut être tourné manuellement de 90 ou 270 degrés. En ajoutant un kit de conduites hydrauliques en option, le couteau rotatif peut être tourné jusqu'à 180 degrés pour nettoyer des tranchées étroites ou travailler loin de la machine pour aider à augmenter la productivité. Idéal pour les applications de dragage, le cutter rotatif peut être immergé dans l'eau sans modification de l'outil.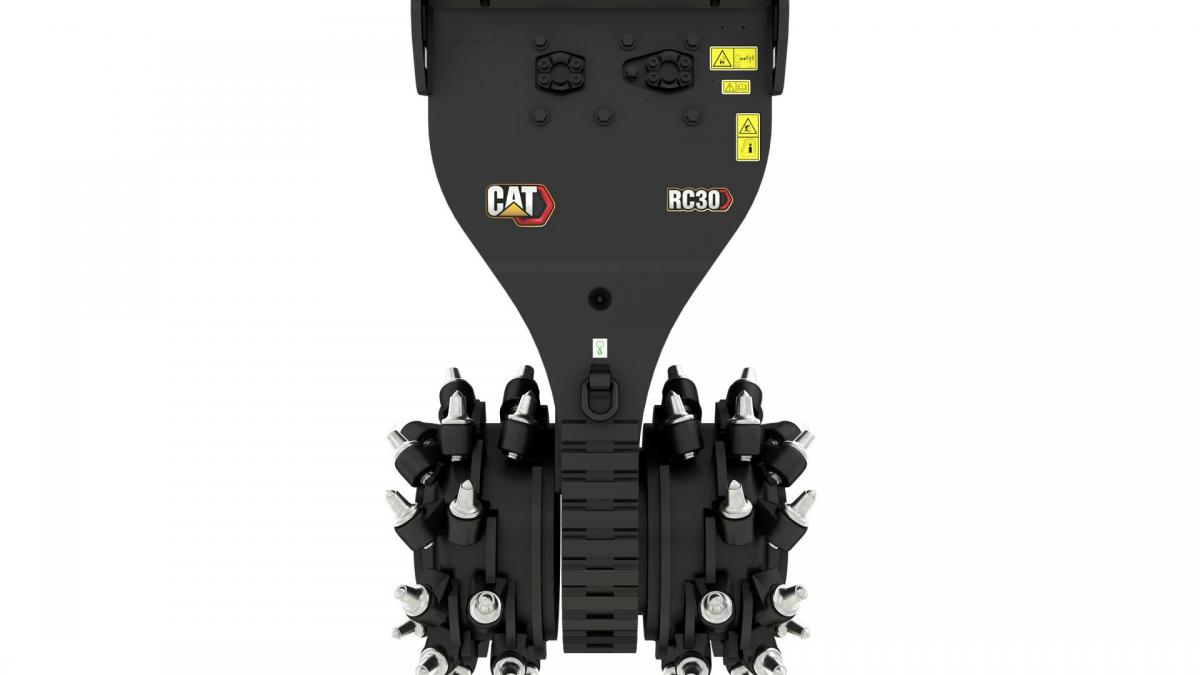 Image- CAT
Le moteur à entraînement direct offre un couple, une production et des performances élevés pour aider les opérateurs à faire le travail plus rapidement. Avec moins d'espace entre les tambours, les opérateurs peuvent construire des tranchées plus étroites tout en brûlant moins de carburant. Les pics de coupe rotatifs sont facilement remplacés par un simple outil et peuvent être changés rapidement. Les panneaux de maintenance offrent un accès rapide et facile. Les joints mécaniques aident à emprisonner la graisse et à empêcher la poussière de pénétrer plus longtemps entre les entretiens. Les couteaux rotatifs cassent davantage le matériau pour réduire l'usure des godets.
Les opérateurs peuvent suivre l'ensemble de leur parc d'accessoires et de machines à partir d'une seule source. Les pièces jointes avec suivi des actifs peuvent être visualisées dans VisionLink® aux côtés de l'équipement abonné à Product Link™. Les pièces jointes avec un tracker d'actifs envoient une alerte si elles quittent une limite de site facile à configurer pour aider à garder les outils plus sécurisés.
RC20
RC30
Weight, lbs. (kg)
2,954 (1 340)
5,159 (2 340)
Interface
Pin on, CPG, CW, S
Pin on, CPG, CW, S
Carrier weight, metric tons
20 – 34
28 – 50
Operating pressure, psi (bar)
2466 – 5802
(170 – 400)
2756 – 5802
(190 – 400)
NJC.© Info CATERPILLAR
---------------------------------------------------------------------------------------------------------------

05/04/23-English
New Cat® Rotary Cutters Offer Precise, Controlled Breaking for Trenching, Tunneling and Demolition Applications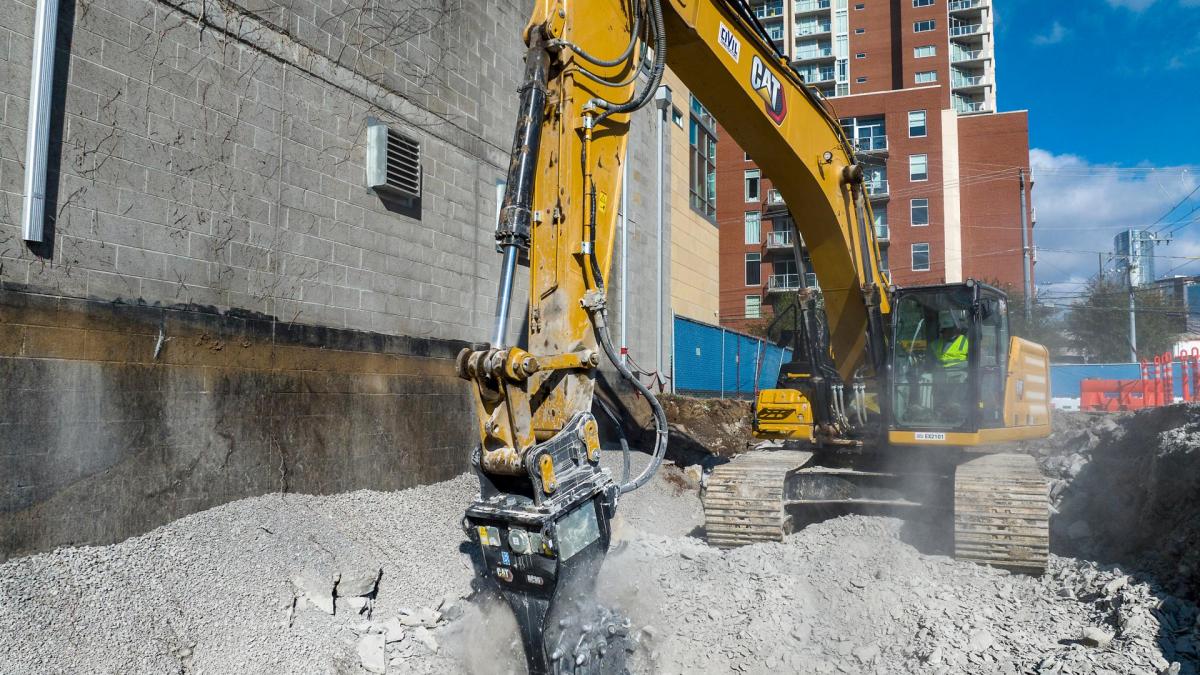 Image- CAT
Cat® Rotary Cutters for excavators offer high production in hard material for various applications like trenching and demolition. With controlled breaking and high precision, rotary cutters are ideal for working in confined or urban areas. Rotary cutters can be used in sensitive areas such as neighborhoods or hospitals, since they produce a lower decibel of sound compared to other breaking tools.
New Cat RC20 and RC30 models are available to be used with pin-on, S-type, Cat pin grabber or CW couplers. Rotary cutters are compatible with Cat hydro-mechanical work tool brackets, which allow operators to move more smoothly from one task to the next. For space constricting jobs, the rotary cutter can be manually turned either 90 or 270 degrees. Adding an optional hydraulic lines kit, the rotary cutter can be turned up to 180 degrees for cleaning narrow trenches or working away from the machine to help get increased productivity. Ideal for dredging applications, the rotary cutter can be submerged in water without modifications to the tool.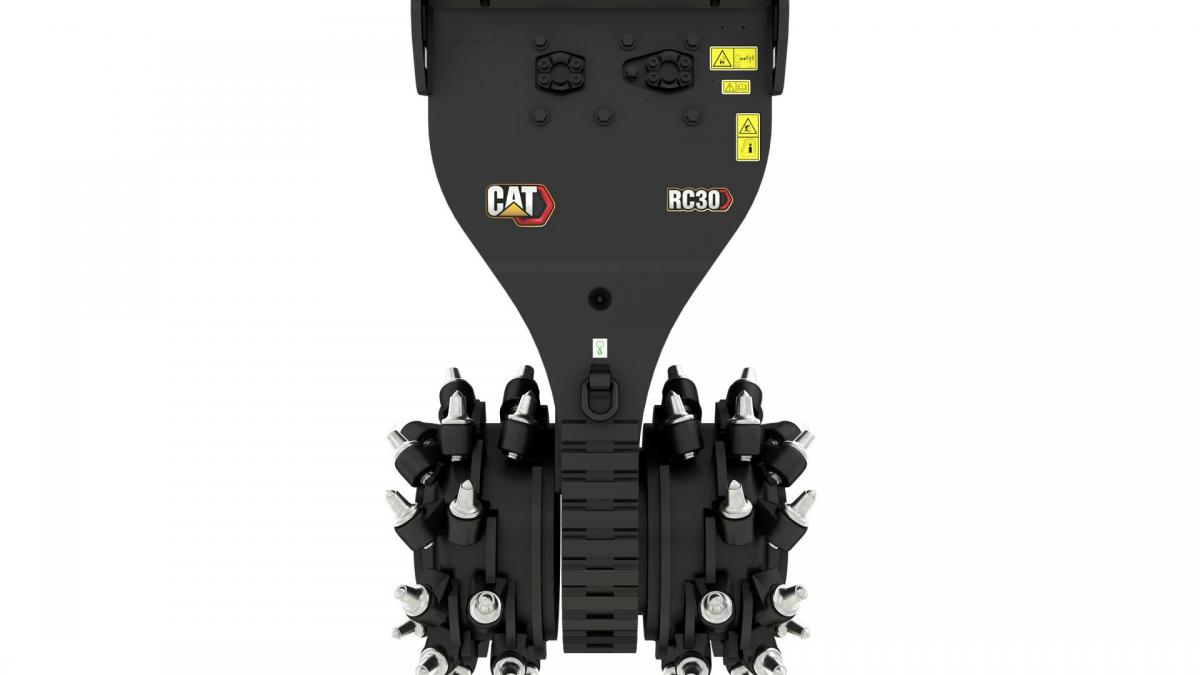 Image- CAT
The direct drive motor offers high torque, production and performance to help operators get the job done faster. With less space between the drums, operators can build narrower trenches while also burning less fuel. Rotary cutter picks are easily replaced with a simple tool and can be switched out quickly. Maintenance panels offer quick and easy access. Mechanical seals help to lock in grease and keep dust out to go longer between servicing. Rotary cutters break up material more to help put less wear and tear on buckets.
Operators can track their entire fleet of attachments and machines from one source. Attachments with asset tracking can be viewed within VisionLink® alongside Product Link™ subscribed equipment. Attachments with an asset tracker send an alert if they leave an easy-to-setup site boundary to help keep tools more secure.
RC20
RC30
Weight, lbs. (kg)
2,954 (1 340)
5,159 (2 340)
Interface
Pin on, CPG, CW, S
Pin on, CPG, CW, S
Carrier weight, metric tons
20 – 34
28 – 50
Operating pressure, psi (bar)
2466 – 5802
(170 – 400)
2756 – 5802
(190 – 400)
NJC.© Info CATERPILLAR
-----------------------------------------------------------------------------------------------------------------

05/04/23-NL
Nieuwe Cat® roterende scharen bieden nauwkeurig, gecontroleerd breken voor sleuven graven, tunnels graven en slooptoepassingen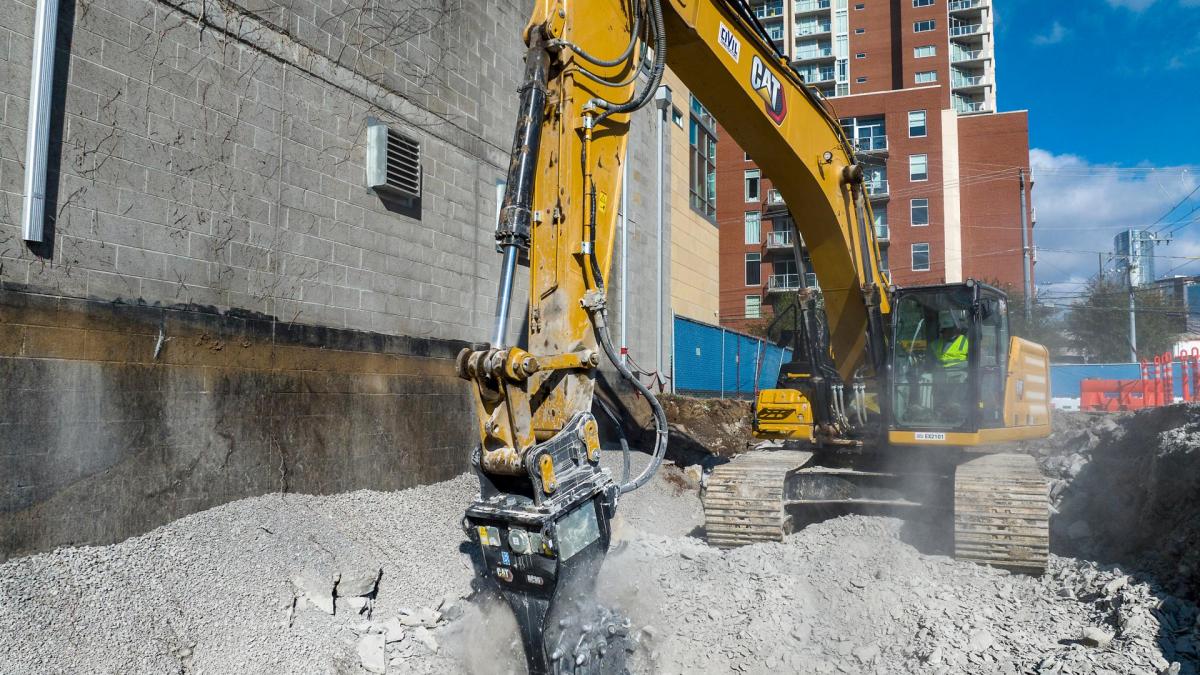 Image-CAT
Cat® roterende frezen voor graafmachines bieden een hoge productie in hard materiaal voor diverse toepassingen zoals sleuven graven en slopen. Met gecontroleerd breken en hoge precisie zijn rolmessen ideaal voor het werken in krappe of stedelijke gebieden. Roterende messen kunnen worden gebruikt in gevoelige gebieden zoals buurten of ziekenhuizen, omdat ze een lagere decibel geluid produceren in vergelijking met ander breekgereedschap.
Er zijn nieuwe Cat RC20- en RC30-modellen beschikbaar voor gebruik met pin-on, S-type, Cat pin-grabber of CW-koppelingen. Roterende scharen zijn compatibel met Cat hydromechanische uitrustingsstukbeugels, waardoor machinisten soepeler van de ene taak naar de volgende kunnen gaan. Voor klussen met beperkte ruimte kan het rolmes handmatig 90 of 270 graden worden gedraaid. Door een optionele hydraulische leidingenset toe te voegen, kan de rolfrees tot 180 graden worden gedraaid voor het reinigen van smalle sleuven of het werken weg van de machine om de productiviteit te verhogen. Ideaal voor baggertoepassingen, de roterende snijder kan in water worden ondergedompeld zonder aanpassingen aan het gereedschap.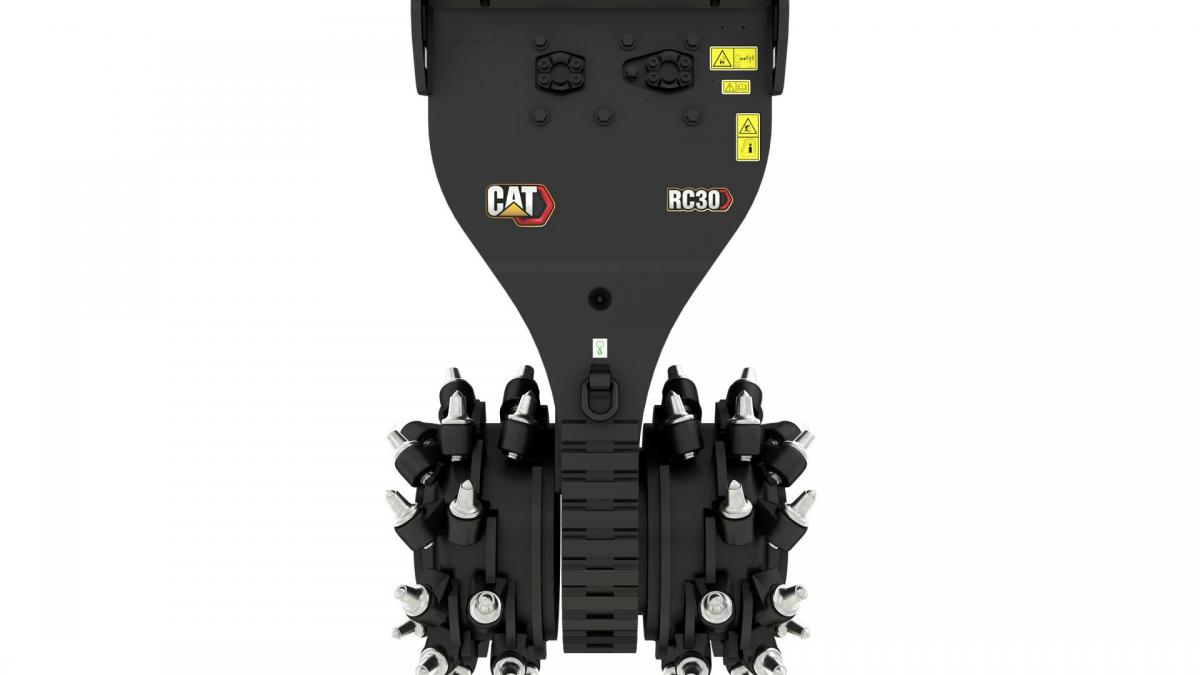 Image- CAT
De motor met directe aandrijving biedt een hoog koppel, hoge productie en hoge prestaties, zodat machinisten de klus sneller kunnen klaren. Met minder ruimte tussen de trommels kunnen machinisten smallere sleuven bouwen terwijl ze ook minder brandstof verbruiken. Roterende snijtanden kunnen eenvoudig worden vervangen met een eenvoudig stuk gereedschap en kunnen snel worden vervangen. Onderhoudspanelen bieden snelle en gemakkelijke toegang. Mechanische afdichtingen helpen vet binnen te houden en stof buiten te houden, zodat onderhoud langer kan duren. Roterende messen breken het materiaal meer af om de bakken minder te laten slijten.
Bestuurders kunnen hun hele machinepark van aanbouwdelen en machines vanuit één bron volgen. Bijlagen met activatracering kunnen binnen VisionLink® worden bekeken naast op Product Link™ geabonneerde apparatuur. Bijlagen met een asset-tracker sturen een waarschuwing als ze een eenvoudig in te stellen sitegrens verlaten om tools veiliger te houden.
RC20
RC30
Weight, lbs. (kg)
2,954 (1 340)
5,159 (2 340)
Interface
Pin on, CPG, CW, S
Pin on, CPG, CW, S
Carrier weight, metric tons
20 – 34
28 – 50
Operating pressure, psi (bar)
2466 – 5802
(170 – 400)
2756 – 5802
(190 – 400)
NJC.© Info CATERPILLAR
-----------------------------------------------------------------------------------------------------------------
Date de dernière mise à jour : 04/04/2023