New cooperation: MAN D3876 engine ensures high thrust and future-proofing in PistenBully 800

24/04/23-FR-English-NL-footer
Nouvelle coopération : le moteur MAN D3876 assure une poussée élevée et une pérennité du PistenBully 800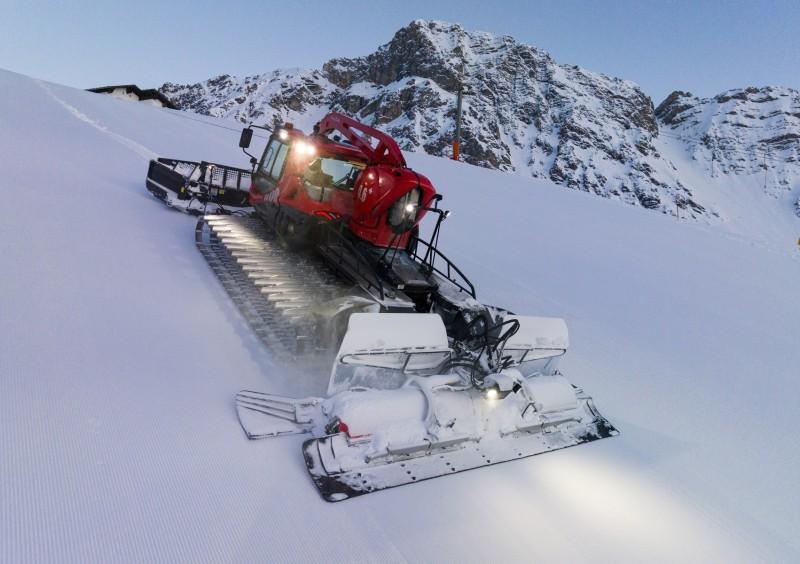 The MAN D3876 for the PistenBully 800 has also been modified for cold start capability, use up to 2,500 metres in altitude without power reduction and extreme lean angles.
MAN Engines équipe désormais le PistenBully 800 de Kässbohrer Geländefahrzeug AG avec son moteur MAN D3876. La base de la livraison du moteur six cylindres en ligne était la poursuite du développement et l'adaptation du MAN D3876 à l'environnement de travail extrême de la nouvelle dameuse haute performance de Laupheim. « Nous avons également modifié notre MAN D3876 hautes performances pour le PistenBully 800 pour une capacité de démarrage à froid, une utilisation jusqu'à 2 500 mètres d'altitude sans réduction de puissance et des angles d'inclinaison extrêmes », explique Werner Kübler, responsable de l'ingénierie des moteurs MAN. Michael Kuhn, responsable du développement chez Kässbohrer Geländefahrzeug AG, est très satisfait du résultat de la coopération : « Notre PistenBully 800 établit de nouvelles normes en matière de préparation des pistes. Le MAN D3876 et l'équipe de développement de MAN Engines y ont largement contribué.
Outre le MAN D4276 sur la même plate-forme, le MAN D3876 est le moteur six cylindres en ligne le plus puissant du portefeuille du motoriste MAN Engines. Avec une cylindrée de 15,3 litres, le moteur du PistenBully 800 offre un couple impressionnant de 2 900 Nm et 612 ch (450 kW). En conséquence, le PistenBully actuellement le plus puissant de la gamme atteint une poussée unique pour la préparation des pistes. L'un des facteurs décisifs pour ces performances est le turbocompresseur VTG, qui optimise la réponse dynamique dans les plages de vitesse spécifiques au tout-terrain grâce à sa géométrie de turbine variable (VTG). De plus, cette technologie affiche la puissance et le couple maximum sur une large plage de régime. Surtout sur des pentes raides et sur des terrains changeants, cela signifie une performance de poussée constante. Afin de garantir le comportement au démarrage à froid même à des températures aussi basses que -30° Celsius, le comportement de combustion a également été modifié lors du démarrage du moteur. Pour les travaux à haute altitude, en revanche, les ingénieurs de MAN ont dû repenser le comportement des composants d'air de suralimentation pour réduire l'air à haute altitude. De plus, les spécialistes des moteurs tout-terrain de MAN Engines ont optimisé le carter d'huile et la pompe à huile du MAN D3876. Contrairement à la version routière, cela permet des angles d'inclinaison allant jusqu'à 45° de tous les côtés. "Notre MAN D3876 est précisément adapté au PistenBully 800 et à ses exigences. Chez MAN Engines, nous bénéficions de décennies de développement de moteurs spécifiques à une large gamme d'applications ainsi que de l'expérience de production à grande échelle de notre société mère MAN Truck & Bus », déclare le responsable du développement Kübler.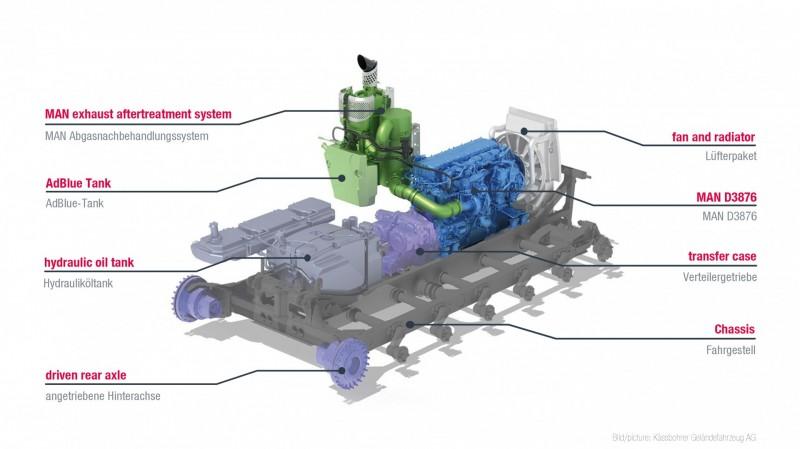 Tous les moteurs D3876 sont équipés d'un système d'injection à rampe commune qui fonctionne à une pression d'injection de 2 500 bars. Cela fait du système l'un des systèmes avec les pressions les plus élevées du marché et garantit une qualité optimale d'atomisation du carburant. En conséquence, des économies importantes de consommation de carburant peuvent être réalisées. "Notre objectif de développement a toujours été d'obtenir la meilleure consommation de carburant. Cela permet d'économiser les coûts d'exploitation et de réduire également les émissions de CO2 des moteurs", déclare le responsable du développement Kübler. Concrètement, le MAN D3876 du PistenBully 800 offre un tiers de poussée en plus que toutes les dameuses actuellement disponibles sur le marché. Dans le même temps, il économise jusqu'à 9 % de carburant par mètre cube de neige déplacée et émet en conséquence moins de CO2.
Équipé des dernières technologies d'échappement, le MAN D3876 est conforme aux réglementations européennes actuelles et strictes sur les émissions Stage V. De plus, le moteur est homologué pour fonctionner avec du HVO (huile végétale hydrogénée), également connu sous le nom de diesel régénératif - selon la norme EN15940. Les clients peuvent l'utiliser pour remplacer le carburant diesel conventionnel - ou même le mélanger. Pour Werner Kübler, responsable de l'ingénierie chez MAN Engines, il existe également d'autres avantages évidents : « Il n'y a pas de pertes de performances ni d'inconvénients en ce qui concerne les intervalles d'entretien et de maintenance de nos moteurs MAN, et le système de post-traitement des gaz d'échappement fonctionne également sans aucun problème. ." Mais surtout, le diesel régénératif assure une combustion propre avec jusqu'à 90 % d'émissions de gaz à effet de serre (CO2) en moins dans les gaz d'échappement par rapport au diesel conventionnel.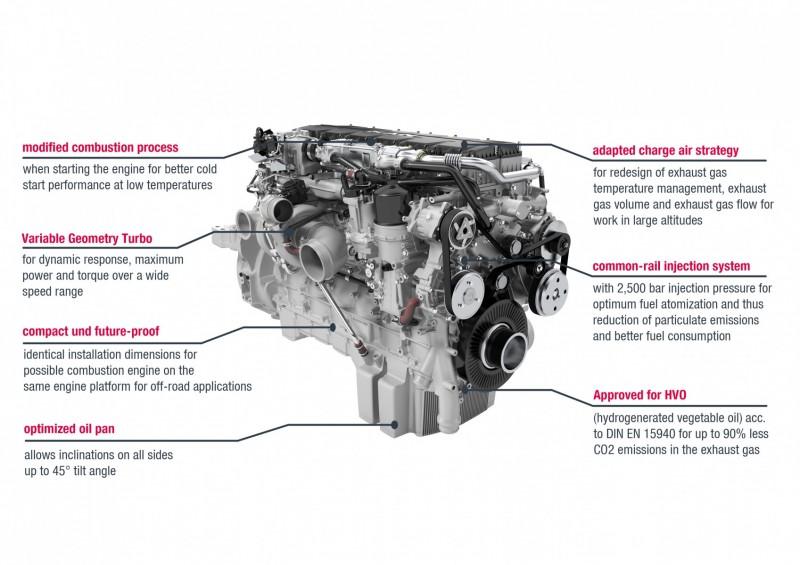 Afin de pouvoir se passer complètement des émissions de CO2 dans les gaz d'échappement à l'avenir, MAN Engines a déjà des concepts pour un moteur à combustion à hydrogène pur pour les applications tout-terrain. Celui-ci - appelé MAN H4576 - est basé sur le moteur de base du MAN D3876 et utilise les mêmes dimensions d'installation, de sorte qu'il peut remplacer le moteur diesel du PistenBully 800 en temps voulu. "Nous sommes bien préparés pour intégrer des moteurs à combustion à hydrogène dans des applications tout-terrain. Lorsque le marché sera prêt, MAN Engines proposera les bonnes solutions", déclare Mikael Lindner, responsable de MAN Engines.
Une exposition du MAN H4576 sera présentée au salon Interalpin à Innsbruck du 19 au 21 avril 2023 dans le hall A.0 au stand A28 de Kässbohrer Geländefahrzeug AG.
NJC.© Info MAN
-------------------------------------------------------------------------------------------------------------------

24/04/23-English
New cooperation: MAN D3876 engine ensures high thrust and future-proofing in PistenBully 800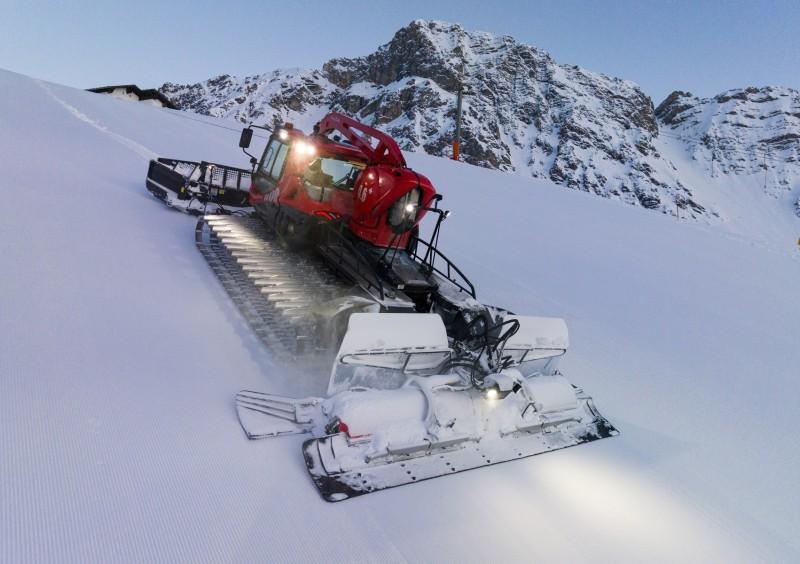 The MAN D3876 for the PistenBully 800 has also been modified for cold start capability, use up to 2,500 metres in altitude without power reduction and extreme lean angles.
MAN Engines is now equipping the PistenBully 800 from Kässbohrer Geländefahrzeug AG with its MAN D3876 engine. The basis for the delivery of the in-line six-cylinder engine was the further development and adaptation of the MAN D3876 to the extreme working environment of the new high-performance snow groomer from Laupheim. "We have also modified our high-performance MAN D3876 for the PistenBully 800 for cold-start capability, use up to 2,500 metres in altitude without power reduction and extreme lean angles," says Werner Kübler, Head of Engineering MAN Engines. Michael Kuhn, Head of Development at Kässbohrer Geländefahrzeug AG, is very satisfied with the result of the cooperation: "Our PistenBully 800 sets new standards in slope preparation. The MAN D3876 and the MAN Engines development team have made an important contribution to this."
In addition to the MAN D4276 on the same platform, the MAN D3876 is the most powerful in-line six-cylinder engine in the portfolio of engine manufacturer MAN Engines. With a displacement of 15.3 litres, the engine in the PistenBully 800 offers a whopping 2,900 Nm of torque and 612 hp (450 kW). As a result, the currently most powerful PistenBully in the series portfolio achieves a unique thrust for the preparation of slopes. One of the decisive factors for this performance is the VTG turbocharger, which optimizes the dynamic response in the off-road-specific speed ranges thanks to its variable turbine geometry (VTG). In addition, this technology displays the maximum power and torque over a wide speed range. Especially on steep slopes and in changeable terrain, this means a constant thrust performance. In order to ensure the cold-start behavior even at temperatures as low as -30° Celsius, the combustion behavior was also modified when starting the engine. For work at high altitudes, on the other hand, the MAN engineers had to redesign the behavior of the charge air components to the thinner air at high altitudes. In addition, the specialists for off-road engines from MAN Engines optimized the oil pan and oil pump of the MAN D3876. In contrast to the on-road version, this allows lean angles of up to 45° on all sides. "Our MAN D3876 is precisely tailored to the PistenBully 800 and its requirements. At MAN Engines, we benefit from decades of application-specific engine development for a wide range of applications as well as the large-scale production experience of our parent company MAN Truck & Bus," says Head of Development Kübler.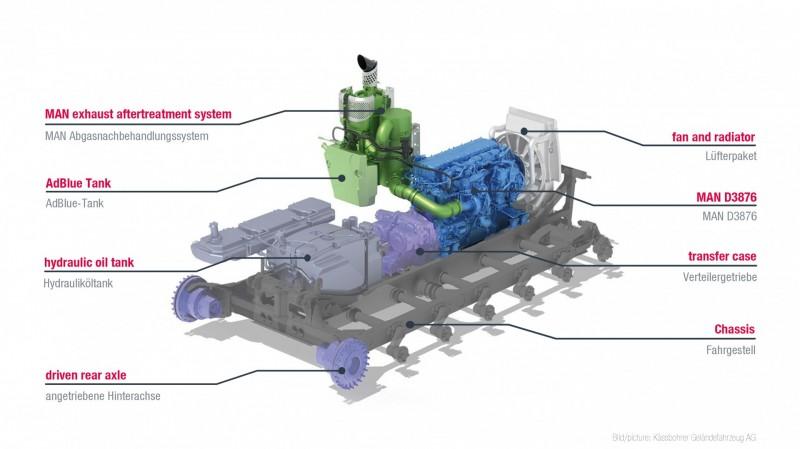 All D3876 engines are equipped with a common rail injection system that operates at an injection pressure of 2,500 bar. This makes the system one of the systems with the highest pressures on the market and guarantees optimum fuel atomization quality. As a result, significant savings in fuel consumption can be achieved. "Our development goal has always been to achieve the best fuel consumption. This saves the operator costs and also reduces the CO2 emissions of the engines," says Head of Development Kübler. Specifically, the MAN D3876 in the PistenBully 800 offers one third more thrust than all snow groomers currently available on the market. At the same time, it saves up to 9% fuel per cubic meter of shifted snow and emits correspondingly less CO2.
Equipped with the latest exhaust technologies, the MAN D3876 complies with the current and strict EU Stage V emission regulations. In addition, the engine is approved for operation with HVO (hydrogenated vegetable oil), also known as regenerative diesel – according to the EN15940 standard. Customers can use it to replace conventional diesel fuel – or even mix it. For Werner Kübler, Head of Engineering at MAN Engines, there are also other clear advantages: "There are no performance losses or disadvantages with regard to the service and maintenance intervals of our MAN engines, and the exhaust gas aftertreatment system also works without any problems." Above all, however, regenerative diesel ensures clean combustion with up to 90% less greenhouse gas emissions (CO2) in the exhaust gas compared to conventional diesel.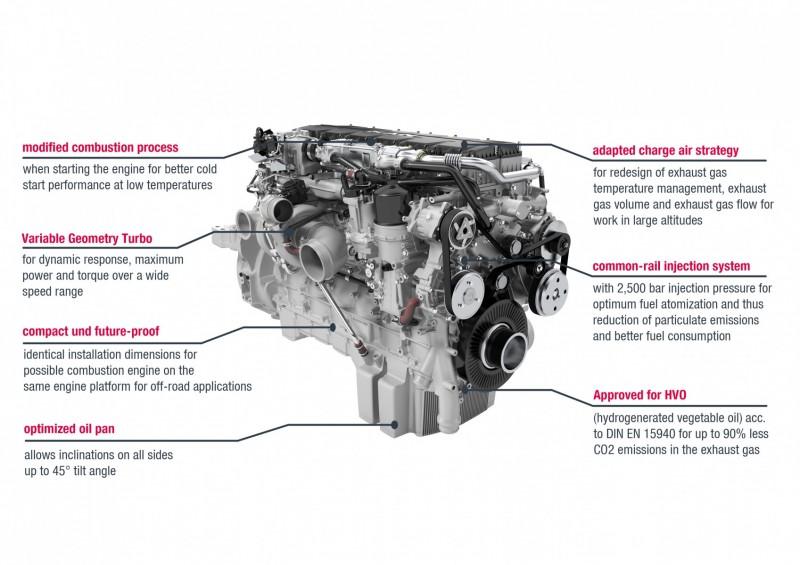 In order to be able to completely dispense with CO2 emissions in the exhaust gas in the future, MAN Engines already has concepts for a pure hydrogen combustion engine for off-road applications. This - called MAN H4576 - is based on the basic engine of the MAN D3876 and uses the same installation dimensions, so that it can replace the diesel engine in the PistenBully 800 in due course. "We are well prepared to integrate hydrogen combustion engines into off-road applications. When the market is ready, MAN Engines will offer the right solutions," says Mikael Lindner, Head of MAN Engines.
An exhibit of the MAN H4576 will be on display at the Interalpin trade fair in Innsbruck from April 19 to 21, 2023 in hall A.0 at booth A28 of Kässbohrer Geländefahrzeug AG.
NJC.© Info MAN
------------------------------------------------------------------------------------------------------------------

24/04/23-NL
Nieuwe samenwerking: MAN D3876-motor zorgt voor hoge stuwkracht en toekomstbestendigheid in PistenBully 800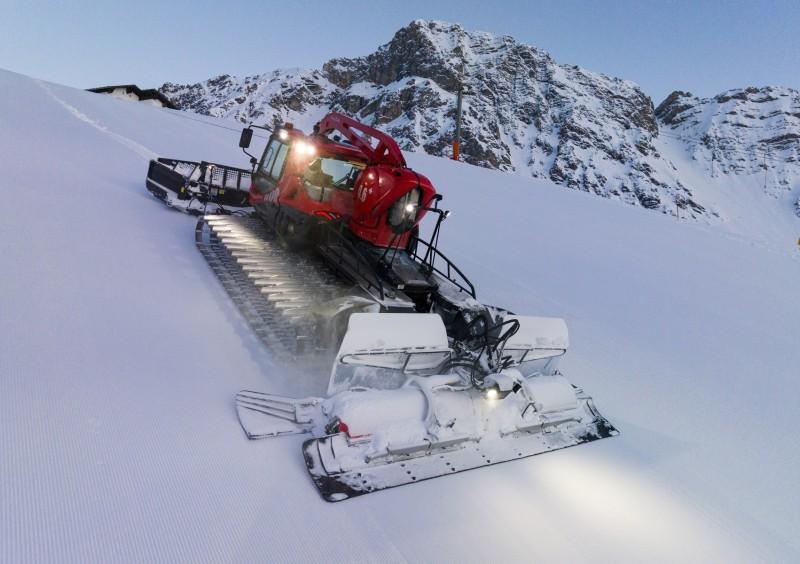 Image-The MAN D3876 for the PistenBully 800 has also been modified for cold start capability, use up to 2,500 metres in altitude without power reduction and extreme lean angles.
MAN Engines rust nu de PistenBully 800 van Kässbohrer Geländefahrzeug AG uit met zijn MAN D3876-motor. De basis voor de levering van de zescilinder lijnmotor was de verdere ontwikkeling en aanpassing van de MAN D3876 aan de extreme werkomgeving van de nieuwe high-performance sneeuwschuiver uit Laupheim. "We hebben ook onze krachtige MAN D3876 voor de PistenBully 800 aangepast voor koude start, gebruik tot 2.500 meter hoogte zonder vermogensvermindering en extreme hellingshoeken", zegt Werner Kübler, Head of Engineering MAN Engines. Michael Kuhn, hoofd ontwikkeling bij Kässbohrer Geländefahrzeug AG, is zeer tevreden met het resultaat van de samenwerking: "Onze PistenBully 800 stelt nieuwe normen op het gebied van hellingpreparatie. De MAN D3876 en het ontwikkelingsteam van MAN Engines hebben hier een belangrijke bijdrage aan geleverd."
Naast de MAN D4276 op hetzelfde platform is de MAN D3876 de krachtigste zescilinder lijnmotor in het portfolio van motorfabrikant MAN Engines. Met een cilinderinhoud van 15,3 liter biedt de motor in de PistenBully 800 maar liefst 2.900 Nm koppel en 612 pk (450 kW). Als gevolg hiervan bereikt de momenteel krachtigste PistenBully in het serieportfolio een unieke stuwkracht voor de voorbereiding van hellingen. Een van de doorslaggevende factoren voor deze prestaties is de VTG-turbocompressor, die dankzij zijn variabele turbinegeometrie (VTG) de dynamische respons in offroad-specifieke snelheidsbereiken optimaliseert. Bovendien geeft deze technologie het maximale vermogen en koppel weer over een breed toerentalbereik. Vooral op steile hellingen en in veranderlijk terrein betekent dit een constante stuwkracht. Om het koudestartgedrag ook bij temperaturen tot -30° Celsius te garanderen, werd ook het verbrandingsgedrag bij het starten van de motor aangepast. Voor werk op grote hoogte moesten de ingenieurs van MAN daarentegen het gedrag van de inlaatluchtcomponenten voor de ijlere lucht op grote hoogte opnieuw ontwerpen. Daarnaast hebben de specialisten voor terreinmotoren van MAN Engines het oliecarter en de oliepomp van de MAN D3876 geoptimaliseerd. In tegenstelling tot de on-road-versie zijn hierdoor hellingshoeken tot 45° aan alle kanten mogelijk. "Onze MAN D3876 is precies afgestemd op de PistenBully 800 en zijn vereisten. Bij MAN Engines profiteren we van tientallen jaren toepassingsspecifieke motorontwikkeling voor een breed scala aan toepassingen, evenals de grootschalige productie-ervaring van ons moederbedrijf MAN Truck & Bus", zegt hoofd ontwikkeling Kübler.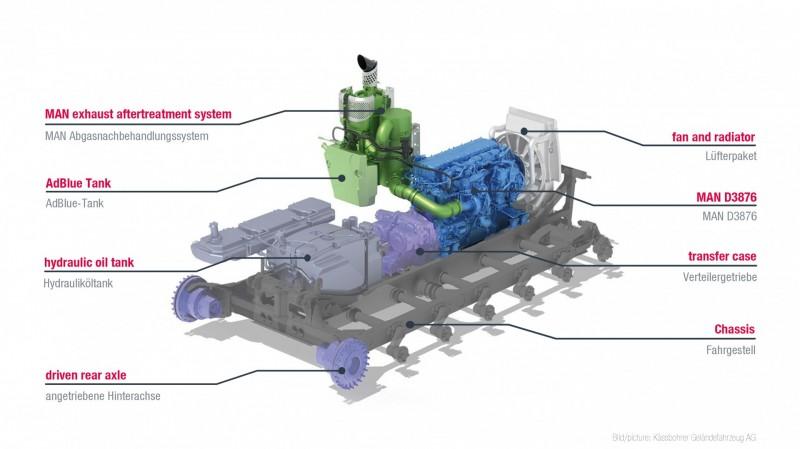 Alle D3876-motoren zijn uitgerust met een common-rail injectiesysteem dat werkt met een injectiedruk van 2.500 bar. Dit maakt het systeem tot een van de systemen met de hoogste drukken op de markt en garandeert een optimale brandstofverstuivingskwaliteit. Hierdoor kunnen aanzienlijke besparingen op het brandstofverbruik worden gerealiseerd. "Ons ontwikkelingsdoel is altijd geweest om het beste brandstofverbruik te bereiken. Dit bespaart de operator kosten en vermindert ook de CO2-uitstoot van de motoren", zegt hoofd ontwikkeling Kübler. Met name de MAN D3876 in de PistenBully 800 biedt een derde meer stuwkracht dan alle sneeuwruimers die momenteel op de markt verkrijgbaar zijn. Tegelijkertijd bespaart hij tot 9% brandstof per kubieke meter verplaatste sneeuw en stoot dienovereenkomstig minder CO2 uit.
Uitgerust met de nieuwste uitlaattechnologieën voldoet de MAN D3876 aan de huidige en strenge EU Stage V-emissievoorschriften. Bovendien is de motor goedgekeurd voor gebruik met HVO (hydrogenated plantaardige olie), ook wel regeneratieve diesel genoemd, volgens de norm EN15940. Klanten kunnen het gebruiken om conventionele dieselbrandstof te vervangen – of zelfs te mengen. Voor Werner Kübler, Head of Engineering bij MAN Engines, zijn er nog andere duidelijke voordelen: "Er zijn geen prestatieverliezen of nadelen met betrekking tot de service- en onderhoudsintervallen van onze MAN-motoren en ook het uitlaatgasnabehandelingssysteem werkt probleemloos. ." Bovenal zorgt regeneratieve diesel echter voor een schone verbranding met tot wel 90% minder uitstoot van broeikasgassen (CO2) in de uitlaatgassen in vergelijking met conventionele diesel.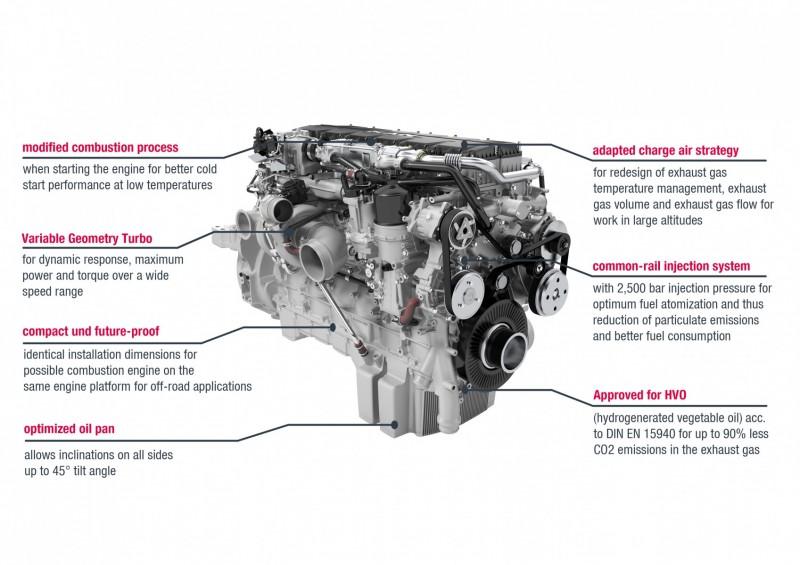 Om in de toekomst volledig af te kunnen zien van CO2-emissies in de uitlaatgassen, heeft MAN Engines al concepten voor een pure waterstofverbrandingsmotor voor offroad-toepassingen. Deze - MAN H4576 genaamd - is gebaseerd op de basismotor van de MAN D3876 en hanteert dezelfde inbouwmaten, zodat hij op termijn de dieselmotor in de PistenBully 800 kan vervangen. "We zijn goed voorbereid om waterstofverbrandingsmotoren te integreren in offroad-toepassingen. Wanneer de markt er klaar voor is, zal MAN Engines de juiste oplossingen bieden", zegt Mikael Lindner, hoofd van MAN Engines.
Een tentoonstelling van de MAN H4576 zal te zien zijn op de Interalpin-beurs in Innsbruck van 19 tot 21 april 2023 in hal A.0 op stand A28 van Kässbohrer Geländefahrzeug AG.
NJC.© Info MAN
----------------------------------------------------------------------------------------------------------------