New DAF LF series
19/10/22-FR-English-NL-footer
Nouvelle série DAF LF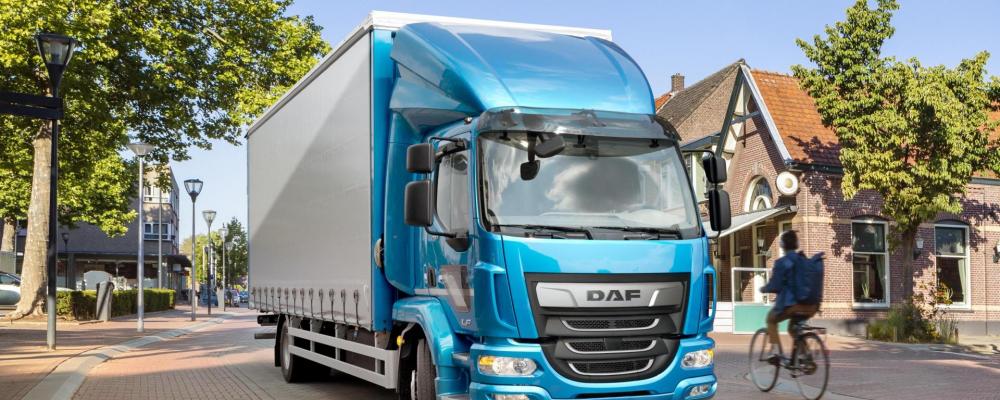 Image DAF Trucks
DAF Trucks présente une toute nouvelle gamme de transmissions pour sa populaire série de distribution LF. Les nouveaux moteurs PACCAR PX-5 et PX-7, associés aux nouvelles boîtes de vitesses automatiques PowerLine à 8 rapports, permettent une efficacité énergétique jusqu'à 7 % supérieure à celle des modèles déjà très efficaces.

Le DAF LF est le camion de distribution ultime pour les opérateurs et les chauffeurs. Il combine des coûts d'exploitation les plus bas, des charges utiles élevées, une fiabilité exceptionnelle et une maniabilité de pointe avec un confort, une ergonomie et des caractéristiques de conduite excellents.
Nouveaux moteurs très efficaces
Le moteur PACCAR PX-5 4 cylindres de 4,5 litres et le moteur PACCAR PX-7 6 cylindres de 6,7 litres ont été entièrement repensés. Les deux moteurs à la pointe de la technologie se caractérisent par un nouveau bloc et une culasse en fonte compactée en fonte graphite (CGI) légère mais ultra-résistante, de nouveaux pistons à faible frottement, de nouveaux compresseurs très efficaces et un nouveau turbo à soupape de décharge. .
Gamme complète de puissances moteur
Les nouveaux moteurs PACCAR PX pour la série DAF LF sont disponibles en 7 puissances nominales, pour répondre de manière optimale aux exigences des clients.
Le moteur PACCAR PX-5 de 4,5 litres a des puissances de 124 kW (170 ch) à 153 kW (210 ch) et le moteur PACCAR PX-7 de 6,7 litres a des puissances de 167 kW (230 ch) à 227 kW (310 ch). ). Les moteurs développent un couple maximal à des régimes moteur encore plus bas, favorisant la décélération et donc un excellent rendement énergétique.
Boîtes de vitesses automatiques PowerLine
Une partie de la nouvelle chaîne cinématique DAF LF est la nouvelle transmission PowerLine entièrement automatique à 8 vitesses, qui offre une répartition des vitesses et des marches optimales. Le changement de vitesse sans aucune interruption de couple permet des changements de vitesse en douceur et une réponse rapide de l'accélérateur, ce qui se traduit par un confort et une maniabilité excellents. De plus, les nouvelles transmissions offrent une maniabilité exceptionnelle à basse vitesse, rendue possible par une fonction d'urgence à se déplacer dès que la pédale de frein est relâchée.
Les transmissions manuelles à 6 et 9 vitesses resteront disponibles pour la série DAF LF, tandis que les boîtes de vitesses Allison entièrement automatiques continueront d'être disponibles pour des applications spéciales, telles que la collecte des ordures et la lutte contre les incendies.
La consommation de carburant
Les nouveaux moteurs PACCAR PX-5 et PX-7 et les transmissions PowerLine, associés à des rapports de pont arrière optimisés, permettent d'économiser jusqu'à 7 % de carburant, selon l'application, renforçant encore l'excellente proposition commerciale de la série DAF LF en le segment de distribution.
NJC.© Info DAF Trucks
------------------------------------------------------------------------------------------------------------------
19/10/22-English
New DAF LF series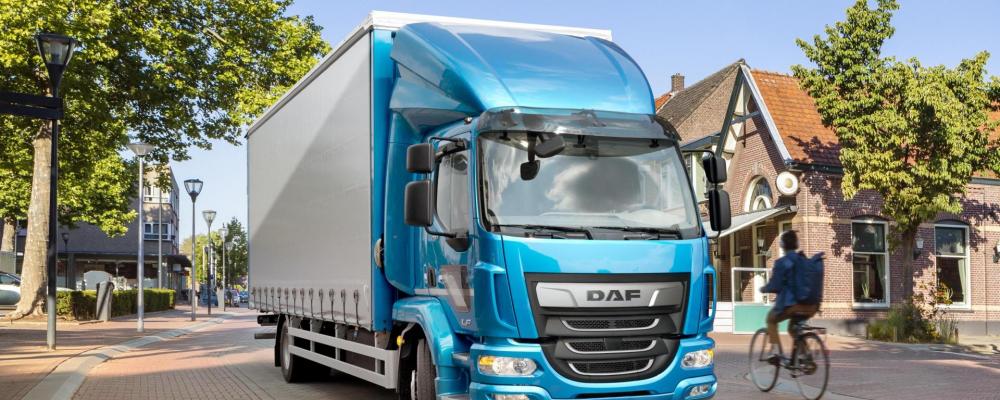 Image DAF Trucks
DAF Trucks introduces a completely new range of drivelines for its popular LF distribution series. The new PACCAR PX-5 and PX-7 engines in combination with the new automatic 8-speed PowerLine gearboxes result in up to 7% higher fuel efficiency compared to the already very efficient models.

The DAF LF is the ultimate distribution truck for both operators and drivers. It combines lowest operating costs, high payloads, superb reliability and class-leading maneuverability with excellent comfort, ergonomics and driving characteristics.
New highly efficient engines
The 4.5 liter 4-cylinder PACCAR PX-5 engine and the 6.7 liter 6-cylinder PACCAR PX-7 engine have been completely redesigned. Both state-of-the-art engines are characterized by a new lightweight yet ultra-strong Compacted Graphite Iron (CGI) block and cast-iron cylinder head, new low-friction pistons, new highly efficient compressors and a new waste-gate turbo.
Full range of engine ratings
The new PACCAR PX engines for the DAF LF series are available in 7 output ratings, to optimally meet customer requirements.
The 4.5 litre PACCAR PX-5 engine comes with outputs from 124 kW (170 hp) to 153 kW (210 hp) and the 6.7 litre PACCAR PX-7 engine has outputs from 167 kW (230 hp) up to 227 kW (310 hp). The engines develop peak torque at even lower engine speeds, supporting down-speeding and thus excellent fuel efficiency.
PowerLine automatic gearboxes
Part of the new DAF LF driveline is the new 8-speed, fully automatic PowerLine transmission, which feature optimal gear spread and steps. Powershifting without any torque interruption enables smooth shifts and quick throttle response, resulting in excellent comfort and driveability. In addition, the new transmissions provide outstanding low speed maneuverability, enabled by an urge-to-move feature upon releasing the brake pedal.
6- and 9-speed manual transmissions will remain available for the DAF LF series, while fully automatic Allison gearboxes will continue to be available for special applications, such as refuse collection and firefighting.
Fuel efficiency
The new PACCAR PX-5 and PX-7 engines and PowerLine transmissions – in combination with optimized rear axle ratios – result in fuel savings of up to 7%, depending on the application, further enhancing the excellent business proposition of the DAF LF series in the distribution segment.
NJC.© Info DAF Trucks
-------------------------------------------------------------------------------------------------------------------
19/10/22-NL
Nieuwe DAF LF-serie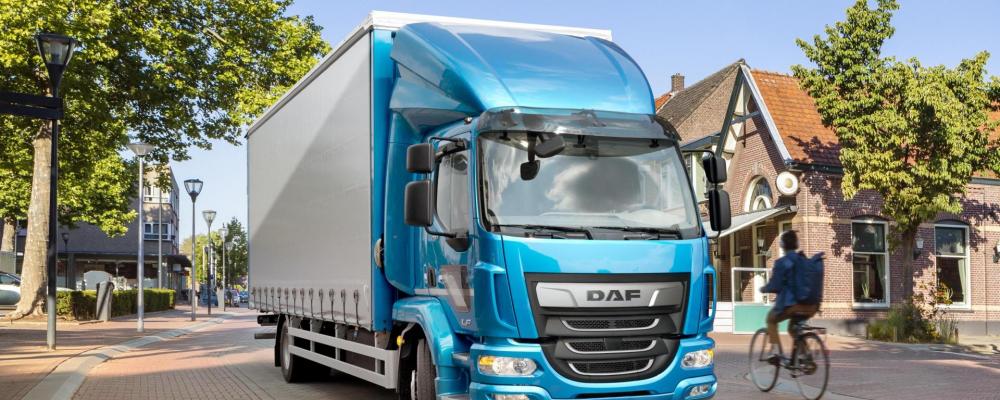 Image DAF Trucks
DAF Trucks introduceert een geheel nieuwe reeks aandrijflijnen voor zijn populaire LF-distributieserie. De nieuwe PACCAR PX-5 en PX-7 motoren in combinatie met de nieuwe automatische 8-traps PowerLine versnellingsbakken resulteren in een tot 7% ​​hoger brandstofverbruik in vergelijking met de toch al zeer zuinige modellen.

De DAF LF is de ultieme distributietruck voor zowel machinist als chauffeur. Hij combineert de laagste bedrijfskosten, een hoog laadvermogen, uitstekende betrouwbaarheid en toonaangevende wendbaarheid met uitstekend comfort, ergonomie en rijeigenschappen.
Nieuwe zeer efficiënte motoren
De 4,5 liter 4-cilinder PACCAR PX-5-motor en de 6,7 liter 6-cilinder PACCAR PX-7-motor zijn volledig opnieuw ontworpen. Beide ultramoderne motoren worden gekenmerkt door een nieuw lichtgewicht maar ultrasterk Compacted Graphite Iron (CGI) -blok en gietijzeren cilinderkop, nieuwe zuigers met lage wrijving, nieuwe zeer efficiënte compressoren en een nieuwe waste-gate turbo .
Volledige reeks motorvermogens
De nieuwe PACCAR PX-motoren voor de DAF LF-serie zijn leverbaar in 7 vermogensklassen, om optimaal aan de wensen van de klant te voldoen.
De 4,5 liter PACCAR PX-5-motor heeft vermogens van 124 kW (170 pk) tot 153 kW (210 pk) en de 6,7 liter PACCAR PX-7-motor heeft vermogens van 167 kW (230 pk) tot 227 kW (310 pk). ). De motoren ontwikkelen een piekkoppel bij nog lagere motortoerentallen, waardoor het minder snel gaat en dus een uitstekend brandstofverbruik.
PowerLine automatische versnellingsbakken
Onderdeel van de nieuwe DAF LF-aandrijflijn is de nieuwe 8-traps, volautomatische PowerLine-transmissie, met een optimale spreiding van de versnellingen en trappen. Powershifting zonder enige koppelonderbreking zorgt voor soepel schakelen en een snelle gasrespons, wat resulteert in uitstekend comfort en rijeigenschappen. Bovendien bieden de nieuwe transmissies een uitstekende manoeuvreerbaarheid bij lage snelheden, mogelijk gemaakt door een bewegingsdrang bij het loslaten van het rempedaal.
Handgeschakelde 6- en 9-versnellingen blijven beschikbaar voor de DAF LF-serie, terwijl volautomatische Allison-versnellingsbakken beschikbaar blijven voor speciale toepassingen, zoals afvalinzameling en brandbestrijding.
Brandstofefficiëntie
De nieuwe PACCAR PX-5- en PX-7-motoren en PowerLine-transmissies – in combinatie met geoptimaliseerde achterasoverbrengingen – resulteren in een brandstofbesparing tot 7%, afhankelijk van de toepassing, wat de uitstekende zakelijke propositie van de DAF LF-serie in het distributiesegment.
NJC.© Info DAF Trucks
--------------------------------------------------------------------------------------------------------------------------