New DAF steered pusher axle for even greater efficiency
14/12/22-FR-English-NL-footer
Nouvel essieu poussé directeur DAF pour encore plus d'efficacité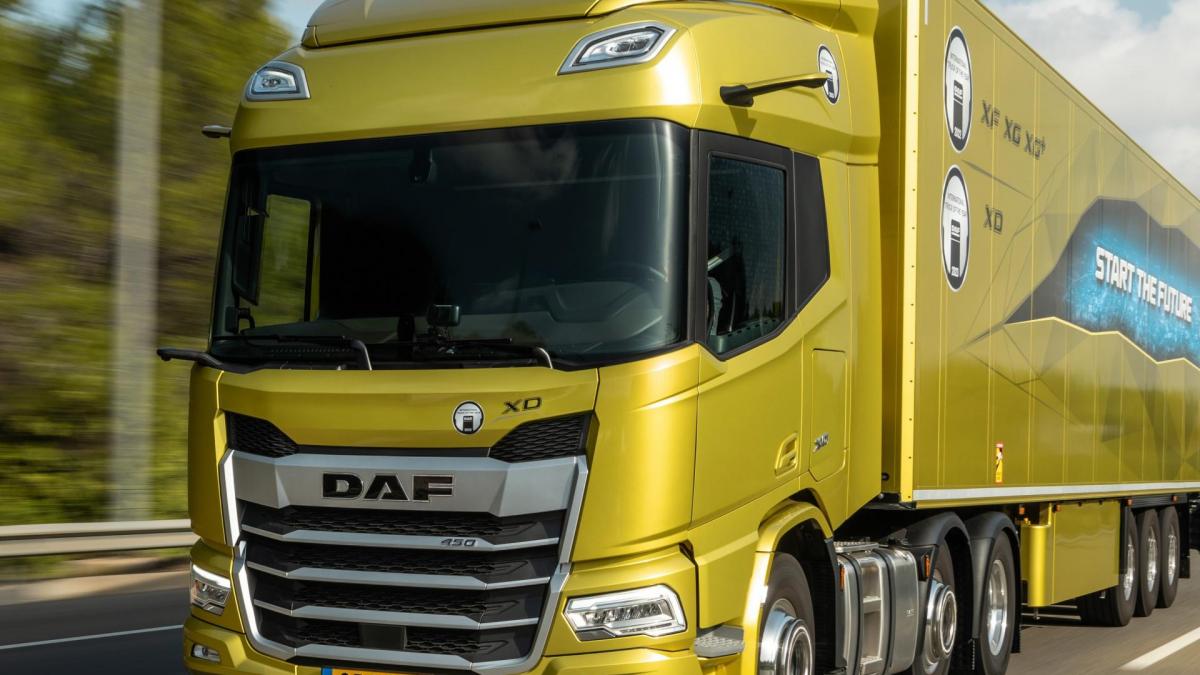 Image-DAF Electric Hydraulic Steering system on New Generation 6x2 tractors and rigids
Pour un rendement énergétique encore meilleur, des charges utiles plus élevées et une maniabilité améliorée, DAF introduit un système de direction hydraulique électrique (EHS) sur les tracteurs 6x2 et les véhicules porteurs avec un essieu poussé directeur. Le nouveau système est disponible pour toute la gamme de camions DAF de nouvelle génération : les XF, XG et XG⁺ ainsi que le XD, les « camions internationaux de l'année 2022 et 2023 ».
Les transports de matériaux agricoles et de construction particulièrement lourds bénéficient grandement des avantages d'un essieu poussé directeur : des manœuvres précises en combinaison avec une excellente convivialité au chantier et une charge utile encore plus élevée. Cela fait de l'essieu poussé directeur également une excellente option pour la collecte des déchets et le transport de liquides.
Réduction de la consommation de carburant
Le nouveau système de direction hydraulique électrique de DAF succède à la variante mécanique. Les deux bras de direction et le bras de suspension auxiliaire sont remplacés par une unité de pompe de direction à commande électronique, ce qui réduit le poids de 30 kilogrammes. Grâce à une friction réduite, le nouveau système EHS se traduit également par un gain de 0,3 % en termes de consommation de carburant.
De plus, les composants du nouveau système prennent moins de place sur le châssis, permettant des réservoirs de carburant jusqu'à 40 % plus grands sur la version tracteur. La capacité de charge de carburant de 900 litres sur les XD, XF, XG et XG⁺ permet de réduire davantage les coûts d'exploitation en faisant le plein là où les prix du carburant sont les plus bas.
Direction précise
Le nouveau système de direction électro-hydraulique calcule en continu l'angle de braquage optimal pour l'essieu poussé directeur en fonction de la vitesse et de l'empattement, garantissant une direction très précise. Le rayon de braquage des modèles de tracteur et de châssis rigide a encore été réduit de 12 %, ce qui se traduit par une maniabilité optimale.
À des vitesses supérieures à 45 km/h, le nouvel essieu poussé à direction électrohydraulique se verrouille en position droite, garantissant une stabilité maximale du véhicule. La suspension, le guidage et le relevage entièrement repensés du nouvel essieu poussé à direction électro-hydraulique contribuent au confort du conducteur.
NJC.© Info DAF Trucks
---------------------------------------------------------------------------------------------------------------------
14/12/22-English
New DAF steered pusher axle for even greater efficiency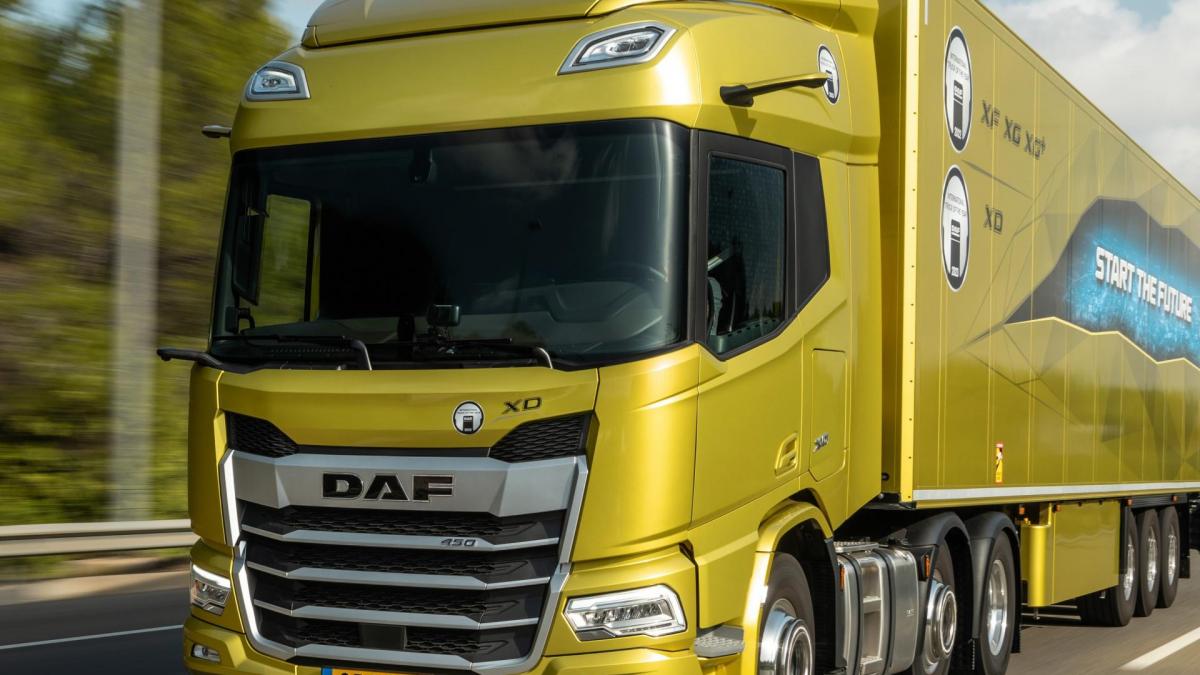 Image-DAF Electric Hydraulic Steering system on New Generation 6x2 tractors and rigids
For even better fuel efficiency, higher payloads and enhanced maneuverability, DAF is introducing an Electric Hydraulic Steering (EHS) system on 6x2 tractor and rigid vehicles with a steered pusher axle. The new system is available for the complete New Generation DAF truck range: the XF, XG and XG⁺ as well as the XD, the 'International Trucks of the Year 2022 and 2023'.
Especially heavy agricultural and construction material transports greatly benefit from the advantages of a steered pusher axle: precisely maneuvering in combination with excellent yard-friendliness and an even higher payload. That makes the steered pusher axle also a great option for waste collection and liquid transports.
Lower fuel consumption
DAF's new Electric Hydraulic Steering system succeeds the mechanical variant. The two steering arms and the auxiliary drop arm are replaced by an electronically-controlled steering pump unit, which results in 30 kilograms lower weight. Thanks to reduced friction, the new EHS system results in a 0.3% fuel efficiency gain as well.
In addition, components of the new system take less space on the chassis, allowing up to 40% larger fuel tanks on the tractor version. The 900 litre fuel carrying capacity on the XD, XF, XG and XG⁺ allows for further reducing operational costs by refueling where fuel prices are lowest.
Precise steering
The newly developed Electric Hydraulic Steering system continuously calculates the optimal steering angle for the steered pusher axle based on speed and wheelbase, guaranteeing very precise steering. The turning circle of the tractor and rigid chassis models has been further reduced by 12%, resulting in optimal maneuverability.
At speeds of over 45 km/h, the new electric hydraulic steered pusher axle locks itself in the straight-ahead position, guaranteeing maximum vehicle stability. The completely redesigned suspension, guide and lift of the new electric-hydraulicly steered pusher axle add to highest driver comfort.
NJC.© Info DAF Trucks
-----------------------------------------------------------------------------------------------------------------
14/12/22-NL
Nieuwe DAF gestuurde voorloopas voor nog meer efficiency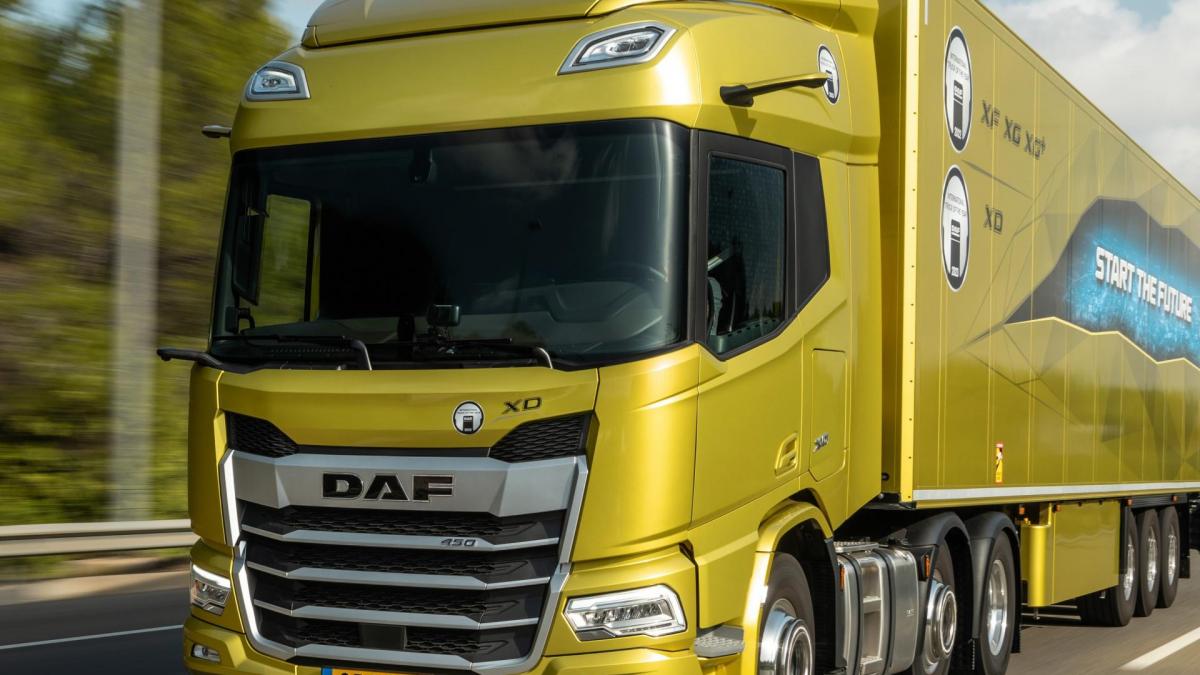 Image-DAF Electric Hydraulic Steering system on New Generation 6x2 tractors and rigids
Voor een nog lager brandstofverbruik, een hoger laadvermogen en verbeterde wendbaarheid introduceert DAF een elektrisch hydraulisch stuursysteem (EHS) op 6x2 trekkers en bakwagens met een gestuurde voorloopas. Het nieuwe systeem is beschikbaar voor de complete New Generation DAF-truckreeks: de XF, XG en XG⁺, evenals de XD, de 'International Trucks of the Year 2022 en 2023'.
Vooral zware landbouw- en bouwmateriaaltransporten profiteren enorm van de voordelen van een gestuurde voorloopas: nauwkeurig manoeuvreren in combinatie met uitstekende erfvriendelijkheid en een nog hoger laadvermogen. Dat maakt de gestuurde voorloopas ook een prima optie voor afvalinzameling en vloeistoftransporten.
Lager brandstofverbruik
DAF's nieuwe Elektrisch Hydraulische Besturing volgt de mechanische variant op. De twee stuurarmen en de extra uitvalarm zijn vervangen door een elektronisch gestuurde stuurpompunit, wat resulteert in 30 kilogram minder gewicht. Dankzij de verminderde wrijving resulteert het nieuwe EHS-systeem ook in een brandstofbesparing van 0,3%.
Bovendien nemen onderdelen van het nieuwe systeem minder ruimte in beslag op het chassis, waardoor tot 40% grotere brandstoftanks op de trekkerversie mogelijk zijn. Dankzij de brandstofcapaciteit van 900 liter op de XD, XF, XG en XG⁺ kunnen de operationele kosten verder worden verlaagd door te tanken waar de brandstofprijzen het laagst zijn.
Nauwkeurige besturing
Het nieuw ontwikkelde Elektrisch Hydraulische Stuursysteem berekent continu de optimale stuurhoek voor de gestuurde voorloopas op basis van snelheid en wielbasis, waardoor zeer nauwkeurig sturen gegarandeerd wordt. De draaicirkel van de trekker- en bakwagenmodellen is verder met 12% verkleind, wat resulteert in een optimale wendbaarheid.
Bij snelheden van meer dan 45 km/u blokkeert de nieuwe elektrisch hydraulisch gestuurde voorloopas zichzelf in de rechtuitstand, waardoor een maximale voertuigstabiliteit wordt gegarandeerd. De volledig opnieuw ontworpen ophanging, geleiding en lift van de nieuwe elektrisch-hydraulisch gestuurde voorloopas dragen bij aan het hoogste chauffeurscomfort.
NJC.© Info DAF Trucks
---------------------------------------------------------------------------------------------------------------------