Hilti-New features for semi-autonomous mobile drilling robot
22/06/22-FR-English-NL-footer
Nouvelles fonctionnalités pour le robot de forage mobile semi-autonome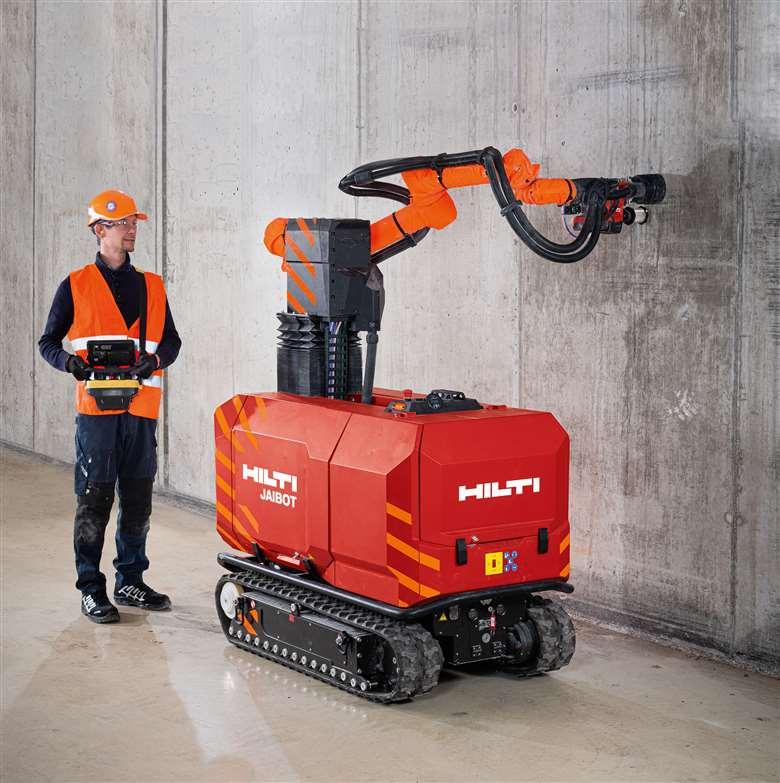 Image-HILTI
Hilti a publié de nouvelles fonctionnalités pour son robot de forage mobile semi-autonome appelé Jaibot. La machine utilise des données planifiées numériquement pour exécuter des tâches et la série de nouvelles fonctionnalités devrait encore augmenter la productivité et soutenir l'adoption dans l'industrie.
Le Jaibot peut désormais identifier et cartographier les profils installés des structures de tablier en tôle ondulée, s'aligner sur les plans numériques et adapter automatiquement les trous de forage planifiés aux zones d'installation prédéfinies. Pour éviter les obstacles tels que les installations existantes ou les éléments structurels, Hilti indique que le Jaibot peut détecter ces objets et ajuster sa zone de travail et ses mouvements de bras en conséquence.
De plus, le Jaibot peut désormais également percer et marquer des trous dans des murs verticaux en béton à des hauteurs comprises entre 0,9 et 4,8 m.
Hilti a déclaré qu'il publiera également une gamme de fonctionnalités pour améliorer la sécurité, simplifier l'utilisation et améliorer la précision. Pour offrir aux travailleurs une protection encore plus grande contre la poussière, le système d'aspiration du Jaibot peut être mis à niveau pour offrir des performances de dépoussiérage 30 % plus élevées. L'intégration d'un nouveau système de capteurs améliore la précision de la profondeur de perçage et la mesure de la distance.
Sur l'application cloud Hilti, les nouvelles options de téléchargement de plan d'installation ou d'étage structurel 2D permettront d'augmenter les informations de fond, d'améliorer la gestion des utilisateurs et le filtrage par diamètre pour établir un chemin de forage et l'exécution du plan, ainsi que des rapports améliorés avec des fonctionnalités telles que Field-to -Données BIM et avancement du forage.
"Lorsque nous avons annoncé le Jaibot pour la première fois, nous avons promis aux clients que nous écouterions et apprendrions ce dont il avait besoin pour automatiser avec succès les tâches sur le chantier", explique Julia Zanona, chef de produit pour le Jaibot.
"Nous sommes convaincus que les nouvelles fonctionnalités répondent aux besoins de nos clients Jaibot et sont un signe clair que nous nous engageons à améliorer continuellement la productivité des travailleurs grâce à l'automatisation."
NJC.© Info HILTI
---------------------------------------------------------------------------------------------------------------------
22/06/22-English
New features for semi-autonomous mobile drilling robot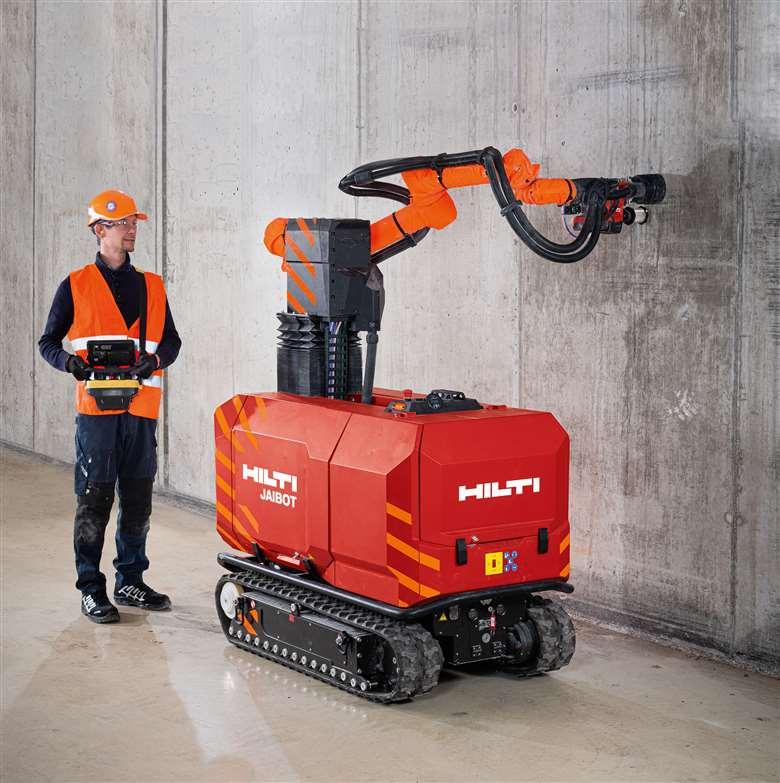 Image-HILTI
Hilti has released new features for their semi-autonomous mobile drilling robot called the Jaibot. The machine uses digitally planned data to execute tasks and the series of new features are said to further boost productivity and support adoption in the industry.
The Jaibot can now identify and map installed profiles of corrugated sheet metal deck structures, align with the digital plans and automatically adapt planned drill holes to pre-defined installation zones. To avoid obstacles such as existing installations or structural elements, Hilti says that the Jaibot can detect these objects and adjust its working area and arm movements accordingly.
In addition, the Jaibot can now also drill and mark holes in vertical concrete walls at heights between 0.9 and 4.8m.
Hilti has said that they will also be releasing a range of features to improve safety, simplify use and improve accuracy. To provide workers with even greater protection against dust, the Jaibot's vacuum system can be upgraded to deliver 30% higher dust removal performance. The integration of a new sensor system improves hole drilling depth accuracy and distance measuring.
On the Hilti cloud application, the new 2D structural floor or installation plan upload options will allow for increased background information, improved user management and filtering by diameter to establish a drilling path and plan execution, as well as enhanced reporting with features like Field-to-BIM data and drilling progress.
"When we first announced the Jaibot, we promised customers that we would listen and learn as to what it needs to successfully automate tasks on the jobsite," says Julia Zanona, product manager for the Jaibot.
"We are confident that the new features address the needs of our Jaibot customers and are a clear sign that we are committed to continuously enhancing worker productivity through automation."
NJC.© Info HILTI
----------------------------------------------------------------------------------------------------------------
22/06/22-NL
Nieuwe functies voor semi-autonome mobiele boorrobot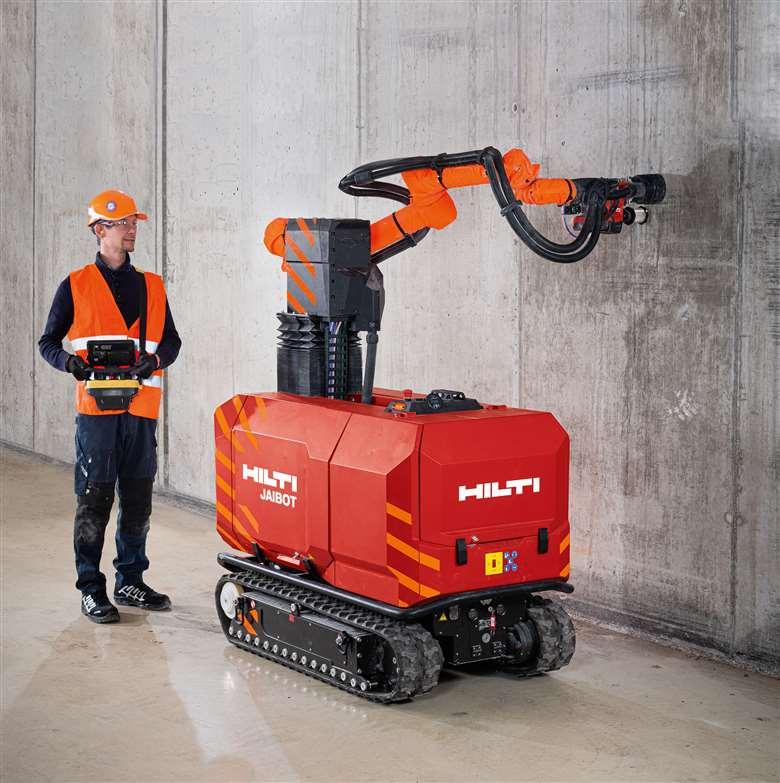 Image-HILTI
Hilti heeft nieuwe functies uitgebracht voor hun semi-autonome mobiele boorrobot, de Jaibot. De machine gebruikt digitaal geplande gegevens om taken uit te voeren en de reeks nieuwe functies zou de productiviteit verder verhogen en de acceptatie in de branche ondersteunen.
De Jaibot kan nu geïnstalleerde profielen van dekconstructies van golfplaten identificeren en in kaart brengen, uitlijnen met de digitale plannen en automatisch geplande boorgaten aanpassen aan vooraf gedefinieerde installatiezones. Om obstakels zoals bestaande installaties of structurele elementen te vermijden, zegt Hilti dat de Jaibot deze objecten kan detecteren en zijn werkgebied en armbewegingen dienovereenkomstig kan aanpassen.
Daarnaast kan de Jaibot nu ook gaten boren en markeren in verticale betonnen muren op een hoogte tussen 0,9 en 4,8 meter.
Hilti heeft gezegd dat ze ook een reeks functies zullen uitbrengen om de veiligheid te verbeteren, het gebruik te vereenvoudigen en de nauwkeurigheid te verbeteren. Om werknemers nog meer bescherming tegen stof te bieden, kan het vacuümsysteem van de Jaibot worden geüpgraded om 30% hogere stofverwijderingsprestaties te leveren. De integratie van een nieuw sensorsysteem verbetert de nauwkeurigheid van het boren van gaten en het meten van afstanden.
In de Hilti-cloudapplicatie zorgen de nieuwe uploadopties voor 2D-structurele vloer- of installatieplannen voor meer achtergrondinformatie, verbeterd gebruikersbeheer en filtering op diameter om een ​​boorpad en planuitvoering tot stand te brengen, evenals verbeterde rapportage met functies zoals Field-to -BIM-gegevens en boorvoortgang.
"Toen we de Jaibot voor het eerst aankondigden, beloofden we klanten dat we zouden luisteren en leren wat er nodig is om taken op de bouwplaats succesvol te automatiseren", zegt Julia Zanona, productmanager voor de Jaibot.
"We zijn ervan overtuigd dat de nieuwe functies tegemoet komen aan de behoeften van onze Jaibot-klanten en een duidelijk teken zijn dat we ons inzetten voor het continu verbeteren van de productiviteit van werknemers door middel van automatisering."
NJC.© Info HILTI
--------------------------------------------------------------------------------------------------------------------
Date de dernière mise à jour : 22/06/2022