New Hyster® double stacker to optimise productivity in logistics operations
18/11/22-FR-English-NL-footer
Nouveau gerbeur double Hyster® pour optimiser la productivité des opérations logistiques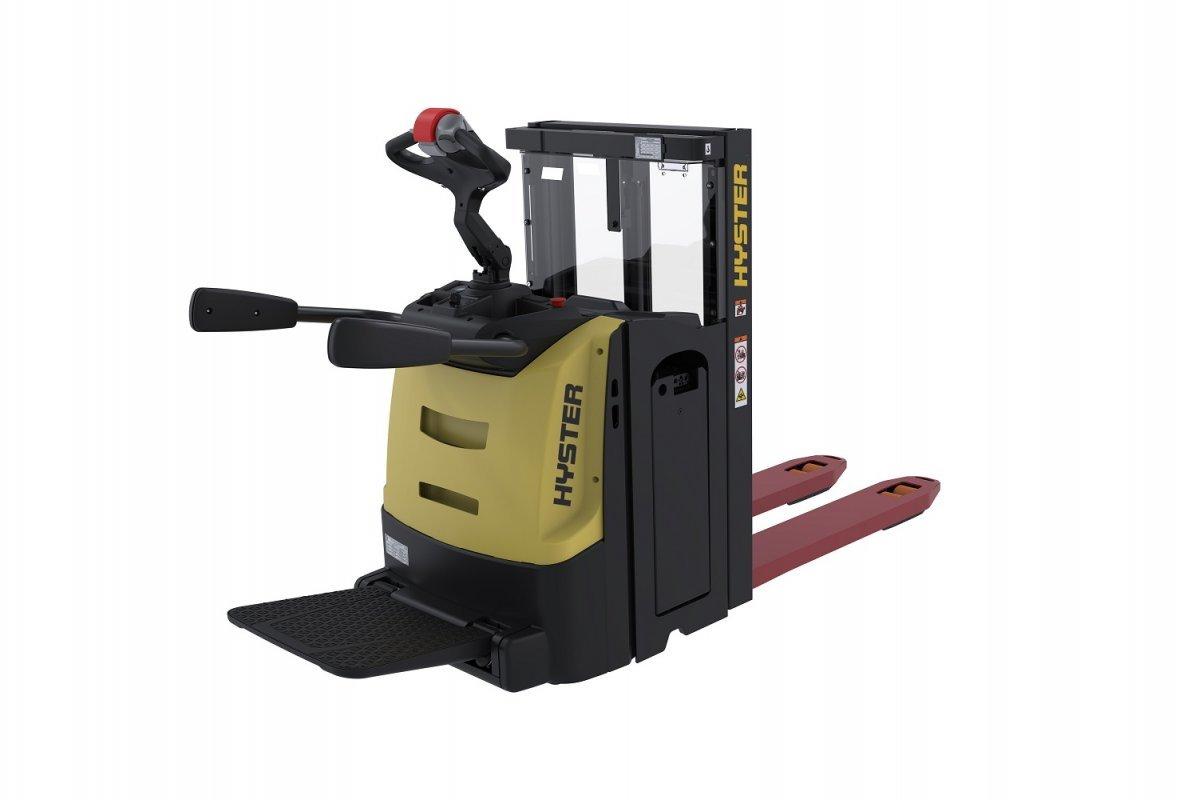 New Hyster double stacker to optimise productivity in logistics operations IMAGE SOURCE: Hyster®
Hyster a ajouté le nouveau gerbeur double plate-forme S2.0SD à sa gamme d'équipements d'entrepôt fiables pour aider les opérations à augmenter la productivité, tout en maîtrisant les coûts.
Le nouveau gerbeur Hyster®, qui peut manipuler des charges allant jusqu'à deux tonnes, permet le double gerbage et la manutention de charges de palettes ouvertes, ainsi que le transport et le chargement ou le déchargement de palettes empilées par deux dans une remorque. Il est particulièrement bien adapté aux opérations logistiques, au commerce de détail, à la distribution alimentaire et aux applications de chargement à quai, où la productivité dans le transport et le stockage de charges palettisées est nécessaire.
Publicité
Le nouveau gerbeur Hyster offre une vitesse accrue, à la fois en charge et à vide, ce qui le rend idéal pour parcourir de longues distances ou pour travailler sur les quais de chargement. Il a également été conçu pour l'efficacité de l'opérateur avec une nouvelle tête de timon, un choix de différents modes de conduite et une conception de bras latéraux qui permet de se déplacer plus rapidement vers la position souhaitée.
Pour la protection et le confort de l'opérateur, le double gerbeur à plate-forme Hyster S2.0SD est doté d'une grande plate-forme avec un tapis de sol en caoutchouc pour une excellente prise en main et des panneaux latéraux/arrière du compartiment de l'opérateur. Le chariot offre une option de levage ergonomique pour les opérations de réapprovisionnement des étagères avec un mât NFL à 2 étages avec des hauteurs de levage de 1660 mm, 2020 mm et 2980 mm. Les applications avec des espaces restreints peuvent également en bénéficier, grâce à la flexibilité d'une plate-forme repliable. Des modèles avec plate-forme fixe sont également disponibles.
Ceux qui choisissent d'utiliser une batterie lithium-ion avec le camion bénéficieront également d'une disponibilité élevée sur plusieurs quarts de travail grâce à la possibilité de charger pendant les pauses via la prise latérale pratique. Le camion est conçu pour être « lithium-ion ready », avec un contrôleur qui reconnaît automatiquement la chimie de la batterie (lithium-ion contre plomb-acide), il n'est donc pas nécessaire de modifier les paramètres pour gérer la batterie.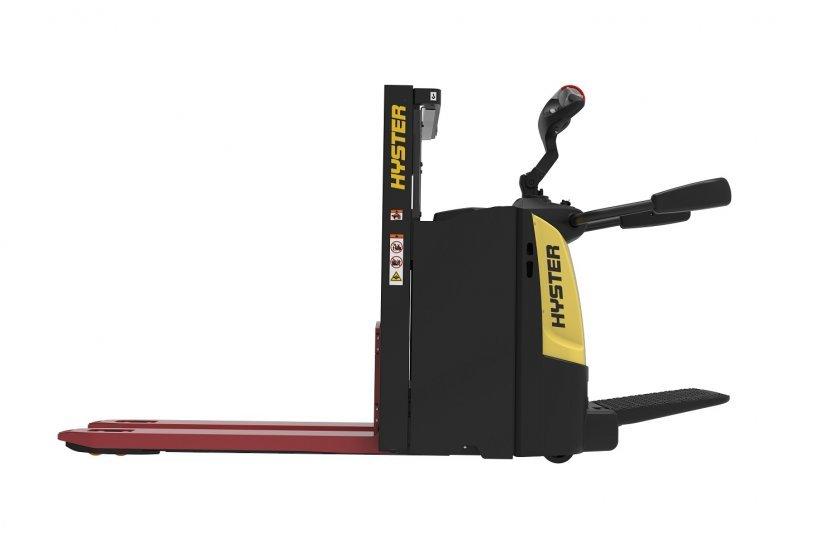 New Hyster double stacker to optimise productivity in logistics operations
IMAGE SOURCE: Hyster®
« La gestion des coûts est plus importante que jamais, c'est pourquoi le nouveau double gerbeur de la plate-forme Hyster est conçu pour la fiabilité ainsi que la productivité, avec un faible coût total de possession », déclare Monica Radavelli, Product Manager Warehouse, chez Hyster. « Il est doté de composants robustes, d'une conception robuste, d'un système électrique fiable et d'une facilité d'entretien que les applications peuvent combiner avec des options supplémentaires pour mieux adapter le chariot à l'application spécifique. »
Les options supplémentaires (selon le modèle) incluent la télématique Hyster Tracker, plusieurs ensembles d'éclairage, une barre réglable, un système de démarrage à clé et clavier, un dossier de charge, des roues de charge, une gamme de roues motrices, un capteur de pied ou une conversion de chambre froide. Les options supplémentaires pour améliorer l'expérience de l'opérateur comprennent des barres et des pinces polyvalentes, un presse-papiers et un porte-bouteille.
Le double gerbeur à plate-forme Hyster S2.0SD, qui remplace le modèle Hyster P2.0SD actuel, est disponible à la commande dès maintenant afin que les entreprises puissent améliorer leur productivité et, par conséquent, bénéficier de réductions de coûts.
NJC.© Info HYSTER
---------------------------------------------------------------------------------------------------------------
18/11/22-English
New Hyster® double stacker to optimise productivity in logistics operations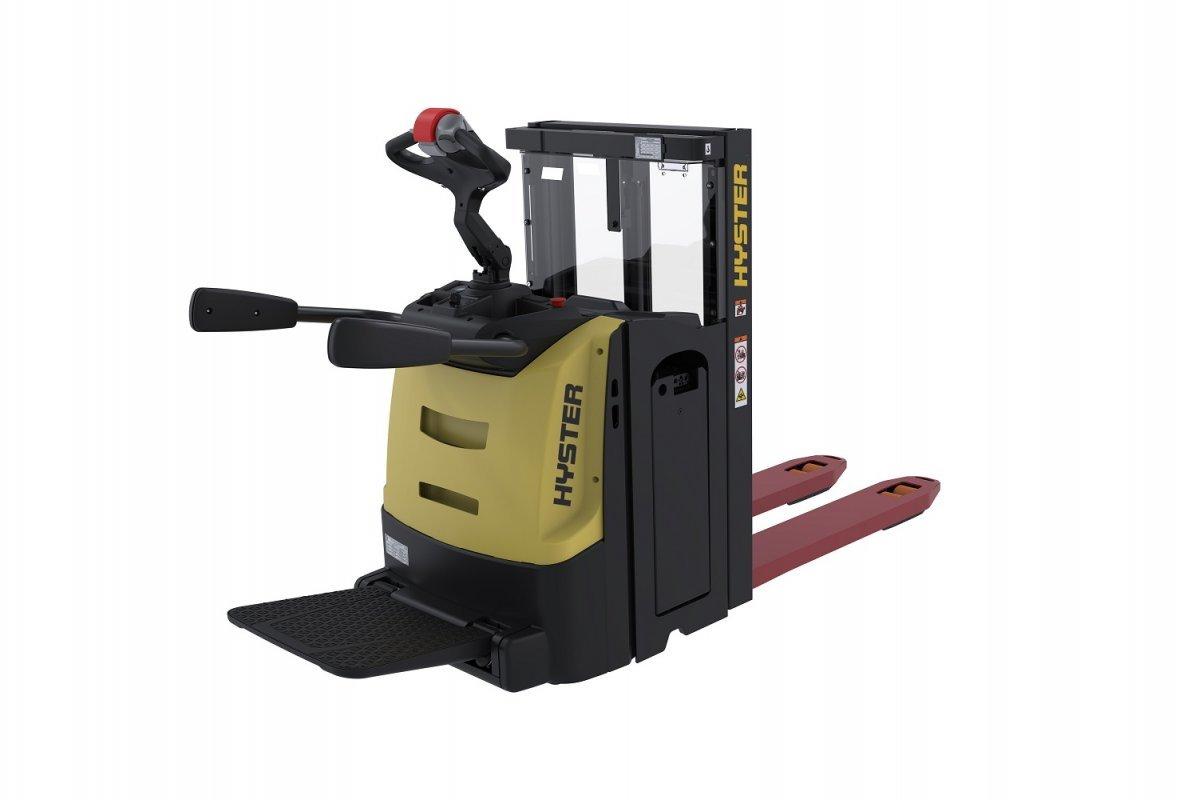 New Hyster double stacker to optimise productivity in logistics operations IMAGE SOURCE: Hyster®
Hyster has added the new S2.0SD platform double stacker to its range of dependable warehouse equipment to help operations increase productivity, while managing costs.
The new Hyster® stacker truck, which can handle loads up to two tonnes, enables double stacking and handling of open sided pallet loads, as well as the transportation and loading or unloading of pallets stacked two high in a trailer. It is particularly well suited to logistics operations, retail, food distribution, and dock loading applications, where productivity in the transport and storage of palletised loads is necessary.
Advertisement
The new Hyster stacker provides increased speed, both when laden and unladen, making it suitable for travelling long distances or for working in loading docks. It has also been designed for operator efficiency with a new tiller head, a choice of different driving modes, and a side arms design that makes it quicker to move to the desired position.
For operator protection and comfort, the Hyster S2.0SD platform double stacker features a large platform with rubber floormat to provide excellent grip and side/rear operator compartment panels. The truck provides an ergonomic lifting option for shelf replenishment operations with a 2-stage NFL mast with lift heights of 1660mm, 2020mm and 2980mm. Applications with tight spaces can also benefit, thanks to the flexibility of a fold-up platform. Models with a fixed platform are also available.
Those opting to use a lithium-ion battery with the truck will also benefit from high uptime across multiple shifts thanks to the ability to opportunity charge during breaks via the convenient side plug. The truck is designed to be 'lithium-ion ready', with a controller that automatically recognises the chemistry of the battery (lithium-ion vs. lead-acid) so there is no need to change any parameters to manage the battery.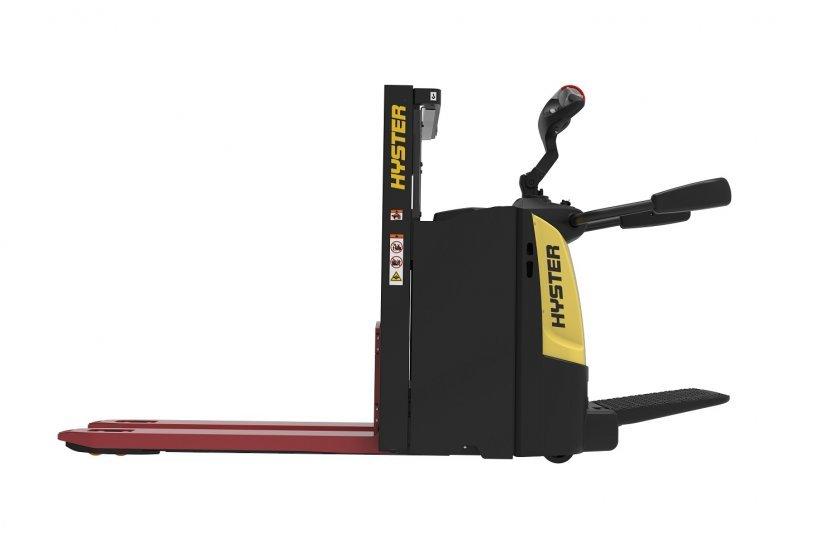 New Hyster double stacker to optimise productivity in logistics operations
IMAGE SOURCE: Hyster®
"Managing costs is as important as ever, so the new Hyster platform double stacker is designed for dependability as well as productivity, with a low Total Cost of Ownership," says Monica Radavelli, Product Manager Warehouse, for Hyster. "It features heavy duty components, robust design, a reliable electric system, and simple serviceability that applications can combine with additional options to further match the truck to the specific application."
Optional extras (dependent on the model) include Hyster Tracker telematics, several light packages, adjustable tiller, a key and keypad start system, a load backrest, load wheels, a range of drive wheels, foot sensor or cold store conversion. Additional options to enhance the operator experience include multipurpose bars and clamps, clipboard, and a bottle holder.
The Hyster S2.0SD platform double stacker, which replaces the current Hyster P2.0SD model, is available to order now so that businesses can improve productivity, and in turn benefit from cost efficiencies.
NJC.© Info HYSTER
-------------------------------------------------------------------------------------------------------------------
18/11/22-NL
Nieuwe Hyster® dubbele stapelaar om de productiviteit in logistieke operaties te optimaliseren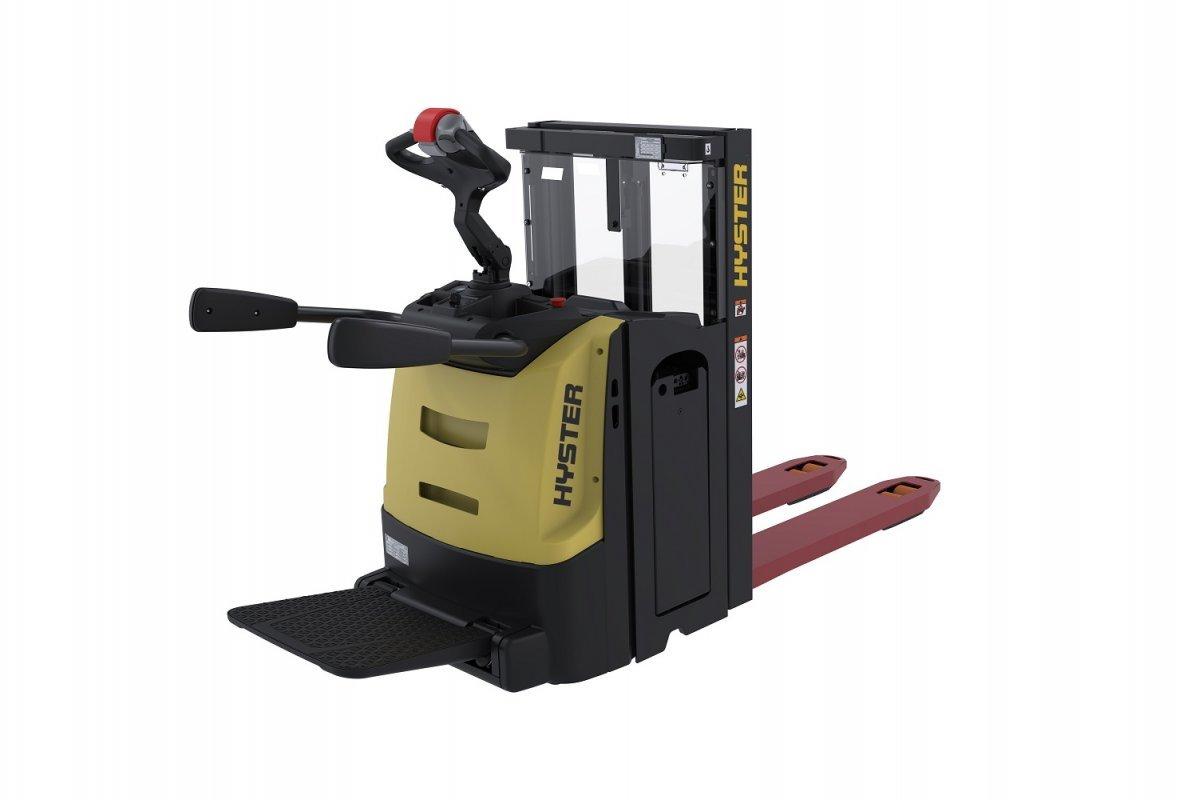 New Hyster double stacker to optimise productivity in logistics operations IMAGE SOURCE: Hyster®
Hyster heeft de nieuwe dubbele stapelaar met S2.0SD-platform toegevoegd aan zijn assortiment betrouwbare magazijnapparatuur om de productiviteit te verhogen en tegelijkertijd de kosten te beheersen.
De nieuwe Hyster®-stapelaar, die ladingen tot twee ton aankan, maakt dubbel stapelen en hanteren van openzijdige palletladingen mogelijk, evenals het transporteren en laden of lossen van pallets die twee hoog in een aanhangwagen zijn gestapeld. Het is met name geschikt voor logistieke operaties, detailhandel, voedseldistributie en laadperrons, waar productiviteit bij het transport en de opslag van gepalletiseerde ladingen noodzakelijk is.
Advertentie
De nieuwe stapelaar van Hyster biedt hogere snelheid, zowel beladen als onbeladen, waardoor hij geschikt is voor het afleggen van lange afstanden of voor het werken in laadperrons. Hij is ook ontworpen voor efficiëntie van de machinist met een nieuwe disselkop, een keuze uit verschillende rijmodi en een ontwerp met zijarmen waardoor hij sneller naar de gewenste positie kan worden verplaatst.
Voor de bescherming en het comfort van de machinist heeft de Hyster S2.0SD-platformdubbele stapelaar een groot platform met een rubberen vloermat voor uitstekende grip en panelen aan de zijkant/achterkant van het machinistencompartiment. De truck biedt een ergonomische hefoptie voor het aanvullen van schappen met een 2-traps NFL-mast met hefhoogtes van 1660 mm, 2020 mm en 2980 mm. Ook toepassingen met krappe ruimtes kunnen profiteren, dankzij de flexibiliteit van een opklapbaar platform. Er zijn ook modellen met een vast platform beschikbaar.
Degenen die ervoor kiezen om een ​​lithium-ionbatterij bij de truck te gebruiken, zullen ook profiteren van een hoge uptime tijdens meerdere ploegen dankzij de mogelijkheid om tijdens pauzes op te laden via de handige zijstekker. De truck is ontworpen om 'lithium-ion ready' te zijn, met een controller die automatisch de chemie van de batterij herkent (lithium-ion vs. loodzuur), dus het is niet nodig om parameters te wijzigen om de batterij te beheren.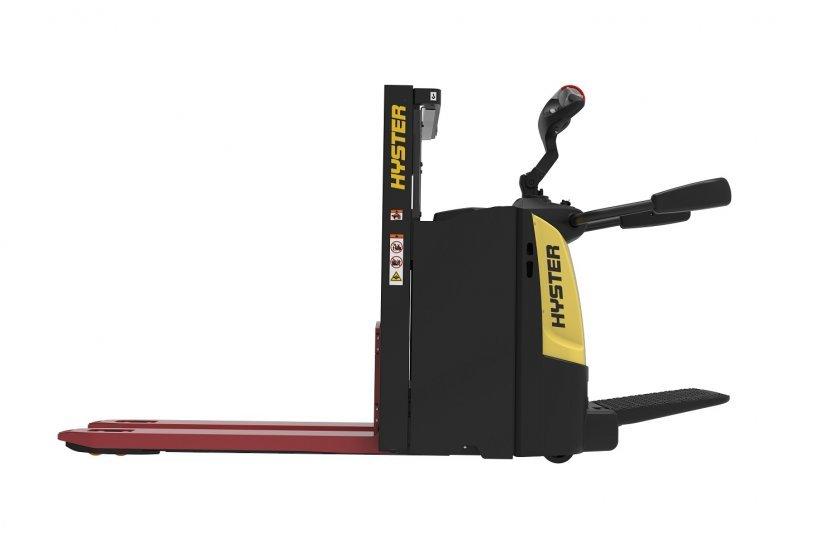 New Hyster double stacker to optimise productivity in logistics operations
IMAGE SOURCE: Hyster®
"Kostenbeheersing is net zo belangrijk als altijd, dus de nieuwe dubbele stapelaar met platform van Hyster is ontworpen voor zowel betrouwbaarheid als productiviteit, met lage totale eigendomskosten", zegt Monica Radavelli, Product Manager Warehouse, voor Hyster. "Hij beschikt over heavy-duty componenten, een robuust ontwerp, een betrouwbaar elektrisch systeem en eenvoudig onderhoud dat toepassingen kunnen combineren met extra opties om de truck verder af te stemmen op de specifieke toepassing."
Optionele extra's (afhankelijk van het model) zijn onder meer Hyster Tracker-telematica, verschillende lichtpakketten, verstelbare dissel, een startsysteem met sleutel en toetsenbord, een lastrek, lastwielen, een reeks aandrijfwielen, voetsensor of ombouw naar koelhuis. Extra opties om de ervaring van de machinist te verbeteren, zijn multifunctionele stangen en klemmen, een klembord en een flessenhouder.
De dubbele stapelaar van het Hyster S2.0SD-platform, die het huidige Hyster P2.0SD-model vervangt, kan nu worden besteld, zodat bedrijven hun productiviteit kunnen verbeteren en op hun beurt kunnen profiteren van kostenbesparingen.
NJC.© Info HYSTER
----------------------------------------------------------------------------------------------------------------------