New, Improved Volvo L350H Wheel Loader Coming to North America

26/04/23-FR-English-NL-footer
Volvo Construction Equipment (Volvo CE) lance sa chargeuse sur pneus L350H mise à jour en Amérique du Nord,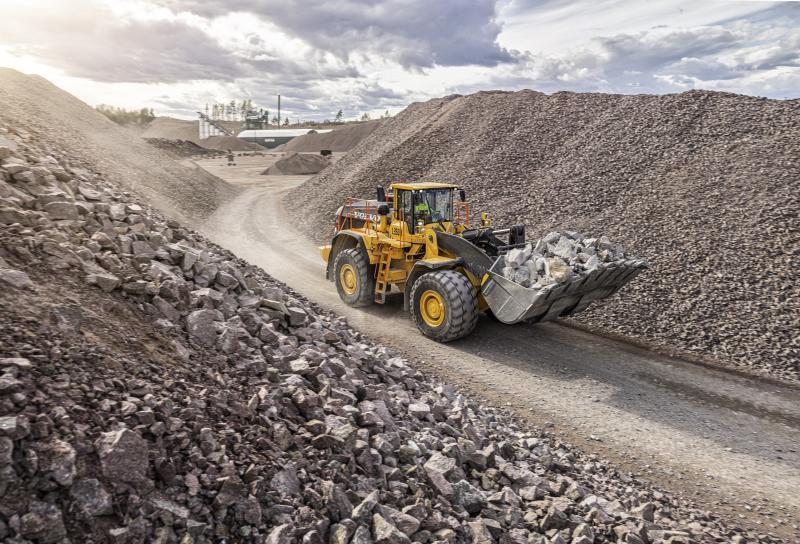 Image-One of the more notable improvements on the updated L350H wheel loader is a more responsive hydraulics system featuring new lift and tilt cylinders, and an increased hydraulic working pressure for 10 percent faster work cycles and higher productivity.
avec une multitude de mises à niveau qui offriront aux clients une productivité et une efficacité énergétique accrues avec des coûts d'entretien réduits dans une machine conçue pour une gamme d'applications lourdes.
« Pendant des décennies, la L350 a été notre chargeuse phare », a déclaré Eric Yeomans, chef de produit, chargeuses sur pneus, Volvo CE. "Nous avons pris une machine éprouvée et construit sur les fonctionnalités qui en font une machine sur laquelle nos clients comptent jour après jour. Ces mises à niveau la rendent encore plus efficace et productive."
Évolution de l'excellence
L'une des améliorations les plus notables de la chargeuse sur pneus L350H mise à jour est un système hydraulique plus réactif avec de nouveaux vérins de levage et d'inclinaison, et une pression de travail hydraulique accrue pour des cycles de travail 10 % plus rapides et une productivité accrue.
La chaîne cinématique améliorée comprend de nouveaux essieux Volvo et une toute nouvelle transmission Volvo, qui permet d'équiper de série l'OptiShift de troisième génération. Déjà présente sur les chargeuses sur pneus Volvo L110H à L260H, cette technologie éprouvée intègre la fonction Reverse by Braking et la fonction de verrouillage dans la transmission pour augmenter le rendement énergétique jusqu'à 15 %.
L'efficacité est encore améliorée par un rapport de changement de vitesse optimisé et un nouveau convertisseur qui délivre jusqu'à 22 % de force de traction en plus en fonction du rapport sélectionné et de la vitesse de la machine.
La machine présente également une forme encore plus robuste avec un roulement de charnière central supérieur plus robuste et des cadres mis à jour pour accueillir les nouveaux essieux et la transmission.
Le L350H est équipé de série pour les applications lourdes, grâce au bras de levage à barre en Z éprouvé avec double étanchéité sur chacune des broches et à la structure de châssis solide, qui est reliée par une charnière centrale supérieure renforcée et de nouveaux essieux Volvo. Les clients peuvent profiter de forfaits spécialisés dotés de caractéristiques spécifiques pour le chargement de grumes, le chargement de roches, la manutention, la manutention de blocs ou la manutention de scories.
Partenaire en Productivité
Les mises à jour incluent également des intervalles d'entretien prolongés qui augmentent la disponibilité et réduisent les coûts de maintenance. L'intervalle d'entretien du moteur a doublé à 1 000 heures et les intervalles de vidange d'huile d'essieu ont été étendus à 4 000 heures grâce à un refroidisseur d'huile d'essieu avec filtration de série.
Les clients peuvent réduire davantage les temps d'arrêt de la machine et augmenter la durée de vie des composants grâce à des caractéristiques durables qui incluent des essieux robustes avec des arbres entièrement flottants, une réduction de moyeu planétaire et des paliers de tourillon d'essieu arrière sans entretien.
Des fonctionnalités de productivité telles que la suite d'applications Load Assist accessibles depuis l'écran Volvo Co-Pilot de la cabine améliorent encore l'efficacité et la disponibilité. Le système de surveillance de la pression des pneus en option permet de vérifier la pression et la température des pneus depuis le confort de la cabine ; cela prolonge la durée de vie des pneus et réduit la consommation de carburant. L'application On-Board Weighing fournit un aperçu en temps réel de la charge du godet et de la charge utile du récepteur de charge. Et l'application Operator Coaching fournit des informations et des conseils en temps réel aux opérateurs, les aidant à atteindre une productivité optimale tout en réduisant la consommation de carburant et l'usure de la machine, a déclaré le fabricant.
Un portefeuille de services Volvo complémentaires, comprenant la formation EcoOperator et la télématique avancée ActiveCare Direct, fournit également des informations précieuses pour réduire le coût par tonne et apporter des changements significatifs à la façon dont la machine est utilisée.
Confort garanti
La chargeuse sur pneus L350H mise à niveau offre une expérience de conduite améliorée avec un confort, une commodité et une sécurité haut de gamme. En plus d'une porte télécommandée, de la climatisation et d'un système de direction secondaire de série, le L350H offre une visibilité exceptionnelle complétée par des rétroviseurs chauffants à réglage électrique en option, une caméra de recul et un système de détection de radar.
Les opérateurs peuvent configurer le L350H pour le travail à accomplir avec un choix de trois modes hydrauliques, un engagement de verrouillage personnalisable et un contrôle de l'effort à la jante. De plus, la fonction de mise à niveau du godet remet automatiquement le godet à niveau — à partir des positions de vidage et de recourbement — aidant à réduire la fatigue de l'opérateur.
NJC.© Info VOLVO CE
-------------------------------------------------------------------------------------------------------------------

26/04/23-English
Volvo Construction Equipment (Volvo CE) is launching its updated L350H wheel loader in North America,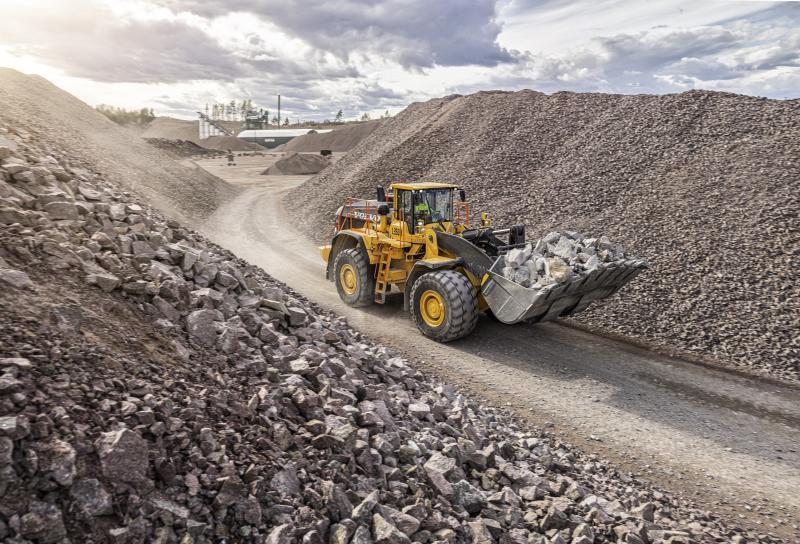 Image-One of the more notable improvements on the updated L350H wheel loader is a more responsive hydraulics system featuring new lift and tilt cylinders, and an increased hydraulic working pressure for 10 percent faster work cycles and higher productivity.
complete with a host of upgrades that will give customers greater productivity and fuel efficiency with lower service costs in a machine designed for a range of heavy-duty applications.
"For decades, the L350 has been our flagship loader," said Eric Yeomans, product manager, wheel loaders, Volvo CE. "We've taken a tried-and-true machine and built upon the features that have made it one our customers rely on day after day. These upgrades make it even more efficient and productive."
Evolution of Excellence
One of the more notable improvements on the updated L350H wheel loader is a more responsive hydraulics system featuring new lift and tilt cylinders, and an increased hydraulic working pressure for 10 percent faster work cycles and higher productivity.
The upgraded driveline features new Volvo axles and an all-new Volvo transmission, which enables the third-generation OptiShift to be equipped as standard. Already found on Volvo L110H to L260H wheel loaders, this proven technology integrates the Reverse by Braking function and the lock-up function in transmission to boost fuel efficiency by up to 15 percent.
Efficiency is further enhanced by an optimized gear shifting ratio and a new converter that delivers outputs of up to 22 percent more tractive force depending on the selected gear and machine speed.
The machine also boasts an even tougher form with a more robust upper center hinge bearing and updated frames to accommodate the new axles and transmission.
The L350H comes equipped for heavy-duty applications as standard, due to the proven Z-bar lifting arm with double sealing on each of the pins, and strong frame structure, which is joined by a reinforced upper center hinge and new Volvo axles. Customers can take advantage of specialized packages that come with specific features for log loading, rock loading, rehandling, block handling or slag handling.
Partner in Productivity
The updates also include extended service intervals that increase uptime and reduce maintenance costs. The engine service interval has doubled to 1,000 hours, and axle oil change intervals have been extended to 4,000 hours due to an axle oil cooler with filtration fitted as standard.
Customers can further minimize machine downtime and increase component life with durable features that include heavy-duty axles with fully floating shafts, planetary hub reduction and maintenance-free rear axle trunnion bearings.
Productivity features like the Load Assist suite of apps that are accessed from the in-cab Volvo Co-Pilot display further improve efficiency and uptime. The optional Tire Pressure Monitoring System enables the pressure and temperature of the tires to be checked from the comfort of the cab; this extends tire life and saves on fuel consumption. The On-Board Weighing app provides real-time insight into the load of the bucket and payload of the load receiver. And the Operator Coaching app provides real-time information and guidance to operators, helping them deliver optimum productivity while cutting back on fuel use and machine wear, the manufacturer said.
A portfolio of complementary Volvo services, including EcoOperator training and ActiveCare Direct advanced telematics, also provide valuable insights for lowering cost per ton and making impactful changes to the way the machine is run.
Comfort Guaranteed
The upgraded L350H wheel loader provides an enhanced operator experience with top-of-the-line comfort, convenience and safety. In addition to a standard remote-controlled door, air conditioning and secondary steering system, the L350H offers outstanding visibility complemented by optional electrically adjusted heated rearview mirrors, a rearview camera and a radar detect system.
Operators can configure the L350H for the job at hand with a choice of three hydraulic modes, customizable lockup engagement and rimpull control. Plus, the bucket leveling function automatically returns the bucket to level — from both dump and curl positions — helping to reduce operator fatigue.
NJC.© Info VOLVO CE
----------------------------------------------------------------------------------------------------------------

26/04/23-NL
Volvo Construction Equipment (Volvo CE) lanceert zijn vernieuwde L350H-wiellader in Noord-Amerika,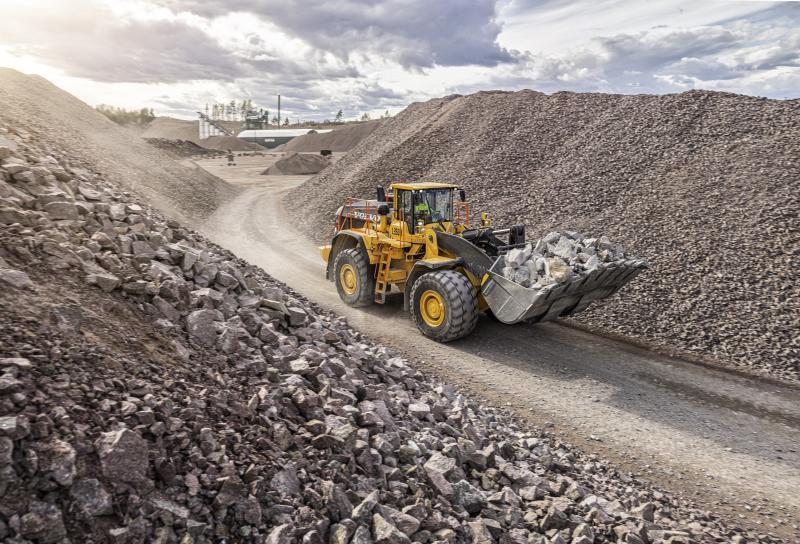 Image-One of the more notable improvements on the updated L350H wheel loader is a more responsive hydraulics system featuring new lift and tilt cylinders, and an increased hydraulic working pressure for 10 percent faster work cycles and higher productivity.
compleet met een groot aantal upgrades die klanten meer productiviteit en brandstofzuinigheid zullen bieden met lagere onderhoudskosten in een machine die is ontworpen voor een reeks zware toepassingen.
"Al tientallen jaren is de L350 ons paradepaardje van de lader", zegt Eric Yeomans, productmanager wielladers bij Volvo CE. "We hebben een beproefde machine genomen en voortgebouwd op de functies waardoor onze klanten er elke dag op vertrouwen. Deze upgrades maken hem nog efficiënter en productiever."
Evolutie van uitmuntendheid
Een van de opvallendere verbeteringen aan de vernieuwde L350H-wiellader is een responsiever hydraulisch systeem met nieuwe hef- en kantelcilinders en een hogere hydraulische werkdruk voor 10 procent snellere werkcycli en een hogere productiviteit.
De verbeterde aandrijflijn is voorzien van nieuwe Volvo-assen en een geheel nieuwe Volvo-transmissie, waarmee de OptiShift van de derde generatie standaard kan worden uitgerust. Deze beproefde technologie, die al te vinden is op de Volvo L110H tot L260H wielladers, integreert de Reverse by Braking-functie en de lock-upfunctie in de transmissie om het brandstofverbruik tot 15 procent te verhogen.
De efficiëntie wordt verder verbeterd door een geoptimaliseerde schakelverhouding en een nieuwe omvormer die afhankelijk van de gekozen versnelling en machinesnelheid tot 22 procent meer trekkracht levert.
De machine heeft ook een nog stevigere vorm met een robuuster scharnierlager boven in het midden en bijgewerkte frames om plaats te bieden aan de nieuwe assen en transmissie.
De L350H is standaard uitgerust voor zware toepassingen, dankzij de beproefde Z-bar hefarm met dubbele afdichting op elk van de pennen en een sterke frameconstructie, die wordt verbonden door een versterkt scharnier boven in het midden en nieuwe Volvo-assen. Klanten kunnen profiteren van gespecialiseerde pakketten die worden geleverd met specifieke functies voor het laden van boomstammen, het laden van stenen, het opnieuw hanteren, het hanteren van blokken of het hanteren van slakken.
Partner in productiviteit
De updates omvatten ook verlengde service-intervallen die de uptime verhogen en de onderhoudskosten verlagen. Het onderhoudsinterval voor de motor is verdubbeld tot 1.000 uur en de olieverversingsintervallen voor de assen zijn verlengd tot 4.000 uur dankzij een standaard gemonteerde asoliekoeler met filtratie.
Klanten kunnen de uitvaltijd van machines verder minimaliseren en de levensduur van componenten verlengen met duurzame functies, waaronder heavy-duty assen met volledig zwevende assen, planetaire naafreductie en onderhoudsvrije achterastaplagers.
Productiviteitsfuncties zoals de Load Assist-suite met apps die toegankelijk zijn via het Volvo Co-Pilot-display in de cabine verbeteren de efficiëntie en inzetbaarheid verder. Met het optionele bandenspanningscontrolesysteem kunnen de spanning en temperatuur van de banden vanuit het comfort van de cabine worden gecontroleerd; dit verlengt de levensduur van de band en bespaart brandstof. De On-Board Weighing app geeft real-time inzicht in de belading van de bak en de belading van de ladingdrager. En de Operator Coaching-app biedt realtime informatie en begeleiding aan machinisten, waardoor ze optimale productiviteit kunnen leveren en tegelijkertijd het brandstofverbruik en de machineslijtage kunnen verminderen, aldus de fabrikant.
Een portfolio van aanvullende Volvo-services, waaronder EcoOperator-training en ActiveCare Direct geavanceerde telematica, bieden ook waardevolle inzichten voor het verlagen van de kosten per ton en het aanbrengen van ingrijpende veranderingen in de manier waarop de machine wordt gebruikt.
Comfortabel gegarandeerd
De verbeterde L350H-wiellader biedt een verbeterde machinistenervaring met eersteklas comfort, gemak en veiligheid. Naast een standaard op afstand bedienbare deur, airconditioning en hulpstuursysteem biedt de L350H uitstekend zicht, aangevuld met optionele elektrisch verstelbare, verwarmde achteruitkijkspiegels, een achteruitkijkcamera en een radardetectiesysteem.
Machinisten kunnen de L350H configureren voor het uit te voeren werk met een keuze uit drie hydraulische modi, aanpasbare vergrendeling en trekkrachtregeling. Bovendien brengt de functie voor het nivelleren van de bak de bak automatisch weer waterpas — zowel vanuit de stort- als de krulstand — waardoor de machinist minder vermoeid raakt.
NJC.© Info VOLVO CE
-------------------------------------------------------------------------------------------------------------------