New: Nooteboom trailer 3 central axles
30/09/22-FR-English-NL-footer
Nouveauté : Remorque Nooteboom 3 essieux centraux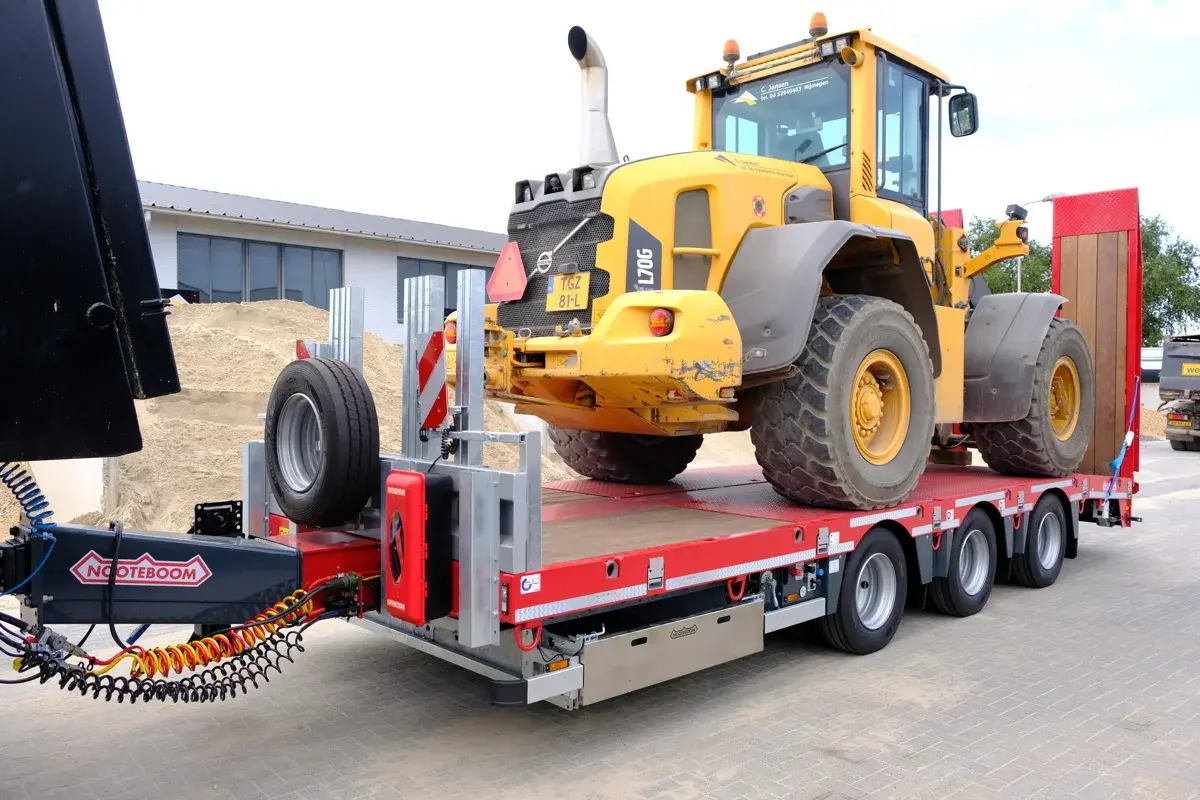 Image NOOTEBOOM
Le dernier ajout à la gamme de remorques à timon Nooteboom est une remorque 3 essieux centraux en suspension pneumatique. Cette remorque, type ASDS-33-03(EB), est très appropriée pour le transport de petites et moyennes machines. Ce type de remorques est principalement utilisé dans des pays comme la France, la Belgique et la Scandinavie.
La conception de cette remorque tridem compacte est basée sur le concept sophistiqué de la semi-remorque surbaissée OSDS de la gamme Nooteboom SMART. Il se caractérise par un châssis très solide et robuste combiné à un poids mort très faible. Avec des rampes hydrauliques de 3 mètres de long, le poids mort n'est que d'environ 6 700 kg. Grâce à cette construction légère, la charge utile est optimisée puisqu'elle est ainsi de 33 tonnes à faible vitesse et de 25,8 tonnes à 90 km/h. La faible hauteur de plateau de chargement de seulement 860 mm rend également cette remorque très adaptée au transport de charges hautes.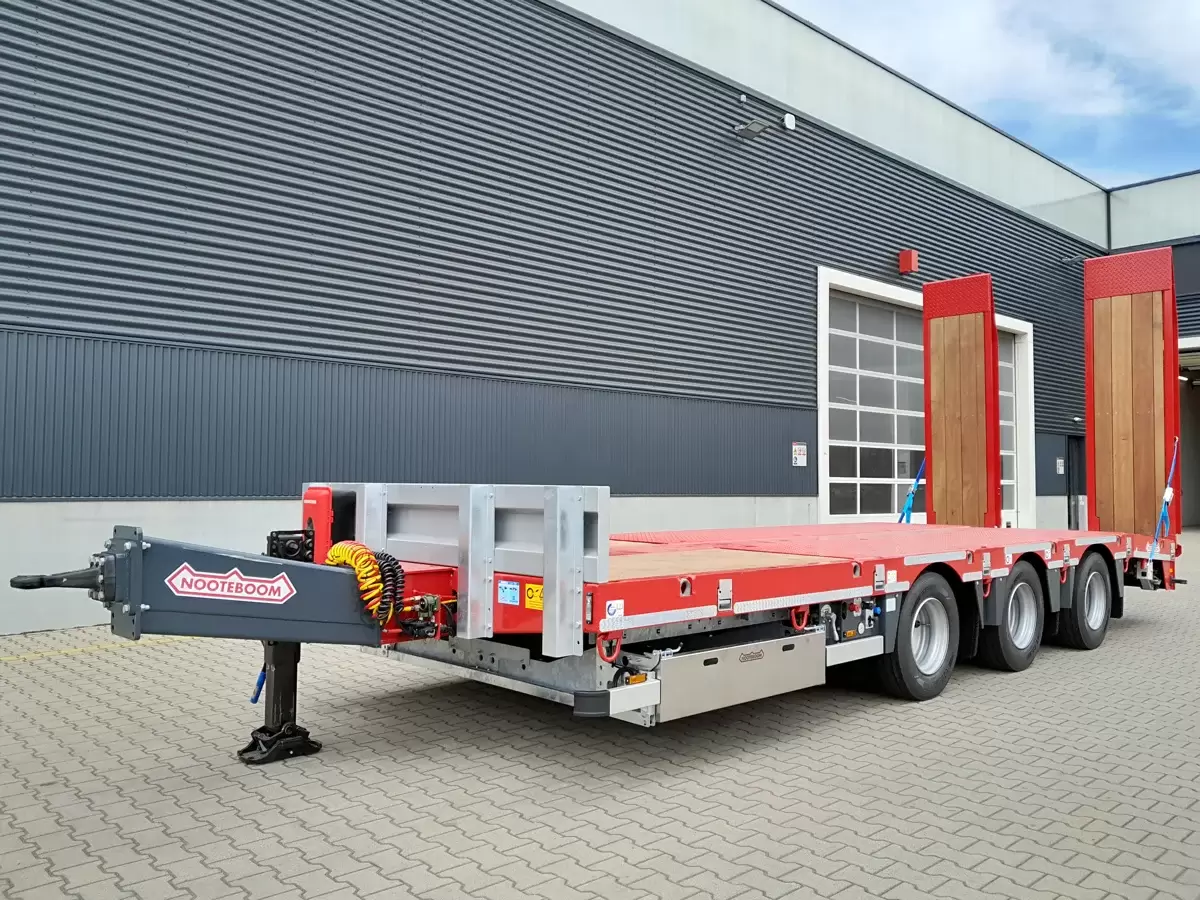 Image NOOTEBOOM
Caractéristiques de conduite confortables
Cette remorque à 3 essieux centraux est très maniable grâce à sa conception compacte et à son essieu arrière autovireur. La conduite sur des chantiers de construction étroits est ainsi extrêmement confortable. La marche arrière avec cette remorque ASDS est également très facile, car l'essieu arrière autovireur est automatiquement bloqué. La suspension pneumatique dont cette semi-surbaissée est équipée de série contribue au confort routier et offre une course de débattement de 200 mm.
Barre d'attelage et anneau de remorquage variables
La barre d'attelage de la remorque à essieux centraux est disponible en deux longueurs différentes, 1 750 mm et 2 000 mm. Elle est équipés d'un anneau interchangeable pour une utilisation dans différents pays et est disponible en trois diamètres différents : 50 mm, 57,5 mm et 68 mm. L'anneau de la barre d'attelage peut être fixé à la barre d'attelage à 4 hauteurs différentes, allant de 825 mm dans la position la plus basse à 975 mm dans la position la plus haute. La diversité en matière d'anneaux, de longueur et hauteur de barre d'attelage rend la remorque à essieux centraux Nooteboom adaptée à presque tous les porteurs.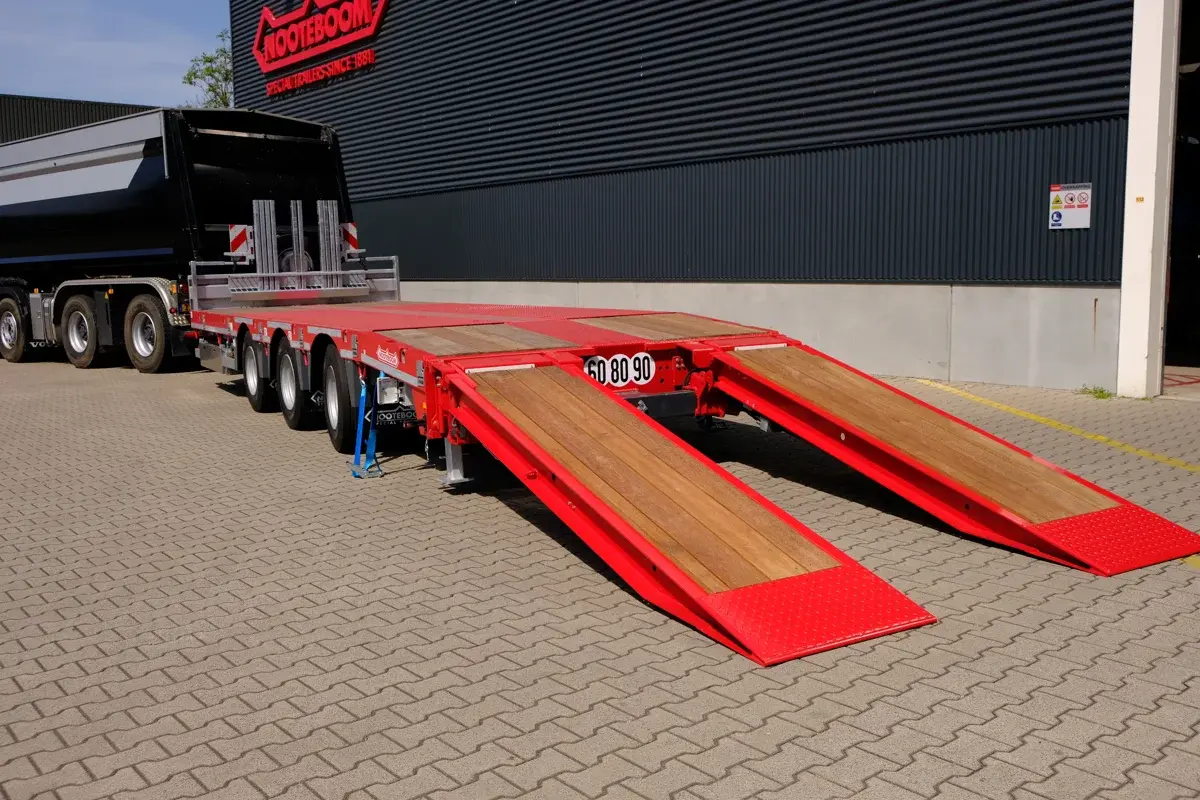 Image NOOTEBOOM
Personnalisable
Le client peut configurer sa remorque 3 essieux centraux avec un large choix d'options. Il s'agit notamment d'éléments tels que la face avant amovible, l'essieu relevable, les élargisseurs, les poches à ranchers, le bac de rangement sous plateau, les panneaux de gabarit pour marquer la largeur, etc.
Chargement et déchargement
Le long pan arrière incliné combiné aux rampes hydrauliques permet d'obtenir une pente très faible qui rend le chargement et le déchargement des machines sûrs et faciles. Au-delà de la montée et l'abaissement des rampes, la largeur des rampes peut également être commandée hydrauliquement en option. Le boîtier de commande des rampes est fixé sur le côté gauche de la remorque. Une radiocommande sans fil est disponible en option. Pour le chargement, le déchargement et le transport en toute sécurité des engins de chantier, le timon est équipé de béquilles arrière rabattables. Pour une sécurisation optimale de la charge, la remorque est équipée de série d'anneaux d'arrimage 8 000 daN brevetés par Nooteboom en bordures de rives du plateau. Il est également possible de mettre des anneaux noyés supplémentaires le long du caisson central. Ces anneaux d'arrimage garantissent des possibilités d'arrimage optimales dans toutes les directions.
NJC.© Info Nooteboom
-----------------------------------------------------------------------------------------------------------
30/09/22-English
New: Nooteboom trailer 3 central axles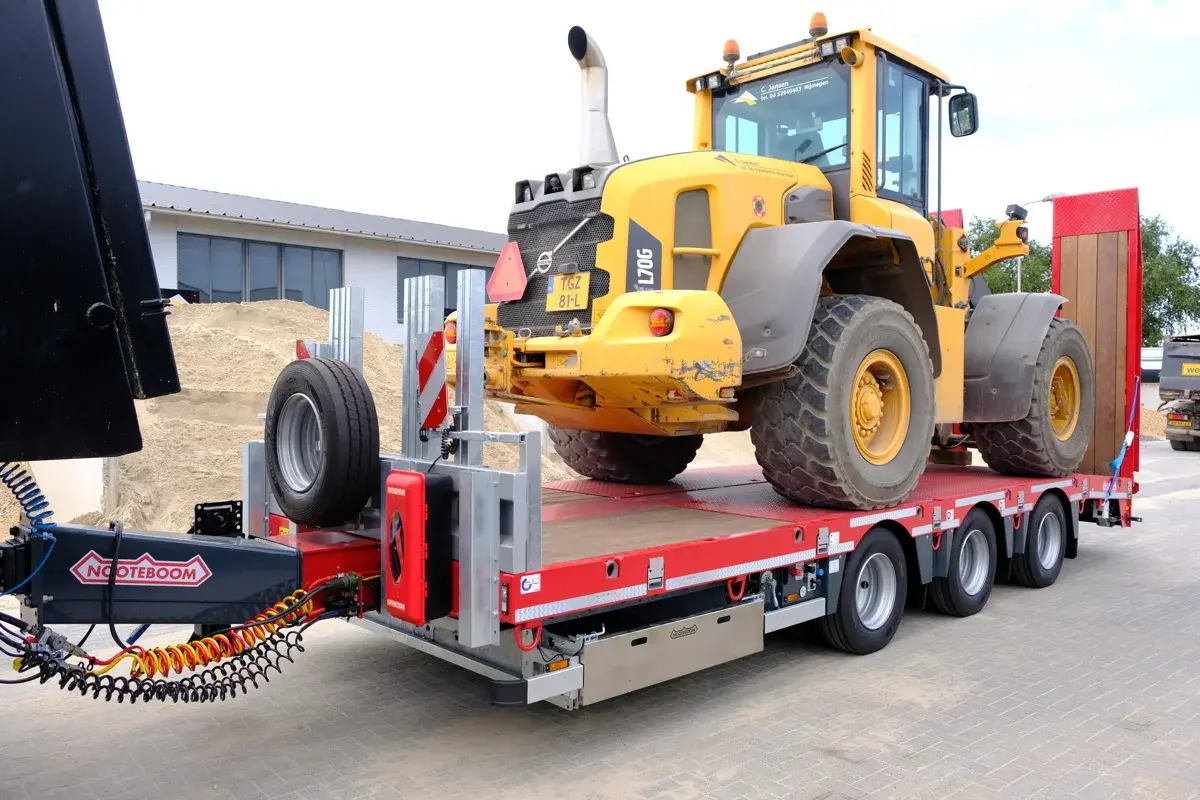 Image NOOTEBOOM
The latest addition to the Nooteboom drawbar trailer range is a 3 central axle trailer with air suspension. This trailer, type ASDS-33-03(EB), is very suitable for transporting small and medium-sized machines. This type of trailers is mainly used in countries like France, Belgium and Scandinavia.
The design of this compact tridem trailer is based on the sophisticated concept of the OSDS low loader semi-trailer from the Nooteboom SMART range. It is characterized by a very strong and robust chassis combined with a very low dead weight. With 3 meter long hydraulic ramps, the dead weight is only about 6,700 kg. Thanks to this lightweight construction, the payload is optimized since it is thus 33 tonnes at low speed and 25.8 tonnes at 90 km/h. The low load floor height of only 860 mm also makes this trailer very suitable for transporting high loads.
Comfortable driving characteristics
This trailer with 3 central axles is very manoeuvrable thanks to its compact design and its self-steering rear axle. Driving on narrow construction sites is therefore extremely comfortable. Reversing with this ASDS trailer is also very easy, as the self-steering rear axle is automatically locked. The air suspension with which this low-loader is fitted as standard contributes to road comfort and offers a travel of 200 mm.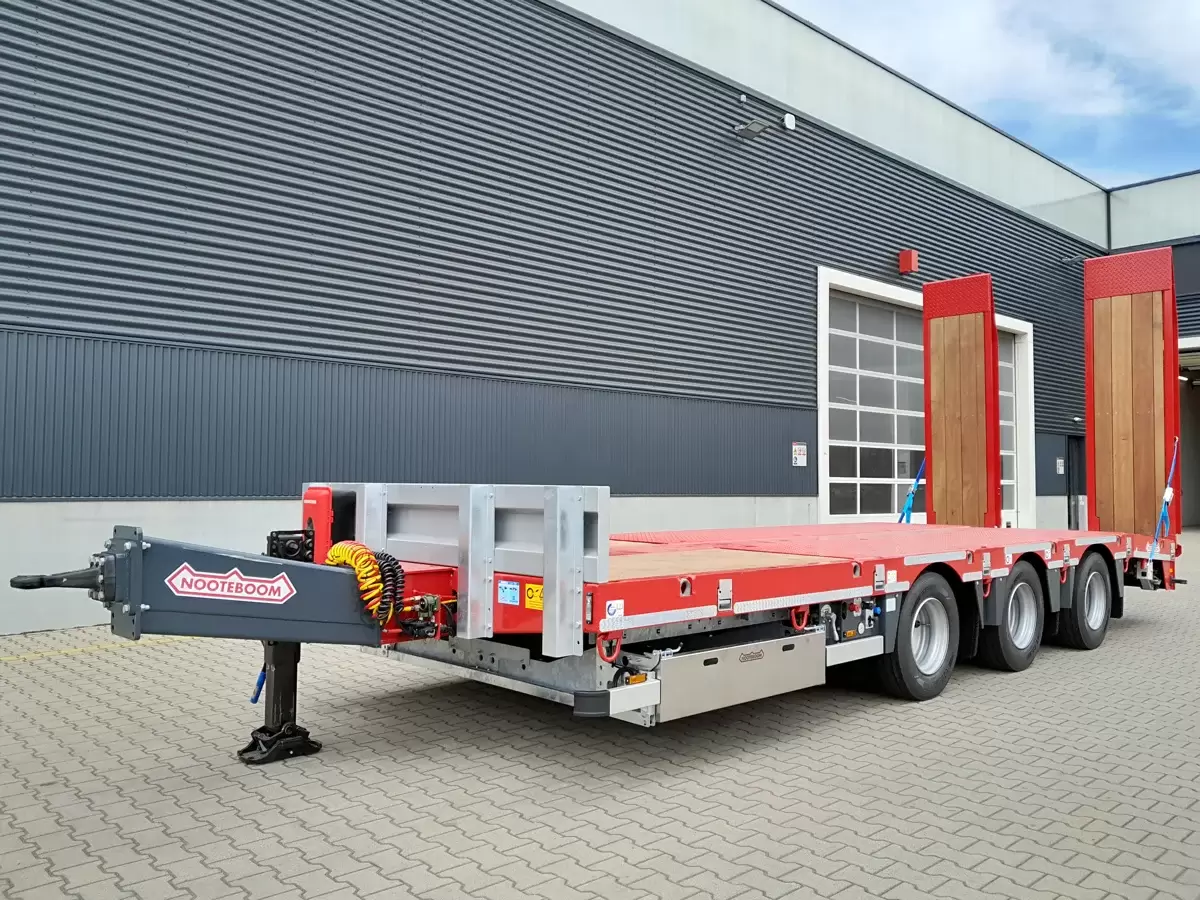 Image NOOTEBOOM
Variable drawbar and tow eye
The center axle trailer drawbar is available in two different lengths, 1750 mm and 2000 mm. It is equipped with an interchangeable ring for use in different countries and is available in three different diameters: 50 mm, 57.5 mm and 68 mm. The drawbar eye can be attached to the drawbar at 4 different heights, ranging from 825mm in the lowest position to 975mm in the highest position. The diversity in drawbar eyes, length and height makes the Nooteboom central axle trailer suitable for almost all carriers.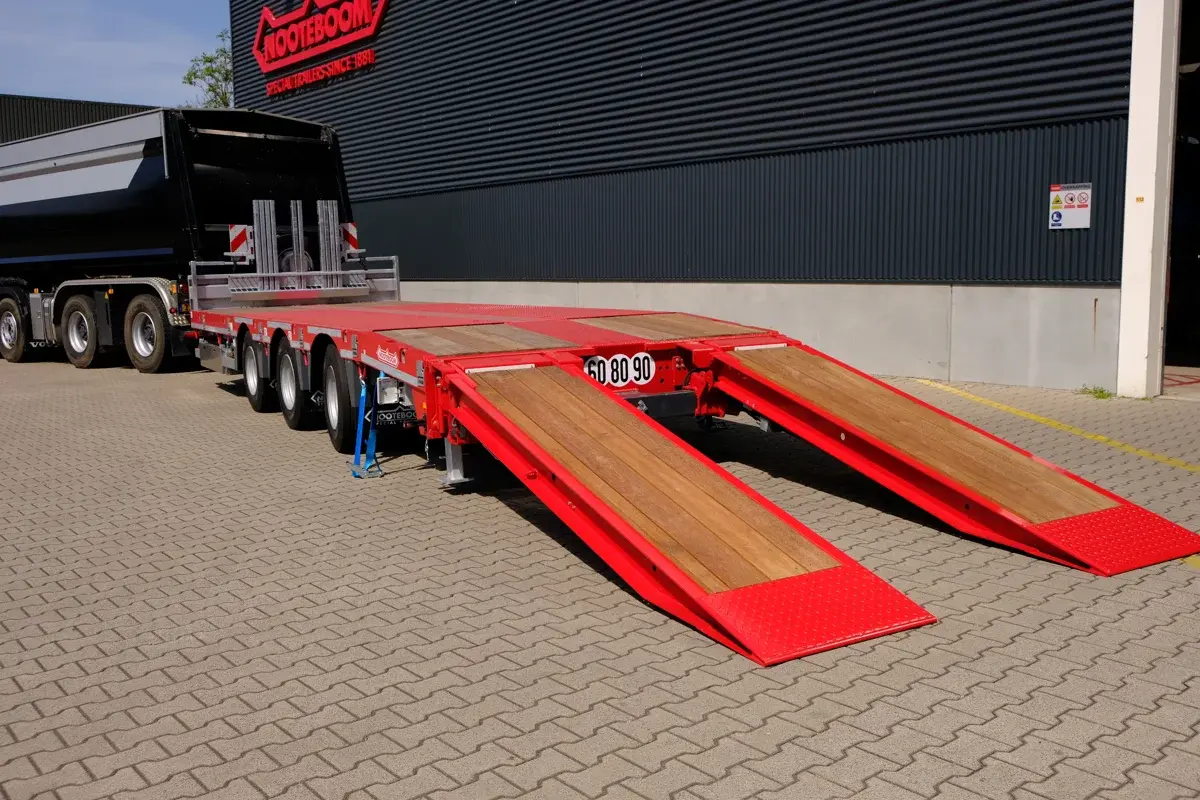 Image NOOTEBOOM
Customizable
The customer can configure his 3 central axle trailer with a wide choice of options. These include items such as the removable front end, lift axle, spacers, stanchion pockets, underbed storage bin, template panels to mark width, etc.
Loading and unloading
The long sloping tail combined with the hydraulic ramps results in a very low slope which makes loading and unloading the machines safe and easy. Beyond raising and lowering the booms, the width of the booms can also be hydraulically controlled as an option. The ramp control box is attached to the left side of the trailer. A wireless remote control is available as an option. For the safe loading, unloading and transport of construction machinery, the drawbar is equipped with folding rear supports. For optimal load securing, the trailer is fitted as standard with 8,000 daN lashing rings patented by Nooteboom at the edges of the platform. It is also possible to put additional drowned rings along the central box. These lashing rings guarantee optimal lashing possibilities in all directions.
NJC.© Info Nooteboom
-----------------------------------------------------------------------------------------------------------------
30/09/22-NL
Nieuw: Nooteboom tridem middenas aanhangwagen semidieplader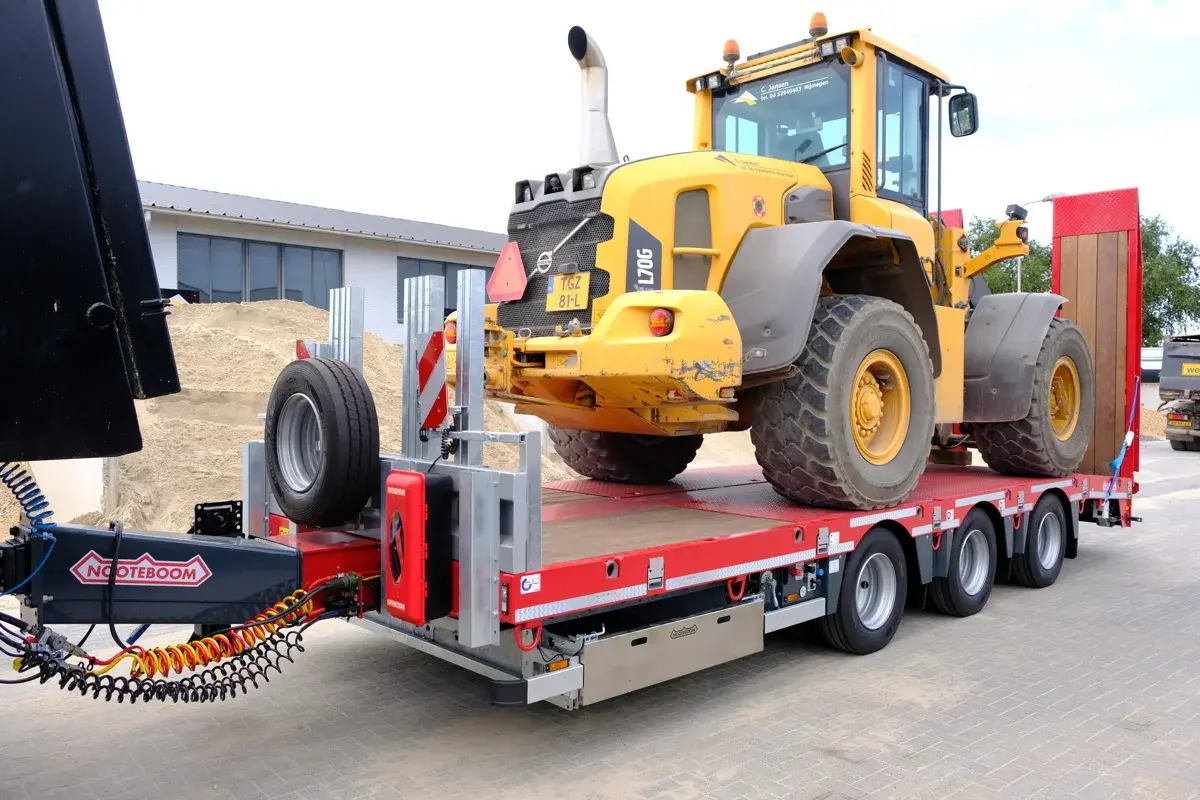 Image NOOTEBOOM
De nieuwste uitbreiding in het Nooteboom aanhangwagen semidieplader programma met draaischamel, is de 3-assige lucht geveerde middenas aanhangwagen semidieplader met centrale assen. Deze aanhangwagen, type ASDS-33-03(EB), is uitermate geschikt voor het transport van kleinere en middelgrote machines. Dit type aanhangwagen zien we met name in landen als Frankrijk, België en Scandinavië.
Het ontwerp van deze compacte tridem aanhangwagen is gebaseerd op het uitgekiende concept van de OSDS semidieplader uit het Nooteboom SMART programma. Het kenmerkt zich door een zeer sterk en robuust chassis gecombineerd met een zeer laag eigen gewicht. Inclusief 3 meter hydraulisch bedienbare opritten bedraagt het leeggewicht slechts ca. 6.700 kg. Door deze robuuste en toch lichtgewicht constructie wordt het nuttig laadvermogen maximaal benut. Zo is het technisch laadvermogen van deze 3-assige middenas aanhangwagen bij lage snelheid maar liefst 33 ton en bij 90 km/uur 25,8 ton.De lage laadvloerhoogte van slechts 860mm maakt deze aanhangwagen ook zeer geschikt voor het vervoer van hoge ladingen.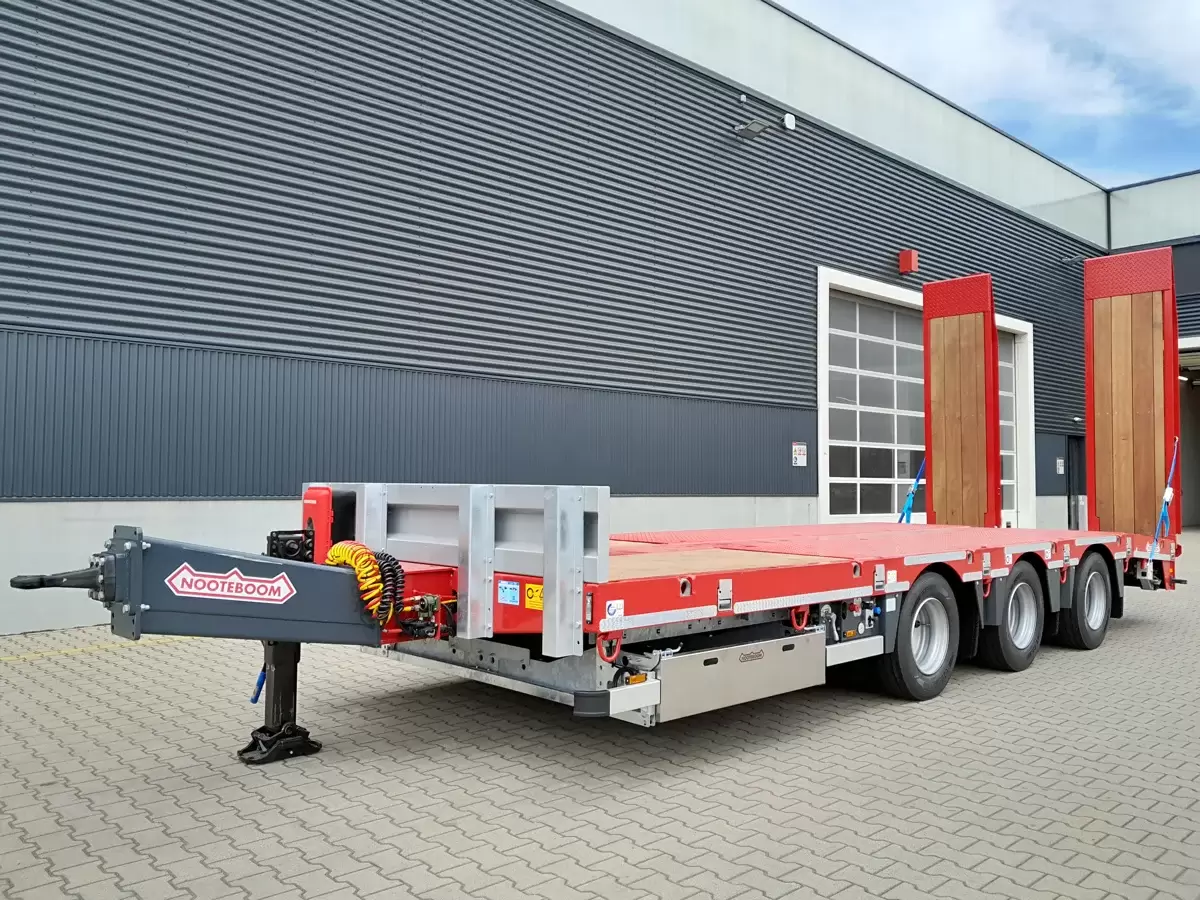 Image NOOTEBOOM
Comfortabele rijeigenschappen
Deze 3-assige middenas aanhangwagen is zeer wendbaar, vanwege het compacte design en de zelfsturende achteras. Dit maakt het voor de chauffeurs uiterst comfortabel om te manoeuvreren op krappe bouwplaatsen. Ook het achteruitrijden met deze ASDS aanhangwagen gaat zeer gemakkelijk, omdat de zelfsturende naloopas automatisch geblokkeerd wordt. De luchtvering waarmee deze semidieplader standaard is uitgerust draagt bij aan het comfortabele weggedrag en biedt een hoogteslag van 200mm.
Variabele dissel & trekoog
De dissel van de middenas aanhangwagen is leverbaar in twee verschillende lengtes, namelijk 1.750mm en 2.000mm. De dissel is voor gebruik in verschillende landen voorzien van een uitwisselbaar trekoog, en is in drie verschillende diameters leverbaar, te weten 50mm, 57,5mm en 68mm. Het trekoog kan op 4 verschillende hoogte posities aan de dissel worden bevestigd, namelijk variërend van 825mm in de laagste stand tot 975mm in de hoogte stand. De diversiteit in trekogen, trekstanglengte en koppelhoogte maakt de Nooteboom middenas aanhangwagen semidieplader geschikt voor vrijwel alle kippers.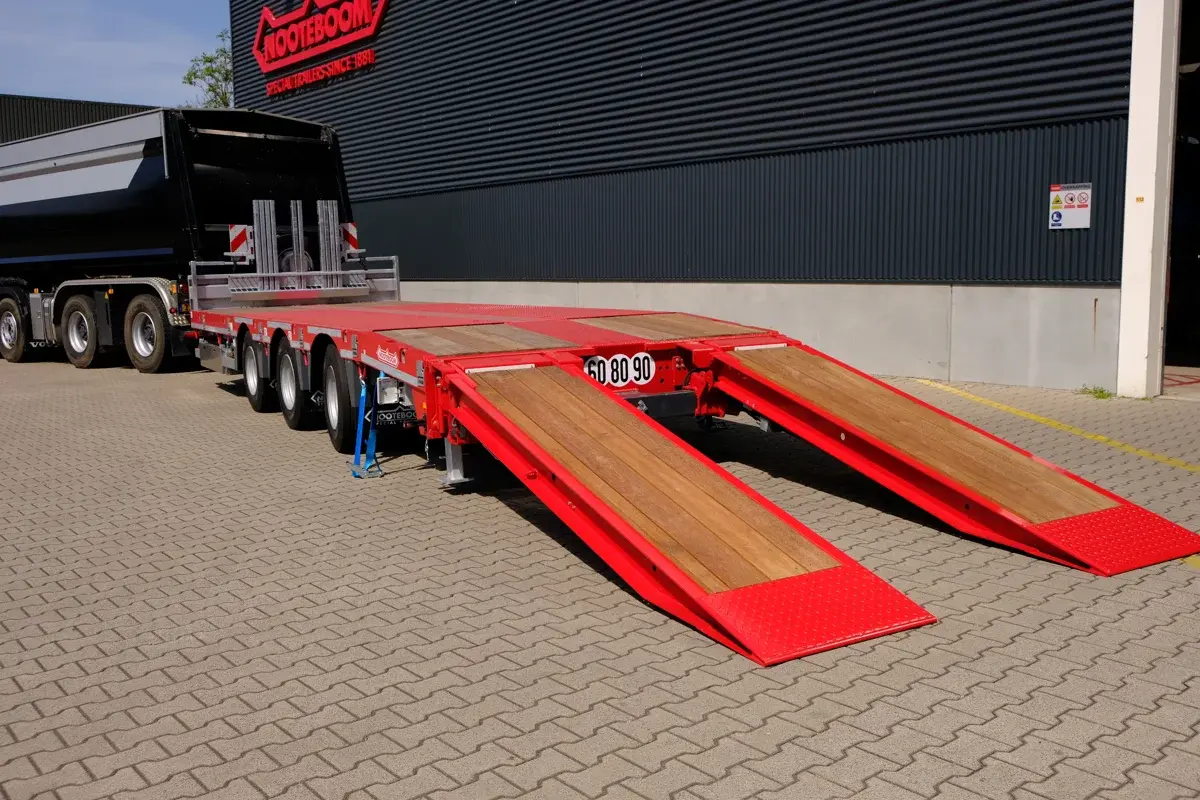 Image NOOTEBOOM
Maatwerk
Voor de tridem middenas aanhangwagen semidieplader is er een ruime keuze aan optiemogelijkheden waarmee de klant de trailer naar eigen wens kan configureren. Denk hierbij aan zaken als afneembaar kopschot, liftas, laadvlakverbreding, rongen, opbergrek onder laadvloer, breedte markeringsborden, etc..
Laden & Lossen
Door de lange laadvlak afschuining in combinatie met de hydraulische beweegbare opritten, ontstaat er een minimale hellingshoek die het op- en afrijden van machines veilig en gemakkelijk maakt. Naast het heffen en zakken van de opritten kan optioneel ook de breedte van de opritten hydraulisch bediend worden. De vaste bediening van de opritten bevindt zich aan de linkerzijde van de trailer. Optioneel is hiervoor een afstandsbediening leverbaar. Voor het veilig laden, lossen en transporteren van bouwmachines, is de aanhangwagen uitgerust met uitklapbare steunpoten aan de achterzijde. Om de lading optimaal te kunnen zekeren is de aanhangwagen standaard uitgerust met de gepatenteerde Nooteboom 8.000 daN sjorogen in het randprofiel en kan dit ook worden uitgebreid met sjorogen langs de centrale middenligger van de laadvloer. Deze sjorogen garanderen optimale vastzetmogelijkheden in alle richtingen.
NJC.© Info NOOTEBOOM
------------------------------------------------------------------------------------------------------------------