HITACHI New ZW220-7 wheel loader put to work in 'carpet city'
29/08/22-FR-English-NL-footer
La nouvelle chargeuse sur pneus ZW220-7 mise au travail dans la «ville du tapis»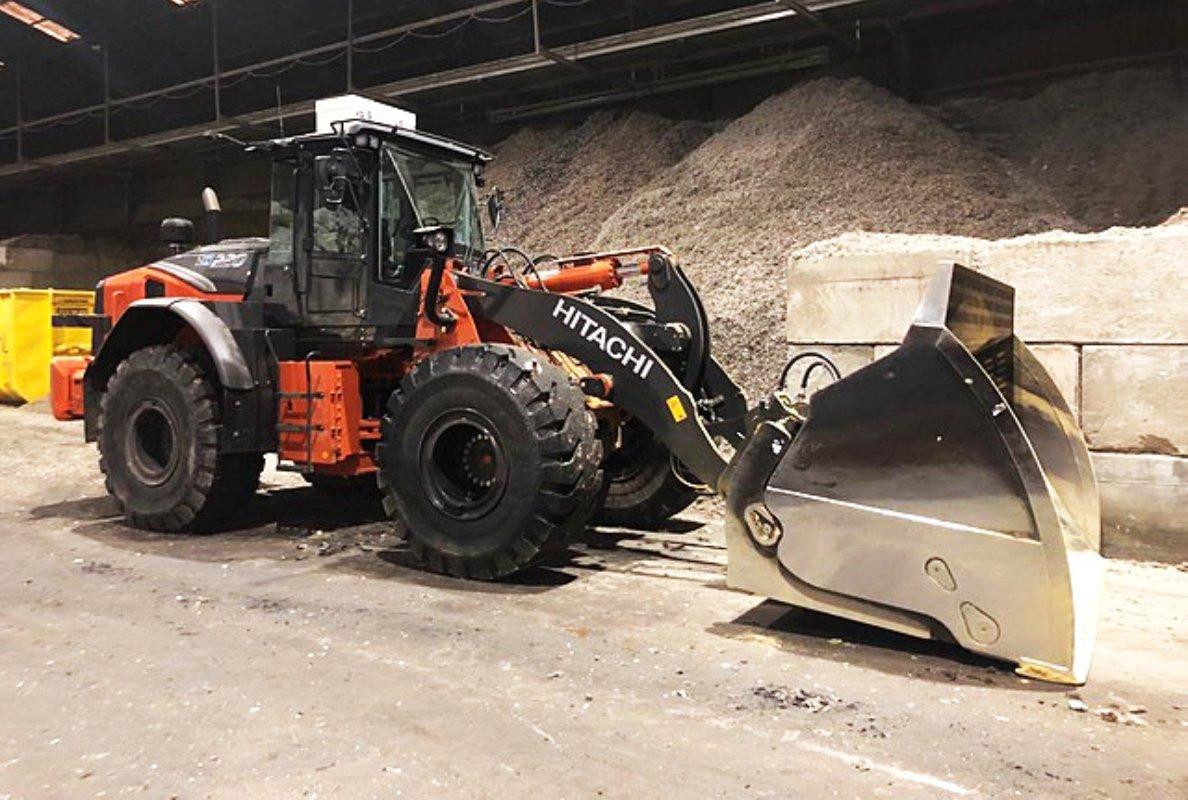 Hitachi ZW220-7 IMAGE SOURCE: Hitachi Construction Machinery (Europe) NV
Hitachi Construction Machinery Netherlands (HCMNL) a récemment livré une nouvelle chargeuse sur pneus Hitachi ZW220-7 pour aider l'entreprise de recyclage néerlandaise Van Dijk Containers à traiter les résidus de tapis utilisés dans diverses industries.
Rois de la ville du tapis
Basée à Genemuiden, dans le nord des Pays-Bas (également connue sous le nom de «ville du tapis» en raison du grand nombre de fabricants de tapis qui s'y trouvent), Van Dijk Containers est passée d'une entreprise familiale au plus grand acteur du marché du recyclage des tapis en Europe occidentale.
Le travail de son usine consiste principalement à transformer les matériaux résiduels de la moquette en matières premières pour le ciment, l'isolation automobile ou encore le mobilier de jardin, parallèlement à d'autres activités de traitement et de transport des déchets.
La machine la plus sûre pour les matériaux souples
La nouvelle chargeuse sur pneus ZW220-7 est une chargeuse sur pneus de taille moyenne incroyablement polyvalente, offrant une combinaison de maniabilité exceptionnelle et de grande capacité de charge, idéale pour les opérations de Van Dijk Containers.
Grâce à une technologie de pointe telle que le système de caméra Aerial Angle™ offrant une vue à vol d'oiseau à 270 degrés de la cabine et à des décisions de conception innovantes qui donnent aux opérateurs plus de contrôle sur leur travail, la nouvelle gamme de machines ZW-7 sont les chargeuses sur pneus les plus sûres. sur le marché.
Une cabine entièrement repensée offre aux opérateurs des niveaux de bruit et de vibrations parmi les plus bas du marché. Des commandes ergonomiques, un accoudoir entièrement réglable et un écran LCD haute résolution offrent un confort supérieur pour des opérations plus sûres et plus productives.
NJC.© Info Hitachi Construction Machinery (Europe) NV
------------------------------------------------------------------------------------------------------------------
29/08/22-FR-English-NL-footer
New ZW220-7 wheel loader put to work in 'carpet city'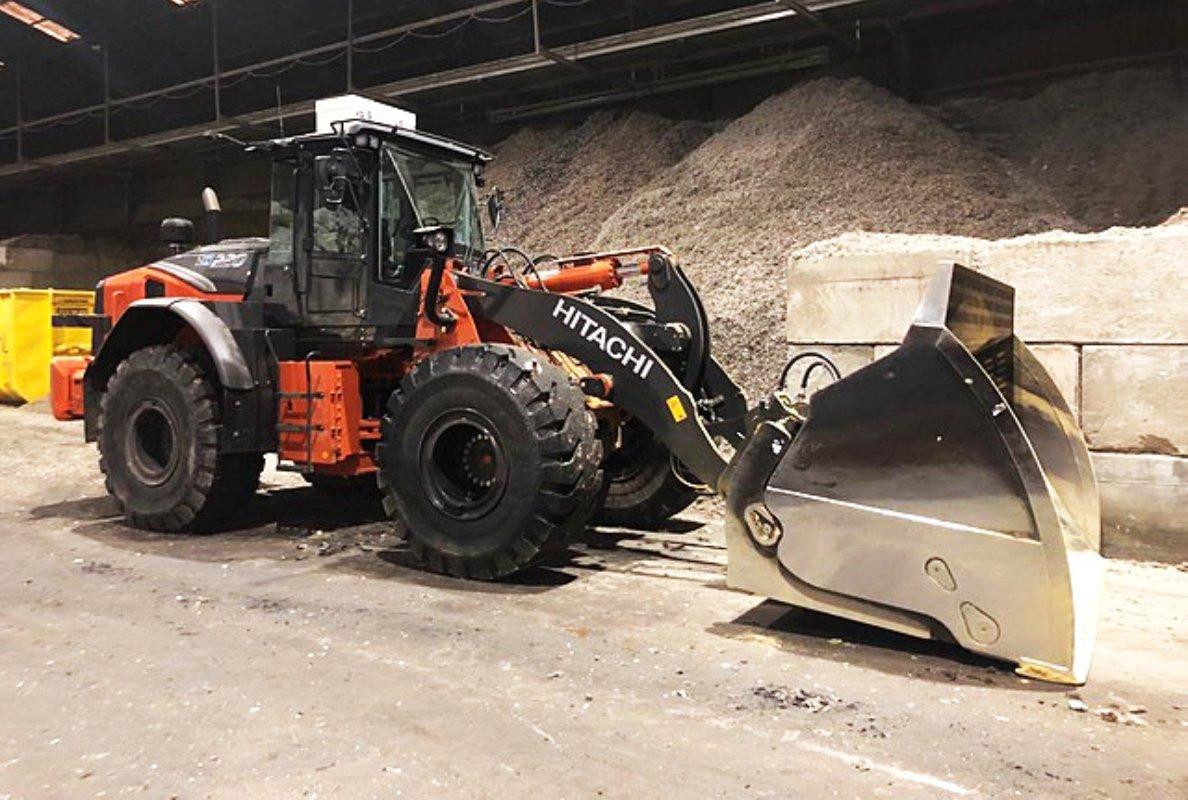 Hitachi ZW220-7 IMAGE SOURCE: Hitachi Construction Machinery (Europe) NV
Hitachi Construction Machinery Netherlands (HCMNL) has recently delivered a new Hitachi ZW220-7 wheel loader to help Dutch recycling company Van Dijk Containers process residual carpet products used in a variety of industries.
Kings of carpet city
Based in Genemuiden in the northern Netherlands (also known as 'carpet city' thanks to the large number of carpet manufacturers located there), Van Dijk Containers has grown from a family business into the largest player in the Western European carpet recycling market.
Work at its plant consists mainly of processing residual carpet materials into raw materials for cement, automotive insulation, and even garden furniture, alongside other waste processing and transport activities.
The safest machine for soft materials
The new ZW220-7 wheel loader is an incredibly versatile mid-sized wheel loader, offering a combination of exceptional manoeuvrability and large load capacity that is ideal for Van Dijk Containers' operations.
Thanks to advanced technology such as the Aerial Angle™ camera system offering 270-degree bird's-eye view of the cab, and innovative design decisions that give operators more control over their work, the new ZW-7 range of machines are the safest wheel loaders on the market.
A completely redesigned cab gives operators some of the lowest noise and vibration levels on the market. Ergonomically designed controls, a fully adjustable armrest and a high-res LCD screen provide superior comfort for safer and more productive operations.
NJC.© Info Hitachi Construction Machinery (Europe) NV
------------------------------------------------------------------------------------------------------------------
29/08/22-NL
Nieuwe wiellader ZW220-7 aan het werk in 'tapijtstad'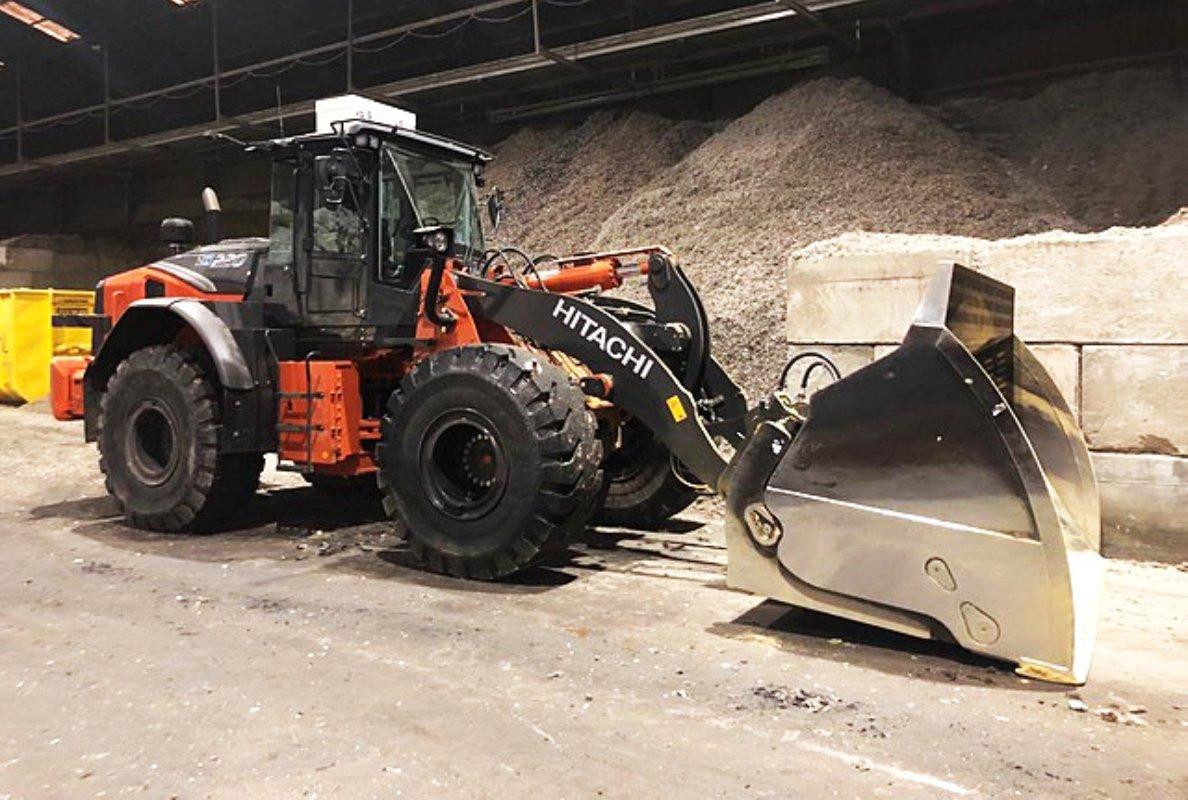 Hitachi ZW220-7 IMAGE SOURCE: Hitachi Construction Machinery (Europe) NV
Hitachi Construction Machinery Netherlands (HCMNL) heeft onlangs een nieuwe Hitachi ZW220-7 wiellader geleverd om het Nederlandse recyclingbedrijf Van Dijk Containers te helpen bij het verwerken van resterende tapijtproducten die in verschillende industrieën worden gebruikt.
Koningen van tapijtstad
Vanuit het Noord-Nederlandse Genemuiden (ook wel 'tapijtstad' genoemd dankzij het grote aantal tapijtfabrikanten dat er gevestigd is), is Van Dijk Containers van een familiebedrijf uitgegroeid tot de grootste speler op de West-Europese markt voor tapijtrecycling.
Het werk in de fabriek bestaat voornamelijk uit het verwerken van tapijtresten tot grondstoffen voor cement, auto-isolatie en zelfs tuinmeubelen, naast andere afvalverwerkings- en transportactiviteiten.
De veiligste machine voor zachte materialen
De nieuwe ZW220-7 wiellader is een ongelooflijk veelzijdige middelgrote wiellader, die een combinatie van uitzonderlijke wendbaarheid en een groot laadvermogen biedt die ideaal is voor de activiteiten van Van Dijk Containers.
Dankzij geavanceerde technologie, zoals het Aerial Angle™-camerasysteem dat 270 graden vanuit vogelperspectief van de cabine biedt, en innovatieve ontwerpbeslissingen die machinisten meer controle over hun werk geven, zijn de nieuwe ZW-7-machines de veiligste wielladers op de markt.
Een volledig opnieuw ontworpen cabine biedt machinisten een van de laagste geluids- en trillingsniveaus op de markt. Ergonomisch ontworpen bedieningselementen, een volledig verstelbare armleuning en een LCD-scherm met hoge resolutie bieden superieur comfort voor veiligere en productievere werkzaamheden.
NJC.© Info Hitachi Construction Machinery (Europe) NV
-------------------------------------------------------------------------------------------------------------------
Date de dernière mise à jour : 26/08/2022