Next Generation Cat 906, 907, 908 Compact Wheel Loaders
06/05/22-FR-English-NL-footer
Chargeuses sur pneus compactes Cat 906, 907, 908 nouvelle génération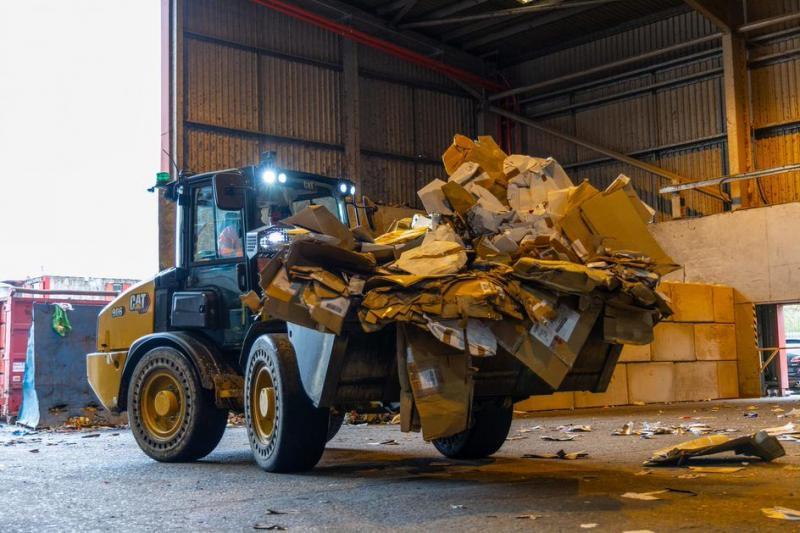 Image Featuring the new Cat C2.8 engine, the upgraded drive and powertrain deliver faster roading speeds and drive train performance. The hydraulics and structures have gone through an overhaul, making these new models an optimal fit for many applications.
S'appuyant sur le succès des chargeuses sur pneus compactes de la série M Cat, les nouvelles chargeuses sur pneus Cat 906, 907 et 908 de nouvelle génération sont dotées d'un poste de conduite repensé, tirant parti des technologies Cat exclusives pour améliorer l'expérience du conducteur et offrir le confort d'un modèle de chargeuse sur pneus plus grand sur un plus petit Plate-forme.
Dotés du nouveau Moteur C2.8 Cat, la transmission et le groupe motopropulseur améliorés offrent des vitesses de conduite et des performances de transmission plus rapides. L'hydraulique et les structures ont subi une refonte, faisant de ces nouveaux modèles une solution optimale pour de nombreuses applications.
Amélioration de l'expérience de l'opérateur
La nouvelle cabine étanche et pressurisée améliore l'expérience de l'opérateur, tout en conservant les aspects fonctionnels de la conception précédente, comme les pédales de plancher surélevé et les deux portes pour faciliter le nettoyage de la cabine. Une visibilité optimale est obtenue avec des rétroviseurs latéraux standard plus grands, des rétroviseurs électriques et chauffants à lentille parabolique en option et des options de caméra avant et arrière. Les nouveaux pare-brise avant et arrière monobloc offrent une couverture des essuie-glaces 60 % supérieure.
Les commandes montées sur le siège améliorent l'ergonomie d'utilisation des nouvelles chargeuses. Un joystick multifonction contrôle le sens et la vitesse de déplacement, le débit auxiliaire proportionnel, le blocage de différentiel et le débit hydraulique constant sans que les opérateurs retirent leur main du joystick, ce qui augmente la sécurité de fonctionnement. À l'instar des plus grandes chargeuses sur pneus Cat, les entreprises pourront choisir parmi une gamme de sièges, y compris un nouveau siège haut de gamme chauffant et ventilé.
Une première pour cette taille de classe, de nouveaux kickouts programmables en cabine avec des capteurs rotatifs haute définition montés sur les bras du chargeur protègent mieux les opérateurs contre les chocs et les vibrations indésirables dus aux godets heurtant le sol et/ou heurtant les butées de vidage à la hauteur maximale. Une opération de désactivation appropriée permet également d'économiser jusqu'à 20 % de la durée de vie de l'arête de coupe du godet. Plutôt que de quitter la cabine pour le réglage, l'opérateur reste à l'intérieur de la cabine tout en réglant les positions supérieure, inférieure et de désactivation de l'accessoire sur simple pression d'un bouton. L'amortissement du cylindre est également activé pour fournir à l'opérateur une protection supplémentaire.
Le cœur de la nouvelle conception de la cabine est le moniteur de contrôle de nouvelle génération, qui offre une gamme d'informations de fonctionnement de la machine en temps réel. Il permet à l'opérateur de configurer la réponse de la transmission hydrostatique, l'arrêt automatique du moteur au ralenti et un mode de groupe motopropulseur utilitaire qui offre aux opérateurs un moyen plus intuitif de contrôler le sol et la vitesse du moteur, idéal lorsqu'ils travaillent avec des accessoires hydromécaniques.
Groupe motopropulseur amélioré
Spécialement conçu pour les produits Cat, le nouveau Moteur C2.8 Cat fournit la même puissance brute de 55,7 kW (74 ch) que le moteur précédent avec 13 % de couple en plus, ce qui améliore les performances sur route et l'effort de traction. Le Cat C2.8 est conforme aux normes d'émissions EU Stage V et U.S. EPA Tier IV Final avec des packs d'émissions alternatifs disponibles. Sa transmission à changement de vitesse en marche offre des vitesses de conduite accrues de 25 mi/h et des capacités de réservoir de carburant plus grandes de 30 % pour la 906 et de 12 % pour les 907 et 908 offrent des cycles de travail prolongés.
Lorsque vous travaillez dans des environnements poussiéreux, la nouvelle option de ventilateur réversible aide à garder les noyaux de refroidissement propres pour un contrôle plus efficace de la température. Grâce à un bouton à effleurement dans la cabine, le système peut être désactivé, réglé pour fonctionner en mode automatique ou momentanément activé par l'opérateur. Le mode automatique utilise le réglage d'usine pour inverser la direction pendant 10 secondes toutes les 10 minutes. La fréquence et la durée de l'inversion automatique peuvent être modifiées facilement par l'opérateur via le nouveau moniteur de contrôle.
Hydraulique améliorée, Structures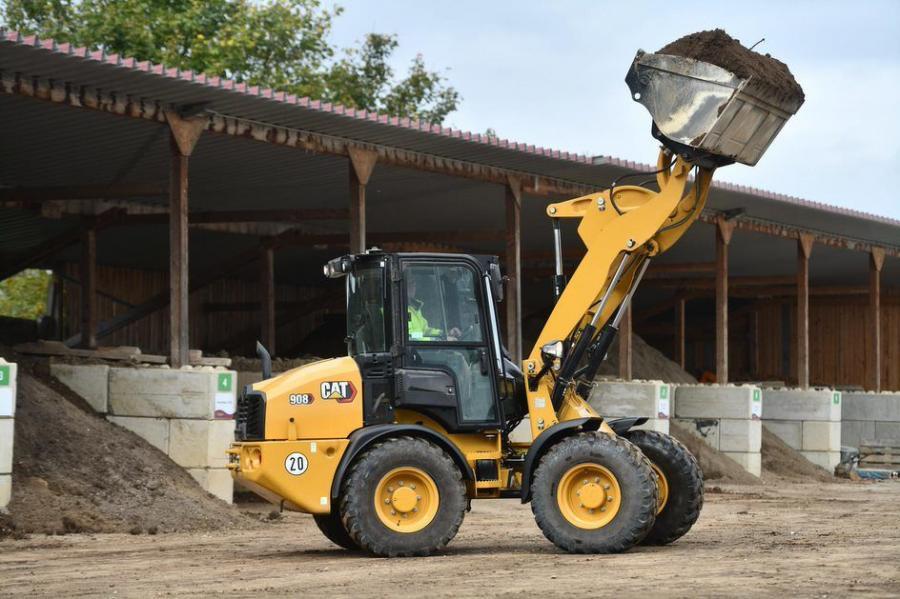 Pour répondre à la demande de multifonctionnalité accrue avec levage et inclinaison tout en alimentant des outils hydromécaniques, ces chargeuses sur pneus de nouvelle génération sont dotées d'une nouvelle vanne à compensation de pression standard, permettant aux opérateurs de contrôler simultanément les outils et d'utiliser les accessoires hydromécaniques de manière transparente. Les pressions auxiliaires de travail accrues facilitent le travail et améliorent la direction pour réduire la fatigue de l'opérateur.
Les modifications apportées au coupleur de direction à glissement en option améliorent la visibilité à travers le coupleur lors du réglage des dents de fourche. Parallèlement, le réalignement du tablier porte-fourche de la chargeuse sur pneus compacte améliore la visibilité vers l'avant. Les capacités de godet ont été augmentées sur toute la gamme, ajoutant à la capacité de fonctionnement déjà impressionnante des machines Cat.
Nouveau pour cette taille de classe, une configuration à grande hauteur de levage Cat 908 en option est disponible, idéale pour les clients opérant sur les marchés agricoles, industriels et des déchets. Lorsqu'elle est combinée avec l'option de ventilateur réversible, la configuration à grande levée offre aux agriculteurs une efficacité et une fiabilité de fonctionnement accrues. Les pneus pleins disponibles et la configuration à grande hauteur de levage font de la nouvelle chargeuse 908 la solution idéale pour les applications industrielles et de traitement des déchets.
Des options d'éclairage LED efficaces et à éclairage élevé sont désormais disponibles pour les éclairages de travail/routier et de service sous le capot afin de mieux éclairer les zones de travail dans des conditions de faible luminosité. L'éclairage LED sous le capot, axé sur les tâches, simplifie l'entretien en cas de faible luminosité ambiante. Une banque de résistances unique intégrée au corps des feux de route à LED Cat maintient l'ensemble de lampe suffisamment chaud pour faire fondre la neige et la glace, améliorant ainsi l'efficacité par rapport aux feux de route à LED conventionnels lorsqu'ils fonctionnent dans des climats plus froids.
CNM.© Infos www.cat.com.
----------------------------------------------------------------------------------------------------------------------
06/05/22-English
Next Generation Cat 906, 907, 908 Compact Wheel Loaders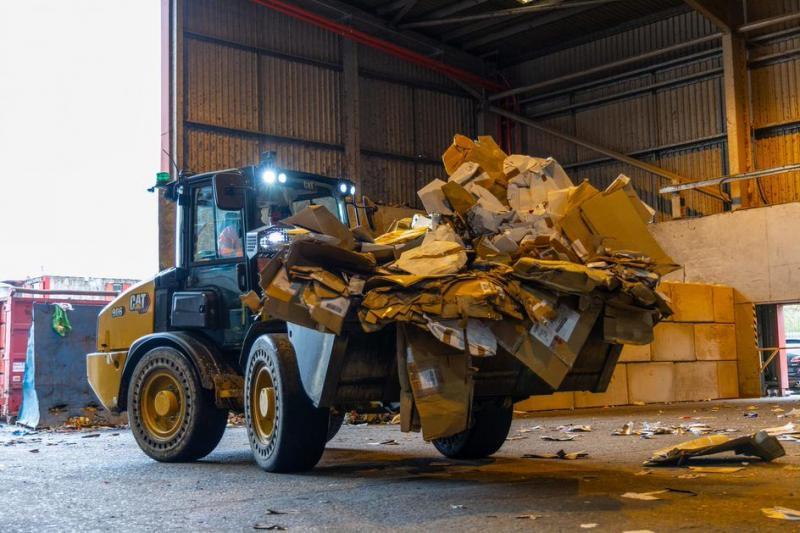 Image Featuring the new Cat C2.8 engine, the upgraded drive and powertrain deliver faster roading speeds and drive train performance. The hydraulics and structures have gone through an overhaul, making these new models an optimal fit for many applications.
Building on the success of the Cat M-Series compact wheel loaders, the new Next Generation Cat 906, 907 and 908 wheel loaders boast a reengineered operator's station, leveraging exclusive Cat technologies to improve operator experience and provide larger wheel loader model comfort on a smaller platform.
Featuring the new Cat C2.8 engine, the upgraded drive and powertrain deliver faster roading speeds and drive train performance. The hydraulics and structures have gone through an overhaul, making these new models an optimal fit for many applications.
Improved Operator Experience
The new sealed and pressurized cab improves the operator experience, while keeping previous design functional aspects like raised floor pedals and two doors to make cab cleaning easier. Optimum visibility is achieved with larger standard side mirrors, optional parabolic lens electric and heated mirrors, and front and rear camera options. New single-piece front and rear windshields offer 60 percent better wiper coverage.
Seat mounted controls improve operating ergonomics of the new loaders. A multifunction joystick controls travel direction and speed, proportional auxiliary flow, differential lock, and constant hydraulic flow without operators removing their hand from the joystick, elevating operating safety. Like larger Cat wheel loaders, companies will be able to choose from a range of seats, including a new premium heated and ventilated seat.
A first for this class size, new in-cab-programmable kickouts with high-definition rotary sensors mounted to the loader arms better protect operators from unwanted shock and vibration due to buckets striking the ground and/or hitting dump stops at max height. Proper kickout operation also saves up to 20 percent of bucket cutting edge life. Rather than leaving the cab for setting, the operator remains inside the cab while setting upper, lower and attachment kickout positions at the touch of a button. Cylinder snubbing also is enabled to provide the operator with added protection.
The heart of the new cab design is the Next Generation control monitor, which offers a range of real-time machine operating information. It allows the operator to configure hydrostatic transmission response, auto engine idle shutdown and a utility powertrain mode that provides operators with a more intuitive means of controlling ground and engine speed, ideal when working with hydromechanical attachments.
Upgraded Powertrain
Specifically designed for Cat products, the new Cat C2.8 engine delivers the same 55.7-kW (74-hp) gross power as the previous engine with 13 percent more torque, resulting in roading performance and tractive effort improvements. The Cat C2.8 meets EU Stage V and U.S. EPA Tier IV Final emission standards with alternative emissions packages available. Its shift-on-the-go transmission offers increased roading speeds of 25 mph, and larger fuel tank capacities of 30 percent for the 906 and 12 percent for the 907 and 908 deliver extended work cycles.
When working in dusty environments, the new reversing-fan option assists in keeping cooling cores clean for more efficient temperature control. Through an in-cab soft-touch button, the system can be turned off, set to operate in an automatic mode or momentarily activated by the operator. Automatic mode uses the factory-setting to reverse direction for 10 seconds every 10 minutes. Frequency and duration of automatic reversing can be changed easily by the operator via the new control monitor.
Enhanced Hydraulics, Structures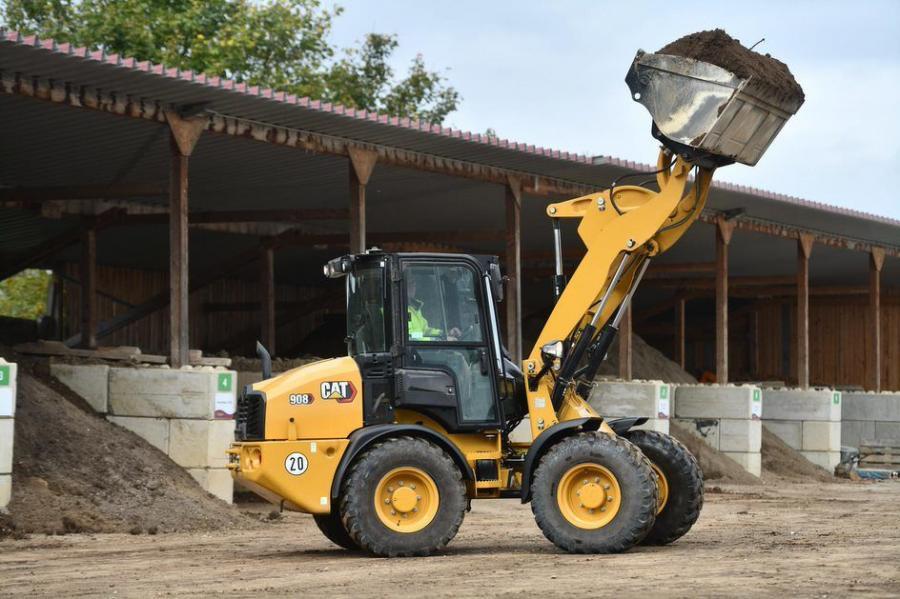 To meet demand for increased multifunctionality with lift and tilt while powering hydromechanical tools, these Next Generation wheel loaders feature a new standard pressure compensated valve, allowing operators to simultaneously control implements and operate hydromechanical attachments seamlessly. Increased working auxiliary pressures make work easier and improve steering to reduce operator fatigue.
Modifications to the optional skid steer coupler improve visibility through the coupler when setting fork tines. In conjunction, realignment of the compact wheel loader fork carriage improves forward visibility. Bucket capacities have been increased across the range adding to the already impressive operating capacity legacy of the Cat machines.
New for this class size, an optional Cat 908 high-lift configuration is available, perfect for customers operating in agricultural and industrial and waste markets. When combined with the reversing fan option, the high-lift configuration offers farmers increased operating efficiency and reliability. Available solid tires and the high lift configuration make the new 908 loader ideal for industrial and waste applications.
Efficient, high-illumination LED lights options are now available for both working/roading and under-hood-service lights to better illuminate work areas in low-light conditions. Task-focused LED under-hood lighting simplifies servicing in poor ambient light. A unique resistor bank built into the body of Cat LED roading lights keep the lamp assembly warm enough to melt snow and ice, improving efficiency over conventional LED roading lights when operating in colder climates.
NJC.© Info www.cat.com.
----------------------------------------------------------------------------------------------------------
06/05/22-NL
Volgende generatie Cat 906, 907, 908 compacte wielladers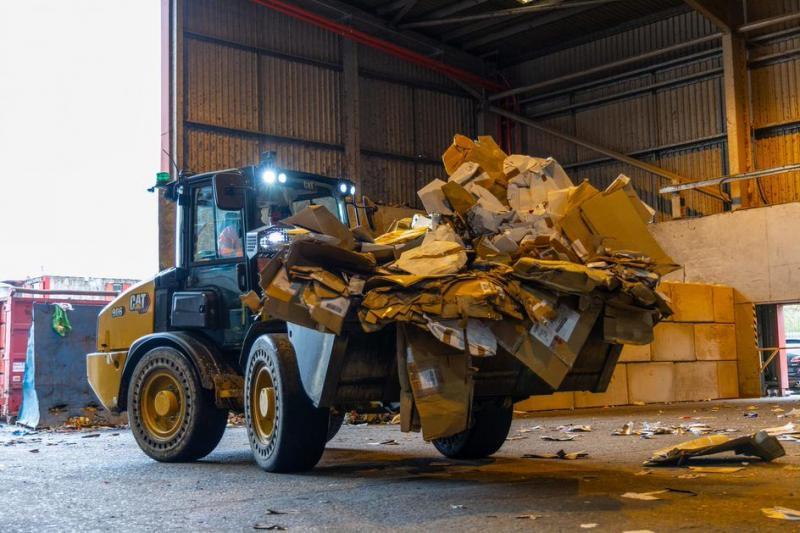 Image Featuring the new Cat C2.8 engine, the upgraded drive and powertrain deliver faster roading speeds and drive train performance. The hydraulics and structures have gone through an overhaul, making these new models an optimal fit for many applications.
Voortbouwend op het succes van de Cat compacte wielladers uit de M-serie, beschikken de nieuwe Cat 906, 907 en 908 wielladers van de volgende generatie over een opnieuw ontworpen bestuurdersplaats, waarbij gebruik wordt gemaakt van exclusieve Cat-technologieën om de ervaring van de bestuurder te verbeteren en het comfort van een groter wielladermodel te bieden op een kleinere platform.
Met de nieuwe Cat C2.8-motor leveren de verbeterde aandrijving en aandrijflijn hogere rijsnelheden en aandrijflijnprestaties. De hydrauliek en constructies hebben een revisie ondergaan, waardoor deze nieuwe modellen optimaal geschikt zijn voor vele toepassingen.
Verbeterde gebruikerservaring
De nieuwe afgedichte en onder druk staande cabine verbetert de ervaring van de machinist, terwijl de functionele aspecten van het eerdere ontwerp, zoals verhoogde vloerpedalen en twee deuren, worden behouden om het schoonmaken van de cabine gemakkelijker te maken. Optimaal zicht wordt bereikt met grotere standaard zijspiegels, optionele elektrische en verwarmde spiegels met parabolische lens en opties voor camera's voor en achter. Nieuwe voor- en achterruiten uit één stuk bieden een 60 procent betere ruitenwisserdekking.
Op de stoel gemonteerde bedieningselementen verbeteren de bedieningsergonomie van de nieuwe laders. Een multifunctionele joystick regelt de rijrichting en -snelheid, de proportionele hulpstroom, de differentieelvergrendeling en de constante hydraulische stroom zonder dat de machinist zijn hand van de joystick hoeft te halen, wat de bedrijfsveiligheid verhoogt. Net als grotere Cat wielladers kunnen bedrijven kiezen uit een reeks stoelen, waaronder een nieuwe premium verwarmde en geventileerde stoel.
Een primeur voor deze klasse, nieuwe in de cabine programmeerbare kickouts met high-definition roterende sensoren die op de laderarmen zijn gemonteerd, beschermen de machinist beter tegen ongewenste schokken en trillingen als gevolg van bakken die de grond raken en/of dumpstops raken op maximale hoogte. Een juiste kickout-werking bespaart ook tot 20 procent van de levensduur van de bak. In plaats van de cabine te verlaten om af te stellen, blijft de machinist in de cabine terwijl hij met één druk op de knop de bovenste, onderste en uitschakelposities voor uitrustingsstukken instelt. Cilinderdemping is ook ingeschakeld om de machinist extra bescherming te bieden.
Het hart van het nieuwe cabineontwerp is de Next Generation-controlemonitor, die een scala aan realtime machinebedieningsinformatie biedt. Het stelt de machinist in staat om de reactie van de hydrostatische transmissie, de automatische uitschakeling bij stationair toerental en een utility-aandrijflijnmodus te configureren die machinisten een meer intuïtieve manier biedt om het grond- en motortoerental te regelen, ideaal bij het werken met hydromechanische uitrustingsstukken.
Opgewaardeerde aandrijflijn
De nieuwe Cat C2.8-motor is speciaal ontworpen voor Cat-producten en levert hetzelfde brutovermogen van 55,7 kW (74 pk) als de vorige motor met 13 procent meer koppel, wat resulteert in betere wegprestaties en betere trekkracht. De Cat C2.8 voldoet aan de emissienormen EU Stage V en U.S. EPA Tier IV Final met alternatieve emissiepakketten beschikbaar. Zijn schakel-on-the-go-transmissie biedt hogere snelheden op de weg van 40 mph, en grotere brandstoftankinhouden van 30 procent voor de 906 en 12 procent voor de 907 en 908 zorgen voor langere werkcycli.
Bij het werken in stoffige omgevingen helpt de nieuwe omkerende ventilatoroptie om de koelkernen schoon te houden voor een efficiëntere temperatuurregeling. Via een soft-touch-knop in de cabine kan het systeem worden uitgeschakeld, in een automatische modus worden gezet of tijdelijk worden geactiveerd door de machinist. De automatische modus gebruikt de fabrieksinstelling om elke 10 minuten 10 seconden van richting om te keren. De frequentie en duur van het automatisch omkeren kan eenvoudig door de bestuurder worden gewijzigd via de nieuwe controlemonitor.
Verbeterde hydrauliek, constructies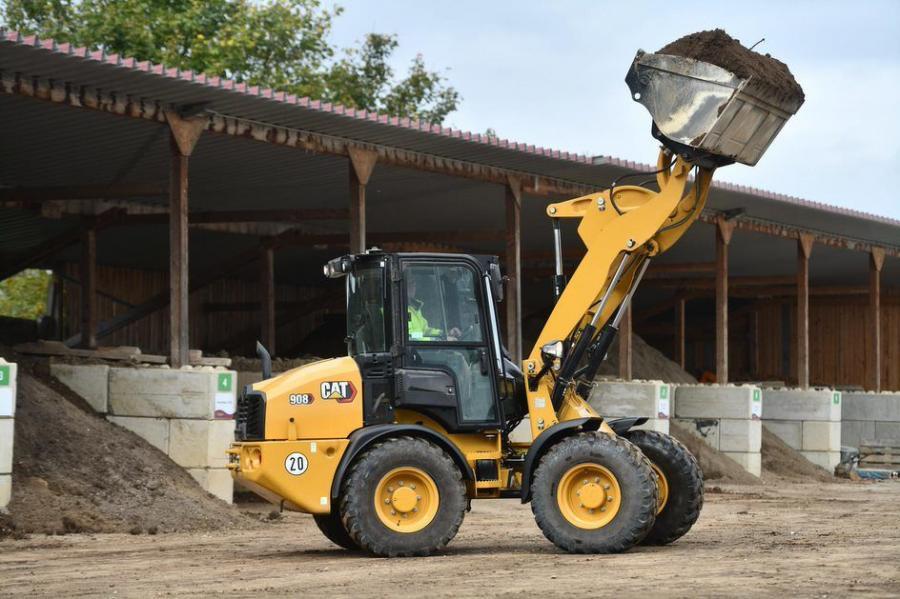 Om te voldoen aan de vraag naar meer multifunctionaliteit met heffen en kantelen terwijl ze hydromechanische gereedschappen aandrijven, zijn deze Next Generation wielladers voorzien van een nieuwe standaard drukgecompenseerde klep, waardoor machinisten gelijktijdig werktuigen kunnen bedienen en hydromechanische uitrustingsstukken naadloos kunnen bedienen. Een hogere werkdruk maakt het werk gemakkelijker en verbetert de besturing om vermoeidheid van de machinist te verminderen.
Aanpassingen aan de optionele schranklader verbeteren het zicht door de koppeling bij het instellen van de vorktanden. In combinatie verbetert de heruitlijning van het compacte vorkenbord van de wiellader het zicht naar voren. De laadbakcapaciteiten zijn over het hele assortiment vergroot, wat bijdraagt ​​aan de toch al indrukwekkende erfenis van de operationele capaciteit van de Cat-machines.
Nieuw voor deze klasse: een optionele Cat 908-configuratie met hoog hefvermogen is beschikbaar, perfect voor klanten die actief zijn in de landbouw, industrie en afvalverwerking. In combinatie met de optie met omkeerbare ventilator biedt de configuratie met hoog hefvermogen landbouwers een grotere bedrijfsefficiëntie en betrouwbaarheid. Beschikbare massieve banden en de configuratie met hoog hefvermogen maken de nieuwe 908-lader ideaal voor industriële en afvaltoepassingen.
Er zijn nu efficiënte, sterk verlichte LED-verlichtingsopties beschikbaar voor zowel werk-/wegverlichting als verlichting onder de motorkap om werkgebieden bij weinig licht beter te verlichten. Taakgerichte led-verlichting onder de motorkap vereenvoudigt het onderhoud bij weinig omgevingslicht. Een unieke weerstandsbank ingebouwd in de behuizing van Cat LED-wegverlichting houdt de lamp warm genoeg om sneeuw en ijs te smelten, waardoor de efficiëntie wordt verbeterd ten opzichte van conventionele LED-wegverlichting bij gebruik in koudere klimaten.
NJC.© Info www.cat.com.
---------------------------------------------------------------------------------------------------------------