Next Generation of JLG Augmented Reality App Now Available
24/06/22-FR-English-NL-footer
L'application de réalité augmentée JLG de nouvelle génération est désormais disponible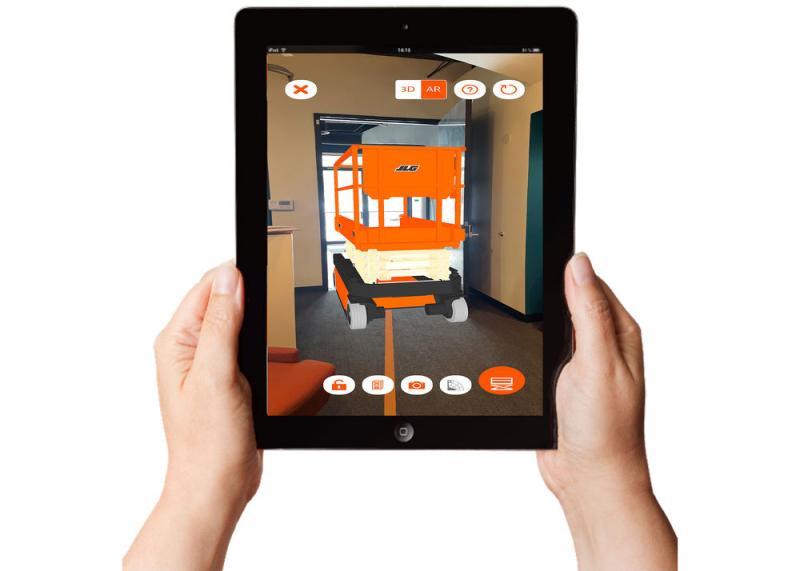 JLG Industries Inc. a annoncé des mises à jour de l'application JLG Augmented Reality (AR), donnant un coup de jeune à l'outil numérique et élargissant ses capacités pour être encore plus utile aux utilisateurs au quotidien.
Les mises à niveau de nouvelle génération incluent une toute nouvelle interface et expérience, un nouveau contenu, une utilisation basée sur le cloud et hors ligne, une fonctionnalité étendue d'inspection des machines et une nouvelle fonctionnalité "Flotte".
"Cette nouvelle version étendue de l'application JLG AR a non seulement une apparence plus moderne, mais elle fonctionne également de manière plus efficace et efficiente", a déclaré Ara Eckel, directeur de la gestion des produits pour les solutions connectées, JLG.
"En adoptant une approche axée sur la machine, nous avons fait évoluer cet outil avec des améliorations très ciblées et des fonctionnalités supplémentaires qui amélioreront la productivité des utilisateurs. Sa conception centrée sur le client facilite la navigation dans l'application et connecte plus rapidement nos clients aux informations qu'ils recherchent. à la recherche de."
L'application JLG AR continue de fournir cinq fonctions importantes qui augmentent la sécurité, la productivité et l'efficacité sur les chantiers : 1) Visualisation de la machine, 2) Visualisation des accessoires, 3) Guidage de fonctionnement, 4) Visualiseur de décalcomanies et 5) Assistant d'inspection.
Les mises à niveau de l'application incluent plusieurs fonctionnalités d'amélioration des performances de ces fonctions, telles qu'une interface d'application mobile actualisée et une expérience qui commence au niveau de la machine, permettant aux utilisateurs de sélectionner un produit et d'accéder directement à son module de contenu à partir de l'interface facile à utiliser. utilisez le guide du menu ou la fonctionnalité de recherche améliorée de l'application.
De nouvelles machines et du contenu ont également été ajoutés aux modules d'équipement offrant aux utilisateurs aujourd'hui plus de 60 modèles à visualiser et à manipuler en 3D.
Le contenu est désormais basé sur le cloud, plutôt que natif, pour réduire la taille de l'application de 1,3 Go à 227 Mo et améliorer l'accessibilité au contenu nouveau et mis à jour. De plus, la fonctionnalité d'assistance à l'inspection s'est étendue pour couvrir les inspections annuelles des machines, les inspections quotidiennes des machines et les inspections avant livraison.
La nouvelle fonctionnalité "Flotte" aide les clients JLG à optimiser la gestion de leur flotte directement depuis l'application. Les utilisateurs peuvent désormais ajouter et stocker plusieurs actifs pour un suivi facile par numéro de série/ID d'actif. De plus, les utilisateurs peuvent enregistrer des données sur des machines et y accéder instantanément, quelle que soit la connectivité.
"Grâce à l'application JLG AR, les utilisateurs peuvent obtenir un accès numérique à la demande aux informations spécifiques à une machine sans jamais quitter le chantier", a déclaré Eckel.
Voici des exemples :
Les chefs de projet utilisant la visualisation de machine de l'application peuvent s'assurer que l'équipement qu'ils commandent s'adaptera à leur espace de travail et atteindra les zones requises sans rechercher les dimensions dans un manuel ou en ligne.
Les sociétés de location utilisant la visualisation des accessoires de l'application peuvent être sûres qu'elles commandent les bons accessoires pour s'adapter aux modèles qu'elles transportent sans consulter un manuel de pièces pour vérifier l'ajustement.
Avant d'utiliser la machine, les opérateurs utilisant les instructions de fonctionnement de l'application peuvent voir une superposition du panneau de commande d'une machine avec des explications sur les fonctions de commande. Et, à l'aide de la visionneuse de décalcomanies, les opérateurs peuvent numériser les décalcomanies et les lire dans leur langue maternelle.
Les techniciens utilisant leur téléphone peuvent parcourir l'assistant d'inspection pour s'assurer qu'ils suivent les protocoles appropriés et documentent efficacement chaque étape.
"Il y a beaucoup d'avantages et de valeur ajoutée pour les utilisateurs dans l'application JLG AR mise à jour", a déclaré Eckel, "et la meilleure partie est qu'elle est 100% gratuite à télécharger et ne nécessite pas de connexion pour l'utiliser [certaines limitations peuvent s'appliquent sur certains marchés mondiaux]."
La nouvelle application JLG Augmented Reality est désormais disponible sur l'App Store d'Apple et disponible en téléchargement. Les utilisateurs actuels de l'application peuvent facilement mettre à jour la nouvelle version à partir du même téléchargement. L'application mise à jour sera bientôt disponible en téléchargement sur le Google Play Store.
NJC.© Infos jlg.com/augmentedreality.
---------------------------------------------------------------------------------------------------------------------
24/06/22-English
Next Generation of JLG Augmented Reality App Now Available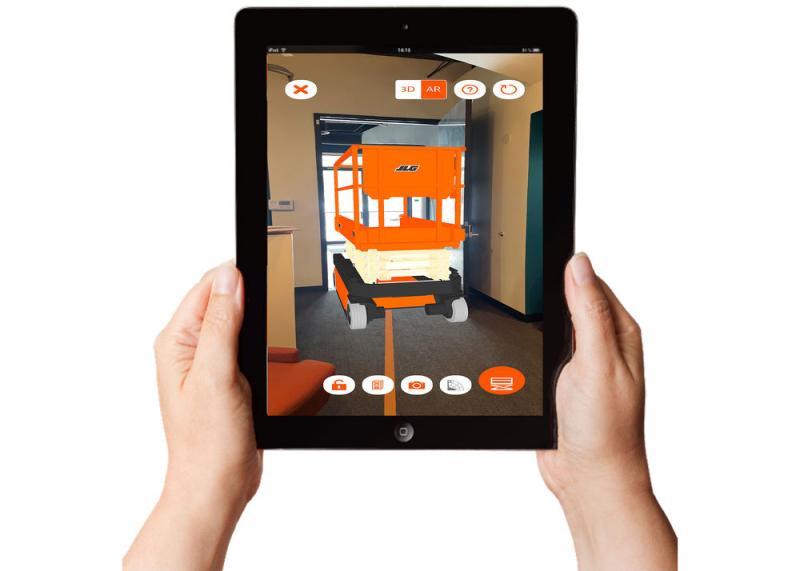 JLG Industries Inc. announced updates to the JLG Augmented Reality (AR) app, giving the digital tool a facelift and expanding its capabilities to be even more useful to users on a day-to-day basis.
The next-generation upgrades include an all-new interface and experience, new content, cloud-based and offline use, expanded machine inspections functionality and a new "Fleet" feature.
"This new, expanded version of the JLG AR app not only has a more modern look and feel, but it also operates more effectively and efficiently," said Ara Eckel, director of product management for connected solutions, JLG.
"Taking a machine-first approach, we have evolved this tool with very targeted enhancements and additional features that will improve users' productivity. Its' customer-centric design makes the app easier to navigate and more quickly connects our customers to the information they are looking for."
The JLG AR app continues to provide five important functions that increase safety, productivity and efficiency on job sites: 1) Machine Visualization, 2) Accessory Visualization, 3) Operation Guidance, 4) Decal Viewer and 5) Inspection Assistant.
Upgrades to the app include several performance-enhancing capabilities to these functions, such as a refreshed mobile application interface and experience that starts at the machine level, allowing users to select a product and go directly into its content module from either the easy-to-use menu guide or through the app's improved search functionality.
New machines and content also have been added to the equipment modules offering users today more than 60 models to view and manipulate in 3-D.
Content is now cloud-based, rather than native, to reduce the application's size from 1.3 GB to 227 MB and enhance accessibility to new and updated content. And, the inspection assistance functionality has expanded to cover annual machine inspections, daily machine inspections and pre-delivery inspections.
The new "Fleet" feature helps JLG customers optimize their fleet management right from the app. Users can now add and store multiple assets for easy tracking by serial number/asset ID. And, users can save data on machines and access it instantly, regardless of connectivity.
"Using the JLG AR app, users can get on-demand, digital access to information specific to a machine without ever leaving the job site," said Eckel.
Examples of this are:
Project managers using the app's machine visualization can make sure the equipment they're ordering will fit in their workspace and reach the required areas without looking up dimensions in a manual or online.
Rental companies using the app's accessory visualization can be confident that they're ordering the right accessories to fit the models they carry without referencing a parts manual to verify fit.
Before machine use, operators using the app's operation guidance can see an overlay of a machine's control panel with explanations of control functions. And, using the decal viewer, operators can scan decals and read them in their native language.
Technicians using their phones can walk through the inspection assistant to ensure they are following proper protocols and efficiently documenting every step.
"There are a lot of added benefits and value for users in the updated JLG AR app," said Eckel, "and the best part is that it is 100-percent free to download and does not require a login to use [some limitations may apply in select global markets]."
The new JLG Augmented Reality app is now live in the Apple App Store and available for download. Current app users can easily update to the new version from the same download. The upgraded app will soon be available for download in the Google Play Store.
NJC.© Info jlg.com/augmentedreality.
-----------------------------------------------------------------------------------------------------------------
24/06/22-NL
Volgende generatie JLG Augmented Reality-app nu beschikbaar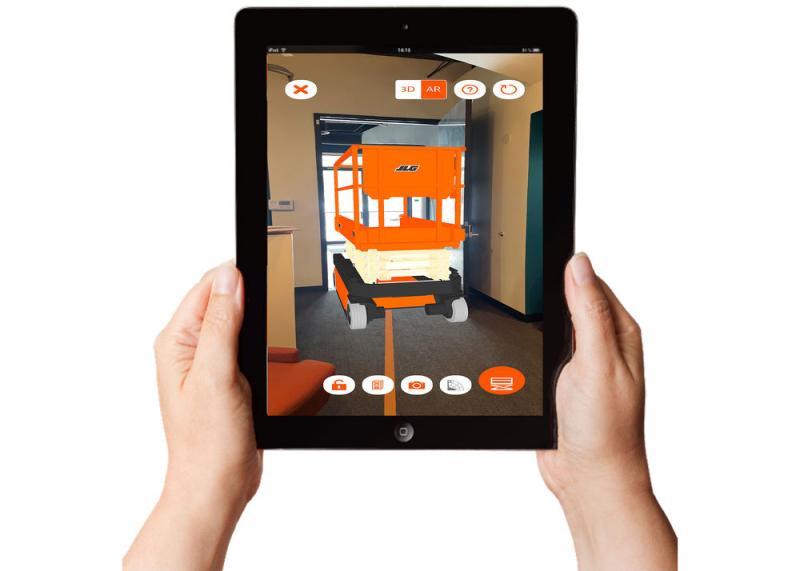 JLG Industries Inc. heeft updates aangekondigd voor de JLG Augmented Reality (AR)-app, die de digitale tool een facelift geeft en de mogelijkheden uitbreidt om nog nuttiger te zijn voor gebruikers van dag tot dag.
De upgrades van de volgende generatie omvatten een geheel nieuwe interface en ervaring, nieuwe inhoud, cloudgebaseerd en offline gebruik, uitgebreide machine-inspectiefunctionaliteit en een nieuwe "Fleet"-functie.
"Deze nieuwe, uitgebreide versie van de JLG AR-app heeft niet alleen een modernere look en feel, maar werkt ook effectiever en efficiënter", zegt Ara Eckel, directeur productbeheer voor verbonden oplossingen, JLG.
"Door een machine-first benadering te volgen, hebben we deze tool ontwikkeld met zeer gerichte verbeteringen en extra functies die de productiviteit van gebruikers zullen verbeteren. Het klantgerichte ontwerp maakt de app gemakkelijker te navigeren en verbindt onze klanten sneller met de informatie die ze zijn zoeken naar."
De JLG AR-app blijft vijf belangrijke functies bieden die de veiligheid, productiviteit en efficiëntie op werkterreinen verhogen: 1) Machinevisualisatie, 2) Accessoirevisualisatie, 3) Bedieningsbegeleiding, 4) Stickerviewer en 5) Inspectie-assistent.
Upgrades naar de app omvatten verschillende prestatieverhogende mogelijkheden voor deze functies, zoals een vernieuwde mobiele applicatie-interface en ervaring die begint op machineniveau, waardoor gebruikers een product kunnen selecteren en rechtstreeks naar de inhoudsmodule kunnen gaan vanuit ofwel de eenvoudig te gebruik de menugids of via de verbeterde zoekfunctionaliteit van de app.
Er zijn ook nieuwe machines en inhoud toegevoegd aan de apparatuurmodules die gebruikers vandaag de dag meer dan 60 modellen bieden om in 3D te bekijken en te manipuleren.
Content is nu cloudgebaseerd in plaats van native, om de applicatie te verkleinen van 1,3 GB tot 227 MB en de toegankelijkheid van nieuwe en bijgewerkte content te verbeteren. En de functionaliteit voor inspectieassistentie is uitgebreid met jaarlijkse machine-inspecties, dagelijkse machine-inspecties en inspecties vóór levering.
De nieuwe "Fleet"-functie helpt JLG-klanten hun wagenparkbeheer rechtstreeks vanuit de app te optimaliseren. Gebruikers kunnen nu meerdere activa toevoegen en opslaan voor eenvoudig volgen op serienummer/asset-ID. En gebruikers kunnen gegevens op machines opslaan en deze direct openen, ongeacht de connectiviteit.
"Met behulp van de JLG AR-app kunnen gebruikers on-demand digitale toegang krijgen tot informatie die specifiek is voor een machine zonder ooit de werkplek te verlaten", zegt Eckel.
Voorbeelden hiervan zijn:
Projectmanagers die de machinevisualisatie van de app gebruiken, kunnen ervoor zorgen dat de apparatuur die ze bestellen in hun werkruimte past en de vereiste gebieden bereikt zonder afmetingen op te zoeken in een handleiding of online.
Verhuurbedrijven die de visualisatie van accessoires van de app gebruiken, kunnen erop vertrouwen dat ze de juiste accessoires bestellen voor de modellen die ze vervoeren, zonder een onderdelenhandleiding te raadplegen om de pasvorm te verifiëren.
Voordat de machine in gebruik wordt genomen, kunnen operators die de bedieningsinstructies van de app gebruiken, een overlay van het bedieningspaneel van een machine zien met uitleg over de bedieningsfuncties. En met behulp van de stickerviewer kunnen operators stickers scannen en ze in hun moedertaal lezen.
Technici die hun telefoons gebruiken, kunnen door de inspectie-assistent lopen om ervoor te zorgen dat ze de juiste protocollen volgen en elke stap efficiënt documenteren.
"Er zijn veel toegevoegde voordelen en waarde voor gebruikers in de bijgewerkte JLG AR-app," zei Eckel, "en het beste is dat het 100 procent gratis te downloaden is en geen login vereist om te gebruiken [sommige beperkingen kunnen toepassen op geselecteerde wereldwijde markten]."
De nieuwe JLG Augmented Reality app is nu live in de Apple App Store en beschikbaar om te downloaden. Huidige app-gebruikers kunnen eenvoudig updaten naar de nieuwe versie vanuit dezelfde download. De geüpgradede app is binnenkort te downloaden in de Google Play Store.
NJC.© Info jlg.com/augmentedreality.
----------------------------------------------------------------------------------------------------------------------