PALFINGER-Crane goes underground
15/11/22-FR-English-NL-footer
PALFINGER-Crane passe sous terre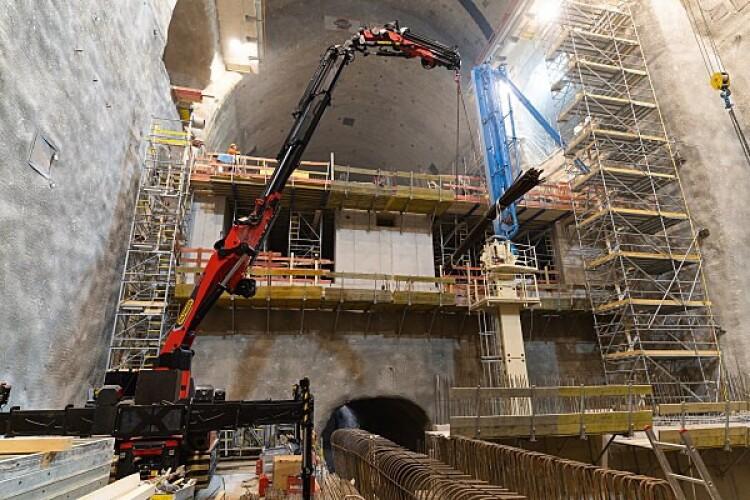 Image-The Palfinger crane can operate in the confined space of the cavern
Une grue de chargement articulée Palfinger assure la manutention principale des matériaux pour la construction d'une nouvelle centrale électrique à accumulation par pompage sous les Alpes autrichiennes.
La grue sur chenilles PCC 57.002 travaille dans une caverne de 73 mètres x 25 mètres x 40 mètres de haut profondément à l'intérieur des montagnes à Uttendorf dans le Haut Pinzgau, près de Salzbourg.
L'entrepreneur Swietelsky construit la centrale électrique souterraine de la nouvelle installation de pompage-turbinage de Tauernmoos pour ÖBB-Infrastruktur.
Environ 15 000 m³ de béton et 2 000 tonnes d'acier d'armature, ainsi que des panneaux de coffrage et les machines associées doivent être soulevés et installés dans la caverne dans un espace très confiné et selon un calendrier serré.
Les grues de construction normales ne peuvent pas fonctionner dans l'espace confiné de la caverne, mais les dimensions compactes et la flèche articulée du Palfinger sont parfaitement adaptées aux exigences de levage du projet.
Mesurant seulement 5,8 mètres sur 1,9 mètre, la grue d'une capacité de 4,5 tonnes a un rayon de travail de près de 30 mètres et peut soulever 3,7 tonnes à une hauteur de 18 mètres et un rayon de huit mètres.
La grue doit également fonctionner à différents niveaux dans la caverne de 40 mètres de haut. Pour cela, la superstructure de la grue se démonte de son train de chenilles et les deux composants sont hissés séparément au niveau supérieur.
NJC.© Info Palfinger
------------------------------------------------------------------------------------------------------------------
15/11/22-English
PALFINGER-Crane goes underground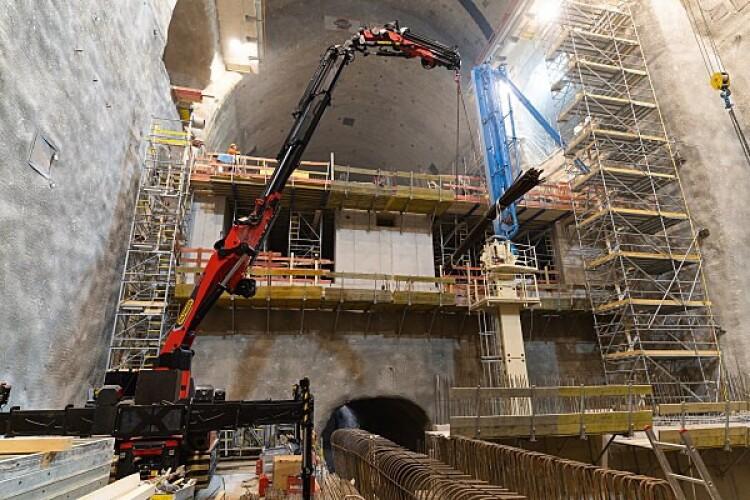 Image-The Palfinger crane can operate in the confined space of the cavern
A Palfinger articulated loader crane is providing the main materials handling for construction of a new pumped storage power plant under the Austrian alps.
The PCC 57.002 crawler-mounted crane is working in a 73 metre x 25 metre x 40 metre high cavern deep inside the mountains at Uttendorf in Upper Pinzgau, near Salzburg.
Contractor Swietelsky is building the subterranean power plant for the new Tauernmoos pumped storage facility for ÖBB-Infrastruktur.
Around 15,000m³ of concrete and 2,000 tonnes of reinforcing steel, along with formwork panels and associated machinery must be lifted and installed within the cavern in a very confined space and on a tight schedule.
Normal construction cranes cannot operate within the confined space of the cavern, but the Palfinger's compact dimensions and articulating boom are perfectly suited to the project's lifting requirements.
Measuring just 5.8 metres by 1.9 meters, the 4.5 tonne-capacity crane has a working radius of almost 30 meters and can lift 3.7 tonnes to a height of 18 meters and a radius of eight meters.
The crane is also required to operate at various levels within the 40metre-high cavern. For this, the crane superstructure dismounts from its crawler undercarriage and the two components are hoisted to the next level separately.
NJC.© Info Palfinger
----------------------------------------------------------------------------------------------------------------------
15/11/22-NL
PALFINGER-Crane gaat ondergronds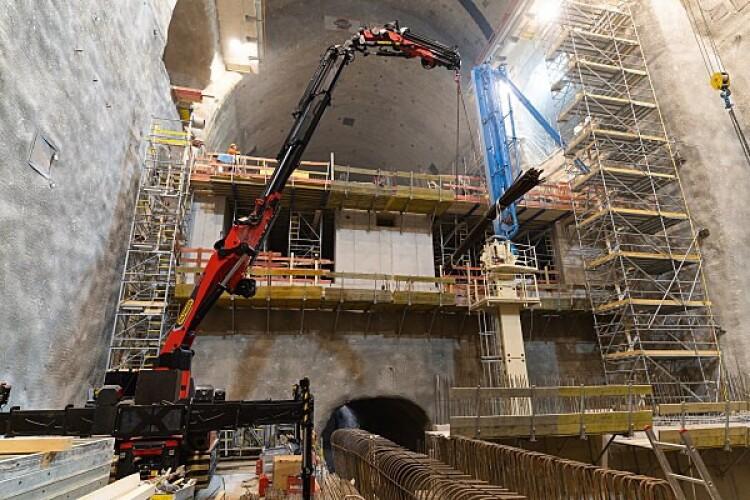 Image-The Palfinger crane can operate in the confined space of the cavern
Een Palfinger kniklaadkraan zorgt voor de belangrijkste materiaalbehandeling voor de bouw van een nieuwe pompopslagcentrale onder de Oostenrijkse Alpen.
De PCC 57.002 rupskraan werkt in een 73 meter x 25 meter x 40 meter hoge grot diep in de bergen bij Uttendorf in Ober Pinzgau, nabij Salzburg.
Aannemer Swietelsky bouwt de ondergrondse elektriciteitscentrale voor de nieuwe pompopslag in Tauernmoos voor ÖBB-Infrastruktur.
Ongeveer 15.000 m³ beton en 2.000 ton wapeningsstaal, samen met bekistingspanelen en bijbehorende machines moeten in een zeer beperkte ruimte en volgens een strak schema worden opgetild en geïnstalleerd in de caverne.
Normale bouwkranen kunnen niet werken binnen de beperkte ruimte van de caverne, maar de compacte afmetingen en knikarm van de Palfinger zijn perfect geschikt voor de hijsvereisten van het project.
De kraan met een capaciteit van 4,5 ton is slechts 5,8 meter bij 1,9 meter, heeft een actieradius van bijna 30 meter en kan 3,7 ton hijsen tot een hoogte van 18 meter en een vlucht van acht meter.
De kraan moet ook op verschillende niveaus binnen de 40 meter hoge grot werken. Hiervoor wordt de bovenbouw van de kraan van zijn rupsonderstel gedemonteerd en worden de twee componenten afzonderlijk naar het volgende niveau gehesen.
NJC.© Info Palfinger
--------------------------------------------------------------------------------------------------------------------