PALFINGER PK 17.001 SLD 3: Strong Partner for Reliable and Efficient Operations

31/01/23-FR-English-NL-footer
PALFINGER PK 17.001 SLD 3 : un partenaire solide pour des opérations fiables et efficaces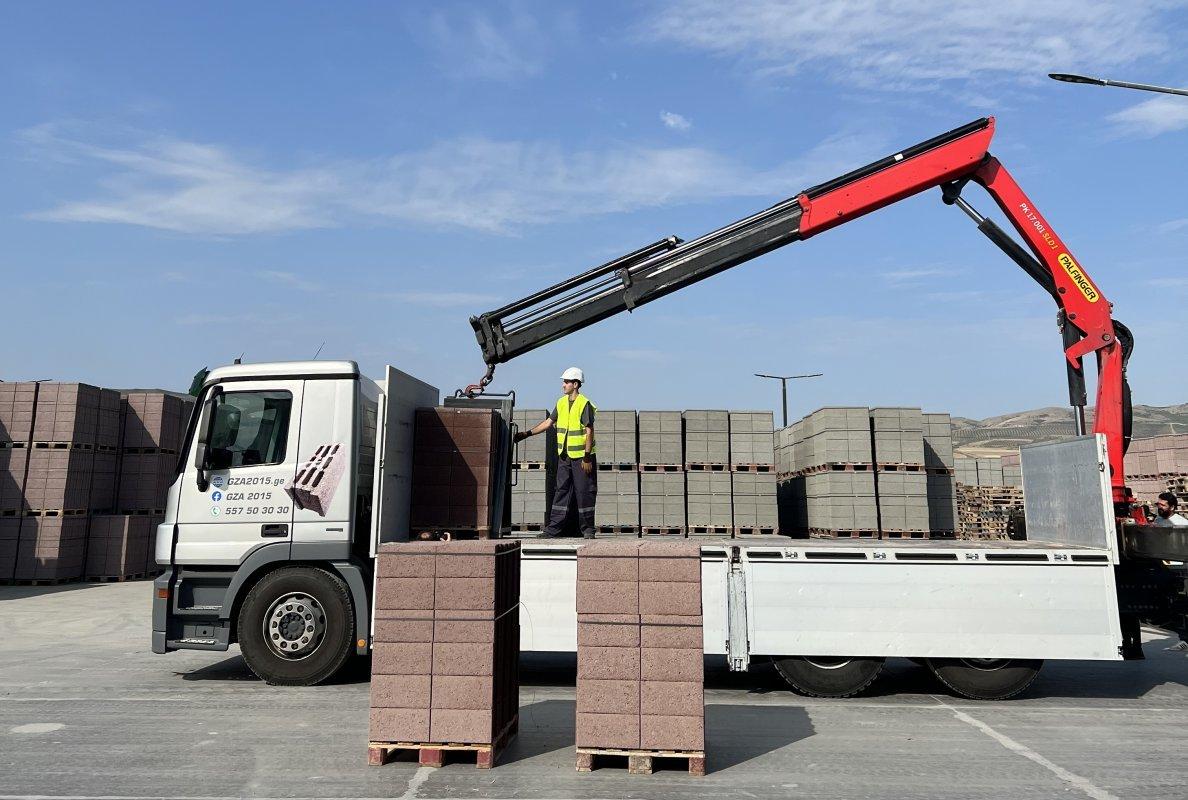 PALFINGER PK 17.001 SLD 3: Perfect for construction material deliveries, like block buildings. IMAGE SOURCE: Palfinger AG
David de Road 2015 LLC en Géorgie fait confiance à la PK 17.001 SLD 3 depuis des années, et la grue de chargement compacte est essentielle à leurs opérations quotidiennes pour livrer des blocs de construction de manière fiable et efficace à travers le pays.
SLD représente les grues de chargement solides et efficaces de PALFINGER. La gamme a un profil hexagonal fort, ce qui les rend robustes pour des applications rapides et simples, comme Road 2015 LLC en Géorgie l'a tous les jours. L'entreprise leader dans la production de blocs de construction en Géorgie opère activement sur le marché depuis 2010. L'entreprise compte plus de 200 employés professionnels et compte sur la plus haute qualité des matières premières ainsi que sur des machines standard européennes pour la production et une qualité de service extraordinaire. Par conséquent, la société a pris la décision de travailler avec PALFINGER Georgia et compte sur leur expertise avec leur excellent réseau de service depuis de nombreuses années. Il en résulte que l'ensemble de la flotte de l'entreprise de construction de blocs se compose déjà de cinq PK 17.001 SLD 3 montés à l'arrière. », explique David.
De plus, la grue le convainc lui et ses collègues avec Single Link Plus. L'articulation articulée sur la flèche articulée de la grue améliore considérablement la puissance de levage sur la pointe de la grue. Avec elle, la grue peut également être inclinée vers le haut pour mieux travailler dans les espaces les plus étroits et à travers les ouvertures de porte basses. Les grues solides et fiables sont également équipées d'une télécommande radio. Cela permet aux grutiers de manipuler très facilement la lourde charge grâce à une maniabilité étendue grâce à la télécommande radio.
PALFINGER PK 17.001 SLD 3 : un partenaire solide pour des opérations fiables et efficaces
Road 2015 LLC travaille non seulement avec les grues pour atteindre n'importe quoi. Elle s'appuie également sur des équipements PALFINGER supplémentaires, ce qui rend la grue encore plus flexible. L'un d'eux est le manipulateur de grue PALFINGER sur la pointe de grue du PK 17.001 SLD 3, qui augmente la sécurité et l'efficacité des grutiers, comme David, en livrant les palettes de blocs de construction aux clients dans les plus brefs délais.
Une véritable success story, qui ira plus loin. David a révélé que son entreprise envisageait déjà d'acheter une nouvelle grue de chargement PALFINGER. Cette fois ce sera peut-être un PK 20.501L TEC 3.
NJC.© Infos PALFINGER
----------------------------------------------------------------------------------------------------------

31/01/23-English
PALFINGER PK 17.001 SLD 3: Strong Partner for Reliable and Efficient Operations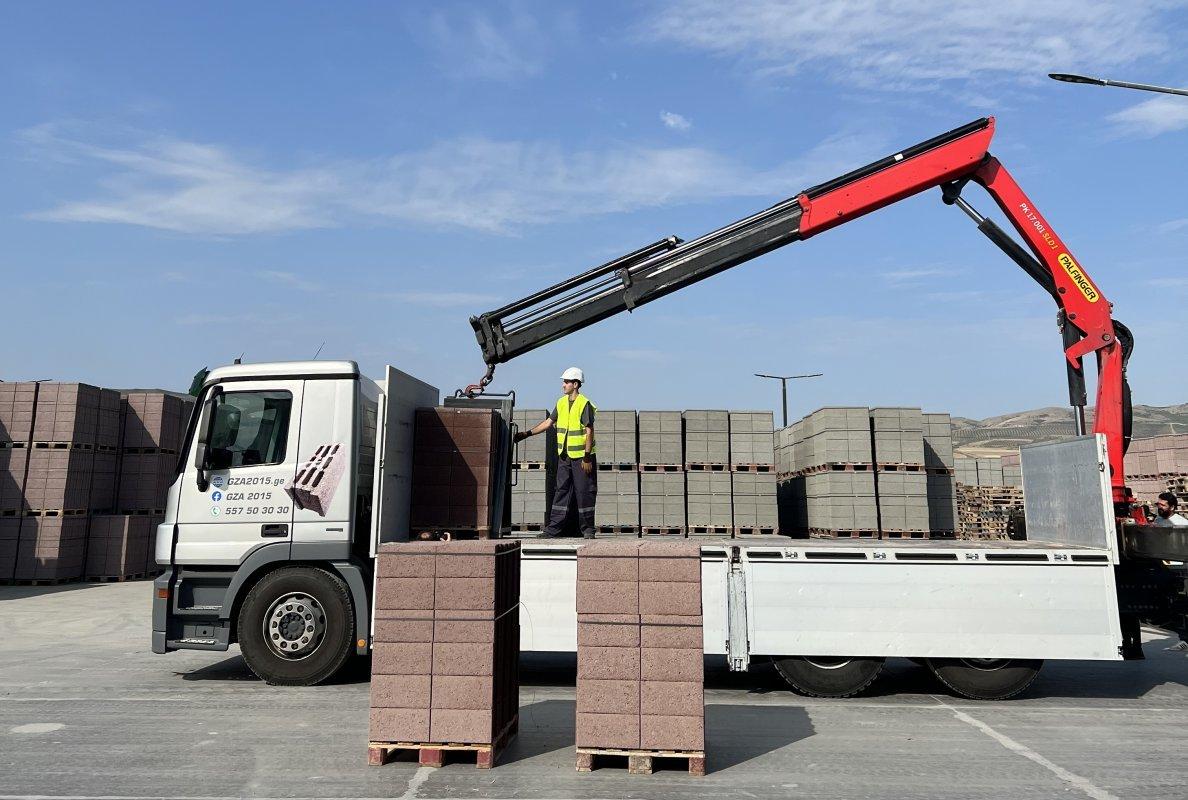 PALFINGER PK 17.001 SLD 3: Perfect for construction material deliveries, like block buildings. IMAGE SOURCE: Palfinger AG
David from Road 2015 LLC in Georgia has relied on the PK 17.001 SLD 3 for years, and the compact loader crane is critical to their day-to-day operations to deliver building blocks reliably and efficiently across the country.
SLD stand for solid and effective loader cranes from PALFINGER. The range has a strong hexagonal profile, which makes them robust for fast and simple applications, like Road 2015 LLC in Georgia has it every day. The leading company in the block building production in Georgia is actively operating in the market since 2010. The company has more than 200 professional employees and counts on highest quality in raw materials as well as in European standard machinery for production and extraordinary service quality. Therefore, the company has taken the decision to work together with PALFINGER Georgia and counts on the expertise of them with their excellent service network since many years. This results in that the whole fleet of the block building productions company consists already of five rear mounted PK 17.001 SLD 3. "The PK 17.001 SLD 3 working horse has a comfortable outreach of around 13 meter and a perfect lifting moment of nearly 16 meter tons", says David.
Furthermore, the crane convinces him and his colleagues with Single Link Plus. The knuckle joint on the crane's knuckle boom improves the lifting power on the crane tip significantly. With it the crane can be angled also upwards to work better in the tightest spaces and through low door openings. The solid and reliable cranes are also equipped with a radio remote control. This enables the crane operators to handle the heavy load very easily through extended maneuverability with the radio remote control.
PALFINGER PK 17.001 SLD 3: Strong Partner for Reliable and Efficient Operations
Road 2015 LLC works not only with the cranes to reach anything. It also relies on additional PALFINGER equipment, which makes the crane even more flexible. One of them is the PALFINGER crane manipulator on the crane tip of the PK 17.001 SLD 3, which increases safety and efficiency for the crane operators, like David, by delivering the building block pallets to customers in the shortest possible time.
A real success story, which will go further. David revealed that his company are already considering buying a new PALFINGER loader crane. This time it will be maybe a PK 20.501L TEC 3.
NJC.© Info PALFINGER
------------------------------------------------------------------------------------------------------------------

31/01/23-NL
PALFINGER PK 17.001 SLD 3: sterke partner voor betrouwbaar en efficiënt werken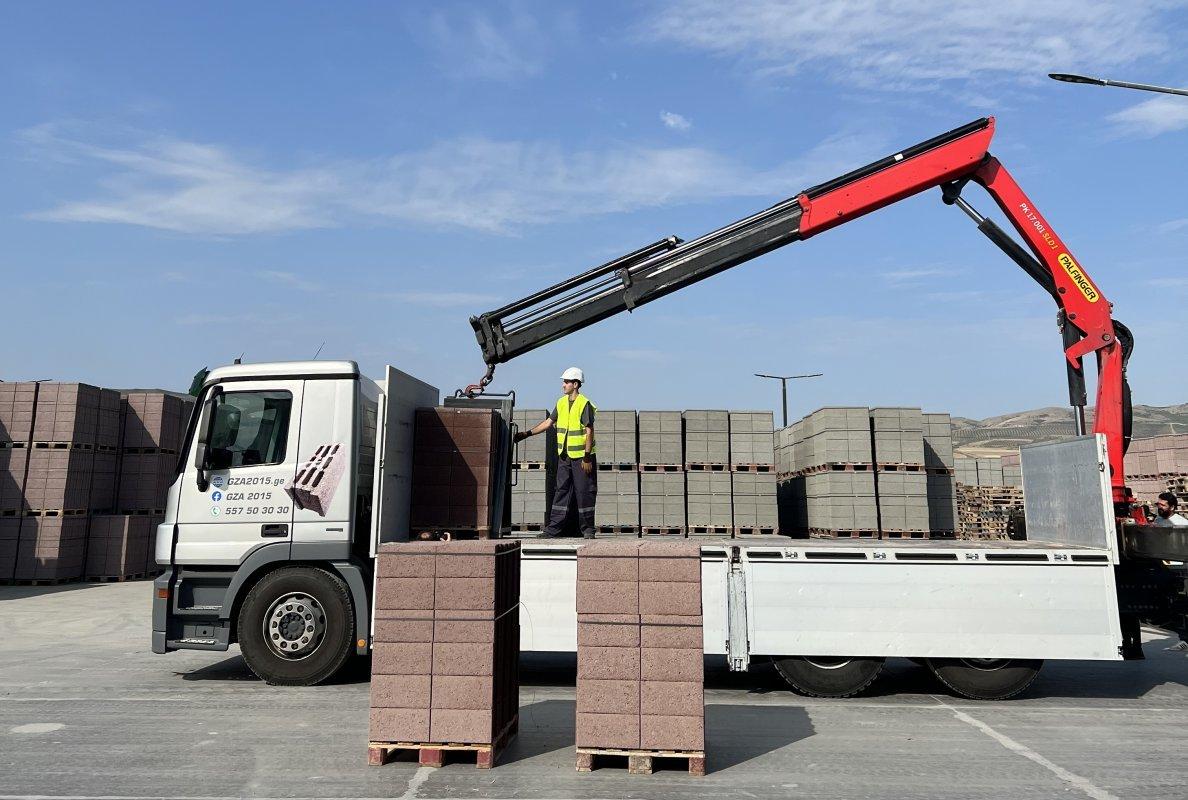 PALFINGER PK 17.001 SLD 3: Perfect for construction material deliveries, like block buildings.
IMAGE SOURCE: Palfinger AG
David van Road 2015 LLC in Georgia vertrouwt al jaren op de PK 17.001 SLD 3 en de compacte autolaadkraan is van cruciaal belang voor hun dagelijkse werkzaamheden om bouwstenen betrouwbaar en efficiënt door het hele land te leveren.
SLD staat voor solide en effectieve autolaadkranen van PALFINGER. Het assortiment heeft een sterk zeshoekig profiel, waardoor ze robuust zijn voor snelle en eenvoudige toepassingen, zoals Road 2015 LLC in Georgia dat elke dag doet. Het leidende bedrijf in de blokbouwproductie in Georgië is actief op de markt sinds 2010. Het bedrijf heeft meer dan 200 professionele medewerkers en rekent op de hoogste kwaliteit van grondstoffen, evenals op Europese standaardmachines voor productie en buitengewone servicekwaliteit. Daarom heeft het bedrijf de beslissing genomen om samen te werken met PALFINGER Georgia en rekent het al jaren op de expertise van hen met hun uitstekende servicenetwerk. Dit heeft tot gevolg dat het gehele wagenpark van het blokbouwproductiebedrijf al bestaat uit vijf achterop gemonteerde PK 17.001 SLD 3. "Het werkpaard PK 17.001 SLD 3 heeft een comfortabele reikwijdte van circa 13 meter en een perfect hefmoment van bijna 16 meter ton. ", zegt David.
Bovendien overtuigt de kraan hem en zijn collega's met Single Link Plus. Het knikgewricht op de knikgiek van de kraan verbetert het hefvermogen op de kraanpunt aanzienlijk. Hiermee kan de kraan ook omhoog worden gekanteld om beter te werken in de krapste ruimtes en door lage deuropeningen. De solide en betrouwbare kranen zijn tevens voorzien van een radiografische afstandsbediening. Hierdoor kunnen de kraanmachinisten de zware last zeer gemakkelijk hanteren door uitgebreide manoeuvreerbaarheid met de radiografische afstandsbediening.
PALFINGER PK 17.001 SLD 3: sterke partner voor betrouwbaar en efficiënt werken
Road 2015 LLC werkt niet alleen met de kranen om alles te bereiken. Hij vertrouwt ook op aanvullende PALFINGER-uitrustingen, wat de kraan nog flexibeler maakt. Een daarvan is de PALFINGER kraanmanipulator op de kraanpunt van de PK 17.001 SLD 3, die de veiligheid en efficiëntie voor de kraanmachinisten, zoals David, verhoogt door de bouwsteenpallets in de kortst mogelijke tijd bij klanten af te leveren.
Een echt succesverhaal, dat nog verder zal gaan. David vertelde dat zijn bedrijf al overweegt om een nieuwe PALFINGER autolaadkraan aan te schaffen. Deze keer wordt het misschien een PK 20.501L TEC 3.
NJC.© Info PALFINGER
-----------------------------------------------------------------------------------------------------------------