PALFINGER: Whisper-Quiet Beverage Logistics
21/11/22-FR-English-NL-footer
PALFINGER : une logistique de boissons silencieuse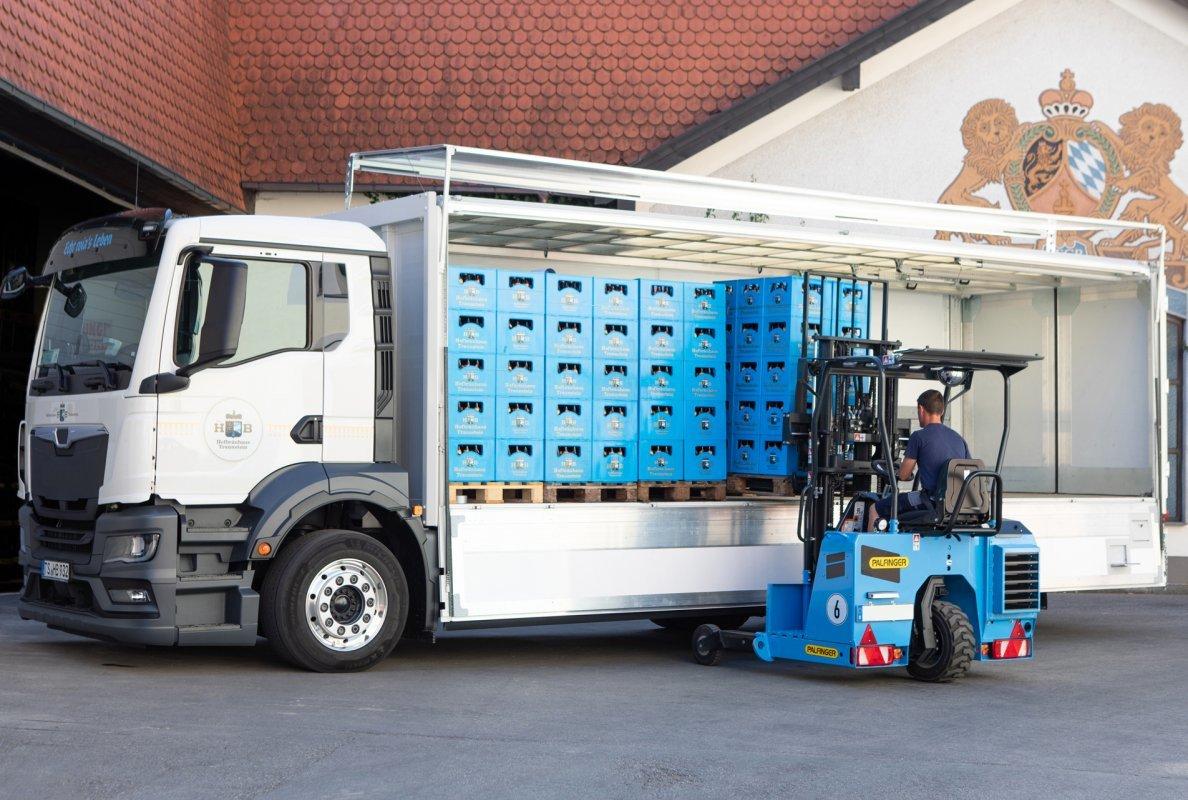 PALFINGER: Whisper-Quiet Beverage Logistics IMAGE SOURCE: PALFINGER EMEA GmbH
La bière bavaroise traditionnelle brassée par Hofbräuhaus Traunstein est chargée sur le camion de livraison avec le même soin et le même savoir-faire avec lesquels elle est fabriquée. Grâce à la technologie la plus récente, le chariot élévateur embarqué F3 151 avec Silent Pack de PALFINGER permet une livraison sûre, silencieuse et conviviale d'un produit bavarois clé.
Depuis plus de 400 ans, Hofbräuhaus Traunstein brasse de la bière conformément à la loi allemande sur la pureté pour étancher la soif de ses clients. "Notre bière est un incontournable ici en Bavière et notre tâche principale est d'étancher autant de gorges bavaroises assoiffées avec notre bière que possible", explique Maximilian Sailer, maître brasseur et propriétaire de la Hofbräuhaus Traunstein. Afin de mener à bien cette tâche, l'entreprise familiale bavaroise s'appuie pour ses livraisons sur une autre entreprise familiale authentique à quelques kilomètres de là :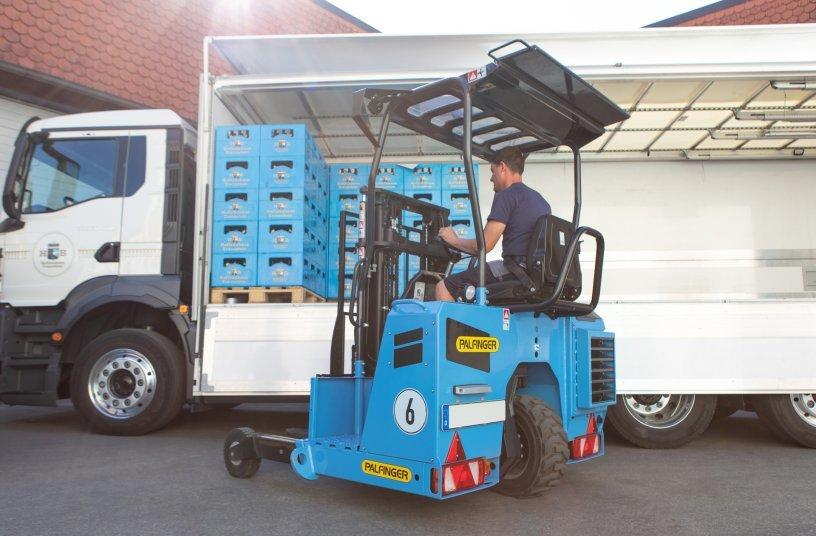 PALFINGER: Whisper-Quiet Beverage Logistics IMAGE SOURCE: PALFINGER EMEA GmbH
Il y a une forte demande de bière brassée avec la meilleure qualité bavaroise, c'est pourquoi la livraison aux jardins à bière et aux marchés des boissons doit être rapide, fiable et aussi silencieuse que possible. C'est là que le chariot élévateur embarqué PALFINGER F3 151 avec Silent Pack prend tout son sens. Parce qu'avec son entraînement précis, il est conçu sur mesure pour les exigences de la logistique des boissons et des aliments. Les marchandises sensibles telles que les bouteilles en verre sont alors entre de bonnes mains, et sa transmission douce assure des manœuvres précises même dans des espaces restreints, comme entre des palettes de boissons. « Les avantages pour moi en tant que conducteur sont qu'il est facile à utiliser et qu'il est silencieux. Le chariot élévateur est prêt à l'action en 30 secondes environ et après un total d'une minute par palette, j'ai terminé », déclare Paul Sutru, chauffeur-livreur HB Traunstein, décrivant la vie quotidienne avec le chariot élévateur monté sur camion F3 151, poursuivant en disant : « C'est facile à conduire ; Je peux tout atteindre et j'ai une bonne vue panoramique. C'est amusant de travailler avec. Je suis ravi que mon patron ait acheté ce chariot élévateur et je suis satisfait de PALFINGER. Même aux heures où le bruit est critique, comme au petit matin, il est possible de travailler en silence avec le chariot élévateur embarqué F3 151. En effet, le Silent Pack intégré en option réduit le bruit de 8 décibels. C'est 13 décibels de moins que la limite légale.
Avec son faible poids mort de 1 340 kilogrammes sans fourches, le F3 151 est le chariot élévateur embarqué le plus léger de sa catégorie. En même temps, il a un rapport poids/charge impressionnant. En effet, le chariot élévateur embarqué PALFINGER peut supporter une charge de 1,5 tonne. Cela rend même une palette entièrement chargée de caisses de boissons un jeu d'enfant. « Les avantages de ce véhicule sont que les chauffeurs peuvent décharger les marchandises et ramasser les vides par eux-mêmes. Ils sont autonomes car ils ne dépendent pas d'autres chariots élévateurs au point de livraison et peuvent tout déplacer autour d'eux. Cela permet aux chauffeurs de gérer chaque livraison rapidement », explique Hubert Strobl, responsable logistique chez HB Traunstein, et ajoute avec un sourire : « Le plus important dans tout cela est, bien sûr, que les gens obtiennent leur bière pour étancher leur soif.
NJC.© Infos PALFINGER
-----------------------------------------------------------------------------------------------------------------
21/11/22-English
PALFINGER: Whisper-Quiet Beverage Logistics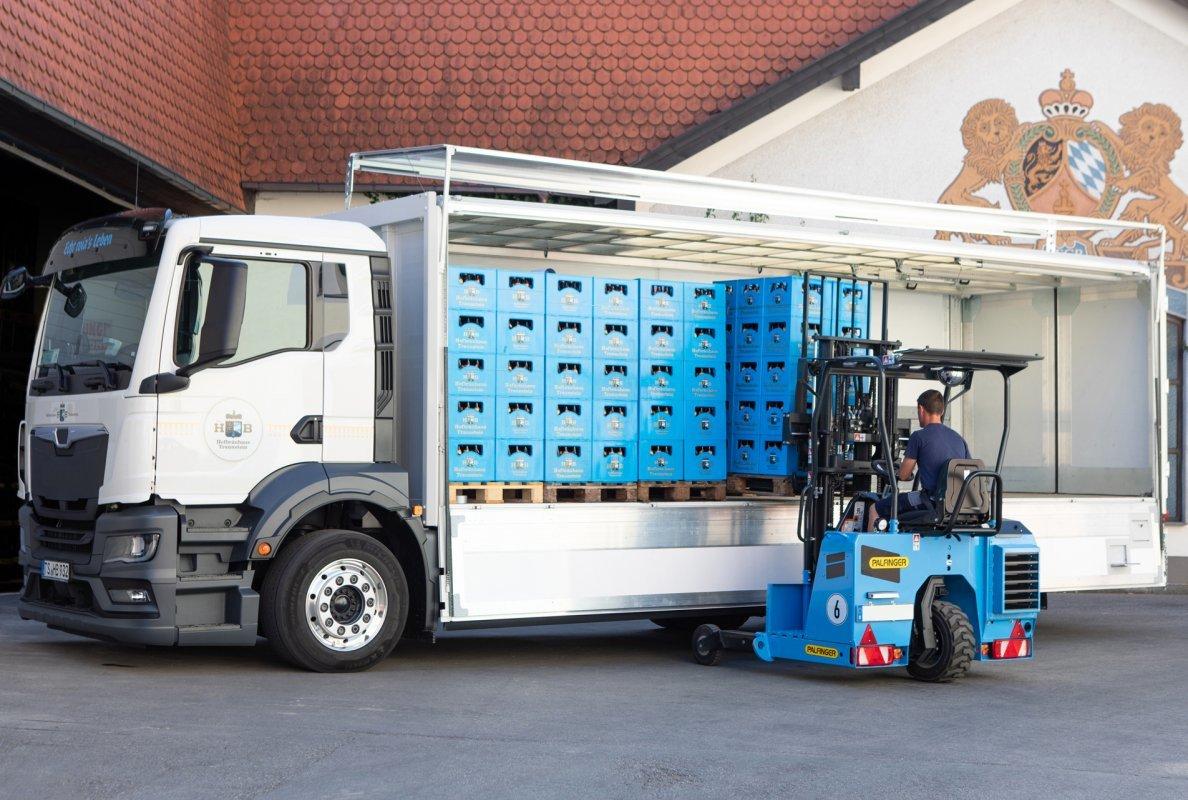 PALFINGER: Whisper-Quiet Beverage Logistics IMAGE SOURCE: PALFINGER EMEA GmbH
The traditional Bavarian beer brewed by Hofbräuhaus Traunstein is loaded onto the delivery truck with the same care and expertise with which it is made. Thanks to the latest technology, the Truck Mounted Forklift F3 151 with Silent Pack from PALFINGER enables safe, quiet and user-friendly delivery of a key Bavarian product.
For more than 400 years, Hofbräuhaus Traunstein has been brewing beer in accordance with the German Purity Law to quench the thirst of its customers. "Our beer is a staple here in Bavaria and our key task is to quench as many thirsty Bavarian throats with our beer as possible," explains Maximilian Sailer, master brewer and owner of the Hofbräuhaus Traunstein. In order to do justice to this task, the Bavarian family business relies on another authentic family business just a few kilometers away for its deliveries: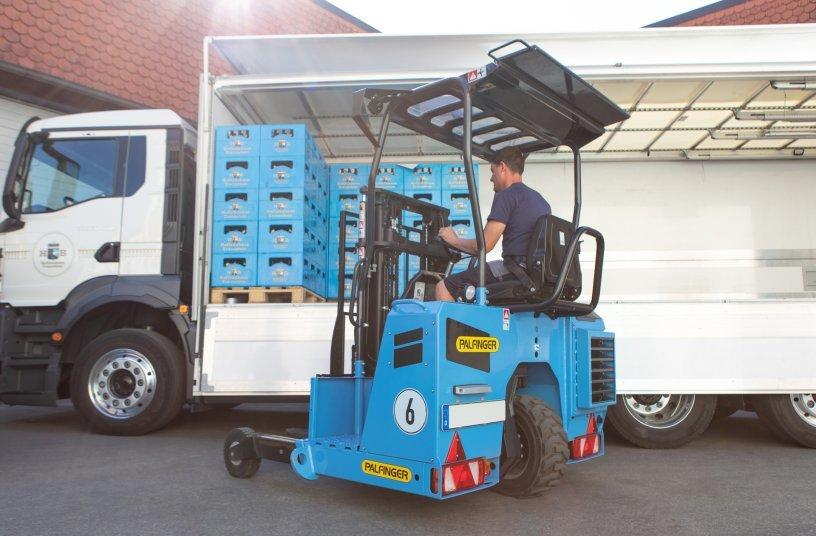 PALFINGER: Whisper-Quiet Beverage Logistics IMAGE SOURCE: PALFINGER EMEA GmbH
There is high demand for beer brewed to the best Bavarian quality, which is why delivery to beer gardens and beverage markets should be quick, reliable and as quiet as possible. This is where the PALFINGER Truck Mounted Forklift F3 151 with Silent Pack comes into its own. Because with its precise drive, it is custom-built for the requirements of beverage and food logistics. Sensitive goods such as glass bottles are then in good hands, and its smooth driveline ensures precise maneuvering even in tight spaces, such as between beverage pallets. "The advantages for me as a driver are that it is easy to operate, and it is quiet. The forklift is ready for action in about 30 seconds and after a total of one minute per pallet I'm done," says Paul Sutru, HB Traunstein delivery driver, describing everyday life with the Truck Mounted Forklift F3 151, going on to say: "It's easy to drive; I can reach everything and I have a good all-round view. It is fun to work with. I am pleased that my boss bought this forklift and I am satisfied with PALFINGER." Even at noise-critical times, such as in the early morning hours, it is possible to work whisper-quietly with the Truck Mounted Forklift F3 151. That is because the optional integrated Silent Pack reduces noise by 8 decibels. That is 13 decibels quieter than the legal limit.
With its low dead weight from 1,340 kilograms without forks, the F3 151 is the lightest Truck Mounted Forklift in its class. At the same time, it has an impressive weight-to-load ratio. This is because the PALFINGER Truck Mounted Forklift can handle a load of 1.5 tons. That makes even a pallet fully loaded with drink crates a breeze. "The advantages of this vehicle are that drivers can unload the goods and pick up the empties on their own. They are self-sufficient because they are not dependent on other forklifts at the point of delivery and can move everything around themselves. This allows drivers to handle each delivery quickly," explains Hubert Strobl, logistics manager at HB Traunstein, and adds with a smile: "The most important thing about it all is, of course, that people get their beer to quench their thirst."
NJC.© Info PALFINGER
---------------------------------------------------------------------------------------------------------------------
21/11/22-NL
PALFINGER: Fluisterstille drankenlogistiek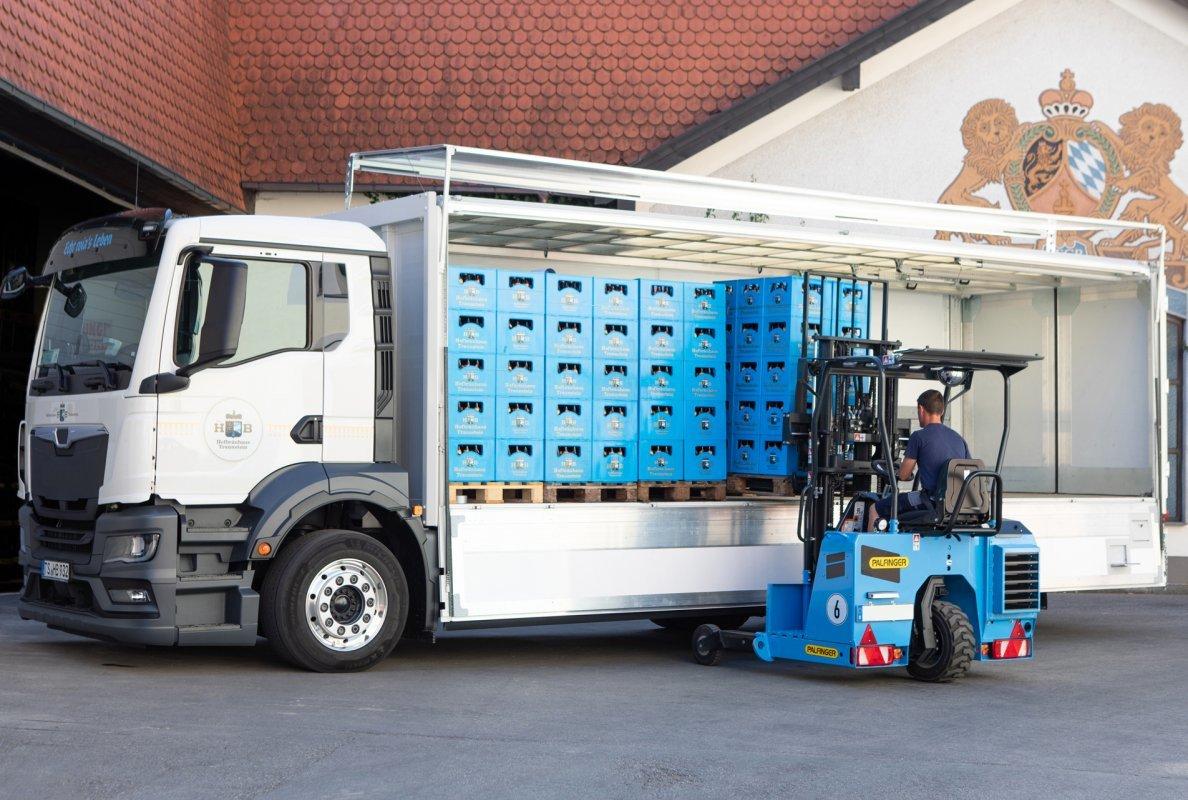 PALFINGER: Whisper-Quiet Beverage Logistics IMAGE SOURCE: PALFINGER EMEA GmbH
Het traditionele Beierse bier gebrouwen door Hofbräuhaus Traunstein wordt met dezelfde zorg en expertise op de bestelwagen geladen als waarmee het is gemaakt. Dankzij de nieuwste technologie maakt de Meeneemheftruck F3 151 met Silent Pack van PALFINGER een veilige, stille en gebruiksvriendelijke levering van een belangrijk Beiers product mogelijk.
Al meer dan 400 jaar brouwt Hofbräuhaus Traunstein bier in overeenstemming met de Duitse zuiverheidswet om de dorst van zijn klanten te lessen. "Ons bier is een hoofdbestanddeel hier in Beieren en het is onze belangrijkste taak om zoveel mogelijk dorstige Beierse kelen te lessen met ons bier", legt Maximilian Sailer, meesterbrouwer en eigenaar van het Hofbräuhaus Traunstein, uit. Om aan deze taak te voldoen, vertrouwt het Beierse familiebedrijf voor zijn leveringen op een ander authentiek familiebedrijf op slechts enkele kilometers afstand: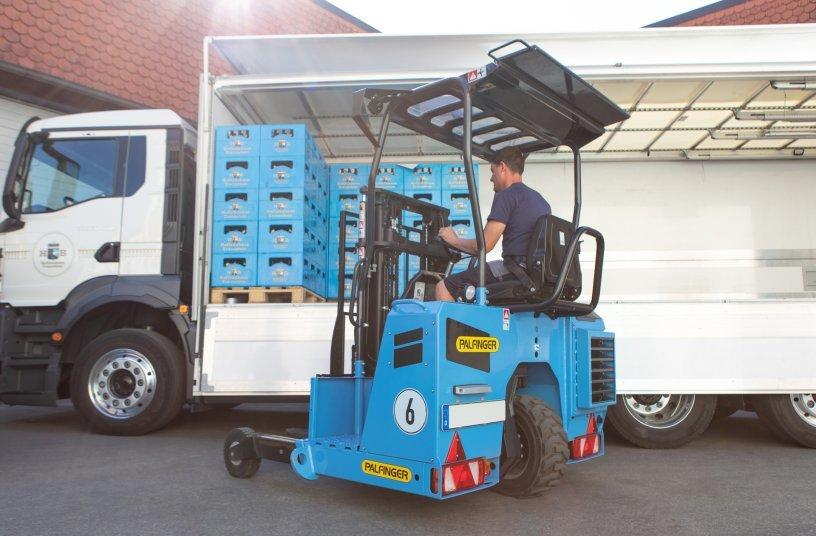 PALFINGER: Whisper-Quiet Beverage Logistics IMAGE SOURCE: PALFINGER EMEA GmbH
Er is veel vraag naar bier gebrouwen met de beste Beierse kwaliteit, daarom moet de levering aan biertuinen en drankenmarkten snel, betrouwbaar en zo stil mogelijk zijn. Hier komt de PALFINGER Meeneemheftruck F3 151 met Silent Pack goed tot zijn recht. Want met zijn nauwkeurige aandrijving is hij op maat gemaakt voor de eisen van de dranken- en levensmiddelenlogistiek. Gevoelige goederen zoals glazen flessen zijn dan in goede handen en de soepele aandrijflijn zorgt voor nauwkeurig manoeuvreren, zelfs in krappe ruimtes, zoals tussen drankpallets. "De voordelen voor mij als chauffeur zijn dat hij makkelijk te bedienen is en stil is. De vorkheftruck is in ongeveer 30 seconden klaar voor gebruik en na in totaal één minuut per pallet ben ik klaar", zegt Paul Sutru, bezorger van HB Traunstein, die het dagelijkse leven met de meeneemheftruck F3 151 beschrijft en verder zegt: "Het is gemakkelijk te besturen; Ik kan overal bij en heb een goed zicht rondom. Het is leuk om mee te werken. Ik ben blij dat mijn baas deze heftruck heeft gekocht en ik ben tevreden met PALFINGER." Ook op geluidskritische momenten, zoals in de vroege ochtenduren, is het mogelijk om fluisterstil te werken met de Meeneemheftruck F3 151. Het optionele geïntegreerde Silent Pack reduceert namelijk het geluid met 8 decibel. Dat is 13 decibel stiller dan de wettelijke limiet.
Met zijn lage eigengewicht van 1.340 kilogram zonder vorken is de F3 151 de lichtste meeneemheftruck in zijn klasse. Tegelijkertijd heeft het een indrukwekkende gewicht-belastingverhouding. De PALFINGER Meeneemheftruck kan namelijk een last van 1,5 ton aan. Dat maakt zelfs een pallet vol met drankkratten een fluitje van een cent. "De voordelen van dit voertuig zijn dat chauffeurs zelf de goederen kunnen lossen en leeggoed kunnen ophalen. Ze zijn zelfvoorzienend omdat ze op het punt van levering niet afhankelijk zijn van andere heftrucks en alles zelf kunnen verplaatsen. Hierdoor kunnen chauffeurs elke levering snel afhandelen", legt Hubert Strobl, logistiek manager bij HB Traunstein, uit en voegt er met een glimlach aan toe: "Het belangrijkste is natuurlijk dat mensen hun bier krijgen om hun dorst te lessen."
NJC.© Info PALFINGER
--------------------------------------------------------------------------------------------------------------------