Pettibone Upgrades Speed Swing Do-It-All Railroad Crane

30/02/23-FR-English-NL-footer
Pettibone met à niveau la grue de chemin de fer Speed Swing Do-It-All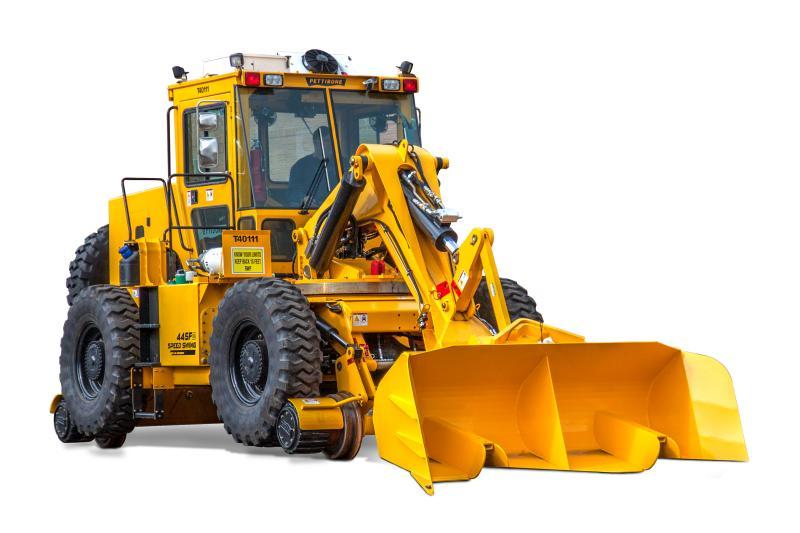 Image- Developed with customer feedback in mind, the 445F2 is designed to accept more than a dozen attachments for laying rails, setting ties and numerous other maintenance-of-way tasks.
Pettibone a présenté la Speed Swing 445F2, la toute dernière version de la grue sur rail à tout faire originale de l'industrie. Développé en tenant compte des commentaires des clients, le 445F2 est conçu pour accepter plus d'une douzaine d'accessoires pour la pose de rails, la pose de traverses et de nombreuses autres tâches d'entretien de la voie.
Propulsé par un moteur diesel Cummins QSB4.5 Tier IV économe en carburant de 163 ch, le Speed Swing 445F2 offre une capacité de 49 gal. réservoir de carburant, une augmentation de 28% par rapport au réservoir du modèle précédent. La capacité de carburant supplémentaire permet des intervalles de travail prolongés, en particulier lors de la maintenance de rails plus longs ou lors d'un déplacement vers un chantier éloigné.
Le 445F2 offre une capacité de charge frontale maximale de 10 000 lb. et capacité de charge latérale maximale de 8 000 lb. Fournissant une rotation de la flèche à 180 degrés, la machine est principalement utilisée pour enfiler l'ancien rail et enfiler le nouveau rail.
Un ensemble d'aimants en option nettoie rapidement les vieilles plaques, les pointes et les petits morceaux de rail. L'unité peut également remorquer des chariots ferroviaires, déplacer des wagons et fournir de l'air ou de l'hydraulique pour les outils à main.
Doté d'une transmission à 3 vitesses Dana T20000 avec commande de changement de vitesse électrique à poignée tournante qui offre un couple exceptionnel, le Speed Swing passe rapidement d'un chantier à l'autre, se déplaçant à 25 mi/h sur rail et à 20 mi/h avec des pneus en caoutchouc tout-terrain. Les pneus - ainsi que les 4 roues motrices avec déconnexion de la roue arrière - offrent une plus grande maniabilité hors des rails.
Construit de manière durable pour les applications ferroviaires difficiles, le 445F2 offre des essieux avant et arrière planétaires avec blocage de différentiel avant. Les freins de service à disque sec extérieurs aux quatre roues assurent une puissance de freinage sûre et un frein de stationnement à desserrage hydraulique est de série.
Une fonctionnalité optionnelle pour le 445F2 est X-Command, un programme télématique Pettibone qui offre un accès en temps réel aux données de la machine. La plate-forme permet un diagnostic à distance, éliminant ainsi le besoin de certains appels de service sur le terrain.
Le Speed Swing est conçu pour simplifier l'entretien et maximiser la disponibilité. La cabine ROPS/FOPS et le capot moteur s'inclinent tous les deux, offrant un accès direct aux points d'entretien et aux composants de la machine.
La cabine de conduite spacieuse et climatisée comprend un module d'affichage numérique, un tableau de bord complet et des commandes pilotées précises. Le verre de sécurité teinté et une caméra de recul contribuent à garantir un fonctionnement sûr à tout moment.
Le Speed Swing 445F2 peut être construit pour répondre aux spécifications du client pour des applications particulières. Les options et accessoires courants incluent une flèche fourre-tout avec crochet, un circuit d'outils hydrauliques, un ensemble d'aimants, un coupleur AAR, un godet de nettoyage de chenilles, un godet de chargement, une flèche extensible de 20 pieds, un cadre de fourche, une débroussailleuse, un chasse-neige et bien d'autres.
NJC.© Info Pettibone
-----------------------------------------------------------------------------------------------------------------

30/01/23-English
Pettibone Upgrades Speed Swing Do-It-All Railroad Crane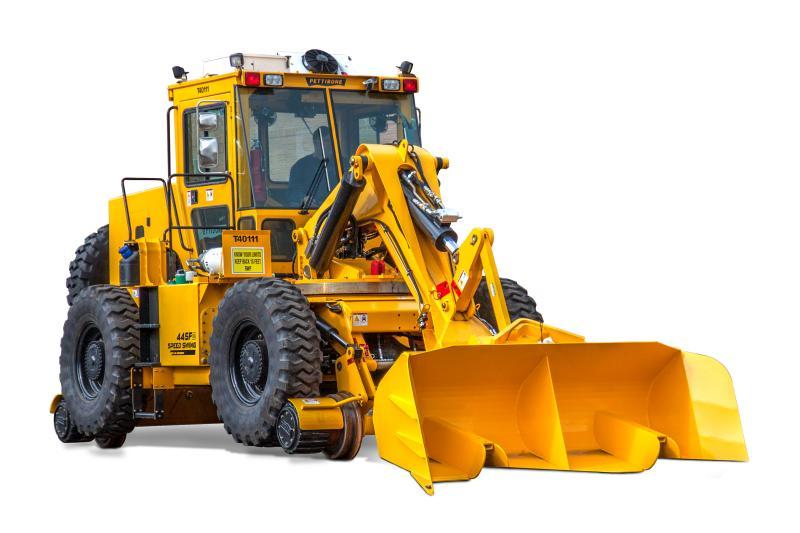 Image- Developed with customer feedback in mind, the 445F2 is designed to accept more than a dozen attachments for laying rails, setting ties and numerous other maintenance-of-way tasks.
Pettibone introduced the Speed Swing 445F2, the newest version of the industry's original do-it-all rail crane. Developed with customer feedback in mind, the 445F2 is designed to accept more than a dozen attachments for laying rails, setting ties and numerous other maintenance-of-way tasks.
Powered by a fuel-efficient 163-hp Cummins QSB4.5 Tier IV diesel engine, the Speed Swing 445F2 offers a 49-gal. fuel tank, a 28-percent increase over the previous model's tank. The added fuel capacity allows for extended working intervals, especially when covering longer stretches of rail maintenance or relocating to a remote job site.
The 445F2 offers a maximum front load capacity of 10,000 lbs. and maximum side load capacity of 8,000 lbs. Providing 180-degree boom rotation, the machine is primarily used to thread out old rail and thread in new rail.
An optional magnet package quickly cleans up old plates, spikes and small pieces of rail. The unit also can tow rail carts, move railcars and supply air or hydraulics for hand tools.
Featuring a Dana T20000 3-speed transmission with twist-grip electric shift control that delivers exceptional torque, the Speed Swing quickly transitions between job sites, traveling at 25 mph on hi-rail and 20 mph with all-terrain rubber tires. The tires — along with 4-wheel-drive with a rear wheel disconnect — afford greater maneuverability off the rails.
Durably built for challenging railroad applications, the 445F2 offers planetary front and rear axles with front differential lock. Four-wheel outboard dry-disc service brakes provide sure stopping power and a hydraulic release parking brake is standard.
An optional feature for the 445F2 is X-Command, a Pettibone telematics program that offers real-time access to machine data. The platform allows for remote diagnosis, eliminating the need for certain field service calls.
The Speed Swing is designed to simplify service and maximize uptime. The ROPS/FOPS cab and engine enclosure both tilt, providing direct access to service points and machine components.
The spacious, climate-controlled operator cab includes a digital display module, full instrumentation panel and precise, pilot-operated controls. Tinted safety glass and a rearview camera help ensure safe operation at all times.
The Speed Swing 445F2 can be built to meet customer specifications for particular applications. Common options and attachments include a tote boom with hook, hydraulic tool circuit, magnet package, AAR coupler, track cleaning bucket, load bucket, 20-foot extendable boom, fork frame, brush cutter, snowplow and many more.
NJC.© Info Pettibone
------------------------------------------------------------------------------------------------------------------

30/01/23-NL
Pettibone upgradet Speed Swing Do-It-All-spoorwegkraan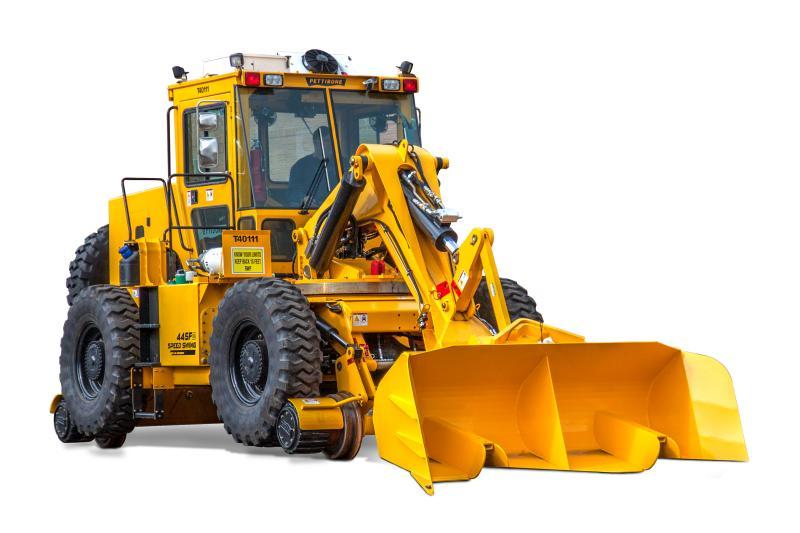 Image- Developed with customer feedback in mind, the 445F2 is designed to accept more than a dozen attachments for laying rails, setting ties and numerous other maintenance-of-way tasks.
Pettibone introduceerde de Speed Swing 445F2, de nieuwste versie van de originele doe-het-allemaal railkraan in de branche. De 445F2 is ontwikkeld met feedback van klanten in het achterhoofd en is ontworpen om meer dan een dozijn hulpstukken te accepteren voor het leggen van rails, het leggen van dwarsliggers en tal van andere onderhoudstaken.
Aangedreven door een zuinige 163 pk Cummins QSB4.5 Tier IV dieselmotor, biedt de Speed Swing 445F2 een 49-gal. brandstoftank, een toename van 28 procent ten opzichte van de tank van het vorige model. De extra brandstofcapaciteit maakt langere werkintervallen mogelijk, vooral bij langere spooronderhoudswerkzaamheden of verhuizing naar een afgelegen werkterrein.
De 445F2 biedt een maximale laadcapaciteit aan de voorkant van 10.000 lbs. en maximale zijbelasting van 8.000 lbs. De machine biedt een giekrotatie van 180 graden en wordt voornamelijk gebruikt om oude rails uit te rijgen en nieuwe rails in te rijgen.
Een optioneel magneetpakket ruimt snel oude platen, spikes en kleine stukjes rail op. De unit kan ook railkarren trekken, treinwagons verplaatsen en lucht of hydrauliek leveren voor handgereedschap.
Uitgerust met een Dana T20000-transmissie met 3 versnellingen en elektrische schakelbediening met draaigreep die een uitzonderlijk koppel levert, schakelt de Speed Swing snel tussen werklocaties, met een snelheid van 25 mph op hi-rail en 20 mph met all-terrain rubberen banden. De banden - samen met vierwielaandrijving met ontkoppeling van het achterwiel - zorgen voor meer manoeuvreerbaarheid buiten de rails.
De 445F2 is duurzaam gebouwd voor uitdagende spoorwegtoepassingen en biedt planetaire voor- en achterassen met differentieelslot voor. Vierwielige externe droge schijfremmen zorgen voor een zeker remvermogen en een hydraulische ontgrendelbare parkeerrem is standaard.
Een optionele functie voor de 445F2 is X-Command, een telematicaprogramma van Pettibone dat real-time toegang biedt tot machinegegevens. Het platform maakt diagnose op afstand mogelijk, waardoor bepaalde buitendienstoproepen niet meer nodig zijn.
De Speed Swing is ontworpen om service te vereenvoudigen en uptime te maximaliseren. De ROPS/FOPS-cabine en motoromkasting kunnen beide worden gekanteld, wat directe toegang tot onderhoudspunten en machinecomponenten biedt.
De ruime bestuurderscabine met klimaatregeling is voorzien van een digitale displaymodule, een volledig instrumentenpaneel en nauwkeurige, door een piloot bediende bedieningselementen. Getint veiligheidsglas en een achteruitkijkcamera zorgen te allen tijde voor een veilige bediening.
De Speed Swing 445F2 kan worden gebouwd om te voldoen aan de specificaties van de klant voor bepaalde toepassingen. Veelvoorkomende opties en uitrustingsstukken zijn onder meer een transportwagen met haak, hydraulisch gereedschapscircuit, magneetpakket, AAR-koppeling, rupsreinigingsbak, laadbak, 20-voet uitschuifbare giek, vorkframe, bosmaaier, sneeuwschuiver en nog veel meer.
NJC.© Info Pettibone
-------------------------------------------------------------------------------------------------------------
Date de dernière mise à jour : 27/01/2023