R 928 G8 with Leica semi-automatic machine control at Bauma 2022
23/08/22-FR-English-NL-footer
R 928 G8 avec commande de machine semi-automatique Leica à Bauma 2022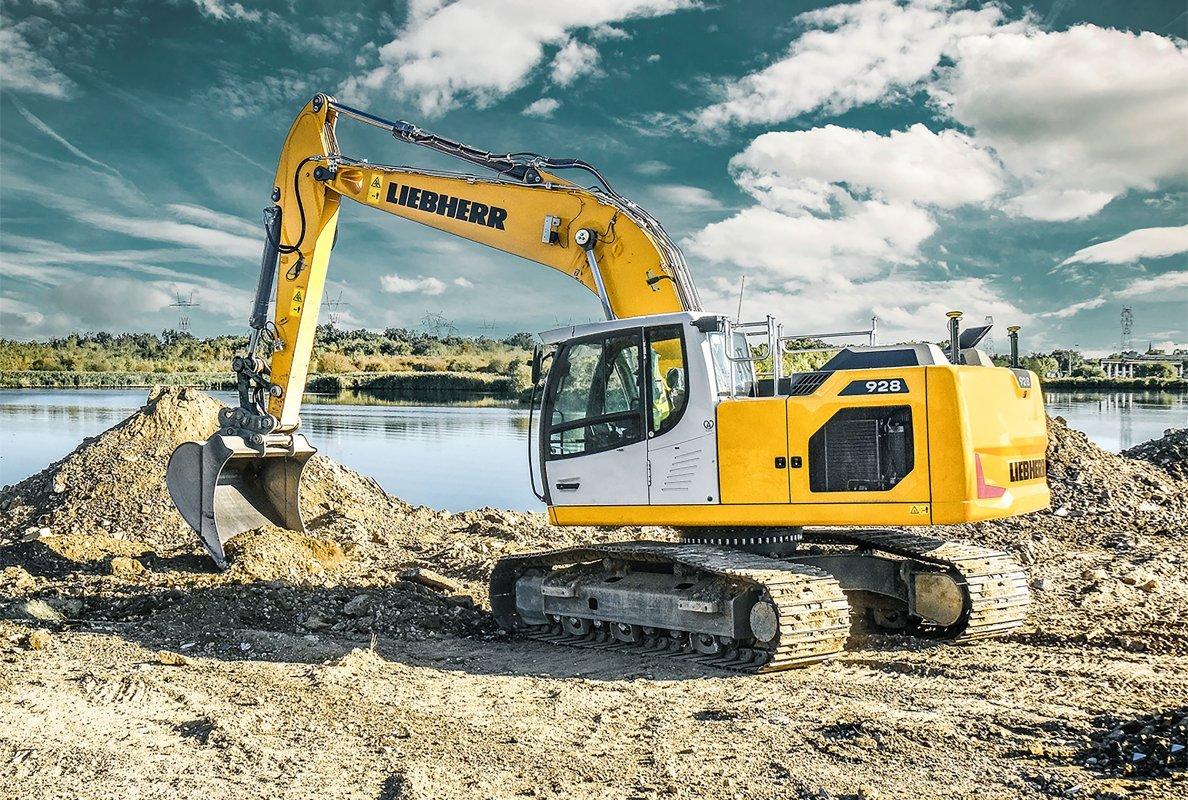 The R 928 G8 has a larger maximum bucket size than the R 926 G8, high drawbar pull and excellent lifting capacity. IMAGE SOURCE: Liebherr-France SAS
La R 928 est présentée avec une commande de machine semi-automatique Leica Geosystems installée en usine
La machine se caractérise par un faible poids total de moins de 30 tonnes et une force de traction et de levage élevée
Le modèle est disponible dans le monde entier depuis 2021 conformément aux normes d'émissions locales et dans un grand nombre de configurations et de variantes d'équipement
Travaux de maintenance simplifiés, rapides et sûrs
Liebherr-France SAS à Colmar produit également la dernière série de pelles sur chenilles de terrassement de la génération 8. Cette nouvelle étape se caractérise notamment par des performances encore plus élevées, une productivité encore plus grande et encore plus de confort pour l'opérateur. Comme tous les modèles de la nouvelle génération, cette machine bénéficie également de nombreuses améliorations. À Bauma 2022, la R 928 sera présentée avec une commande de machine semi-automatique installée en usine de Leica Geosystems.
La R 928 est équipée d'un système d'extraction semi-automatique. Ce système d'assistance à la conduite de la machine est la clé d'un travail précis et efficace. Annoncé en mars 2020, le partenariat stratégique entre Liebherr et Leica Geosystems permet de mettre l'expertise des deux sociétés à la disposition des clients, en proposant des solutions encore plus avancées et fiables. Le logiciel de la pelle sur chenilles Liebherr et de la commande de machine Leica a été coordonné de manière optimale par les équipes de développement des deux entreprises en collaboration. La servocommande électrique de l'hydraulique de travail de la pelle sur chenilles de la 8e génération élimine le besoin de composants hydrauliques supplémentaires, car la communication s'effectue via CANbus. L'installation en usine présente l'avantage d'une intégration optimale de tous les composants. C'est également là qu'a lieu le pré-calibrage en usine de la commande de la machine, ce qui simplifie considérablement la mise en service chez le client. Ce nouveau système d'assistance intégré permet d'augmenter considérablement la productivité sur le chantier.
Le complément parfait de la génération 8
La pelle sur chenilles R 928 G8 se caractérise par une force de traction élevée, une excellente capacité de levage et un grand godet rétro. Le poids en ordre de marche de moins de 30 tonnes a été optimisé dans le but de simplifier au maximum la logistique de transport entre les sites d'exploitation. La R 928 G8 complète la gamme existante de pelles sur chenilles avec un modèle supplémentaire entre les modèles bien connus R 926 G8 et R 930 G8.
Améliorations continues, qualité et service
Les pelles sur chenilles Liebherr Génération 8 sont le résultat d'un travail de recherche et d'amélioration intensif et de l'expérience acquise pendant plus de 60 ans dans le développement et la fabrication de pelles sur chenilles. Cette nouvelle génération se caractérise par un design moderne et une architecture modulaire. Il a été repensé pour offrir une ergonomie et des performances optimales, ainsi qu'un confort et une sécurité accrus.
Par rapport à la génération précédente, la génération 8 développe des forces d'arrachement et d'arrachement plus élevées. En combinaison avec le couple désormais accru du chariot supérieur, cela se traduit par des rendements plus élevés et un gain de productivité considérable sur le chantier.
De plus, un nouveau concept d'accessoire de travail permet une courbe de charge optimisée. Les composants optimisés en poids augmentent également la dynamique de la machine tout en réduisant sa consommation de carburant.
Les nouveaux trains de roulement robustes en forme de X offrent une meilleure stabilité dans toutes les situations. Le graissage centralisé automatique assure une plus longue durée de vie des pièces et améliore la productivité des machines.
Excellent service, conseil et assistance avant, pendant et après la décision d'achat, ainsi que le large éventail d'options de personnalisation individuelles pour les machines, par ex. grâce à l'individualisation et aux variantes d'équipement, sont les principaux critères d'achat selon les clients de Liebherr.
Sécurité maximale associée au plus grand confort possible
Une cabine de conduite particulièrement spacieuse et climatisée est à la disposition de l'opérateur. Pour un travail confortable, les pelles hydrauliques sont équipées de sièges pneumatiques suspendus verticalement et longitudinalement et d'un écran tactile 9" haute résolution et très convivial. Le pare-brise avant peut être complètement ouvert et enfoncé sous le toit de la cabine.
Les phares de travail à technologie LED remplacent les versions halogènes et xénon précédemment utilisées. Cette nouvelle technologie se traduit par une durée de vie plus longue et une consommation d'énergie réduite tout en offrant un bien meilleur éclairage. La gamme d'éclairage est disponible dans des packages séparés, le package d'éclairage LED+ dimmable étant la solution la plus puissante et disponible en option.
Le champ de vision panoramique totalement dégagé et les caméras de surveillance à l'arrière et sur les côtés garantissent une sécurité maximale dans l'environnement de travail de l'opérateur. La console gauche rabattable permet d'entrer et de sortir facilement et en toute sécurité de la cabine de l'opérateur. La structure de la cabine certifiée anti-retournement offre une protection optimale en cas d'accident. Quelle que soit la configuration de la pelle, la sortie de secours se fait par la lunette arrière. Les vitres avant et droite sont en verre feuilleté teinté.
Travaux de maintenance simplifiés et encore plus sûrs
Pour augmenter la sécurité lors des travaux de maintenance, l'accès à la tourelle et à la plate-forme a été agrandi et revu. L'accès se fait désormais par le côté et est disponible de série ou en option selon le pays de commercialisation. Les pelles sur chenilles de génération 8 présentent un nouveau concept de maintenance avec des points de maintenance accessibles depuis le sol. Les niveaux d'huile moteur, d'huile hydraulique, de carburant et de liquide d'échappement diesel sont indiqués à l'opérateur sur l'écran.
NJC.© Info Liebherr-France SAS
---------------------------------------------------------------------------------------------------------------------
23/08/22-English
R 928 G8 with Leica semi-automatic machine control at Bauma 2022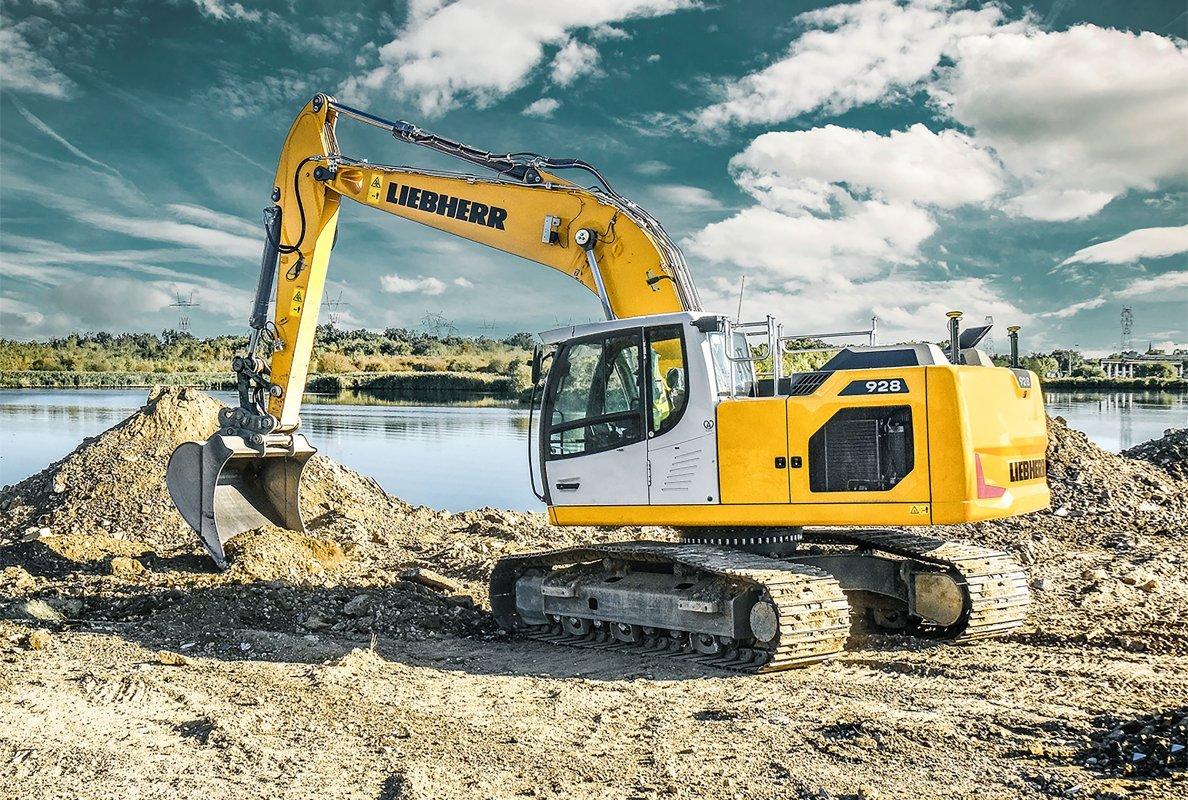 The R 928 G8 has a larger maximum bucket size than the R 926 G8, high drawbar pull and excellent lifting capacity. IMAGE SOURCE: Liebherr-France SAS
The R 928 is presented with factory-installed Leica Geosystems semi-automatic machine control
The machine is characterised by a low total weight of less than 30 tonnes and high tractive and lifting force
The model is globally available since 2021 in accordance with local emissions standards and in a large number of configurations and equipment variants
Streamlined, fast and safe maintenance work
Liebherr-France SAS in Colmar also produces the latest Generation 8 series of earthmoving crawler excavators. This new stage is characterised especially by even higher performance, even greater productivity and even more comfort for the operator. Like all models of the new generation, this machine also benefits from many improvements. At Bauma 2022, the R 928 will be presented with factory-installed semi-automatic machine control from Leica Geosystems.
The R 928 is equipped with a semi-automatic pull-off system. This assistance system for controlling the machine is the key to precise and efficient work. Announced in March 2020, the strategic partnership between Liebherr and Leica Geosystems enables the expertise of both companies to become available to customers, delivering even more advanced and reliable solutions. The software of the Liebherr crawler excavator and the Leica machine control was optimally coordinated by the development teams of both companies in collaboration. The electric servo control of the working hydraulics of the crawler excavator of the 8th generation eliminates the need for additional hydraulic components, as communication takes place via CANbus. Installation in the factory has the advantage of optimum integration of all components. This is also where the factory pre-calibration of the machine control takes place, which considerably simplifies commissioning at the customer's site. This new, integrated assistance system can significantly increase productivity on the construction site.
The perfect completion of Generation 8
The R 928 G8 crawler excavator features high drawbar pull, excellent lifting capacity and a large backhoe bucket. The operating weight of less than 30 tonnes has been optimised with the aim of making transport logistics between operating locations as simple as possible. The R 928 G8 complements the existing range of crawler excavators with an additional model between the well-known R 926 G8 and R 930 G8 models.
Continuous improvements, quality and service
Liebherr Generation 8 crawler excavators are the result of intensive research and improvement work and the experience gained from more than 60 years in the development and manufacture of crawler excavators. This new generation is characterised by a modern design and modular architecture. It has been redesigned to provide optimum ergonomics and performance, as well as greater comfort and safety.
Compared to the previous generation, Generation 8 develops higher tearing and breakaway forces. In combination with the now increased torque of the upper carriage, this results in higher outputs and a considerable gain in productivity on the construction site.
What's more, a new concept of working attachment enables an optimised load curve. The weight-optimised components also increase the machine's dynamics while reducing its fuel consumption at the same time.
The new robust X-shaped undercarriages provide better stability in all situations. The automatic central lubrication ensures a longer service life of the parts and improves the productivity of the machines.
Excellent service, consultation and support before, during and after the purchase decision, as well as the wide range of individual customisation options for the machines, e.g. through individualisation and equipment variants, are the key purchase criteria according to Liebherr customers.
Maximum safety combined with the greatest possible comfort
A particularly spacious and air-conditioned driver's cab is available to the operator. For comfortable working, the hydraulic excavators are equipped with vertically and longitudinally suspended air seats and a high-resolution and very user-friendly 9" touchscreen. The front windscreen can be opened fully and pushed in under the cab roof.
Working headlights with LED technology replace the previously used halogen and xenon versions. This new technology results in a longer service life and lower energy consumption while providing much better illumination. The lighting range is available in separate packages, with the dimmable LED+ lighting package being the most powerful solution and available as an option.
The completely unobstructed panoramic field of view and the surveillance cameras at the rear and side ensure maximum safety in the operator's working environment. The folding left console allows easy safe entry and exit into and out of the operator's cab. The rollover protection-certified cabin structure provides optimum protection in an accident situation. Regardless of the excavator configuration, emergency exit is via the rear window. The front and right-hand windows are made of tinted laminated glass.
Streamlined and even safer maintenance work
To increase safety during maintenance work, access to the uppercarriage and platform has been enlarged and revised. Access is now from the side and is available as standard or as an option, depending on the country of sale. Generation 8 crawler excavators feature a new maintenance concept with maintenance points that can be accessed from the ground. The levels of engine oil, hydraulic oil, fuel and diesel exhaust fluid are shown to the operator on the display.
NJC.© Info Liebherr-France SAS
-----------------------------------------------------------------------------------------------------------------
23/08/22-NL
R 928 G8 met Leica semi-automatische machinebesturing op Bauma 2022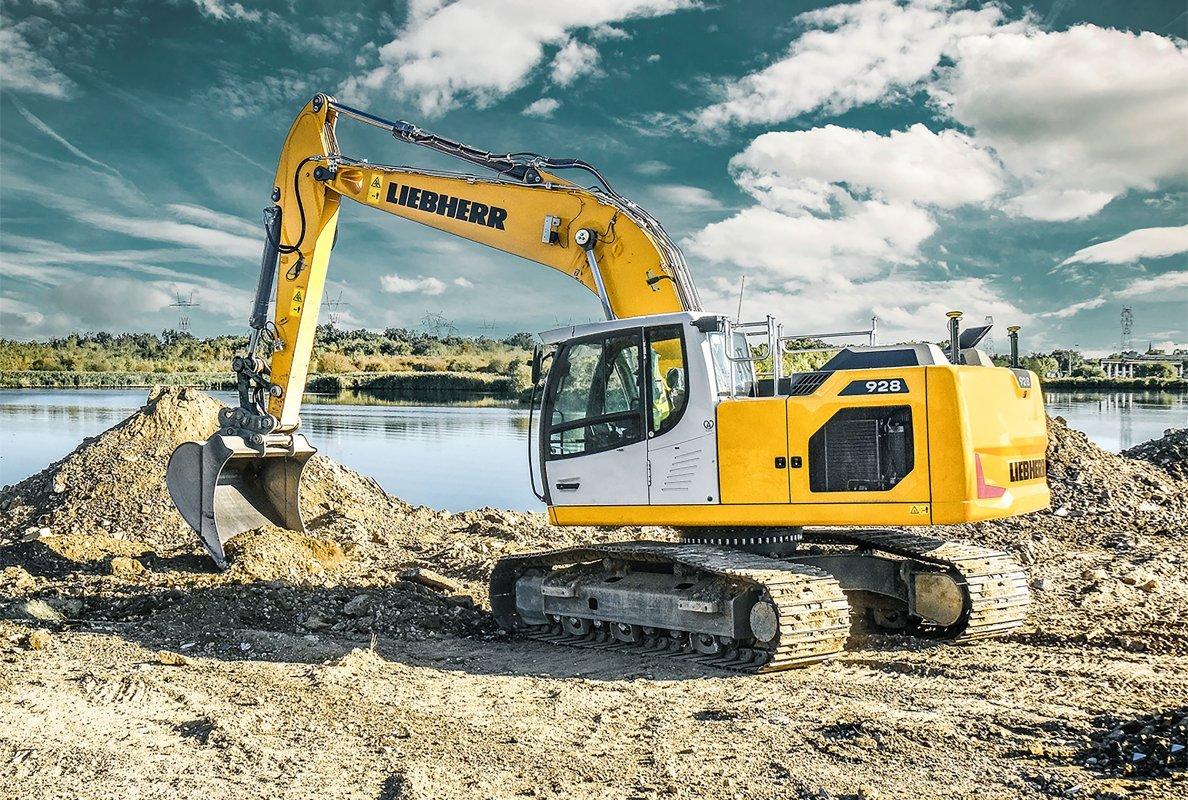 The R 928 G8 has a larger maximum bucket size than the R 926 G8, high drawbar pull and excellent lifting capacity. IMAGE SOURCE: Liebherr-France SAS
De R 928 wordt gepresenteerd met in de fabriek geïnstalleerde Leica Geosystems semi-automatische machinebesturing
De machine kenmerkt zich door een laag totaalgewicht van nog geen 30 ton en een hoge trek- en hefkracht
Het model is sinds 2021 wereldwijd verkrijgbaar in overeenstemming met de lokale emissienormen en in een groot aantal configuraties en uitrustingsvarianten
Gestroomlijnd, snel en veilig onderhoudswerk
Liebherr-France SAS in Colmar produceert ook de nieuwste generatie 8-serie grondverzetmachines op rupsbanden. Deze nieuwe fase kenmerkt zich vooral door nog hogere prestaties, nog hogere productiviteit en nog meer comfort voor de machinist. Zoals alle modellen van de nieuwe generatie profiteert ook deze machine van vele verbeteringen. Op Bauma 2022 wordt de R 928 gepresenteerd met in de fabriek geïnstalleerde semi-automatische machinebesturing van Leica Geosystems.
De R 928 is uitgerust met een semi-automatisch pull-off systeem. Dit assistentiesysteem voor het besturen van de machine is de sleutel tot nauwkeurig en efficiënt werken. Aangekondigd in maart 2020, stelt het strategische partnerschap tussen Liebherr en Leica Geosystems de expertise van beide bedrijven in staat om beschikbaar te komen voor klanten, waardoor nog geavanceerdere en betrouwbaardere oplossingen worden geleverd. De software van de Liebherr rupsgraafmachine en de Leica machinebesturing werd optimaal gecoördineerd door de ontwikkelteams van beide bedrijven in samenwerking. Door de elektrische servobesturing van de werkhydrauliek van de rupsgraafmachine van de 8e generatie zijn er geen extra hydraulische componenten nodig, omdat de communicatie via CANbus verloopt. Installatie in de fabriek heeft als voordeel dat alle componenten optimaal geïntegreerd zijn. Hier vindt ook de voorkalibratie van de machinebesturing in de fabriek plaats, wat de inbedrijfstelling bij de klant aanzienlijk vereenvoudigt. Dit nieuwe, geïntegreerde assistentiesysteem kan de productiviteit op de bouwplaats aanzienlijk verhogen.
De perfecte afronding van Generatie 8
De R 928 G8 rupsgraafmachine heeft een hoge trekkracht, een uitstekend hefvermogen en een grote graafbak. Het bedrijfsgewicht van nog geen 30 ton is geoptimaliseerd met als doel de transportlogistiek tussen bedrijfslocaties zo eenvoudig mogelijk te maken. De R 928 G8 vult het bestaande assortiment rupsgraafmachines aan met een extra model tussen de bekende R 926 G8- en R 930 G8-modellen.
Voortdurende verbeteringen, kwaliteit en service
Liebherr Generation 8 rupsgraafmachines zijn het resultaat van intensief onderzoeks- en verbeteringswerk en de ervaring van meer dan 60 jaar in de ontwikkeling en productie van rupsgraafmachines. Deze nieuwe generatie kenmerkt zich door een modern design en modulaire architectuur. Het is opnieuw ontworpen om optimale ergonomie en prestaties te bieden, evenals meer comfort en veiligheid.
Vergeleken met de vorige generatie ontwikkelt Generatie 8 hogere scheur- en losbreekkrachten. In combinatie met het nu verhoogde koppel van de bovenwagen resulteert dit in hogere vermogens en een aanzienlijke productiviteitswinst op de bouwplaats.
Bovendien maakt een nieuw concept van werkuitrusting een geoptimaliseerde belastingscurve mogelijk. De gewichtsgeoptimaliseerde componenten verhogen ook de dynamiek van de machine en verminderen tegelijkertijd het brandstofverbruik.
De nieuwe robuuste X-vormige onderstellen zorgen voor een betere stabiliteit in alle situaties. De automatische centrale smering zorgt voor een langere levensduur van de onderdelen en verbetert de productiviteit van de machines.
Uitstekende service, advies en ondersteuning voor, tijdens en na de aankoopbeslissing, evenals het brede scala aan individuele aanpassingsmogelijkheden voor de machines, b.v. door individualisering en uitrustingsvarianten zijn volgens Liebherr-klanten de belangrijkste aankoopcriteria.
Maximale veiligheid gecombineerd met het grootst mogelijke comfort
De machinist heeft de beschikking over een bijzonder ruime bestuurderscabine met airconditioning. Voor comfortabel werken zijn de hydraulische graafmachines uitgerust met verticaal en in lengterichting geveerde luchtstoelen en een zeer gebruiksvriendelijk 9" touchscreen met hoge resolutie. De voorruit kan volledig worden geopend en onder het cabinedak worden geschoven.
Werkende koplampen met LED-technologie vervangen de eerder gebruikte halogeen- en xenonversies. Deze nieuwe technologie resulteert in een langere levensduur, een lager energieverbruik en een veel betere verlichting. Het verlichtingsassortiment is verkrijgbaar in aparte pakketten, waarbij het dimbare LED+ verlichtingspakket de krachtigste oplossing is en als optie verkrijgbaar is.
Het volledig onbelemmerde panoramische gezichtsveld en de bewakingscamera's aan de achter- en zijkant zorgen voor maximale veiligheid in de werkomgeving van de machinist. De opklapbare linkerconsole zorgt voor gemakkelijk en veilig in- en uitstappen in en uit de bestuurderscabine. De door kantelbeveiliging gecertificeerde cabinestructuur biedt optimale bescherming in een ongevalsituatie. Ongeacht de configuratie van de graafmachine is de nooduitgang via de achterruit. De voor- en rechterramen zijn gemaakt van getint gelaagd glas.
Gestroomlijnd en nog veiliger onderhoudswerk
Om de veiligheid tijdens onderhoudswerkzaamheden te vergroten, is de toegang tot de bovenwagen en het platform vergroot en herzien. De toegang is nu vanaf de zijkant en is beschikbaar als standaard of als optie, afhankelijk van het land van verkoop. Generatie 8 rupsgraafmachines hebben een nieuw onderhoudsconcept met onderhoudspunten die vanaf de grond toegankelijk zijn. De niveaus van motorolie, hydraulische olie, brandstof en dieseluitlaatvloeistof worden op het display aan de machinist getoond.
NJC.© Info Liebherr-France SAS
-----------------------------------------------------------------------------------------------------------------