RENAULT-1,000 ELECTRIC TRUCKS PRODUCED AT THE RENAULT TRUCKS PLANT IN BLAINVILLE-SUR-ORNE
02/10/22-FR-English-NL-footer
RENAULT-1 000 CAMIONS ÉLECTRIQUES PRODUITS DANS L'USINE RENAULT TRUCKS DE BLAINVILLE-SUR-ORNE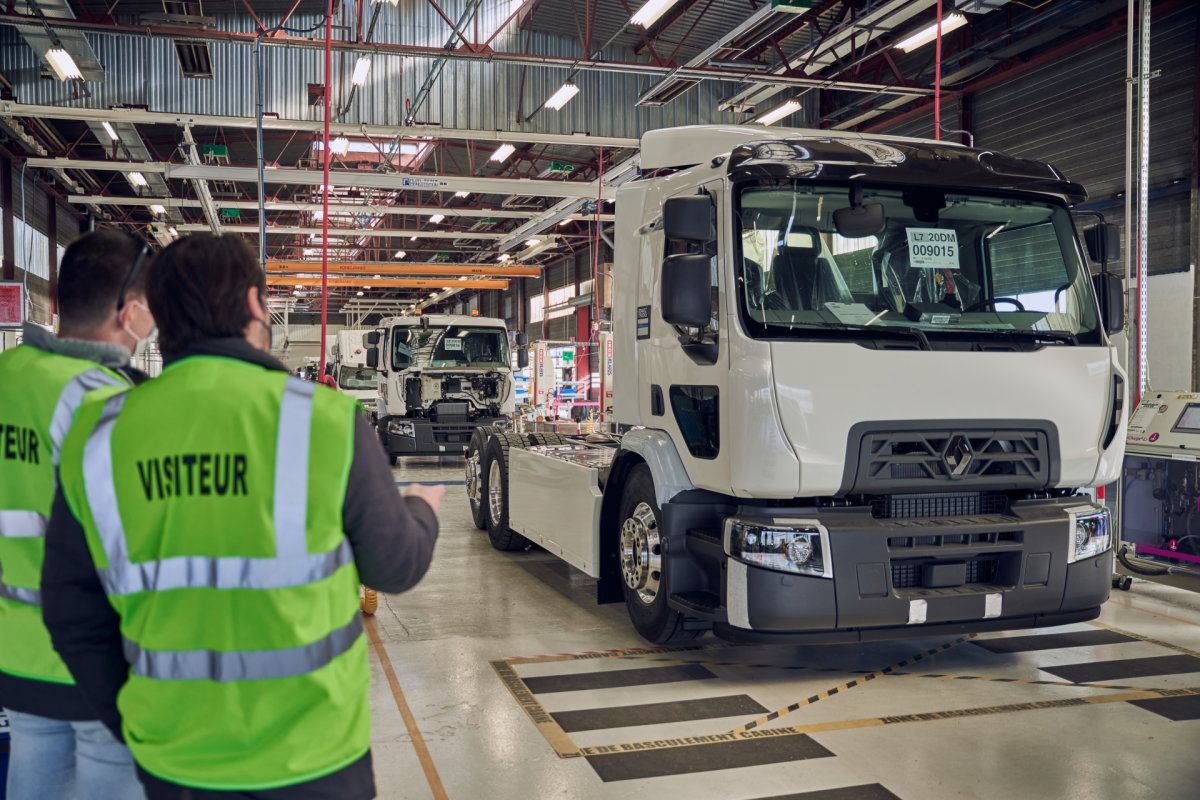 Image-RENAULT Trucks
Tournant décisif vers la transformation du transport urbain et péri-urbain, l'usine Renault Trucks de Blainville produit en série depuis 2020 des camions 100 % électriques de moyen tonnage. Preuve du succès de cette offre de mobilité décarbonée, l'usine a déjà produit 1 000 camions électriques de 16, 19 et 26 tonnes, qui sont en exploitation partout en Europe.
En activité depuis 1956, l'usine Renault Trucks de Blainville-sur-Orne (Calvados) est spécialisée dans la production de véhicules de moyen tonnage et de cabines de camions. Pionnière en Europe, elle s'est dimensionnée pour accueillir dès mars 2020 la fabrication de camions électriques de 16 à 26 tonnes. Pour assurer la fabrication des modèles électriques, différents aménagements ont été effectués au sein du site industriel normand, dont un bâtiment d'une superficie de 1 800 m² entièrement dédié à l'assemblage final.
Depuis 2020, date du début de la production en série des modèles électriques de Renault Trucks, la demande de camions électriques ne cesse de croître. Grâce à une excellente flexibilité et une adaptation continue de l'outil industriel, la capacité de production de camions électriques augmente graduellement pour faire face à la montée en puissance attendue des volumes, de plus en plus de clients faisant le choix d'un transport décarboné.
Aujourd'hui, la moitié des camions électriques vendus en Europe est produite dans l'usine Renault Trucks de Blainville-sur-Orne.
NJC.© Info RENAULT Trucks
---------------------------------------------------------------------------------------------------------------------
02/11/22-English
RENAULT-1,000 ELECTRIC TRUCKS PRODUCED AT THE RENAULT TRUCKS PLANT IN BLAINVILLE-SUR-ORNE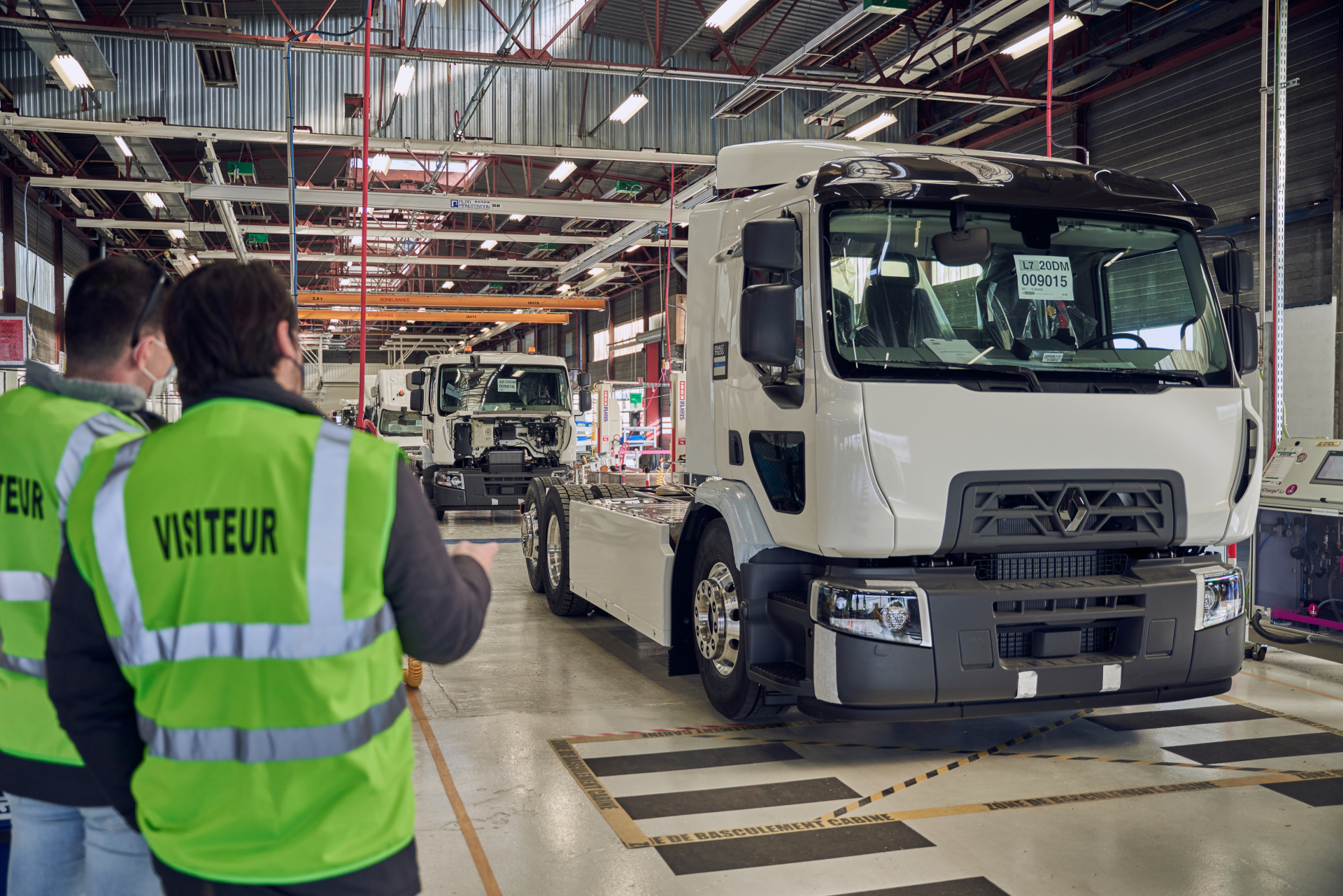 Image-RENAULT Trucks
A decisive turning point in the transformation of urban and peri-urban transport, the Renault Trucks plant in Blainville has been mass-producing medium-tonnage 100% electric trucks since 2020. Proof of the success of this low-carbon mobility offer, the plant has already produced 1,000 electric trucks of 16, 19 and 26 tons, which are in operation throughout Europe.
In operation since 1956, the Renault Trucks plant in Blainville-sur-Orne (Calvados) specializes in the production of medium-tonnage vehicles and truck cabs. A pioneer in Europe, it has been sized to accommodate the manufacture of electric trucks from 16 to 26 tonnes from March 2020. To ensure the manufacture of electric models, various arrangements have been made within the Normandy industrial site, including a building with an area of ​​1,800 m² entirely dedicated to final assembly.
Since 2020, the date of the start of series production of Renault Trucks' electric models, demand for electric trucks has continued to grow. Thanks to excellent flexibility and continuous adaptation of the industrial tool, the production capacity of electric trucks is gradually increasing to cope with the expected increase in volumes, with more and more customers choosing low-carbon transport. .
Today, half of the electric trucks sold in Europe are produced in the Renault Trucks plant in Blainville-sur-Orne.
NJC.© Info RENAULT Trucks
---------------------------------------------------------------------------------------------------------------------
02/11/22-NL
RENAULT-1.000 ELEKTRISCHE TRUCKS GEPRODUCEERD IN DE RENAULT TRUCKS-FABRIEK IN BLAINVILLE-SUR-ORNE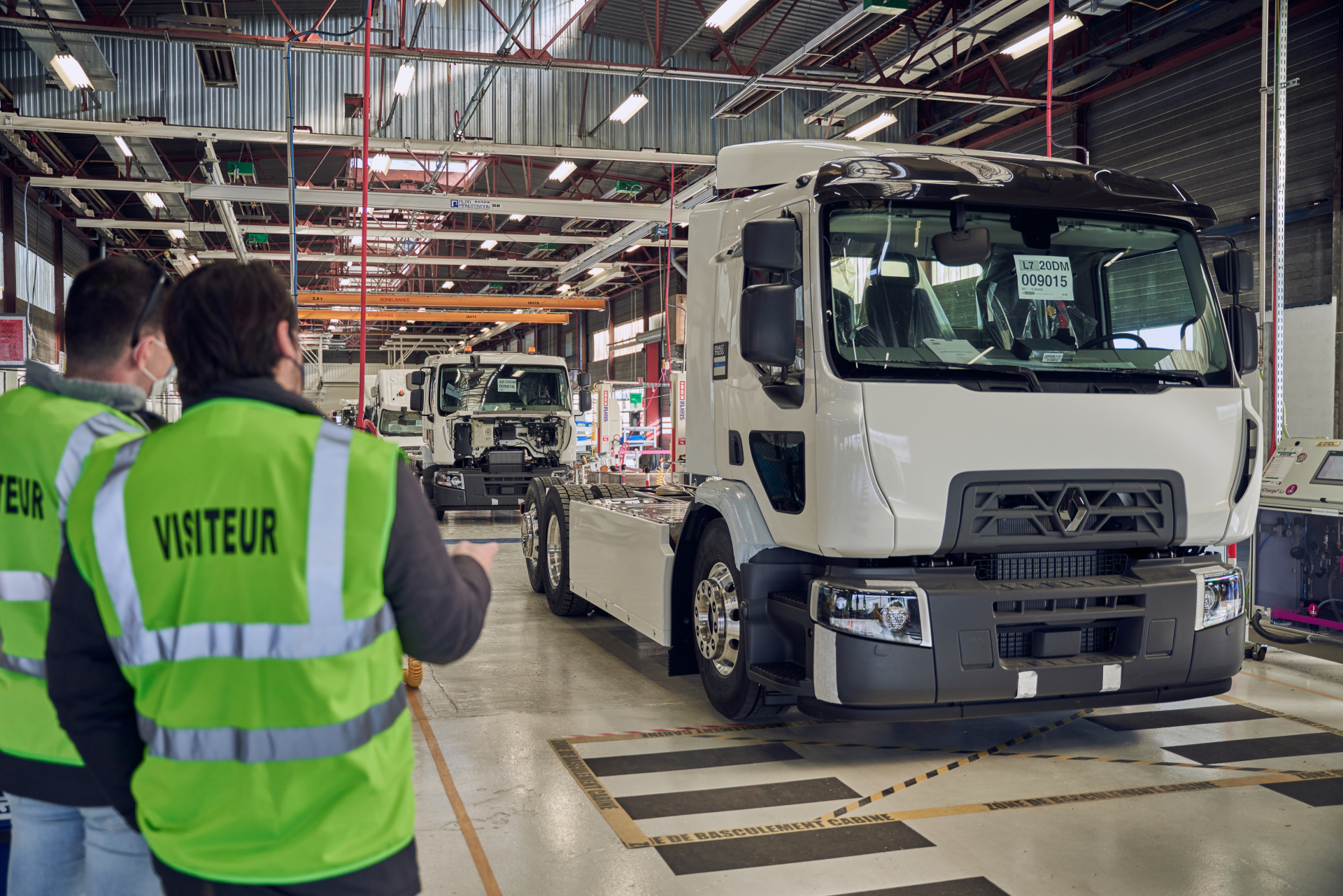 Image-RENAULT Trucks
De Renault Trucks-fabriek in Blainville, een beslissend keerpunt in de transformatie van het stads- en voorstedelijk vervoer, produceert sinds 2020 massaproductie van 100% elektrische vrachtwagens met een gemiddeld tonnage. Als bewijs van het succes van dit koolstofarme mobiliteitsaanbod heeft de fabriek al 1.000 elektrische vrachtwagens van 16, 19 en 26 ton geproduceerd, die in heel Europa in gebruik zijn.
De Renault Trucks-fabriek in Blainville-sur-Orne (Calvados), die sinds 1956 in bedrijf is, is gespecialiseerd in de productie van voertuigen voor middelzware tonnages en vrachtwagencabines. Het is een pionier in Europa en is aangepast om vanaf maart 2020 de productie van elektrische vrachtwagens van 16 tot 26 ton te huisvesten. Om de productie van elektrische modellen te garanderen, zijn er verschillende regelingen getroffen op het industrieterrein in Normandië, waaronder een gebouw met een oppervlakte van 1.800 m² dat volledig is gewijd aan de eindmontage.
Sinds 2020, de datum van de start van de serieproductie van de elektrische modellen van Renault Trucks, is de vraag naar elektrische vrachtwagens blijven groeien. Dankzij een uitstekende flexibiliteit en continue aanpassing van het industriële gereedschap neemt de productiecapaciteit van elektrische vrachtwagens geleidelijk toe om de verwachte volumegroei op te vangen, waarbij steeds meer klanten kiezen voor koolstofarm transport.
Vandaag wordt de helft van de elektrische vrachtwagens die in Europa worden verkocht, geproduceerd in de fabriek van Renault Trucks in Blainville-sur-Orne.
NJC.© Info RENAULT Trucks
--------------------------------------------------------------------------------------------------------------------