RENAULT TRUCKS ANNOUNCES THE CREATION OF ITS DISMANTLING PLANT, THE USED PARTS FACTORY
13/09/22-FR-English-NL-footer
RENAULT TRUCKS ANNONCE LA CRÉATION DE SON USINE DE DÉMANTÈLEMENT, LA USED PARTS FACTORY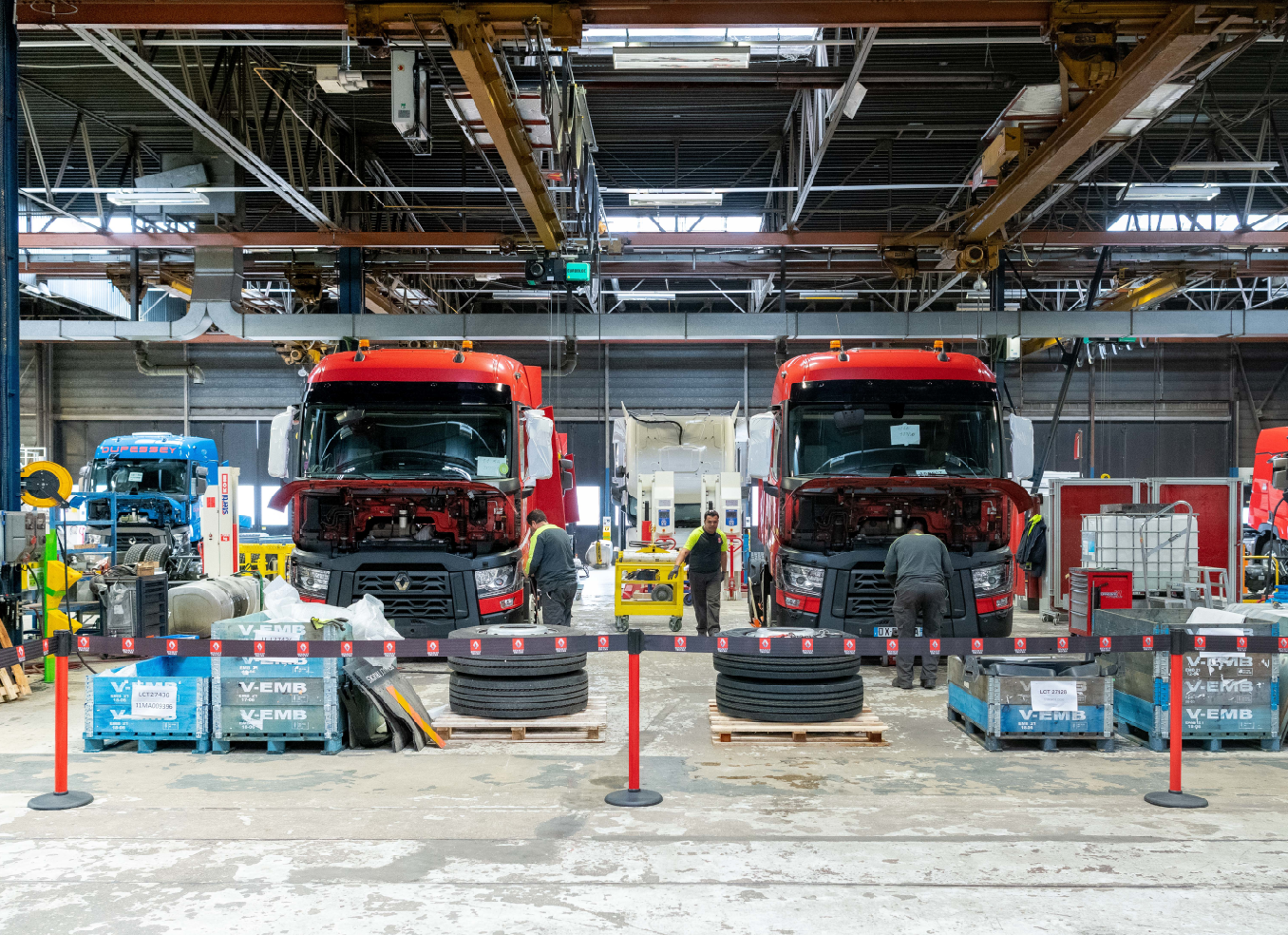 Pour réduire l'utilisation des ressources naturelles et l'impact environnemental de ses camions, Renault Trucks inscrit ses activités industrielles dans une démarche d'économie circulaire. Dans la continuité des activités de transformation de véhicules d'occasion et de remanufacturing respectivement menées dans sa Used Trucks Factory de Bourg-en-Bresse et dans son usine de Limoges, Renault Trucks annonce la création de la Used Parts Factory. Dans ce site industriel implanté à Vénissieux, des camions de la marque seront démantelés et leurs pièces réemployées.
Depuis cinq ans, Renault Trucks investit dans l'économie circulaire avec une démarche fondée sur trois piliers : régénérer, reconvertir et recycler les véhicules de son parc roulant et d'occasion.
Camions d'occasion reconvertis selon des processus industriels stricts à la Used Trucks Factory, remise à niveau de véhicules avec les dernières technologies dans le centre de reconditionnement de Lyon, ou encore séries spéciales occasion, Renault Trucks mène de nombreuses initiatives pour prolonger la durée de vie des véhicules qu'il commercialise.
Le constructeur poursuit sa démarche et annonce la création de la Used Parts Factory, un site industriel dédié au recyclage des camions et à la revalorisation des pièces et des matières premières qui le composent. Une initiative validée par une étude préalable menée en 2020 par Renault Trucks aux côtés du spécialiste Indra Automobile Recycling et de l'Agence de l'Environnement et de la Maîtrise de l'Énergie ADEME.
Renault Trucks, qui affiche sa volonté de valoriser les camions en fin de vie et d'en réemployer les pièces de rechange, ouvre une usine dédiée, implantée au cœur de son site industriel de Lyon–Vénissieux. Installée au plus proche du centre logistique, cette usine de 3 000 m2 accueillera des camions Renault Trucks d'occasion au kilométrage important, mais dont certaines pièces conservent un fort potentiel de réemploi. Les camions Renault Trucks et leurs composants sont en effet conçus pour durer plus de 1,5 millions de kilomètres.
Les camions Renault Trucks intègreront la Used Parts Factory pour y être démantelés. Les composants préalablement identifiés qui feront l'objet d'une réutilisation (moteur, boîte de vitesses, cabine, réservoir, pare-chocs, déflecteurs, etc.) seront prélevées par les opérateurs.
Une fois les pièces destinées à la réutilisation prélevées, les autres composants seront recyclés . Les longerons, par exemple, seront découpés puis acheminés jusqu'à la fonderie voisine. Le métal extrait sera utilisé pour fabriquer un nouveau véhicule.
Les composants destinés à être réemployés seront ensuite vérifiés, nettoyés et étiquetés à des fins de référencement et de traçabilité. Ces pièces de réemploi rejoindront ensuite le magasin de pièces de rechanges de Renault Trucks situé à proximité, au même titre que les pièces d'origine neuves.
À l'instar des pièces de rechange neuves, les pièces de réemploi, commercialisées sous le label « Used Parts by Renault Trucks », seront mises à disposition des concessionnaires sur le portail de e-commerce du constructeur dédié aux pièces de rechange. Ces pièces de réemploi bénéficieront d'une garantie constructeur et seront en moyenne 50 à 60 % moins chères que les pièces neuves.
S'agissant de pièces de rechange d'occasion pour ses anciennes gammes de véhicules, Renault Trucks poursuit sa collaboration avec Indra Automobile Recycling et proposera à son réseau de concessions une offre de pièces issues de démantèlements opérés par le spécialiste du recyclage.
Avec cette nouvelle offre, Renault Trucks poursuit sa route vers la neutralité carbone et répond également à la pénurie de composants et de matières premières qui impacte l'industrie dans sa globalité.
NJC.© Info RENAULT Trucks
--------------------------------------------------------------------------------------------------------------
13/09/22-English
RENAULT TRUCKS ANNOUNCES THE CREATION OF ITS DISMANTLING PLANT, THE USED PARTS FACTORY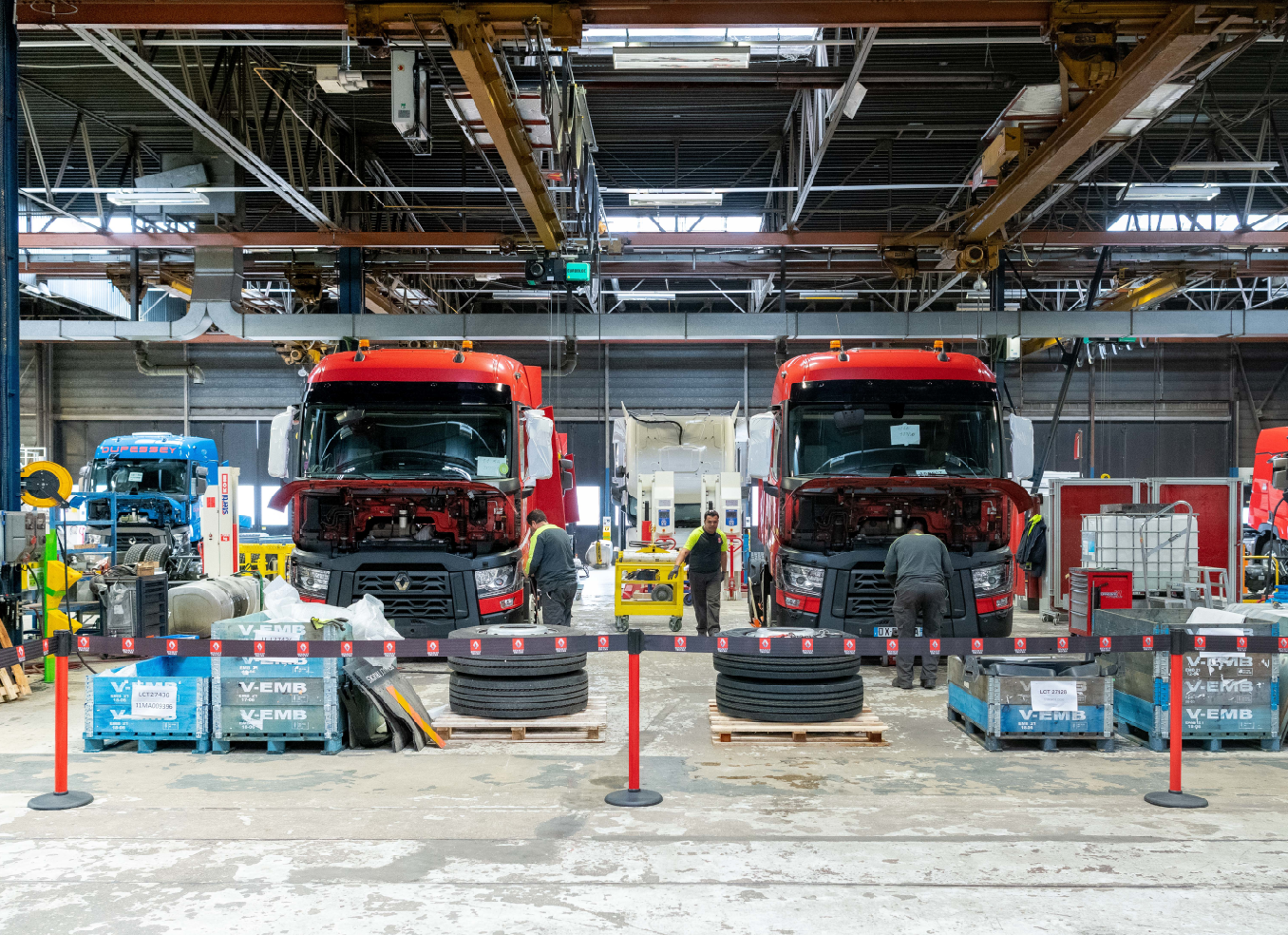 To reduce the use of natural resources and the environmental impact of its trucks, Renault Trucks makes its industrial activities part of a circular economy approach. Continuing on from the used vehicle transformation and remanufacturing activities carried out respectively at its Used Trucks Factory in Bourg-en-Bresse and at its Limoges plant, Renault Trucks is announcing the creation of the Used Parts Factory. In this industrial site located in Vénissieux, the brand's trucks will be dismantled and their parts reused.
For five years, Renault Trucks has been investing in the circular economy with an approach based on three pillars: regenerating, converting and recycling the vehicles in its rolling stock and second-hand vehicles.
Second-hand trucks converted according to strict industrial processes at the Used Trucks Factory, vehicles upgraded with the latest technologies in the Lyon reconditioning center, or even special second-hand series, Renault Trucks is carrying out numerous initiatives to extend the life of life of the vehicles it sells.
The manufacturer is continuing its approach and announces the creation of the Used Parts Factory, an industrial site dedicated to the recycling of trucks and the recovery of the parts and raw materials that compose it. An initiative validated by a preliminary study carried out in 2020 by Renault Trucks alongside the specialist Indra Automobile Recycling and the French Environment and Energy Management Agency ADEME.
Renault Trucks, which demonstrates its desire to recover end-of-life trucks and reuse spare parts, is opening a dedicated plant, located at the heart of its Lyon-Vénissieux industrial site. Installed as close as possible to the logistics centre, this 3,000 m2 plant will house second-hand Renault Trucks trucks with high mileage, but some parts of which still have great potential for reuse. Renault Trucks trucks and their components are designed to last more than 1.5 million kilometres.
Renault Trucks trucks will enter the Used Parts Factory to be dismantled there. The previously identified components that will be reused (engine, gearbox, cabin, tank, bumpers, deflectors, etc.) will be removed by the operators.
Once the parts intended for reuse have been removed, the other components will be recycled . The beams, for example, will be cut and then transported to the neighboring foundry. The mined metal will be used to craft a new vehicle.
Components intended for reuse will then be checked, cleaned and labeled for referencing and traceability purposes. These reused parts will then go to the nearby Renault Trucks spare parts store, in the same way as new original parts.
Like new spare parts, reused parts, marketed under the "Used Parts by Renault Trucks" label, will be made available to dealers on the manufacturer's e-commerce portal dedicated to spare parts. These reused parts will benefit from a manufacturer's warranty and will be on average 50 to 60% cheaper than new parts.
With regard to second-hand spare parts for its old ranges of vehicles, Renault Trucks is continuing its collaboration with Indra Automobile Recycling and will offer its dealership network a range of parts resulting from dismantling carried out by the recycling specialist.
With this new offer, Renault Trucks is continuing its journey towards carbon neutrality and is also responding to the shortage of components and raw materials which is impacting the industry as a whole.
NJC.© Info RENAULT Trucks
----------------------------------------------------------------------------------------------------------------------
13/09/22-NL
RENAULT TRUCKS KONDIGT DE OPRICHTING AAN VAN HAAR DEMONTAGEPLAATS, DE FABRIEK VOOR GEBRUIKTE ONDERDELEN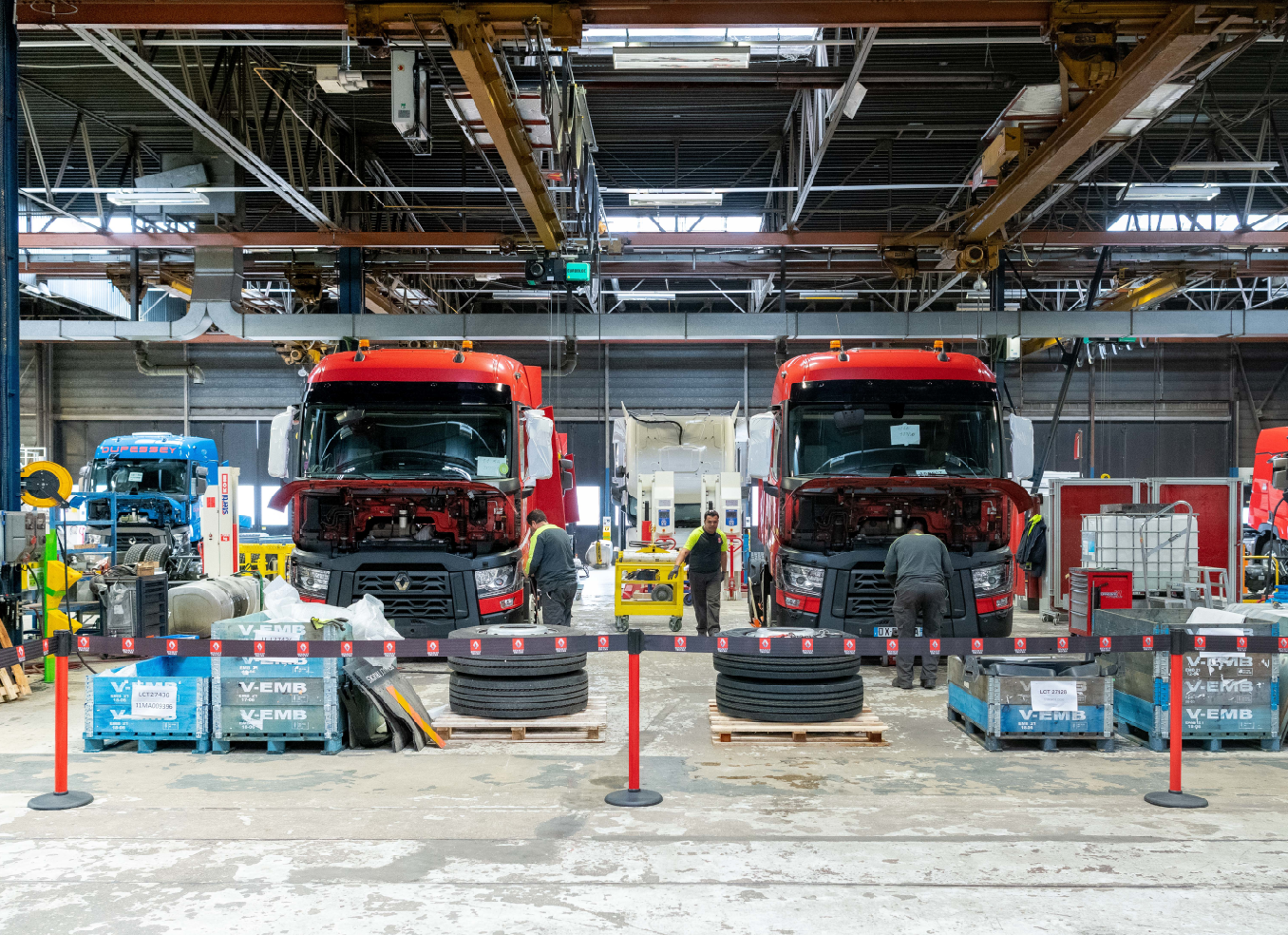 Om het gebruik van natuurlijke hulpbronnen en de milieu-impact van zijn vrachtwagens te verminderen, maakt Renault Trucks zijn industriële activiteiten onderdeel van een circulaire economie. Voortbouwend op de transformatie- en revisieactiviteiten van gebruikte voertuigen die respectievelijk werden uitgevoerd in de fabriek voor gebruikte vrachtwagens in Bourg-en-Bresse en in de fabriek in Limoges, kondigt Renault Trucks de oprichting aan van de fabriek voor gebruikte onderdelen. Op deze industriële site in Vénissieux zullen de vrachtwagens van het merk worden gedemonteerd en hun onderdelen hergebruikt.
Renault Trucks investeert al vijf jaar in de circulaire economie met een aanpak gebaseerd op drie pijlers: het regenereren, ombouwen en recyclen van de voertuigen in zijn rollend materieel en tweedehandsvoertuigen.
Tweedehands vrachtwagens omgebouwd volgens strikte industriële processen in de Used Trucks Factory, voertuigen die in het reconditioneringscentrum van Lyon zijn geüpgraded met de nieuwste technologieën of zelfs speciale tweedehandsseries, Renault Trucks neemt tal van initiatieven om de levensduur van de voertuigen die hij verkoopt.
De fabrikant zet zijn aanpak voort en kondigt de oprichting aan van de fabriek voor gebruikte onderdelen, een industriële site die zich toelegt op het recyclen van vrachtwagens en het terugwinnen van de onderdelen en grondstoffen waaruit het bestaat. Een initiatief dat werd gevalideerd door een voorstudie die in 2020 werd uitgevoerd door Renault Trucks samen met de specialist Indra Automobile Recycling en het Franse bureau voor milieu- en energiebeheer ADEME.
Renault Trucks, dat blijk geeft van zijn wens om afgedankte vrachtwagens te recupereren en reserveonderdelen te hergebruiken, opent een speciale fabriek in het hart van de industriële site Lyon-Vénissieux. Deze fabriek van 3.000 m², die zo dicht mogelijk bij het logistieke centrum is geïnstalleerd, zal tweedehands vrachtwagens van Renault Trucks huisvesten met veel kilometers, maar waarvan sommige delen nog een groot potentieel voor hergebruik hebben. De vrachtwagens van Renault Trucks en hun onderdelen zijn ontworpen om meer dan 1,5 miljoen kilometer mee te gaan.
De vrachtwagens van Renault Trucks gaan de Used Parts Factory binnen om daar te worden gedemonteerd. De eerder geïdentificeerde onderdelen die hergebruikt zullen worden (motor, versnellingsbak, cabine, tank, bumpers, deflectors, etc.) zullen door de operators worden verwijderd.
Nadat de voor hergebruik bestemde onderdelen zijn verwijderd, worden de overige onderdelen gerecycled. Zo worden de balken gezaagd en vervolgens getransporteerd naar de naastgelegen gieterij. Het gedolven metaal zal worden gebruikt om een ​​nieuw voertuig te maken.
Componenten die bedoeld zijn voor hergebruik worden vervolgens gecontroleerd, gereinigd en gelabeld voor referentie- en traceerbaarheidsdoeleinden. Deze hergebruikte onderdelen gaan vervolgens naar de nabijgelegen Renault Trucks-reserveonderdelenwinkel, op dezelfde manier als nieuwe originele onderdelen.
Net als nieuwe reserveonderdelen zullen hergebruikte onderdelen, die op de markt worden gebracht onder het label 'Used Parts by Renault Trucks', beschikbaar worden gesteld aan dealers op het e-commerceportaal van de fabrikant dat gewijd is aan reserveonderdelen. Deze hergebruikte onderdelen hebben fabrieksgarantie en zijn gemiddeld 50 tot 60% goedkoper dan nieuwe onderdelen.
Wat betreft tweedehands onderdelen voor zijn oude voertuiggamma's, zet Renault Trucks zijn samenwerking met Indra Automobile Recycling voort en zal het zijn dealernetwerk een reeks onderdelen aanbieden die het resultaat zijn van demontage uitgevoerd door de recyclingspecialist.
Met dit nieuwe aanbod zet Renault Trucks zijn reis naar CO2-neutraliteit voort en speelt het ook in op het tekort aan componenten en grondstoffen dat de industrie als geheel treft.
NJC.© Info RENAULT Trucks
-------------------------------------------------------------------------------------------------------------------