RENAULT TRUCKS TRAFIC RED ÉDITION
07/06/22-FR-English-NL-footer
RENAULT TRUCKS TRAFIC RED ÉDITION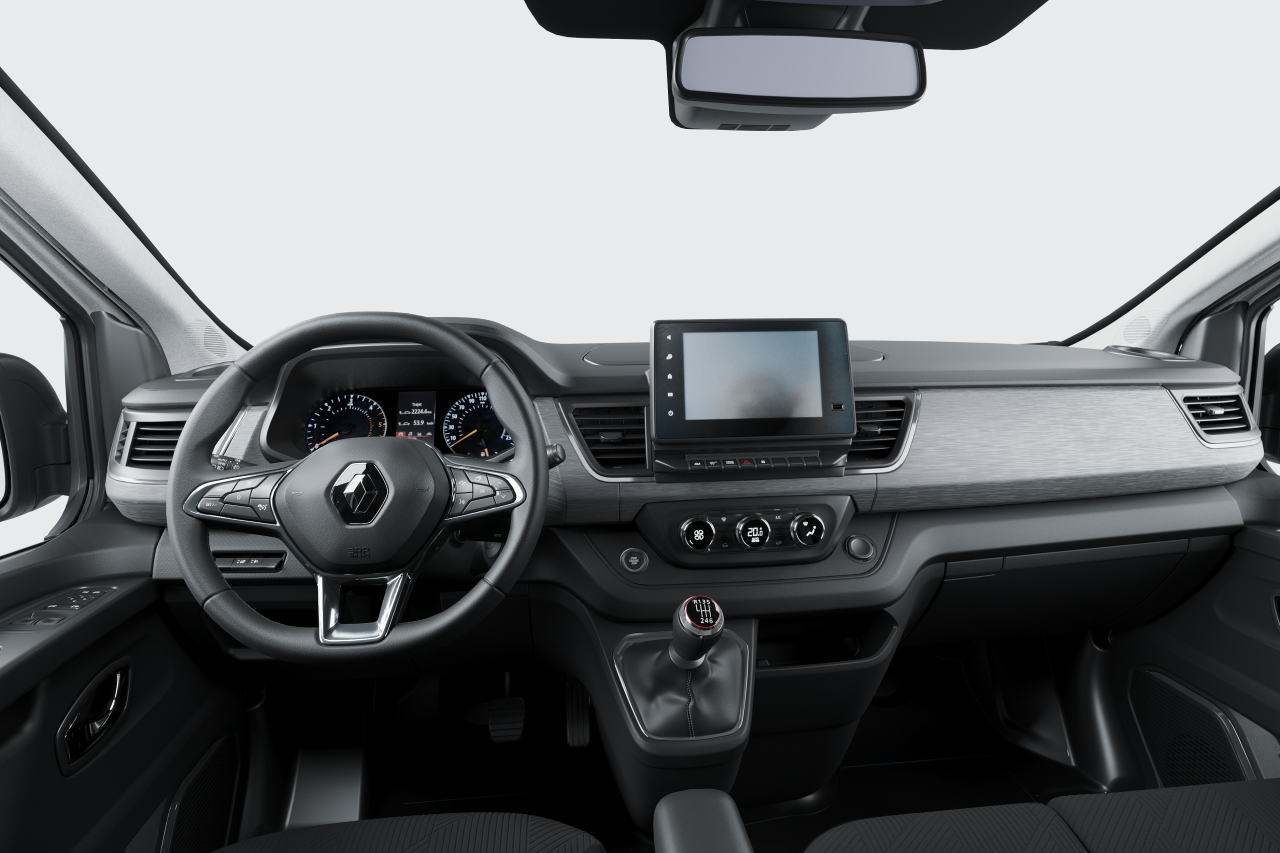 Renault Trucks étend sa gamme et commercialise un nouveau véhicule, le Trafic Red Edition. Destiné principalement aux professionnels des métiers de l'artisanat, ou encore de la restauration, cet utilitaire suréquipé est entièrement personnalisable.
Explosion du e-commerce et des livraisons, augmentation du recours aux artisans pour des travaux d'amélioration de l'habitat, la tendance est à la hausse pour le marché du véhicule utilitaire en 2022. Renault Trucks a ainsi annoncé en début d'année la commercialisation d'un nouveau modèle : le Trafic Red Edition. Ce nouvel utilitaire est l'outil de travail idéal pour les artisans, commerçants ou encore les professionnels de la restauration. Le Renault Trucks Trafic Red Edition est disponible en France, en Belgique, en Suisse, au Royaume-Uni et en Irlande.
Design racé et identité Renault Trucks affirmée
Commercialisé sous le sceau Red Edition – offre exclusive de Renault Trucks pour sa gamme d'utilitaires, ce nouveau véhicule en arbore, de série, les signes distinctifs :
Renault Trucks Trafic Red Edition se dote d'une calandre chromée, d'un pare-chocs peint couleur carrosserie, d'un rail de porte latérale et d'une rampe de feux peints pareillement, pour un design harmonieux et affirmé. Des détails écarlates viennent rappeler l'identité de Renault Trucks : pommeau de vitesses cerclé de rouge, ceintures de sécurité rouges. Le centre de roue est également peint de cette couleur caractéristique. Le Renault Trucks Trafic Red Edition est proposé dans huit coloris : blanc glacier, rouge carmin, rouge magma, gris Highland, gris comète, gris urbain, noir midnight et bleu cumulus.
Enfin, la plaque distinctive Renault Trucks est apposée sur la carrosserie du Trafic Red Edition et des éléments graphiques extérieurs supplémentaires sont disponibles dans sa version « Exclusive ».
Une configuration personnalisable qui s'adapte aux exigences métiers
Que le Renault Trucks Trafic Red Edition soit utilisé pour transporter du matériel ou comme atelier mobile, il saura répondre à toutes les exigences liées à l'activité des professionnels.
Pour faciliter les opérations de chargement et déchargement, le Renault Trucks Trafic Red Edition est équipé, en option, d'un seuil de coffre en aluminium et d'une cloison tôlée intégrant une trappe de charge longue, idéale pour les gaines ou tuyaux par exemple. Les portes arrière tôlées peuvent être ouvertes à 270° (avec loquet de verrouillage) et pour une meilleure visibilité, la zone de chargement bénéficie d'un éclairage LED.
Par ailleurs, le Trafic Red Edition dispose de série d'une prise 12V arrière et, en option, d'un hayon, d'un porte-échelle intérieur et de crochets d'attelage, permettant de tracter jusqu'à 2,5 tonnes. Pour faciliter les transformations du véhicule, le Renault Trucks Trafic Red Edition dispose d'équipements spécifiques tels d'une prise de force moteur, un boîtier de câblage complémentaire et un boîtier d'adaptation carrosserie.
La capacité de chargement, d'un volume utile allant jusqu'à 8,9 m3 pour une charge jusqu'à 1 300 kg, permet aux artisans de transporter le matériel et outillage nécessaires à leur activité. Le Trafic Red Edition est disponible en version fourgon (L1H1, L1H2, L2H1, L2H2), fourgon double-cabine (L1H1 et L2H1), plancher-cabine (L2) ou combi (L1H1 et L2H1). La version courte L1 (5m) lui permet de stationner sur un emplacement standard de zone urbaine. Quant à la version basse H1 (inférieure à 2 m) lui permet d'accéder aux parkings souterrains et de bénéficier des péages de catégorie 1.
Confort de conduite, bureau nomade et sécurité
L'habitacle du Renault Trucks Trafic Red Edition est pensé comme un véritable bureau mobile : il se dote d'une banquette passager avec dossier rabattable, dévoilant une tablette de travail stable et fonctionnelle. Sa planche de bord en aluminium brossé intègre un afficheur principal couleur de 4,2'' et un écran tactile de 8'' avec réplication smartphone, ainsi qu'un chargeur induction. La zone de conduite renferme également 88 litres de rangements.
Quatre puissances moteur (de 110 à 170 ch) sont proposées sur le Renault Trucks Trafic Red Edition et il bénéficie en option d'une boîte robotisée à double embrayage, pour un confort de conduite augmenté.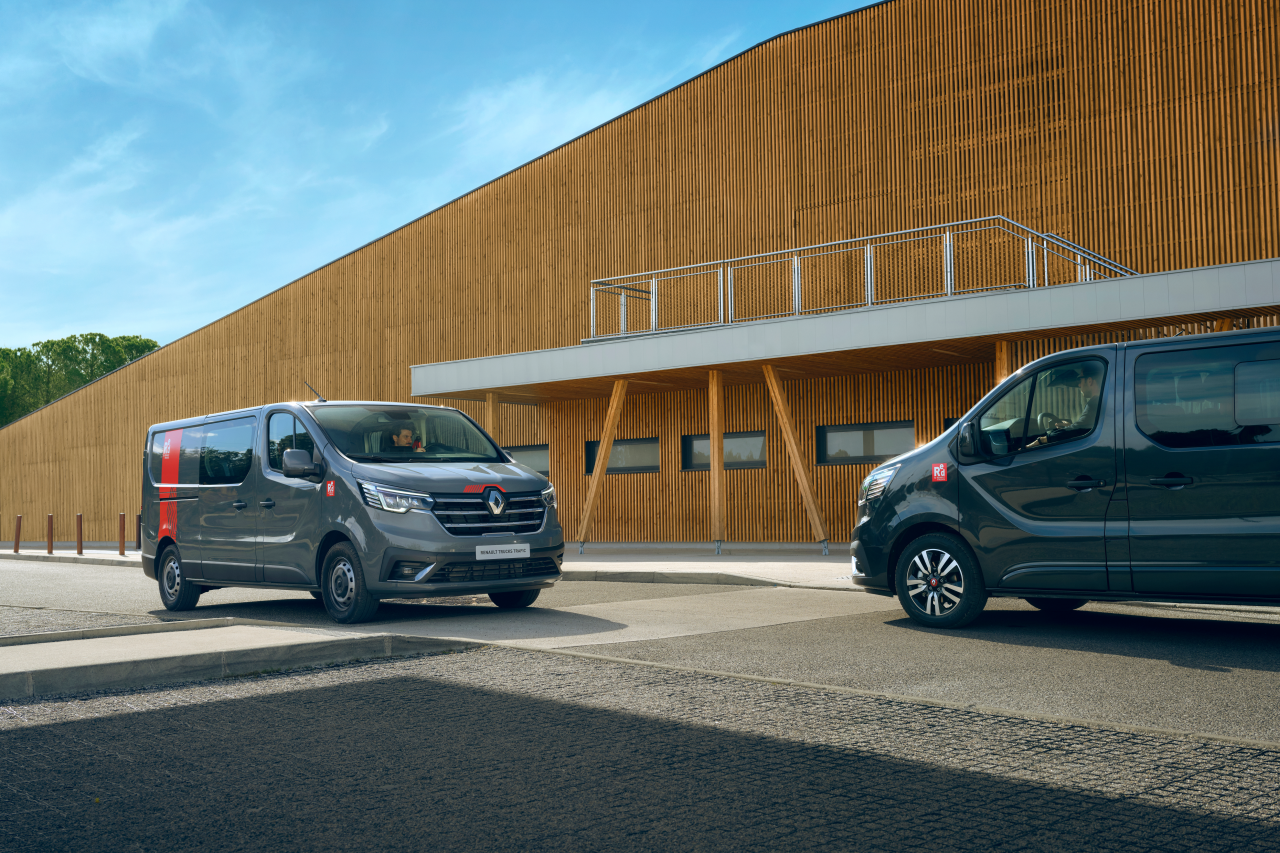 Pour une parfaite sécurité du conducteur, de son chargement et des usagers de la route, le Trafic Red Edition bénéficie d'un large pare-brise et de phares full LED. Il bénéficie également de l'ESC de série, pour aider le conducteur à maintenir le contrôle de la trajectoire et empêcher le renversement du véhicule dans les situations critiques, de radars avant et arrière, d'un système d'avertissement de sortie de voie, de l'assistance vent latéral, ou encore de l'alerte angles morts. Enfin, il est équipé de série d'un système d'adhérence renforcée (Extended Grip) permettant d'évoluer sur tous types de terrains.
L'expertise poids lourds de Renault Trucks au service du véhicule utilitaire
Renault Trucks met son expertise poids lourds et la densité de son réseau de distribution et de réparation (1400 points de vente en Europe) au service de ses clients véhicules utilitaires. Le constructeur consacre par ailleurs des espaces dédiés au véhicule utilitaire (Fast & Pro) dans ses concessions. Renault Trucks propose des rendez-vous rapides, des horaires d'ouverture élargis (samedi matin inclus par exemple), une bonne disponibilité des pièces ainsi que des opérations de réparation et de maintenance effectuées par des techniciens experts et formés.
Le Renault Trucks Trafic Red Edition est assorti d'une garantie de deux ans pièces et main d'œuvre, du dépannage 24/7.
Enfin, pour une parfaite tranquillité, Renault Trucks propose une offre de lancement « packagée » à durée limitée (jusqu'à la fin de l'année 2022), englobant le véhicule, le contrat d'entretien Start & Drive, l'assurance et le financement .
NJC.© Info RENAULT Trucks
-----------------------------------------------------------------------------------------------------------------
07/06/22-English
RENAULT TRUCKS TRAFIC RED EDITION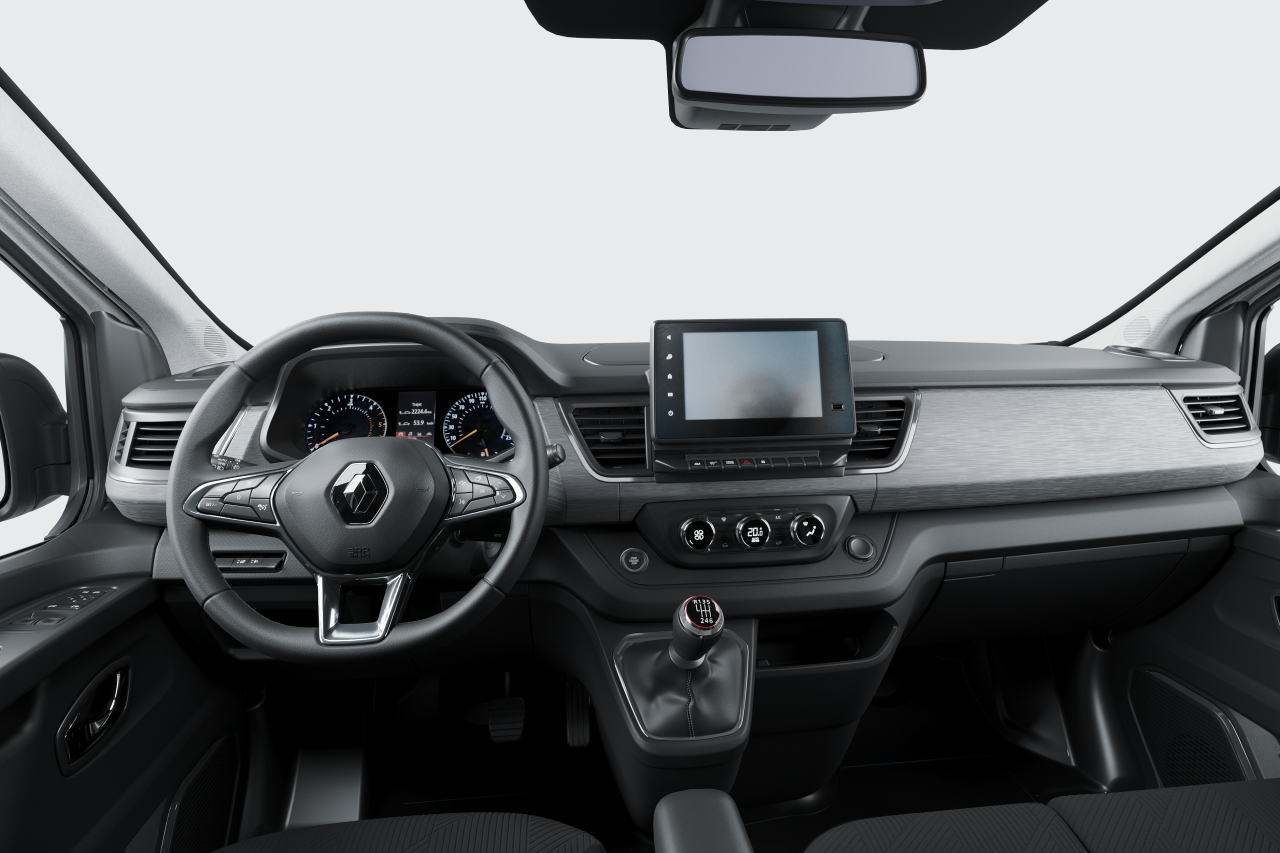 Renault Trucks is extending its range and marketing a new vehicle, the Trafic Red Edition. Intended mainly for professionals in the craft trades, or even catering, this over-equipped utility is fully customizable.
Explosion of e-commerce and deliveries, increase in the use of craftsmen for home improvement work, the trend is upward for the light commercial vehicle market in 2022. Renault Trucks thus announced at the start of the year the marketing of a new model: the Trafic Red Edition. This new utility is the ideal work tool for craftsmen, traders or even catering professionals. The Renault Trucks Trafic Red Edition is available in France, Belgium, Switzerland, the United Kingdom and Ireland.
Sleek design and assertive Renault Trucks identity
Marketed under the Red Edition seal – an exclusive offer from Renault Trucks for its LCV range, this new vehicle sports its distinctive signs as standard:
Renault Trucks Trafic Red Edition has a chrome grille, a bumper painted in body color, a side door rail and a light bar painted in the same way, for a harmonious and assertive design. Scarlet details recall the identity of Renault Trucks: gear knob circled in red, red seat belts. The wheel center is also painted in this characteristic color. The Renault Trucks Trafic Red Edition is available in eight colours: glacier white, carmine red, magma red, Highland grey, comet grey, urban grey, midnight black and cumulus blue.
Finally, the distinctive Renault Trucks plate is affixed to the body of the Trafic Red Edition and additional exterior graphic elements are available in its "Exclusive" version.
A customizable configuration that adapts to business requirements
Whether the Renault Trucks Trafic Red Edition is used to transport equipment or as a mobile workshop, it will be able to meet all the requirements linked to the activity of professionals.
To facilitate loading and unloading operations, the Renault Trucks Trafic Red Edition is fitted, as an option, with an aluminum boot sill and a sheet metal partition incorporating a long loading hatch, ideal for ducts or pipes for example. . The paneled rear doors can be opened 270° (with locking latch) and for better visibility, the loading area benefits from LED lighting.
In addition, the Trafic Red Edition has a rear 12V socket as standard and, as an option, a tailgate, an interior ladder rack and towing hooks, allowing to tow up to 2.5 tonnes. . To facilitate vehicle conversions, the Renault Trucks Trafic Red Edition has specific equipment such as an engine power take-off, an additional wiring box and a bodywork adaptation box.
The loading capacity, with a useful volume of up to 8.9 m3 for a load of up to 1,300 kg, allows craftsmen to transport the equipment and tools necessary for their activity. The Trafic Red Edition is available in van (L1H1, L1H2, L2H1, L2H2), double-cabin (L1H1 and L2H1), floor-cab (L2) or combi (L1H1 and L2H1) versions. The short version L1 (5m) allows it to be parked in a standard location in an urban area. As for the low version H1 (less than 2 m) allows it to access underground car parks and benefit from category 1 tolls.
Driving comfort, mobile office and safety
The passenger compartment of the Renault Trucks Trafic Red Edition is designed like a real mobile office: it has a passenger bench seat with folding backrest, revealing a stable and functional work table. Its brushed aluminum dashboard incorporates a 4.2" color main display and an 8" touch screen with smartphone replication, as well as an induction charger. The driving area also contains 88 liters of storage.
Four engine powers (from 110 to 170 hp) are offered on the Renault Trucks Trafic Red Edition and it benefits from an optional double-clutch automated gearbox, for increased driving comfort.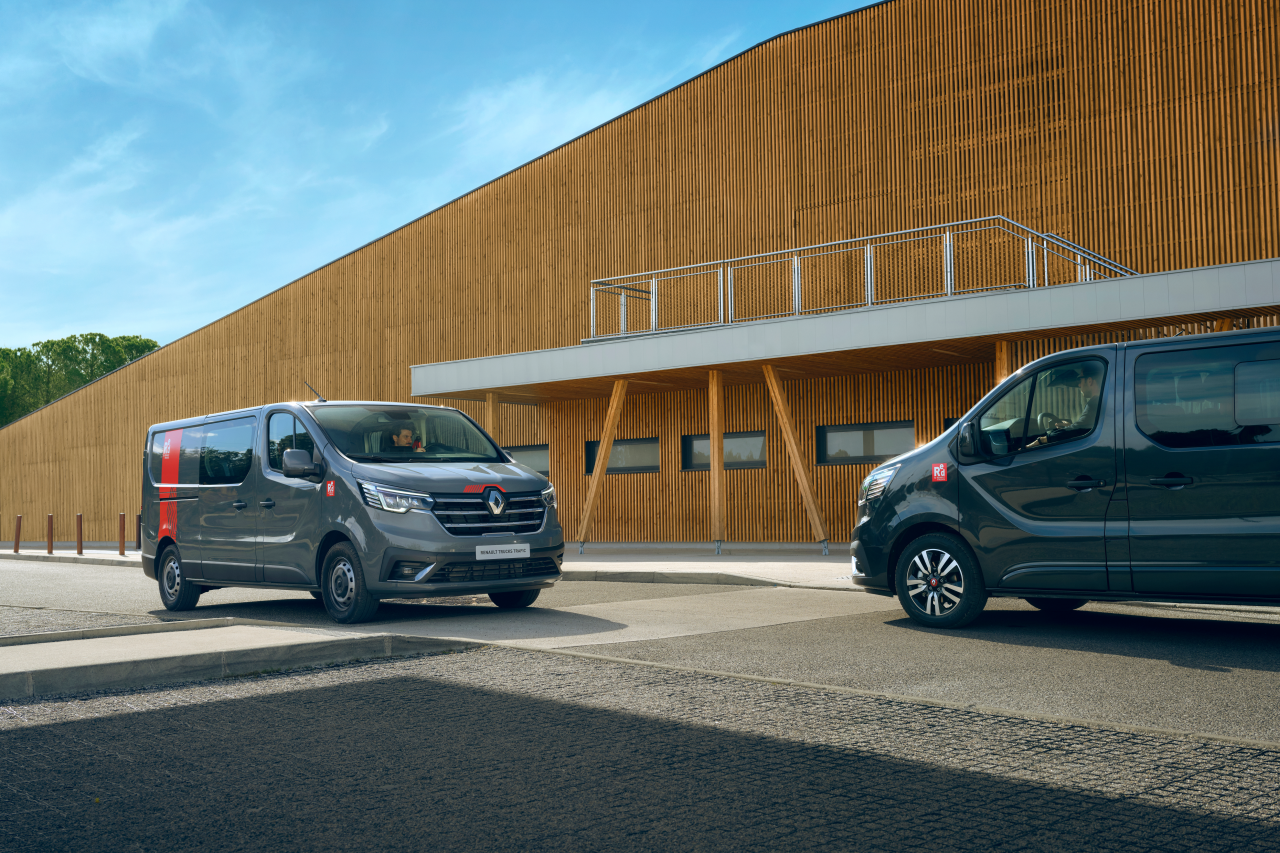 For perfect safety of the driver, his load and road users, the Trafic Red Edition benefits from a wide windscreen and full LED headlights. It also benefits from standard ESC, to help the driver maintain control of the trajectory and prevent the vehicle from rolling over in critical situations, front and rear radar, a lane departure warning system, side wind assistance, or blind spot alert. Finally, it is fitted as standard with a reinforced grip system (Extended Grip) allowing it to evolve on all types of terrain.
The truck expertise of Renault Trucks at the service of light commercial vehicles
Renault Trucks places its truck expertise and the density of its distribution and repair network (1,400 sales outlets in Europe) at the service of its light commercial vehicle customers. The manufacturer also devotes spaces dedicated to utility vehicles (Fast & Pro) in its dealerships. Renault Trucks offers quick appointments, extended opening hours (including Saturday mornings for example), good availability of parts as well as repair and maintenance operations carried out by expert and trained technicians.
The Renault Trucks Trafic Red Edition comes with a two-year parts and labor warranty and 24/7 breakdown assistance.
Finally, for complete peace of mind, Renault Trucks is offering a limited-time "packaged" introductory offer (until the end of 2022), including the vehicle, the Start & Drive maintenance contract, insurance and funding .
NJC.© Info RENAULT Trucks
--------------------------------------------------------------------------------------------------------------------
07/06/22-NL
RENAULT TRUCKS TRAFIC RED EDITION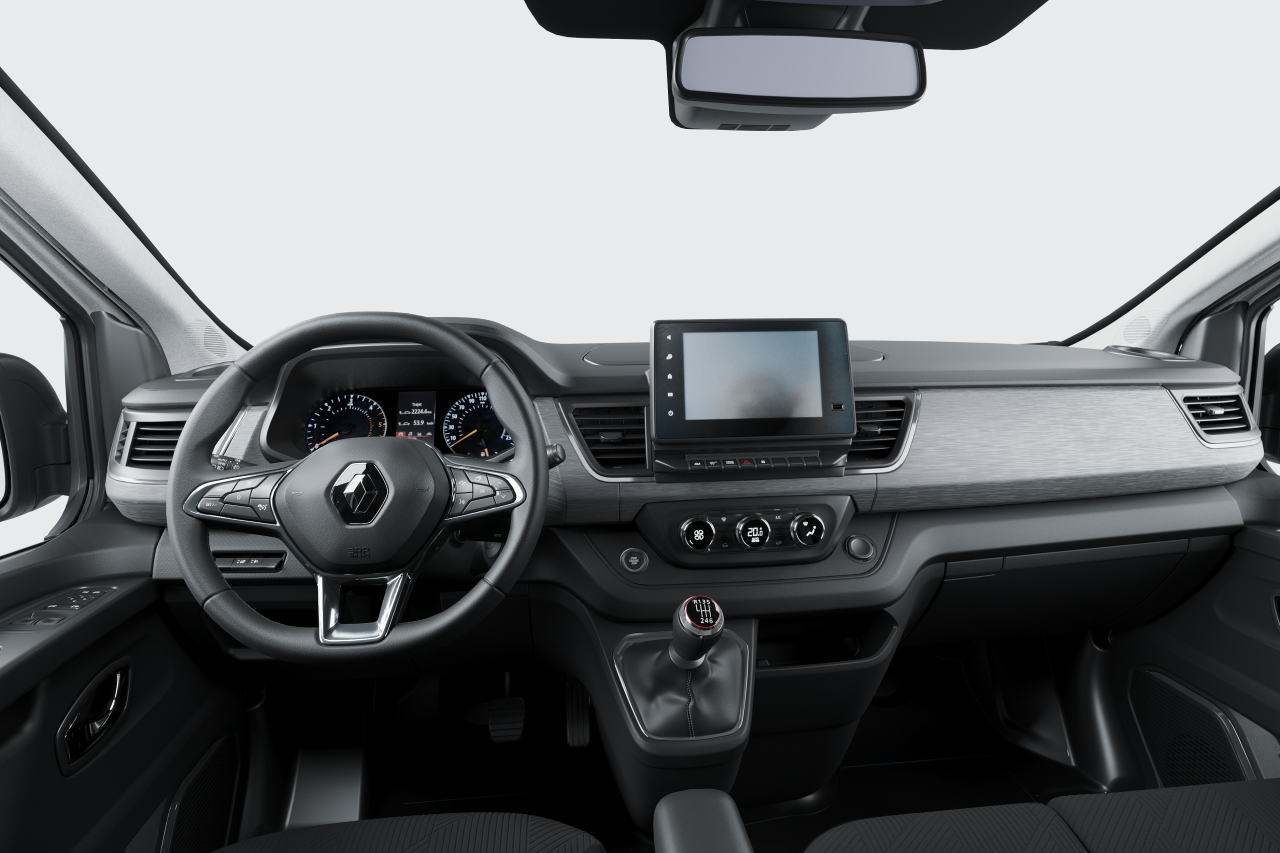 Renault Trucks breidt zijn gamma uit en brengt een nieuw voertuig op de markt, de Trafic Red Edition. Dit over-uitgeruste hulpprogramma is voornamelijk bedoeld voor professionals in de ambachten, of zelfs catering, en is volledig aanpasbaar.
Explosie van e-commerce en leveringen, toename van het gebruik van ambachtslieden voor woningverbetering, de trend is opwaarts voor de markt voor lichte bedrijfsvoertuigen in 2022. Zo kondigde Renault Trucks aan het begin van het jaar de marketing van een nieuw model aan: de Verkeersrode editie. Dit nieuwe hulpprogramma is het ideale werkinstrument voor ambachtslieden, handelaren of zelfs horecaprofessionals. De Renault Trucks Trafic Red Edition is beschikbaar in Frankrijk, België, Zwitserland, het Verenigd Koninkrijk en Ierland.
Strak design en assertieve Renault Trucks-identiteit
Dit nieuwe voertuig, dat op de markt wordt gebracht onder het Red Edition-zegel, een exclusief aanbod van Renault Trucks voor zijn LCV-gamma, heeft standaard zijn kenmerkende kenmerken:
Renault Trucks Trafic Red Edition heeft een chromen grille, een bumper in carrosseriekleur, een zijdeurrail en een lichtbalk die op dezelfde manier is geverfd, voor een harmonieus en assertief ontwerp. Scarlet details herinneren aan de identiteit van Renault Trucks: versnellingspookknop omcirkeld in rood, rode veiligheidsgordels. Ook de wielkern is in deze karakteristieke kleur gespoten. De Renault Trucks Trafic Red Edition is verkrijgbaar in acht kleuren: gletsjerwit, karmijnrood, magmarood, hooglandgrijs, komeetgrijs, stadsgrijs, middernachtzwart en cumulusblauw.
Ten slotte is de kenmerkende Renault Trucks-plaat aangebracht op de carrosserie van de Trafic Red Edition en zijn er extra grafische elementen voor het exterieur beschikbaar in de "Exclusive"-versie.
Een aanpasbare configuratie die zich aanpast aan de zakelijke vereisten
Of de Renault Trucks Trafic Red Edition nu wordt gebruikt voor het transport van materieel of als mobiele werkplaats, hij zal in staat zijn aan alle vereisten te voldoen die verband houden met de activiteit van professionals.
Om het laden en lossen te vergemakkelijken, is de Renault Trucks Trafic Red Edition optioneel uitgerust met een aluminium kofferbakdrempel en een plaatstalen scheidingswand met een lang laadluik, ideaal voor bijvoorbeeld kanalen of leidingen. De achterdeuren met panelen kunnen 270° worden geopend (met vergrendeling) en voor een beter zicht is de laadruimte uitgerust met led-verlichting.
Daarnaast beschikt de Trafic Red Edition standaard over een 12V-aansluiting achteraan en optioneel een achterklep, een ladderrek aan de binnenzijde en trekhaken, waardoor hij tot 2,5 ton kan trekken. Om voertuigconversies te vergemakkelijken, heeft de Renault Trucks Trafic Red Edition specifieke uitrustingen zoals een motoraftakas, een extra bedradingskast en een carrosserieaanpassingskast.
Het laadvermogen, met een nuttig volume tot 8,9 m3 voor een lading tot 1.300 kg, stelt vakmensen in staat om de uitrusting en gereedschappen te vervoeren die nodig zijn voor hun activiteit. De Trafic Red Edition is verkrijgbaar als bestelwagen (L1H1, L1H2, L2H1, L2H2), dubbele cabine (L1H1 en L2H1), vloercabine (L2) of combi (L1H1 en L2H1). De korte versie L1 (5m) maakt het mogelijk om op een standaard locatie in een stedelijk gebied te parkeren. Wat de lage versie betreft, biedt H1 (minder dan 2 m) toegang tot ondergrondse parkeergarages en profiteert u van tolheffingen van categorie 1.
Rijcomfort, mobiel kantoor en veiligheid
Het passagierscompartiment van de Renault Trucks Trafic Red Edition is ontworpen als een echt mobiel kantoor: het heeft een passagiersbank met neerklapbare rugleuning, waardoor een stabiele en functionele werktafel zichtbaar wordt. Het dashboard van geborsteld aluminium heeft een 4,2-inch kleurenscherm en een 8-inch touchscreen met smartphone-replicatie, evenals een inductielader. Het rijgedeelte bevat ook 88 liter opbergruimte.
De Renault Trucks Trafic Red Edition biedt vier motorvermogens (van 110 tot 170 pk) en profiteert van een optionele automatische versnellingsbak met dubbele koppeling voor meer rijcomfort.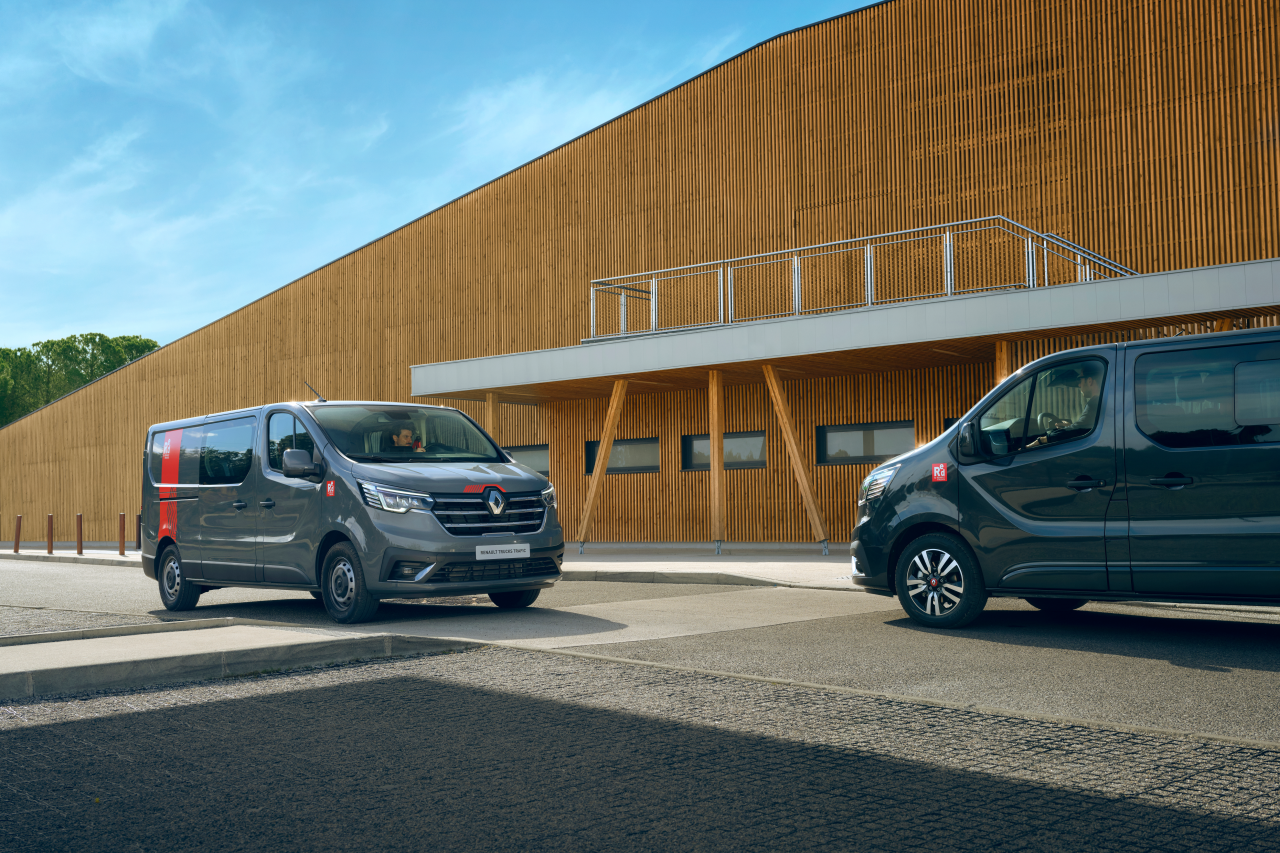 Voor een perfecte veiligheid van de chauffeur, zijn lading en weggebruikers profiteert de Trafic Red Edition van een brede voorruit en full-LED-koplampen. Het profiteert ook van standaard ESC, om de bestuurder te helpen de controle over het traject te behouden en te voorkomen dat het voertuig kantelt in kritieke situaties, voor- en achterradar, een waarschuwingssysteem voor het verlaten van de rijstrook, zijwindassistentie of dodehoekwaarschuwing. Ten slotte is hij standaard uitgerust met een versterkt gripsysteem (Extended Grip) waardoor hij zich op alle soorten terrein kan ontwikkelen.
De truckexpertise van Renault Trucks ten dienste van lichte bedrijfswagens
Renault Trucks stelt zijn expertise op het gebied van vrachtwagens en de dichtheid van zijn distributie- en reparatienetwerk (1.400 verkooppunten in Europa) ten dienste van zijn klanten voor lichte bedrijfsvoertuigen. De fabrikant wijdt ook ruimtes gewijd aan bedrijfsvoertuigen (Fast & Pro) in zijn dealers. Renault Trucks biedt snelle afspraken, ruime openingstijden (bijvoorbeeld op zaterdagochtend), goede beschikbaarheid van onderdelen en reparatie- en onderhoudswerkzaamheden uitgevoerd door deskundige en opgeleide monteurs.
De Renault Trucks Trafic Red Edition wordt geleverd met twee jaar garantie op onderdelen en arbeid en 24/7 pechhulp.
Ten slotte biedt Renault Trucks voor volledige gemoedsrust een tijdelijk "verpakt" introductieaanbod (tot eind 2022), inclusief het voertuig, het Start & Drive-onderhoudscontract, verzekering en financiering.
NJC.© Info RENAULT Trucks
-----------------------------------------------------------------------------------------------------------------------