Renault Trucks unveils the design of its electric T and C models

19/12/22-FR-English-NL-footer
Renault Trucks dévoile le design de ses modèles T et C électriques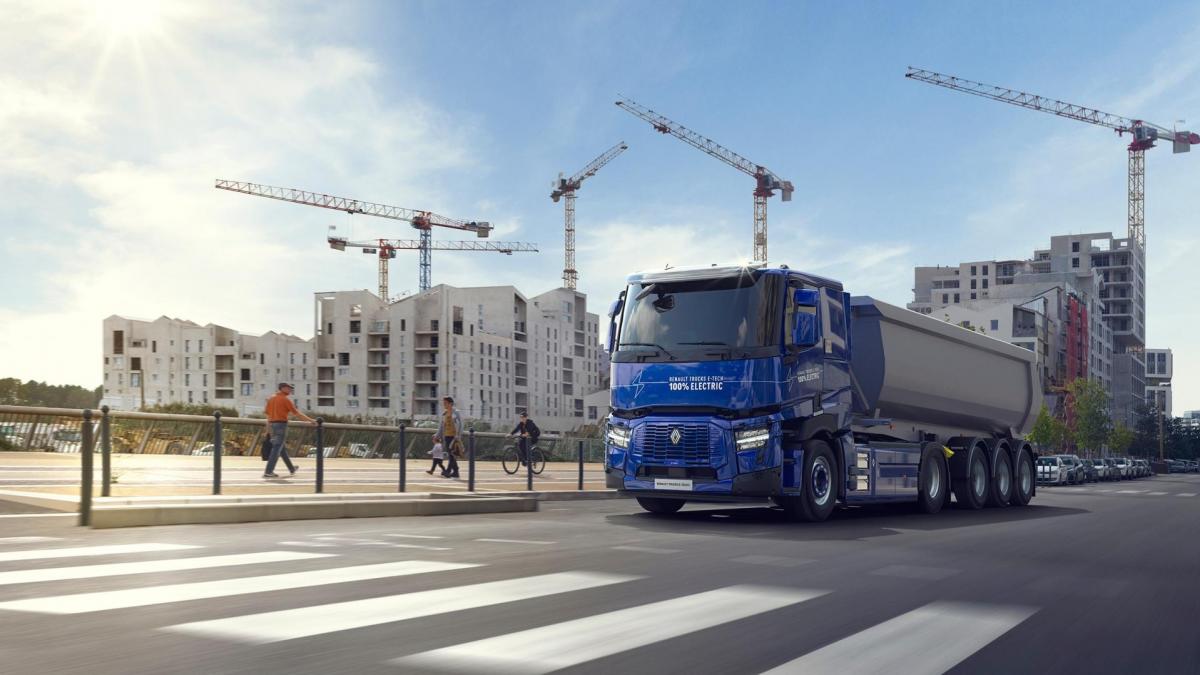 Image-RENAULT Trucks
Une évolution équilibrée et mesurée du design
Ces nouveaux modèles dédiés à la distribution régionale et à la construction affichent un design spécifique à
leur motorisation électrique, les designers de Renault Trucks ont apporté des modifications à la face avant,
tout en conservant une parfaite harmonie générale.
Les Renault Trucks E-Tech T et C reçoivent tout d'abord la signature graphique propre aux camions
électriques de la marque : enjoliveurs et bande verticale bleus sur les côtés du véhicule et badge Renault
Trucks E-Tech à l'avant. Ils sont également dotés d'une nouvelle plaque Emblem en plexiglass bleu.
Pour accroître la sécurité, l'avant des véhicules a été avancé de 115 mm et des radars ont été placés sur les
flancs. Le châssis est également équipé d'un marchepied escamotable qui permet de maximiser l'espace
dédié aux batteries.
S'agissant de la grille avant, totalement retravaillée, les designers de Renault Trucks ont puisé leur
inspiration dans l'univers de la musique électronique, puisque que son motif s'inspire de celui d'un
équaliseur. Pour renforcer cette sensation électromécanique, la face avant des véhicules est entièrement
peinte.
Enfin, les Renault Trucks E-Tech T et C arborent le nouveau logo de la marque, aux traits modernisés. Placé
sur la grille avant, le losange en aluminium brossé sur fond noir brillant confère modernité et sophistication
aux véhicules.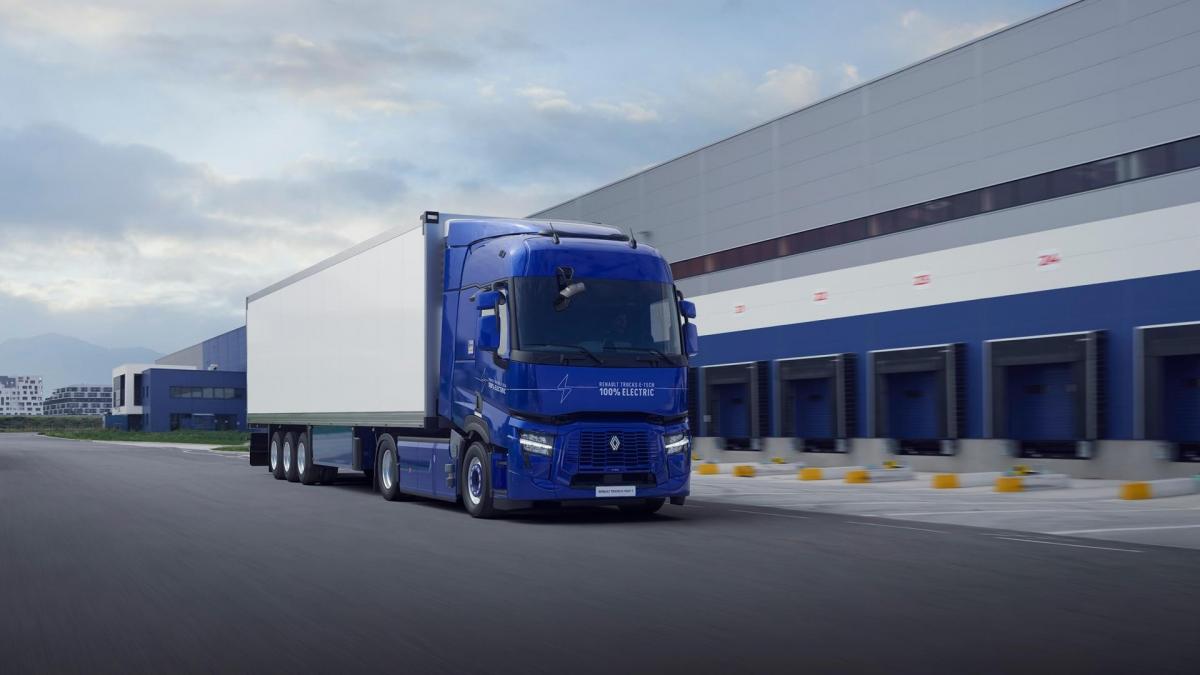 Image-RENAULT Trucks
Nouvelle identité visuelle : une marque moderne et engagée
Le changement d'identité visuelle de Renault Trucks, porté par un logo monochrome résolument moderne,
incarne l'accélération du constructeur et affirme son engagement en matière de décarbonation du
transport.
Renault Trucks est en effet déterminé à relever le défi climatique, en poursuivant le développement de
solutions de transport toujours plus propres, plus sûres et circulaires pour accompagner ses clients
dans leur parcours vers la neutralité carbone,
Les Renault Trucks E-Tech T et C sont disponibles en précommande auprès des filiales Renault
Trucks en Europe. Les transporteurs qui souhaitent acquérir un véhicule électrique de la gamme lourde
du constructeur peuvent d'ores et déjà réserver les premiers créneaux industriels. La production des
camions Renault Trucks E-Tech T et C débutera fin 2023 à Bourg-en-Bresse.
À propos de Renault Trucks
Renault Trucks, constructeur français de camions, fournit aux professionnels de la route depuis 1894,
des solutions de mobilité durable, de l'utilitaire léger au tracteur routier. Engagé dans la transition
énergétique, Renault Trucks propose des véhicules à la consommation de carburant maîtrisée et une
gamme complète de camions 100 % électriques, dont la durée d'exploitation est prolongée grâce à une
approche circulaire.
Renault Trucks fait partie du groupe Volvo, l'un des principaux constructeurs mondiaux de camions,
d'autocars et autobus, d'engins de chantier et de moteurs industriels et marins. Le groupe fournit
également des solutions complètes de financement et de service.
Chiffres clés :
9 450 salariés dans le monde
4 sites de production en France 54
000 véhicules vendus en 2021
1 400 points de vente et de services dans le monde
NJC.© Info RENAULT Trucks
-----------------------------------------------------------------------------------------------------------------------

19/12/22-English
Renault Trucks unveils the design of its electric T and C models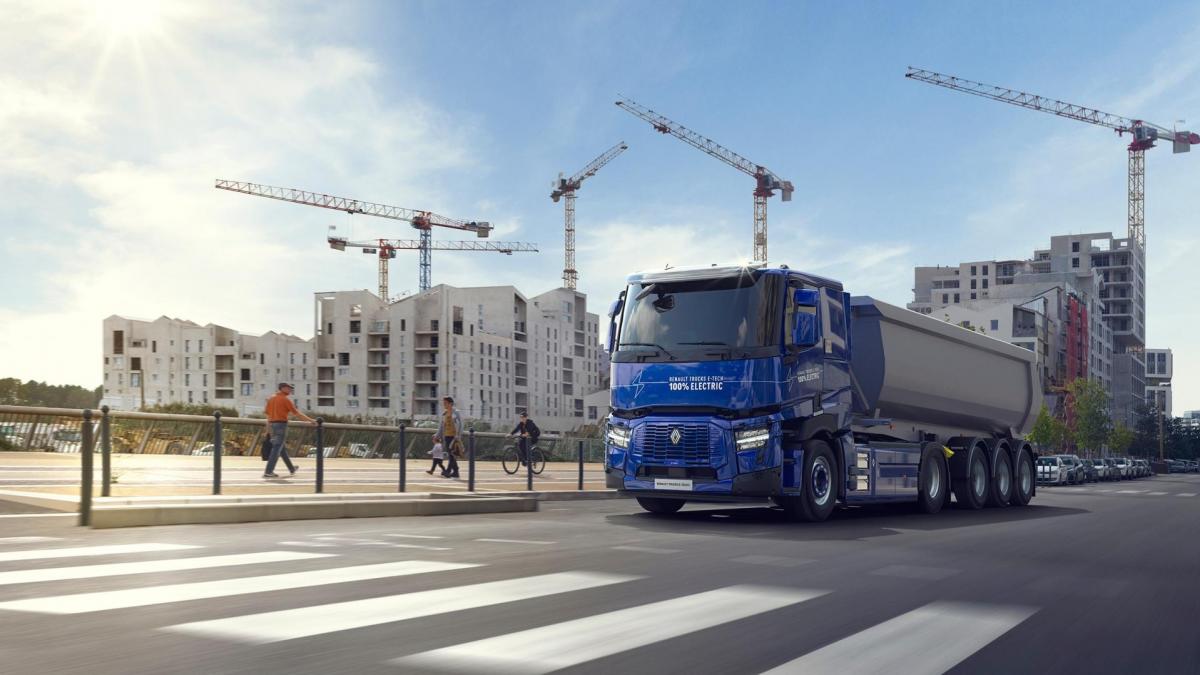 Image-RENAULT Trucks
A balanced and measured evolution of design
These new models dedicated to regional distribution and construction display a design specific to
their electric motorization, Renault Trucks designers have made modifications to the front end,
while maintaining a perfect general harmony.
The Renault Trucks E-Tech T and C first receive the graphic signature specific to trucks
brand electrics: blue hubcaps and vertical strip on the sides of the vehicle and Renault badge
E-Tech trucks at the front. They also feature a new Emblem plate in blue plexiglass.
To increase safety, the front of the vehicles has been moved forward by 115 mm and speed cameras have been placed on the
flanks. The chassis is also equipped with a retractable step to maximize space
dedicated to batteries.
With regard to the completely reworked front grille, the Renault Trucks designers drew their
inspiration in the world of electronic music, since its motif is inspired by that of a
equalizer. To reinforce this electromechanical sensation, the front of the vehicles is entirely
painted.
Lastly, the Renault Trucks E-Tech T and C sport the brand's new logo, with modernized lines. Square
on the front grille, the brushed aluminum diamond on a glossy black background gives modernity and sophistication
to vehicles.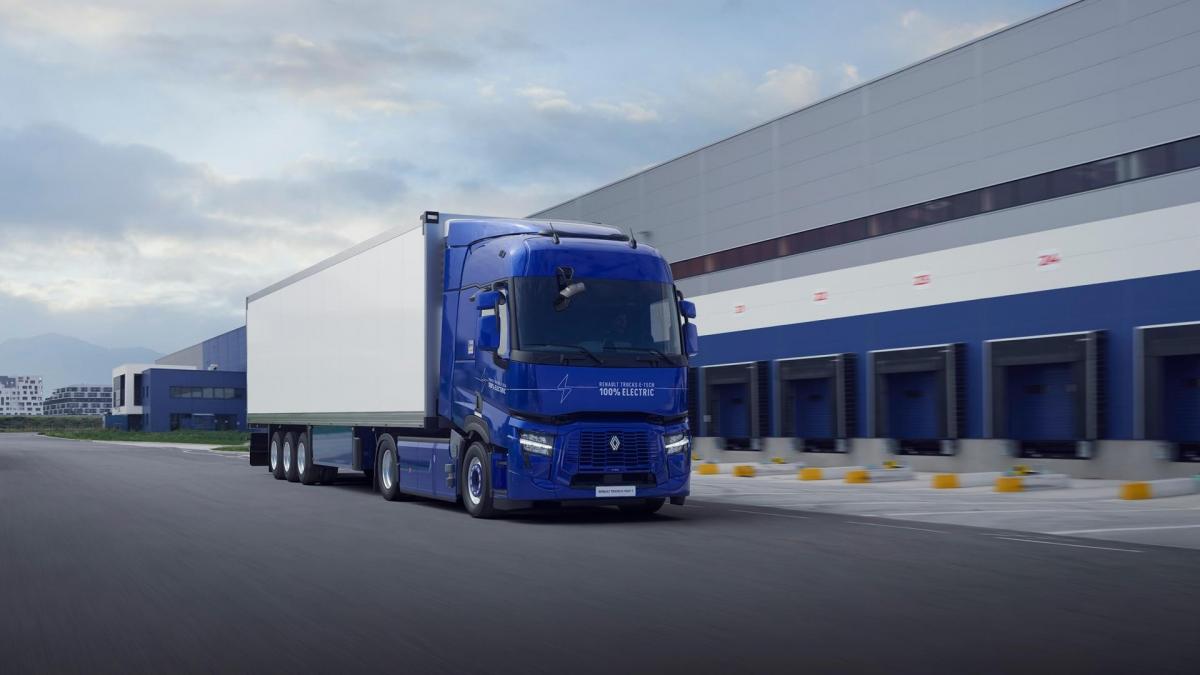 Image-RENAULT Trucks
New visual identity: a modern and committed brand
The change in visual identity of Renault Trucks, carried by a resolutely modern monochrome logo,
embodies the acceleration of the manufacturer and affirms its commitment to decarbonization of the
transportation.
Renault Trucks is determined to meet the climate challenge by continuing to develop
ever cleaner, safer and more circular transport solutions to support its customers
in their journey towards carbon neutrality,
The Renault Trucks E-Tech T and C are available for pre-order from Renault subsidiaries
Trucks in Europe. Carriers wishing to acquire a heavy-duty electric vehicle
of the manufacturer can already reserve the first industrial slots. The production of
Renault Trucks E-Tech T and C trucks will begin at the end of 2023 in Bourg-en-Bresse.
About Renault Trucks
Renault Trucks, a French truck manufacturer, has been supplying road professionals since 1894 with
sustainable mobility solutions, from light commercial vehicles to road tractors. Committed to the transition
energy, Renault Trucks offers vehicles with controlled fuel consumption and a
complete range of 100% electric trucks, whose operating life is extended thanks to a
circular approach.
Renault Trucks is part of the Volvo group, one of the world's leading truck manufacturers,
coaches and buses, construction machinery and industrial and marine engines. The group provides
also complete financing and service solutions.
Key figures:
9,450 employees worldwide
4 production sites in France 54
000 vehicles sold in 2021
1,400 sales and service outlets worldwide
NJC.© Info RENAULT Trucks
-------------------------------------------------------------------------------------------------------------------

19/12/22-NL
Renault Trucks begrijpt het ontwerp van zijn elektrische T- en C- modellering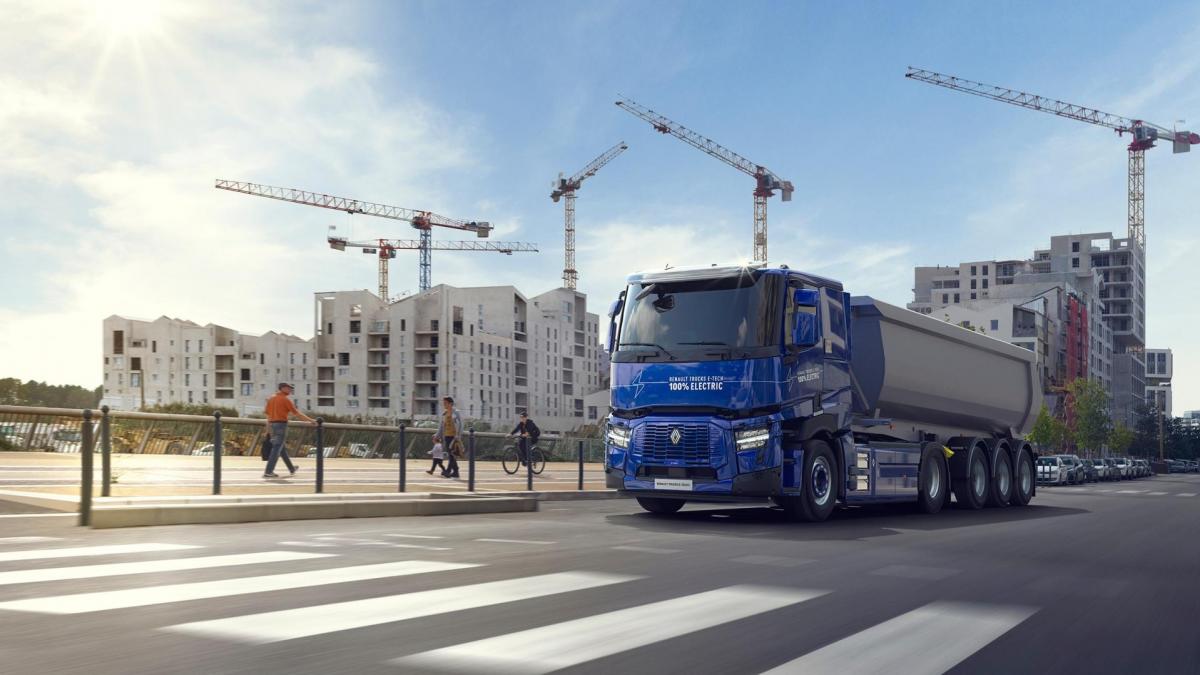 Image-RENAULT Trucks
Renault Trucks ontdekt de modellen van zijn 100% elektrisch heavy-duty gamma. Van Renault
Trucks E-Tech T en C, die als eerste het nieuwe merklogo van de fabrikant dragen, zullen vanaf
2023 in serie geproduceerd in de fabriek van Renault Trucks in Bourg-en-Bresse. Ze
zijn nu al beschikbaar in voorbestelling.
Met de komst van zijn volledig 100% elektrische gamma schakelt Renault Trucks een versnelling hoger
om het goederenvervoer over de weg koolstofvrij te maken. Voortaan biedt Renault Trucks als enige
constructor elektrische mobiliteit voor alle toepassingen: van een bakfiets van 650 kg voor stadslogistiek
tot een elektrische trekker en pleinwagen van 44 ton, waarvan het ontwerp vandaag is onthuld.
Een beperkte en afgemeten evolutie in design
Deze nieuwe modellen voor regionale distributie en bouw hebben een ontwerp dat specifiek is voor hun
elektrische aandrijving. De ontwerpers van Renault Trucks hebben aanpassingen aan de voorkant
zonder tussentijd te raken aan de perfecte algemene harmonie.
De Renault Trucks E-Tech T en C krijgen in de eerste plaats de grafische handtekening die eigen is aan de
elektrische loswagens van het merk: blauwe sierwieldoppen en verticale strook op de maximale afstand van het
voertuig en Renault Trucks E-Tech-logo vooraan. Ze zijn ook voorzien van een nieuwe embleemplaat in
blauw plexiglas.
Om de veiligheid te verhogen werd de voorkant van de voertuigen 115 mm naar voren geschoven en
werden er radars op de flanken geplaatst. Het chassis is ook uitgerust met een wegklapbare treeplank die
Maximale batterijruimte.
Wat het volledig herwerkte radiatorrooster betreft, haalden de ontwerpers van Renault Trucks hun inspiratie
uit de wereld van de elektronische muziek; het is gebaseerd op een equalizer. Om zegt
elektromechanische gevoel te ondersteunen, is de voorzijde van de voertuigen volledig gelakt.
Tot slot dragen van Renault Trucks E-Tech T en C het nieuwe merklogo met gemoderniseerde lijnen. nacht
in geborsteld aluminium op een glanzende zwarte achtergrond op de radiatorrooster geeft de voertuigen een
modern in gedetailleerde uitstraling.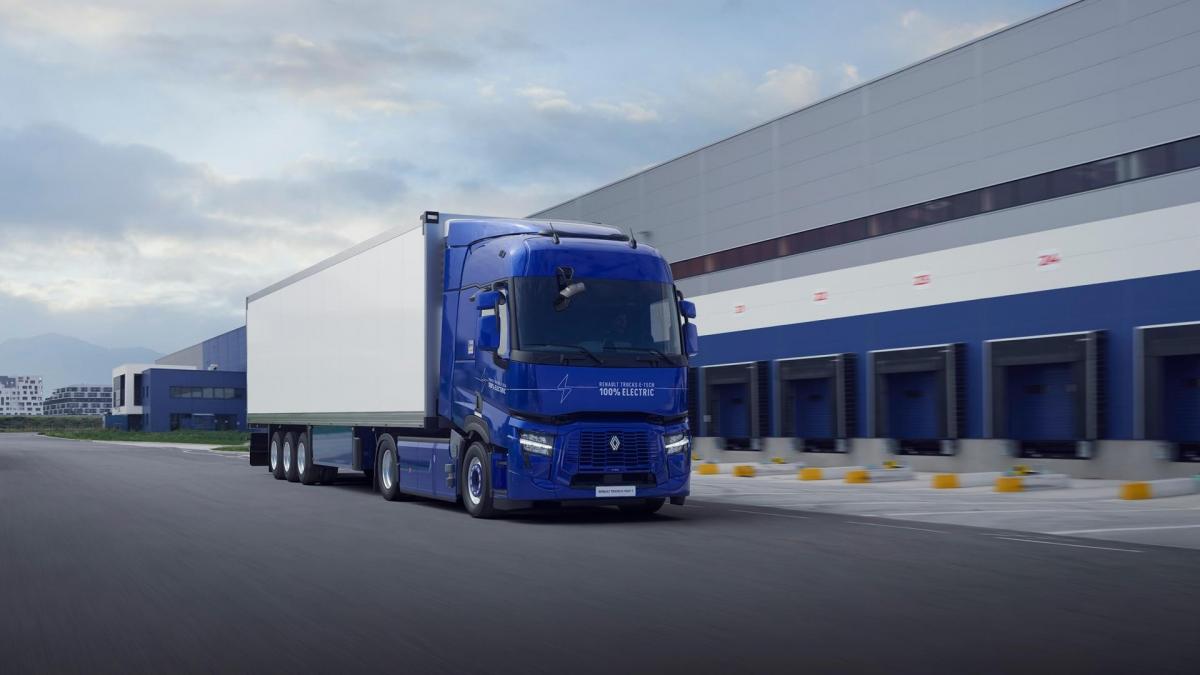 Image-RENAULT Trucks
Nieuwe visuele identiteit: een moderne en betrokken fabrikant
De verandering van de visuele identiteit van Renault Trucks, belichaamd door een resoluut modern
Bijgevoegd logo, de versnelling en de voortgang van de fabrikant om het transport
koolstofvrij te maken.
Renault Trucks is ondergedompeld in vastbesloten om de klimaatuitdaging om door rossenre te gaan,
circulaire transportoplossingen te ontwikkelen om zijn klanten te begeleiden in hun
traject naar koolstofneutraliteit.
De Renault Trucks E-Tech T en C zijn nu al te bestellen bij de dealervestigingen van Renault Trucks in
Europa. Dragers die een elektrisch voertuig uit het zware gamma willen aanschaffen, kunnen nu al
de eerste productieplaatsen reserveren. De productie van de Renault Trucks E-Tech T en C start eind
2023 in Bourg-en-Bresse, Frankrijk.
Over Renault Trucks
Renault Trucks, de Franseclearhtwagenfabrikant, levert al sinds 1894 transportoplossingen aan
professionals, van lichte bedrijfswagens tot zware trekkers. Renault Trucks zet zich in voor
energietransitie en biedt brandstofzuinige voertuigen en een compleet gamma van 100% elektrisch
bulkwagens, waarvan de levensduur wordt verlengd door middel van een circulaire economie.
Renault Trucks maakt deel uit van de Volvo Group, een van 's werelds grootste vergelijkingen van
bulkwagens, bussen, bouwmaterieel en industriële en scheepsmotoren. De groep levert ook
complete financierings- en serviceoplossingen.
Kerncijfers:
9.450 werknemers wereldwijd
4 productielocaties in Frankrijk
1.400 verkoop- en servicepunten wereldwijd
54.000 verkochte voertuigen in 2021
NJC.© Info RENAULT Trucks
-------------------------------------------------------------------------------------------------------------
Date de dernière mise à jour : 19/12/2022