Rokbak RA30 and RA40 Articulated Haulers to featured at Hillhead 2022
27/05/22-FR-English-NL-footer
Les tombereaux articulés Rokbak RA30 et RA40 étais présentés à Hillhead 2022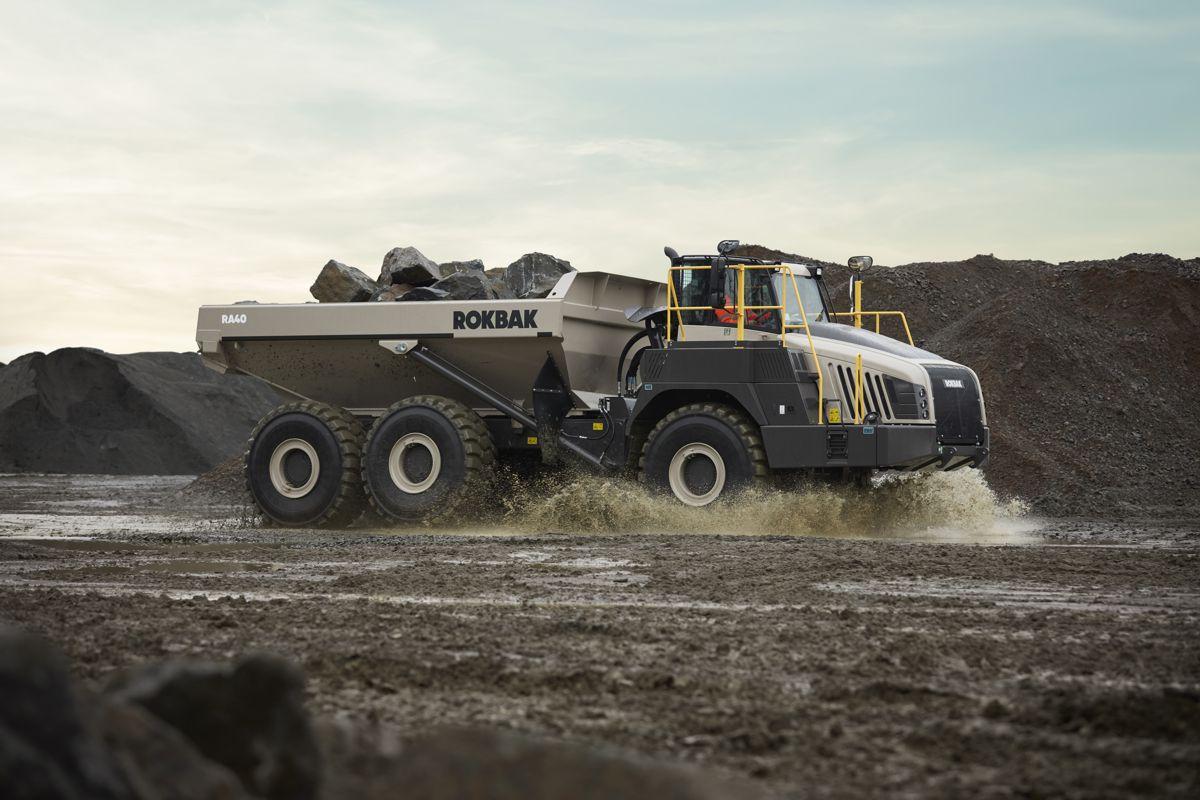 Rokbak avais impressionner au salon Hillhead cette année avec ses tombereaux articulés RA30 et RA40 étais exposés du 21 au 23 juin. Le RA40 sera sur le stand de Rokbak au N14, tandis que le RA30 étais présenté au stand J3 du Groupe Molson.
Il y avais également un tombereau articulé Rokbak dans la zone de démonstration de travail.
Les visiteurs de l'événement de trois jours pouvais se rapprocher des machines, en voir une en action et parler aux experts de Rokbak et du Groupe Molson à leurs stands respectifs. Le groupe Molson est le plus grand revendeur indépendant d'équipements neufs et d'occasion du Royaume-Uni.
Il est devenu un revendeur Rokbak vers la fin de 2019. Sur le stand Rokbak, il y aura de nombreuses opportunités de photos, y compris se faire prendre en photo pendant que vous soulevez une barre Rokbak sur mesure - ce n'est pas aussi lourd que vous ne le pensez !
Production rentable de Rokbak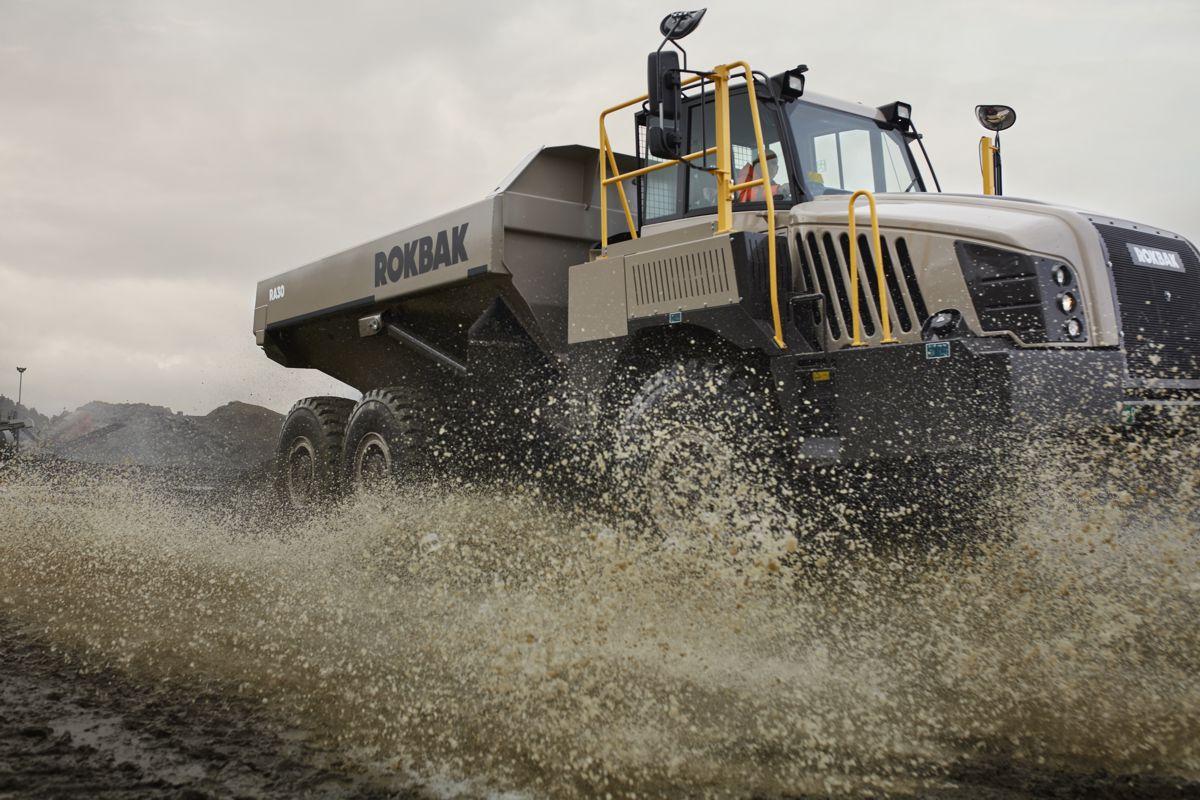 « Les tombereaux articulés Rokbak RA30 et RA40 établissent de nouvelles références en matière de durabilité, de productivité et d'économie de carburant. Nous sommes donc fiers de pouvoir montrer aux foules de Hillhead de quoi ces machines sont capables », déclare Paul Douglas, directeur général de Rokbak.
Tombereaux articulés robustes et fiables
Les tombereaux articulés Rokbak sont connus pour être robustes, fiables, faciles à utiliser et faciles à entretenir. Le RA40 de 38 tonnes (41,9 tonnes US) est un tombereau articulé robuste qui facilite les travaux à grande échelle dans les carrières, les mines et la construction. Offrant une capacité et des performances élevées, le RA40 offre une productivité rentable dans les conditions les plus difficiles.
Le moteur haute performance équilibre la puissance contrôlée avec une efficacité énergétique maximale. Le ralentisseur de transmission modulant est associé à un frein sur échappement efficace et à des freins multidisques refroidis par huile entièrement fermés pour un contrôle total, même sur des pentes abruptes.
Le tombereau articulé RA30 de 28 tonnes (30,9 tonnes US) est conçu pour les travaux les plus difficiles et les sites les plus difficiles, des carrières et des développements d'infrastructures aux projets de construction commerciale. Avec une véritable suspension avant indépendante de série, il offre plus de contrôle et de confort aux opérateurs. La nouvelle transmission et le moteur hautes performances du RA30 améliorent le rendement énergétique, le confort de l'opérateur et fournissent de la puissance lorsque vous en avez besoin.
Pour le marché européen, les deux machines sont équipées du dernier moteur conforme aux normes d'émissions EU Stage V, offrant jusqu'à 7% d'amélioration de l'efficacité énergétique par rapport aux anciens moteurs EU Stage IV.
Hillhead 2022 avais lieu à Hillhead Quarry près de Buxton, au Royaume-Uni. Il à attirer plus de 20 000 visiteurs et environ 600 exposants.
NJC.© Infos Rokbak
---------------------------------------------------------------------------------------------------------------------
27/05/22-English
The Rokbak RA30 and RA40 articulated dumpers were presented at Hillhead 2022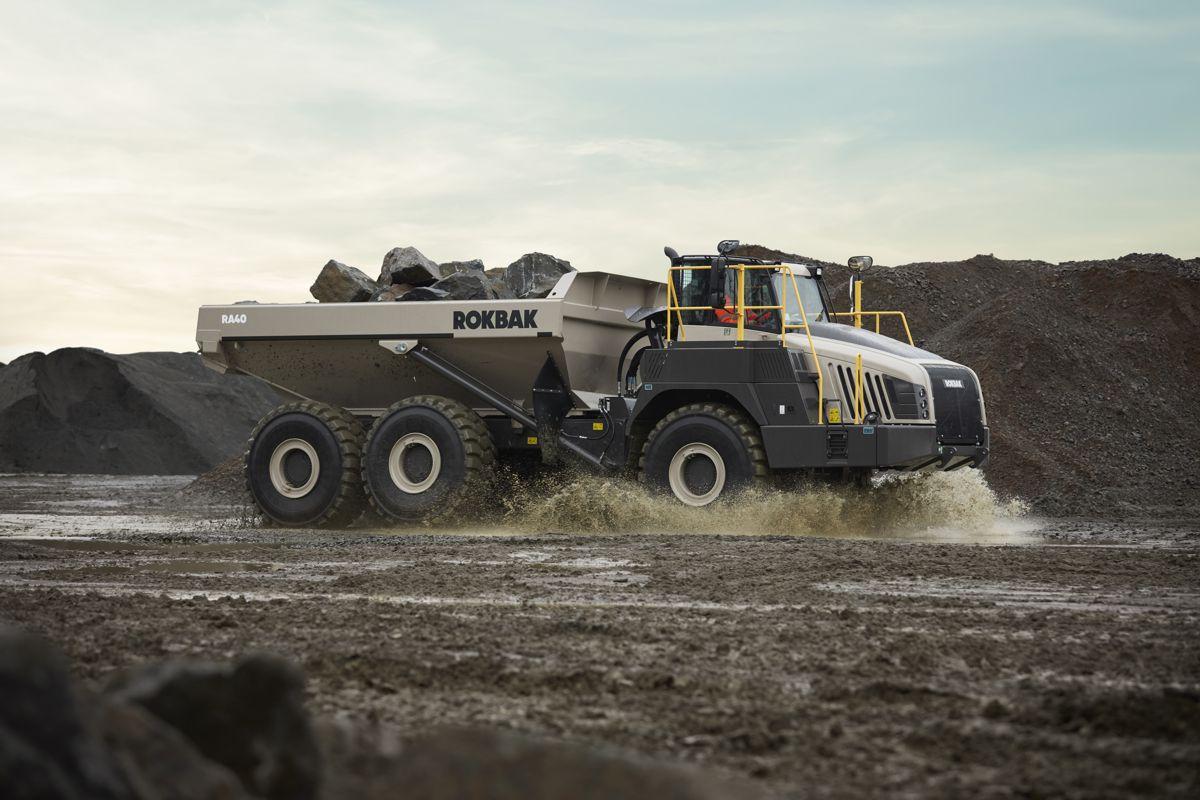 Rokbak impressed at Hillhead this year with its RA30 and RA40 articulated dump trucks on display June 21-23. The RA40 will be on the Rokbak stand at N14, while the RA30 was presented at the Molson Group stand J3.
There was also a Rokbak articulated dumper in the working demonstration area.
Visitors to the three-day event could get up close to the machines, see one in action and talk to experts from Rokbak and the Molson Group at their respective booths. The Molson Group is the UK's largest independent dealer of new and used equipment.
He became a Rokbak dealer towards the end of 2019. At the Rokbak stand there will be plenty of photo opportunities, including having your photo taken while lifting a custom made Rokbak bar - it's not as heavy than you think!
Profitable production of Rokbak
"The Rokbak RA30 and RA40 articulated dump trucks set new benchmarks for durability, productivity and fuel economy. So we're proud to be able to show the crowds of Hillhead what these machines are capable of," says Paul Douglas, Managing Director of Rokbak.
Tough and Reliable Articulated Dump Trucks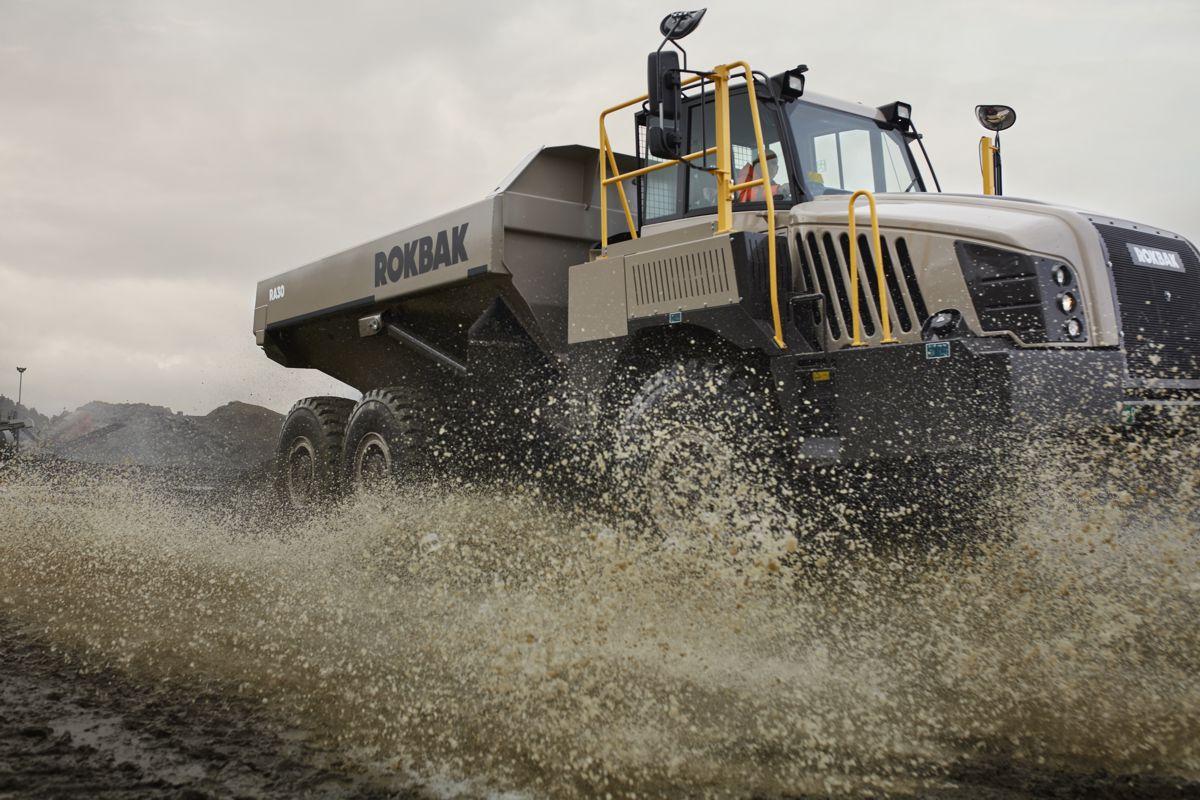 Rokbak Articulated Dump Trucks are known for being tough, reliable, easy to operate and easy to maintain. The 38 tonne (41.9 US tonne) RA40 is a rugged articulated hauler that facilitates large-scale work in quarrying, mining and construction. Offering high capacity and performance, the RA40 delivers cost-effective productivity in the toughest conditions.
The high-performance motor balances controlled power with maximum fuel efficiency. The modulating transmission retarder is combined with an effective exhaust brake and fully enclosed oil-cooled multi-disc brakes for total control, even on steep inclines.
The 28 tonne (30.9 US ton) RA30 articulated hauler is built for the toughest jobs and toughest sites, from quarries and infrastructure developments to commercial construction projects. With true independent front suspension as standard, it offers more control and comfort for operators. The RA30's new high-performance transmission and engine improve fuel efficiency, operator comfort and deliver power when you need it.
For the European market, both machines feature the latest EU Stage V emissions compliant engine, offering up to 7% improvement in fuel efficiency over older EU Stage IV engines.
Hillhead 2022 took place at Hillhead Quarry near Buxton, UK. It attracted more than 20,000 visitors and around 600 exhibitors.
NJC.© Info Rokbak
-------------------------------------------------------------------------------------------------------------------------
27/05/22-NL
De Rokbak RA30 en RA40 knikdumpers werden gepresenteerd op Hillhead 2022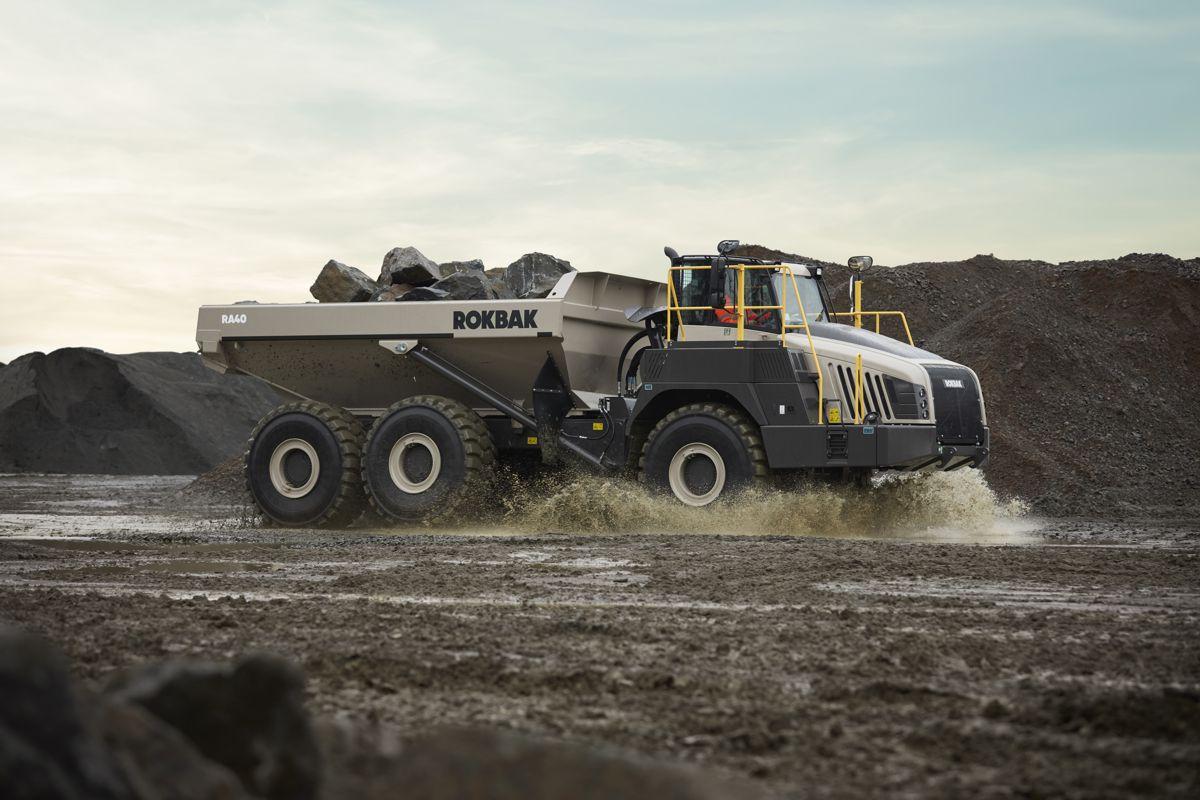 Rokbak maakte dit jaar indruk op Hillhead met zijn RA30 en RA40 gelede dumptrucks die te zien waren van 21-23 juni. De RA40 zal te zien zijn op de Rokbak-stand op N14, terwijl de RA30 werd gepresenteerd op de Molson Group-stand J3.
Ook stond er een Rokbak knikdumper in de werkende demonstratieruimte.
Bezoekers van het driedaagse evenement konden dicht bij de machines komen, er een in actie zien en praten met experts van Rokbak en de Molson Group op hun respectievelijke stands. De Molson Group is de grootste onafhankelijke dealer van nieuwe en gebruikte apparatuur in het VK.
Eind 2019 werd hij Rokbak-dealer. Op de Rokbak-stand zijn er tal van fotomomenten, waaronder je foto laten maken terwijl je een op maat gemaakte Rokbak-bar optilt - het is niet zo zwaar dan je denkt!
Winstgevende productie van Rokbak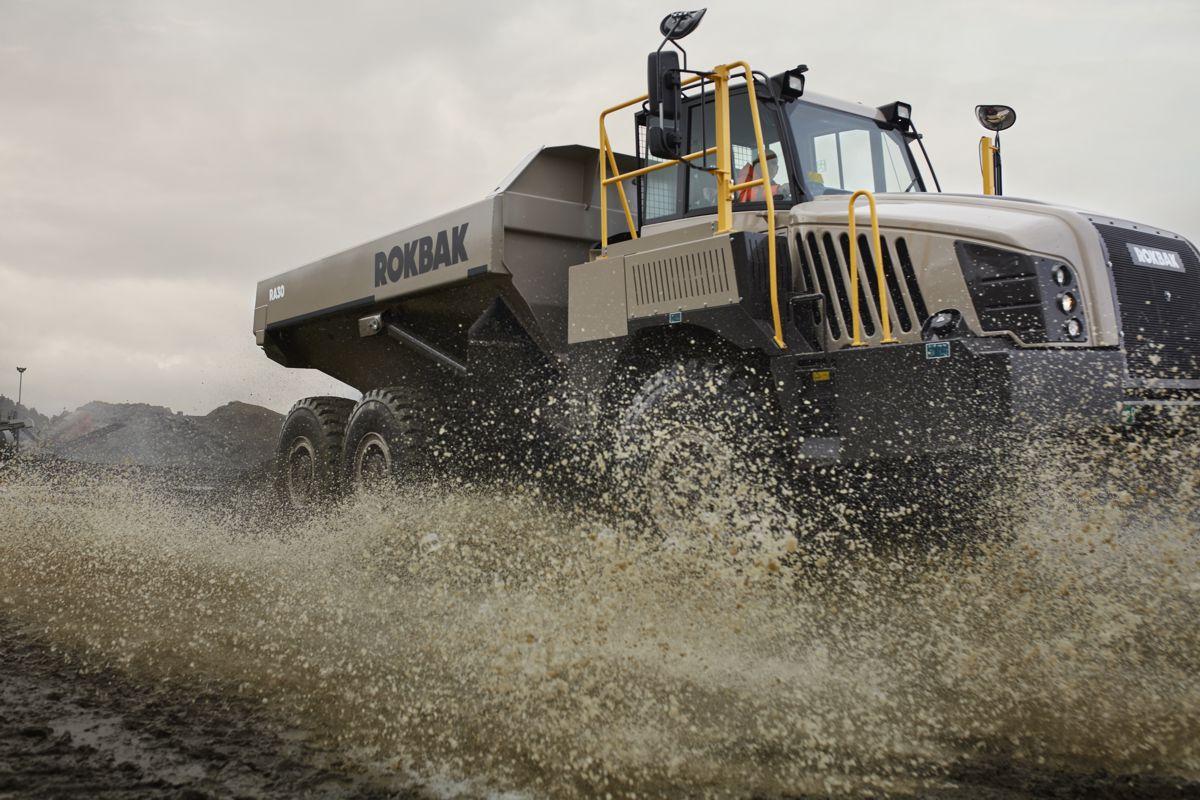 "De Rokbak RA30 en RA40 knikdumpers stellen nieuwe maatstaven voor duurzaamheid, productiviteit en brandstofverbruik. We zijn er dan ook trots op dat we de mensenmassa's van Hillhead kunnen laten zien waartoe deze machines in staat zijn", zegt Paul Douglas, Managing Director van Rokbak.
Robuuste en betrouwbare knikdumpers
Rokbak knikgestuurde dumptrucks staan ​​bekend als robuust, betrouwbaar, eenvoudig te bedienen en gemakkelijk te onderhouden. De RA40 van 38 ton (41,9 US ton) is een robuuste knikdumper die grootschalige werkzaamheden in steengroeven, mijnbouw en constructie mogelijk maakt. De RA40 biedt hoge capaciteit en prestaties en levert een kosteneffectieve productiviteit onder de zwaarste omstandigheden.
De krachtige motor balanceert gecontroleerd vermogen met maximale brandstofefficiëntie. De modulerende transmissieretarder wordt gecombineerd met een effectieve uitlaatrem en volledig gesloten oliegekoelde meerschijfremmen voor totale controle, zelfs op steile hellingen.
De RA30 knikdumper van 28 ton (30,9 US ton) is gebouwd voor de zwaarste klussen en zwaarste locaties, van steengroeven en infrastructuurontwikkelingen tot commerciële bouwprojecten. Met standaard onafhankelijke voorwielophanging biedt hij de machinist meer controle en comfort. De nieuwe high-performance transmissie en motor van de RA30 verbeteren het brandstofverbruik, het comfort voor de machinist en leveren vermogen wanneer u dat nodig hebt.
Voor de Europese markt zijn beide machines uitgerust met de nieuwste motor die voldoet aan de EU Stage V-emissies, waardoor het brandstofverbruik tot 7% ​​is verbeterd ten opzichte van oudere EU Stage IV-motoren.
Hillhead 2022 vond plaats in Hillhead Quarry bij Buxton, VK. Het trok meer dan 20.000 bezoekers en ongeveer 600 exposanten.
NJC.© Info Rokbak
------------------------------------------------------------------------------------------------------------------