SENNEBOGEN-4 t telehandler for recycling industry – 340 G
09.11/22-FR-English-NL-footer
Chariot télescopique SENNEBOGEN-4 t pour l'industrie du recyclage - 340 G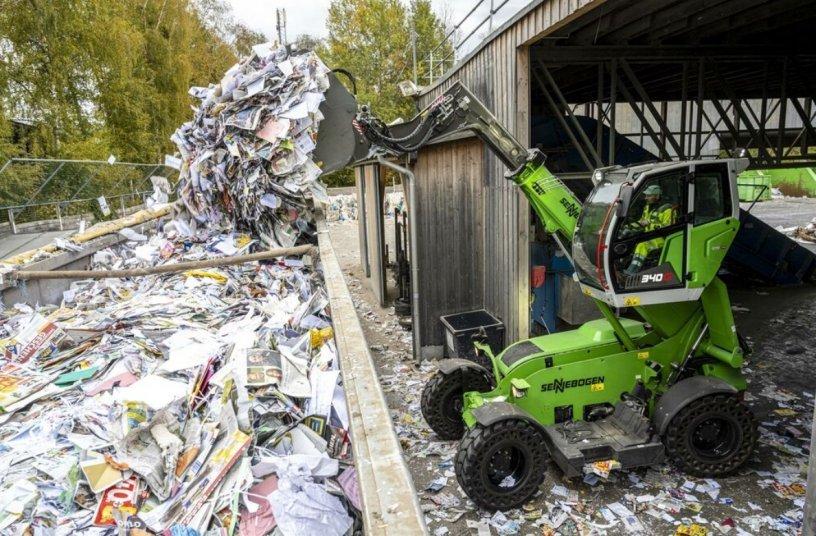 The viewing height of up to 4.10 m allows the operator optimal visibility in the loading process.
IMAGE SOURCE: SENNEBOGEN
Développé pour être utilisé comme chariot télescopique et machine multifonction puissante, le 340 G a été ajouté à la gamme SENNEBOGEN Multi au printemps 2022. La nouvelle machine de 4 tonnes impressionne par sa conception robuste et la cabine confort élévatrice standard, en particulier pour les tâches difficiles dans l'industrie du recyclage.
Publicité
Conçu pour répondre aux exigences de la manutention de matériaux difficiles, le 340 G est avant tout robuste et performant. Un châssis en acier solide et une conception de flèche télescopique bien pensée garantissent la fiabilité et la durabilité dans un fonctionnement continu exigeant. La combinaison de dimensions compactes de la machine, d'une capacité de charge de 4 t, d'une hauteur de gerbage de 7,70 m et d'un empattement remarquablement long de 3,10 m, qui garantit la stabilité dans toutes les situations, font du chariot télescopique un véritable polyvalent dans les usines de recyclage, les usines de compostage, les municipalités et l'industrie.
Un chariot télescopique pas comme les autres : les avantages de la puissance SML
Le tout nouveau chariot télescopique SENNEBOGEN combine les avantages de la technologie des chariots télescopiques et des chargeuses sur pneus en une seule machine. Ce concept unique est résumé dans le terme de puissance SML. La puissance SML est synonyme de la meilleure transmission de puissance et du couple de démarrage maximal grâce à la cinématique Z. De plus, il y a la puissante transmission, qui permet des forces de traction et des vitesses de conduite élevées, ainsi que la polyvalence multifonctionnelle, car le puissant système hydraulique permet le fonctionnement de nombreux accessoires. Le ventilateur réversible installé en standard assure une entrée d'air optimale même dans les endroits poussiéreux et donc la meilleure puissance de refroidissement et les meilleures performances en fonctionnement continu difficile.
L'unique argument de vente : la cabine élévatrice
Le concept unique de la machine est complété par la cabine Multicab élévatrice confortable, qui est installée de série sur la 340 G. De grandes surfaces vitrées offrent une vue panoramique à 360°, et l'élévation de la cabine peut également être contrôlée de manière variable et confortable à l'aide de pédales dans le taxi. Avec une hauteur des yeux allant jusqu'à 4,10 m, l'opérateur peut profiter d'une visibilité optimale pendant le processus de chargement, avec une bonne vue sur la flèche ainsi qu'une vue directe d'en haut sur les camions et les conteneurs.
Bien entendu, la nouvelle Multicab offre également le confort de l'opérateur - soutenu par des éléments de commande résonnants disposés de manière ergonomique et le siège confort à suspension pneumatique, ainsi qu'une protection contre les bruits excessifs et les vibrations de mouvement, l'opérateur peut se concentrer sur l'essentiel. Le système de climatisation standard assure un lieu de travail agréable toute l'année.
Flexible et multifonctionnel en mode rue et en mode chargement
Le 340 G montre qu'il est flexible dans plus que des modes de travail. En mode route, le chariot télescopique peut atteindre des vitesses allant jusqu'à 40 km/h en entraînement à déplacement variable avec son moteur diesel moderne Stage V de 100 kW. En mode chariot élévateur, il s'avère particulièrement maniable, travaille de manière plus sensible et plus économe en énergie, tandis qu'en mode chargement il mobilise toutes les réserves de puissance pour charger et transporter de manière optimale les marchandises en vrac.
De plus, la machine est généralement configurable individuellement et peut être spécialisée pour les exigences de l'industrie, de la manutention exigeante, du recyclage, des usines de biogaz ou des entrepreneurs. Avec le changeur rapide hydraulique SENNEBOGEN, une grande variété d'équipements peuvent être changés en appuyant sur un bouton, et il est également facile de les équiper de remorques.
NJC.© Info SENNEBOGEN
-------------------------------------------------------------------------------------------------------------------
09/11/22-English
SENNEBOGEN-4 t telehandler for recycling industry – 340 G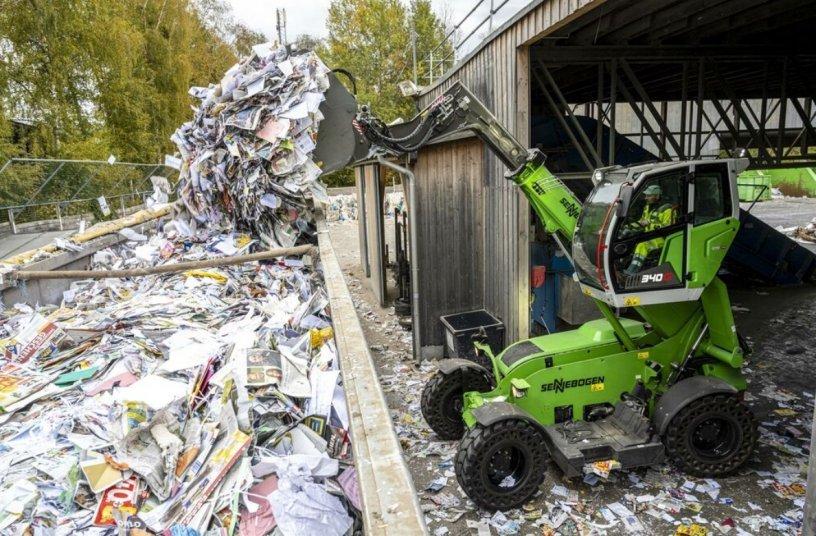 The viewing height of up to 4.10 m allows the operator optimal visibility in the loading process.
IMAGE SOURCE: SENNEBOGEN
Developed for use as a telehandler and powerful multi-function machine, the 340 G was added to the SENNEBOGEN Multi Line in spring 2022. The new 4-ton machine impresses with its robust design and the standard elevating comfort cab, especially for challenging tasks in the recycling industry.
Advertisement
Built to meet the demands of tough material handling, the 340 G is, above all else, robust and high-performing. A solid steel frame and a well-thought-out telescopic boom design ensure reliability and durability in demanding continuous operation. The combination of compact machine dimensions, 4 t load capacity, a stacking height of 7.70 m and a remarkably long wheelbase of 3.10 m, which guarantees stability in every situation, make the telehandler a true all-rounder in recycling plants, composting plants, municipalities and industry.
A telehandler like no other: The advantages of SML power
The completely newly developed SENNEBOGEN telehandler combines the advantages of telescopic handler and wheel loader technology in one machine. This unique concept is summarized in the term SML power. SML power stands for the best power transmission and maximum breakaway torque thanks to Z kinematics. In addition, there is the powerful drive train, which enables high tractive forces and driving speeds, as well as the multifunctional versatility, as the powerful hydraulics enable the operation of numerous attachments. The reversible fan installed as standard ensures optimal air intake even in dusty locations and thus the best cooling output and performance in hard continuous operation.
The unique selling point: The elevating cab
The unique machine concept is rounded off by the elevating comfort Multicab, which is installed as standard in the 340 G. Generous glass surfaces provide a 360° all-round view, and the cab elevation can also be controlled variably and conveniently via foot pedals in the cab. With an eye level of up to 4.10 m, the operator can enjoy optimum visibility in the loading process, with a good view over the boom as well as a direct view from above into the trucks and containers.
Of course, the new Multicab also offers operator comfort – supported by ergonomically arranged, resonant control elements and the air-sprung comfort seat, as well as protection against excessive noise and movement vibrations, the operator can concentrate on the essentials. The standard air-conditioning system ensures a pleasant workplace all year round.
Flexible and multifunctional in street mode and in loading mode
The 340 G shows it is flexible in more than just working modes. In street mode, the telehandler can reach speeds of up to 40 km/h in variable travel drive with its modern 100 kW Stage V diesel engine. In forklift mode, it proves to be particularly maneuverable, works more sensitively and more energy-efficiently, while in loading mode it mobilizes all power reserves in order to optimally load and transport bulk goods.
In addition, the machine is generally individually configurable and can be specialized for the requirements of industry, demanding material handling, recycling, biogas plants or contractors. With the SENNEBOGEN hydraulic quick-changer, a wide variety of equipment can be changed at the push of a button, and it is also easy to equip them with trailers.
NJC.© Info SENNEBOGEN
---------------------------------------------------------------------------------------------------------------------
09/11/22-NL
SENNEBOGEN-4 t verreiker voor recyclingindustrie – 340 G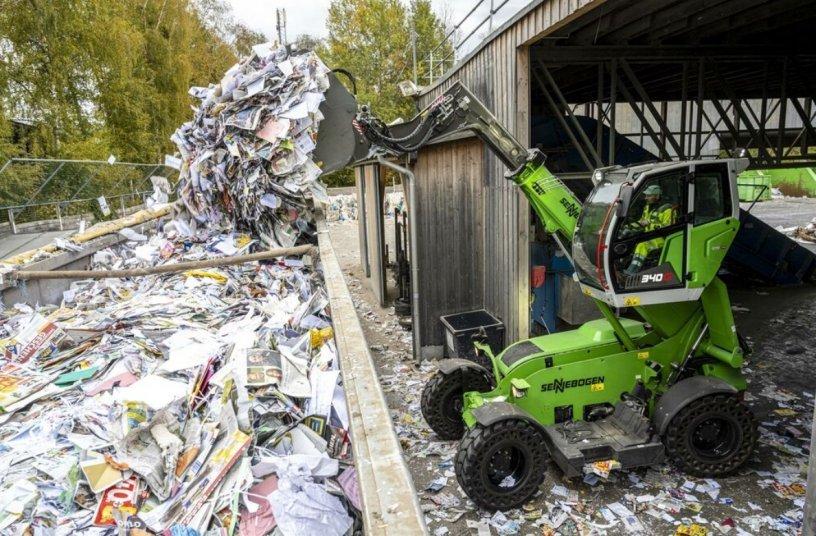 The viewing height of up to 4.10 m allows the operator optimal visibility in the loading process.
IMAGE SOURCE: SENNEBOGEN
Ontwikkeld voor gebruik als verreiker en krachtige multifunctionele machine, werd de 340 G in het voorjaar van 2022 toegevoegd aan de SENNEBOGEN Multi Line. De nieuwe 4-tons machine maakt indruk met zijn robuuste ontwerp en de standaard heffende comfortcabine, vooral voor uitdagende taken de recyclingindustrie.
Advertentie
Gebouwd om te voldoen aan de eisen van zware materiaalbehandeling, is de 340 G bovenal robuust en goed presterend. Een solide stalen frame en een goed doordacht ontwerp van de telescopische giek zorgen voor betrouwbaarheid en duurzaamheid bij veeleisend continu gebruik. De combinatie van compacte machineafmetingen, 4 t laadvermogen, een stapelhoogte van 7,70 m en een opmerkelijk lange wielbasis van 3,10 m, die stabiliteit in elke situatie garandeert, maken de verreiker tot een echte allrounder in recyclingbedrijven, composteerinstallaties, gemeenten en industrie.
Een verreiker als geen ander: de voordelen van SML power
De volledig nieuw ontwikkelde SENNEBOGEN verreiker combineert de voordelen van verreiker- en wielladertechnologie in één machine. Dit unieke concept is samengevat in de term SML power. SML power staat voor de beste krachtoverbrenging en maximaal losbreekkoppel dankzij Z-kinematica. Daarnaast is er de krachtige aandrijflijn, die hoge trekkrachten en rijsnelheden mogelijk maakt, evenals de multifunctionele veelzijdigheid, aangezien de krachtige hydrauliek de bediening van talrijke aanbouwdelen mogelijk maakt. De standaard geïnstalleerde omkeerbare ventilator zorgt voor een optimale luchtaanzuiging, zelfs op stoffige locaties en dus voor de beste koelcapaciteit en prestaties bij hard continu gebruik.
Het unique selling point: de hefcabine
Het unieke machineconcept wordt gecompleteerd door de verhoogde comfort Multicab, die standaard is geïnstalleerd in de 340 G. Royale glasoppervlakken zorgen voor een 360° zicht rondom en de cabineverhoging kan ook variabel en comfortabel worden geregeld via voetpedalen in de taxi. Met een ooghoogte tot 4,10 m geniet de machinist optimaal zicht tijdens het laadproces, met goed zicht over de giek en direct zicht van bovenaf in de vrachtwagens en containers.
Natuurlijk biedt de nieuwe Multicab ook bestuurderscomfort – ondersteund door ergonomisch geplaatste, resonerende bedieningselementen en de luchtgeveerde comfortstoel, evenals bescherming tegen overmatig geluid en bewegingstrillingen, kan de bestuurder zich concentreren op de essentie. De standaard airconditioning zorgt het hele jaar door voor een prettige werkplek.
Flexibel en multifunctioneel in straatmodus en in laadmodus
De 340 G laat zien dat hij flexibel is in meer dan alleen werkmodi. In de straatmodus kan de verreiker snelheden tot 40 km/u bereiken in variabele rijaandrijving met zijn moderne 100 kW Stage V-dieselmotor. In de heftruckmodus blijkt hij bijzonder wendbaar, gevoeliger en energiezuiniger, terwijl hij in de laadmodus alle krachtreserves mobiliseert om bulkgoederen optimaal te laden en te transporteren.
Bovendien is de machine over het algemeen individueel configureerbaar en kan deze worden gespecialiseerd voor de eisen van de industrie, veeleisende materiaalbehandeling, recycling, biogasinstallaties of aannemers. Met de hydraulische snelwisselaar van SENNEBOGEN kan met een druk op de knop een grote verscheidenheid aan uitrustingen worden gewisseld en is het ook eenvoudig om ze uit te rusten met aanhangers.
NJC.© Info SENNEBOGEN
----------------------------------------------------------------------------------------------------------------
Date de dernière mise à jour : 09/11/2022