SENNEBOGEN-BAUMA2022-New 320-ton material handler for demanding port handling: the SENNEBOGEN 885 G
20/10/22-FR-English-NL-footer
SENNEBOGEN-BAUMA2022-Nouvelle pelle de manutention de 320 tonnes pour la manutention portuaire exigeante : la SENNEBOGEN 885 G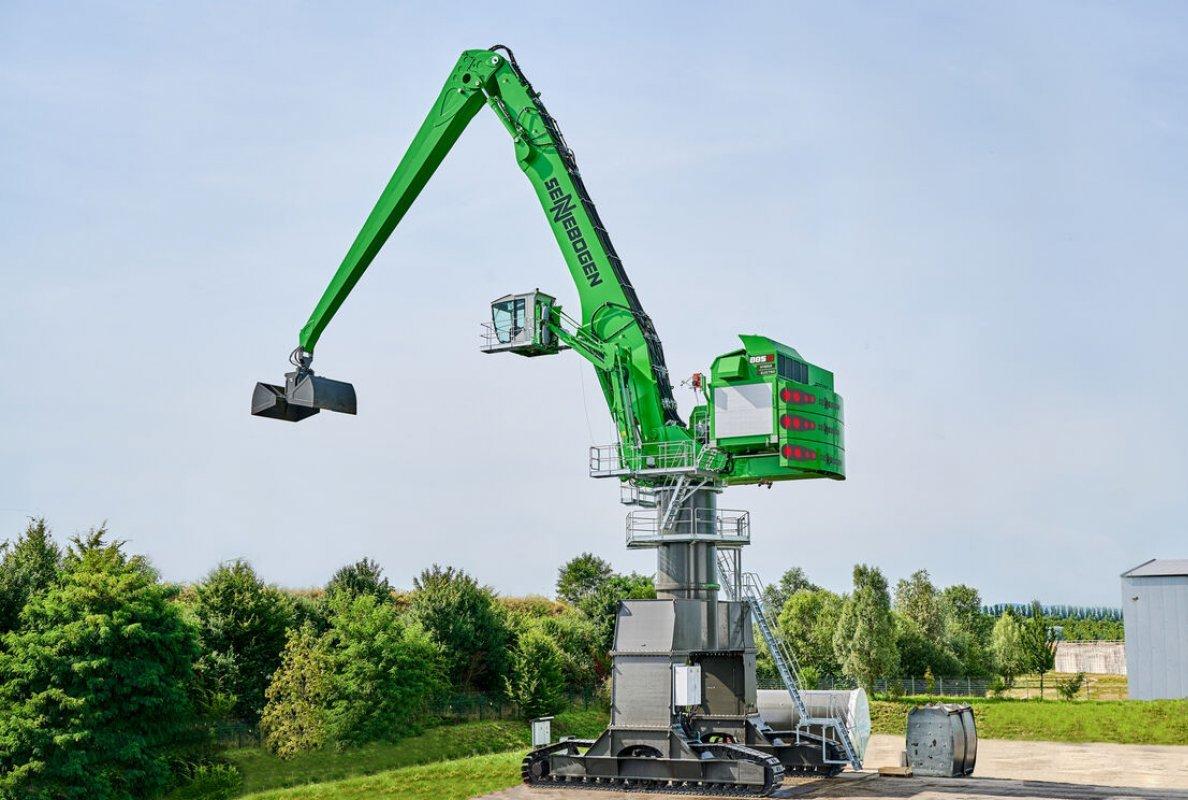 The SENNEBOGEN 885G has a reach of up to 38 m and can be used for all tasks in demanding port handling. IMAGE SOURCE: SENNEBOGEN Maschinenfabrik GmbH
Au bauma 2022, SENNEBOGEN présentera la plus grande pelle de manutention jamais exposée à un bauma : la série 885 G. Le géant de la manutention portuaire impressionne avec un poids opérationnel d'environ 320 tonnes et une portée allant jusqu'à 38 m. C'est une machine aux dimensions impressionnantes et à la pointe de la technologie pour le port.
Avec la nouvelle pelle de manutention portuaire, qui sera présentée au public à bauma, SENNEBOGEN ajoute une autre grande pelle de manutention à son portefeuille qui, avec son poids opérationnel d'environ 320 tonnes, sera principalement utilisée dans le segment portuaire.
Capacité de charge environ 30 % supérieure
Le 885G s'intègre parfaitement dans l'écart entre le 875E existant et le plus grand manutentionnaire de matériaux au monde, le 895E, et répond ainsi à la taille croissante des navires, en particulier dans les ports intérieurs. Par rapport à ses concurrents, la machine SENNEBOGEN a en moyenne des capacités de charge supérieures d'environ 30 %. Non seulement le 885G fonctionne avec les plus hauts niveaux de précision et de vitesse, mais il est également particulièrement efficace et économique.
Nombreuses options d'équipement
Grâce à la variété d'équipements typiques de SENNEBOGEN, la machine peut être configurée individuellement selon les exigences respectives du client et utilisée pour toutes les activités de manutention portuaire. Par exemple, il existe un choix de cinq variantes d'équipement différentes avec des portées allant de 24 à 38 m, et le changement rapide sur le bras et le puissant système hydraulique permettent d'utiliser de manière flexible une grande variété d'accessoires. De plus, il est parfaitement adapté à une utilisation lourde de marchandises générales et peut gérer à la fois des ascenseurs de conteneurs lourds et des ascenseurs dans la gamme lourde jusqu'à 50 tonnes.
Réduction des coûts d'exploitation avec des performances de manutention supérieures
En tant que développement de la dernière génération de machines, la série G, une attention particulière a également été accordée à l'efficacité énergétique et au confort de l'opérateur dans le 885G. Non seulement la conception sophistiquée de la machine elle-même économise les ressources, mais la nouvelle pelle de manutention est également équipée du système de récupération SENNEBOGEN Green Hybrid de renommée mondiale, qui a déjà été établi avec succès pour les pelles de manutention d'un poids opérationnel de 47 t ou plus. Cette méthode de récupération innovante fonctionne non seulement de manière extrêmement fiable et sûre, mais permet également d'économiser jusqu'à 30 % des coûts d'exploitation. La machine est également disponible avec un entraînement diesel et électrique à économie d'énergie.
Les faibles coûts d'exploitation vont de pair avec la capacité de manutention élevée pouvant atteindre 1 800 t par heure. Cela réduit considérablement le temps d'attente des navires dans le port et a un effet positif sur les chiffres de l'opérateur portuaire. Une construction en acier robuste et une technologie maniable et conviviale avec des composants d'entraînement et de commande de haute qualité garantissent également des performances constantes à long terme et une disponibilité maximale. Le grappin automatique de pointe Safety Boom Lift protège l'équipement, la coque du navire et les zones portuaires, par exemple, au moyen du levage automatique lors de la fermeture du grappin.
Le nouveau Portcab SENNEBOGEN : le meilleur poste de travail du port
Le Portcab de grande capacité entièrement retravaillé offre la meilleure visibilité et le meilleur confort. De généreuses fenêtres avant et au sol en verre de sécurité permettent une vue optimale sur la coque du navire. De plus, des caméras, dont l'image est affichée sur un grand écran de 10,2" dans la cabine, aident à surveiller les zones dangereuses. Une nouvelle conception de chauffage/climatisation avec un total de 14 buses d'air réparties dans toute la cabine avec de l'air frais et de l'air recyclé garantit une température et des conditions d'air optimales dans la cabine.La conception optimisée de la cabine est complétée par des accoudoirs et des repose-pieds faciles à régler, des zones de stockage et de rangement pratiques ainsi qu'un siège de conduite ergonomiquement sophistiqué, qui favorise la concentration de l'opérateur.
Il est également particulièrement stable et sûr en hauteur. Une variété d'élévations de cabine Skylift réglables de manière flexible amènent l'opérateur à une hauteur de vue allant jusqu'à 22 m. Un système sophistiqué de marches, de montées et de garde-corps facilite l'accès à la cabine et aux points de maintenance de la tourelle et sécurise soigneusement la montée et la descente.
A voir au bauma 2022
Découvrez le géant portuaire SENNEBOGEN 885 G en direct du 24 au 31 octobre sur le stand SENNEBOGEN sur le site en plein air FM.712, Messe München.
NJC. Informations SENNEBOGEN Maschinenfabrik GmbH
---------------------------------------------------------------------------------------------------------------------
20/10/22-English
SENNEBOGEN-BAUMA2022-New 320-ton material handler for demanding port handling: the SENNEBOGEN 885 G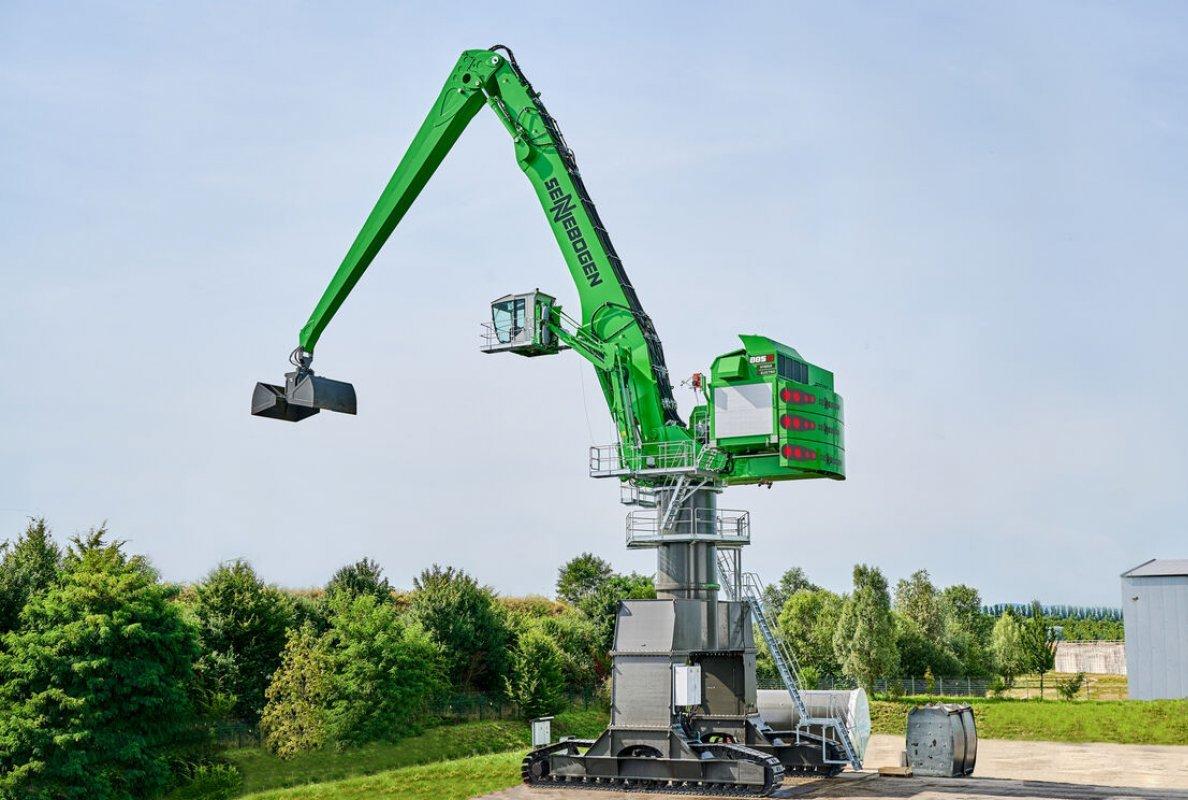 The SENNEBOGEN 885G has a reach of up to 38 m and can be used for all tasks in demanding port handling. IMAGE SOURCE: SENNEBOGEN Maschinenfabrik GmbH
At bauma 2022, SENNEBOGEN will be presenting the largest material handler ever exhibited at a bauma: the 885 G series. The port material handling giant impresses with an operating weight of around 320 tons and a reach of up to 38 m. It is a machine with impressive dimensions and state-of-the-art technology for the port.
With the new port material handler, which will be presented to the public at bauma, SENNEBOGEN is adding another large material handler to its portfolio, which, with its operating weight of around 320 tons, will be used primarily in the port segment.
Around 30 % higher load capacity
The 885G fits perfectly into the gap between the existing 875E and the world's largest material handler, the 895E, and thus caters for the increasing size of ships, especially at inland ports. Compared to its competitors, the SENNEBOGEN machine has an average of around 30% higher load capacities. Not only does the 885G work with the highest levels of precision and speed, but it is also particularly efficient and economical.
Numerous equipment options
Thanks to the variety of equipment typical of SENNEBOGEN, the machine can be individually configured according to the respective customer requirements and used for all port handling activities. For example, there is a choice of five different equipment variants with reaches ranging from 24 to 38 m, and the quick-changer on the stick and the powerful hydraulics allow a wide variety of attachments to be operated flexibly. In addition, it is ideally suited for heavy-duty general cargo use and can handle both heavy container lifts and lifts in the heavy-duty range up to 50 tons.
Lower operating costs with higher handling performance
As a further development of the latest generation of machines, the G series, special attention has also been paid to energy efficiency and operator comfort in the 885G. Not only is the sophisticated machine design itself resource-saving, the new material handler is also equipped with the globally renowned SENNEBOGEN Green Hybrid recuperation system, which has already been successfully established for material handlers with an operating weight of 47 t or more. This innovative recuperation method not only works extremely reliably and safely, but also saves up to 30% in operating costs. The machine is also available with both diesel and energy-saving electric drive.
The low operating costs go hand in hand with the high handling capacity of up to 1,800 t per hour. This significantly reduces the waiting time of ships in the port and in turn has a positive effect on the port operator's figures. A robust steel construction and manageable and service-friendly technology with high-quality drive and control components also ensure long-term consistent performance and maximum availability. The state-of-the-art Safety Boom Lift automatic grab protects equipment, the ship hull and port areas, for example, by means of the automatic lift when closing the grab.
The new SENNEBOGEN Portcab: the best work place in the port
The completely reworked large-capacity Portcab offers the best all-round visibility and comfort. Generous front and floor windows made of safety glass allow an optimum view into the ship's hull. In addition, cameras, whose image is shown on a large 10.2" monitor in the cabin, assist in monitoring hazardous areas. A new heating/air-conditioning design with a total of 14 air nozzles distributed throughout the cab with fresh air and recirculated air filter ensures optimum temperature and air conditions in the cab. The optimized cab design is rounded off with easy-to-adjust armrests and footrests, practical storage and stowage areas as well as an ergonomically sophisticated operator's seat, which promotes operator concentration.
It is also particularly stable and safe at heights. A variety of flexibly adjustable Skylift cab elevations bring the operator to a viewing height of up to 22 m. A sophisticated system of steps, ascents and railings make it easy to access to the cab and maintenance points on the uppercarriage and carefully secure the ascent and descent.
To be seen at bauma 2022
See the SENNEBOGEN 885 G port giant live from 24 October to 31 October at the SENNEBOGEN booth at the FM.712 open-air site, Messe München.
NJC. Info SENNEBOGEN Maschinenfabrik GmbH
-------------------------------------------------------------------------------------------------------------------
20/10/22-NL
SENNEBOGEN-BAUMA2022-Nieuwe overslagkraan van 320 ton voor veeleisende havenbehandeling: de SENNEBOGEN 885 G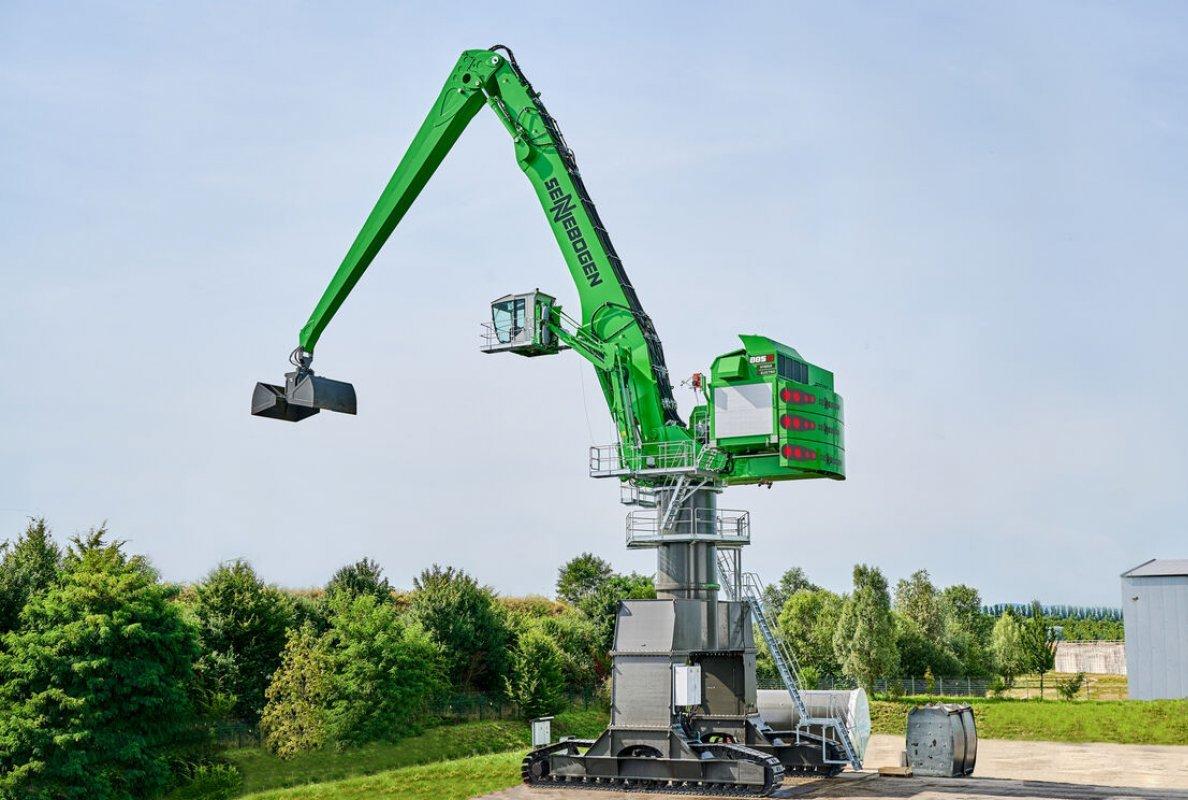 The SENNEBOGEN 885G has a reach of up to 38 m and can be used for all tasks in demanding port handling. IMAGE SOURCE: SENNEBOGEN Maschinenfabrik GmbH
Op bauma 2022 presenteert SENNEBOGEN de grootste overslagkraan die ooit op een bauma is tentoongesteld: de 885 G-serie. De havenoverslaggigant maakt indruk met een bedrijfsgewicht van ongeveer 320 ton en een reikwijdte tot 38 m. Het is een machine met indrukwekkende afmetingen en state-of-the-art technologie voor de haven.
Met de nieuwe portoverslag, die op de bauma aan het publiek zal worden gepresenteerd, voegt SENNEBOGEN nog een grote overslagkraan toe aan haar portfolio, die met een bedrijfsgewicht van circa 320 ton vooral in het havensegment zal worden ingezet.
Ongeveer 30% hoger laadvermogen
De 885G past perfect in het gat tussen de bestaande 875E en 's werelds grootste material handler, de 895E, en komt daarmee tegemoet aan de toenemende omvang van schepen, vooral in binnenhavens. In vergelijking met zijn concurrenten heeft de SENNEBOGEN-machine gemiddeld zo'n 30% hogere laadcapaciteiten. De 885G werkt niet alleen met de hoogste precisie en snelheid, maar is ook bijzonder efficiënt en zuinig.
Talrijke uitrustingsopties
Dankzij de verscheidenheid aan apparatuur die typerend is voor SENNEBOGEN, kan de machine individueel worden geconfigureerd volgens de respectievelijke eisen van de klant en worden gebruikt voor alle havenbehandelingsactiviteiten. Zo is er keuze uit vijf verschillende uitrustingsvarianten met reikwijdtes van 24 tot 38 m, en dankzij de snelwisselaar op de stick en de krachtige hydrauliek kan een grote verscheidenheid aan aanbouwdelen flexibel worden bediend. Bovendien is het bij uitstek geschikt voor zwaar stukgoedgebruik en kan het zowel zware containerliften als liften in het zware bereik tot 50 ton aan.
Lagere bedrijfskosten met hogere handlingprestaties
Als verdere ontwikkeling van de nieuwste generatie machines, de G-serie, is er bij de 885G ook speciale aandacht besteed aan energie-efficiëntie en bestuurderscomfort. Niet alleen is het uitgekiende machineontwerp zelf middelenbesparend, de nieuwe overslagmachine is ook uitgerust met het wereldwijd bekende recuperatiesysteem SENNEBOGEN Green Hybrid, dat al met succes is ingevoerd voor overslagmachines met een bedrijfsgewicht van 47 t of meer. Deze innovatieve recuperatiemethode werkt niet alleen uiterst betrouwbaar en veilig, maar bespaart ook tot 30% aan bedrijfskosten. De machine is ook leverbaar met zowel diesel- als energiebesparende elektrische aandrijving.
De lage bedrijfskosten gaan hand in hand met de hoge verwerkingscapaciteit tot 1.800 t per uur. Dit vermindert de wachttijd van schepen in de haven aanzienlijk en heeft een positief effect op de cijfers van de havenexploitant. Een robuuste staalconstructie en beheersbare en servicevriendelijke technologie met hoogwaardige aandrijf- en besturingscomponenten zorgen ook voor langdurige consistente prestaties en maximale beschikbaarheid. De state-of-the-art Safety Boom Lift automatische grijper beschermt bijvoorbeeld materieel, de scheepsromp en havengebieden door middel van de automatische lift bij het sluiten van de grijper.
De nieuwe SENNEBOGEN Portcab: de beste werkplek in de haven
De volledig herwerkte Portcab met grote capaciteit biedt het beste zicht en comfort rondom. Royale voor- en vloerramen van veiligheidsglas zorgen voor een optimaal zicht in de scheepsromp. Bovendien helpen camera's, waarvan het beeld wordt weergegeven op een grote 10,2"-monitor in de cabine, bij het bewaken van gevaarlijke gebieden. Een nieuw ontwerp voor verwarming/airconditioning met in totaal 14 luchtsproeiers verdeeld over de cabine met verse lucht en gerecirculeerde lucht filter zorgt voor optimale temperatuur en luchtcondities in de cabine.Het geoptimaliseerde cabine-design wordt afgerond met eenvoudig te verstellen arm- en voetsteunen, praktische opberg- en opbergruimtes en een ergonomisch geavanceerde bestuurdersstoel, die de concentratie van de machinist bevordert.
Hij is ook bijzonder stabiel en veilig op hoogte. Een verscheidenheid aan flexibel instelbare Skylift-cabineverhogingen brengen de machinist op een kijkhoogte van maximaal 22 m. Een uitgekiend systeem van trappen, beklimmingen en leuningen maakt het gemakkelijk om toegang te krijgen tot de cabine en de onderhoudspunten op de bovenwagen en om het stijgen en dalen zorgvuldig te beveiligen.
Te zien op bauma 2022
Bekijk de SENNEBOGEN 885 G-poortgigant live van 24 oktober tot 31 oktober op de SENNEBOGEN-stand op de FM.712 openluchtsite, Messe München.
NJC. Info SENNEBOGEN Maschinenfabrik GmbH
--------------------------------------------------------------------------------------------------------------------
Date de dernière mise à jour : 20/10/2022