SENNEBOGEN-Schrott Wetzel GmbH invests in environmentally friendly port colossus for efficient scrap handling
04/08/22-FR-English-NL-footer
SENNEBOGEN-Schrott Wetzel GmbH investit dans un colosse portuaire respectueux de l'environnement pour une gestion efficace de la ferraille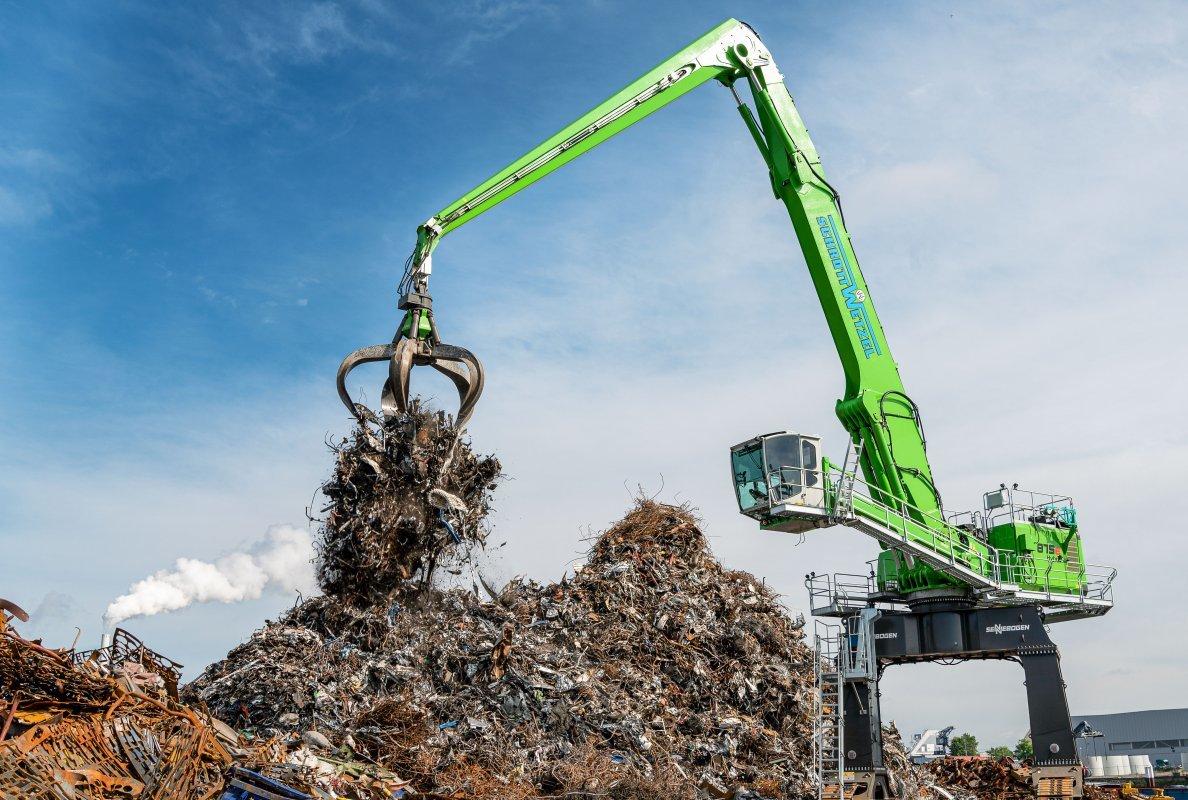 Thanks to the Green Hybrid technology, energy savings of up to 50% are achieved IMAGE SOURCE: SENNEBOGEN Maschinenfabrik GmbH
La société Schrott Wetzel GmbH, basée à Mannheim, a investi dans une nouvelle pelle de manutention 875 E Hybrid de SENNEBOGEN pour une manutention de ferraille efficace et économe en carburant.
Le colosse portuaire vert avec train de roulement à portique sur chenilles a été livré par Schlüter für Baumaschinen et est destiné à aider le fournisseur de ferraille à optimiser sa manutention de ferraille et de fret dans des conditions respectueuses de l'environnement.
Schrott Wetzel GmbH valorise la gestion durable
Schrott Wetzel GmbH est une entreprise familiale qui s'est imposée comme l'un des principaux fournisseurs de traitement et de recyclage de ferraille depuis le début des années 1950. Schrott Wetzel GmbH s'approvisionne en matériaux dans les régions autour de ses propres sites, dans un rayon de 150 à 200 kilomètres. Après le tri, le traitement et le chargement, la ferraille est ensuite transportée par bateau vers les consommateurs ou vers le propre terminal en haute mer de l'entreprise à Gand. Les commandes en haute mer parviennent aux consommateurs du monde entier. Depuis des années, Schrott Wetzel GmbH accorde une attention particulière à l'environnement et a donc fait de l'utilisation responsable des ressources limitées en matières premières un devoir important.
Deux en un : le 875 E Hybrid remplace deux pelles de manutention pour le chargement des navires
Afin de garantir un travail efficace et économe en matières premières dans le parc à ferraille ainsi que lors du chargement des navires, la manutention de l'entrepôt doit être conçue de manière aussi optimale que possible. Dans le passé, Schrott Wetzel GmbH chargeait parfois des navires avec deux manutentionnaires. Cependant, cette méthode s'est avérée très inefficace, car la ferraille devait être répartie sur une large zone en raison de la courte portée des manutentionnaires afin que les deux machines puissent accéder au navire. Ainsi, un espace de stockage précieux pour le chargement des navires était inutilement occupé. Par conséquent, l'entreprise dirigée par le directeur général Dirk Sauter a entrepris de trouver une machine qui remplacerait les deux manutentionnaires et optimiserait en même temps le chargement des navires. Avec la 875 E Hybrid de SENNEBOGEN, la machine idéale pour toutes les exigences a été trouvée.
Équipement spécial du 875 E Hybrid pour plus de capacité de charge et de sécurité
Le SENNEBOGEN 875 E Hybrid est la machine idéale pour les manutentions portuaires difficiles. Grâce à un moteur de 391 kW conforme aux dernières normes d'émission Stage V et à une longue portée allant jusqu'à 29 mètres, les navires sont chargés ou déchargés rapidement et efficacement. À la demande de Schrott Wetzel GmbH, l'équipement "Port" de type K29 a été installé : il s'agit d'un manche de port construit en acier à haute résistance, qui atteint une capacité de charge plus élevée en raison de son poids mort inférieur. Pour une meilleure visibilité même par mauvais temps, des caméras supplémentaires et des phares à LED ont été montés sur la pelle de manutention, et un lest supplémentaire de 2,7 t sur le contrepoids assure une grande stabilité sur le quai.
SENNEBOGEN 875 E Hybrid : jusqu'à 50 % d'économies d'énergie grâce à la technologie Green Hybrid
Cependant, le directeur général Dirk Sauter a été le plus convaincu par la technologie Green Hybrid installée en standard. Avec le système innovant de récupération d'énergie SENNEBOGEN Green Hybrid, jusqu'à 50 % d'énergie peut être économisée par rapport aux concepts conventionnels. Le principe est simple à comprendre. Un troisième vérin hydraulique, placé au centre entre les deux vérins de levage, stocke l'énergie dans des vérins à gaz comprimé lorsque la flèche est abaissée. Cette énergie stockée est alors à nouveau disponible pour le prochain ascenseur. Le concept peut être comparé à un ressort qui se comprime puis restitue son énergie lorsqu'il est relâché. Avec la bonne polarisation du système, environ 50 % de la puissance réellement requise peut être remplacée, ce qui permet de réaliser des économies d'énergie à grande échelle - idéal pour une utilisation dans les ports.
Dirk Sauter est fasciné : « Nous avons examiné différentes options pour notre port et avons finalement opté pour le 875 E Hybrid de SENNEBOGEN, car en plus de toutes les exigences nécessaires à la manutention des marchandises, il répond également à nos préoccupations environnementales. Grâce au Green Système de récupération d'énergie hybride, nous économisons également encore plus de carburant et de CO2. Notre objectif est d'être neutre en CO2 et de réduire notre consommation de carburant, et la machine y contribue certainement.
NJC.© Info SENNEBOGEN Maschinenfabrik GmbH
---------------------------------------------------------------------------------------------------------------------
04/08/22-English
SENNEBOGEN-Schrott Wetzel GmbH invests in environmentally friendly port colossus for efficient scrap handling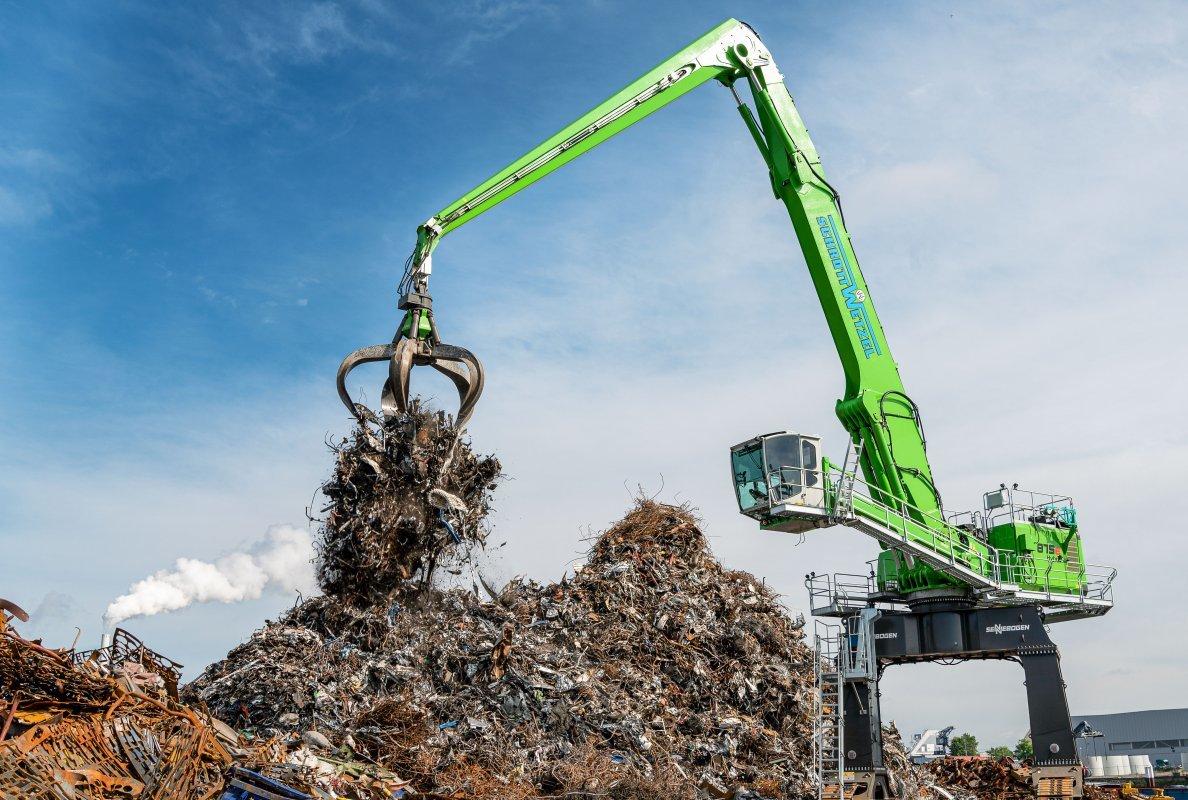 Thanks to the Green Hybrid technology, energy savings of up to 50% are achieved IMAGE SOURCE: SENNEBOGEN Maschinenfabrik GmbH
Mannheim-based Schrott Wetzel GmbH has invested in a new 875 E Hybrid material handler from SENNEBOGEN for efficient and fuel-saving scrap handling.
The green port colossus with crawler gantry undercarriage was delivered by Schlüter für Baumaschinen and is intended to help the scrap supplier optimize its scrap and cargo handling under environmentally friendly conditions.
Schrott Wetzel GmbH values sustainable management
Schrott Wetzel GmbH is a family-run company that has established itself as one of the leading providers in scrap processing and recycling since the early 1950s. Schrott Wetzel GmbH obtains its material from the regions around its own sites, within a radius of 150 - 200 kilometers. After sorting, processing and loading, the scrap is then transported by ship to consumers or to the company's own deep-sea terminal in Ghent. The deep-sea orders reach consumers all over the world. For years, Schrott Wetzel GmbH has paid special attention to the environment and has therefore made the responsible use of limited raw material resources an important duty.
Making two into one: 875 E Hybrid replaces two material handlers for ship loading
In order to guarantee efficient and raw material-saving work in the scrap yard as well as during ship loading, the warehouse handling must be designed as optimally as possible. In the past, Schrott Wetzel GmbH sometimes loaded ships with two material handlers. However, this method proved to be very inefficient, as the scrap had to be spread over a wide area due to the short reach of the material handlers so that both machines could access the ship. Thus, valuable storage space for ship loading was unnecessarily occupied. Therefore, the company led by Managing Director Dirk Sauter set out to find a machine that would replace both material handlers and at the same time optimize ship loading. With the 875 E Hybrid from SENNEBOGEN, the ideal machine for all requirements was found.
Special equipment of the 875 E Hybrid for more load capacity and safety
The SENNEBOGEN 875 E Hybrid is the ideal machine for challenging port handling. Thanks to a 391 kW engine complying with the latest Stage V emission standards and a long reach of up to 29 meters, ships are loaded or unloaded quickly and efficiently. At the request of Schrott Wetzel GmbH, the "Port" type K29 equipment was installed: This is a port stick built of high-strength steel, which achieves higher load capacity due to its lower deadweight. For best visibility even in bad weather, additional cameras and LED headlights were mounted on the material handler, and an additional ballast of 2.7 t on the counterweight ensures high stability on the dock.
SENNEBOGEN 875 E Hybrid: Up to 50% energy savings thanks to Green Hybrid technology
However, managing director Dirk Sauter was most convinced by the Green Hybrid technology installed as standard. With the innovative SENNEBOGEN Green Hybrid energy recovery system, up to 50% energy can be saved compared to conventional concepts. The principle is simple to understand. A third hydraulic cylinder, placed centrally between the two lifting cylinders, stores energy in compressed gas cylinders when the boom is lowered. This stored energy is then available again for the next lift. The concept can be compared to a spring that is compressed and then gives off its energy again when it is released. With the correct system bias, around 50% of the power actually required can be substituted, thus saving energy costs on a large scale - ideal for use in ports.
Dirk Sauter is fascinated: "We looked at various options for our port and finally ended up with the 875 E Hybrid from SENNEBOGEN, because in addition to all the requirements needed for cargo handling, it also meets our environmental concerns. Thanks to the installed Green Hybrid energy recovery system, we also save even more fuel and CO2. Our focus is on being CO2 neutral and reducing our fuel consumption, and the machine definitely contributes to that."
NJC.© Info SENNEBOGEN Maschinenfabrik GmbH
--------------------------------------------------------------------------------------------------------------------
04/08/22-NL
SENNEBOGEN-Schrott Wetzel GmbH investeert in milieuvriendelijke havenkolos voor efficiënte schrootverwerking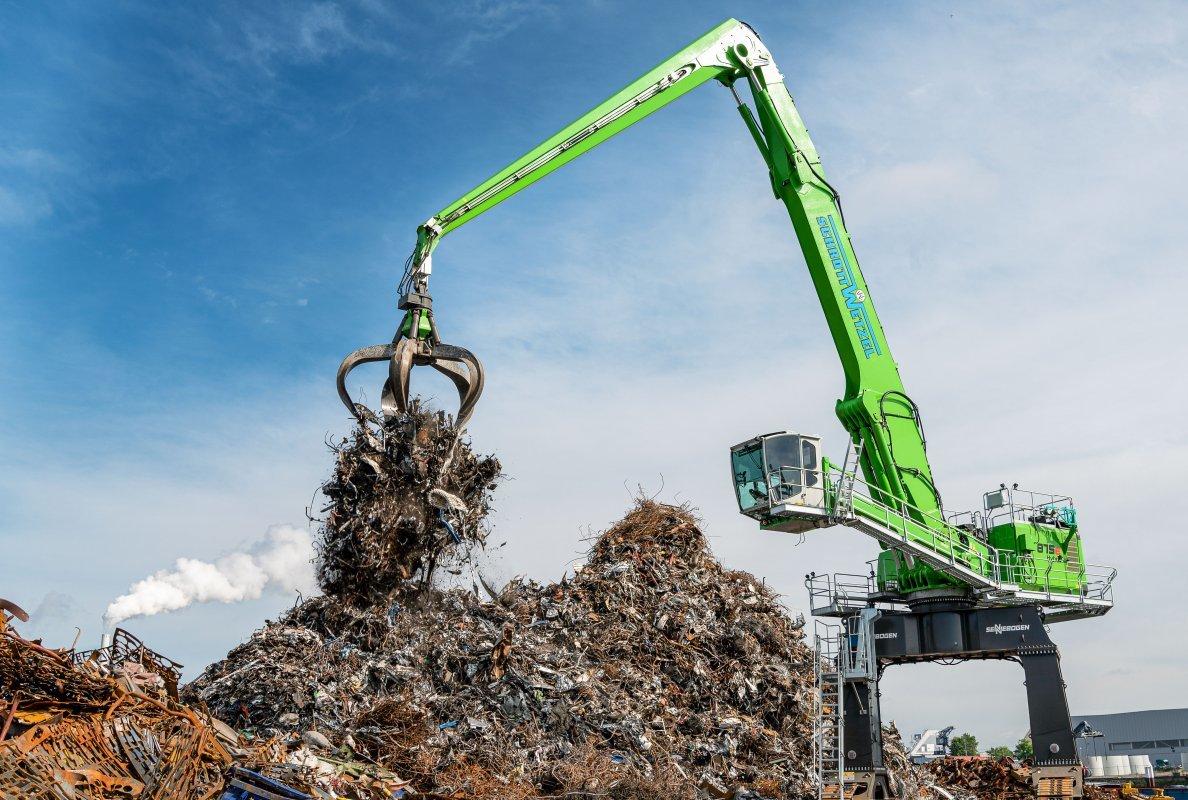 Thanks to the Green Hybrid technology, energy savings of up to 50% are achieved IMAGE SOURCE: SENNEBOGEN Maschinenfabrik GmbH
Schrott Wetzel GmbH uit Mannheim heeft geïnvesteerd in een nieuwe 875 E hybride overslagmachine van SENNEBOGEN voor een efficiënte en brandstofbesparende schrootverwerking.
De groene havenkolos met rupsonderstel is geleverd door Schlüter für Baumaschinen en is bedoeld om de schrootleverancier te helpen zijn schroot- en ladingbehandeling onder milieuvriendelijke omstandigheden te optimaliseren.
Schrott Wetzel GmbH hecht waarde aan duurzaam beheer
Schrott Wetzel GmbH is een familiebedrijf dat zich sinds het begin van de jaren vijftig heeft gevestigd als een van de toonaangevende aanbieders van schrootverwerking en recycling. Schrott Wetzel GmbH haalt zijn materiaal uit de regio's rond de eigen vestigingen, binnen een straal van 150 - 200 kilometer. Na sortering, verwerking en verlading gaat het schroot vervolgens per schip naar de consument of naar de eigen diepzeeterminal in Gent. De diepzeebestellingen bereiken consumenten over de hele wereld. Schrott Wetzel GmbH besteedt al jaren bijzondere aandacht aan het milieu en heeft daarom het verantwoord gebruik van beperkte grondstoffen tot een belangrijke plicht gemaakt.
Twee in één maken: 875 E Hybrid vervangt twee overslagkranen voor het laden van schepen
Om efficiënt en grondstofbesparend werken op de schroothoop en tijdens het laden van schepen te kunnen garanderen, moet de magazijnafhandeling zo optimaal mogelijk worden ingericht. In het verleden heeft Schrott Wetzel GmbH soms schepen geladen met twee overslagkranen. Deze methode bleek echter zeer inefficiënt, omdat het schroot vanwege het korte bereik van de overslagkranen over een groot gebied moest worden verspreid, zodat beide machines het schip konden bereiken. Zo werd waardevolle opslagruimte voor het laden van schepen onnodig ingenomen. Daarom ging het bedrijf onder leiding van algemeen directeur Dirk Sauter op zoek naar een machine die beide overslagkranen zou vervangen en tegelijkertijd de scheepsbelading zou optimaliseren. Met de 875 E Hybrid van SENNEBOGEN werd de ideale machine voor alle eisen gevonden.
Speciale uitrusting van de 875 E Hybrid voor meer laadvermogen en veiligheid
De SENNEBOGEN 875 E Hybrid is de ideale machine voor uitdagende havenafhandeling. Dankzij een 391 kW-motor die voldoet aan de nieuwste Stage V-emissienormen en een groot bereik tot 29 meter, worden schepen snel en efficiënt geladen of gelost. Op verzoek van Schrott Wetzel GmbH werd de uitrusting van het type "Port" type K29 geïnstalleerd: dit is een poortstick gemaakt van hoogwaardig staal, die een hoger draagvermogen bereikt door zijn lager eigen gewicht. Voor het beste zicht, zelfs bij slecht weer, werden extra camera's en LED-koplampen op de overslagkraan gemonteerd, en een extra ballast van 2,7 t op het contragewicht zorgt voor een hoge stabiliteit op het dok.
SENNEBOGEN 875 E Hybrid: tot 50% energiebesparing dankzij Green Hybrid-technologie
Directeur Dirk Sauter was echter het meest overtuigd van de standaard geïnstalleerde Green Hybrid-technologie. Met het innovatieve SENNEBOGEN Green Hybrid energieterugwinningssysteem kan tot 50% energie worden bespaard in vergelijking met conventionele concepten. Het principe is eenvoudig te begrijpen. Een derde hydraulische cilinder, centraal tussen de twee hefcilinders geplaatst, slaat energie op in gecomprimeerde gascilinders wanneer de giek wordt neergelaten. Deze opgeslagen energie is dan weer beschikbaar voor de volgende lift. Het concept is te vergelijken met een veer die wordt samengedrukt en bij het loslaten weer zijn energie afgeeft. Met de juiste systeembias kan ongeveer 50% van het werkelijk benodigde vermogen worden vervangen, waardoor op grote schaal energiekosten worden bespaard - ideaal voor gebruik in havens.
Dirk Sauter is gefascineerd: "We hebben verschillende opties voor onze haven bekeken en zijn uiteindelijk uitgekomen op de 875 E Hybrid van SENNEBOGEN, omdat deze naast alle eisen die nodig zijn voor de vrachtafhandeling ook voldoet aan onze milieuzorg. Dankzij de geïnstalleerde Green Met hybride energieterugwinningssysteem besparen we ook nog meer brandstof en CO2. Onze focus ligt op CO2-neutraal zijn en het verminderen van ons brandstofverbruik, en daar draagt ​​de machine zeker aan bij."
NJC.© Info SENNEBOGEN Maschinenfabrik GmbH
-------------------------------------------------------------------------------------------------------------------
Date de dernière mise à jour : 04/08/2022