Sinoboom launches electric models in Malaysia
05/05/22-FR-English-NL-footer
Sinoboom lance des modèles électriques en Malaisie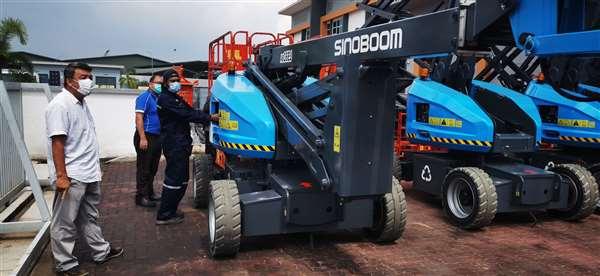 Image Customers at Scmetterling Rental's launch event got to try out the new electric Sinoboom models.
Les premières flèches articulées électriques de Sinoboom ont été lancées à Kuala Lumpur, en Malaisie.
Les modèles zéro émission AB14EJ et AB16EJ du constructeur, avec des hauteurs de plate-forme respectives de 14 m et 15,7 m, ont été livrés à Schmetterling Rental.
Schmetterling, qui est devenu le revendeur exclusif de Sinoboom en Malaisie en septembre de l'année dernière, propose la location d'équipements, la vente, les services et les pièces détachées dans toute la Malaisie.
Un événement de lancement de produit a marqué l'arrivée des modèles, au cours duquel les clients et les invités de l'industrie de la location ont été autorisés à essayer les machines.
M. Lam, directeur général de Schmetterling, a déclaré : « En tant que distributeur de Sinoboom, Schmetterling est initialement entré en contact avec Sinoboom par le biais de la gamme de ciseaux et a été impressionné par la haute qualité des produits de Sinoboom.
Les nouvelles plates-formes Sinoboom de Schmetterling Rental Les nacelles articulées électriques AB14EJ et AB16EJ dans la succursale de Schmetterling à Kuala Lumpur, en Malaisie.
« Cette fois, nous sommes honorés de présenter les produits de flèche électrique Sinoboom en Malaisie. À en juger par nos tests d'AB14EJ et AB16EJ, et les commentaires des clients, nous sommes pleinement confiants dans l'approfondissement futur de la coopération avec Sinoboom.
Alimentés par huit batteries 6V, les AB14EJ et AB16EJ offrent un fonctionnement "silencieux" et sont équipés de trois joysticks à commande proportionnelle variable.
Les machines, qui sont équipées de plates-formes d'une capacité de 230 kg, mesurent seulement 1,9 m de long pour une utilisation dans des espaces étroits.
Les deux sont équipés d'un écran intelligent, la technologie intégrée des machines comprend également un système d'autodiagnostic.
Chris Chin, directeur des ventes de Sinoboom (SEA), a déclaré : « Malgré l'impact de Covid-19, les ventes de Sinoboom dans la région SEA ont vraiment augmenté. Sinoboom comprend les besoins des clients à la fois en termes de machine et de retour sur investissement, et la machine de qualité et la philosophie de création de valeur nous permettent toujours de transférer plus d'avantages à nos clients.
"A l'avenir, nous continuerons à travailler main dans la main avec le distributeur Schmetterling pour fournir conjointement aux clients des solutions complètes en termes de produits, de services après-vente et de financement, afin de contribuer au développement sain et durable de l'industrie."
NJC.© Info SINEBOOM
------------------------------------------------------------------------------------------------------------------------
05/05/22-English
Sinoboom launches electric models in Malaysia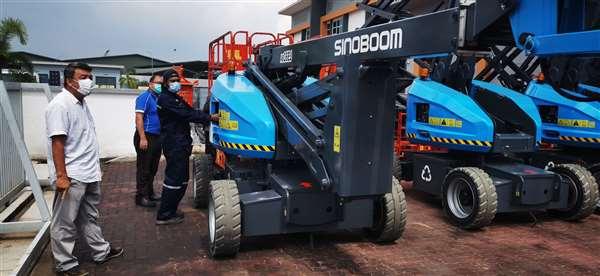 Image Customers at Scmetterling Rental's launch event got to try out the new electric Sinoboom models.
The first electric articulating booms from Sinoboom have been launched in Kuala Lumpur, Malaysia.
The manufacturer's zero-emission AB14EJ and AB16EJ models, with platform heights of 14m and 15.7m respectively, were delivered to Schmetterling Rental.
Schmetterling, which became Sinoboom's exclusive Malaysia dealer in September of last year, offers equipment rental, sales, services and parts across Malaysia.
A product launch event marked the arrival of the models, during which customers and rental industry guests were allowed to try out the machines.
mr. Lam, general manager of Schmetterling, said, "As a Sinoboom distributor, Schmetterling initially came into contact with Sinoboom through the scissor range and was impressed by the high quality of Sinoboom's products.
Schmetterling Rental's new Sinoboom platforms The AB14EJ and AB16EJ electric articulating booms at Schmetterling's branch in Kuala Lumpur, Malaysia.
"This time, we are honored to introduce Sinoboom electric boom products to Malaysia. Judging by our testing of AB14EJ and AB16EJ, and customer feedback, we are full of confidence in the future deepening cooperation with Sinoboom."
Powered by eight 6V batteries, the AB14EJ and AB16EJ have offer 'silent' operation and are equipped with three joysticks with variable proportional control.
The machines, which are fitted with 230kg capacity platforms, measure just 1.9m long for use in narrow spaces.
Both are equipped with a smart screen display, the machines' integrated technology also includes a self-diagnostic system.
Chris Chin, Sinoboom sales director (SEA), said, "Despite the impact of Covid-19, the sales of Sinoboom in the SEA region had really turned up. Sinoboom understands customers' need both in terms of machine and ROI, and the quality-built machine and value-delivering philosophy always enable us to transfer more benefits to our customers.
"In the future, we will continue to work hand in hand with the distributor Schmetterling to jointly provide customers with all-round solutions in terms of products, aftermarket services and financing, so as to help the healthy and sustainable development of the industry."
NJC.© Info SINEBOOM
------------------------------------------------------------------------------------------------------------
05/05/22-NL
Sinoboom lanceert elektrische modellen in Maleisië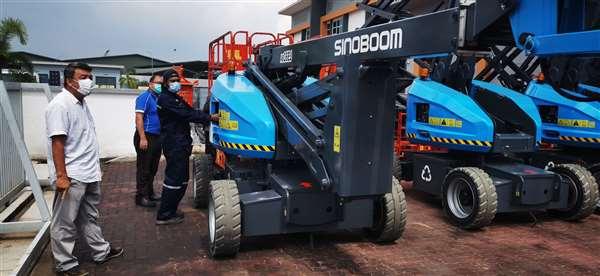 Image Customers at Scmetterling Rental's launch event got to try out the new electric Sinoboom models.
De eerste elektrische knikarmen van Sinoboom zijn gelanceerd in Kuala Lumpur, Maleisië.
De emissievrije AB14EJ- en AB16EJ-modellen van de fabrikant, met platformhoogten van respectievelijk 14 m en 15,7 m, werden geleverd aan Schmetterling Rental.
Schmetterling, die in september vorig jaar de exclusieve Maleisische dealer van Sinoboom werd, biedt verhuur, verkoop, services en onderdelen van materieel in heel Maleisië.
Een product launch event markeerde de komst van de modellen, waarbij klanten en gasten uit de verhuurbranche de machines mochten uitproberen.
De heer Lam, algemeen directeur van Schmetterling, zei: "Als Sinoboom-distributeur kwam Schmetterling aanvankelijk in contact met Sinoboom via het schaarassortiment en was onder de indruk van de hoge kwaliteit van de producten van Sinoboom.
Nieuwe Sinoboom-platforms van Schmetterling Rental De elektrische knikarmen AB14EJ en AB16EJ in de vestiging van Schmetterling in Kuala Lumpur, Maleisië.
"Deze keer zijn we vereerd om Sinoboom elektrische boomproducten in Maleisië te introduceren. Afgaande op onze testen van AB14EJ en AB16EJ, en feedback van klanten, hebben we het volste vertrouwen in de toekomstige intensivering van de samenwerking met Sinoboom."
Aangedreven door acht 6V-batterijen, bieden de AB14EJ en AB16EJ een 'stille' werking en zijn uitgerust met drie joysticks met variabele proportionele bediening.
De machines, die zijn uitgerust met platforms met een capaciteit van 230 kg, zijn slechts 1,9 m lang voor gebruik in krappe ruimtes.
Beide zijn uitgerust met een slim scherm, de geïntegreerde technologie van de machine bevat ook een zelfdiagnosesysteem.
Chris Chin, Sinoboom Sales Director (SEA), zei: "Ondanks de impact van Covid-19 was de verkoop van Sinoboom in de SEA-regio echt gestegen. Sinoboom begrijpt de behoefte van klanten zowel op het gebied van machine als ROI, en de kwaliteitsvolle machine en waarde-leverende filosofie stellen ons altijd in staat om meer voordelen aan onze klanten over te dragen.
"In de toekomst zullen we hand in hand blijven werken met de distributeur Schmetterling om klanten gezamenlijk totaaloplossingen te bieden op het gebied van producten, aftermarket-services en financiering, om zo de gezonde en duurzame ontwikkeling van de industrie te helpen."
NJC.© Info SINEBOOM
-----------------------------------------------------------------------------------------------------------------