Speedy buys 860 Milwaukee battery products
12/07/22-FR-English-NL-footer
Speedy achète 860 batteries Milwaukee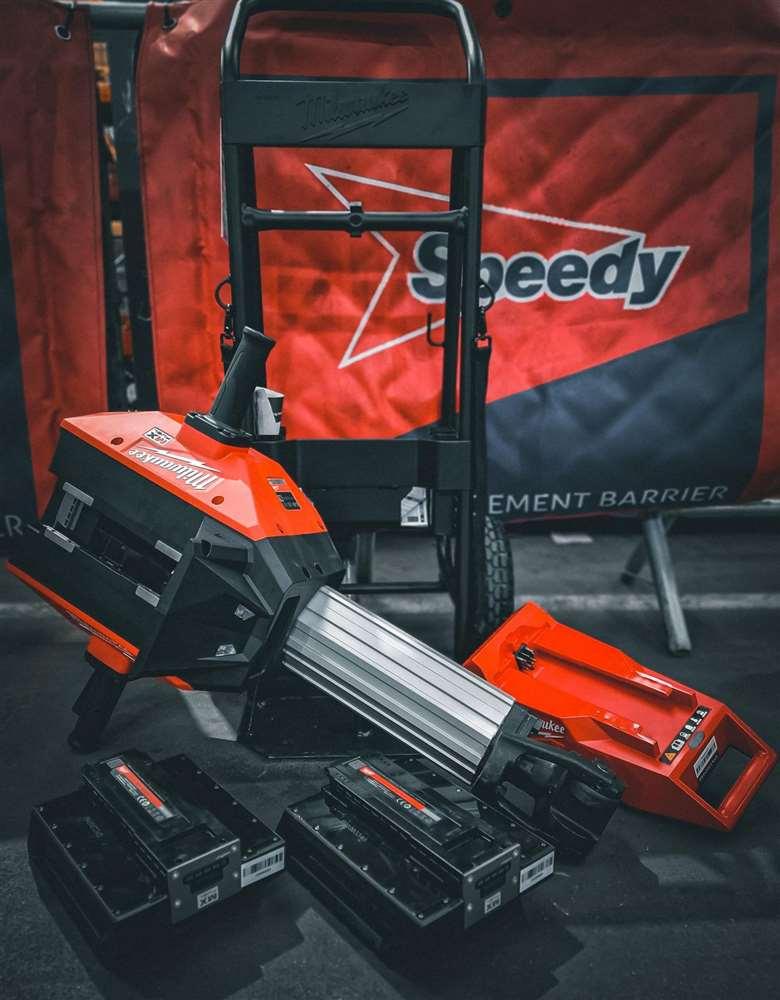 Speedy has signed an exclusivity agreement with Milwaukee to supply its MX Fuel range. (Phot: Speedy.)
La société de location britannique Speedy a acheté 860 tours d'éclairage électriques sans fil alimentées par batterie, des scies à tronçonner, des marteaux de démolition et des perceuses au diamant de la gamme MX Fuel du fournisseur américain d'outils et d'équipements Milwaukee.
Décrits dans une déclaration de Speedy comme "un investissement de plusieurs millions de livres", les produits seront disponibles dans le réseau de centres de service britanniques de Speedy.
Cette décision fait suite à un accord d'exclusivité conclu en janvier, faisant de Speedy le seul loueur à proposer la gamme MX Fuel au Royaume-Uni. L'entreprise a commencé à investir dans la gamme d'éclairage de tour alimentée par batterie de MX Fuel l'année dernière.
MX Fuel fait partie de la volonté de Speedy d'élargir son offre d'équipements à faible et à zéro carbone, qui représente désormais près d'un quart de sa flotte d'équipements, à travers des équipements à batterie, à hydrogène et à énergie solaire.
Les équipements à émissions de carbone faibles et nulles sont positionnés comme une priorité essentielle pour l'investissement Capex de l'entreprise, comme l'a confirmé Andy Connor, directeur de la chaîne d'approvisionnement chez Speedy.
« Nous reconnaissons notre responsabilité d'introduire une technologie transformatrice sur les marchés sur lesquels nous opérons, tout en répondant à la demande croissante des entrepreneurs pour des équipements et des méthodes de travail plus durables.
"Il est déjà clair à quel point la gamme MX Fuel de Milwaukee change la donne pour permettre aux entrepreneurs de réduire considérablement leurs émissions de carbone sur site, avec les avantages supplémentaires de coûts de fonctionnement réduits et de moins de vibrations pour une sécurité accrue."
Dale McElveen, directeur général, Milwaukee, a déclaré; Le réseau de centres de livraison et de service de Speedy contribuerait à élargir la distribution de la gamme MX Fuel à l'échelle nationale.
"La gamme est conçue pour les entrepreneurs qui s'efforcent de réduire leur impact sur l'environnement tout en réalisant des projets en toute sécurité, dans les limites du budget et des délais, sans compromis sur la productivité."
Speedy a récemment réalisé un certain nombre d'investissements à faible émission de carbone, notamment l'achat de 150 fourgonnettes électriques pour 9,6 millions d'euros le mois dernier.
À la mi-2021, l'entreprise s'est engagée à zéro carbone net. Par la suite, il a également ouvert un centre d'innovation bas carbone en novembre.
NJC..© Infos SPEEDY UK
----------------------------------------------------------------------------------------------------------------
12/07/22-English
Speedy buys 860 Milwaukee battery products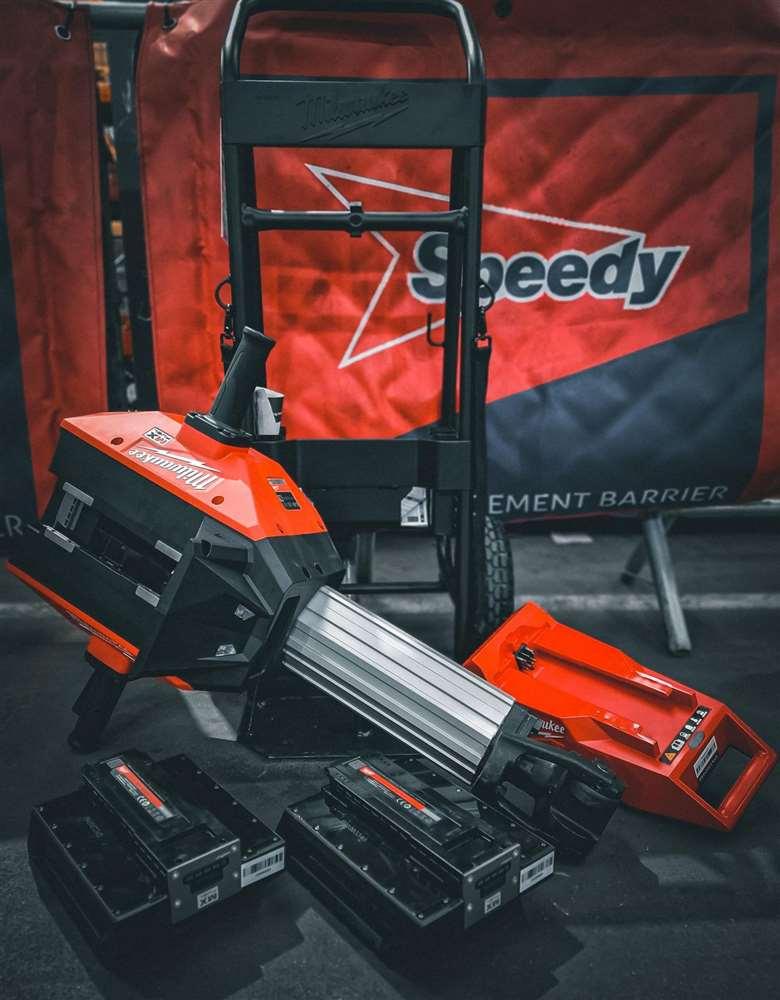 Speedy has signed an exclusivity agreement with Milwaukee to supply its MX Fuel range. (Phot: Speedy.)
UK hire company Speedy has purchased 860 battery powered, cordless electric lighting towers, cut off saws, demolition hammers and diamond core drills from US tool and equipment supplier Milwaukee's MX Fuel range.
Described in a statement from Speedy as "a multi-million-pound investment" the products will be available across Speedy's network of UK service centres.
The move follows an exclusivity deal agreed in January, making Speedy the only hire provider to offer the MX Fuel range in the UK. The business began investing in the battery powered tower lighting range from MX Fuel last year.
MX Fuel is part of Speedy's drive to expand its offering of low and zero carbon equipment, which now makes up almost a quarter of its equipment fleet, across battery, hydrogen and solar-powered equipment.
Low and zero carbon emission equipment is positioned as a core priority for the company's Capex investment, as Andy Connor, supply chain director at Speedy, confirmed.
"We recognise our responsibility to introduce transformative technology to the markets we operate in, while responding to the growing demand from contractors for more sustainable equipment and ways of working.
"It's already clear how game-changing Milwaukee's MX Fuel range is for enabling contractors to significantly reduce their carbon emissions on site, with the added benefits of lower costs to run and less vibration for enhanced safety."
Dale McElveen, General Manager, Milwaukee, said; Speedy's delivery and service centre network would help widen the distribution of the MX Fuel range nationwide.
"The range is designed for contractors striving to reduce their environmental impact while delivering projects safely, on budget and on time with no compromise on productivity."
Speedy has made a number of low carbon investments recently, including the €9.6 million euro purchase of 150 electric vans last month.
In mid-2021 the company made a commitment to net zero carbon. Following that it also opened a low carbon innovation centre in November.
NJC.© Info SPEEDY UK
---------------------------------------------------------------------------------------------------------------------
12/07/22-NL
Speedy koopt 860 Milwaukee-batterijproducten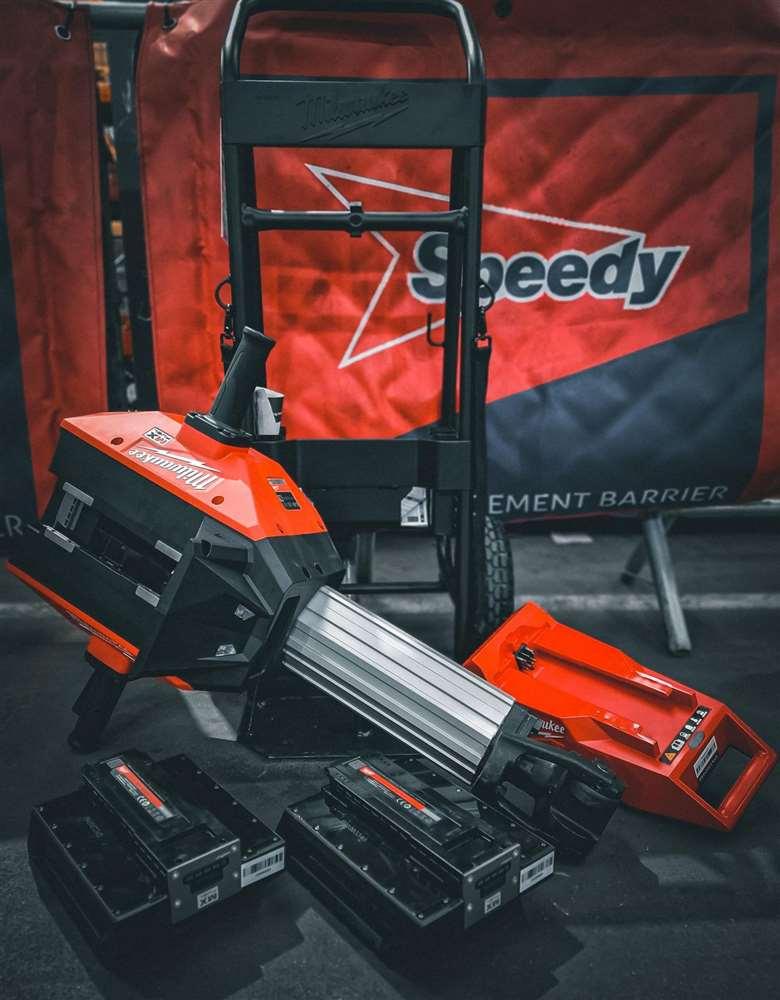 Speedy has signed an exclusivity agreement with Milwaukee to supply its MX Fuel range. (Phot: Speedy.)
Het Britse verhuurbedrijf Speedy heeft 860 accu-aangedreven, draadloze elektrische verlichtingstorens, afkortzagen, sloophamers en diamantkernboren gekocht van de Amerikaanse gereedschaps- en uitrustingsleverancier Milwaukee's MX Fuel-assortiment.
Beschreven in een verklaring van Speedy als "een investering van meerdere miljoenen ponden", zullen de producten beschikbaar zijn via Speedy's netwerk van Britse servicecentra.
De verhuizing volgt op een exclusiviteitsovereenkomst die in januari is overeengekomen, waardoor Speedy de enige verhuuraanbieder is die het MX Fuel-assortiment in het VK aanbiedt. Het bedrijf begon vorig jaar te investeren in het op batterijen werkende torenverlichtingsassortiment van MX Fuel.
MX Fuel maakt deel uit van Speedy's streven om zijn aanbod van koolstofarme en koolstofvrije apparatuur, die nu bijna een kwart van zijn uitrustingsvloot uitmaakt, uit te breiden met apparatuur op batterijen, waterstof en zonne-energie.
Apparatuur met een lage en geen CO2-uitstoot wordt gepositioneerd als een kernprioriteit voor de Capex-investering van het bedrijf, zoals Andy Connor, supply chain director bij Speedy, bevestigde.
"We erkennen onze verantwoordelijkheid om transformatieve technologie te introduceren in de markten waarin we actief zijn, terwijl we inspelen op de groeiende vraag van aannemers naar duurzamere apparatuur en manieren van werken.
"Het is nu al duidelijk hoe baanbrekend het MX Fuel-assortiment van Milwaukee is om aannemers in staat te stellen hun koolstofemissies ter plaatse aanzienlijk te verminderen, met de extra voordelen van lagere bedrijfskosten en minder trillingen voor meer veiligheid."
Dale McElveen, algemeen directeur, Milwaukee, zei; Speedy's netwerk van bezorg- en servicecentra zou de landelijke distributie van het MX Fuel-assortiment helpen vergroten.
"Het assortiment is ontworpen voor aannemers die ernaar streven hun impact op het milieu te verminderen en tegelijkertijd projecten veilig, binnen het budget en op tijd af te leveren zonder concessies te doen aan de productiviteit."
Speedy heeft onlangs een aantal koolstofarme investeringen gedaan, waaronder de aankoop van 150 elektrische bestelwagens voor € 9,6 miljoen vorige maand.
Medio 2021 heeft het bedrijf een toezegging gedaan om CO2-neutraal te zijn. Daarna opende het in november ook een koolstofarm innovatiecentrum.
NJC.© Info SPEEDY UK
--------------------------------------------------------------------------------------------------------------