Spider debuts battery-powered hoist
28/09/22-FR-English-NL-footer
Spider lance un palan à batterie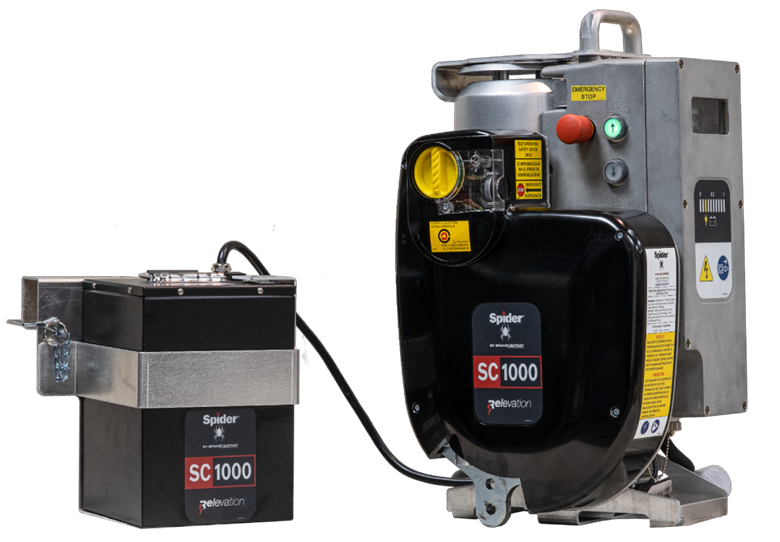 The SC1000 Relevation from Spider by BrandSafway is powered by Lithium-ion batteries. (Photo: BrandSafway)
La division Spider de BrandSafway a lancé un palan électrique, le SC1000 Relevation. Alimenté par une batterie lithium-ion portable, le Relevation est le seul palan à traction alimenté par batterie homologué UL sur le marché, selon la société.
brandsafway, spider staging, spider by brandsafway Le SC1000 Relevation de Spider by BrandSafway est alimenté par des batteries lithium-ion.
Basée sur la plate-forme de levage Spider SC1000, la batterie du SC1000 Relevation a suffisamment de puissance pour trois heures de temps de déplacement total (montée et descente combinées) à sa capacité de charge nominale de 1 000 livres. Un chargeur mural de cinq ampères recharge la batterie à pleine capacité en moins de huit heures. La batterie est classée IP-64 et a été testée et approuvée pour un fonctionnement à des températures de -4 à 140 °F (-20 à 60 °C), a indiqué la société.
"Le SC1000 Relevation libère les clients des contraintes d'alimentation sur leurs chantiers et leur permet de travailler indépendamment de tout problème ou défi d'alimentation sur site", a déclaré la société dans un communiqué. «Ceux-ci incluent: Aucune alimentation sur site disponible, nécessitant un générateur / compresseur de location pour alimenter une scène pivotante; Aucune connexion à l'alimentation du site prête, nécessitant un électricien et un délai ; Basse tension et alimentation électrique fluctuante, entraînant une surchauffe du palan, un fonctionnement intermittent et une perte de productivité ; Visites de dépannage sur un chantier, ou livraison de transformateurs élévateurs, ou ; Câbles d'alimentation endommagés et perte de temps à enrouler et à stocker entre les quarts de travail. »
NJC.© Info MarqueSafway's Spider
-----------------------------------------------------------------------------------------------------------------
28/09/22-English
Spider debuts battery-powered hoist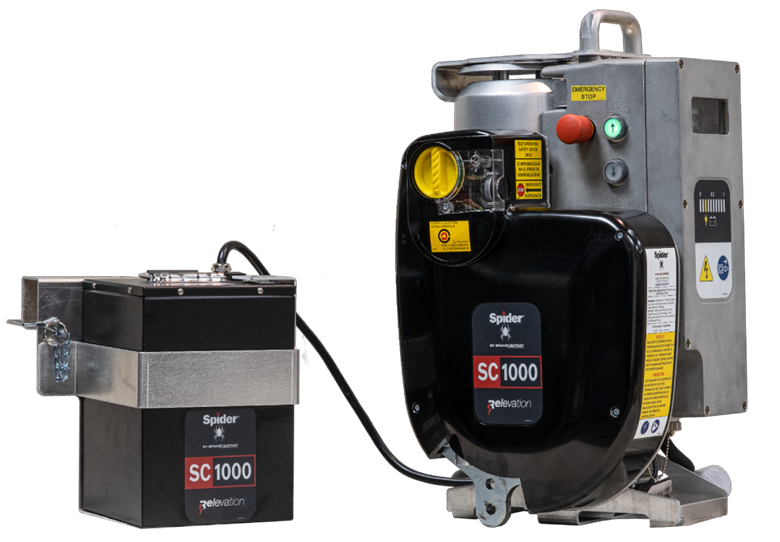 The SC1000 Relevation from Spider by BrandSafway is powered by Lithium-ion batteries. (Photo: BrandSafway)
BrandSafway's Spider division has debuted an electric hoist, the SC1000 Relevation. Powered by a portable Lithium-Ion battery, the Relevation is the only UL-Listed, battery-powered traction hoist on the market, according to the company.
brandsafway, spider staging, spider by brandsafway The SC1000 Relevation from Spider by BrandSafway is powered by Lithium-ion batteries.
Based on the Spider SC1000 hoist platform, the SC1000 Relevation's battery has enough power for three hours of total travel time (up and down combined) at its rated 1,000-pound load capacity. A five-amp wall charger recharges the battery to full capacity in less than eight hours. The battery is IP-64 rated and has been tested and approved for operation at temperatures from -4 to 140 °F (-20 to 60 °C), the company said.
"The SC1000 Relevation frees customers from the power constraints on their jobsites and allows them to work independent of any site power problems or challenges," the company said in a statement. "These include: No site power available, requiring a rental generator/compressor to power a swing stage; No connection to site power ready, requiring an electrician and delay; Low voltage and fluctuating power supply, leading to overheating of the hoist, intermittent operation and lost productivity; Troubleshooting visits to a jobsite, or delivery of boost transformers, or; Damaged power cables, and lost time coiling and storing between shifts."
NJC.© Info BrandSafway's Spider
----------------------------------------------------------------------------------------------------------------------
28/09/22-NL
Spider introduceert batterijgevoede takel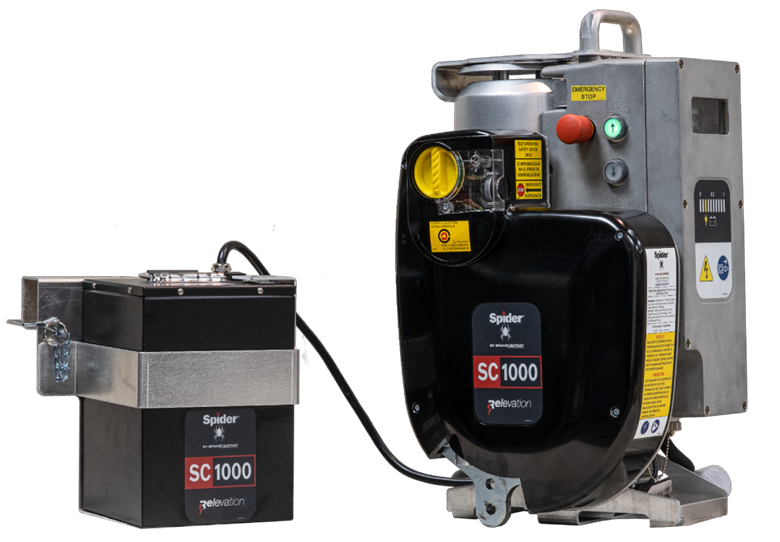 The SC1000 Relevation from Spider by BrandSafway is powered by Lithium-ion batteries. (Photo: BrandSafway)
De Spider-divisie van BrandSafway heeft een elektrische takel geïntroduceerd, de SC1000 Relevation. Aangedreven door een draagbare lithium-ionbatterij, is de Relevation volgens het bedrijf de enige UL-genoteerde, batterijaangedreven tractietakel op de markt.
brandsafway, spider enscenering, spider door brandsafway De SC1000 Relevation van Spider van BrandSafway wordt aangedreven door lithium-ionbatterijen.
Gebaseerd op het Spider SC1000-takelplatform, heeft de batterij van de SC1000 Relevation voldoende vermogen voor drie uur totale reistijd (op en neer gecombineerd) bij het nominale laadvermogen van 1000 pond. Een wandlader van vijf ampère laadt de batterij in minder dan acht uur volledig op. De batterij heeft een IP-64-classificatie en is getest en goedgekeurd voor gebruik bij temperaturen van -4 tot 140 ° F (-20 tot 60 ° C), aldus het bedrijf.
"De SC1000 Relevation bevrijdt klanten van de stroombeperkingen op hun werklocaties en stelt hen in staat onafhankelijk te werken van stroomproblemen of uitdagingen op de locatie", aldus het bedrijf in een verklaring. "Deze omvatten: Geen stroom op de locatie beschikbaar, waardoor een huurgenerator/compressor nodig is om een ​​schommeltrap van stroom te voorzien; Geen aansluiting op stroomvoorziening op locatie, elektricien en vertraging nodig; Lage spanning en wisselende stroomtoevoer, wat leidt tot oververhitting van de takel, intermitterende werking en productiviteitsverlies; Problemen oplossen bij bezoeken aan een bouwplaats, of levering van boosttransformatoren, of; Beschadigde stroomkabels en verloren tijd bij het oprollen en opslaan tussen de diensten in."
NJC.© Info BrandSafway's Spider
--------------------------------------------------------------------------------------------------------------