STIHL MotoMix ECO contains a ten percent share from renewable resources
8/08/22-FR-English-NL-footer
STIHL MotoMix ECO contient 10 % de ressources renouvelables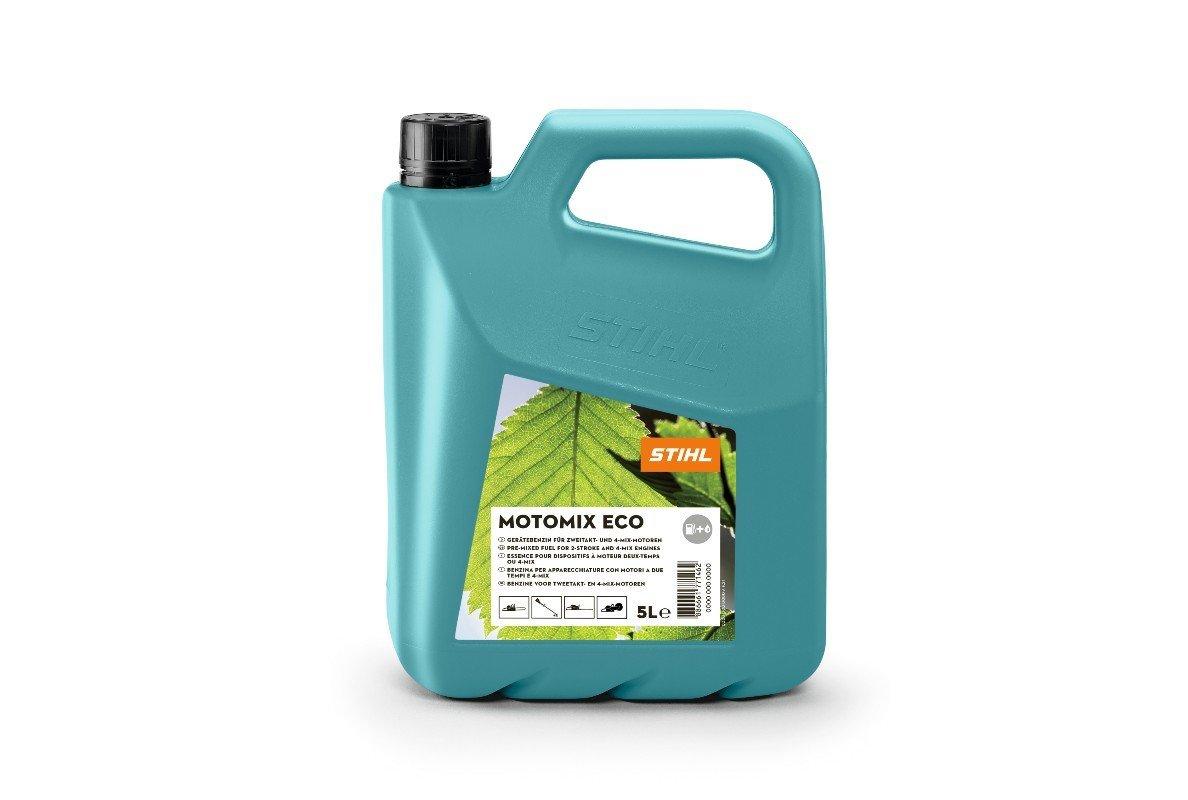 STIHL's new MotoMix ECO is a premixed special fuel for the operation of 2-stroke engines with a ten percent share of renewable resources. IMAGE SOURCE: STIHL
Le nouveau carburant spécial STIHL MotoMix ECO est maintenant disponible pour un fonctionnement plus écologique des moteurs 2 temps à essence. Sa formulation brevetée contient une part de dix pour cent de ressources renouvelables, principalement des résidus de bois provenant de la foresterie, qui sont transformés en composants de carburant utilisables. Comme le mélange de carburant STIHL MotoMix éprouvé depuis longtemps, le carburant spécial prêt à l'emploi (1:50) assure une puissance optimale dans les moteurs 2 temps. Dans le même temps, le nouveau carburant spécial MotoMix ECO garantit des caractéristiques de démarrage à froid optimales, une accélération maximale sur toute la plage de vitesse et des caractéristiques de fonctionnement sans faille - le tout avec des émissions de CO2 inférieures d'au moins huit pour cent à celles du MotoMix classique. De plus, STIHL s'appuie non seulement sur des ingrédients respectueux de l'environnement pour le MotoMix ECO lui-même, mais aussi pour son emballage. La cartouche du nouveau mélange est composée d'au moins 50 % de matériaux recyclés. Ce matériau est issu d'un processus de recyclage et permet de produire du nouveau plastique de manière économe en ressources en recyclant les déchets plastiques.
NJC.© Info STIHL
---------------------------------------------------------------------------------------------------------------------
18/08/22-English
STIHL MotoMix ECO contains a ten percent share from renewable resources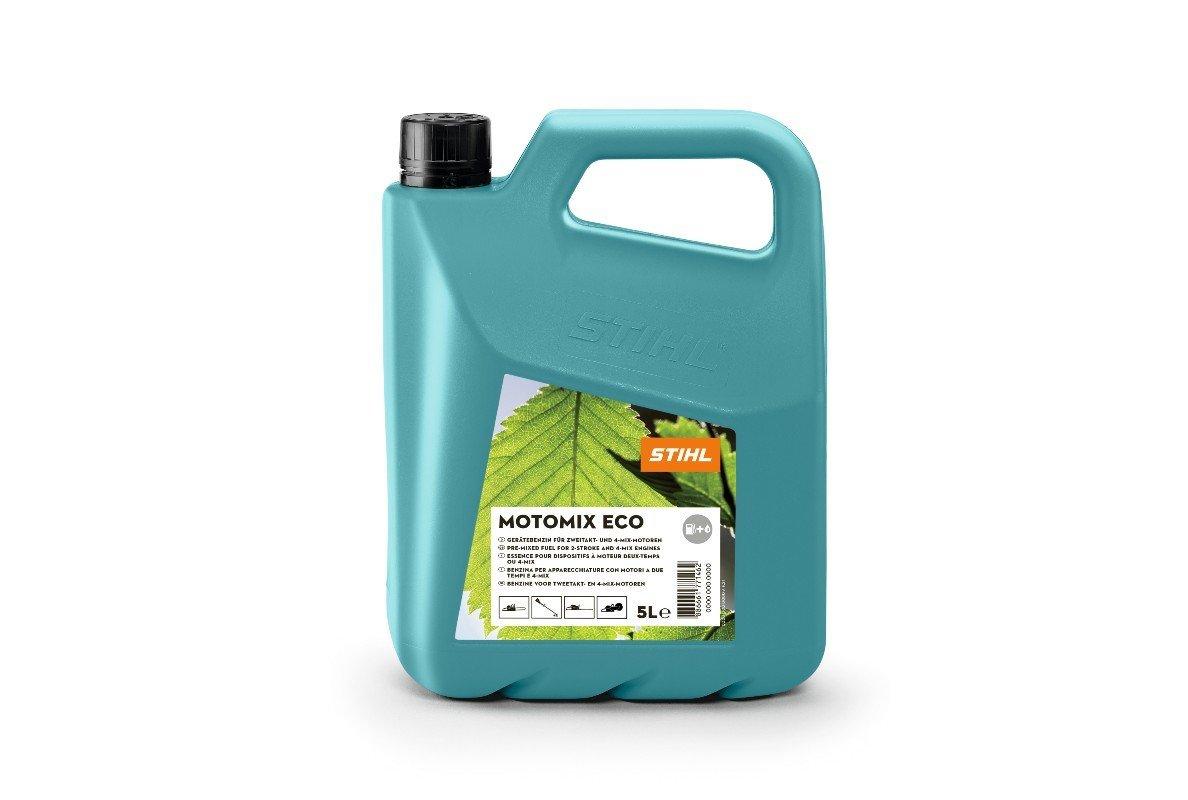 STIHL's new MotoMix ECO is a premixed special fuel for the operation of 2-stroke engines with a ten percent share of renewable resources. IMAGE SOURCE: STIHL
The new special fuel STIHL MotoMix ECO is now available for the more environmentally friendly operation of gasoline-powered 2-stroke engines. Its patented formulation contains a ten percent share of renewable resources, primarily wood residues from forestry, which are processed into fuel components that can be made use of. Like the long-proven STIHL MotoMix fuel mixture, the ready-to-use special fuel (1:50) ensures optimum power in 2-stroke engines. At the same time, the new special fuel MotoMix ECO guarantees utmost cold starting features, maximum acceleration over the entire speed range and flawless operating characteristics - all with CO2 emissions that are at least eight percent lower than those of the classic MotoMix. What's more, STIHL not only relies on environmentally friendly ingredients for MotoMix ECO itself, but also for its packaging. The canister of the new mix consists of at least 50 percent recycled material. This material comes from a recycling process and makes it possible to produce new plastic in a resource-saving way by recycling plastic waste.
NJC.© Info STIHL
----------------------------------------------------------------------------------------------------------------------
8/08/22-NL
STIHL MotoMix ECO bevat een aandeel van tien procent uit hernieuwbare bronnen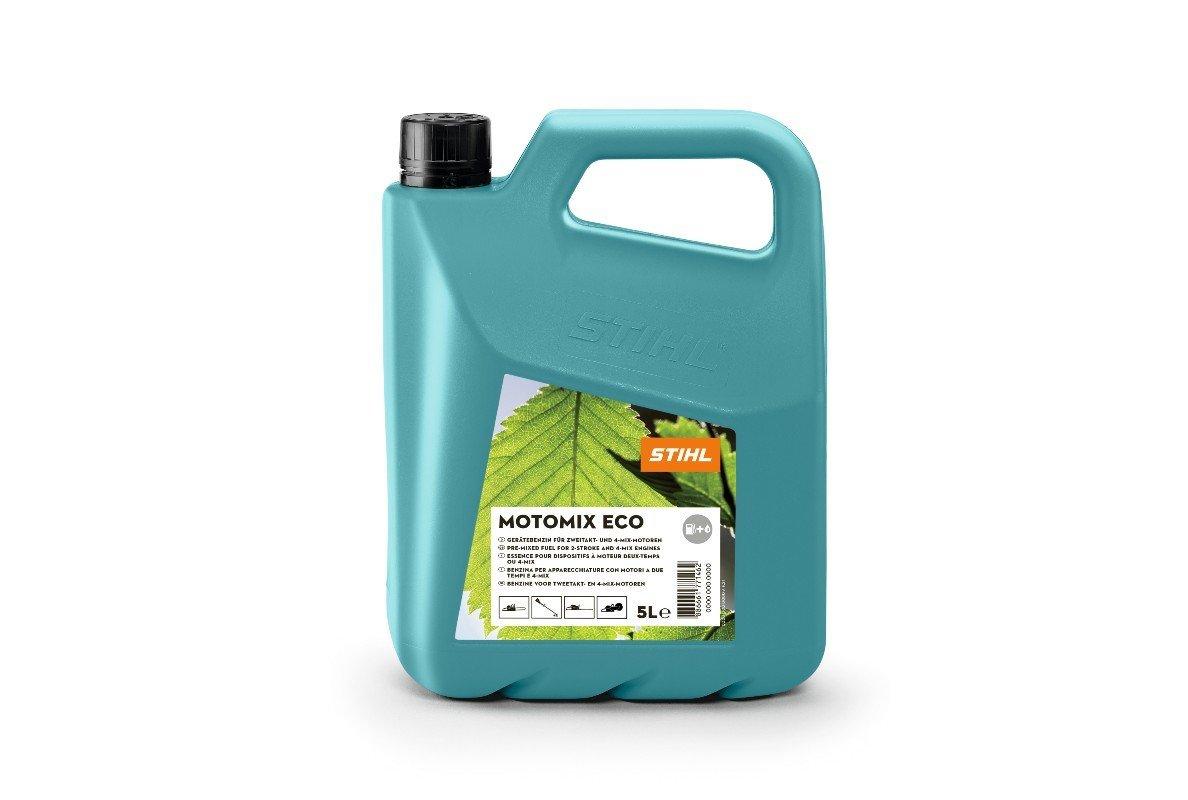 STIHL's new MotoMix ECO is a premixed special fuel for the operation of 2-stroke engines with a ten percent share of renewable resources. IMAGE SOURCE: STIHL
De nieuwe speciale brandstof STIHL MotoMix ECO is nu beschikbaar voor de milieuvriendelijkere werking van benzine-aangedreven tweetaktmotoren. De gepatenteerde formule bevat tien procent hernieuwbare grondstoffen, voornamelijk houtresten uit de bosbouw, die worden verwerkt tot bruikbare brandstofcomponenten. Net als het beproefde STIHL MotoMix-brandstofmengsel zorgt de gebruiksklare speciale brandstof (1:50) voor optimaal vermogen in 2-taktmotoren. Tegelijkertijd garandeert de nieuwe MotoMix ECO met speciale brandstof de allerbeste eigenschappen voor koud starten, maximale acceleratie over het hele snelheidsbereik en onberispelijke werking - allemaal met een CO2-uitstoot die minstens acht procent lager is dan die van de klassieke MotoMix. Bovendien vertrouwt STIHL niet alleen op milieuvriendelijke ingrediënten voor MotoMix ECO zelf, maar ook voor de verpakking. De bus van de nieuwe mix bestaat voor minimaal 50 procent uit gerecycled materiaal. Dit materiaal is afkomstig uit een recyclingproces en maakt het mogelijk om op een hulpbronnenbesparende manier nieuw plastic te produceren door plastic afval te recyclen.
NJC.© Info STIHL
-------------------------------------------------------------------------------------------------------------------