Sustainable Operation Meets Performance in BOMAG BT 60 e Tamper

03/04/23-FR-English-NL-footer
Le fonctionnement durable rencontre les performances du BOMAG BT 60 e Tamper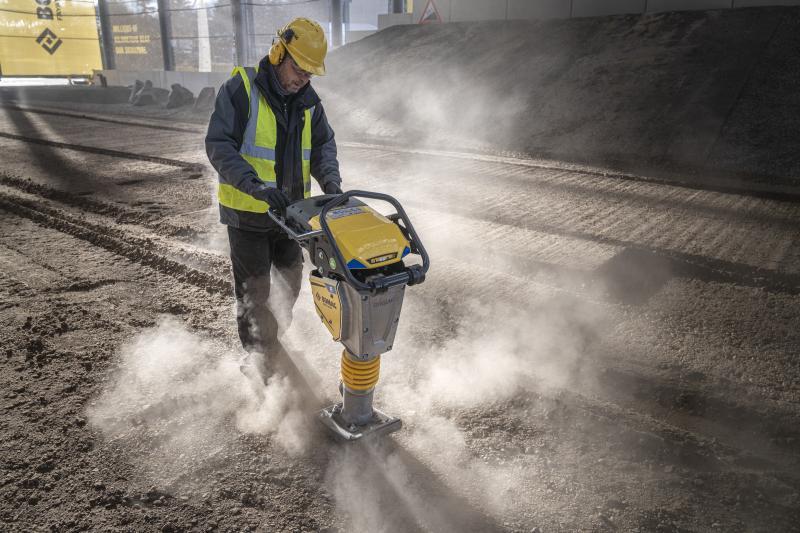 Image-The new BT 60 e delivers the same compaction power as the conventional tamper.
La dameuse à batterie BOMAG BT 60 e offre un fonctionnement sans émissions et des performances similaires à celles de son homologue à essence. Dans son élément où des limites strictes de bruit et d'émissions de CO2/NOx sont fixées, cette dameuse passe-partout peut être utilisée en toute sécurité dans des applications telles que les tranchées profondes, les structures fermées et les tunnels.
Avec sa conception robuste et évolutive, la bourreuse BT 60 e alimentée par batterie de BOMAG démarre de manière fiable dans toutes les conditions météorologiques, d'une simple pression sur un bouton, a déclaré le fabricant.
Il est alimenté par un moteur électrique asynchrone sans balais de 3,1 HP qui ne nécessite aucun entretien. Le boîtier robuste du pilon protège entièrement le moteur contre les chocs, la saleté et les dommages sur le chantier pour un fonctionnement fiable.
En éliminant le besoin de changer l'huile et le filtre, les coûts d'entretien du sabotage électrique à batterie sont presque réduits de moitié par rapport au modèle à carburant, ce qui se traduit par des coûts de possession et d'exploitation extrêmement faibles.
Deux tailles de batterie sont disponibles pour faire fonctionner la dameuse BT 60 e — 1 000 Wh ou 1 400 Wh — et sont interchangeables avec les compacteurs à plaque alimentés par batterie de BOMAG pour augmenter la flexibilité. Les blocs d'alimentation sont remplacés rapidement et facilement en relâchant un levier sans avoir besoin d'outil.
Des chargeurs standard et rapides sont disponibles pour les batteries, et les capacités de charge rapide permettent à une batterie déchargée d'être prête à l'emploi en moins de 2 heures.
En plus des avantages d'un fonctionnement économique et sans émissions, le nouveau BT 60 e offre la même puissance de compactage qu'une dameuse conventionnelle. Il présente une fréquence de compactage de 696 vpm (11,6 Hz), une hauteur de saut de 2,8 po et une force d'impact de 3 372 lbf (15 kN). Offrant une largeur de travail de 9,1 po, il se compacte à des vitesses atteignant 65,6 pi/min (20 m/min).
NJC.© Info www.bomag.com/us-en/machinery/categories/light-equipment/bt-60-e-54145/
----------------------------------------------------------------------------------------------------------------

03/04/23-English
Sustainable Operation Meets Performance in BOMAG BT 60 e Tamper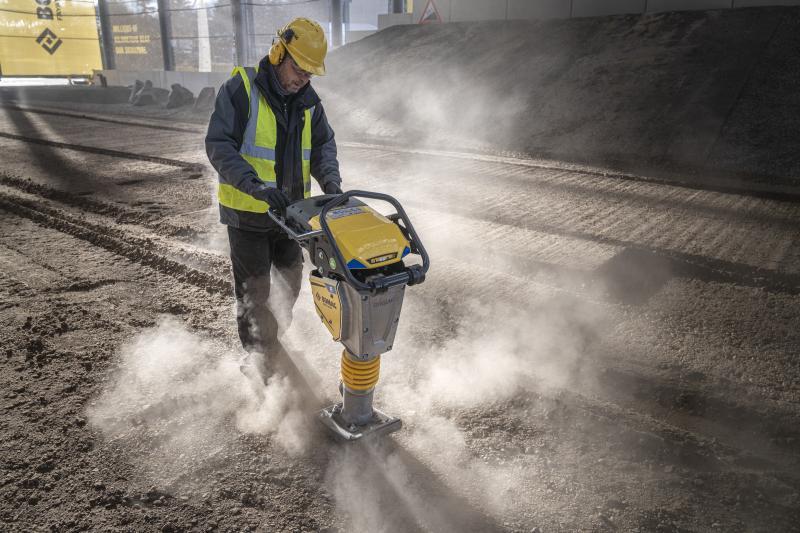 Image-The new BT 60 e delivers the same compaction power as the conventional tamper.
The BOMAG BT 60 e battery-powered tamper provides emissions-free operation and performance similar to its fuel-powered counterpart. In its element where strict noise and CO2/NOx emissions limits are set, this go-anywhere tamper can be safely used in applications such as deep trenches, enclosed structures and tunnels.
With its rugged, future-proof design, BOMAG's battery-powered BT 60 e tamper starts reliably in all weather conditions, simply at the touch of a button, the manufacturer said.
It's powered by a brushless, asynchronous 3.1-hp electric motor that requires no maintenance. The tamper's rugged casing fully protects the motor from shocks, dirt and damage at the job site for reliable operation.
Eliminating the need for oil and filter changes, service costs for the battery-electric tamper are nearly cut in half compared to the fuel model, resulting in extremely low owning and operating costs.
Two battery sizes are available to operate the BT 60 e tamper — 1,000 Wh or 1,400 Wh — and are interchangeable with BOMAG's battery-powered plate compactors to increase flexibility. The powerpacks are quickly and conveniently swapped out at the release of a lever without the need for a tool.
Standard and fast chargers are available for the batteries, and the quick-charge capabilities enable a discharged battery to be ready for use in less than 2 hours.
On top of the advantages of low-cost, emissions-free operation, the new BT 60 e delivers the same compaction power as the conventional tamper. It features 696 vpm (11,6 Hz) compaction frequency, a jumping height of 2.8 in. and impact force of 3,372 lbf (15 kN). Offering a working width of 9.1 in., it compacts at speeds reaching 65.6 ft./min (20 m/min).
NJC.© Info www.bomag.com/us-en/machinery/categories/light-equipment/bt-60-e-54145/
------------------------------------------------------------------------------------------------------------------------------------

03/04/23-NL
Duurzame werking ontmoet prestaties in de BOMAG BT 60 e Tamper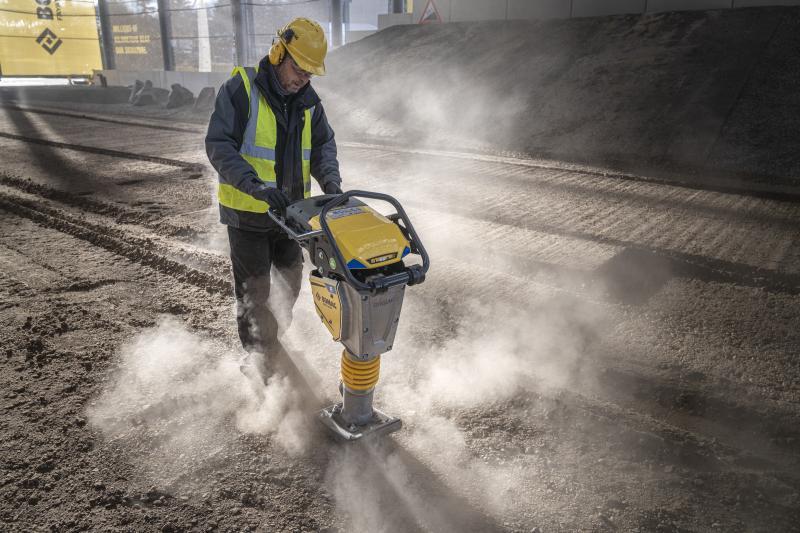 Image-The new BT 60 e delivers the same compaction power as the conventional tamper.
De BOMAG BT 60 e sabotage op batterijen biedt een emissievrije werking en prestaties vergelijkbaar met zijn tegenhanger op brandstof. In zijn element waar strikte geluids- en CO2/NOx-emissielimieten zijn vastgesteld, kan deze sabotage overal veilig worden gebruikt in toepassingen zoals diepe greppels, gesloten constructies en tunnels.
Met zijn robuuste, toekomstbestendige ontwerp start BOMAG's batterijgevoede BT 60 e sabotage betrouwbaar in alle weersomstandigheden, simpelweg met een druk op de knop, aldus de fabrikant.
Hij wordt aangedreven door een borstelloze, asynchrone elektromotor van 3,1 pk die geen onderhoud vereist. De robuuste behuizing van de tamper beschermt de motor volledig tegen schokken, vuil en schade op de werklocatie voor een betrouwbare werking.
Doordat olie en filters niet meer hoeven te worden vervangen, zijn de servicekosten voor de batterij-elektrische sabotage bijna gehalveerd in vergelijking met het brandstofmodel, wat resulteert in extreem lage eigendoms- en bedrijfskosten.
Er zijn twee batterijformaten beschikbaar om de BT 60 e tamper te laten werken — 1.000 Wh of 1.400 Wh — en zijn uitwisselbaar met BOMAG's batterijaangedreven trilplaten om de flexibiliteit te vergroten. De powerpacks kunnen snel en gemakkelijk worden verwisseld door een hendel los te laten zonder gereedschap.
Voor de accu's zijn standaard- en snelladers verkrijgbaar en dankzij de snellaadmogelijkheden is een lege accu in minder dan 2 uur klaar voor gebruik.
Bovenop de voordelen van een goedkope, emissievrije werking, levert de nieuwe BT 60 e hetzelfde verdichtingsvermogen als de conventionele stamper. Het beschikt over een verdichtingsfrequentie van 696 vpm (11,6 Hz), een springhoogte van 2,8 inch en een slagkracht van 3.372 lbf (15 kN). Met een werkbreedte van 9,1 inch verdicht hij met snelheden tot 20 m/min (65,6 ft./min).
NJC.© Info www.bomag.com/us-en/machinery/categories/light-equipment/bt-60-e-54145/
--------------------------------------------------------------------------------------------------------------