Takeuchi battery-powered compact excavator available worldwide

08/09/23-FR-English-NL-footer
Pelle compacte alimentée par batterie Takeuchi disponible dans le monde entier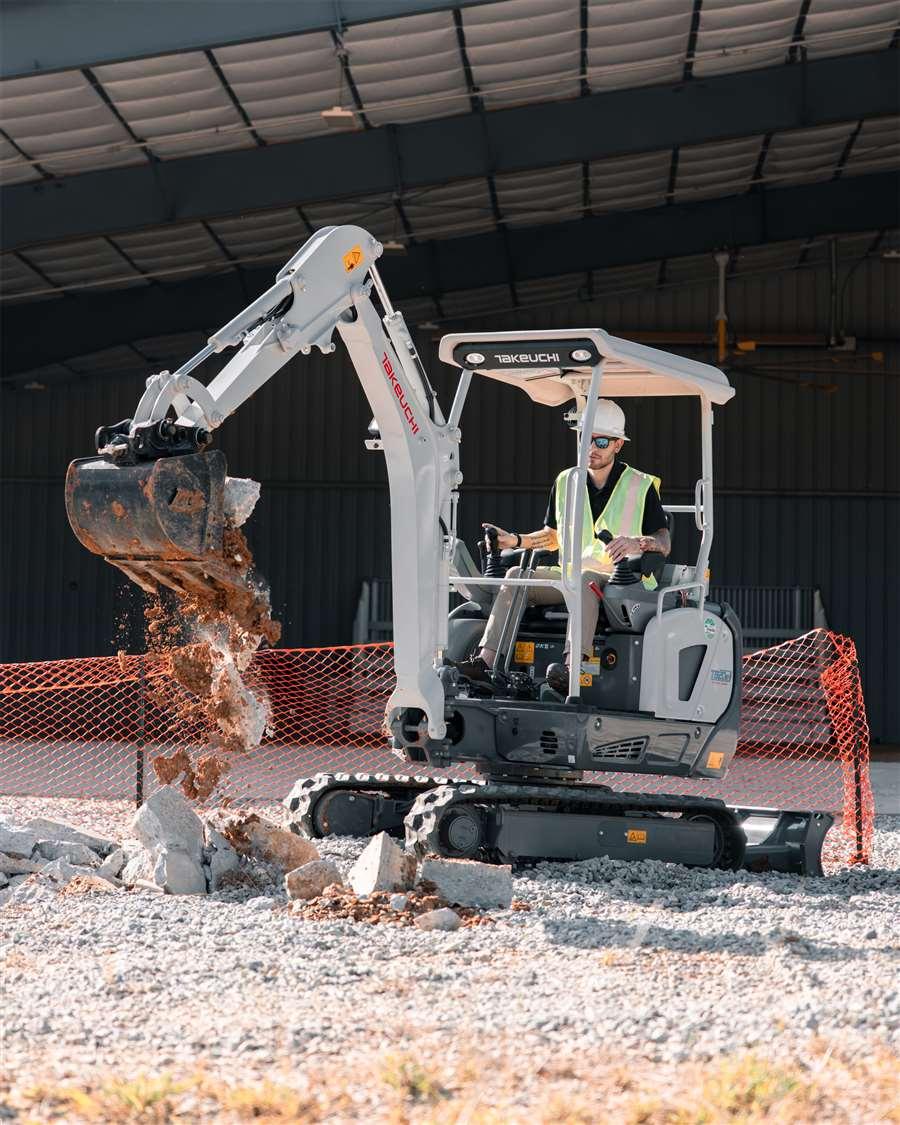 Image- TAKEUCHI
La pelle TB20e de Takeuchi, la première pelle compacte alimentée par batterie de la société, est désormais disponible à l'achat et à la location chez les concessionnaires du monde entier.
« Grâce à son nouveau look, les concessionnaires et leurs clients peuvent rapidement identifier le TB20e comme une machine électrique », a déclaré Clay Eubanks, directeur des ventes mondiales de Takeuchi.
« À partir de maintenant, à mesure que nous ajoutons de nouveaux modèles électriques à notre gamme de produits, ces modèles adopteront également la même palette de couleurs entièrement grises. Ce nouveau look sera particulièrement utile dans les flottes mixtes comprenant à la fois des machines Takeuchi électriques et des unités alimentées au diesel.
Takeuchi affirme que la nouvelle machine a des performances similaires à celles de la pelle compacte TB216 à moteur diesel de Takeuchi. La TB20e est alimentée par une batterie lithium-ion de 24,7 kWh qui offre une autonomie de travail continue allant jusqu'à huit heures, en fonction de l'application et de l'environnement.
La pelle est équipée d'un chargeur intégré avec une alimentation monophasée de 95 V à 265 V. Lorsque les opérateurs ont besoin d'une autonomie supplémentaire, ils peuvent attacher le TB20e au chargeur intégré et rester opérationnels. Un chargeur externe plus rapide en option peut charger le TB20e en seulement deux à quatre heures en utilisant une alimentation triphasée de 340 V à 460 V.
Il a une profondeur de fouille maximale de 2 390 mm (7'10") et une portée maximale de 4 090 mm (13'4,9"). Un circuit hydraulique principal raccordé au bras central fournit 34,0 L/min (9,0 gpm) pour faire fonctionner un marteau hydraulique ou d'autres accessoires à entraînement hydraulique. Selon la région, le TB20e peut également être équipé de jusqu'à quatre ports de service.
Le système télématique Takeuchi Fleet Management (TFM) est livré en standard sur le TB20e. TFM est censé réduire les temps d'arrêt et contrôler les coûts en fournissant des diagnostics à distance et des rappels de maintenance programmés ainsi que des paramètres d'alerte personnalisables. Il fournit également aux propriétaires et aux opérateurs des informations précieuses sur l'état de la machine, la durée de fonctionnement (heures) et l'emplacement.
NJC.© Info TAKEUCHI
-----------------------------------------------------------------------------------------------------------------

08/09/23-English
Takeuchi battery-powered compact excavator available worldwide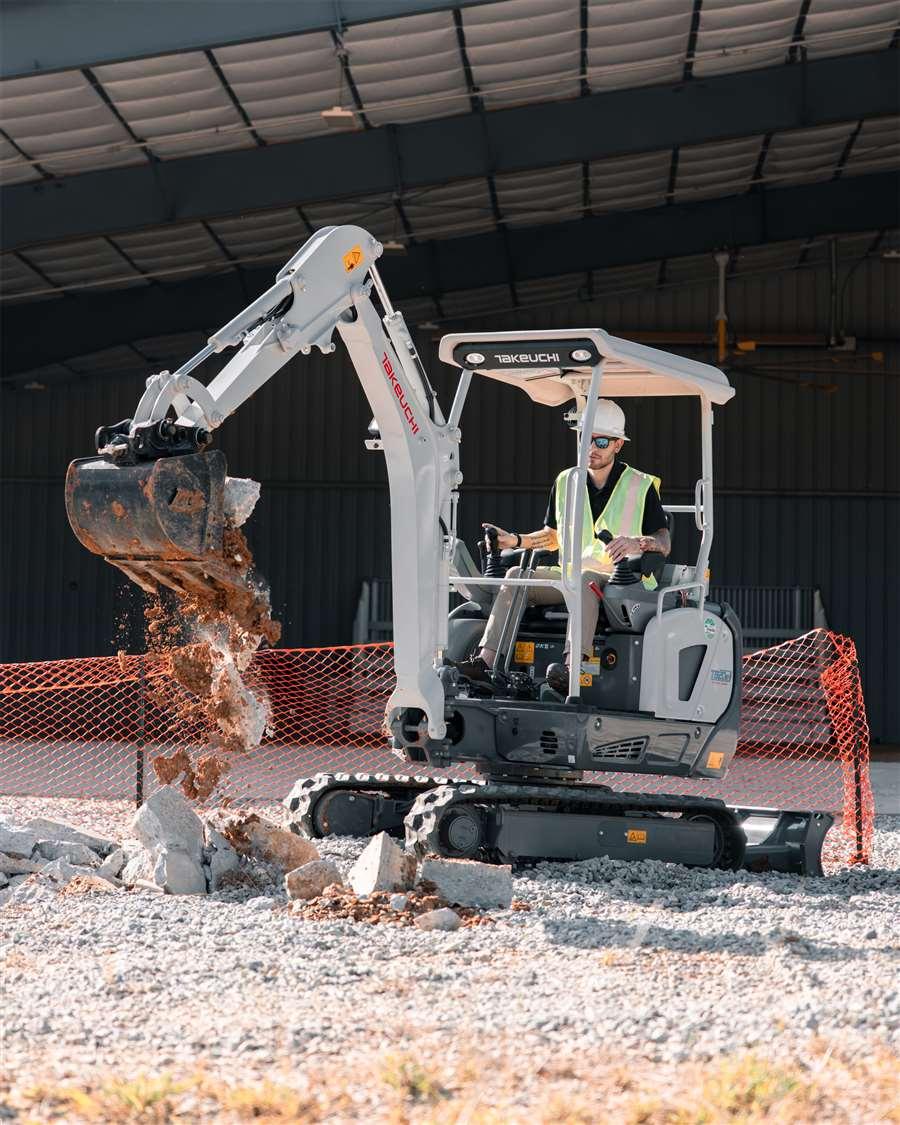 Image- TAKEUCHI
The TB20e excavator by Takeuchi, the company's initial battery-powered compact excavator, is now available for purchase and rental at dealer locations globally.
"With its new look, dealers and their customers can quickly identify the TB20e as an electric machine," said Clay Eubanks, Takeuchi's director of global sales.
"From now on, as we add more electric models to our product line, those models will also adopt that same all-gray color scheme. This new look will be especially helpful in mixed fleets with both electric Takeuchi machines and diesel-powered units."
Takeuchi says that the new machine is similar in performance to Takeuchi's diesel-powered TB216 compact excavator, the TB20e is powered by a 24.7 kWh lithium-ion battery that offers a continuous working range of up to eight hours, depending on application and environment.
The excavator features an on-board charger with 95v to 265v single-phase power. When operators require additional runtime, they can tether the TB20e to the onboard charger and remain operational. A faster, optional off-board charger can charge the TB20e in just two to four hours using 340v to 460v three-phase power.
It has a maximum dig depth of 2,390 mm (7'10") and a maximum reach of 4,090 mm (13'4.9"). A primary hydraulic circuit plumbed to midarm delivers 34.0 L/min (9.0 gpm) for running a hydraulic hammer or other hydraulically driven attachments. Depending on the region the TB20e may also be equipped with up to four service ports.
The Takeuchi Fleet Management (TFM) telematics system comes standard on the TB20e. TFM is said to reduce downtime and controls costs by providing remote diagnostics and scheduled maintenance reminders along with customizable alert settings. It also supplies owners and operators with valuable information about machine health, run time (hours) and location.
NJC.© Info TAKEUCHI
----------------------------------------------------------------------------------------------------------------

08/09/23-NL
Takeuchi accu-aangedreven compacte graafmachine wereldwijd verkrijgbaar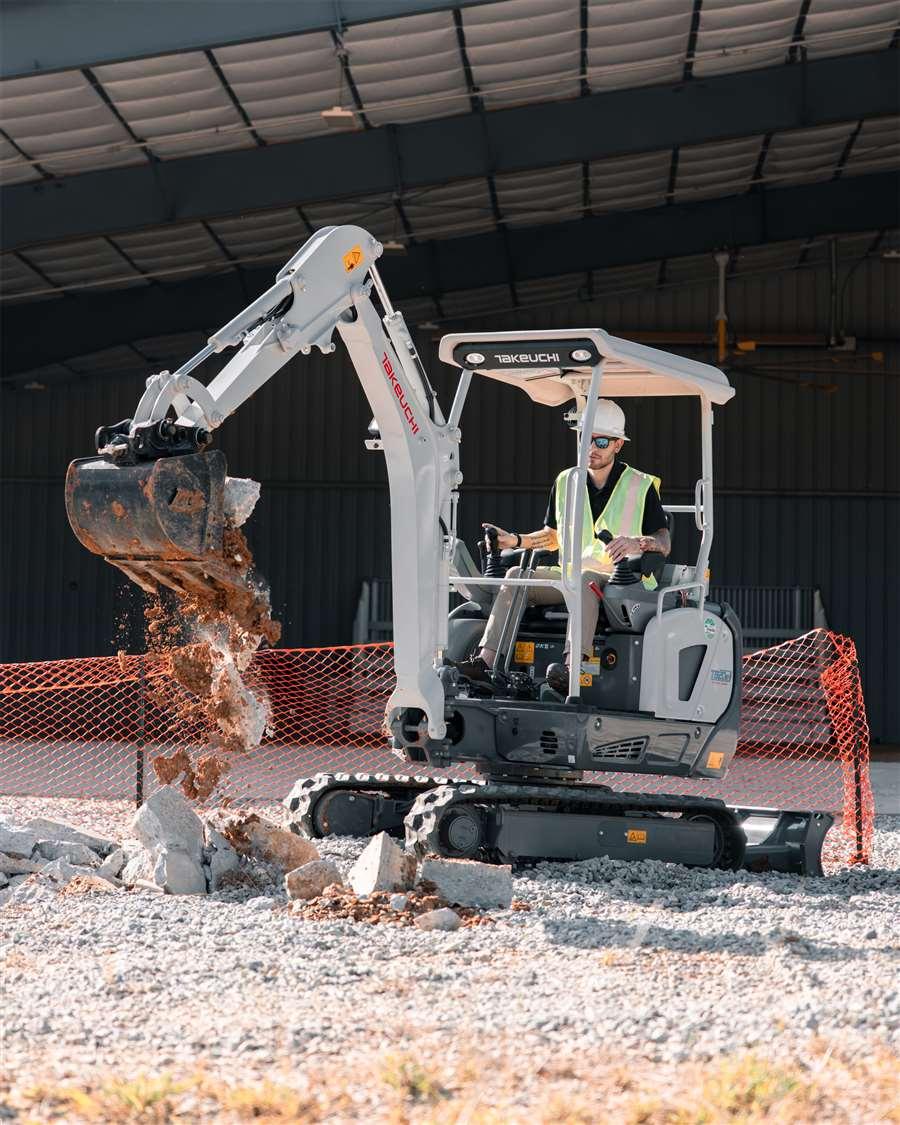 Image- TAKEUCHI
De TB20e-graafmachine van Takeuchi, de eerste compacte graafmachine op batterijen van het bedrijf, is nu beschikbaar voor aankoop en verhuur bij dealerlocaties over de hele wereld.
"Dankzij zijn nieuwe uiterlijk kunnen dealers en hun klanten de TB20e snel identificeren als een elektrische machine", zegt Clay Eubanks, Takeuchi's directeur wereldwijde verkoop.
"Vanaf nu, als we meer elektrische modellen aan onze productlijn toevoegen, zullen die modellen ook hetzelfde geheel grijze kleurenschema aannemen. Deze nieuwe look zal vooral nuttig zijn in gemengde wagenparken met zowel elektrische Takeuchi-machines als dieselaangedreven eenheden."
Takeuchi zegt dat de nieuwe machine qua prestaties vergelijkbaar is met de dieselaangedreven compacte graafmachine TB216 van Takeuchi. De TB20e wordt aangedreven door een lithium-ionbatterij van 24,7 kWh die een continu werkbereik van maximaal acht uur biedt, afhankelijk van de toepassing en de omgeving.
De graafmachine is voorzien van een ingebouwde lader met eenfasige voeding van 95 V tot 265 V. Wanneer operators extra looptijd nodig hebben, kunnen ze de TB20e aan de ingebouwde lader vastmaken en operationeel blijven. Een snellere, optionele externe lader kan de TB20e in slechts twee tot vier uur opladen met behulp van driefasige stroom van 340 V tot 460 V.
Het heeft een maximale graafdiepte van 2.390 mm (7'10") en een maximaal bereik van 4.090 mm (13'4.9"). Een primair hydraulisch circuit dat op de middenarm is aangesloten, levert 34,0 l/min (9,0 gpm) voor het aandrijven van een hydraulische hamer of andere hydraulisch aangedreven uitrustingsstukken. Afhankelijk van de regio kan de TB20e ook worden uitgerust met maximaal vier servicepoorten.
Het Takeuchi Fleet Management (TFM) telematicasysteem wordt standaard geleverd op de TB20e. Er wordt gezegd dat TFM de downtime vermindert en de kosten onder controle houdt door diagnose op afstand en geplande onderhoudsherinneringen te bieden, samen met aanpasbare waarschuwingsinstellingen. Het biedt eigenaren en operators ook waardevolle informatie over de machinestatus, looptijd (uren) en locatie.
NJC.© Info TAKEUCHI
------------------------------------------------------------------------------------------------------------------
Date de dernière mise à jour : 04/09/2023