TCi 920 Forestry Dozer
28/04/22-FR-English-NL-footer
Bouteur forestier TCi 920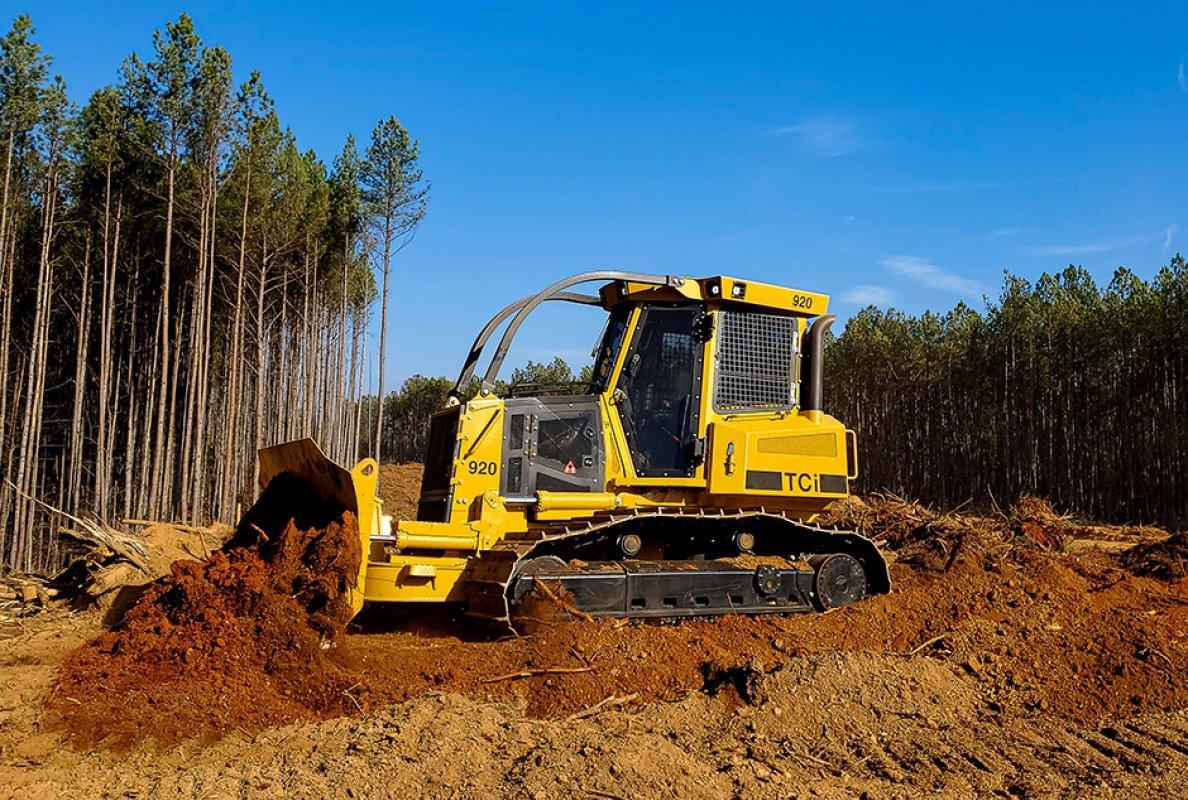 Tigercat TCi 920 Forestry Dozer IMAGE SOURCE: Tigercat International Inc.
Tigercat Industries a développé un bulldozer forestier. Le nouveau TCi 920 fera le tour de plusieurs salons professionnels de l'industrie forestière américaine ce printemps.
Le bulldozer portera le nouveau badge TCi, alors que Tigercat Industries continue de concevoir des machines pour des applications allant au-delà des systèmes d'exploitation forestière. Tous les produits relevant de la marque TCi sont et continueront d'être conçus, fabriqués et pris en charge par Tigercat Industries.
Cherchant à surmonter les lacunes que les professionnels de l'exploitation ont rencontrées lors de l'application de bouteurs de production de masse de construction standard aux opérations forestières, le nouveau 920 est conçu spécifiquement pour une utilisation dans les applications d'exploitation forestière.
Le 920 est propulsé par le moteur Tigercat FPT N45 Tier 4f d'une puissance de 101 kw (135 ch). Il est équipé d'un train de roulement renforcé à pas de 190 mm (7,5 po), d'un système d'entraînement à chenilles en boucle fermée réactif et efficace, de carters solides et résistants aux chocs et de composants structurels durables. Le 920 offre la puissance, la durabilité et la polyvalence nécessaires pour les activités de déblayage de pont, de construction de routes et de nettoyage sur les sites d'exploitation forestière.
La cabine forestière soigneusement conçue offre à l'opérateur des lignes de visibilité dégagées, renforcées par le capot avant incliné et l'échappement monté à l'arrière. La cabine est silencieuse et confortable avec un siège pneumatique chauffant et refroidissant, des manettes ergonomiques montées sur l'accoudoir et une interface de système de commande de la machine à grand écran tactile.
NJC.© Info Tigercat International Inc.
------------------------------------------------------------------------------------------------------------
28/04/22-English
TCi 920 Forestry Dozer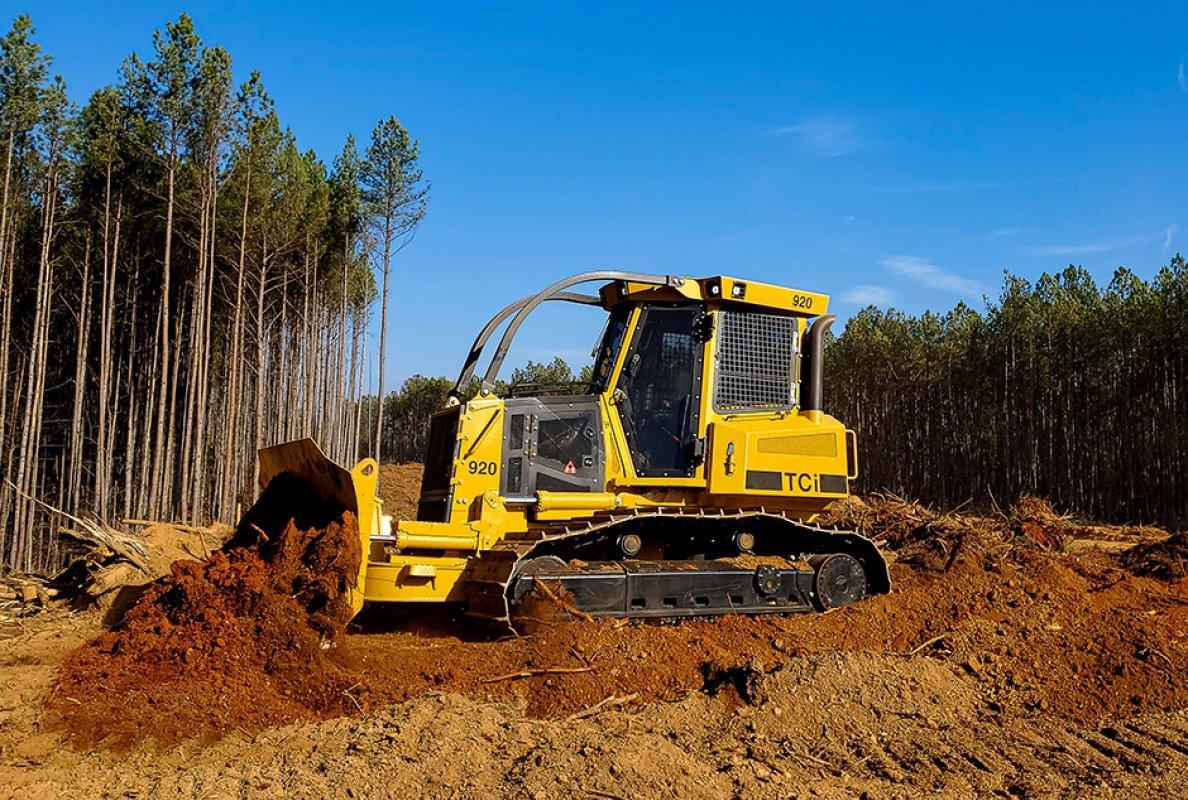 Tigercat TCi 920 Forestry Dozer IMAGE SOURCE: Tigercat International Inc.
Tigercat Industries has developed a forestry dozer. The new TCi 920 will be making the rounds at several US forestry industry tradeshows this spring.
The dozer will be branded under the new TCi badge, as Tigercat Industries continues to design machines for applications beyond forest harvesting systems. All products falling under the TCi brand are, and will continue to be designed, manufactured, and supported by Tigercat Industries.
Seeking to overcome shortcomings that harvesting professionals have experienced when applying standard-build, mass production dozers to forestry operations, the new 920 is designed specifically for use in logging applications.
The 920 is powered by the Tigercat FPT N45 Tier 4f engine rated at 101 kw (135 hp). It is equipped with a 190 mm (7.5 in) pitch heavy duty undercarriage, a responsive and efficient closed loop track drive system, strong, impact-resistant belly pans, and durable structural components throughout. The 920 provides the power, durability and versatility for deck clearing, road building and clean-up activities on logging sites.
The carefully designed forestry cab offers the operator clear sightlines augmented by the sloped front hood and rear-mounted exhaust. The cab is quiet and comfortable with a heated and cooled air ride seat, ergonomic armrest mounted joysticks, and a large touchscreen machine control system interface.
NJC.© Info Tigercat International Inc.
-------------------------------------------------------------------------------------------------------------------
28/04/22-NL
TCi 920 Bosbouwdozer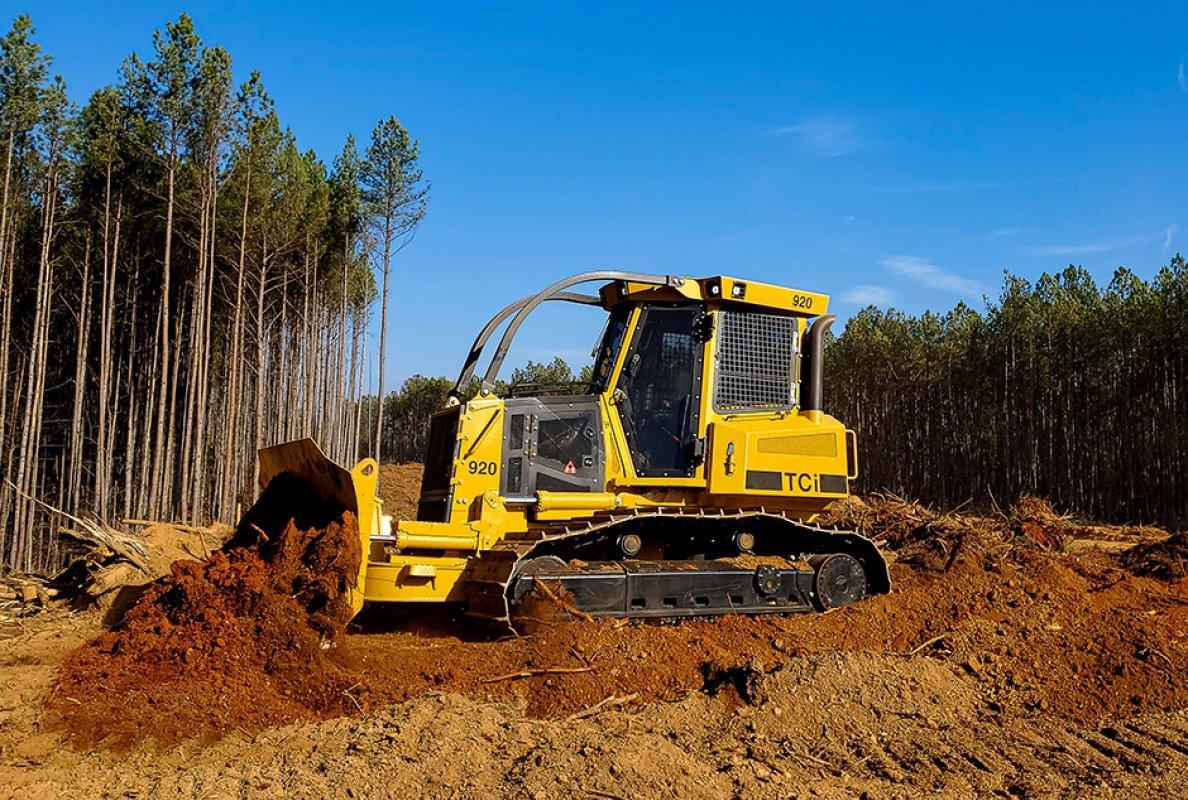 Tigercat TCi 920 Forestry Dozer IMAGE SOURCE: Tigercat International Inc.
Tigercat Industries heeft een bosbouwdozer ontwikkeld. De nieuwe TCi 920 zal dit voorjaar de ronde doen op verschillende beurzen in de bosbouwsector in de VS.
De bulldozer zal worden gebrandmerkt onder het nieuwe TCi-embleem, aangezien Tigercat Industries machines blijft ontwerpen voor toepassingen die verder gaan dan bosoogstsystemen. Alle producten die onder het merk TCi vallen, zijn en zullen worden ontworpen, vervaardigd en ondersteund door Tigercat Industries.
Om tekortkomingen te verhelpen die oogstprofessionals hebben ondervonden bij het toepassen van standaard gebouwde bulldozers voor massaproductie in bosbouwactiviteiten, is de nieuwe 920 speciaal ontworpen voor gebruik in houtkaptoepassingen.
De 920 wordt aangedreven door de Tigercat FPT N45 Tier 4f-motor met een vermogen van 101 kW (135 pk). Hij is uitgerust met een zwaar onderstel met een spoed van 190 mm (7,5 inch), een responsief en efficiënt rupsaandrijfsysteem met gesloten lus, sterke, slagvaste buikpannen en overal duurzame structurele componenten. De 920 biedt het vermogen, de duurzaamheid en de veelzijdigheid voor het opruimen van dekken, het aanleggen van wegen en het opruimen van houtkaplocaties.
De zorgvuldig ontworpen bosbouwcabine biedt de machinist duidelijke zichtlijnen, versterkt door de schuin aflopende motorkap en achteraan gemonteerde uitlaat. De cabine is stil en comfortabel met een verwarmde en gekoelde luchtgeveerde stoel, ergonomische joysticks op de armsteun en een groot touchscreen-interface voor het machinebesturingssysteem.
NJC.© Info Tigercat International Inc.
---------------------------------------------------------------------------------------------------------------------