TEREX-EvoQuip launches new product at Hillhead 2022
10/06/22-FR-English-NL-footer
EvoQuip lance un nouveau produit à Hillhead 2022
Falcon 820 IMAGE SOURCE: Terex
EvoQuip exposera à Hillhead du 21 au 23 juin 2022 à Buxton, en Angleterre, où ils présenteront un tout nouveau crible Falcon 820 et effectueront des démonstrations de travail en direct tout au long de la journée d'un concasseur à percussion Cobra 230R.
Barry O'Hare, directeur de la gamme de produits, a déclaré : « Nous sommes ravis d'être de retour chez Hillhead. Cela fait longtemps sans spectacles et l'équipe d'EvoQuip est ravie de rencontrer des clients nouveaux et existants et de présenter nos produits. Hillhead est l'exposition parfaite pour nous et nous permet de montrer pourquoi nous ouvrons la voie dans l'industrie du concassage et du criblage compacts. Venez nous voir au stand L3 où l'équipe vous attendra pour vous faire découvrir notre dernière offre - l'écran incliné Falcon 820 et vous parler des démonstrations en direct du Cobra 230R.
La gamme d'équipements mobiles de concassage et de criblage EvoQuip offre une solution compacte et polyvalente qui peut fonctionner dans les applications les plus exigeantes, notamment le béton armé, l'asphalte recyclé, les déchets de construction et de démolition, le charbon et la roche naturelle. EvoQuip fournit la solution parfaite pour le recyclage sur site dans les zones urbaines, tous les produits étant facilement transportables d'un travail à l'autre.
Le Falcon 820 est le dernier né de la gamme d'écrans EvoQuip. Sa conception robuste lui permet de manipuler des matériaux tels que le sable et le gravier, la pierre concassée, le charbon, la terre végétale et les déchets de démolition. Le Falcon 820 est un crible de finition compact et dispose d'un crible à double étage de 8'x4' à 2 paliers. Sa conception polyvalente et robuste le rend idéal pour de multiples applications. De plus, son enveloppe de transport compacte lui permet d'être transporté facilement entre les sites.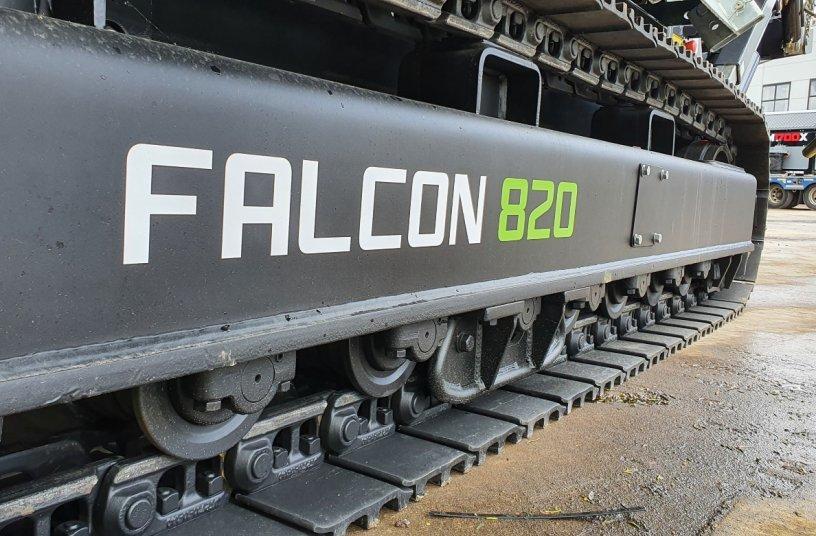 Falcon 820 IMAGE SOURCE: Terex
La gamme Falcon
La gamme Falcon se compose des cribles finisseurs inclinés Falcon 820, Falcon 1220 et Falcon 1230. Les usines Falcon combinent le scalpage, le criblage et le stockage en une seule unité autonome. Avec leur gamme d'angles de crible polyvalents, les Falcons d'EvoQuip permettent une classification efficace des fines et sont idéaux pour de multiples applications. La facilité de déplacement et la rapidité d'installation sont également des caractéristiques clés de la gamme Falcon.
Concasseur à percussion Cobra 230R
Le concasseur à percussion Cobra 230R est une machine polyvalente et facile à utiliser qui peut fonctionner dans les applications les plus exigeantes telles que le béton armé, l'asphalte recyclé, les déchets de construction et de démolition et la roche naturelle. Le système de post-criblage intégré avec un post-criblage de 2,44 m x 1,2 m (8 pi x 4 pi) sur le Cobra 230R garantit que les spécifications de produit requises sont atteintes, les matériaux surdimensionnés étant soit recirculés vers le concasseur, soit stockés. La possibilité de détacher rapidement l'ensemble du système de crible arrière, y compris le convoyeur surdimensionné, offre la possibilité de faire fonctionner la machine en mode standard ou de la transporter séparément.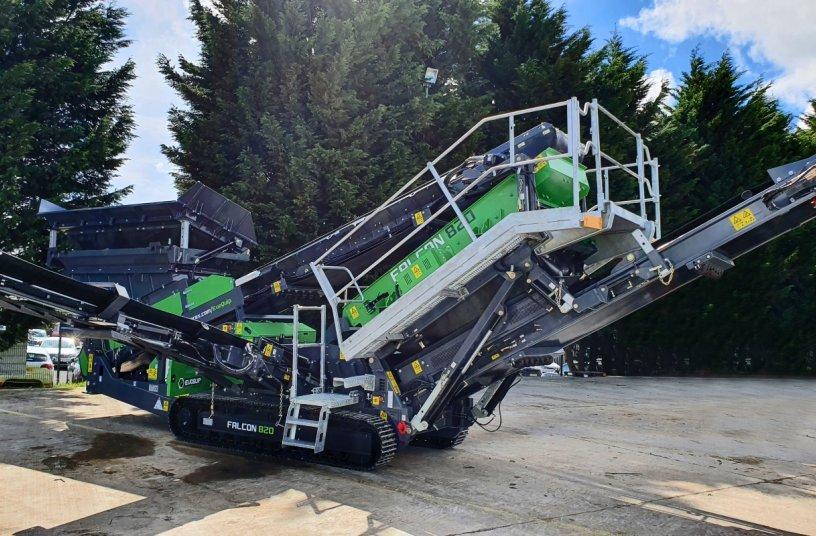 Falcon 820 IMAGE SOURCE: Terex
La gamme Cobra
La gamme d'impacteurs Cobra offre une productivité inégalée, une polyvalence inégalée et un excellent rendement énergétique ; la gamme est conçue en pensant à l'opérateur en termes de facilité d'utilisation et de facilité d'entretien. Incorporant des fonctionnalités telles que l'accès au niveau du sol au moteur, l'hydraulique, les points d'entretien et de ravitaillement ainsi qu'un bloc de radiateur à charnière, un réservoir de diesel à charnière et un convoyeur de produit qui peut être abaissé ou retiré rapidement pour l'entretien. De plus, l'opérateur a la possibilité de déplacer la machine à l'aide de la télécommande depuis la cabine de la pelle sans arrêter le concasseur.
Télématique
Tous les modèles équipés du système de télémétrie T-Link fournissent au client des informations en temps réel sur les performances de sa machine. La télématique maximise le temps de disponibilité, la disponibilité des pièces et des services et fournit des informations factuelles à jour sur le terrain.
NJC.© Info TEREX
-------------------------------------------------------------------------------------------------------------------
10/06/22-FR-English-NL-footer
EvoQuip launches new product at Hillhead 2022
Falcon 820 IMAGE SOURCE: Terex
EvoQuip will exhibit at Hillhead from 21 – 23 June 2022 in Buxton, England where they will display a brand new Falcon 820 screen and run live working demonstrations throughout the day of a Cobra 230R impact crusher.
Barry O'Hare, Product Line Director, said "We are delighted to be back at Hillhead. It has been a long time without shows and the EvoQuip team are excited to meet new and existing customers and showcase our products. Hillhead is the perfect exhibition for us and allows us to show why we are leading the way in the compact crushing and screening industry. Come down and see us at stand L3 where the team will be waiting to show you around our latest offering – the Falcon 820 inclined screen and talk to you about the live demonstrations of the Cobra 230R."
The EvoQuip range of mobile crushing and screening equipment provides a compact and versatile solution which can operate in the most demanding of applications including Reinforced Concrete, Recycled Asphalt, Construction and Demolition waste, Coal and Natural Rock. EvoQuip provides the perfect solution for onsite recycling in urban areas with all the products being easily transportable from job to job.
The Falcon 820 is the latest addition to the EvoQuip range of screens. Its rugged design enables it to handle materials such as sand and gravel, crushed stone, coal, topsoil and demolition waste. The Falcon 820 is a compact finishing screen and boasts a double deck, 2 bearing 8'x4' screenbox. Its versatile and robust design makes it ideal for multiple applications. In addition, its compact transport envelope allows it to be transported easily between sites.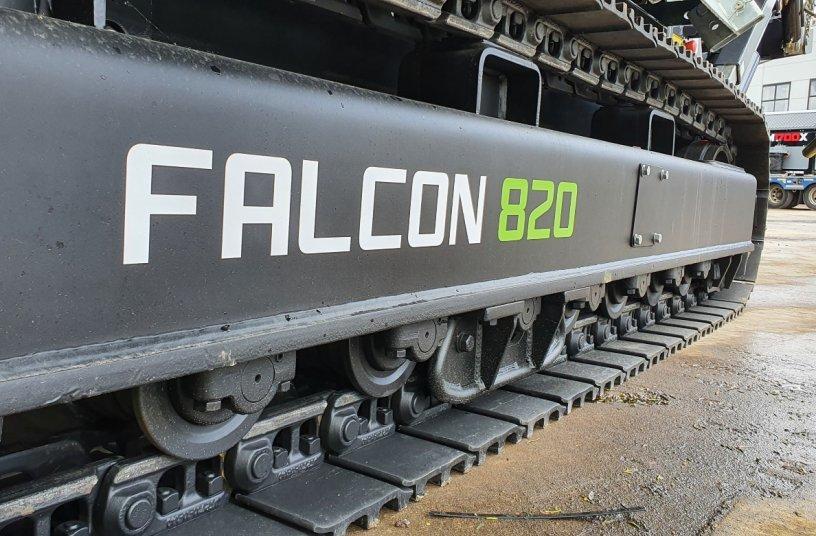 Falcon 820 IMAGE SOURCE: Terex
The Falcon Range
The Falcon range consists of the Falcon 820, Falcon 1220 and Falcon 1230 inclined finishing screens. The Falcon plants combine scalping, screening and stockpiling into one self-contained unit. With their versatile screen angle range, EvoQuip's Falcons provide efficient classification of fines and are ideal for multiple applications. Ease of movement and rapid set up are also key features of the Falcon range.
Cobra 230R Impact Crusher
The Cobra 230R impact crusher is a versatile and easy to use machine that can operate in the most demanding of applications such as Reinforced Concrete, Recycled Asphalt, Construction and Demolition waste and Natural Rock. The integrated afterscreen system with a 2.44m x 1.2m (8' x 4') post screen on the Cobra 230R ensures the required product specification is achieved with oversize material either being recirculated back to the crusher or else stockpiled. The ability to quickly detach the complete afterscreen system including the oversize conveyor, provides the option of either running the machine in standard mode or transporting it separately.
The Cobra Range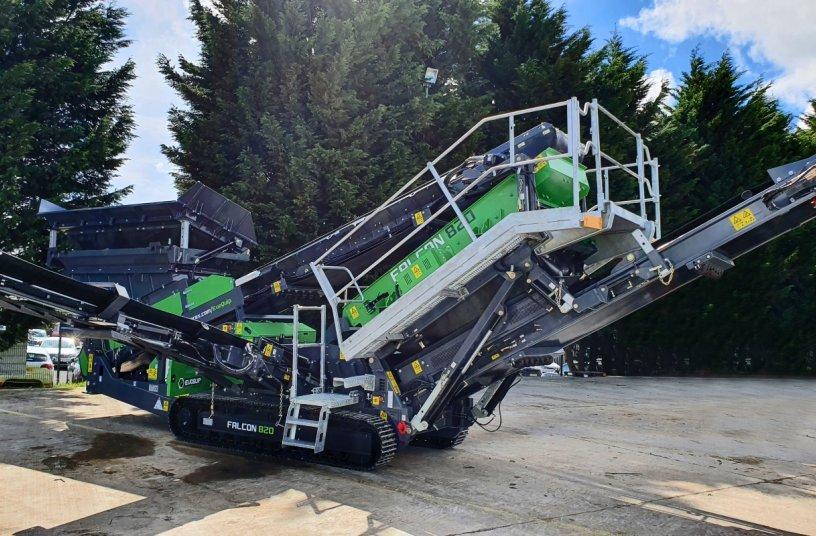 Falcon 820 IMAGE SOURCE: Terex
The Cobra range of Impactors provides class leading productivity, unmatched versatility and excellent fuel efficiency; the range is designed with the operator in mind in terms of ease of use and serviceability. Incorporating features such as ground level access to the engine, hydraulics, service and refueling points as well as hinged radiator pack, hinged diesel tank and product conveyor that can be lowered or removed quickly for maintenance. In addition, the operator has the ability to move the machine using the remote control from the excavator cab without shutting down the crusher.
Telematics
All models fitted with the T-Link telemetry system provide the customer with real time information on the performance of their machine. Telematics maximises uptime, parts and service availability and provides factual up to date information from the field.
NJC.© Info TEREX
------------------------------------------------------------------------------------------------------------------
10/06/22-NL
EvoQuip lanceert nieuw product op Hillhead 2022
Falcon 820 IMAGE SOURCE: Terex
EvoQuip zal exposeren op Hillhead van 21 - 23 juni 2022 in Buxton, Engeland, waar ze een gloednieuw Falcon 820-scherm zullen tonen en de hele dag live demonstraties zullen geven van een Cobra 230R-impactbreker.
Barry O'Hare, Product Line Director, zei: "We zijn verheugd om terug te zijn bij Hillhead. Er zijn lange tijd geen shows geweest en het EvoQuip-team is verheugd om nieuwe en bestaande klanten te ontmoeten en onze producten te presenteren. Hillhead is de perfecte beurs voor ons en stelt ons in staat om te laten zien waarom we toonaangevend zijn in de compacte breek- en zeefindustrie. Kom naar beneden en zie ons op stand L3 waar het team zal wachten om u rond te leiden in ons nieuwste aanbod - het Falcon 820-hellende scherm en met u te praten over de live demonstraties van de Cobra 230R."
Het EvoQuip-assortiment mobiele breek- en zeefapparatuur biedt een compacte en veelzijdige oplossing die kan werken in de meest veeleisende toepassingen, waaronder gewapend beton, gerecycled asfalt, bouw- en sloopafval, steenkool en natuursteen. EvoQuip biedt de perfecte oplossing voor recycling op locatie in stedelijke gebieden, waarbij alle producten gemakkelijk van werk naar werk kunnen worden vervoerd.
De Falcon 820 is de nieuwste toevoeging aan het EvoQuip-assortiment schermen. Het robuuste ontwerp maakt het mogelijk om materialen zoals zand en grind, steenslag, steenkool, bovengrond en sloopafval te verwerken. De Falcon 820 is een compact afwerkscherm en beschikt over een dubbeldeks, 2 lagers 8'x4' zeefkast. Het veelzijdige en robuuste ontwerp maakt het ideaal voor meerdere toepassingen. Bovendien maakt zijn compacte transportomhulling het mogelijk om gemakkelijk tussen locaties te worden vervoerd.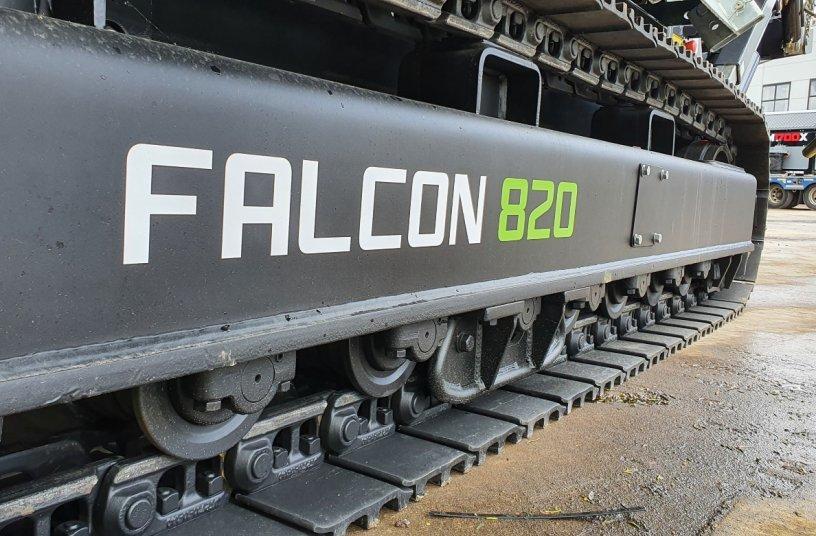 Falcon 820 IMAGE SOURCE: Terex
De Falcon-reeks
Het Falcon-assortiment bestaat uit de Falcon 820, Falcon 1220 en Falcon 1230 schuine afwerkschermen. De Falcon-fabrieken combineren scalperen, zeven en voorraden in één op zichzelf staande eenheid. Met hun veelzijdige zeefhoekbereik bieden EvoQuip's Falcons een efficiënte classificatie van boetes en zijn ze ideaal voor meerdere toepassingen. Gemakkelijk te verplaatsen en snel op te zetten zijn ook belangrijke kenmerken van de Falcon-reeks.
Cobra 230R slagbreker
De Cobra 230R slagbreker is een veelzijdige en gebruiksvriendelijke machine die kan werken in de meest veeleisende toepassingen zoals gewapend beton, gerecycled asfalt, bouw- en sloopafval en natuursteen. Het geïntegreerde nazeefsysteem met een paalzeef van 2,44 m x 1,2 m (8' x 4') op de Cobra 230R zorgt ervoor dat de vereiste productspecificatie wordt bereikt met overmaats materiaal dat ofwel wordt teruggevoerd naar de breker of anders wordt opgeslagen. De mogelijkheid om het complete nazeefsysteem, inclusief de overmaatse transportband, snel los te koppelen, biedt de mogelijkheid om de machine in standaardmodus te laten draaien of apart te transporteren.
De Cobra-reeks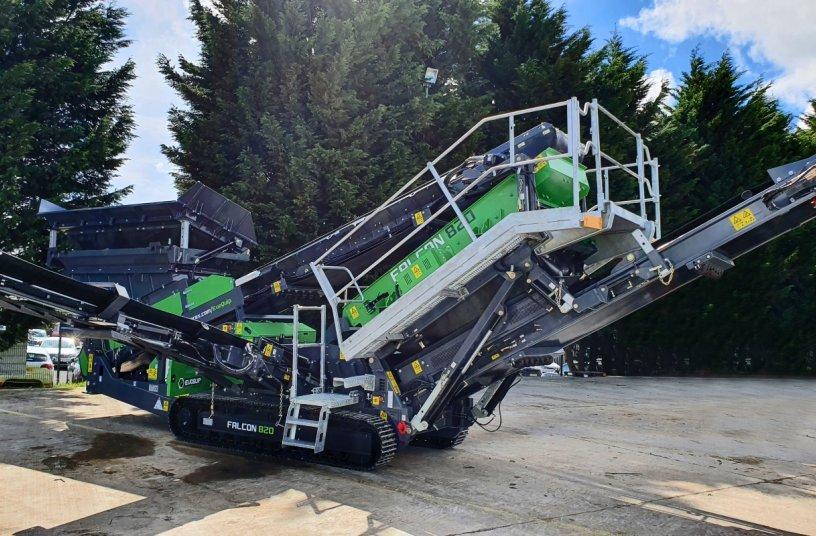 Falcon 820 IMAGE SOURCE: Terex
Het Cobra-assortiment Impactors biedt toonaangevende productiviteit, ongeëvenaarde veelzijdigheid en uitstekende brandstofefficiëntie; de serie is ontworpen met de machinist in gedachten op het gebied van gebruiksgemak en onderhoudsgemak. Voorzien van functies zoals toegang vanaf de grond tot de motor, hydrauliek, service- en tankpunten, evenals een scharnierend radiatorpakket, scharnierende dieseltank en producttransportband die snel kan worden neergelaten of verwijderd voor onderhoud. Bovendien heeft de machinist de mogelijkheid om de machine met de afstandsbediening vanuit de cabine van de graafmachine te verplaatsen zonder de breker uit te schakelen.
telematica
Alle modellen die zijn uitgerust met het T-Link-telemetriesysteem bieden de klant realtime informatie over de prestaties van hun machine. Telematica maximaliseert uptime, beschikbaarheid van onderdelen en service en biedt feitelijke actuele informatie uit het veld.
NJC.© Info TEREX
----------------------------------------------------------------------------------------------------------------