Terex tower crane trio in Trento

23/06/23-FR-English-NL-footer
Trio de grues à tour Terex à Trento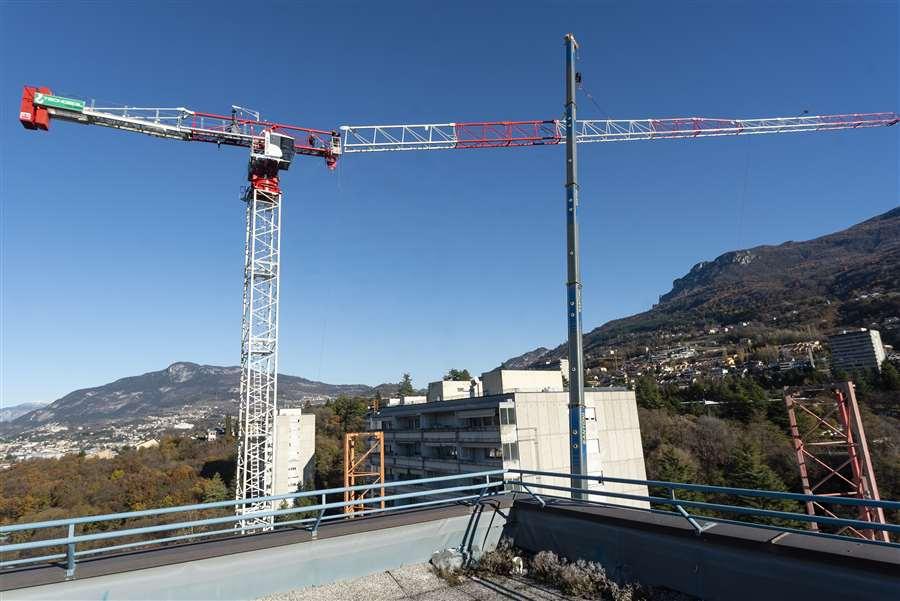 Mounting the pre-assembled jib on one of the three Terex CTT 202-10 flat top tower cranes at the site. Photo: Terex
Des travaux de rénovation et d'amélioration, tous réalisés grâce à des grues à tour, ont démarré sur un ensemble de 14 tours résidentielles en Italie.
Pendant près de cinquante ans, les « Tours de Trente » ont plané sur l'horizon de la ville, s'élevant à une hauteur de 13 étages.
Les 14 immeubles de grande hauteur, appelés Torri di Madonna Bianca, ont été construits en 1975 dans le sud de Trente. Plus de 500 familles, soit un total d'environ 1 400 personnes, y vivent désormais.
Les travaux ont débuté fin 2022 sur les trois premières tours. Il est soutenu par l'initiative de crédit d'impôt "110% Superbonus" du gouvernement italien. Les mises à niveau de l'efficacité énergétique font partie des travaux, tout comme les améliorations des performances sismiques et les améliorations de l'apparence. Les travaux sur les tours restantes commenceront au cours des prochains mois. Minimiser les perturbations pour les résidents est une exigence clé car tous les appartements resteront occupés tout au long des travaux.
l'une des trois grues à tour à toit plat Terex CTT 202-10 sur les tours du site de Trento en Italie Levage de la flèche en une seule pièce pour assembler l'un des trois toits plats Terex CTT 202-10 sur le site jusqu'à présent.
Les travaux sont effectués par trois grues à tour à toit plat Terex CTT 202-10, érigées à des hauteurs de 56, 59 et 62 mètres et toutes avec des flèches de 65 mètres. La capacité est de 10 tonnes et ils lèvent 2,33 tonnes en bout de flèche. Le concessionnaire Terex local et la société de location Tecnoedil ont monté les grues en quelques heures, a déclaré Terex.
Mauro Facchinelli, propriétaire de Tecnoedil, a déclaré : « Nous connaissons très bien les modèles City Class de Terex, avec lesquels nous travaillons depuis de nombreuses années. Elles sont polyvalentes et faciles à entretenir, ce qui est idéal pour notre vaste flotte de centaines de grues de location. »
Les grues sur site disposent de la télématique T-Link permettant à Tecnoedil de gérer la flotte à distance et d'optimiser la maintenance et l'entretien. Le diagnostic à distance des problèmes avec une grue réduit le nombre de visites sur site nécessaires. Certaines choses peuvent également être corrigées à distance, éliminant ainsi complètement la nécessité d'une visite sur site.
NJC.© Info TEREX
------------------------------------------------------------------------------------------------------------------

Terex 23/06/23-English
Terex tower crane trio in Trento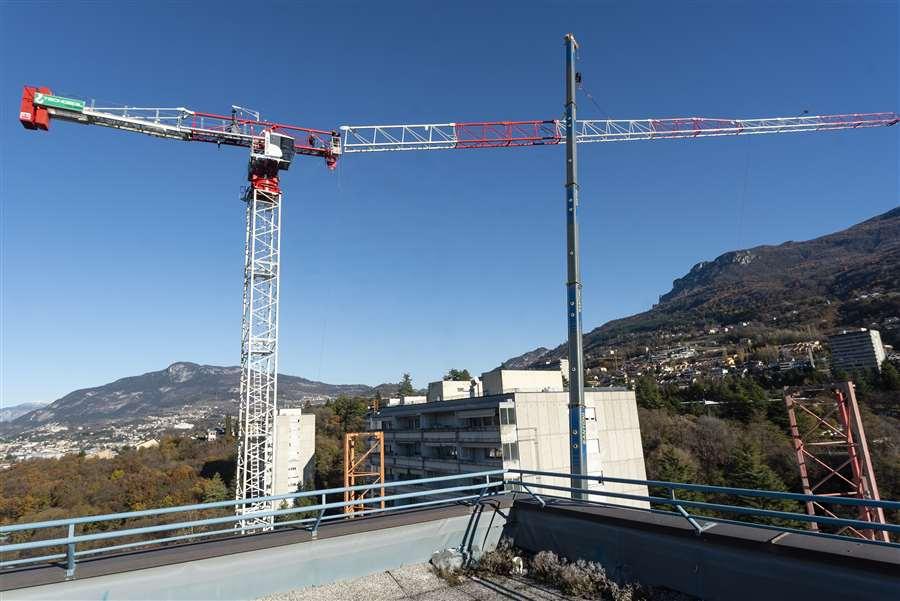 Mounting the pre-assembled jib on one of the three Terex CTT 202-10 flat top tower cranes at the site. Photo: Terex
Renovation and improvement work, all achieved thanks to tower cranes, has started on a group of 14 residential towers in Italy.
For nearly fifty years the "Towers of Trento" have soared over the town's skyline, rising to a height of 13 storeys.
The 14 high-rise buildings, called Torri di Madonna Bianca, were built in 1975 in South Trento. More than 500 families, a total of around 1,400 people, now live there.
Work started in late 2022 on the first three towers. It is supported by the Italian government's "110 per cent Superbonus" tax credit initiative. Energy efficiency upgrades are part of the work as are seismic performance enhancements and improvements to the appearance. Work on the remaining towers will begin over the next few months. Minimising disruption to residents is a key requirement as all the apartments will remain occupied throughout the works.
one of three Terex CTT 202-10 flat top tower cranes on the towers of Trento site in Italy Lifting the jib in one piece to assemble one of three Terex CTT 202-10 flat tops on site so far.
Doing the work are three Terex CTT 202-10 flat top tower cranes, erected to heights of 56, 59, and 62 metres and all with 65 metre jibs. Capacity is 10 tonnes and they lift 2.33 tonnes at jib-end. Local Terex dealer and rental company Tecnoedil erected the cranes in a matter of hours, Terex said.
Mauro Facchinelli, Tecnoedil owner, said, "We're very familiar with Terex's city class models, which we've been working with for many years. They're versatile and easy to maintain, which is ideal for our large fleet of hundreds of rental cranes."
The cranes on site have the T-Link telematics allowing Tecnoedil to manage the fleet remotely and to optimise maintenance and servicing. Remote diagnosis of issues with a crane reduces the number of site visits needed. Some things can also be corrected remotely, removing the need for a site visit altogether.
NJC.© Info TEREX
----------------------------------------------------------------------------------------------------------------

23/06/23-NL
Terex torenkraantrio in Trento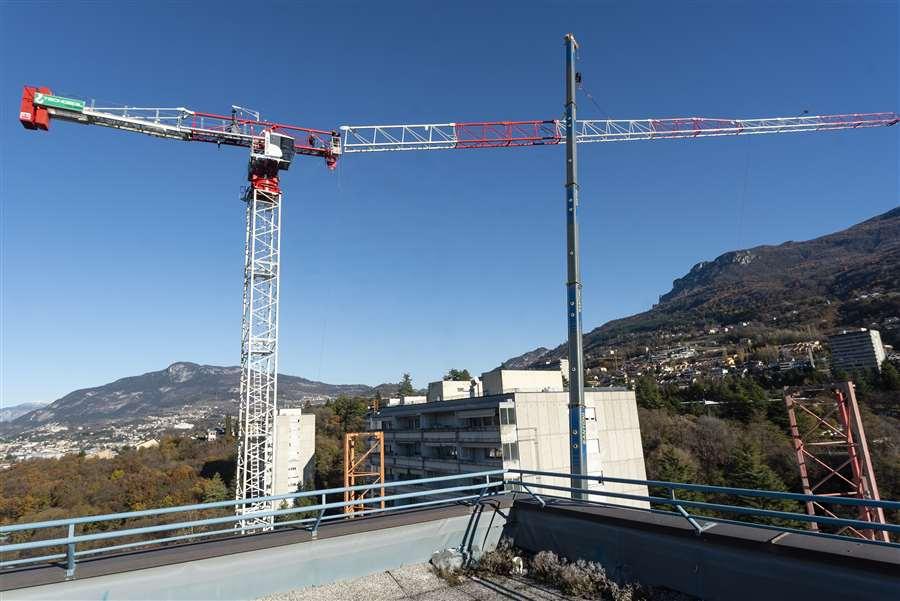 Mounting the pre-assembled jib on one of the three Terex CTT 202-10 flat top tower cranes at the site. Photo: Terex
Renovatie- en verbeteringswerkzaamheden, allemaal gerealiseerd dankzij torenkranen, zijn begonnen aan een groep van 14 woontorens in Italië.
Al bijna vijftig jaar verheffen de "Torens van Trento" zich boven de skyline van de stad, tot een hoogte van 13 verdiepingen.
De 14 hoge gebouwen, genaamd Torri di Madonna Bianca, werden gebouwd in 1975 in Zuid-Trento. Inmiddels wonen er meer dan 500 gezinnen, in totaal zo'n 1.400 mensen.
Eind 2022 is gestart met de werkzaamheden aan de eerste drie torens. Het wordt ondersteund door het belastingkredietinitiatief "110 procent Superbonus" van de Italiaanse regering. Energie-efficiëntie-upgrades maken deel uit van het werk, evenals seismische prestatieverbeteringen en verbeteringen aan het uiterlijk. De werkzaamheden aan de resterende torens beginnen de komende maanden. Het minimaliseren van de overlast voor de bewoners is een belangrijke vereiste, aangezien alle appartementen tijdens de werken bewoond blijven.
een van de drie Terex CTT 202-10 flat-top torenkranen op de torens van de Trento-site in Italië De giek in één stuk hijsen om een van de drie Terex CTT 202-10 flat-tops tot nu toe op locatie te monteren.
Het werk wordt uitgevoerd door drie Terex CTT 202-10 flat-top torenkranen, opgesteld tot een hoogte van 56, 59 en 62 meter en allemaal met giekpen van 65 meter. De capaciteit is 10 ton en ze heffen 2,33 ton aan jib-einde. Lokale Terex-dealer en verhuurbedrijf Tecnoedil hebben de kranen binnen enkele uren opgebouwd, zei Terex.
Mauro Facchinelli, eigenaar van Tecnoedil, zei: "We zijn zeer bekend met de stadsklasse-modellen van Terex, waarmee we al vele jaren werken. Ze zijn veelzijdig en gemakkelijk te onderhouden, wat ideaal is voor onze grote vloot van honderden huurkranen."
De kranen op de site beschikken over de T-Link-telematica waarmee Tecnoedil de vloot op afstand kan beheren en het onderhoud en de service kan optimaliseren. Diagnose op afstand van problemen met een kraan vermindert het aantal benodigde locatiebezoeken. Sommige dingen kunnen ook op afstand worden gecorrigeerd, waardoor een bezoek ter plaatse helemaal niet meer nodig is.
NJC.© Info TEREX
------------------------------------------------------------------------------------------------------------------