The first Belgian Mercedes-Benz eActros arrives

10/03/23-FR-English-NL-footer
Le premier Mercedes-Benz eActros belge arrive

Image- DAIMLER Trucks
Van Mieghem Logistics, Matthys et Daimler Truck unissent leurs forces
Pour les camions aussi, l'électromobilité devient de plus en plus une réalité. Daimler Truck fait également figure de pionnier dans ce domaine avec l'eActros et met en effet sur la route un camion particulièrement durable qui fera sa première belge dans quelques semaines, sous les couleurs de Van Mieghem Logistics. En attendant cette véritable première, le « mariage » entre le châssis et la superstructure est déjà une réalité dans les ateliers de Matthys à Drongen.
La collaboration entre Daimler Truck et Van Mieghem Logistics n'est pas neuve. En effet, près de 90 % de la flotte de Van Mieghem ont une étoile sur la calandre, tandis que le logisticien opte toujours pour la carrosserie de Drongen pour ses superstructures thermiques. « En outre, entre septembre 2020 et juin 2021, Van Mieghem Logistics avait déjà effectué un test réussi avec la 1re génération de l'eActros. Ce dernier étalé sur cette période de 10 mois, avait permis de parcourir 30.000 km, sans la moindre avarie », déclare Rudy Vanderperren, Marketing Manager de Daimler Truck. Aujourd'hui, environ deux ans plus tard, l'eActros a encore bien évolué et est maintenant à l'état de véhicule de série. « Grâce au tout nouveau groupe motopropulseur sans arbre de transmission et boîte de vitesses, il a un poids propre réduit, plus de possibilités de superstructures et une plus grande autonomie », ajoute Rudy Vanderperren.
400 km d'autonomie
Van Mieghem Logistics a opté pour l'eActros 400 avec quatre packs de batteries. Cela donne au camion de distribution une autonomie d'environ 400 kilomètres. « Notre camion étant équipé d'un groupe frigorifique Mitsubishi entièrement électrique, nous perdrons environ +/- 10 % de l'autonomie normale de la batterie, en fonction de la plage de programmation de température, mais nous sommes en mesure de distribuer les marchandises de nos clients sans émissions et sans bruit à n'importe quel endroit dans un rayon de 200 km autour de Bruxelles », enchaîne Laurent Van Mieghem, membre de la direction de Van Mieghem Logistics. Matthys SA est responsable du montage du groupe frigorifique entièrement électrique, aussi que de la superstructure de congélation. Suite à ce choix de type de superstructure, l'isolation permet de maintenir la température dans la zone de chargement de façon optimale tout en réduisant l'énergie nécessaire à son fonctionnement », déclare Bart Matthys, Managing Director de Matthys.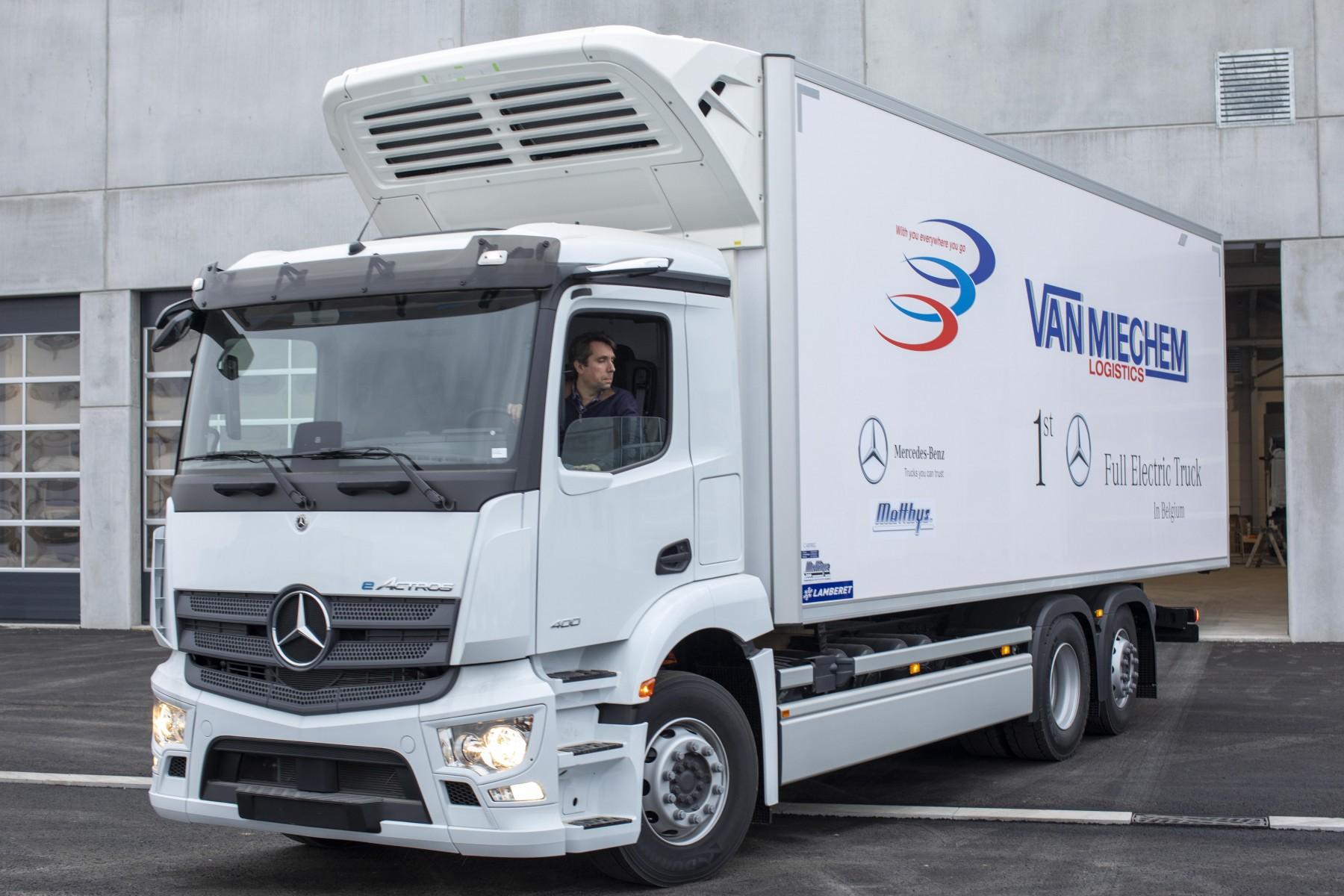 Image- DAIMLER Trucks
Prise de force électrique
Le premier eActros belge est également un premier test pour Matthys et Daimler Truck. « Un camion électrique présente quand même un certain nombre de particularités à cause de la présence des batteries. Le soudage est toutefois inenvisageable, raison pour laquelle nous avons opté pour une solution Meccano vissée, qui peut être fabriquée à l'avance et adaptée au camion si nécessaire », explique Bart Matthys. Une autre solution spécifique est le raccordement du groupe frigorifique via la prise de force électrique. « L'unité de refroidissement fonctionne d'ailleurs sur courant continu, ce qui permet d'éviter les pics de consommation d'énergie, et ce quelle que soit la température que le groupe doit fournir », ajoute Joris Matthys, Managing Director de Matthys. Enfin, le hayon D'Hollandia fonctionne sur 24 volts et peut être raccordé aux deux batteries auxiliaires du camion.
Un choix mûrement réfléchi
Le fait que Van Mieghem Logistics soit le premier transporteur belge à prendre la route avec un eActros n'est pas un hasard. « Nous n'avons délibérément jamais investi dans les véhicules au gaz, car nous n'avons jamais considéré le gaz naturel comme une solution à long terme. Attendre la première solution électrique aboutie nous semblait être une meilleure stratégie sur le long terme », souligne Laurent Van Mieghem.
NJC.© Info DAIMLER Trucks Belgium
---------------------------------------------------------------------------------------------------------------

10/03/23-English
The first Belgian Mercedes-Benz eActros arrives
Image- DAIMLER Trucks
Van Mieghem Logistics, Matthys and Daimler Truck join forces
For trucks too, electromobility is increasingly becoming a reality. Daimler Truck is also a pioneer in this field with the eActros and is putting a particularly durable truck on the road, which will make its Belgian premiere in a few weeks, under the colors of Van Mieghem Logistics. While waiting for this real premiere, the "marriage" between the chassis and the superstructure is already a reality in the Matthys workshops in Drongen.
The collaboration between Daimler Truck and Van Mieghem Logistics is not new. Indeed, nearly 90% of Van Mieghem's fleet has a star on the grille, while the logistician still opts for Drongen bodywork for its thermal superstructures. "In addition, between September 2020 and June 2021, Van Mieghem Logistics had already carried out a successful test with the 1st generation of the eActros. The latter, spread over this period of 10 months, had made it possible to cover 30,000 km, without the slightest damage", declares Rudy Vanderperren, Marketing Manager of Daimler Truck. Today, around two years later, the eActros has come a long way and is now a production vehicle. "Thanks to the all-new drivetrain without driveshaft and gearbox, it has a reduced own weight, more superstructure possibilities and greater range," adds Rudy Vanderperren.
400 km range
Van Mieghem Logistics opted for the eActros 400 with four battery packs. This gives the distribution truck a range of approximately 400 kilometres. "As our truck is equipped with a fully electric Mitsubishi refrigeration unit, we will lose approximately +/- 10% of normal battery range, depending on the temperature programming range, but we are able to distribute the goods of our customers without emissions and without noise at any place within a radius of 200 km around Brussels", continues Laurent Van Mieghem, member of the management of Van Mieghem Logistics. Matthys SA is responsible for the assembly of the fully electric refrigeration unit, as well as the freezing superstructure. Following this choice of type of superstructure, the insulation makes it possible to maintain the temperature in the loading area in an optimal way while reducing the energy necessary for its operation", declares Bart Matthys, Managing Director of Matthys.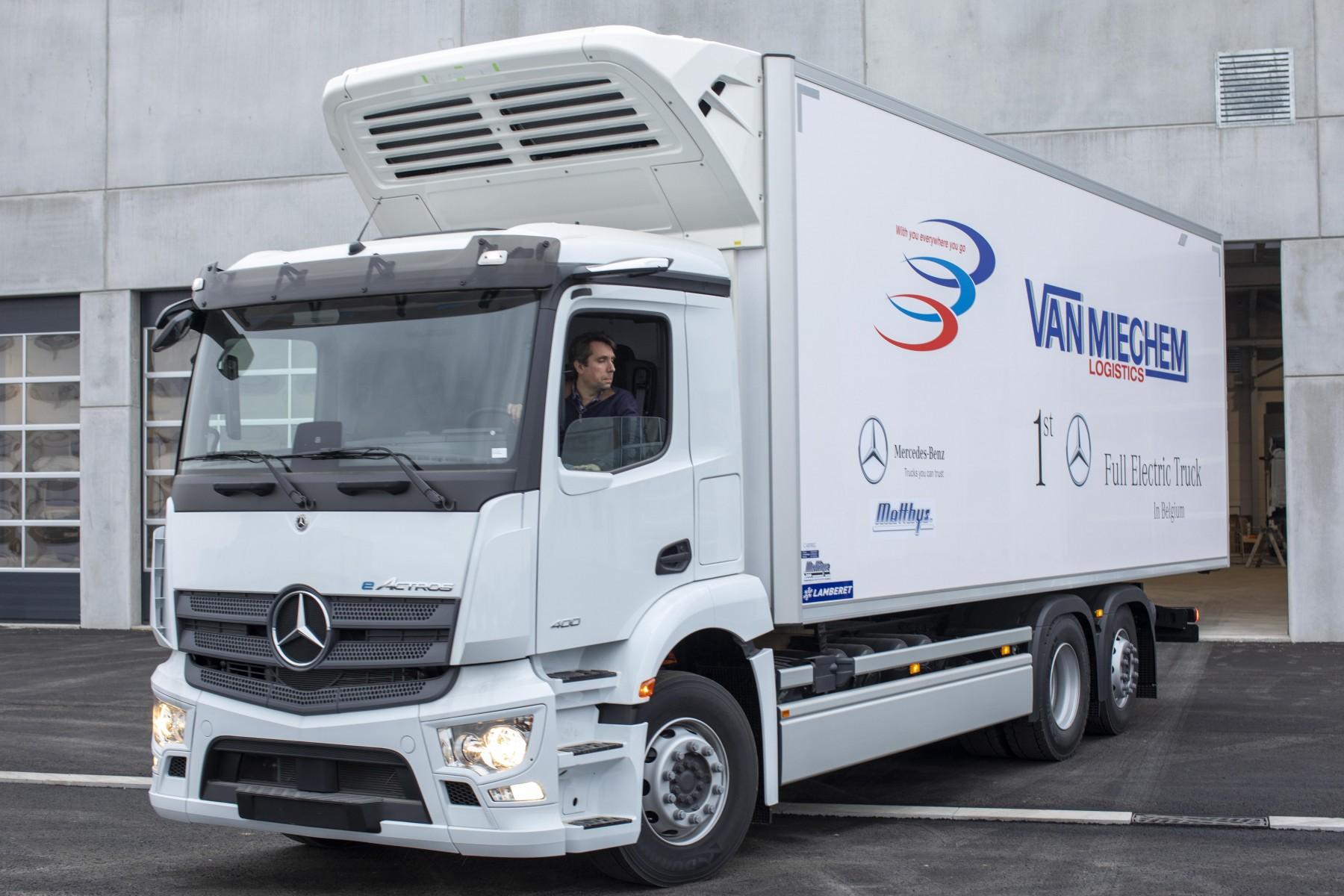 Image- DAIMLER Trucks
Electric PTO
The first Belgian eActros is also a first test for Matthys and Daimler Truck. "An electric truck still has a number of particularities because of the presence of batteries. Welding, however, is out of the question, which is why we opted for a screwed Meccano solution, which can be manufactured in advance and adapted to the truck if necessary," explains Bart Matthys. Another specific solution is the connection of the refrigeration unit via the electrical power take-off. "The cooling unit also operates on direct current, which makes it possible to avoid peaks in energy consumption, whatever the temperature that the group must provide", adds Joris Matthys, Managing Director of Matthys. . Finally, the D'Hollandia tailgate operates on 24 volts and can be connected to the truck's two auxiliary batteries.
A carefully considered choice
The fact that Van Mieghem Logistics is the first Belgian transporter to hit the road with an eActros is no coincidence. "We deliberately never invested in gas vehicles, because we never considered natural gas as a long-term solution. Waiting for the first successful electrical solution seemed to us to be a better long-term strategy," emphasizes Laurent Van Mieghem.
NJC.© Info DAIMLER Trucks Belgium
-------------------------------------------------------------------------------------------------------------------

10/03/23-NL
De eerste Belgische Mercedes-Benz eActros arriveert
Image DAIMLER Trucks
Van Mieghem Logistics, Matthys en Daimler Truck bundelen hun krachten
Ook voor vrachtwagens wordt elektromobiliteit steeds meer realiteit. Ook Daimler Truck is met de eActros een pionier op dit vlak en brengt onder de vlag van Van Mieghem Logistics een bijzonder duurzame vrachtwagen op de weg die over enkele weken zijn Belgische première beleeft. In afwachting van deze echte première is het "huwelijk" tussen chassis en bovenbouw al een feit in de Matthys-ateliers in Drongen.
De samenwerking tussen Daimler Truck en Van Mieghem Logistics is niet nieuw. Bijna 90% van het wagenpark van Van Mieghem heeft immers een ster op de grille, terwijl de logistiek medewerker toch voor de carrosserie van Drongen kiest voor zijn thermische bovenbouw. "Bovendien had Van Mieghem Logistics tussen september 2020 en juni 2021 al een succesvolle test uitgevoerd met de 1e generatie van de eActros. Deze laatste, gespreid over deze periode van 10 maanden, had het mogelijk gemaakt om 30.000 km af te leggen, zonder de minste schade", verklaart Rudy Vanderperren, Marketing Manager van Daimler Truck. Vandaag, ongeveer twee jaar later, heeft de eActros een lange weg afgelegd en is nu een productieauto. "Dankzij de geheel nieuwe aandrijflijn zonder aandrijfas en versnellingsbak heeft hij een lager eigen gewicht, meer opbouwmogelijkheden en een grotere actieradius", vult Rudy Vanderperren aan.
Actieradius van 400 km
Van Mieghem Logistics koos voor de eActros 400 met vier accupakketten. Daarmee heeft de distributietruck een actieradius van circa 400 kilometer. "Omdat onze vrachtwagen is uitgerust met een volledig elektrische Mitsubishi-koelunit, verliezen we ongeveer +/- 10% van het normale batterijbereik, afhankelijk van het temperatuurprogrammeerbereik, maar we zijn in staat om de goederen van onze klanten te distribueren zonder uitstoot en zonder lawaai op elke plaats binnen een straal van 200 km rond Brussel", vervolgt Laurent Van Mieghem, lid van de directie van Van Mieghem Logistics. Matthys nv is verantwoordelijk voor de montage van de volledig elektrische koelunit, evenals de vriesopbouw. Dankzij deze keuze van het type bovenbouw, maakt de isolatie het mogelijk om de temperatuur in de laadruimte optimaal te handhaven en tegelijkertijd de energie die nodig is voor de werking ervan te verminderen", verklaart Bart Matthys, Managing Director van Matthys.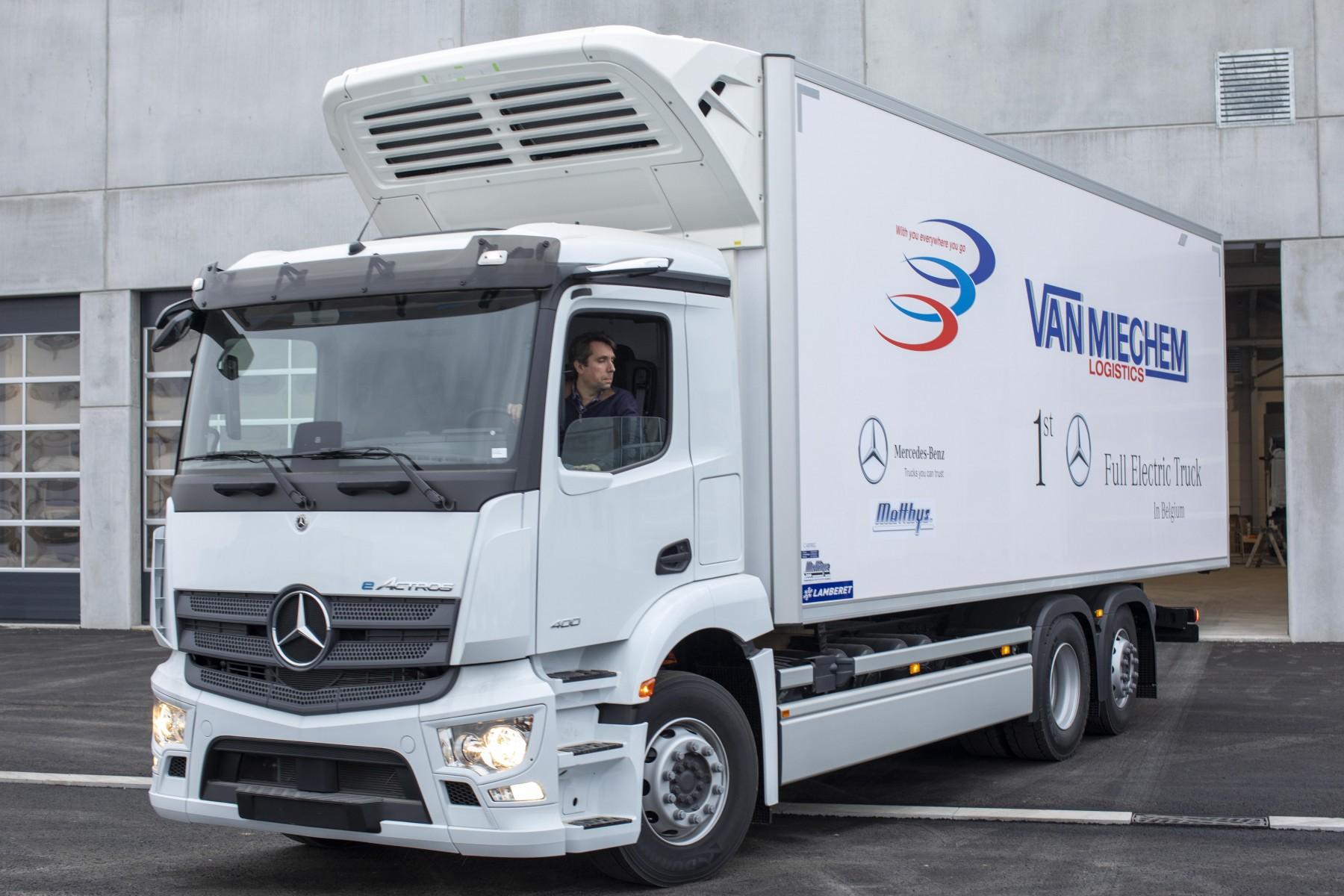 Image- DAIMLER Trucks
Elektrische aftakas
De eerste Belgische eActros is ook een eerste test voor Matthys en Daimler Truck. "Een elektrische vrachtwagen heeft nog een aantal bijzonderheden vanwege de aanwezigheid van batterijen. Lassen is echter uit den boze, daarom hebben we gekozen voor een geschroefde Meccano-oplossing, die vooraf kan worden vervaardigd en indien nodig kan worden aangepast aan de vrachtwagen", legt Bart Matthys uit. Een andere specifieke oplossing is de aansluiting van de koelunit via de elektrische krachtafnemer. "Ook de koelunit werkt op gelijkstroom, waardoor pieken in energieverbruik vermeden kunnen worden, ongeacht de temperatuur die de groep moet voorzien", vult Joris Matthys, Managing Director van Matthys aan. Tot slot werkt de D'Hollandia-achterklep op 24 volt en kan deze worden aangesloten op de twee hulpaccu's van de vrachtwagen.
Een weloverwogen keuze
Dat Van Mieghem Logistics als eerste Belgische transporteur de weg op gaat met een eActros is geen toeval. "We hebben bewust nooit geïnvesteerd in voertuigen op gas, omdat we aardgas nooit als een langetermijnoplossing hebben beschouwd. Wachten op de eerste succesvolle elektrische oplossing leek ons ​​een betere langetermijnstrategie", benadrukt Laurent Van Mieghem.
NJC.© Info DAIMLER Trucks België
-----------------------------------------------------------------------------------------------------------------
Date de dernière mise à jour : 09/03/2023