SCANIA The flexible electrified truck has entered Oslo
03/06/22-FR-English-NL-footer
Le camion électrifié flexible est entré à Oslo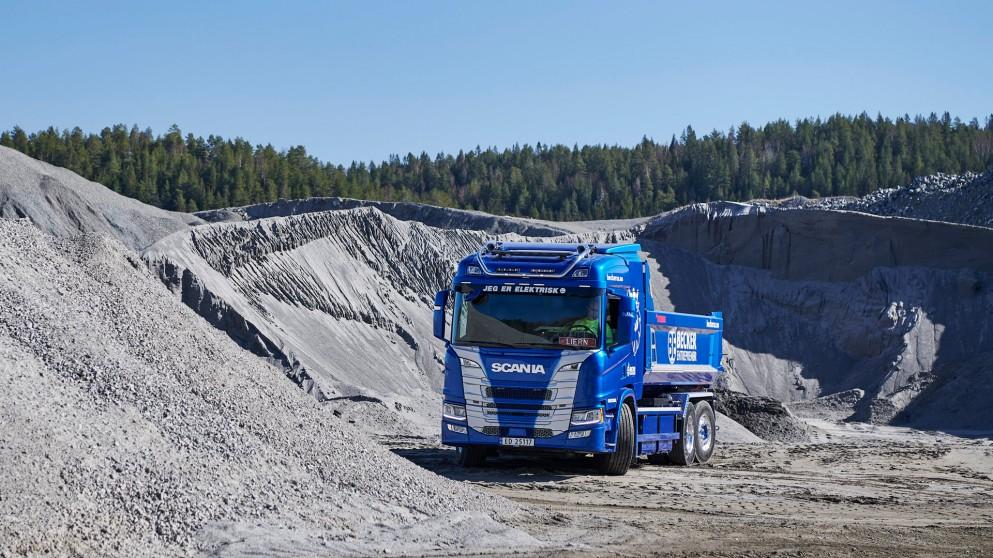 Dans les rues de la capitale norvégienne, vous apercevrez peut-être un camion électrique bleu en route vers un chantier de construction. C'est calme et c'est sans fossiles. Il s'agit du tout nouveau camion benne et grue combiné électrique de Becker Entreprenør AS.
Pour Becker Entreprenør AS, la mise en service du camion électrique Scania a été une décision facile. « Nous avons de grandes ambitions. Nous voulons changer l'industrie de la construction telle que nous la connaissons », déclare Hans Erik Becker, dont l'entreprise vise à minimiser les émissions tout en maintenant une activité rentable et crédible. L'entreprise a été fondée en 2001 par Hans Erik et prend en charge toutes sortes de travaux de construction. Becker a toujours eu une tendance naturelle à s'orienter vers des solutions respectueuses de l'environnement. Cela place l'entreprise dans une position avantageuse lorsqu'il s'agit d'appels d'offres, maintenant que la ville d'Oslo durcit les réglementations environnementales pour limiter l'impact de l'industrie de la construction et du bâtiment sur le climat.

Je n'ai jamais vu venir l'électricité
Le camion lui-même permet une certaine flexibilité. Il s'agit d'un camion benne standard équipé d'un élévateur à crochet, qui peut également être monté sur une grue. "Cela signifie que nous pouvons faire plus avec ce camion, et ne pas passer d'un véhicule à l'autre, car il s'agit d'un tout-en-un."
Le pilote Bjørn Erik Liern, avec plus de deux décennies au volant, était sceptique au début, c'est le moins qu'on puisse dire. "Je pensais que je ne conduirais jamais un camion électrique, parce que je pensais que ce ne serait tout simplement pas une solution qui pourrait fonctionner. Là encore, je suis curieux et fasciné par l'innovation. Alors, quand l'occasion s'est présentée, j'ai tenté ma chance », raconte-t-il. Et il n'a pas été déçu. "C'est une journée de travail complètement nouvelle par rapport à avant, quand il s'agissait d'aller vite et d'avoir une lourde charge." Aujourd'hui, il vit quelque chose de différent. « J'adapte ma façon de conduire, pour optimiser l'utilisation du camion électrique. Je suis plus calme et moins stressé qu'avant. Tout cela contribue à une journée de travail plus amusante. »
Chargement facile
Au travail, Bjørn Erik transporte du matériel sur différents chantiers de construction à Oslo et dans les environs. La conduite se fait également sur place dans une large mesure. Cela signifie que le camion n'a besoin d'être rechargé qu'une fois par jour. "Parfois, je charge sur les sites, mais je peux aussi combiner la charge avec ma pause déjeuner ailleurs." Une fois, alors qu'il avait garé sa voiture et commencé à la recharger devant une station-service, il a été abordé par un homme, visiblement dérangé par l'endroit où était placé le camion. «Il a dit que je devais le déplacer et me garer ailleurs. J'ai dit que je le ferai une fois que j'aurai fini de charger. Ensuite, j'ai pointé ma porte, où il est écrit « électrique ». Il est devenu très silencieux.
Autre chose qui éclaire sa journée, c'est l'entraîneur des chauffeurs. "J'ai actuellement un score de 83% sur ma conduite, mais bien sûr je vise 100%", déclare Bjørn Erik. « Je suis né et j'ai grandi avec Scania, et ce camion me donne la joie de continuer à conduire pendant de nombreuses années à venir. C'est l'avenir.
NJC.© Info SCANIA
-------------------------------------------------------------------------------------------------------------------
03/06/22-English
The flexible electrified truck has entered Oslo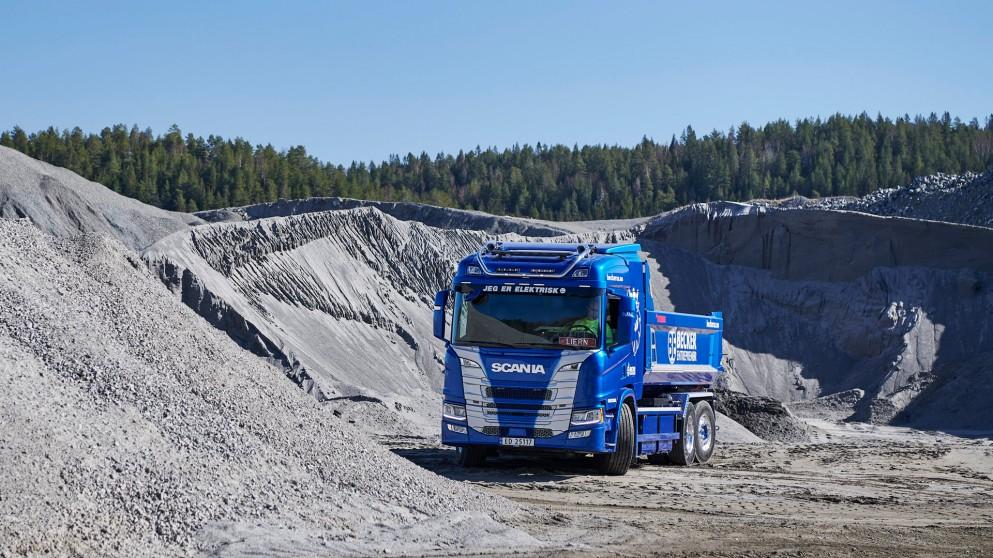 Along the streets of the Norwegian capital, you may see a blue electric truck on its way to a construction site. It is quiet, and it is fossil-free. This is Becker Entreprenør AS's brand-new electric combined tipper truck and crane.
For Becker Entreprenør AS, putting the electric Scania truck to operation was an easy decision. "We have great ambitions. We want to change the construction industry as we know it," says Hans Erik Becker, who's company aims to minimize emissions while maintaining a profitable and credible business. The company was founded in 2001 by Hans Erik, and they take on all kinds of construction work. Becker has always had a natural tendency to gear toward environmentally friendly solutions. This puts the company in an advantageous position when it comes to tenders now that the City of Oslo is stiffening environmental regulations to limit the impact of the construction and building industry on the climate.

Never saw electric coming
The truck itself allows for flexibility. It is a standard tipper truck equipped with a hook lift, which can also be fitted to a crane. "This means we can do more with this truck, and not change between several vehicles since this is all-in-one."
Driver Bjørn Erik Liern, with more than two decades behind the wheel, was sceptic at first, to say the least. "I thought I'd never ever be driving an electric truck, because I though it simply wouldn't be a solution that could work. Then again, I'm curios and fascinated by innovation. So when the opportunity came, I gave it a shot," he says. And he wasn't disappointed. "It's a completely new working day compared to before, when it was all about going fast and have a heavy load." Today, he experiences something different. "I adapt how I drive, to optimise the use of the electric truck. I am calmer, and not as stressed as I used to be. This all adds up to a more fun working day."
Easy charging
On the job, Bjørn Erik transports material to different construction sites in and around Oslo. The driving is also done on-site to a large extent. This means the truck only needs to be charged once a day. "Sometimes I'll charge at the sites, but I can also combine charging with my lunch break somewhere else." One time when he had parked his car and began to charge it outside a petrol station, he was approached by a man, visibly disturbed by where the truck was placed. "He said I needed to move it, and park someplace else. I said that I will do that, once I'm done charging. Then I pointed at my door, where it says 'electric'. He went really quiet."
Something else that enlightens his day is the driver coach. "I currently have a score of 83% on my driving, but of course I aim for 100%," Bjørn Erik says. "I am born and raised with Scania, and this truck gives me joy to keep on driving for many years to come. This is the future."
NJC.© Info SCANIA
-------------------------------------------------------------------------------------------------------------------
03/06/22-NL
De flexibele geëlektrificeerde vrachtwagen is Oslo binnengekomen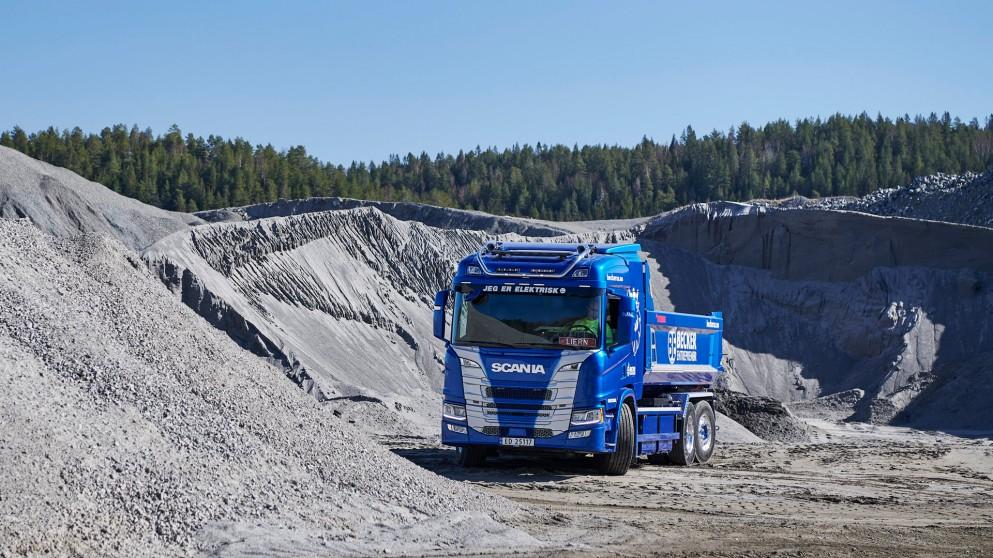 Langs de straten van de Noorse hoofdstad zie je misschien een blauwe elektrische vrachtwagen op weg naar een bouwplaats. Het is stil en fossielvrij. Dit is de gloednieuwe elektrische gecombineerde kipper en kraan van Becker Entreprenør AS.
Voor Becker Entreprenør AS was het in gebruik nemen van de elektrische Scania-truck een gemakkelijke beslissing. "We hebben grote ambities. We willen de bouwsector zoals we die kennen veranderen", zegt Hans Erik Becker, wiens bedrijf ernaar streeft de uitstoot te minimaliseren en tegelijkertijd een winstgevende en geloofwaardige onderneming te behouden. Het bedrijf is in 2001 opgericht door Hans Erik en zij nemen alle soorten bouwwerkzaamheden op zich. Becker heeft altijd een natuurlijke neiging gehad om zich te richten op milieuvriendelijke oplossingen. Dit plaatst het bedrijf in een gunstige positie als het gaat om aanbestedingen nu de stad Oslo de milieuregels aanscherpt om de impact van de bouw- en bouwsector op het klimaat te beperken.

Nooit elektrisch zien aankomen
De truck zelf zorgt voor flexibiliteit. Het is een standaard kiepwagen voorzien van een haakarm, die ook op een kraan gemonteerd kan worden. "Dit betekent dat we meer kunnen doen met deze truck en niet hoeven te wisselen tussen verschillende voertuigen, aangezien dit alles-in-één is."
Bestuurder Bjørn Erik Liern, met meer dan twee decennia achter het stuur, was aanvankelijk op zijn zachtst gezegd sceptisch. "Ik dacht dat ik nooit een elektrische vrachtwagen zou besturen, omdat ik dacht dat het gewoon geen oplossing zou zijn die zou kunnen werken. Aan de andere kant ben ik nieuwsgierig en gefascineerd door innovatie. Dus toen de kans zich voordeed, heb ik het geprobeerd", zegt hij. En hij werd niet teleurgesteld. "Het is een compleet nieuwe werkdag vergeleken met vroeger, toen het allemaal ging om snel gaan en een zware last hebben." Vandaag beleeft hij iets anders. "Ik pas mijn rijstijl aan om het gebruik van de elektrische vrachtwagen te optimaliseren. Ik ben rustiger en niet meer zo gestrest als vroeger. Dit alles draagt ​​bij aan een leukere werkdag."
Eenvoudig opladen
Tijdens zijn werk vervoert Bjørn Erik materiaal naar verschillende bouwplaatsen in en rond Oslo. Ook het rijden gebeurt voor een groot deel ter plaatse. Dit betekent dat de truck maar één keer per dag hoeft te worden opgeladen. "Soms laad ik op de locaties, maar ik kan het laden ook combineren met mijn lunchpauze ergens anders." Toen hij op een keer zijn auto had geparkeerd en hem buiten een tankstation begon op te laden, werd hij benaderd door een man, zichtbaar gestoord door waar de vrachtwagen stond. 'Hij zei dat ik hem moest verplaatsen en ergens anders moest parkeren. Ik zei dat ik dat zal doen, zodra ik klaar ben met opladen. Toen wees ik naar mijn deur, waar 'elektrisch' staat. Hij werd heel stil."
Iets anders dat zijn dag verlicht, is de chauffeur-coach. "Ik heb momenteel een score van 83% op mijn rijstijl, maar ik ga natuurlijk voor 100%", zegt Bjørn Erik. "Ik ben geboren en getogen met Scania, en deze truck geeft me plezier om nog vele jaren te blijven rijden. Dit is de toekomst."
NJC.© Info SCANIA
------------------------------------------------------------------------------------------------------------------
Date de dernière mise à jour : 03/06/2022