The new K56L truck pump, the prime choice for large-scale jobsites
24/05/22-FR-English-NL-footer
La nouvelle pompe camion K56L, le premier choix pour les chantiers de grande envergure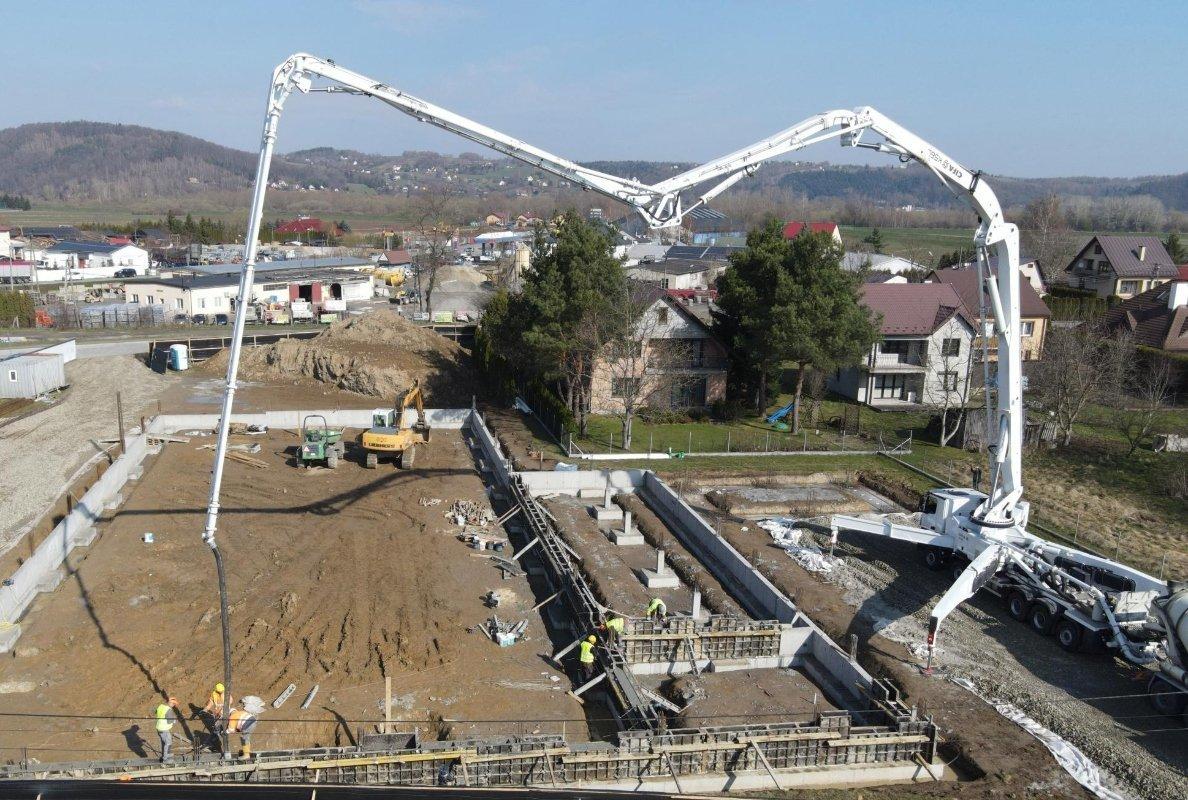 K56L
IMAGE SOURCE: CIFA S.p.a.
CIFA présente un nouveau modèle dans la gamme des pompes pour camion : K56L. En vous connectant au site www.cifa.com , vous pourrez découvrir en avant-première la nouvelle pompe 56 mètres, évolution du modèle K55L 55 mètres, véritable best-seller CIFA. Le K56L est un concentré de solutions intelligentes pour gagner en confort d'utilisation, en robustesse mais aussi en légèreté. CIFA a cherché à dépasser la grande fiabilité du modèle de 55 mètres qui est désormais la norme de l'industrie, en introduisant un modèle encore plus robuste et facile à entretenir, tout en réduisant le coût total de possession de l'équipement. Tout cela pour que le client puisse disposer d'une pompe fiable et performante à faible coût d'exploitation
Marco Polastri, directeur des ventes, après-vente et marketing de CIFA, déclare : « Ce produit s'inscrit dans le projet d'optimisation de la gamme Steeltech, dans le but d'avoir des modèles clés capables de couvrir un large éventail de besoins, en maximisant le partage des pièces et les composants entre eux. Pour nous, il est important de fournir aux entreprises des machines performantes et surtout faciles à utiliser et à entretenir. Un problème commun à de nombreux fabricants est la difficulté de trouver des opérateurs spécialisés, donc pour eux, pouvoir compter sur des machines intuitives et faciles à entretenir est certainement un avantage, également en termes économiques. En effet, nos machines sont le fruit de notre capacité à nous mettre à la place de l'utilisateur.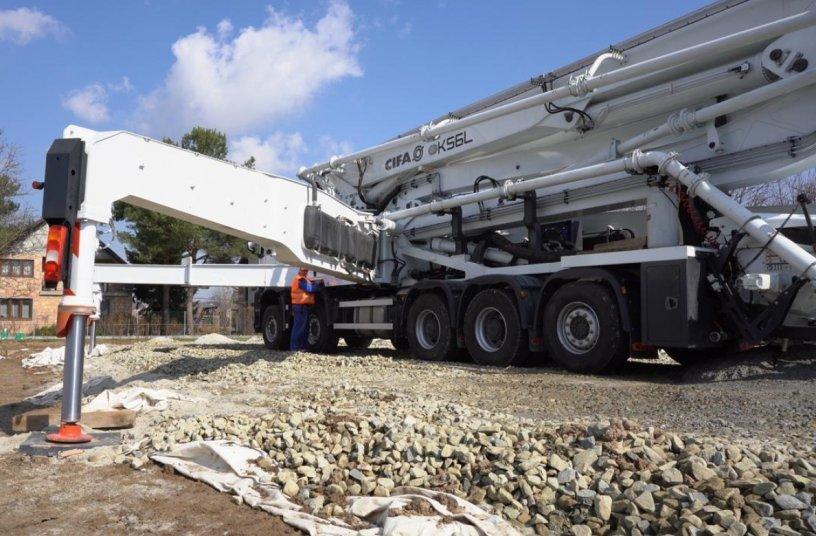 K56L
IMAGE SOURCE: CIFA S.p.a.
La pompe K56L est la machine robuste et polyvalente par excellence, le premier choix pour travailler sur des chantiers de grande envergure. Disponible avec trois groupes de pompage différents (le circuit ouvert HP1606H plus les circuits fermés HP1608EC et HP1808ECX), il peut être monté sur un camion 10x4 classique (pour le marché européen) ou un 8x4, courant sur les marchés moins réglementés.
5 sections faciles à gérer
Le Steeltech K56L est équipé d'une flèche à cinq sections avec configuration RZ. Cette solution est idéale pour exploiter pleinement les 55,1 mètres de l'extension verticale complète - sans compliquer la manipulation pendant la phase de positionnement. En plus de la tuyauterie extérieure pour un entretien facile, la nouvelle tourelle assure une fermeture plus compacte de la rampe, afin de ne pas dépasser du groupe de pompage ou de la cabine.
Une nouvelle conception robuste
Le châssis du K56L est partagé avec le K60H plus connu et éprouvé, caractérisé par une sous-tourelle robuste qui abrite également le nouveau réservoir d'huile encore plus facile d'accès pour tout entretien. La structure équilibrée est optimisée dans le respect de la charge maximale de 10 tonnes sur les essieux arrière.
Le K56L exploite toute sa puissance grâce à une gestion électronique intuitive et efficace. Une pléthore de systèmes intégrés facilitent les opérations récurrentes et rendent les opérations sur site plus faciles et plus sûres. Le contrôle intelligent de la pompe du camion s'effectue via le système Smartronic®. En particulier, certaines fonctions avancées de gestion de la stabilité et de la pompe de la rampe, telles que l'ASC et le MBE, sont d'une grande aide pour l'opérateur, où :
L'ASC (Advanced Stability Control) vous permet de tirer le meilleur parti de la machine. Le système est intelligent et maximise la zone de travail en fonction de l'ouverture réelle des stabilisateurs. Dès que la stabilité risque d'être compromise, il entre en action, d'abord en ralentissant le mouvement de la flèche, voire en l'arrêtant avant qu'elle n'atteigne un état critique ;
MBE (Max Boom Extension) est un système prédictif qui donne à l'opérateur la distance maximale pouvant être atteinte avec la flèche en cas d'ouverture partielle des stabilisateurs. Lorsque l'opérateur arrive sur le chantier, avant même de déplier la flèche, il peut voir sur l'écran de la machine le dépliage maximum réel qu'il peut atteindre en toute sécurité - ainsi, le gain de temps est garanti.
De plus, le pack Smartronic® Advanced comprend la fonction de pliage et de dépliage automatique de la rampe pour l'exécution automatique de la séquence. Le système remplace l'opérateur par une séquence automatisée et parfaitement calibrée qui accélère les opérations tout en évitant les erreurs de manœuvre.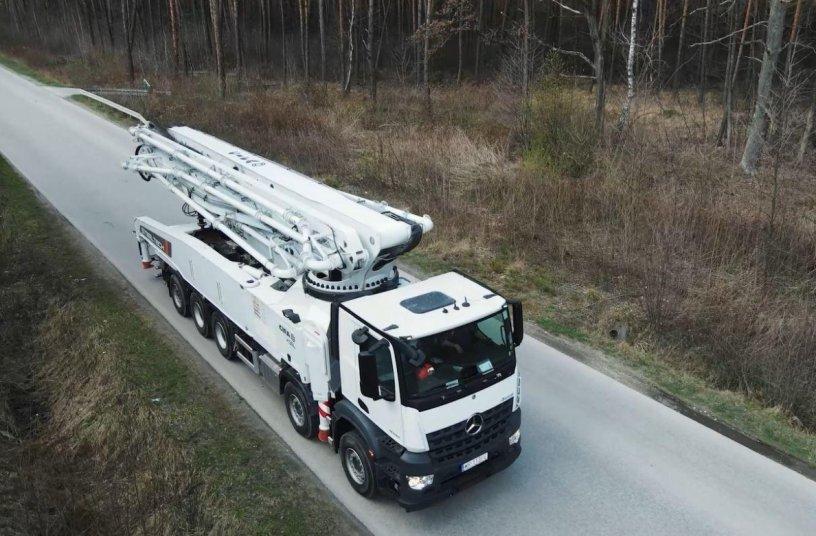 K56L
IMAGE SOURCE: CIFA S.p.a.
Toujours connecté
L'option CIFA Vista est un allié puissant dans la gestion et le suivi de la flotte de l'entreprise, c'est pourquoi le nouveau K56L peut également être équipé de la télémétrie CIFA Vista, capable de géolocaliser le véhicule, de gérer la maintenance et surtout d'enregistrer les performances, la consommation et les messages d'erreur.
NJC.© Infos : CIFA S.p.a.
------------------------------------------------------------------------------------------------------------------
24/05/22-English
The new K56L truck pump, the prime choice for large-scale jobsites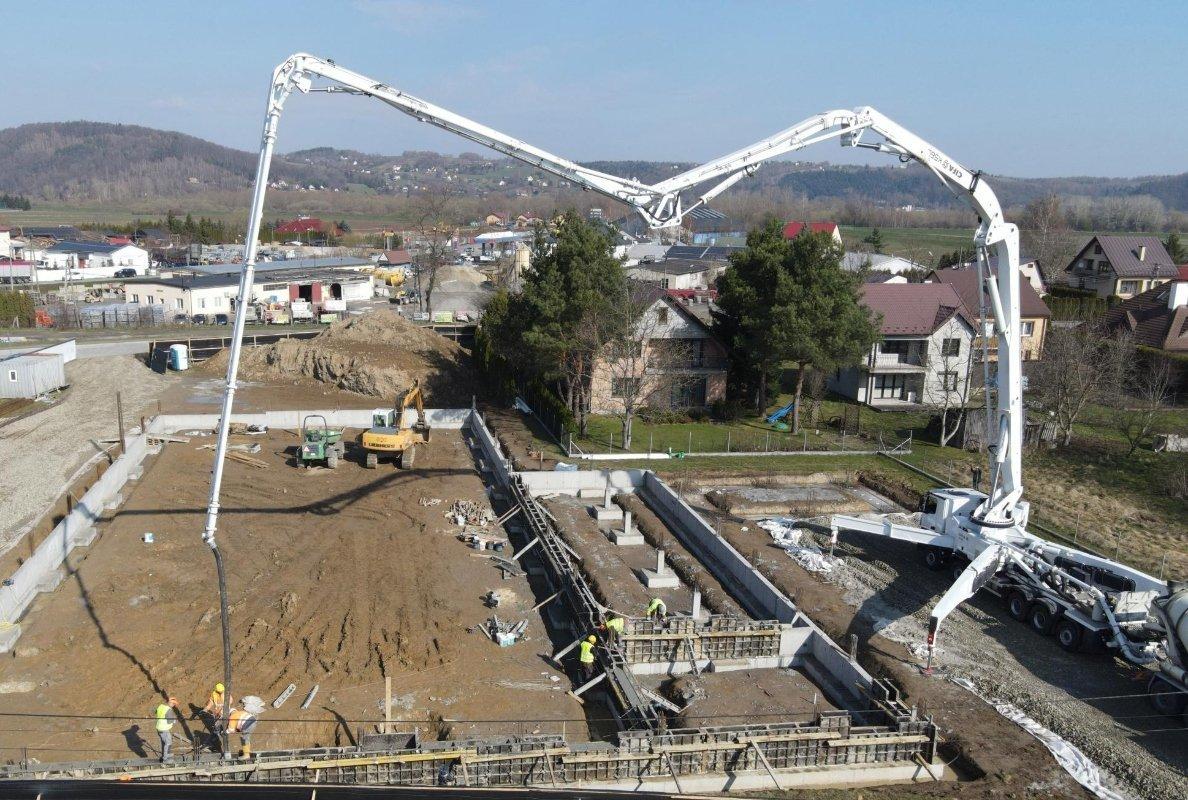 K56L
IMAGE SOURCE: CIFA S.p.a.
CIFA presents a new model in the range of truck pumps: K56L. By connecting to the website www.cifa.com , you can preview the new 56-metre pump, an evolution of the 55-metre K55L model, a real CIFA best-seller. The K56L is a concentrate of smart solutions for bettering ease-of-use, robustness yet also lightness. CIFA sought to exceed the great reliability of the 55-metre model that is now the industry standard, introducing an even sturdier and easy-to-maintain model, whilst keeping the equipment's Total Cost of Ownership down. This is all so that the customer may have a reliable, high-performance pump with low operating cost
Marco Polastri – CIFA's Director of Sales, After sales and Marketing – shares, "This product is part of the optimisation project for the Steeltech range, with the aim of having key models capable of covering a broad range of needs, maximising the sharing of parts and components between them. For us, it is important to provide compani es with high-performance and especially easy-to-use and maintain machinery. A common problem for many manufacturers is the difficulty of finding specialised operators, so for them to be able to count on intuitive and easy-to-maintain machinery is certainly an advantage, also in economic terms. Indeed, our machinery comes as the fruit of our capacity to put ourselves in the user's shoes."
The K56L pump is the heavy-duty and versatile machine par excellence, the first choice for working on large-scale construction sites. Available with three different pumping units (the open-circuit HP1606H plus the closed-circuit HP1608EC and HP1808ECX), it can be fitted on a classic 10x4 truck (for the European market) or an 8x4, common in markets with less stringent regulations.
5 easy-to-manage sections
The Steeltech K56L is equipped with a five-section boom with RZ configuration. This solution is ideal for fully exploiting all 55.1 metres of the full vertical extension – without complicating handling during the positioning phase. In addition to the piping being external for easy maintenance, the new turret ensures the boom closes more compactly, so as not to protrude beyond the pumping unit or above the cabin.
A new heavy-duty design
The K56L's chassis is shared with the better-known, tried-and-tested K60H, characterised by a sturdy sub-turret that also houses the new oil tank that is even easier to access for any maintenance. The balanced structure is optimised in respect of the 10-tonne maximum load on the rear axles.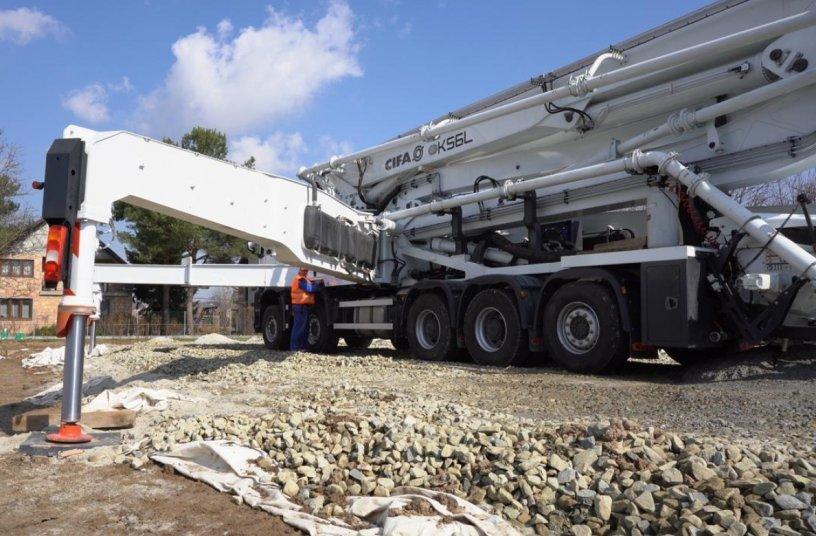 K56L
IMAGE SOURCE: CIFA S.p.a.
The K56L exploits its full power thanks to intuitive and efficient electronic management. A plethora of integrated systems help with recurring operations and render on-site operations easier and safer. Intelligent control of the truck pump is through the Smartronic® system. In particular, certain advanced stability and boom pump management functions, such as ASC and MBE, are of great help to the operator, where:
ASC (Advanced Stability Control) enables you to get the most out of the machine. The system is intelligent and maximises the working area based on the actual opening of the outriggers. Whenever there is a risk of stability being compromised, it springs into action, firstly by slowing down the boom's movement or even stopping it before it reaches a critical condition;
MBE (Max Boom Extension) is a predictive system that gives the operator the maximum distance that can be reached with the boom in case of partial opening of the outriggers. When the operator reaches the worksite, even before unfolding the boom, they can see on the machine's display the actual maximum unfolding that can be reached safely – so, saving time is guaranteed.
Additionally, the Smartronic® Advanced package includes the Automatic Boom Folding and Unfolding function for self-executing the sequence. The system replaces the operat or with an automated and perfectly-calibrated sequence that speeds up operations whilst preventing any manoeuvring errors.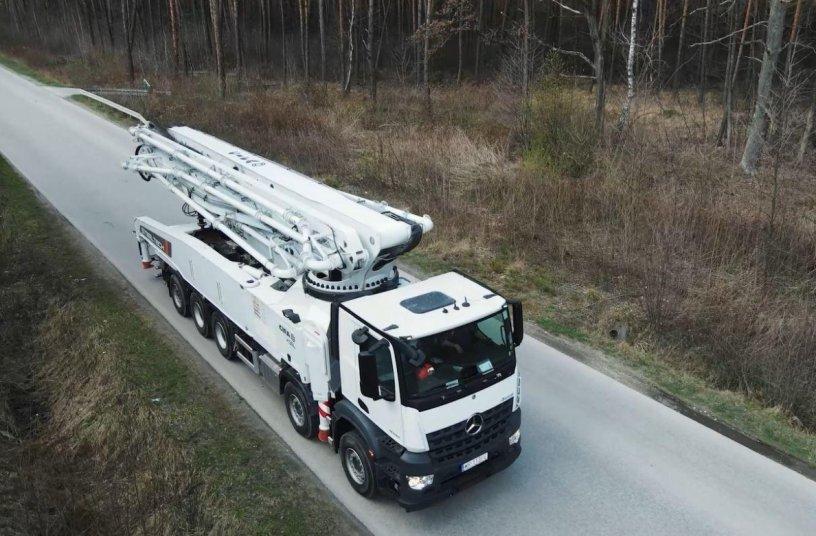 K56L
IMAGE SOURCE: CIFA S.p.a.
Always connected
The optional CIFA Vista is a powerful ally in managing and monitoring the company fleet, hence why the new K56L can also be equipped with CIFA Vista telemetry, capable of geolocating the vehicle, handling maintenance and above all, recording performance, consumption and error messages.
NJC.© Info: CIFA S.p.a.
----------------------------------------------------------------------------------------------------------------------
24/05/22-NL
De nieuwe K56L-vrachtwagenpomp, de eerste keuze voor grootschalige bouwplaatsen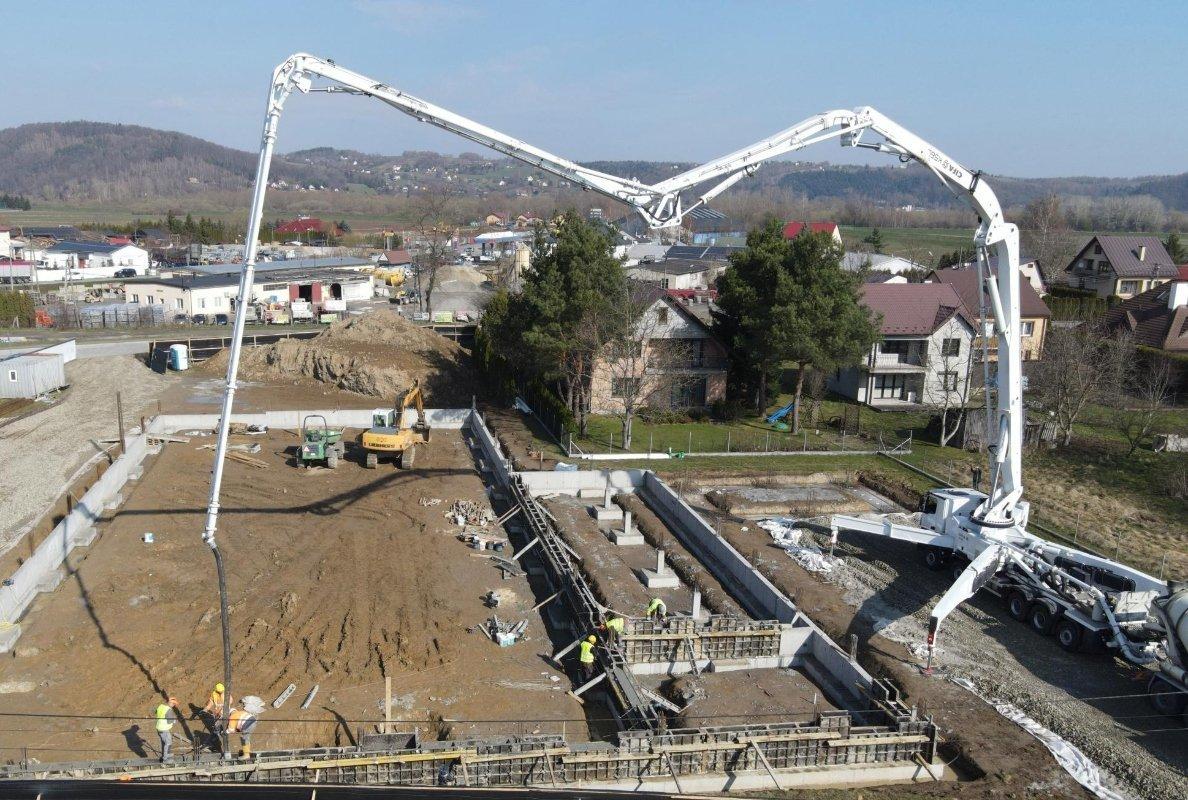 K56L
IMAGE SOURCE: CIFA S.p.a.
CIFA presenteert een nieuw model in het assortiment vrachtwagenpompen: K56L. Door verbinding te maken met de website www.cifa.com, kunt u een voorproefje zien van de nieuwe 56-meter pomp, een evolutie van het 55-meter K55L-model, een echte CIFA-bestseller. De K56L is een concentraat van slimme oplossingen voor het verbeteren van gebruiksgemak, robuustheid maar ook lichtheid. CIFA probeerde de grote betrouwbaarheid van het 55 meter lange model, dat nu de industriestandaard is, te overtreffen, door een nog steviger en gemakkelijk te onderhouden model te introduceren, terwijl de totale eigendomskosten van de apparatuur laag blijven. Dit alles zodat de klant kan beschikken over een betrouwbare, krachtige pomp met lage bedrijfskosten
Marco Polastri – CIFA's Director of Sales, After Sales en Marketing - deelt: "Dit product maakt deel uit van het optimalisatieproject voor het Steeltech-assortiment, met als doel sleutelmodellen te hebben die in staat zijn een breed scala aan behoeften te dekken, waardoor het delen van onderdelen wordt gemaximaliseerd en onderdelen daartussen. Voor ons is het belangrijk om bedrijven te voorzien van krachtige en vooral gemakkelijk te gebruiken en te onderhouden machines. Een veelvoorkomend probleem voor veel fabrikanten is de moeilijkheid om gespecialiseerde operators te vinden, dus dat ze kunnen rekenen op intuïtieve en gemakkelijk te onderhouden machines is zeker een voordeel, ook in economisch opzicht. Onze machines zijn inderdaad het resultaat van ons vermogen om onszelf in de schoenen van de gebruiker te verplaatsen."
De K56L-pomp is de heavy-duty en veelzijdige machine bij uitstek, de eerste keuze voor het werken op grootschalige bouwplaatsen. Verkrijgbaar met drie verschillende pompunits (de HP1606H met open circuit plus de HP1608EC en HP1808ECX met gesloten circuit), kan worden gemonteerd op een klassieke 10x4-truck (voor de Europese markt) of een 8x4, gebruikelijk in markten met minder strenge regelgeving.
5 gemakkelijk te beheren secties
De Steeltech K56L is uitgerust met een vijfdelige giek met RZ-configuratie. Deze oplossing is ideaal om alle 55,1 meter van de volledige verticale verlenging volledig te benutten - zonder de hantering tijdens de positioneringsfase te compliceren. Behalve dat de leidingen extern zijn voor eenvoudig onderhoud, zorgt de nieuwe toren ervoor dat de giek compacter sluit, zodat deze niet buiten de pompeenheid of boven de cabine uitsteekt.
Een nieuw heavy-duty ontwerp
Het chassis van de K56L wordt gedeeld met de bekendere, beproefde K60H, gekenmerkt door een stevige sub-turret waarin ook de nieuwe olietank is ondergebracht die nog gemakkelijker toegankelijk is voor eventueel onderhoud. De uitgebalanceerde constructie is geoptimaliseerd met betrekking tot de maximale belasting van 10 ton op de achterassen.
De K56L benut zijn volledige kracht dankzij intuïtief en efficiënt elektronisch beheer. Een overvloed aan geïntegreerde systemen helpt bij terugkerende operaties en maakt operaties ter plaatse eenvoudiger en veiliger. Intelligente besturing van de vrachtwagenpomp vindt plaats via het Smartronic®-systeem. Met name bepaalde geavanceerde stabiliteits- en giekpompbeheerfuncties, zoals ASC en MBE, zijn een grote hulp voor de machinist, waarbij: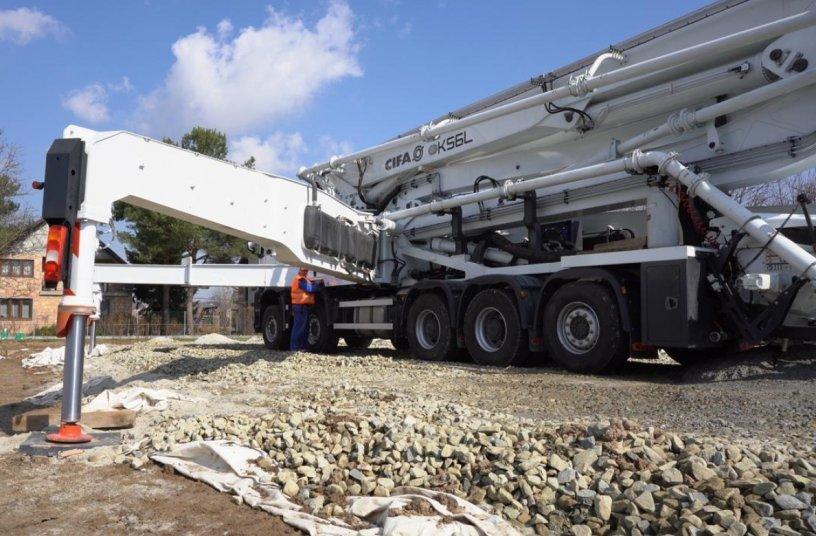 K56L
IMAGE SOURCE: CIFA S.p.a.
Met ASC (Advanced Stability Control) haalt u het maximale uit de machine. Het systeem is intelligent en maximaliseert het werkgebied op basis van het daadwerkelijk openen van de stempels. Telkens als er een risico bestaat dat de stabiliteit in gevaar komt, komt deze in actie, in de eerste plaats door de beweging van de giek te vertragen of zelfs te stoppen voordat deze een kritieke toestand bereikt;
MBE (Max Boom Extension) is een voorspellend systeem dat de machinist de maximale afstand geeft die met de giek kan worden bereikt in geval van gedeeltelijke opening van de stempels. Wanneer de machinist de werkplek bereikt, zelfs voordat hij de giek heeft uitgeklapt, kan hij op het display van de machine de daadwerkelijke maximale uitvouwing zien die veilig kan worden bereikt - dus tijdbesparing is gegarandeerd.
Bovendien bevat het Smartronic® Advanced-pakket de functie Automatic Boom Folding and Unfolding voor het zelf uitvoeren van de reeks. Het systeem vervangt de operatie of door een geautomatiseerde en perfect gekalibreerde reeks die de operaties versnelt en manoeuvreerfouten voorkomt.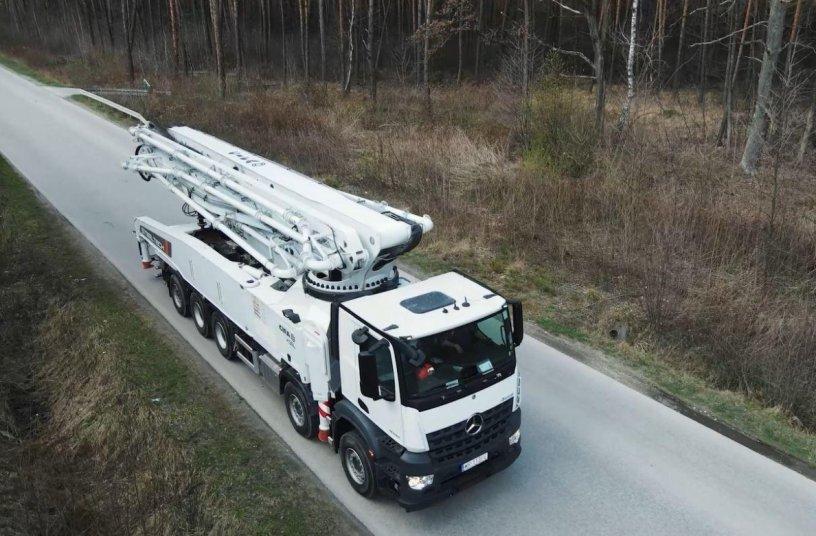 K56L
IMAGE SOURCE: CIFA S.p.a.
Altijd verbonden
De optionele CIFA Vista is een krachtige bondgenoot bij het beheren en bewaken van de bedrijfsvloot. Daarom kan de nieuwe K56L ook worden uitgerust met CIFA Vista-telemetrie, waarmee het voertuig kan worden gelokaliseerd, onderhoud kan worden uitgevoerd en vooral prestaties, verbruik en foutmeldingen kunnen worden geregistreerd.
NJC.© Info: CIFA S.p.a.
-----------------------------------------------------------------------------------------------------------------