The new KITO RX Wire Rope Hoist
28/06/22-FR-English-NL-footer
Le nouveau palan à câble KITO RX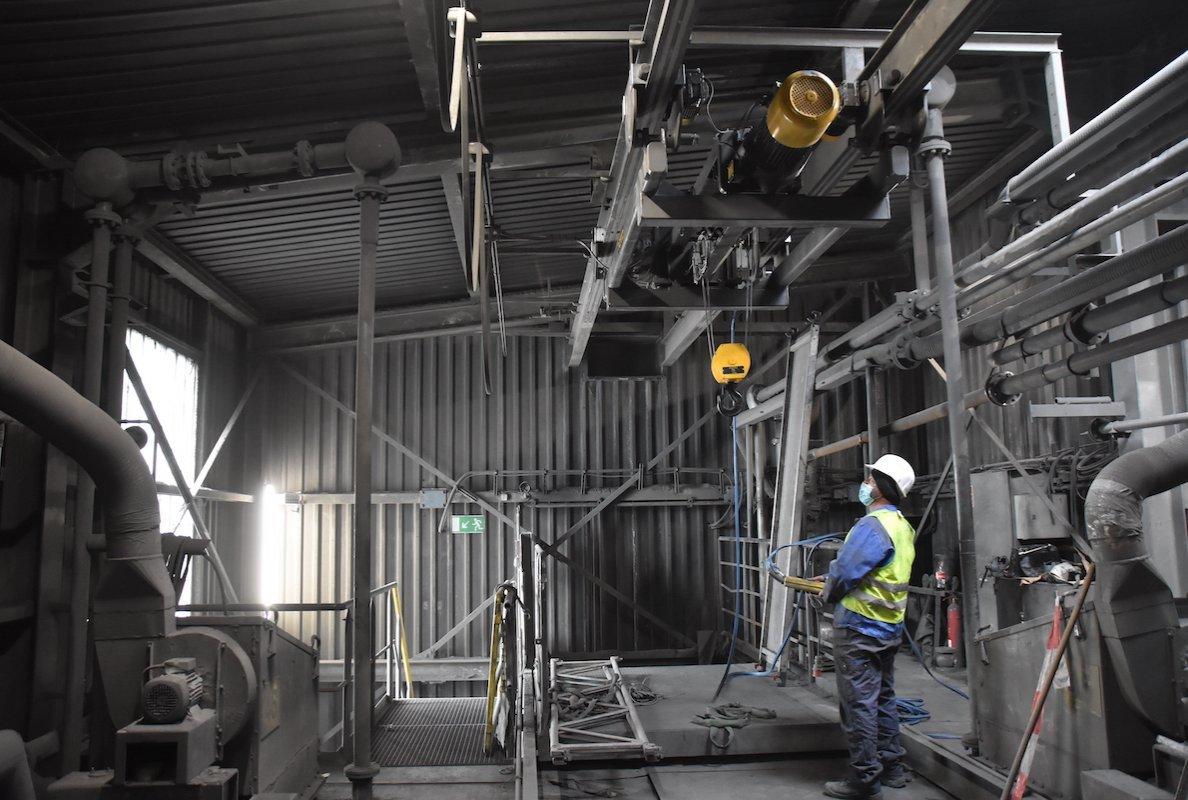 The new KITO RX in use IMAGE SOURCE: Kito Europe GmbH
KITO EUROPE crée une nouvelle catégorie de produits avec le nouveau KITO RX. En plus des palans à chaîne électriques et manuels, le fabricant japonais de haute technologie propose désormais également un palan électrique à câble de la plus haute qualité et sécurité. Et le premier a tout pour plaire, car le nouveau KITO RX est littéralement à la hauteur de toutes les exigences. Il peut être configuré de manière flexible, il est puissant dans toutes les versions et est si simple à manipuler que la maintenance peut facilement être prise en charge par l'exploitant ou un local.
société de services.
Tout simplement sophistiqué
Le nouveau palan à câble KITO RX est le meilleur choix si vous recherchez une solution de levage pour des charges allant jusqu'à 50 tonnes1. Le palan à câble peut être utilisé sur des systèmes de grue avec une grande variété d'applications et dans une grande variété d'industries - par exemple dans les aciéries, les cimenteries, les industries du papier ou dans la construction mécanique générale. Le KITO RX est un palan standard qui peut être assemblé de manière flexible et modulaire en un palan exclusif. Grâce à son châssis solide, différentes variantes peuvent être construites à l'aide du treuil de base : Le KITO RX peut avoir une suspension debout, pendante ou latérale sur le châssis du chariot.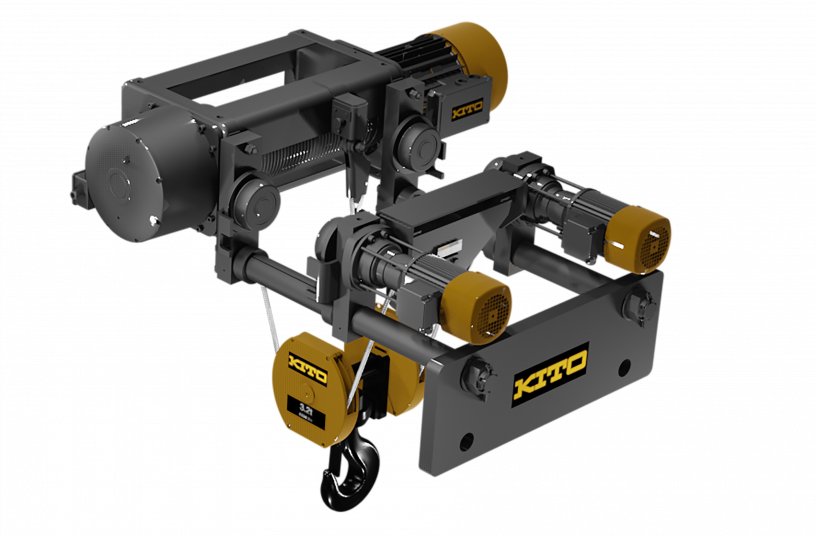 The new KITO RX Wire Rope Hoist
IMAGE SOURCE: Kito Europe GmbH
Wolfgang Klepper, Senior Business Development Manager chez Kito Europe GmbH, à propos du nouveau palan électrique à câble : « Le KITO RX peut être adapté exactement aux besoins du client – ​​un avantage absolu pour toutes les entreprises où un palan doit être remplacé rapidement et facilement car sa durée de vie a expiré ou les coûts de réparation à venir ne semblent pas rentables."
Durable en utilisation
Non seulement l'extérieur robuste, mais aussi l'intérieur de haute qualité du KITO RX sont conçus pour durer. Vous pouvez vous attendre à une durée de vie supérieure à la moyenne grâce à des engrenages planétaires avec un concept d'entraînement linéaire et fermé, des moteurs avec surveillance thermique et des freins à disque fabriqués en Allemagne.
Des fonctionnalités telles que les interrupteurs de fin de course, les cellules de pesée, l'affichage de la charge, la sommation automatique de la charge, l'enregistrement de la durée de vie restante, le contrôle anti-ballant, la commande radio ou la ventilation auxiliaire externe pour le moteur de levage peuvent être ajoutées en option. Des conceptions spéciales personnalisées sont également possibles.
Garantir la qualité, réduire les coûts
L'équipement électrique du palan à câble KITO RX est conçu sans cryptage pour être sûr et extrêmement convivial. L'ensemble de l'équipement électrique, y compris la protection contre les surcharges, peut être programmé par n'importe quel expert en électronique. Le client décide qui s'occupe de l'installation et de la mise en service du nouveau palan électrique à câble, sans avoir à payer un supplément pour le personnel formé du fabricant. De plus, le KITO RX se compose de modules simples et facilement accessibles, de sorte que tous
les composants peuvent être inspectés et entretenus en interne par le personnel de service ou d'exploitation.
Le KITO RX est disponible dès maintenant auprès des distributeurs KITO et deviendra immédiatement un membre de l'équipe à long terme pour un fonctionnement sans heurts.
NJC.© Info KITO Europe
------------------------------------------------------------------------------------------------------------------
28/06/22-English
The new KITO RX Wire Rope Hoist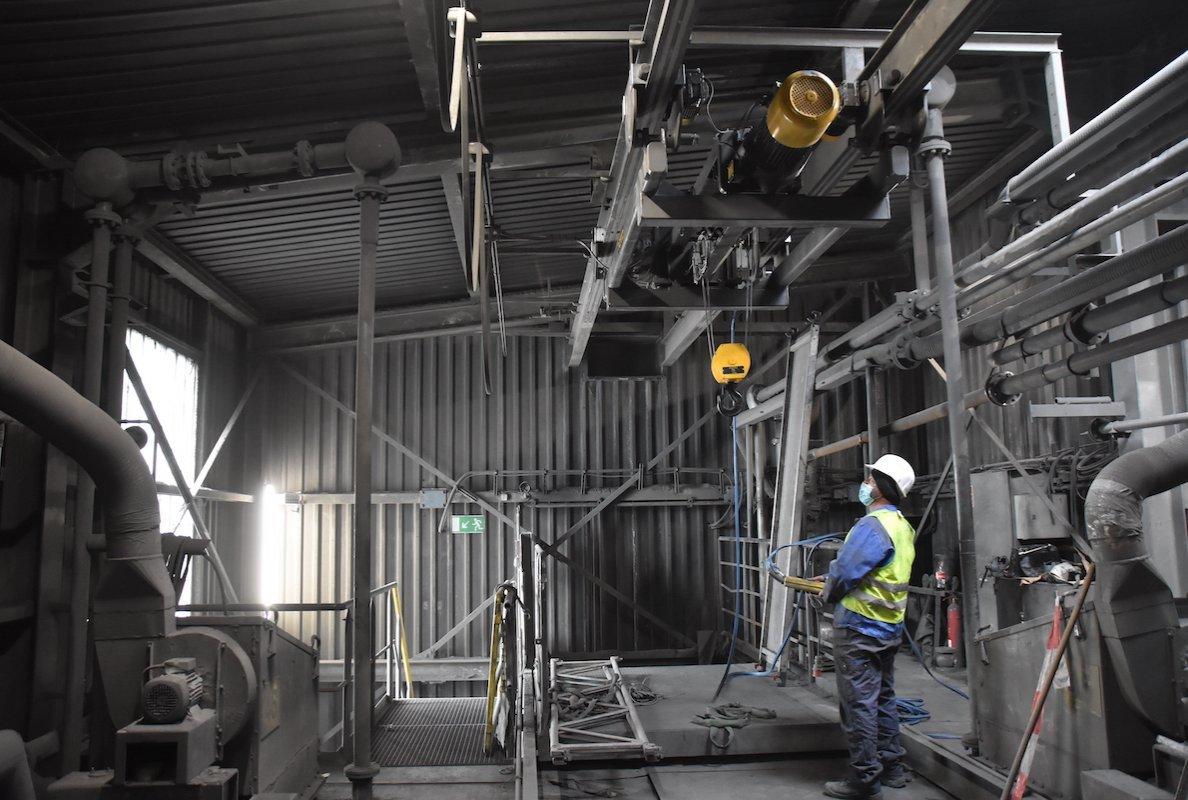 The new KITO RX in use IMAGE SOURCE: Kito Europe GmbH
KITO EUROPE establishes a new product category with the new KITO RX. In addition to electric and manual chain hoists, the Japanese high-tech manufacturer now also offers an electric wire rope hoist of highest quality and safety. And the debut has it all, because the new KITO RX is literally up to all requirements. It can be flexibly configured, it is powerful in every version, and is so simple to handle that maintenance can easily be taken over by the operating company or a local
service company.
Simply sophisticated
The new KITO RX Wire Rope Hoist is the best choice, if you are looking for a lifting solution for loads of up to 50 tons1. The wire rope hoist can be used on crane systems with a wide variety of applications, and in a wide variety of industries – for example in steel mills, cement plants, paper industries or in general mechanical engineering. The KITO RX is a standard hoist that can be flexibly and modularly assembled into an exclusive hoist. Due to its strong frame, different variants can be built using the basic hoist: The KITO RX can have a standing, a pendent or a lateral suspension on the trolley frame.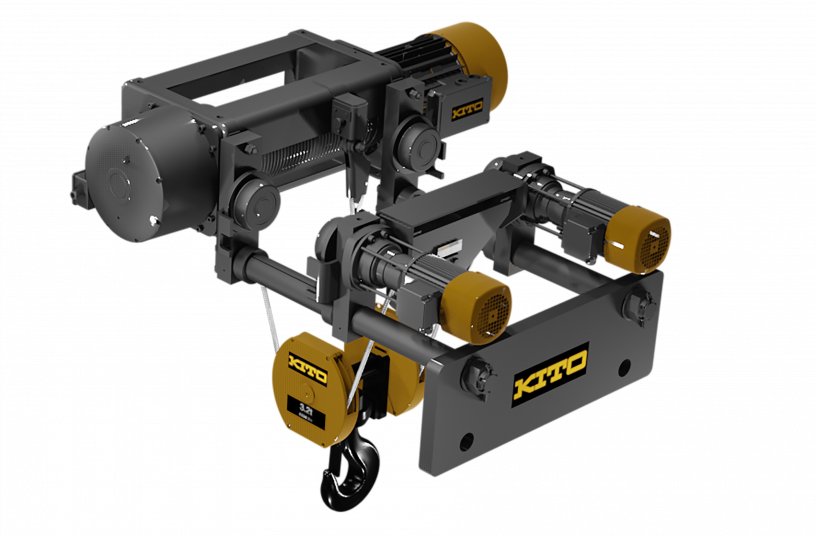 The new KITO RX Wire Rope Hoist
IMAGE SOURCE: Kito Europe GmbH
Wolfgang Klepper, Senior Business Development Manager at Kito Europe GmbH, on the new electric wire rope hoist: "The KITO RX can be adapted exactly to the customer's needs – an absolute advantage for all businesses where a hoist needs to be replaced quickly and easily because its service life has expired, or the upcoming repair costs don't seem profitable."
Durable in use
Not only the robust exterior, but also the high-quality interior of the KITO RX is designed for durability. You can expect an above-average service life thanks to planetary gears with a linear and enclosed drive concept, motors with thermal monitoring and disc brakes made in Germany.
Features such as gear limit switches, weighing cells, load display, automatic load summation, remaining life time recording, anti sway control, radio control or external auxiliary ventilation for the hoist motor can be added as options. Customized special designs are also possible.
Ensure quality, save costs
The electrical equipment of the KITO RX Wire Rope Hoist is designed without encryption to be safe and extremely user-friendly. The entire electrical equipment, including overload protection, can be programmed by any electronics expert. The customer decides who takes care of the set-up and commissioning of the new electric wire rope hoist, without having to pay extra for trained staff from the manufacturer. In addition, the KITO RX consists of simple and easily accessible modules, so that all
components can be inspected and maintained inhouse by service or operating personnel.
The KITO RX is available as of now from KITO distributors and will immediately become a long-term team member for smooth running operations.
NJC.© Info KITO Europe
-------------------------------------------------------------------------------------------------------------------
28/06/22-NL
De nieuwe KITO RX staalkabeltakel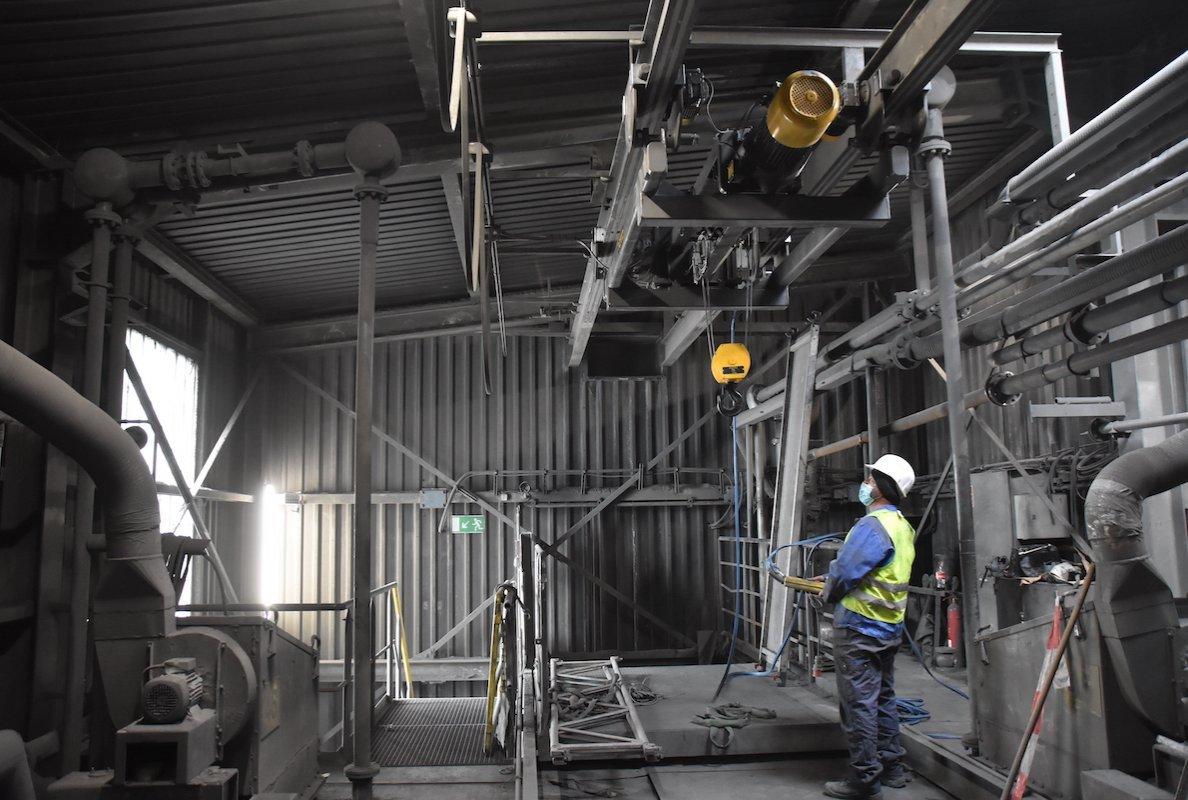 The new KITO RX in use IMAGE SOURCE: Kito Europe GmbH
KITO EUROPE vestigt een nieuwe productcategorie met de nieuwe KITO RX. Naast elektrische en handmatige kettingtakels biedt de Japanse hightech fabrikant nu ook een elektrische staaldraadtakel van de hoogste kwaliteit en veiligheid. En het debuut heeft het allemaal, want de nieuwe KITO RX voldoet letterlijk aan alle eisen. Het is flexibel configureerbaar, krachtig in elke uitvoering en zo eenvoudig te hanteren dat het onderhoud eenvoudig kan worden overgenomen door de werkmaatschappij of een lokale
dienstverlenend bedrijf.
gewoon verfijnd
De nieuwe KITO RX staaldraadtakel is de beste keuze als u op zoek bent naar een hijsoplossing voor lasten tot 50 ton1. De staaldraadtakel kan worden gebruikt op kraansystemen met een breed scala aan toepassingen en in een breed scala van industrieën - bijvoorbeeld in staalfabrieken, cementfabrieken, papierindustrieën of in de algemene machinebouw. De KITO RX is een standaard takel die flexibel en modulair opgebouwd kan worden tot een exclusieve takel. Door het sterke frame kunnen met de basistakel verschillende varianten worden gebouwd: De KITO RX kan staand, hangend of zijdelings aan het trolleyframe worden opgehangen.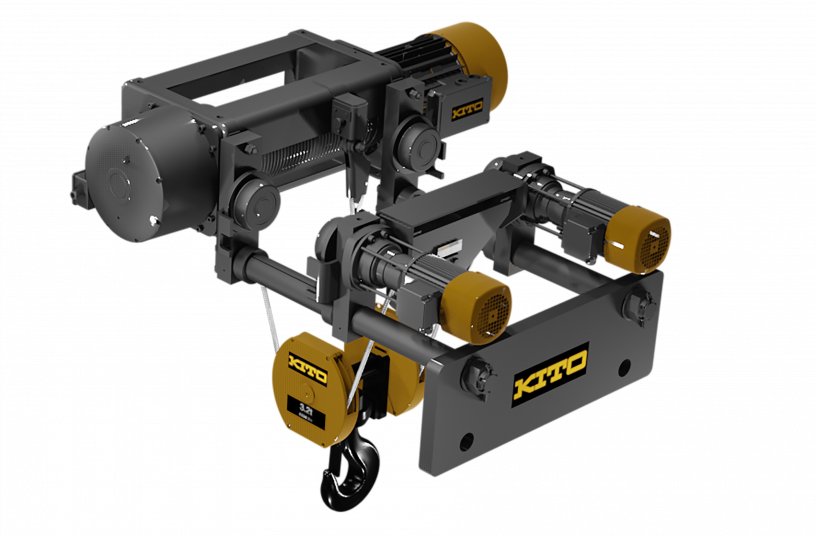 The new KITO RX Wire Rope Hoist
IMAGE SOURCE: Kito Europe GmbH
Wolfgang Klepper, Senior Business Development Manager bij Kito Europe GmbH, over de nieuwe elektrische staaldraadtakel: "De KITO RX kan precies worden aangepast aan de behoeften van de klant - een absoluut voordeel voor alle bedrijven waar een takel snel en eenvoudig moet worden vervangen, omdat de levensduur is verstreken, of de komende reparatiekosten lijken niet rendabel."
Duurzaam in gebruik
Niet alleen het robuuste exterieur, maar ook het hoogwaardige interieur van de KITO RX is ontworpen voor duurzaamheid. U kunt een bovengemiddelde levensduur verwachten dankzij planeetoverbrengingen met een lineair en gesloten aandrijfconcept, motoren met thermische bewaking en schijfremmen made in Germany.
Functies zoals versnellingseindschakelaars, weegcellen, lastweergave, automatische lastsommatie, registratie van de resterende levensduur, anti-zwaairegeling, radiobediening of externe hulpventilatie voor de hijsmotor kunnen als opties worden toegevoegd. Speciale uitvoeringen op maat zijn ook mogelijk.
Zorg voor kwaliteit, bespaar kosten
De elektrische uitrusting van de KITO RX staaldraadtakel is ontworpen zonder encryptie om veilig en uiterst gebruiksvriendelijk te zijn. De volledige elektrische uitrusting, inclusief overbelastingsbeveiliging, kan door elke elektronica-expert worden geprogrammeerd. De klant bepaalt wie de opstelling en inbedrijfstelling van de nieuwe elektrische staaldraadtakel voor zijn rekening neemt, zonder dat hij extra hoeft te betalen voor geschoold personeel van de fabrikant. Daarnaast bestaat de KITO RX uit eenvoudige en goed toegankelijke modules, zodat alle
componenten kunnen in-house worden geïnspecteerd en onderhouden door service- of bedieningspersoneel.
De KITO RX is vanaf nu verkrijgbaar bij KITO-distributeurs en zal onmiddellijk een langdurig teamlid worden voor een soepele werking.
NJC.© Info KITO Europa
--------------------------------------------------------------------------------------------------------------------