The popular CASE European Roadshow returns in 2023

22/05/23-FR-English-NL-footer
Le populaire roadshow européen CASE revient en 2023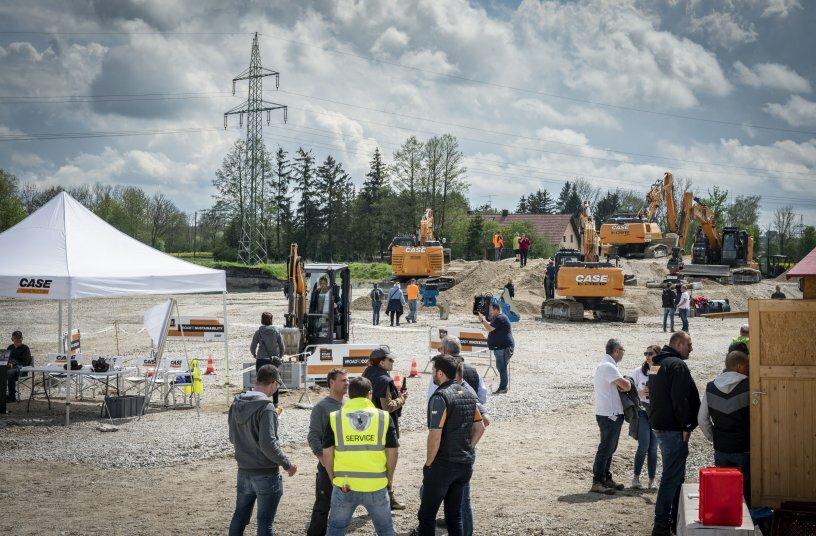 The popular CASE European Roadshow returns in 2023, providing customers with hands-on experience and demonstrating the company`s innovative technologies and digital solutions
IMAGE SOURCE: CASE Construction Equipment
Les clients CASE et les médias de toute l'Europe auront la chance d'essayer une large gamme de machines lors d'événements à l'occasion du retour du roadshow européen CASE en 2023. Le premier événement a eu lieu les 6 et 7 mai à Neuching, en Allemagne. Des roadshows en Italie, en France et au Royaume-Uni suivront en mai, juin et septembre
La numérisation, la communauté, l'innovation et la durabilité seront au centre des événements du roadshow, alors que l'entreprise présentera des solutions numériques personnalisées et des technologies innovantes ainsi que des machines 100 % électriques pour un avenir durable.
Il y aura des machines récemment lancées disponibles pour tester, comme les nouvelles pelles sur pneus CASE, représentées par les WX140E, WX155E SR, WX160E et WX175E SR.
Les nouvelles niveleuses 836C et 856C seront également exposées, avec de nouvelles commandes électrohydrauliques innovantes, des systèmes de direction par joystick et un confort et une maniabilité améliorés pour l'opérateur.
Il y aura bien sûr l'occasion d'essayer un certain nombre de modèles des mini-pelles à succès de la série D et de la nouvelle gamme de pelles sur chenilles de la série E, et les clients pourront également prendre les commandes des chargeuses compactes de la série B telles que comme le nouveau TV450B.
La gamme de mini-pelles de la série D au roadshow comprendra en avant-première le deuxième modèle entièrement électrique : CX25EV, qui sera lancé au second semestre 2023. Il dispose d'un moteur électrique de 25 kW avec un lithium-ion de 32,3 kWh batterie, qui peut être rechargée en moins de 2 heures avec un chargeur rapide externe et offre une autonomie d'une journée de travail complète dans des conditions de travail standard pour une mini-pelle de cette taille.
Le CX25EV se caractérise par la même technologie de pointe que le CX15EV : des commandes entièrement électro-hydrauliques et la possibilité de personnaliser chaque mouvement de la machine via un tableau de bord numérique.
Il y aura également l'avant-première de la première série E Midi : CX75E, une pelle de 7,5 tonnes dotée d'une flèche en deux parties, qui sera également lancée plus tard cette année.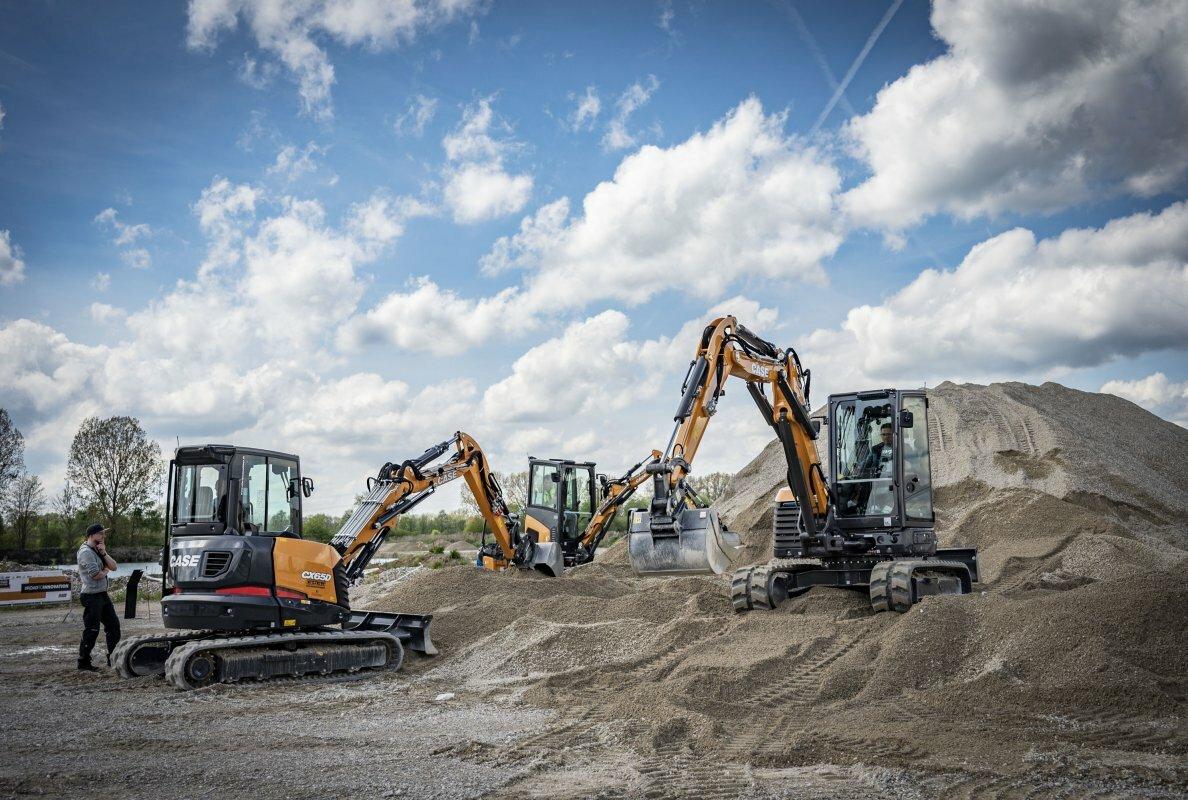 The popular CASE European Roadshow returns in 2023, providing customers with hands-on experience and demonstrating the company`s innovative technologies and digital solutions
IMAGE SOURCE: CASE Construction Equipment
Dans un style moderne et fonctionnel, il reprend les mêmes grandes caractéristiques de son petit frère CX65D, telles que notre système hydraulique à circuit ouvert électronique (EOC) unique, qui augmente la productivité et réduit les niveaux d'émission, un système de refroidissement efficace avec radiateur autonettoyant, un grand tableau de bord numérique où il est possible de surveiller toutes les fonctionnalités de la machine et de régler le débit hydraulique de tous les circuits auxiliaires (jusqu'à 3). Et il le fait avec un train de roulement plus lourd et plus large et un bras plus long, offrant ainsi plus de stabilité et une profondeur et une portée d'excavation plus longues, pour une productivité et des performances accrues.
La nouvelle chargeuse sur pneus compacte 221F, qui représente la nouvelle gamme F-Series Evolution, des plus petites 21F et 121F aux plus grandes 221F et 321F, sera également exposée. Les modèles Evolution disposent d'un compartiment opérateur amélioré, avec un tout nouvel écran avec encodeur et clavier, donnant accès à toutes les fonctions et lectures de la machine, ainsi qu'à. un certain nombre de fonctionnalités électrohydrauliques améliorées ajoutées pour améliorer le fonctionnement.
Les plus grands 221F et 321F seront disponibles en deux indices de vitesse, la vitesse standard de 20 km/h et la nouvelle version haute vitesse de 40 km/h. Les fonctionnalités de connectivité sont également améliorées avec le même modem installé sur les grandes chargeuses sur pneus, pour ouvrir de nouvelles opportunités d'intégration dans les systèmes de gestion de flotte du client.
CASE présentera également en avant-première le prototype de chargeuse sur pneus compacte électrique 12EV. Cette machine de 3,6 tonnes sera proposée, en versions Cabine et Canopy, avec une capacité de godet de 0,5 m3 et bénéficiera de toutes les évolutions Evolution. Le 12EV est alimenté par une batterie lithium-ion de 23kWh qui, avec un temps de charge à 80% de 6 heures en utilisant une alimentation domestique 230V, ou seulement 1 heure via un chargeur rapide hors-bord en option, fournira 3-6 heures de autonomie de fonctionnement, en fonction de la tâche.
« Les roadshows CASE présentent nos machines à nos clients, par le biais d'événements sur mesure et localisés, qui leur offrent une expérience pratique grâce à des activités de terrain dédiées. » a déclaré Federico Bullo, responsable Europe, Construction Equipment CNH Industrial.
Les visiteurs de l'événement auront l'occasion exclusive d'évaluer le nouveau prototype de mini chargeuse sur chenilles MTL qui a récemment été lancé à Conexpo pour le marché américain.
Le populaire roadshow européen CASE revient en 2023, offrant aux clients une expérience pratique et démontrant les technologies innovantes et les solutions numériques de l'entreprise
SOURCE DE L'IMAGE : Équipement de construction CASE
Augmenter la disponibilité et la tranquillité d'esprit des clients avec les solutions de service CASE®
CASE Service Solutions, une gamme de services après-vente connectés et non connectés, sera également présentée lors des Roadshows. Ils sont conçus pour augmenter encore la productivité, la rentabilité et la disponibilité et soutenir les expériences des clients avec les équipements CASE.
Les visiteurs du Roadshow découvriront également les vastes offres de pièces fournies par CASE.
Retour à la demande
Les opérateurs auront l'opportunité de participer au populaire défi CASE Rodeo, démontrant leurs compétences aux commandes et mettant en évidence la flexibilité, la rapidité et l'efficacité d'une gamme d'équipements CASE.
"Nous avons récemment célébré la réunion de tous nos partenaires concessionnaires pour la Convention des concessionnaires européens et ce sera formidable de revoir nos clients lors de nos tournées de présentation à travers l'Europe", a déclaré Federico Bullo.
L'étape allemande du Roadshow de cette année s'est déroulée du 6 au 7 mai et a été un grand succès. Le spectacle voyage ensuite en Italie puis en France début juin. Le Roadshow britannique reviendra en septembre.
26-27 mai
24030 Medolago (BG), Italie
7-8 juin
Terre des Singes - Parc animalier, 77540 Lumigny Nesles Ormeaux, France
14-15 septembre
Royaume-Uni
NJC.© Info CASE Construction Equipment
--------------------------------------------------------------------------------------------------------------------

22/05/23-English
The popular CASE European Roadshow returns in 2023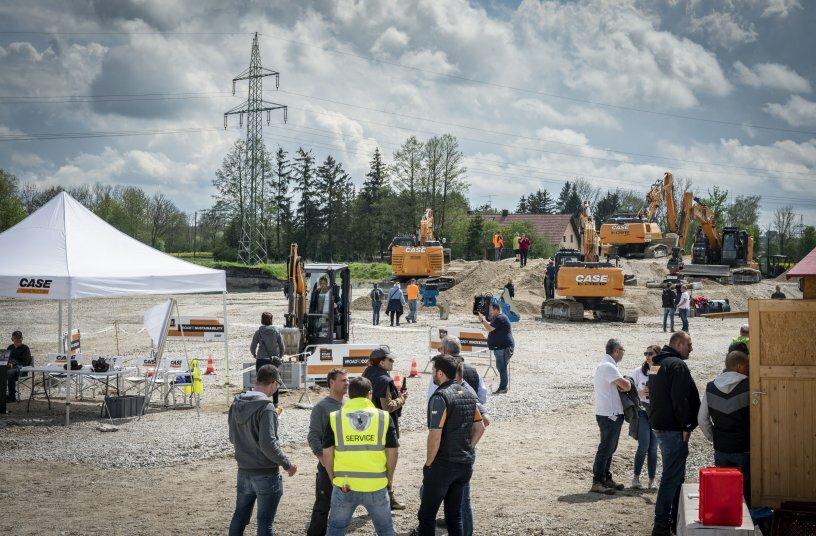 The popular CASE European Roadshow returns in 2023, providing customers with hands-on experience and demonstrating the company`s innovative technologies and digital solutions
IMAGE SOURCE: CASE Construction Equipment
CASE customers and the media from across Europe will have the chance to try a wide range of machinery at events as the CASE European Roadshow returns for 2023. The first event took place on 6th and 7th May in Neuching, Germany. Roadshows in Italy, France and the in UK will follow in May, June and September
Digitalisation, community, innovation and sustainability will be the focus of the roadshow events, as the company demonstrates customized digital solutions and innovative technologies along with 100% electric machines for a sustainable future.
There will be recently launched machines available to test, like the new CASE wheeled excavators, represented by the WX140E, WX155E SR, WX160E and WX175E SR.
The new 836C and 856C graders will also be on the show, complete with innovative new electrohydraulic controls, joystick steering systems and improved operator comfort and controllability.
There will of course be an opportunity to try a number of models from the successful mini excavators D-Series and the new E-Series crawler excavator line-up, and customers may also like to take the controls of the B-Series compact loaders such as the new TV450B.
The D-Series mini excavator range at the roadshow will include the preview of the second fully electric model: CX25EV, which will be launched in the second half of 2023. It has a 25 kW electric engine with a 32,3 kWh lithium-ion battery, that can be recharged in less than 2 hours with an external fast charger and provides a full working day autonomy in standard working conditions for a mini excavator of this size.
CX25EV is characterised by the same cutting-edge technology of CX15EV: fully electro-hydraulic controls and the possibility to customise every single movement of the machine via digital instrument cluster.
There will be also the preview of the first E-series Midi : CX75E, a 7.5ton excavator featuring 2-piece-boom, which will also be launched later this year.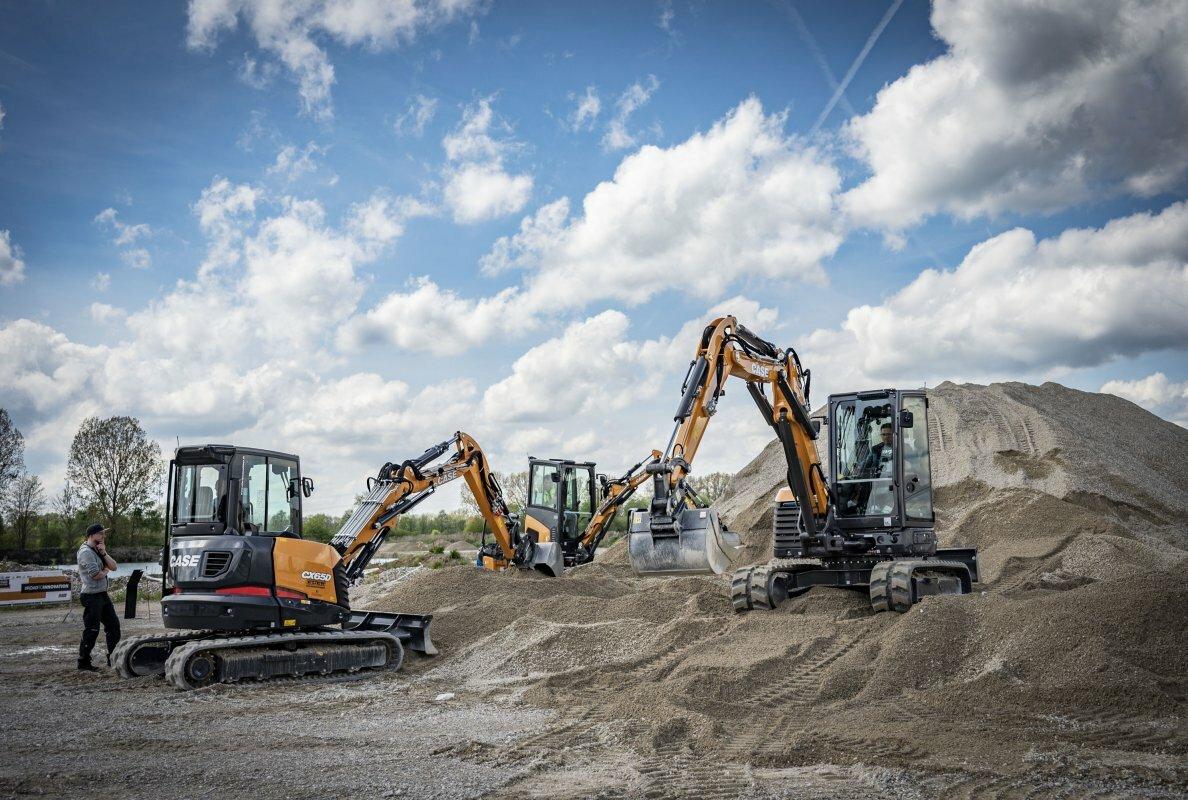 The popular CASE European Roadshow returns in 2023, providing customers with hands-on experience and demonstrating the company`s innovative technologies and digital solutions
IMAGE SOURCE: CASE Construction Equipment
In a modern and functional style, it carries over the same great features of its smaller brother CX65D, such as our unique Electronic Open Circuit (EOC) hydraulic system, which increases productivity and reduces emission levels, efficient cooling system with self-cleaning radiator, a big digital instrument cluster where it's possible to monitor all the functionalities of the machine and set hydraulic flow of all the auxiliary circuits (up to 3). And it does that with a heavier and wider undercarriage and longer arm, therefore providing more stability and longer digging depth and reach, for greater productivity and performances.
Also on display will be the new 221F compact wheel loader which represents the new F-Series Evolution range, from the smaller 21F and 121F, through to the larger 221F and 321F. The Evolution models feature an upgraded operator compartment, with a brand new display with encoder and keypad, providing access to all machine functions and readings, along with. a number of upgraded electrohydraulic features added to improve operation.
The larger 221F and 321F will be available in two speed ratings, the 20kph standard speed and the new high-speed 40kph version. Connectivity features are also improved with the same modem installed on large wheel loaders, to open new opportunities of integration into customer's fleet management systems.
CASE will also give a sneak preview of the prototype 12EV electric compact wheel loader. This 3.6-tonne machine will be offered, in Cabin and Canopy versions, with a 0.5m3 bucket capacity and will feature all of the Evolution upgrades. The 12EV is powered by a 23kWh lithium-ion battery that, with a charge time to 80% of 6 hours using a domestic 230V power supply, or just 1 hour through an optional off-board fast charger, will deliver 3-6 hours of operating autonomy, depending on the task.
"The CASE Roadshows take our machines to our customers, through tailored, localised events, that provide them with hands-on experience through dedicated field activities." said Federico Bullo, Head of Europe, Construction Equipment CNH Industrial.
Visitors to the event will have the exclusive opportunity to evaluate the new MTL mini track loader prototype which has recently been launched at Conexpo for the US market.
The popular CASE European Roadshow returns in 2023, providing customers with hands-on experience and demonstrating the company`s innovative technologies and digital solutions
IMAGE SOURCE: CASE Construction Equipment
Boosting uptime and customer peace of mind with CASE® Service Solutions
CASE Service Solutions, a range of connected and non-connected after-sales services, will also be presented during the Roadshows. They are designed to further boost the productivity, profitability and uptime and support customers' experiences of CASE equipment.
Roadshow visitors will also learn about the extensive Parts offerings provided by CASE.
Back by popular demand
Operators will have the opportunity to take part in the popular CASE Rodeo challenge, demonstrating their skills at the controls and highlighting the flexibility, speed and efficiency of a range of CASE equipment.
"We have recently celebrated having all of our dealer partners together for the European Dealer Convention and it will be great to see our customers again at our roadshows around Europe," said Federico Bullo.
The German leg of this year's Roadshow took place between the 6th-7th May and was a great success. The show travels to Italy next and then France at the beginning of June. The UK Roadshow will return in September.
26th-27th May
24030 Medolago (BG), Italy
7th-8th June
Terre des Singes - Parc animalier, 77540 Lumigny Nesles Ormeaux, France
14th-15th September
United Kingdom
NJC.© Info CASE Construction Equipment
-----------------------------------------------------------------------------------------------------------------

22/05/23-NL
De populaire CASE European Roadshow keert terug in 2023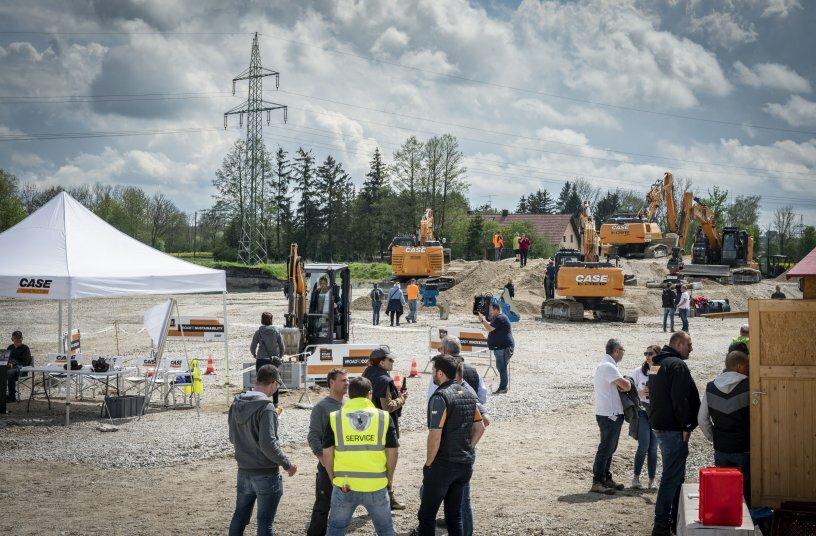 The popular CASE European Roadshow returns in 2023, providing customers with hands-on experience and demonstrating the company`s innovative technologies and digital solutions
IMAGE SOURCE: CASE Construction Equipment
CASE-klanten en de media uit heel Europa krijgen de kans om een breed scala aan machines uit te proberen tijdens evenementen terwijl de CASE European Roadshow terugkeert voor 2023. Het eerste evenement vond plaats op 6 en 7 mei in Neuching, Duitsland. Roadshows in Italië, Frankrijk en het Verenigd Koninkrijk volgen in mei, juni en september
Digitalisering, gemeenschap, innovatie en duurzaamheid zullen de focus zijn van de roadshow-evenementen, terwijl het bedrijf op maat gemaakte digitale oplossingen en innovatieve technologieën demonstreert samen met 100% elektrische machines voor een duurzame toekomst.
Er zullen onlangs gelanceerde machines beschikbaar zijn om te testen, zoals de nieuwe mobiele graafmachines van CASE, vertegenwoordigd door de WX140E, WX155E SR, WX160E en WX175E SR.
De nieuwe 836C- en 856C-graders zullen ook op de show te zien zijn, compleet met innovatieve nieuwe elektrohydraulische bedieningselementen, joystickbesturingen en verbeterd comfort en bestuurbaarheid voor de machinist.
Er zal natuurlijk een mogelijkheid zijn om een aantal modellen uit de succesvolle serie minigraafmachines uit de D-serie en de nieuwe line-up van rupsgraafmachines uit de E-serie uit te proberen, en klanten kunnen ook de besturing van de B-serie compacte laders overnemen, zoals als de nieuwe TV450B.
De serie minigraafmachines uit de D-serie op de roadshow omvat de preview van het tweede volledig elektrische model: CX25EV, dat in de tweede helft van 2023 wordt gelanceerd. Het heeft een 25 kW elektrische motor met een 32,3 kWh lithium-ion batterij, die in minder dan 2 uur kan worden opgeladen met een externe snellader en een volledige werkdag autonomie biedt in standaard werkomstandigheden voor een minigraafmachine van dit formaat.
De CX25EV wordt gekenmerkt door dezelfde geavanceerde technologie als de CX15EV: volledig elektrohydraulische bedieningselementen en de mogelijkheid om elke beweging van de machine aan te passen via een digitaal instrumentenpaneel.
Er zal ook een preview zijn van de eerste Midi uit de E-serie: CX75E, een graafmachine van 7,5 ton met een tweedelige giek, die ook later dit jaar zal worden gelanceerd.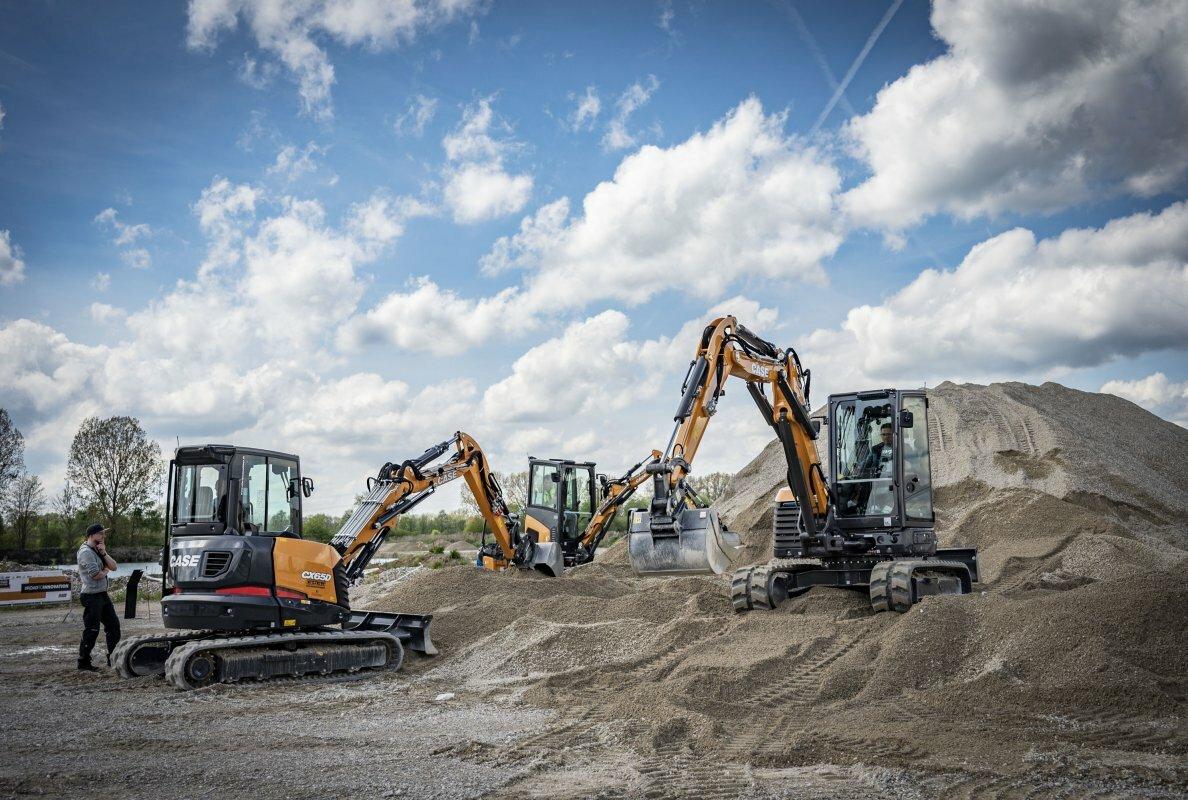 The popular CASE European Roadshow returns in 2023, providing customers with hands-on experience and demonstrating the company`s innovative technologies and digital solutions
IMAGE SOURCE: CASE Construction Equipment
In een moderne en functionele stijl heeft hij dezelfde geweldige kenmerken van zijn kleinere broer CX65D, zoals ons unieke elektronische elektronische open circuit (EOC) hydraulisch systeem, dat de productiviteit verhoogt en de emissieniveaus verlaagt, efficiënt koelsysteem met zelfreinigende radiator, een groot digitaal instrumentenpaneel waar het mogelijk is om alle functionaliteiten van de machine te bewaken en het hydraulische debiet van alle hulpcircuits in te stellen (maximaal 3). En dat doet hij met een zwaardere en bredere onderwagen en een langere arm, waardoor hij meer stabiliteit en een grotere graafdiepte en reikwijdte biedt, voor grotere productiviteit en prestaties.
Ook zal de nieuwe 221F compacte wiellader te zien zijn, die de nieuwe F-serie Evolution-reeks vertegenwoordigt, van de kleinere 21F en 121F tot de grotere 221F en 321F. De Evolution-modellen hebben een geüpgraded bestuurderscompartiment, met een gloednieuw display met encoder en toetsenbord, dat toegang biedt tot alle machinefuncties en -uitlezingen. een aantal verbeterde elektrohydraulische functies toegevoegd om de werking te verbeteren.
De grotere 221F en 321F zullen verkrijgbaar zijn in twee snelheden: de standaardsnelheid van 20 km/u en de nieuwe hogesnelheidsversie van 40 km/u. De connectiviteitsfuncties zijn ook verbeterd met dezelfde modem die is geïnstalleerd op grote wielladers, om nieuwe mogelijkheden voor integratie in de wagenparkbeheersystemen van de klant te openen.
CASE zal ook een sneak preview geven van het prototype 12EV elektrische compacte wiellader. Deze machine van 3,6 ton zal worden aangeboden, in Cabin- en Canopy-versies, met een bakinhoud van 0,5 m3 en zal beschikken over alle Evolution-upgrades. De 12EV wordt aangedreven door een 23kWh lithium-ionbatterij die, met een oplaadtijd tot 80% van 6 uur met een 230V-huishoudelijke voeding, of slechts 1 uur via een optionele externe snellader, 3-6 uur levert operationele autonomie, afhankelijk van de taak.
"De CASE Roadshows brengen onze machines naar onze klanten, via op maat gemaakte, lokale evenementen, die hen praktische ervaring bieden door middel van speciale veldactiviteiten." zei Federico Bullo, hoofd van Europa, bouwmaterieel CNH Industrial.
Bezoekers van het evenement krijgen de exclusieve kans om het nieuwe prototype van de MTL-minirupslader te evalueren, dat onlangs op Conexpo voor de Amerikaanse markt is gelanceerd.

AFBEELDINGSBRON: CASE Construction Equipment
Verhoog de uptime en de gemoedsrust van de klant met CASE® Service Solutions
CASE Service Solutions, een reeks connected en non-connected after-sales services, zal ook worden gepresenteerd tijdens de Roadshows. Ze zijn ontworpen om de productiviteit, winstgevendheid en uptime verder te verhogen en de ervaringen van klanten met CASE-apparatuur te ondersteunen.
Roadshow-bezoekers zullen ook meer te weten komen over het uitgebreide onderdelenaanbod van CASE.
Terug op veler verzoek
Operators krijgen de kans om deel te nemen aan de populaire CASE Rodeo-uitdaging, waarbij ze hun vaardigheden aan de besturing demonstreren en de flexibiliteit, snelheid en efficiëntie van een reeks CASE-apparatuur benadrukken.
"We hebben onlangs gevierd dat al onze dealerpartners samen waren voor de European Dealer Convention en het zal geweldig zijn om onze klanten weer te zien op onze roadshows door heel Europa", aldus Federico Bullo.
Het Duitse deel van de Roadshow van dit jaar vond plaats tussen 6 en 7 mei en was een groot succes. De show reist vervolgens naar Italië en vervolgens begin juni naar Frankrijk. De UK Roadshow keert terug in september.
26-27 mei
24030 Medolago (BG), Italië
7-8 juni
Terre des Singes - Parc animalier, 77540 Lumigny Nesles Ormeaux, Frankrijk
14-15 sept
Verenigd Koninkrijk
NJC.© Info CASE Construction Equipment
-------------------------------------------------------------------------------------------------------------------