Tigercat-LX830 Feller Buncher Advances to E-series
25/04/22-FR-English-NL-footer
L'abatteuse-empileuse Tigercat-LX830 passe à la série E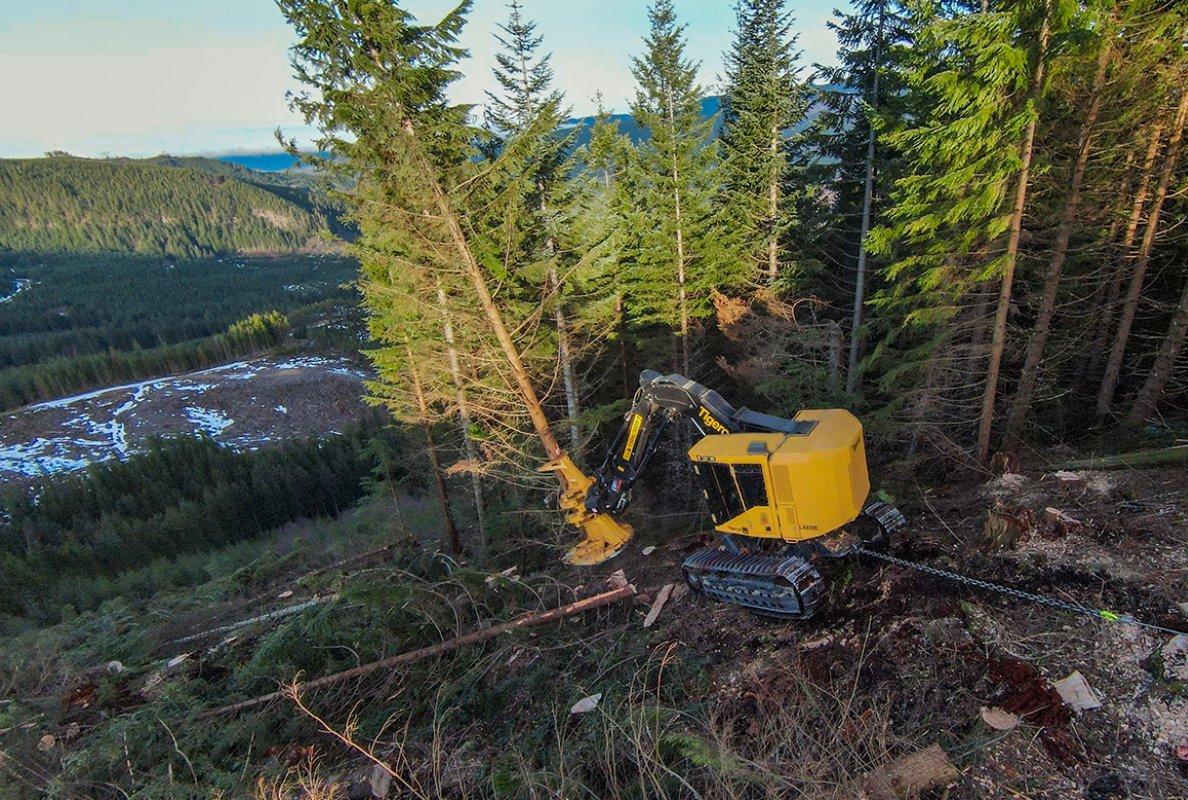 LX830 Feller Buncher IMAGE SOURCE: Tigercat International Inc.
Tigercat lance l'abatteuse-empileuse à chenilles LX830E avec les dernières fonctionnalités et mises à niveau, y compris un système de gestion des débris repensé et un siège de l'opérateur amélioré.
La LX830E est une abatteuse-empileuse à nivellement puissante et stable dotée d'un déport arrière compact et d'un système d'entraînement à chenilles en boucle fermée hautes performances, bien adaptée aux applications d'éclaircissage de pentes raides et d'abattage final.
La cabine de la série E mise à jour comprend un nouveau siège pneumatique à action parallèle avec chauffage et refroidissement intégrés. Le siège inclinable est entièrement réglable avec réglage de l'angle et de l'extension du siège. Le coussin de siège plus large et le support lombaire assurent le confort de l'opérateur tout au long de la journée.
Les commandes HVAC comportent une nouvelle commande de vitesse de ventilateur à variation continue, ajustée sur le panneau de commande ou l'écran tactile du système de commande de la machine, ajoutant au confort de l'opérateur. Plusieurs emplacements de rangement pratiques avec des filets ont été ajoutés à la cabine pour garder les articles en sécurité.
Un capot moteur repensé offre un meilleur accès au toit pour le nettoyage des débris. Un curseur de flèche réduit également l'accumulation de débris dans les zones difficiles d'accès.
Une fonction d'arrêt à chaud a été ajoutée. Cela permet au turbo de refroidir suffisamment avant d'arrêter le moteur, améliorant ainsi la durée de vie du turbo. Un plus grand couvercle de pompe assisté par ressort facilite l'accès pour l'entretien de la zone de la pompe hydraulique. Les améliorations hydrauliques incluent une réponse anti-calage plus rapide, un débit anti-cavitation constant et un meilleur rejet de la chaleur.
NJC.© Infos TIGERCAT International Inc.
-----------------------------------------------------------------------------------------------------------------------
25/04/22-English
Tigercat-LX830 Feller Buncher Advances to E-series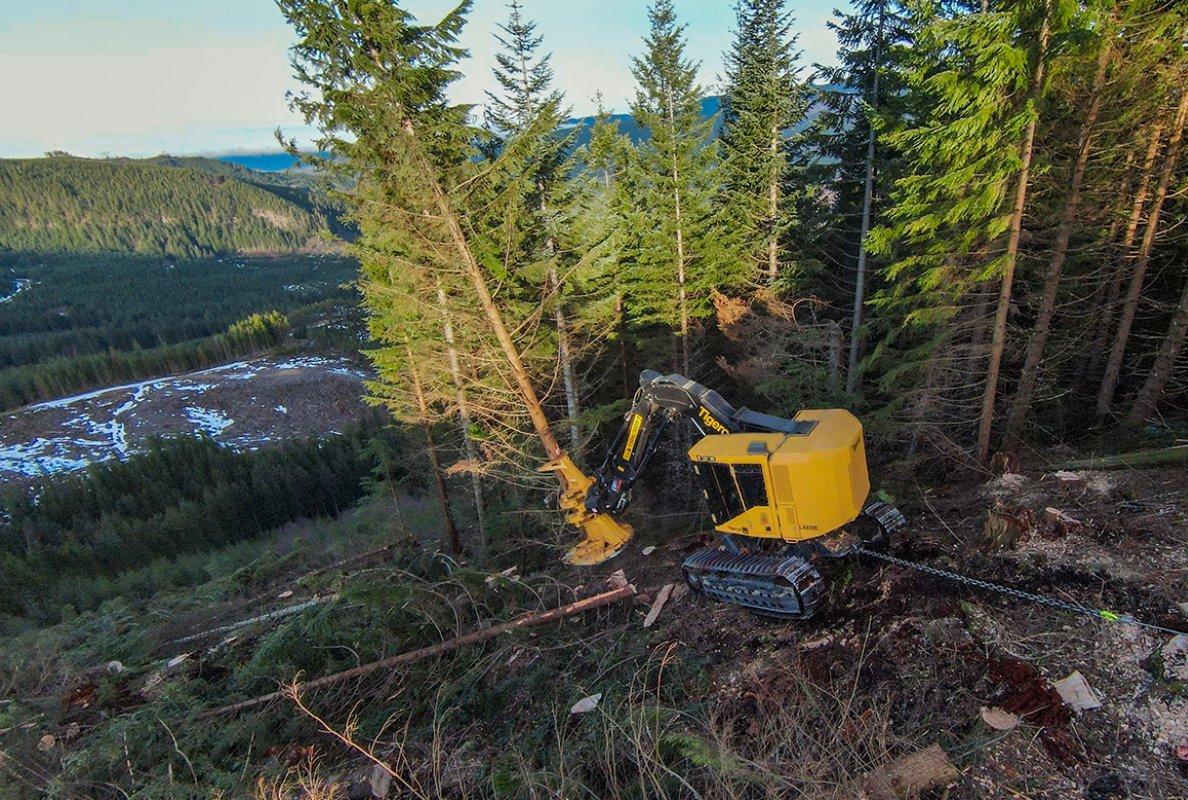 LX830 Feller Buncher IMAGE SOURCE: Tigercat International Inc.
Tigercat releases the LX830E track feller buncher with the latest features and upgrades, including a redesigned debris management system and an upgraded operator's seat.
The LX830E is a powerful and stable leveling feller buncher with a compact tail swing and a high performance closed loop track drive system, well suited to steep slope thinning and final felling applications.
The updated E-series cab includes a new parallel action air ride seat with integrated heating and cooling. The reclining seat is fully adjustable with seat angle and seat extension adjustment. The wider seat cushion and lumbar support provide operator comfort all day long.
The HVAC controls feature a new infinitely variable fan speed control, adjusted on the control panel or the machine control system touchscreen, adding to operator comfort. Multiple convenient storage locations with nets have been added to the cab to keep items secure.
A redesigned engine enclosure provides improved roof access for clearing debris. A boom slider also reduces debris build-up in hard-to-reach areas.
A hot shutdown feature has been added. This allows the turbo to be sufficiently cool before stopping the engine, improving turbo life. A larger, spring-assisted pump cover allows for easier service access to the hydraulic pump area. Hydraulic enhancements include quicker anti-stall response, consistent anti-cavitation flow and improved heat rejection.
NJC.© Info TIGERCAT International Inc.
--------------------------------------------------------------------------------------------------------------
25/04/22-NL
Tigercat-LX830 Feller Buncher gaat door naar E-serie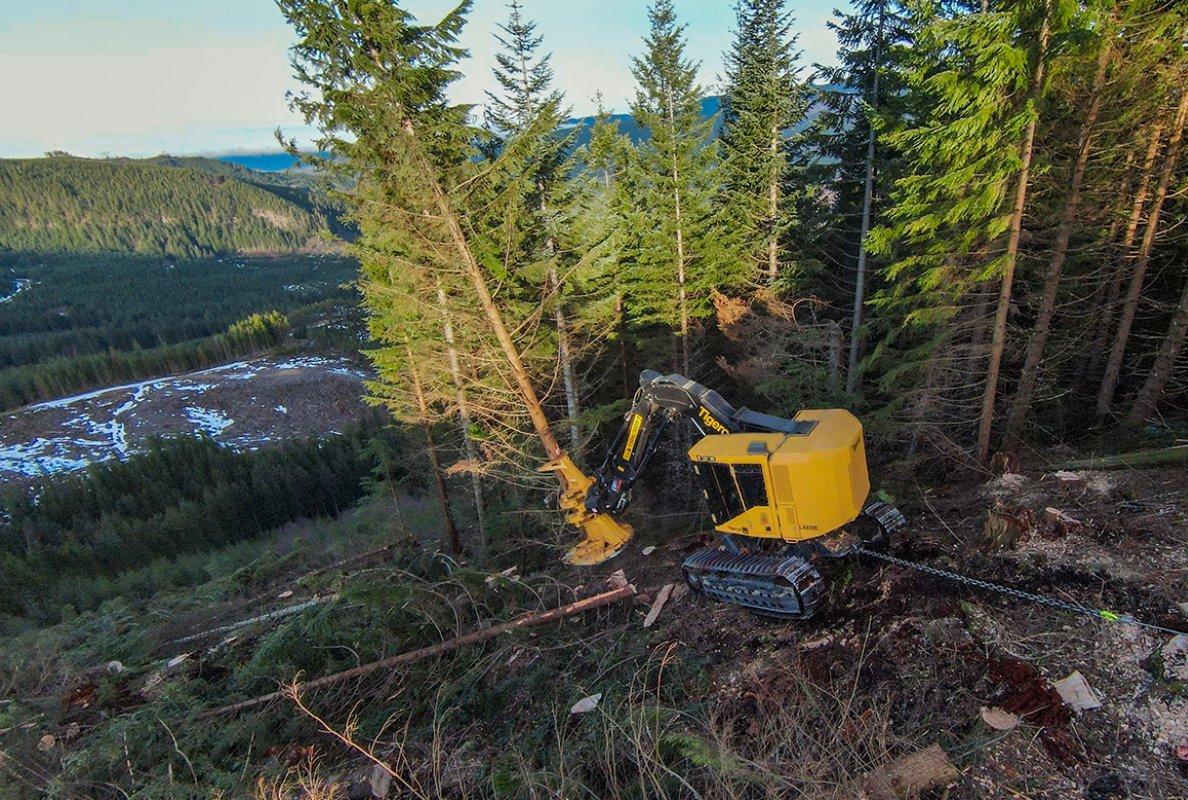 LX830 Feller Buncher IMAGE SOURCE: Tigercat International Inc.
Tigercat brengt de LX830E rups- feller-bunker uit met de nieuwste functies en upgrades, waaronder een opnieuw ontworpen afvalbeheersysteem en een verbeterde bestuurdersstoel.
De LX830E is een krachtige en stabiele nivellerende feller-bunker met een compacte staartzwaai en een hoogwaardig rupsaandrijfsysteem met gesloten lus, zeer geschikt voor toepassingen voor het uitdunnen van steile hellingen en het definitief vellen.
De vernieuwde cabine van de E-serie is voorzien van een nieuwe luchtgeveerde stoel met parallelle werking en geïntegreerde verwarming en koeling. De verstelbare stoel is volledig verstelbaar met zithoek en stoelverlenging. Het bredere zitkussen en de lendensteun bieden de machinist de hele dag comfort.
De HVAC-bedieningselementen zijn voorzien van een nieuwe traploze ventilatorsnelheidsregeling, aangepast op het bedieningspaneel of het touchscreen van het machinebesturingssysteem, wat bijdraagt ​​aan het comfort van de machinist. Er zijn meerdere handige opslaglocaties met netten aan de cabine toegevoegd om items veilig te houden.
Een opnieuw ontworpen motorbehuizing biedt verbeterde toegang tot het dak voor het opruimen van vuil. Een giekschuif vermindert ook de ophoping van vuil op moeilijk bereikbare plaatsen.
Er is een hot shutdown-functie toegevoegd. Hierdoor kan de turbo voldoende afkoelen voordat de motor wordt gestopt, wat de levensduur van de turbo verbetert. Een groter, veerondersteund pompdeksel zorgt voor gemakkelijker toegang voor onderhoud tot het gebied van de hydraulische pomp. Hydraulische verbeteringen omvatten een snellere anti-stall respons, consistente anti-cavitatie stroom en verbeterde warmte-afvoer.
NJC.© Info TIGERCAT International Inc.
---------------------------------------------------------------------------------------------------------------
Date de dernière mise à jour : 24/04/2022