Tigercat Releases 635H Swing Boom Skidder
05/05/22-FR-English-NL-footer
Tigercat lance le débardeur à flèche pivotante 635H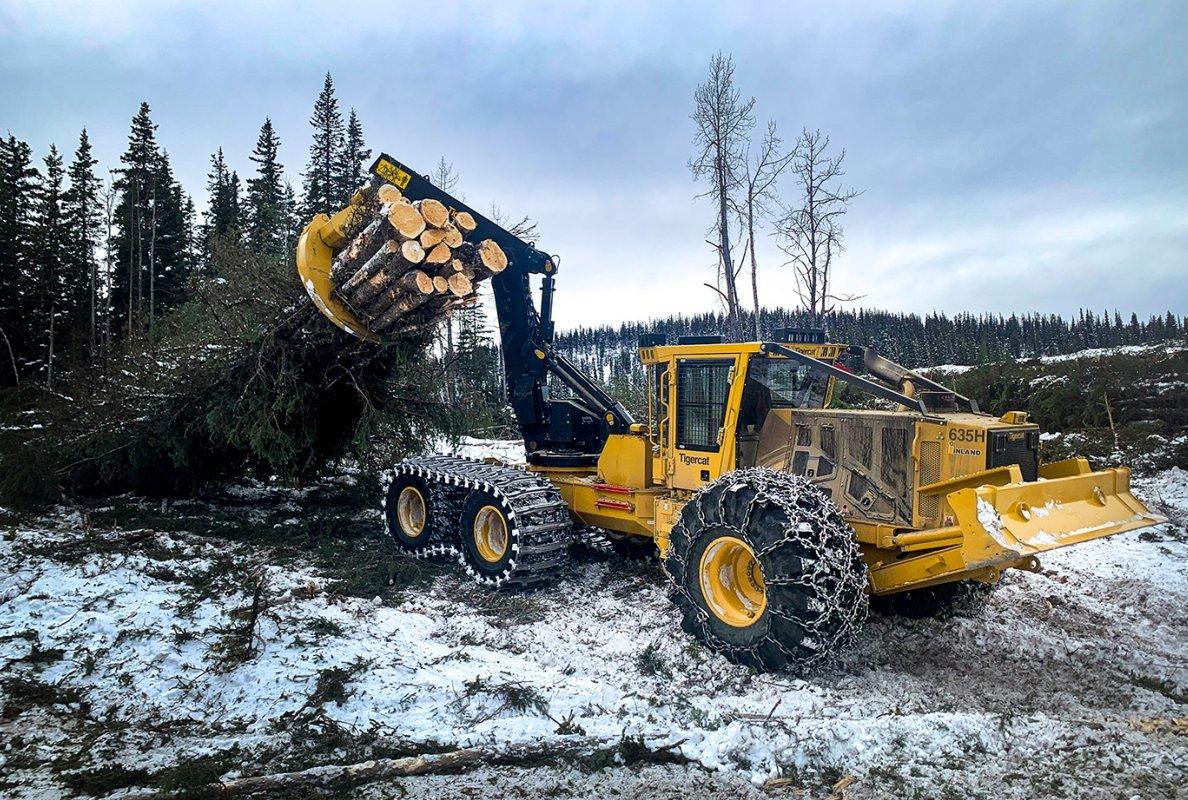 635H Swing Boom Skidder IMAGE SOURCE: Tigercat International Inc.
Le débusqueur ultime pour les terrains extrêmes et les opérations d'exploitation forestière assistées par câble.
Les capacités du 635H à six roues motrices sur les terrains escarpés et les applications d'assistance par câble ont été portées à un niveau supérieur avec l'intégration d'un système de flèche pivotante conçu et construit par Tigercat initialement introduit sur le débardeur de la série 635G. L'enveloppe de travail supplémentaire et la possibilité de positionner le grappin bien à l'extérieur de la voie de travail de la machine augmentent la productivité dans les applications où le déplacement du débardeur est restreint ou limité par les caractéristiques du terrain.
Avec la possibilité de verrouiller le siège et d'utiliser la machine à partir de n'importe quelle position avec des commandes d'entraînement complètes, le siège Tigercat Turnaround® 220° est un avantage important pour les applications de débardage à flèche pivotante. Il permet à l'opérateur de positionner le siège à n'importe quel angle orienté vers l'arrière pour aligner le champ de vision sur la zone de travail du grappin.
Le système d'orientation à la base de la flèche a fait ses preuves sur le terrain et utilise des composants communs aux machines à chenilles Tigercat. En plus de l'enveloppe de travail augmentée, la flèche a une capacité de levage plus puissante par rapport à un arc double fonction classique.
Pour les applications assistées par câble, le débusqueur peut être équipé en usine pour l'attache avec des cosses de cadre positionnées de manière optimale et un acheminement des câbles à travers la lame. Les pattes se fixent à la structure du châssis derrière l'essieu avant, plus près de la charge utile.
NJC.© Info TIGERCAT
------------------------------------------------------------------------------------------------------------------
05/05/22-English
Tigercat Releases 635H Swing Boom Skidder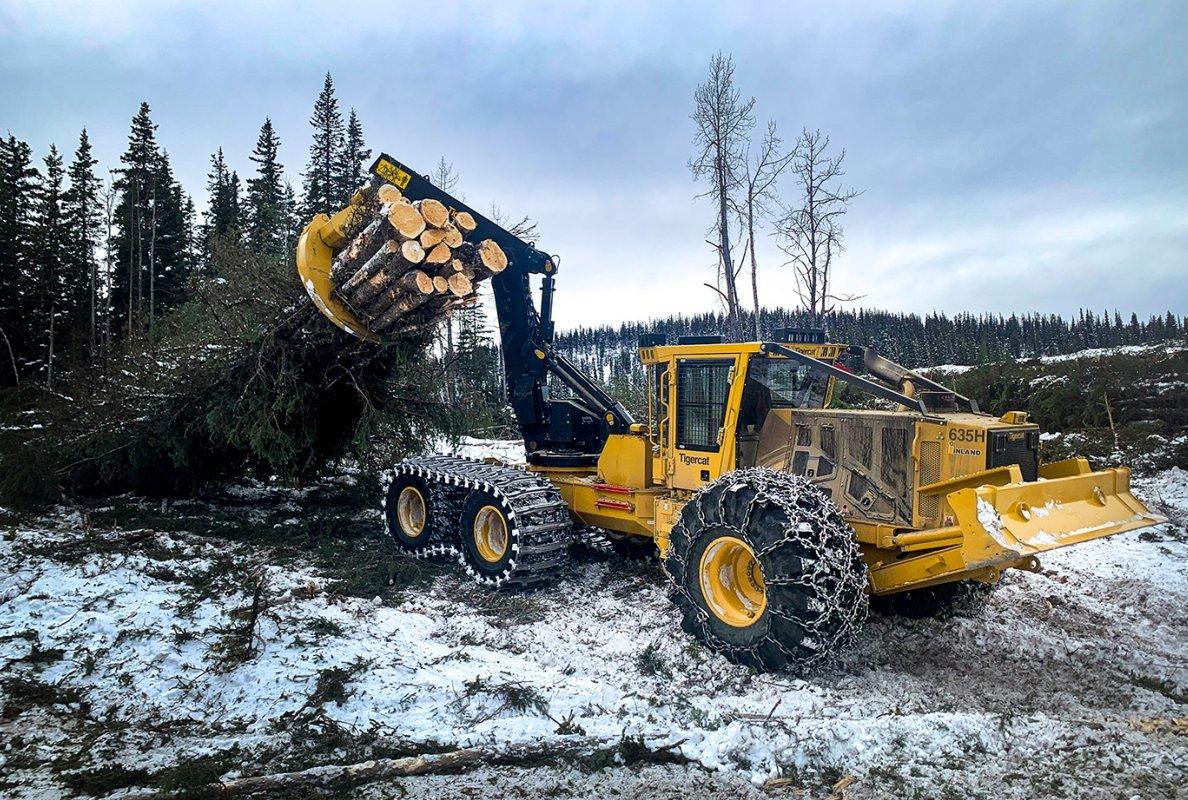 635H Swing Boom Skidder IMAGE SOURCE: Tigercat International Inc.
The ultimate skidder for extreme terrain and cable assisted logging operations.
The capabilities of the six-wheel drive 635H in steep terrain and cable assist applications have been taken to the next level with the integration of a Tigercat designed and built swing boom system initially introduced on the 635G series skidder. The additional working envelope and ability to position the grapple well outside of the working track of the machine increases productivity in applications where skidder travel is restricted or limited by terrain characteristics.
With the ability to lock the seat and operate the machine from any position with full drive controls, the Tigercat Turnaround® 220° seat is an important advantage for swing boom skidding applications. It allows the operator to position the seat at any rearward-facing angle to align the field of view to the working area of ​​the grapple.
The slew system at the base of the boom is field-proven, using components that are common to Tigercat track machines. In addition to the increased working envelope, the boom has a more powerful lifting capacity compared with a conventional dual function arch.
For cable assisted applications, the skidder can be factory-equipped for tethering with optimally positioned frame lugs and through-the-blade cable routing. The lugs attach to the frame structure behind the front axle, closer to the payload.
NJC.© Info TIGERCAT
-----------------------------------------------------------------------------------------------------------------
05/05/22-NL
Tigercat lanceert 635H Swing Boom Skidder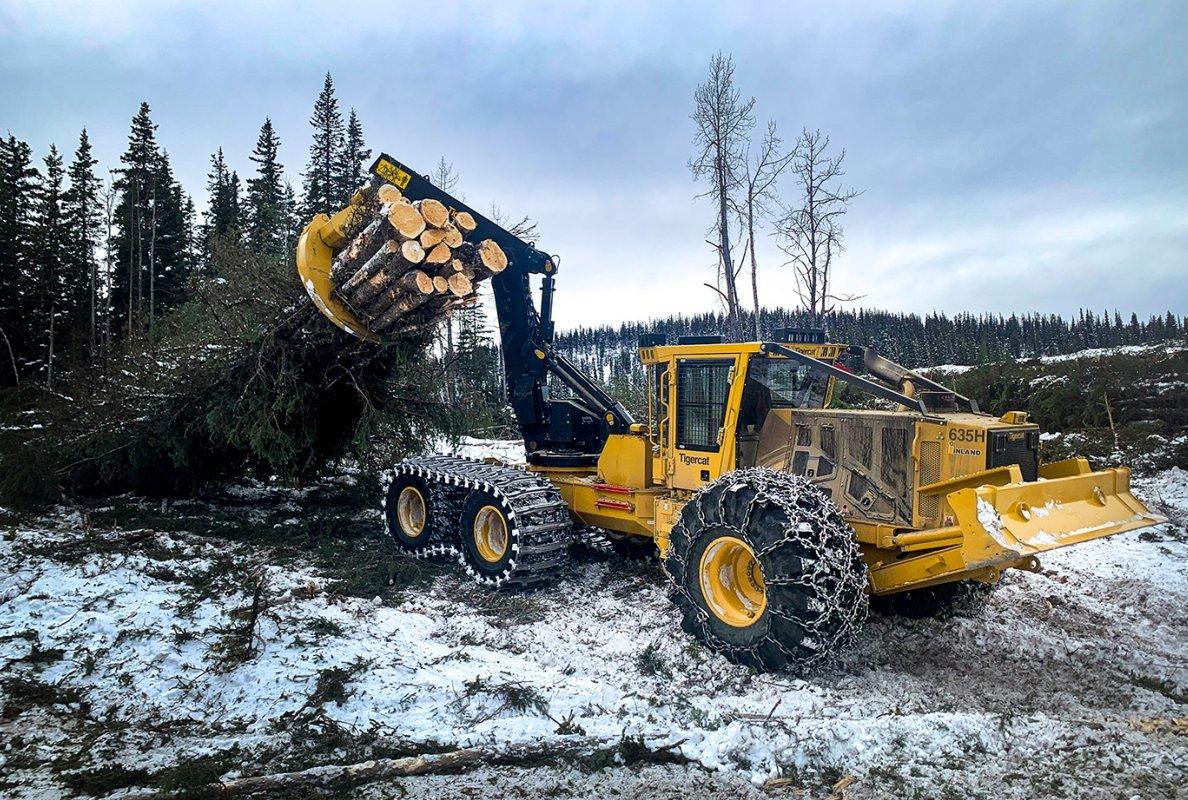 635H Swing Boom Skidder IMAGE SOURCE: Tigercat International Inc.
De ultieme skidder voor extreem terrein en kabelondersteunde houtkapactiviteiten.
De mogelijkheden van de 635H met zeswielaandrijving op steil terrein en kabelondersteuningstoepassingen zijn naar een hoger niveau getild met de integratie van een door Tigercat ontworpen en gebouwd zwenkgieksysteem dat oorspronkelijk werd geïntroduceerd op de skidder uit de 635G-serie. Het extra werkbereik en de mogelijkheid om de grijper ver buiten het werkspoor van de machine te plaatsen, verhoogt de productiviteit in toepassingen waar de verplaatsing van de skidder wordt beperkt of beperkt door terreinkenmerken.
Met de mogelijkheid om de stoel te vergrendelen en de machine vanuit elke positie te bedienen met volledige rijbediening, is de Tigercat Turnaround® 220°-stoel een belangrijk voordeel voor toepassingen met zwenkgieken. Hiermee kan de machinist de stoel in elke naar achteren gerichte hoek plaatsen om het gezichtsveld af te stemmen op het werkgebied van de grijper.
Het zwenksysteem aan de voet van de giek is in de praktijk bewezen en maakt gebruik van componenten die gemeenschappelijk zijn voor Tigercat-rupsmachines. Naast het grotere werkbereik heeft de giek een krachtiger hefvermogen in vergelijking met een conventionele boog met dubbele functie.
Voor kabelondersteunde toepassingen kan de skidder in de fabriek worden uitgerust voor tethering met optimaal gepositioneerde frameschoenen en kabelgeleiding door het blad. De nokken worden bevestigd aan de framestructuur achter de vooras, dichter bij het laadvermogen.
NJC.© Info TIGERCAT
-----------------------------------------------------------------------------------------------------------------