Trimble drives autonomy with Horizontal Screed Control for Vögele Pavers
03/11/22-FR-English-NL-footer
Trimble favorise l'autonomie avec Horizontal Screed Control pour les finisseurs Vögele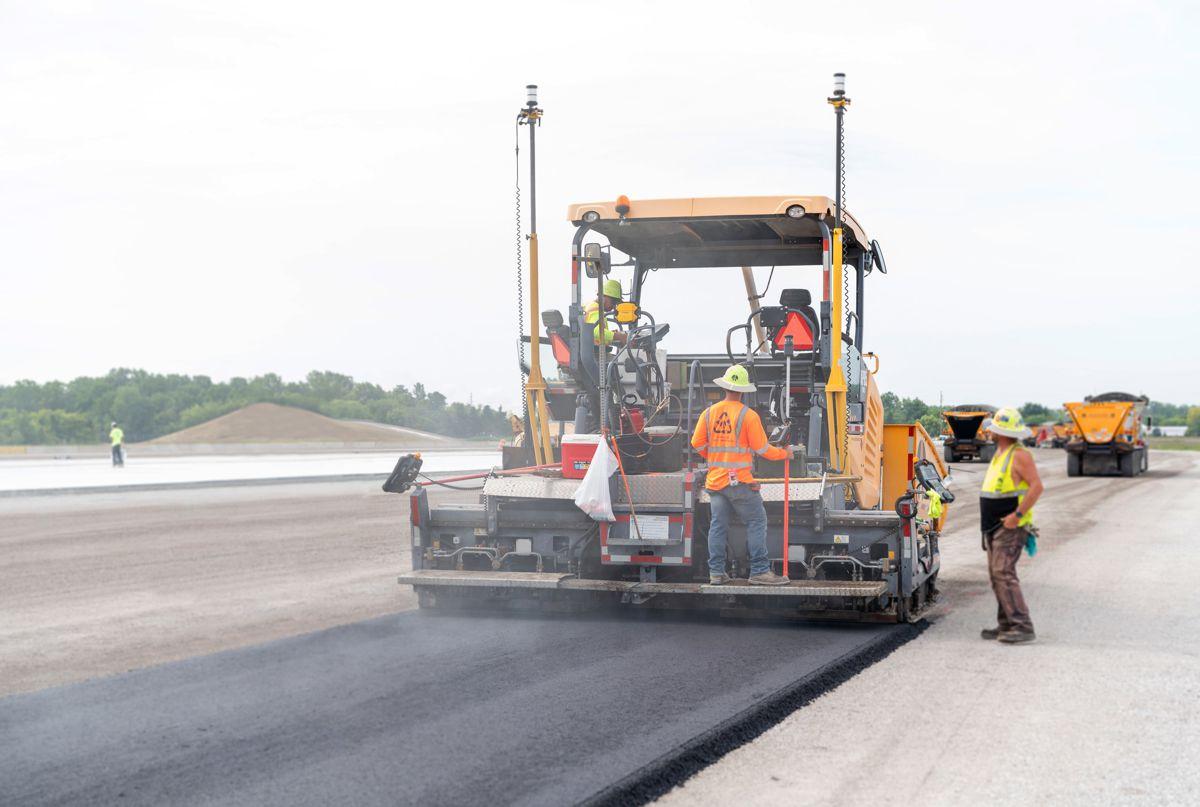 Image- Trimble Inc.
Trimble a présenté aujourd'hui la version 2.10 de Trimble® Roadworks Paving Control Platform avec commande de direction horizontale pour les finisseurs d'asphalte Vögele Navitronic. L'ajout du contrôle de la direction horizontale et du contrôle automatique de la largeur de table pour les finisseurs Vögele est une autre étape importante dans la voie de Trimble vers l'autonomie de contrôle de la machine.
Trimble Roadworks version 2.10 avec contrôle de la direction horizontale dirige automatiquement les finisseurs Vögele correctement équipés et contrôle la largeur de la table selon une conception 3D, ce qui en fait le système de pose 3D le plus avancé de Trimble à ce jour.
La fonctionnalité de direction automatique et de contrôle de la table offre une qualité supérieure et un revêtement plus précis plus rapidement et avec beaucoup moins de fatigue de l'opérateur que les méthodes de revêtement d'asphalte traditionnelles. Le système aide également à réduire les déchets et à améliorer la durabilité du chantier, ce qui facilite l'estimation précise des quantités de matériaux et utilise moins d'asphalte pendant le processus de pavage.
Le logiciel Trimble WorksOS et le logiciel Trimble WorksManager sont pris en charge par Trimble Roadworks version 2.10 sur tous les finisseurs compatibles, augmentant encore la connectivité entre le terrain et le bureau et facilitant le partage de fichiers de conception, la génération de rapports de productivité, l'analyse des élévations et bien plus encore.
"Les finisseurs d'asphalte peuvent être difficiles à diriger efficacement, et avec l'augmentation des investissements dans les projets d'infrastructure dans le monde entier, le besoin d'efficacité, de précision, de vitesse et de satisfaction au travail de l'opérateur est plus grand que jamais", a déclaré Kevin Garcia, directeur général de Trimble Civil Specialty Solutions. « Le contrôle de la direction horizontale et le contrôle de la largeur de la table permettent aux opérateurs de fournir plus facilement une surface de meilleure qualité et d'accélérer rapidement et rendent le travail plus facile et moins épuisant pour les opérateurs. Nous nous concentrons sur l'automatisation des tâches qui rendent les opérateurs plus efficaces et sur la connexion des parties prenantes tout au long du continuum de construction, et cette nouvelle version de Trimble Roadworks nous aide à faire progresser ces deux objectifs pour les entrepreneurs en revêtement d'asphalte.
Trimble Roadworks version 2.10 offre des avantages à la fois pour le revêtement droit et linéaire et pour le revêtement en rayon selon la conception 3D, garantissant que la chaussée est placée avec précision horizontalement et verticalement. Il est idéal pour les projets comprenant des pistes d'essai, des autoroutes inter-États, des pistes, des stades, des lotissements résidentiels et des routes de ville et de comté.
NJC.© Info Trimble Inc.
-------------------------------------------------------------------------------------------------------------------
03/11/22-English
Trimble drives autonomy with Horizontal Screed Control for Vögele Pavers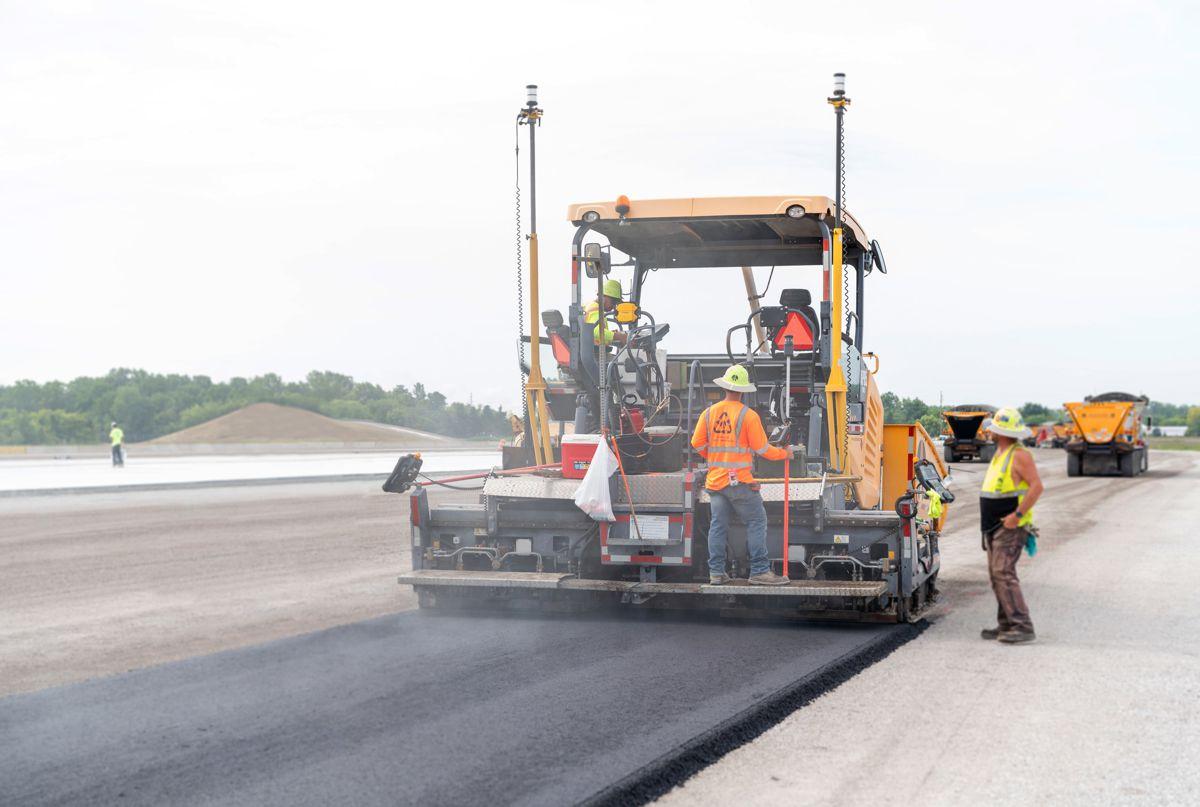 Image- Trimble Inc.
Trimble introduced today the Trimble® Roadworks Paving Control Platform version 2.10 with Horizontal Steering Control for Vögele Navitronic asphalt pavers. The addition of Horizontal Steering Control and automatic screed width control for Vögele pavers is another important step forward in Trimble's path toward machine control autonomy.
Trimble Roadworks version 2.10 with Horizontal Steering Control automatically steers properly equipped Vögele asphalt pavers and controls the screed width according to a 3D design, making it Trimble's most advanced 3D paving system to date.
The auto steering and screed control functionality provides higher quality and more accurate paving faster and with substantially less operator fatigue than traditional asphalt paving methods. The system also helps reduce waste and improve jobsite sustainability, making it easier to accurately estimate material quantities and use less asphalt during the paving process.
Both Trimble WorksOS Software and Trimble WorksManager Software are supported by Trimble Roadworks version 2.10 on all compatible pavers, further increasing connectivity between the field and the office and making it easy to share design files, generate productivity reports, analyze elevations and more.
"Asphalt pavers can be difficult to steer effectively, and with increased investment in infrastructure projects worldwide, the need for paving efficiency, accuracy, speed and operator job satisfaction is greater than ever," said Kevin Garcia, general manager for Trimble Civil Specialty Solutions. "Horizontal Steering Control and screed width control makes it easier for operators to deliver a higher quality surface and get up to speed quickly and makes the job easier and less exhausting for operators. We are focused on automating tasks that make operators more efficient and on connecting stakeholders across the construction continuum, and this new version of Trimble Roadworks helps us advance both of those goals for asphalt paving contractors."
Trimble Roadworks version 2.10 offers benefits for both straight, linear paving and for radius paving according to 3D design, ensuring that pavement is placed accurately horizontally and vertically. It is ideal for projects including test tracks, interstate highways, runways, stadiums, residential subdivisions and city and county roads.
NJC.© Info Trimble Inc.
----------------------------------------------------------------------------------------------------------------------
03/11/22-NL
Trimble rijdt autonoom met Horizontal Screed Control voor Vögele Pavers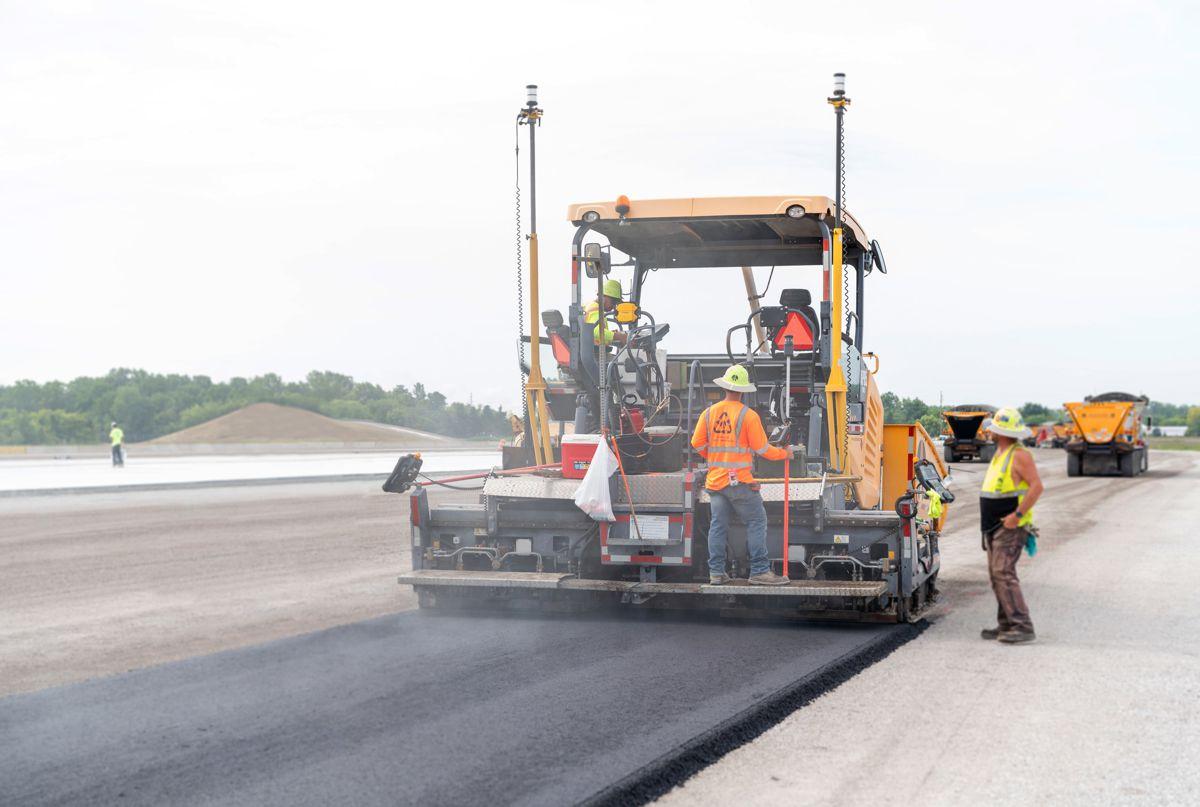 Image- Trimble Inc.
Trimble introduceerde vandaag het Trimble® Roadworks Paving Control Platform versie 2.10 met Horizontal Steering Control voor Vögele Navitronic asfalteermachines. De toevoeging van Horizontal Steering Control en automatische afwerkbalkbreedteregeling voor Vögele asfalteermachines is weer een belangrijke stap voorwaarts op het pad van Trimble naar autonomie voor machinebesturing.
Trimble Roadworks versie 2.10 met Horizontal Steering Control stuurt automatisch goed uitgeruste Vögele asfalteermachines en regelt de dekvloerbreedte volgens een 3D-ontwerp, waardoor dit het meest geavanceerde 3D-bestratingssysteem van Trimble tot nu toe is.
De functie voor automatische besturing en afwerkbalk zorgt voor sneller en nauwkeuriger asfalt van hogere kwaliteit en met aanzienlijk minder vermoeidheid van de machinist dan traditionele asfaltverhardingsmethoden. Het systeem helpt ook om afval te verminderen en de duurzaamheid van de bouwplaats te verbeteren, waardoor het gemakkelijker wordt om de materiaalhoeveelheden nauwkeurig in te schatten en minder asfalt te gebruiken tijdens het bestratingsproces.
Zowel Trimble WorksOS-software als Trimble WorksManager-software worden ondersteund door Trimble Roadworks versie 2.10 op alle compatibele asfalteermachines, waardoor de connectiviteit tussen het veld en het kantoor verder wordt vergroot en het gemakkelijk wordt om ontwerpbestanden te delen, productiviteitsrapporten te genereren, hoogteverschillen te analyseren en meer.
"Asfaltafwerkmachines kunnen moeilijk effectief te besturen zijn, en met de toegenomen investeringen in infrastructuurprojecten over de hele wereld, is de behoefte aan efficiëntie, nauwkeurigheid, snelheid en werkplezier van de machinist groter dan ooit", zegt Kevin Garcia, algemeen directeur van Trimble Civil Specialty Solutions. "Horizontale stuurregeling en afwerkbalkbreedteregeling maken het voor machinisten gemakkelijker om een ​​oppervlak van hogere kwaliteit te leveren en snel op snelheid te komen, en maakt het werk eenvoudiger en minder vermoeiend voor machinisten. We zijn gericht op het automatiseren van taken die operators efficiënter maken en op het verbinden van belanghebbenden in het hele bouwcontinuüm, en deze nieuwe versie van Trimble Roadworks helpt ons om beide doelen voor asfaltbestratingsaannemers te bereiken."
Trimble Roadworks versie 2.10 biedt voordelen voor zowel rechte, lineaire verharding als voor radiusverharding volgens 3D-ontwerp, zodat verharding horizontaal en verticaal nauwkeurig wordt geplaatst. Het is ideaal voor projecten zoals testbanen, snelwegen, start- en landingsbanen, stadions, woonwijken en stads- en provinciale wegen.
NJC.© Info Trimble Inc.
---------------------------------------------------------------------------------------------------------------