USA-CANADA-Case Kicks Off 'Groundbreaker Roadshow' to Bring Minotaur DL550 to North American Customers
16/09/22-FR-English-NL-footer
USA-CANADA-Case lance le "Roadshow révolutionnaire" pour apporter le Minotaur DL550 aux clients nord-américains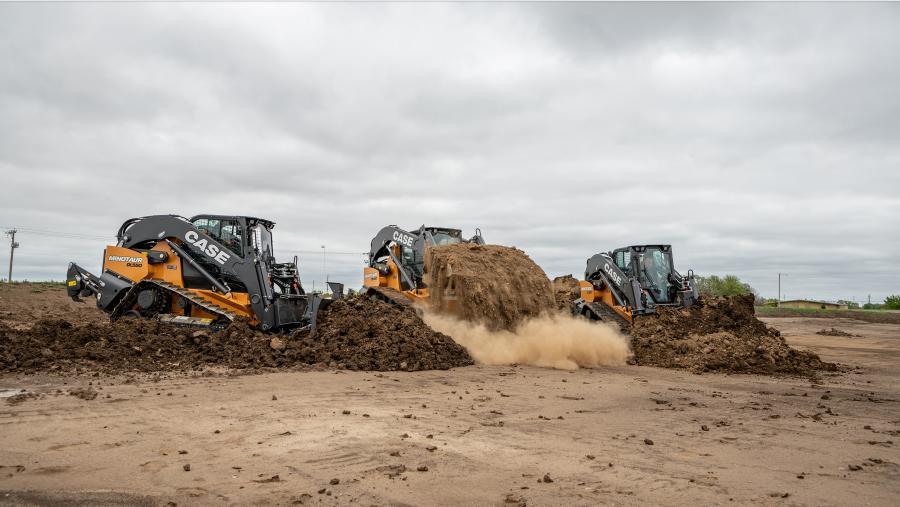 Image CASE
Les fans à travers l'Amérique du Nord n'ont plus besoin d'attendre. À partir du 14 septembre, le premier Case Minotaur DL550 de l'industrie fera son chemin à travers les États-Unis et le Canada dans le cadre du Groundbreaker Roadshow, présenté dans plus de 50 concessions Case.
"Minotaur a un énorme public de fans et nous lui donnons le traitement d'une rock star en l'envoyant en tournée à travers le continent jusqu'en 2023", a déclaré Terry Dolan, vice-président, Amérique du Nord, Case Construction Equipment.
"C'est une machine que les gens doivent voir pour croire - et la réponse commune des personnes qui la voient est qu'elle est encore plus grande, plus solide et plus polyvalente qu'ils ne l'imaginaient. Elle a vraiment cette capacité à changer l'industrie et la façon dont les gens travailler."
Le chargeur de bulldozer compact Case Minotaur DL550 crée une nouvelle catégorie d'équipement. Cette machine exclusive à l'industrie détient 29 brevets, a passé plus de 12 000 heures d'essais sur le terrain, d'innombrables cliniques clients et des tests typiques en laboratoire et d'ingénierie. Les participants au Groundbreaker Roadshow auront l'occasion de faire l'expérience directe du chargeur de bulldozer compact Minotaur, tout en profitant d'une journée sur le terrain avec de nombreuses chances de gagner des prix et des cadeaux.
Le Groundbreaker Roadshow débutera le 14 septembre à Titan Machinery de Shakopee, Minnesota. Pour le programme complet de la tournée, visitez CaseCE.com/Roadshow.
Chargeuse compacte Case Minotaur DL550
Pesant plus de 18 000 livres. et fonctionnant avec 114 ch, le nouveau chargeur de bulldozer compact Case Minotaur DL550 offre de véritables performances de nivellement et de nivellement, ainsi que de puissantes capacités de chargement sur site et une compatibilité avec des centaines d'accessoires.
L'avancée caractéristique du Case Minotaur DL550 est le cadre en C intégré au châssis avec une lame de remblayage à six voies. Le châssis en C se couple hydrauliquement au châssis de la machine, ainsi qu'au coupleur d'accessoire. Cette conception offre la stabilité et le plan de fonctionnement fluide d'un petit bulldozer tout en garantissant que toute la puissance de fonctionnement est canalisée à travers tout le corps de la machine. Cela établit une meilleure performance et une fiabilité à long terme que la simple combinaison d'un accessoire de lame de bulldozer à une chargeuse compacte sur chenilles traditionnelle, selon le fabricant.
Il est également livré en standard avec Case Universal Machine Control, qui rend la machine prête pour l'un des trois principaux fournisseurs de technologie de contrôle de machine, qui sont vendus séparément. Il est également disponible avec un ripper entièrement intégré en option, exclusif à l'industrie, pour déchirer les terrains difficiles afin de simplifier les opérations de refoulement et de terrassement.
Le cadre en C se détache ensuite facilement, en quelques minutes, pour permettre à l'opérateur de l'utiliser comme chargeur avec une chargeuse robuste de 1,25 verges cubes. godet, ou avec des centaines d'accessoires de chargeur courants que de nombreux propriétaires d'équipement ont déjà dans leur flotte.
"Le Minotaur est vraiment une flotte d'un seul, c'est sans pareil", a déclaré Jeff Jacobsmeyer, chef de produit, Case. "Les propriétaires d'entreprise et les gestionnaires de flotte à la recherche d'une solution compacte offrant d'innombrables avantages dans une seule empreinte verront immédiatement la polyvalence que cette nouvelle machine passionnante apporte à leurs flottes et comprendront rapidement ce qu'un "chargeur de bulldozer compact" est capable d'accomplir. Nous sommes ravi de le partager avec le monde."
NJC.© Info CASE Amérique du Nord
--------------------------------------------------------------------------------------------------------------------
16/09/22-English
USA-CANADA-Case Kicks Off 'Groundbreaker Roadshow' to Bring Minotaur DL550 to North American Customers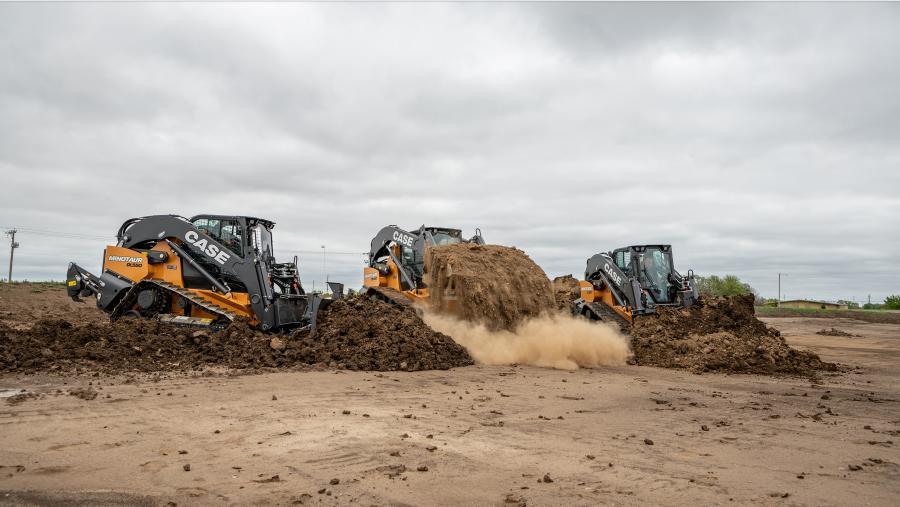 Image CASE
Fans across North America need not wait any longer. Starting Sept. 14, the industry-first Case Minotaur DL550 will be making its way across the United States and Canada on The Groundbreaker Roadshow — showcased at more than 50 Case dealer locations.
"Minotaur has a massive fan following and we're giving it the rock star treatment by sending it on a cross-continent tour into 2023," said Terry Dolan, vice president, North America, Case Construction Equipment.
"It's a machine that people have to see to believe — and the common response from people who see it is that it's even bigger, stronger and more versatile than they imagined it would be. It really has that ability to change the industry and how people work."
The Case Minotaur DL550 compact dozer loader creates a new equipment category. This industry-exclusive machine holds 29 patents, has pushed through more than 12,000 field test hours, countless customer clinics, and typical lab and engineering testing. Attendees of The Groundbreaker Roadshow will get to experience the Minotaur compact dozer loader firsthand, while enjoying a day on the lot with plenty of chances for prizes and giveaways.
The Groundbreaker Roadshow kicks off on Sept. 14 at Titan Machinery of Shakopee, Minn.. For the full tour schedule, visit CaseCE.com/Roadshow.
Case Minotaur DL550 Compact Dozer Loader
Weighing in at more than 18,000 lbs. and working with 114 hp, the new Case Minotaur DL550 compact dozer loader delivers true dozing and grading performance, as well as powerful site loading capabilities and compatibility with hundreds of attachments.
The hallmark advancement of the Case Minotaur DL550 is the chassis-integrated C-frame with six-way dozer blade. The C-frame hydraulically couples into both the chassis of the machine, as well as the attachment coupler. This design provides the stability and smooth operating plane of a small dozer while ensuring that all operating power is channeled through the whole body of the machine. This establishes greater performance and long-term reliability than the simple combination of a dozer blade attachment to a traditional compact track loader, according to the manufacturer..
It also comes standard with Case Universal Machine Control, which makes the machine ready for any of the three major providers of machine control technology, which are sold separately. It's also available with an optional, industry-exclusive fully integrated ripper for tearing up tough terrain to simplify dozing and earthmoving operations.
The C-frame is then easily detached, within minutes, to allow the operator to use it as a loader with a heavy-duty 1.25-cu.-yd. bucket, or with hundreds of common loader attachments many equipment owners already have in their fleet.
"The Minotaur is truly a fleet of one, that is second to none," said Jeff Jacobsmeyer, product manager, Case. "Business owners and fleet managers looking for a compact solution that delivers countless benefits in a single footprint will immediately see the versatility this exciting new machine brings to their fleets and will quickly understand what a 'compact dozer loader' is capable of accomplishing. We are excited to share it with the world."
NJC.© Info CASE North America
---------------------------------------------------------------------------------------------------------------------
16/09/22-NL
USA-CANADA-Case start 'Groundbreaker Roadshow' om Minotaur DL550 naar Noord-Amerikaanse klanten te brengen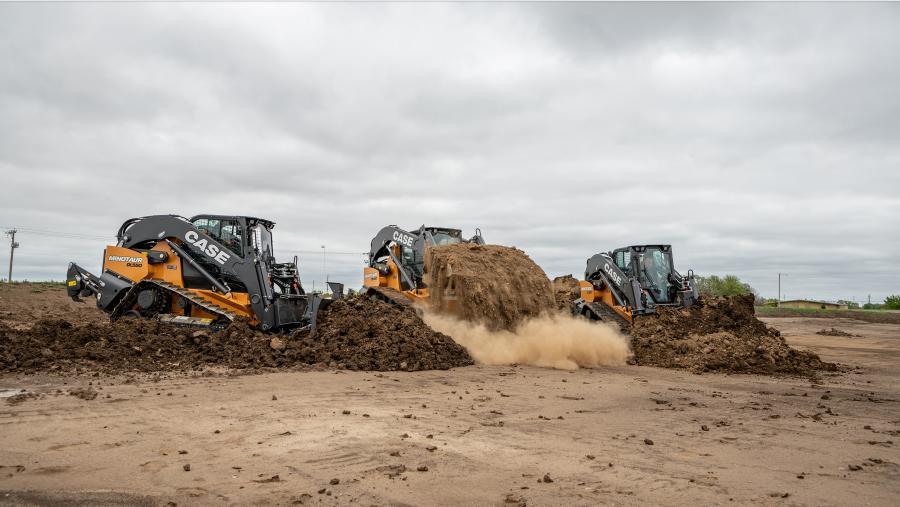 Image CASE
Fans in heel Noord-Amerika hoeven niet langer te wachten. Vanaf 14 september zal de Case Minotaur DL550, de eerste in de sector, zijn weg vinden door de Verenigde Staten en Canada op The Groundbreaker Roadshow — tentoongesteld op meer dan 50 Case-dealerlocaties.
"Minotaur heeft een enorme aanhang en we geven het de rocksterbehandeling door het op een cross-continentale tournee te sturen naar 2023", zegt Terry Dolan, vice-president, Noord-Amerika, Case Construction Equipment.
"Het is een machine die mensen moeten zien om te geloven - en de algemene reactie van mensen die het zien, is dat het nog groter, sterker en veelzijdiger is dan ze zich hadden voorgesteld. Het heeft echt dat vermogen om de industrie te veranderen en hoe mensen werk."
De Case Minotaur DL550 compacte dozerlader creëert een nieuwe uitrustingscategorie. Deze industrie-exclusieve machine heeft 29 patenten, heeft meer dan 12.000 praktijktesturen, talloze klantklinieken en typische laboratorium- en technische tests doorstaan. Deelnemers aan de Groundbreaker Roadshow zullen de Minotaur compacte dozerlader uit de eerste hand kunnen ervaren, terwijl ze genieten van een dag op het terrein met volop kansen op prijzen en weggeefacties.
De Groundbreaker Roadshow begint op 14 september bij Titan Machinery in Shakopee, Minnesota. Ga voor het volledige tourschema naar CaseCE.com/Roadshow.
Case Minotaur DL550 compacte bulldozerlader
Met een gewicht van meer dan 18.000 lbs. en met een vermogen van 114 pk levert de nieuwe Case Minotaur DL550 compacte dozer-lader echte dozer- en nivelleerprestaties, evenals krachtige laadmogelijkheden op het terrein en compatibiliteit met honderden uitrustingsstukken.
De kenmerkende vooruitgang van de Case Minotaur DL550 is het in het chassis geïntegreerde C-frame met zesvoudig dozerblad. Het C-frame koppelt hydraulisch aan zowel het chassis van de machine als de aanbouwdelen. Dit ontwerp biedt de stabiliteit en het soepele werkvlak van een kleine bulldozer en zorgt er tegelijkertijd voor dat alle werkkracht door de hele carrosserie van de machine wordt geleid. Dit zorgt volgens de fabrikant voor betere prestaties en betrouwbaarheid op lange termijn dan de eenvoudige combinatie van een dozerbladbevestiging met een traditionele compacte rupslader.
Het wordt ook standaard geleverd met Case Universal Machine Control, waardoor de machine klaar is voor elk van de drie grote leveranciers van machinebesturingstechnologie, die afzonderlijk worden verkocht. Hij is ook verkrijgbaar met een optionele, industrie-exclusieve volledig geïntegreerde ripper voor het verscheuren van ruw terrein om dozer- en grondverzetwerkzaamheden te vereenvoudigen.
Het C-frame kan dan binnen enkele minuten gemakkelijk worden losgemaakt, zodat de machinist het kan gebruiken als een lader met een zware 1,25 cu.-yd. bak, of met honderden veelvoorkomende laderaccessoires die veel eigenaren van materieel al in hun vloot hebben.
"De Minotaurus is echt een vloot van één, dat is ongeëvenaard", zegt Jeff Jacobsmeyer, productmanager bij Case. "Bedrijfseigenaren en wagenparkbeheerders die op zoek zijn naar een compacte oplossing die talloze voordelen biedt in één ruimte, zullen onmiddellijk de veelzijdigheid zien die deze opwindende nieuwe machine hun wagenpark biedt en zullen snel begrijpen wat een 'compacte dozer-lader' kan bereiken. We zijn enthousiast om het met de wereld te delen."
NJC.© Info CASE Noord-Amerika
-----------------------------------------------------------------------------------------------------------------