Versalift to manufacture France Elévateur lifts

18/10/23-FR-English-NL-footer
Versalift va fabriquer des ascenseurs France Elévateur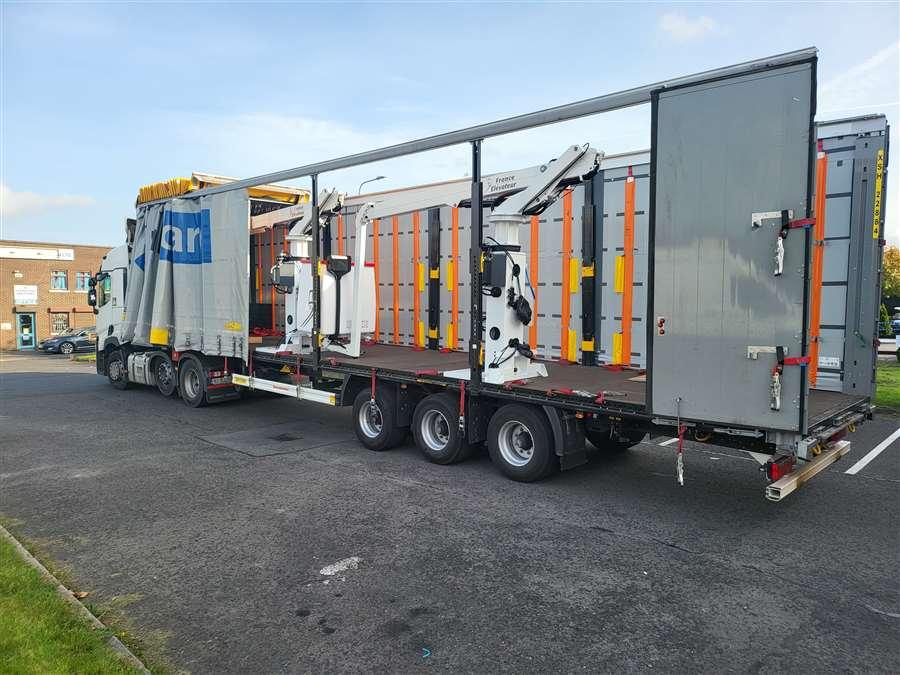 Image- France Elevateur platforms arriving at Versalift Ireland's facility.
Versalift Ireland a réceptionné ses premiers ascenseurs dans le cadre d'un nouveau partenariat avec France Elévateur, depuis que le constructeur français a intégré le groupe Time Manufacturing.
Après leur arrivée, les plates-formes sont maintenant prêtes à être montées sur le site Versalift Ireland à Tallaght, Dublin, qui a établi la fabrication locale des plates-formes France Elévateur.
Versalift a déclaré que le partenariat est sur le point de fournir des solutions sur mesure qui s'alignent sur les exigences uniques du marché irlandais et de consolider sa position en tant que seul fabricant de plates-formes d'accès sur l'île d'Irlande. « De plus, grâce au service après-vente local dédié fourni par Versalift Ireland, les clients peuvent s'attendre non seulement à des équipements de haute qualité, mais également à un support national rapide et efficace, qui garantit que les besoins des clients après l'achat sont satisfaits avec soin et expertise », a ajouté l'entreprise.
Versalift Irlande
Versalift Ireland assumera la responsabilité des ventes, de l'administration et du service après-vente des produits France Elévateur et offrira son expertise en matière d'installation, de formation, de maintenance et de service continus.
En gérant directement les questions de garantie et de responsabilité pour les produits France Elévateur, Versalift Ireland a déclaré qu'elle visait également à rationaliser l'offre client. « Ce partenariat stratégique représente une étape importante dans l'engagement de Versalift Ireland à fournir des solutions haut de gamme à ses clients, tout en les aidant à travailler en toute sécurité et à maximiser leur productivité », a ajouté Versalift.
NJC.© Info VERSALIFT
-----------------------------------------------------------------------------------------------------------------

18/10/23-English
Versalift to manufacture France Elévateur lifts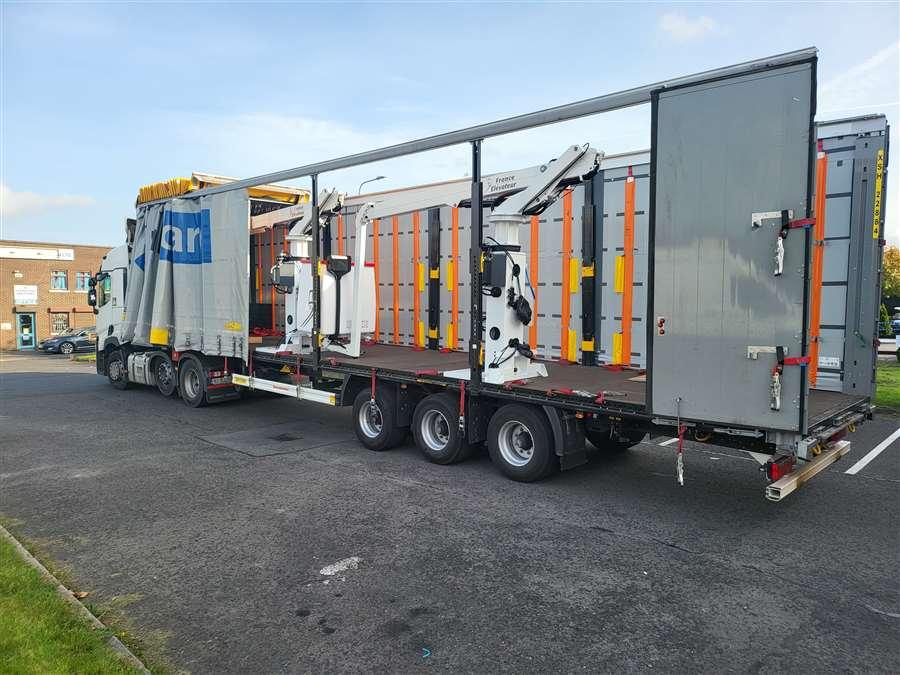 Image- France Elevateur platforms arriving at Versalift Ireland's facility.
Versalift Ireland has taken delivery of its first lifts under a new partnership with France Elévateur, since the French manufacturer became part of the Time Manufacturing group.
Following their arrival, the platforms are now ready for mounting at the Versalift Ireland site in Tallaght, Dublin, which established the local manufacturing for France Elévateur platforms.
Versalift said the partnership is poised to deliver tailor-made solutions that align with the unique requirements of the Irish market, and solidifying its position as the only manufacturer of access platforms on the Island of Ireland. "Additionally, with the dedicated local after sales support provided by Versalift Ireland, customers can expect not only high-quality equipment but also prompt and efficient national support, which guarantees that customers' post-purchase needs are met with care and expertise," added the company.
Versalift Ireland
Versalift Ireland will take responsibility for sales, administration and aftersales for France Elévateur products and offer its expertise in installation, training and ongoing maintenance and service.
By directly managing warranty and liability matters for France Elévateur products, Versalift Ireland said it also aims to streamline the customer offering. "This strategic partnership represents a significant milestone in Versalift Ireland's commitment to providing top-of-the-line solutions to its customers, whilst helping customers to work safely and maximize productivity," Versalift added.
NJC.© Info VERSALIFT
------------------------------------------------------------------------------------------------------------------

18/10/23-NL
Versalift gaat Elévateur-liften in Frankrijk produceren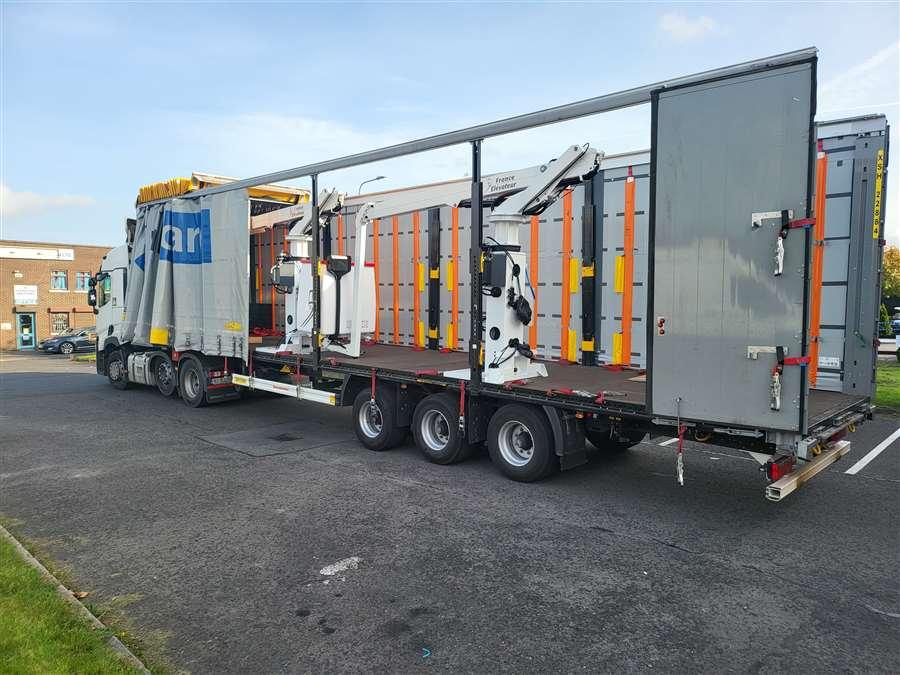 Image- France Elevateur platforms arriving at Versalift Ireland's facility.
Versalift Ireland heeft zijn eerste liften in ontvangst genomen onder een nieuw partnerschap met France Elévateur, sinds de Franse fabrikant onderdeel werd van de Time Manufacturing-groep.
Na hun aankomst zijn de platforms nu klaar voor montage op de Versalift Ireland-locatie in Tallaght, Dublin, waar de lokale productie voor de Franse Elévateur-platforms is opgezet.
Versalift zei dat het partnerschap klaar is om op maat gemaakte oplossingen te leveren die aansluiten bij de unieke eisen van de Ierse markt, en zijn positie als de enige fabrikant van hoogwerkers op het eiland Ierland te verstevigen. "Bovendien kunnen klanten, met de toegewijde lokale after-salesondersteuning van Versalift Ireland, niet alleen hoogwaardige apparatuur verwachten, maar ook snelle en efficiënte nationale ondersteuning, die garandeert dat aan de behoeften van klanten na de aankoop met zorg en expertise wordt voldaan", voegde hij eraan toe. het bedrijf.
Versalift Ierland
Versalift Ireland zal de verantwoordelijkheid op zich nemen voor de verkoop, administratie en aftersales voor Franse Elévateur-producten en haar expertise aanbieden op het gebied van installatie, training en doorlopend onderhoud en service.
Door garantie- en aansprakelijkheidszaken voor Franse Elévateur-producten rechtstreeks te beheren, zegt Versalift Ireland dat het ook het klantenaanbod wil stroomlijnen. "Dit strategische partnerschap vertegenwoordigt een belangrijke mijlpaal in de toewijding van Versalift Ireland om haar klanten topoplossingen te bieden, terwijl ze klanten helpen veilig te werken en de productiviteit te maximaliseren", voegde Versalift eraan toe.
NJC.© Info VERSALIFT
--------------------------------------------------------------------------------------------------------------------
Date de dernière mise à jour : 17/10/2023