Vögele-Bauma 2022 to present a new generation of road pavers
25/08/22-FR-English-NL-footer
Vögele-Bauma 2022 présentera une nouvelle génération de finisseurs routiers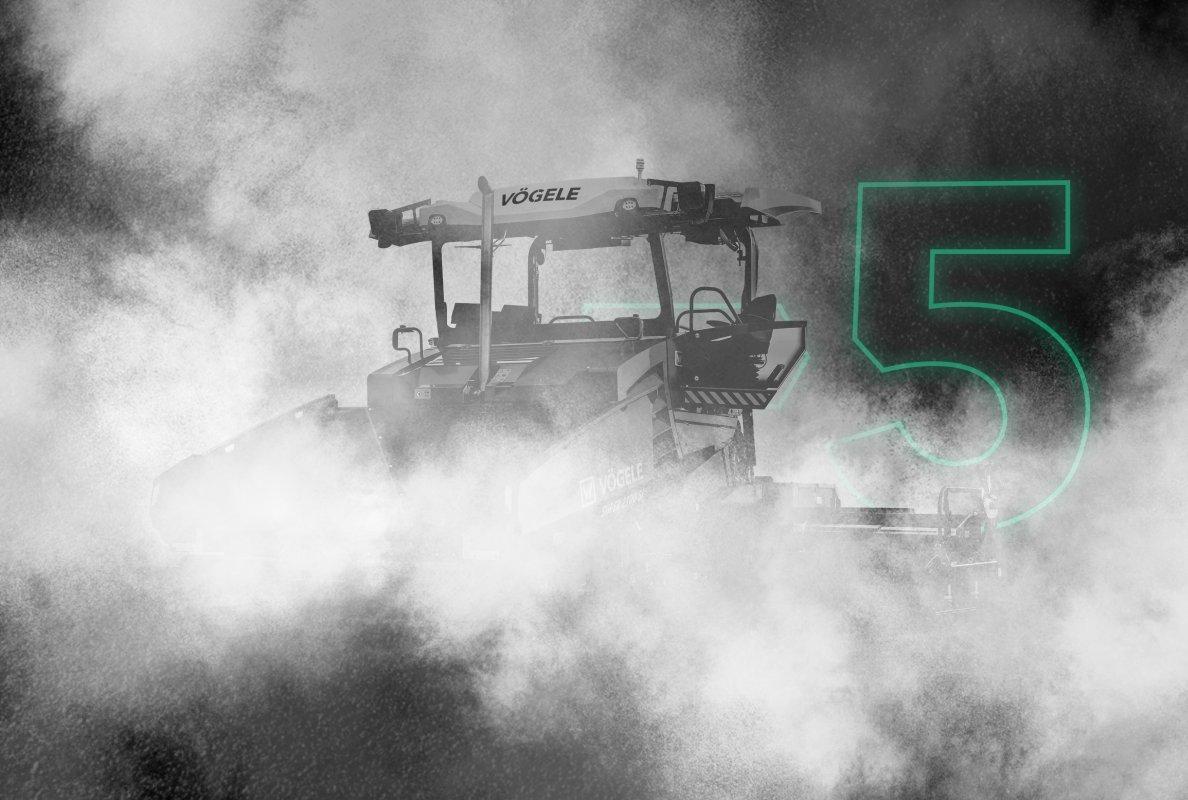 World premiere at Bauma 2022: Vögele will be introducing the first road pavers and matching screeds of the new Dash 5 generation. IMAGE SOURCE: WIRTGEN GROUP
Deux longueurs d'avance : les finisseurs Dash 5
Bauma 2022 sera la première mondiale des premiers finisseurs et tables Vögele de la nouvelle génération Dash 5 : les finisseurs SUPER 1900-5(i) et SUPER 2100-5(i) Highway Class et les dernières générations AB 500 et AB 600 Chapes extensibles. Ces nouveaux produits sont plus tournés vers l'avenir que jamais.
Les exigences de demain satisfaites aujourd'hui
En tant que solution pionnière pour l'asphaltage du futur, la nouvelle génération de finisseurs répond désormais aux exigences de plus en plus imposées aux finisseurs d'asphalte par la construction routière moderne. Des systèmes flexibles et modulaires sont nécessaires pour tenir compte en particulier de l'automatisation et de la durabilité des processus, ainsi que de la convivialité et de l'économie.
Équipé pour l'avenir avec Dash 5
Les détails de la génération Dash 5 seront gardés secrets jusqu'au salon Bauma de Munich, mais comme d'habitude, Vögele a mis l'accent sur les besoins des utilisateurs. Pour l'équipe de pose, cela signifie avant tout une manipulation simple de la machine, un confort d'utilisation maximal et une sécurité sur le chantier.
Compte tenu de la hausse des prix des matières premières, l'économie devient également de plus en plus un facteur de réussite de la construction de routes. C'est pourquoi, sur les finisseurs Dash 5, Vögele a assuré des temps de réglage réduits, une logistique améliorée et une plus grande disponibilité des machines. L'automatisation des processus avec des systèmes d'assistance et de contrôle a également été optimisée pour éviter les erreurs et augmenter à la fois l'efficacité et la qualité de pose.
La mise en œuvre de projets durables est plus demandée que jamais - également dans la construction de routes. Des mesures d'optimisation ciblées réduisent les émissions sonores et la consommation de carburant des finisseurs Dash 5 tout en maintenant les mêmes performances. Comme chaque litre de carburant économisé réduit les émissions de CO₂, l'environnement et les entrepreneurs en construction routière en bénéficient à parts égales.
NJC.© Info WIRTGEN GROUP; Vogele
-------------------------------------------------------------------------------------------------------------------
25/08/22-English
Vögele-Bauma 2022 to present a new generation of road pavers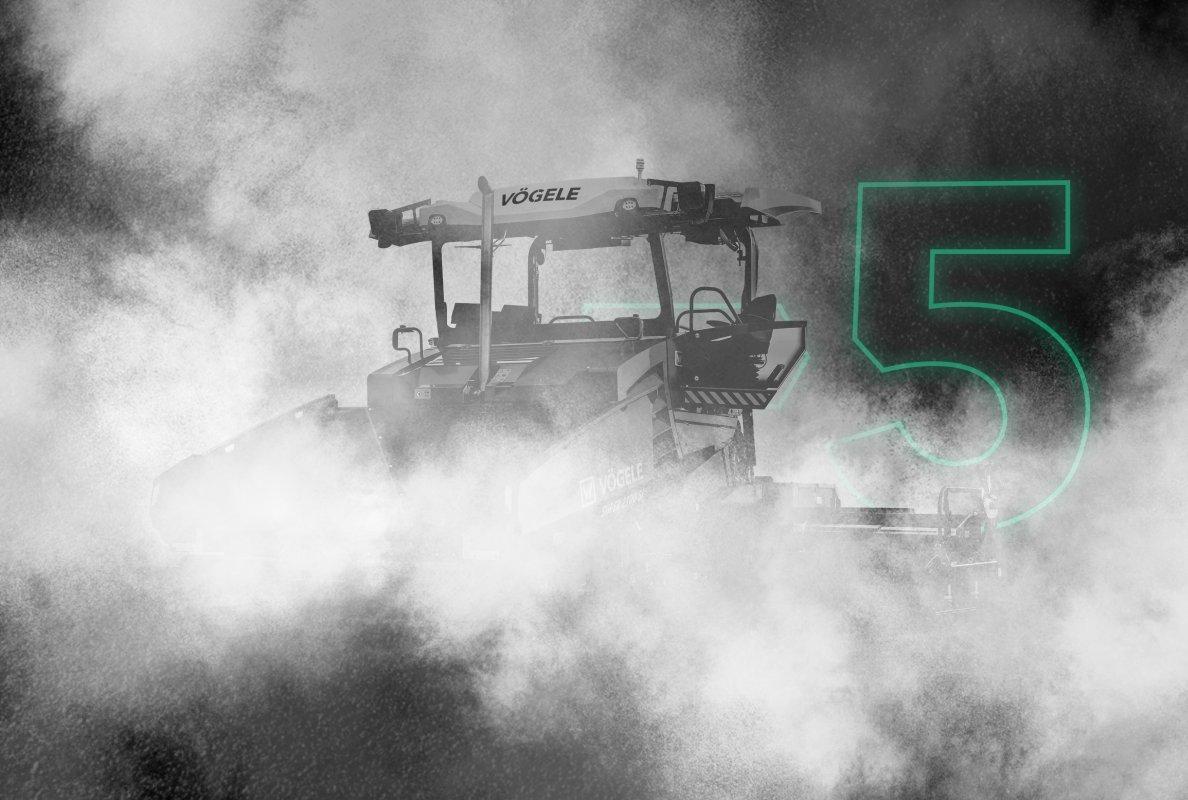 World premiere at Bauma 2022: Vögele will be introducing the first road pavers and matching screeds of the new Dash 5 generation. IMAGE SOURCE: WIRTGEN GROUP
Two steps ahead: Dash 5 road pavers
Bauma 2022 will be the world premiere for Vögele's first road pavers and screeds of the new Dash 5 generation: the SUPER 1900-5(i) and SUPER 2100-5(i) Highway Class pavers and the latest-generation AB 500 and AB 600 Extending Screeds. These new products look further into the future than ever before.
Tomorrow's requirements fulfilled today
As a pioneering solution to the asphalt paving of the future, the new generation of pavers satisfies now the requirements increasingly imposed on asphalt pavers by modern road construction. Flexible, modular systems are required to take particular account of process automation and sustainability, as well as user-friendliness and economy.
Equipped for the future with Dash 5
The details of the Dash 5 generation will be kept under wraps until the Bauma trade fair in Munich, but as usual, Vögele has made user requirements a key focus. For the paving crew, this primarily means simple machine handling, maximum operating convenience and safety on the job site.
Given the rising prices of raw materials, economy is also becoming more and more of a factor in the success of road construction, which is why on Dash 5 pavers, Vögele has ensured reduced setup times, improved logistics and greater machine availability. The automation of processes with assistance and control systems has also been further optimised to prevent errors and to increase both efficiency and paving quality.
Sustainable project implementation is more in demand than ever - in road construction, too. Targeted optimisation measures reduce the noise emission and fuel consumption of Dash 5 pavers whilst maintaining the same performance. As every litre of fuel saved reduces CO₂ emissions, the environment and road construction contractors benefit from this in equal measure.
NJC.© Info WIRTGEN GROUP; Vögele
--------------------------------------------------------------------------------------------------------------------
25/08/22-NL
Vögele-Bauma 2022 presenteert een nieuwe generatie straatstenen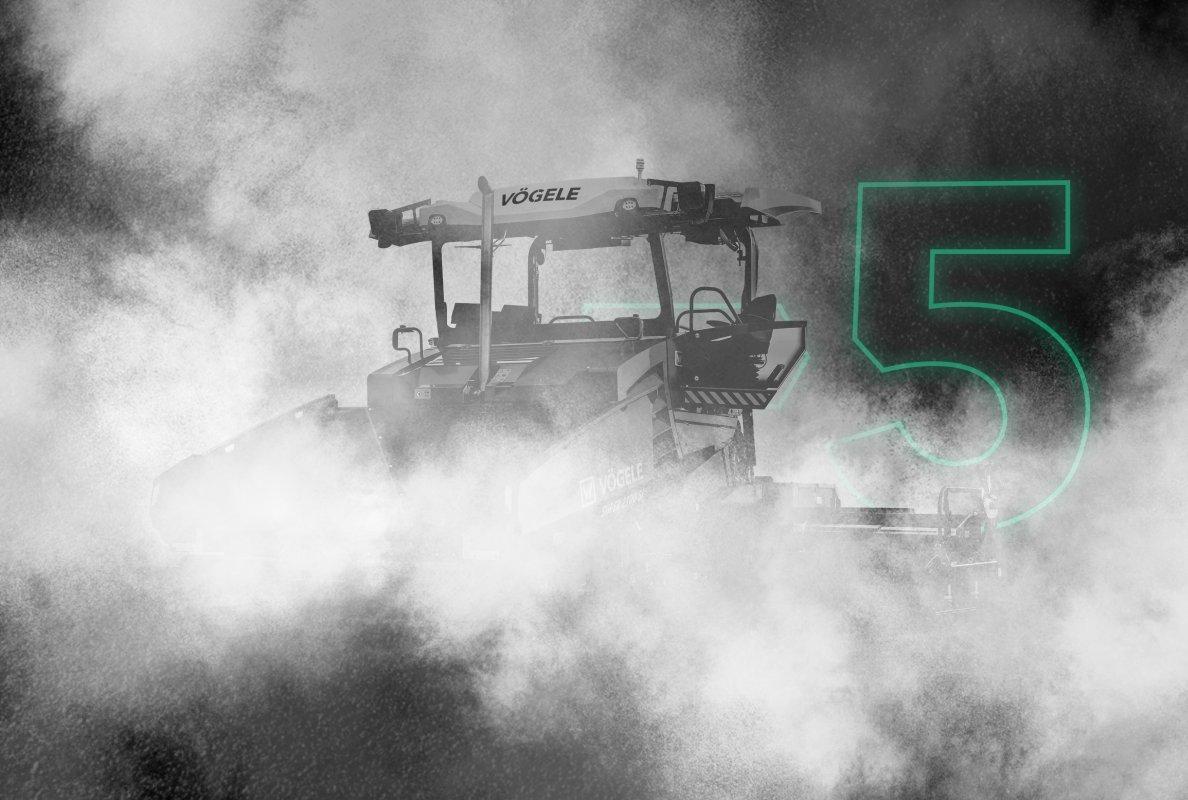 World premiere at Bauma 2022: Vögele will be introducing the first road pavers and matching screeds of the new Dash 5 generation. IMAGE SOURCE: WIRTGEN GROUP
Twee stappen vooruit: Dash 5 straatstenen
Bauma 2022 wordt de wereldpremière voor Vögele's eerste wegafwerkmachines en afwerkbalken van de nieuwe Dash 5-generatie: de SUPER 1900-5(i) en SUPER 2100-5(i) Highway Class-afwerkmachines en de nieuwste generatie AB 500 en AB 600 Dekvloeren verlengen. Deze nieuwe producten kijken verder in de toekomst dan ooit tevoren.
De eisen van morgen vervuld vandaag
Als baanbrekende oplossing voor de asfaltverharding van de toekomst voldoet de nieuwe generatie straatstenen nu aan de eisen die de moderne wegenbouw aan asfalteermachines stelt. Flexibele, modulaire systemen zijn nodig om met name rekening te houden met procesautomatisering en duurzaamheid, maar ook met gebruiksvriendelijkheid en zuinigheid.
Uitgerust voor de toekomst met Dash 5
De details van de Dash 5-generatie worden geheim gehouden tot de Bauma-beurs in München, maar zoals gewoonlijk heeft Vögele de gebruikersvereisten centraal gesteld. Voor de bestratingsploeg betekent dit in de eerste plaats een eenvoudige bediening van de machine, maximaal bedieningsgemak en veiligheid op de bouwplaats.
Gezien de stijgende grondstofprijzen wordt ook zuinigheid steeds meer een factor in het succes van de wegenbouw. ​​Daarom heeft Vögele op Dash 5 asfalteermachines gezorgd voor kortere omsteltijden, verbeterde logistiek en grotere machinebeschikbaarheid. Ook de automatisering van processen met hulp- en controlesystemen is verder geoptimaliseerd om fouten te voorkomen en zowel de efficiëntie als de verhardingskwaliteit te verhogen.
Duurzame projectuitvoering is meer dan ooit gevraagd - ook in de wegenbouw. Gerichte optimalisatiemaatregelen verminderen de geluidsemissie en het brandstofverbruik van Dash 5 straatstenen met behoud van dezelfde prestaties. Omdat elke liter brandstof die bespaard wordt de CO₂-uitstoot vermindert, profiteren het milieu en de wegenbouwers hiervan in gelijke mate.
NJC.© Info WIRTGEN GROEP; Vögele
------------------------------------------------------------------------------------------------------------------