Volvo CE Launches New All-Inclusive Lease for Electric Equipment
21/10/22-FR-English-NL-footer
Volvo CE lance un nouveau contrat de location tout compris pour les équipements électriques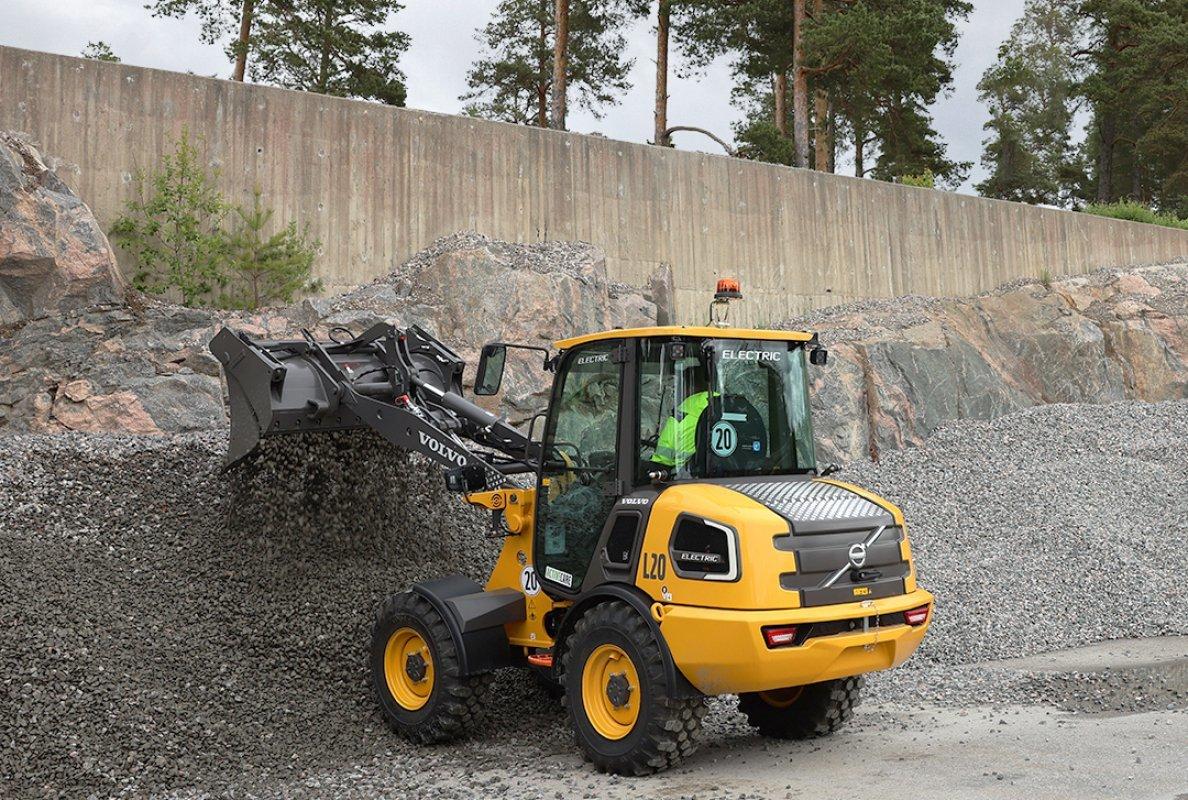 Volvo L20 Electric Wheel Loader IMAGE SOURCE: Volvo Construction Equipment
Volvo Construction Equipment a lancé une nouvelle option de financement pour l'équipement électrique compact de l'entreprise qui simplifie l'expérience de propriété.
Ce forfait de location tout compris regroupe la charge, l'entretien, les réparations et plus encore, tout en offrant une meilleure offre par rapport aux articles achetés séparément.
Comment ça fonctionne
Disponible aux États-Unis et au Canada via Volvo Financial Services (VFS), le processus de mise en place d'un contrat de location tout compris pour les machines électriques est le même que pour les autres machines Volvo CE. Les clients travailleront avec leur concessionnaire Volvo CE local et VFS pour définir la durée du contrat, déterminer le nombre d'heures de fonctionnement de chaque machine et négocier les paiements mensuels.
Ensuite, dans le cadre du forfait tout compris, les clients bénéficient également de :
Un plan d'entretien de l'équipement pour s'assurer que les machines électriques restent opérationnelles comme il se doit. Les locataires auront la possibilité d'amener les machines chez leur concessionnaire Volvo pour l'entretien ou de faire venir un concessionnaire chez eux.
Couverture étendue pour les réparations, au-delà de la période de garantie d'usine. Cela permet de limiter certains risques en couvrant les machines plus longtemps.
Assurance dommages physiques (actuellement disponible uniquement aux États-Unis) en cas d'accident couvert causant des dommages à la machine.
La possibilité de financer un chargeur parallèlement au leasing avec une mensualité unique. Le chargeur est acheté, pas loué, mais il est financé selon les mêmes conditions et tarifs que le package complet. Par exemple, si vous souscrivez à un bail de 48 mois, vous avez également la possibilité de payer votre chargeur en 48 mensualités. Et parce que c'est groupé, vous n'effectuerez qu'un seul paiement par mois à VFS.
Économisez de l'argent sur le lot de machines électriques compactes. Cela pourrait représenter jusqu'à 15% de moins sur le paiement mensuel que l'achat d'articles séparément, selon le concessionnaire - et n'est disponible que via le bail tout compris.
Autre avantage, les formules de leasing s'accompagnent d'une option de résiliation anticipée simplifiée à 24 mois.
Commencer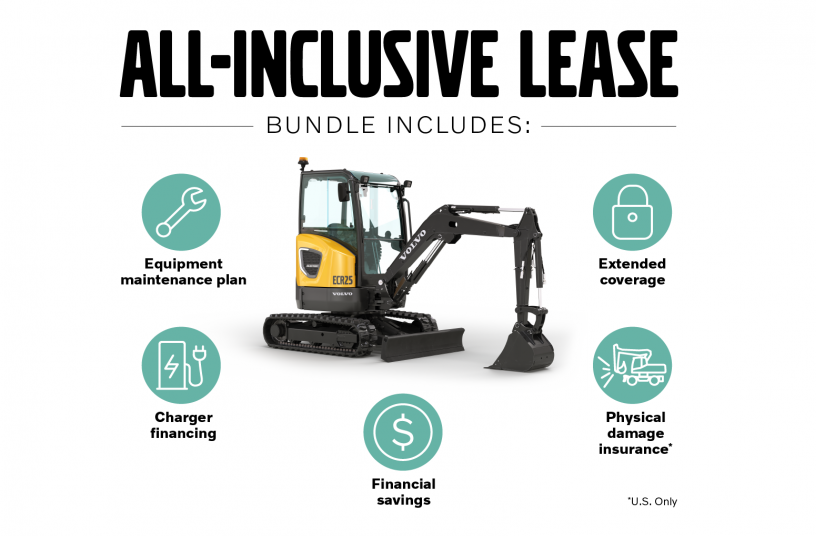 Pour explorer les options de financement, les clients peuvent visiter le site de la machine électrique Volvo, sélectionner le modèle qui les intéresse et utiliser l'outil « construire et devis » pour configurer le modèle selon leurs besoins. S'ils sélectionnent la demande de financement dans l'outil, un concessionnaire assurera le suivi avec eux. Les clients peuvent également contacter leur concessionnaire Volvo local pour obtenir un devis.
NJC.© Info Volvo Construction Equipment
-------------------------------------------------------------------------------------------------------------------
21/10/22-English
Volvo CE Launches New All-Inclusive Lease for Electric Equipment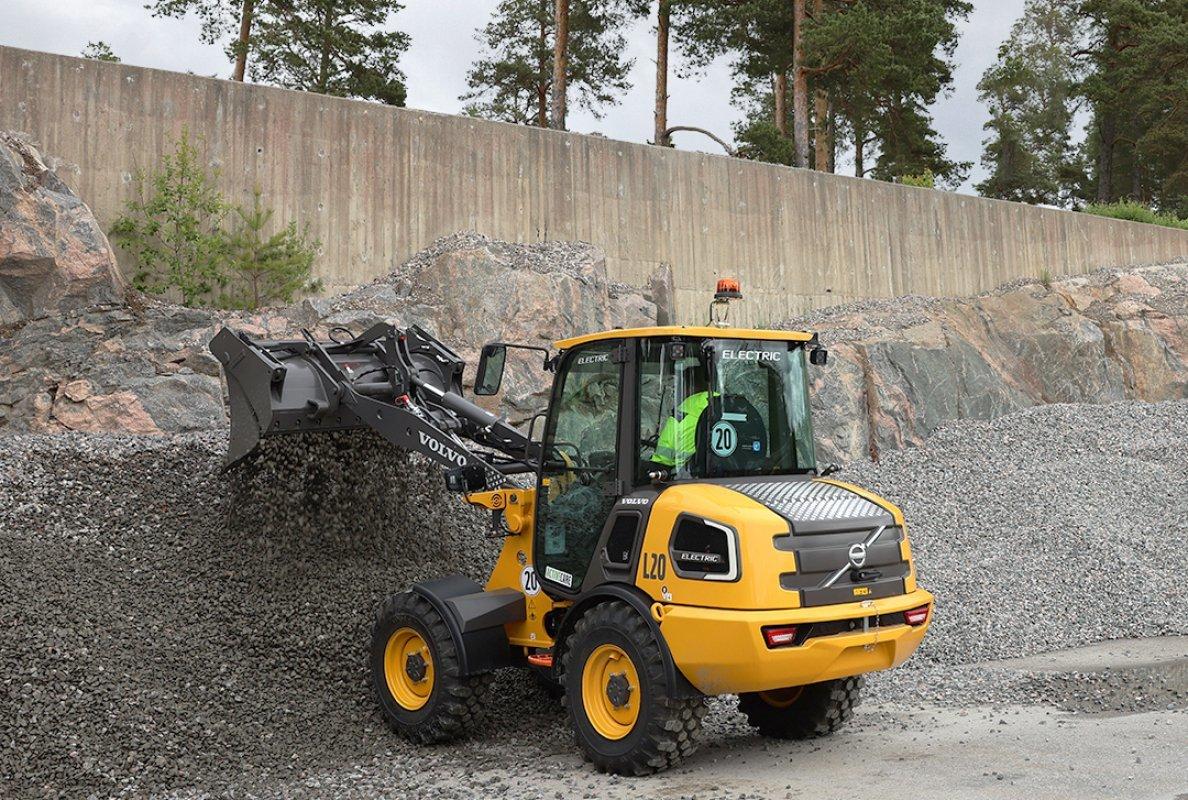 Volvo L20 Electric Wheel Loader IMAGE SOURCE: Volvo Construction Equipment
Volvo Construction Equipment has launched a new financing option for the company's electric compact equipment that simplifies the ownership experience.
This all-inclusive leasing package bundles charging, maintenance, repairs and more — while also providing a better deal compared with items purchased separately.
How It Works
Available in the U.S. and Canada through Volvo Financial Services (VFS), the process to set up an all-inclusive lease for electric machines is the same as with other Volvo CE machines. Customers will work with their local Volvo CE dealer and VFS to set the length of the contract, determine how many hours each machine could operate, and negotiate monthly payments.
Then, within the all-inclusive package, customers also get:
An equipment maintenance plan to help ensure the electric machines stay up and running as they should. Lessees will have the option to bring machines to their Volvo dealer location for maintenance or have a dealer come to them.
Extended coverage for repairs, beyond the factory warranty period. This helps limit some risk by covering machines for a longer time.
Physical damage insurance (currently only available in the U.S.) in the event of a covered accident that causes damage to the machine.
The option to finance a charger alongside the lease with a single monthly payment. The charger is purchased, not leased, but it's financed within the same terms and rates as the complete package. As an example, if you sign up for a 48-month lease, you have the option to pay for your charger in 48 monthly payments as well. And because it's bundled, you'll only make one payment per month to VFS.
Save money on the bundle of electric compact machines. This could be up to 15% less on the monthly payment than acquiring items separately, depending on the dealership — and is only available through the all-inclusive lease.
Another benefit is that the leasing packages come with a simplified early termination option at 24 months.
Getting Started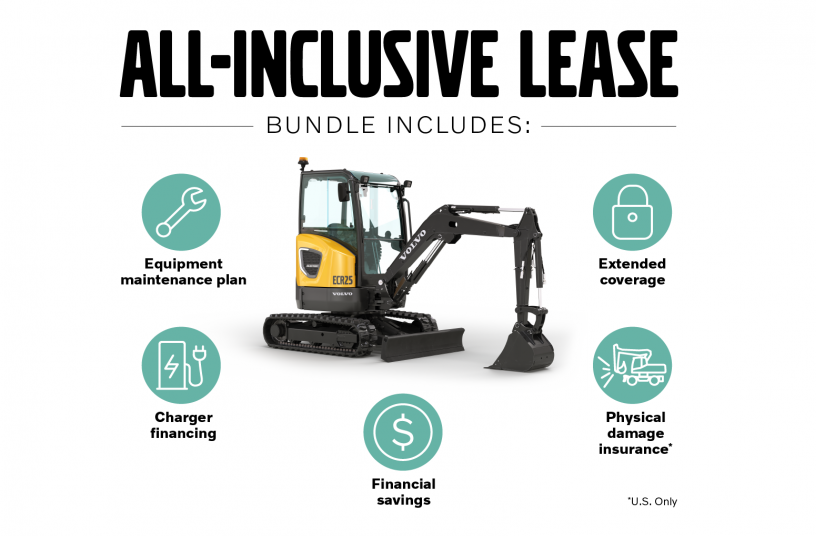 To explore financing options, customers can visit the Volvo electric machine site, select the model they're interested in, and use the "build and quote" tool to configure the model to their needs. If they select the financing application in the tool, a dealer will follow up with them. Customers can also reach out to their local Volvo dealer for a quote.
NJC.© Info Volvo Construction Equipment
----------------------------------------------------------------------------------------------------------------------
21/10/22-NL
Volvo CE lanceert nieuwe all-inclusive lease voor elektrische apparatuur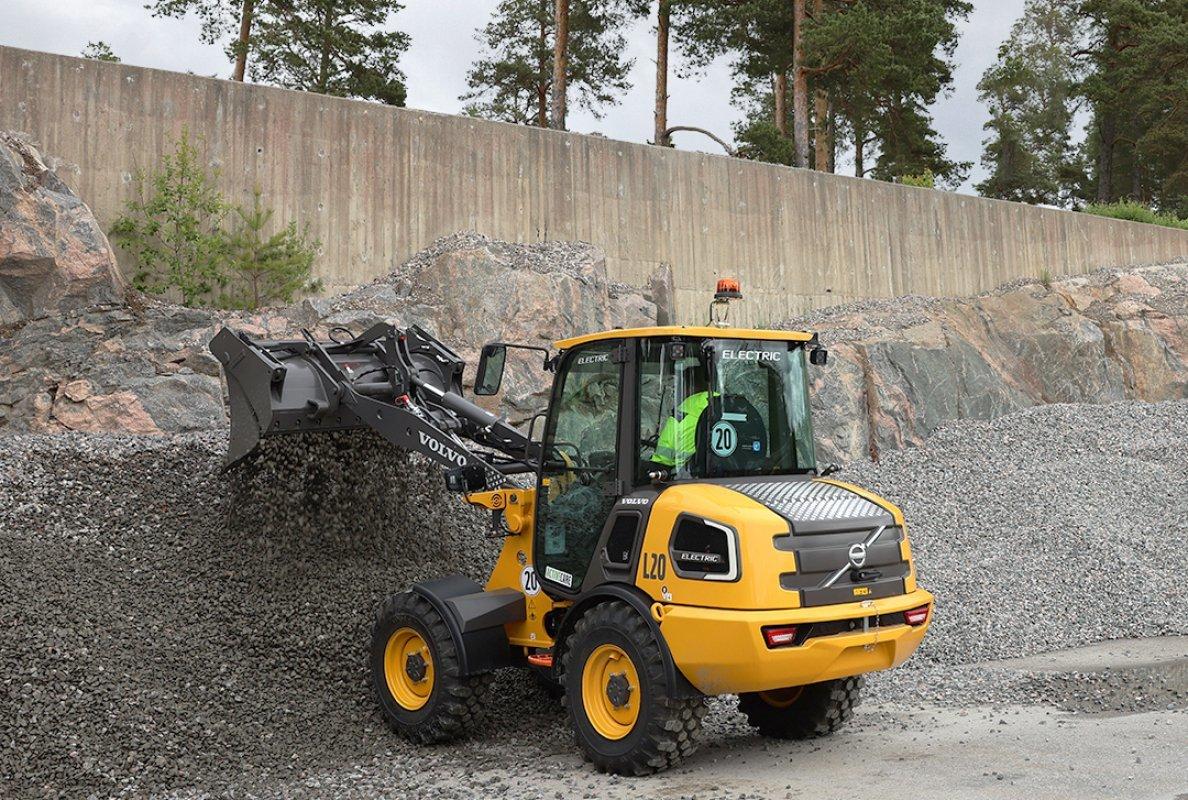 Volvo L20 Electric Wheel Loader IMAGE SOURCE: Volvo Construction Equipment
Volvo Construction Equipment heeft een nieuwe financieringsoptie gelanceerd voor de elektrische compacte apparatuur van het bedrijf die de eigendomservaring vereenvoudigt.
Dit all-inclusive leasepakket bundelt opladen, onderhoud, reparaties en meer, terwijl het ook een betere deal biedt in vergelijking met items die afzonderlijk worden gekocht.
Hoe het werkt
Verkrijgbaar in de VS en Canada via Volvo Financial Services (VFS), het proces voor het opzetten van een all-inclusive lease voor elektrische machines is hetzelfde als bij andere Volvo CE-machines. Klanten zullen samenwerken met hun lokale Volvo CE-dealer en VFS om de duur van het contract vast te stellen, te bepalen hoeveel uur elke machine zou kunnen werken en om te onderhandelen over maandelijkse betalingen.
Dan krijgen klanten binnen het all-inclusive pakket ook:
Een onderhoudsplan voor apparatuur om ervoor te zorgen dat de elektrische machines blijven werken zoals het hoort. Huurders hebben de mogelijkheid om machines naar hun Volvo-dealerlocatie te brengen voor onderhoud of om een ​​dealer naar hen toe te laten komen.
Uitgebreide dekking voor reparaties, buiten de fabrieksgarantieperiode. Dit helpt enig risico te beperken door machines voor een langere tijd af te dekken.
Verzekering voor fysieke schade (momenteel alleen beschikbaar in de VS) in het geval van een gedekt ongeval dat schade aan de machine veroorzaakt.
De mogelijkheid om een ​​oplader naast de lease te financieren met een eenmalige maandelijkse betaling. De oplader wordt gekocht, niet geleasd, maar gefinancierd binnen dezelfde voorwaarden en tarieven als het complete pakket. Als u zich bijvoorbeeld aanmeldt voor een huurovereenkomst van 48 maanden, heeft u de mogelijkheid om uw oplader ook in 48 maandelijkse betalingen te betalen. En omdat het gebundeld is, betaalt u slechts één betaling per maand aan VFS.
Bespaar geld op de bundel elektrische compactmachines. Dit kan tot 15% minder zijn op de maandelijkse betaling dan het afzonderlijk aanschaffen van artikelen, afhankelijk van het dealerbedrijf - en is alleen beschikbaar via de all-inclusive lease.
Een ander voordeel is dat de leasepakketten worden geleverd met een vereenvoudigde optie voor vroegtijdige beëindiging na 24 maanden.
Aan de slag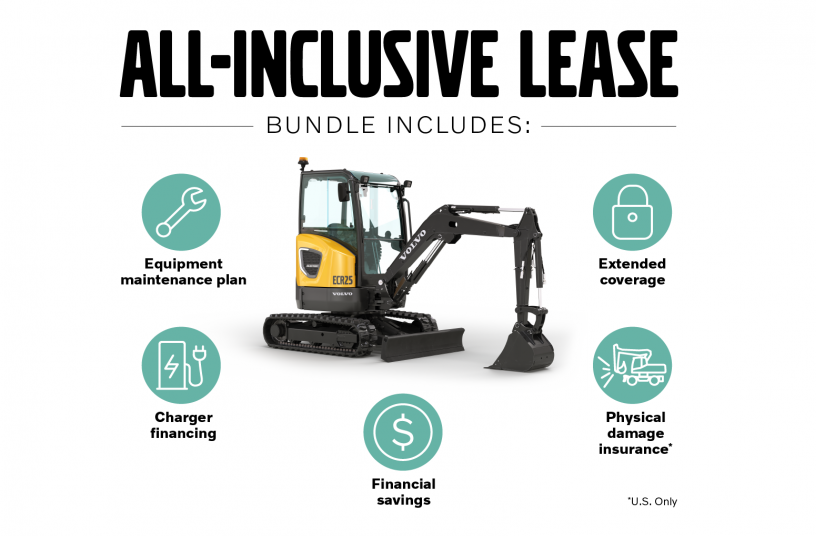 Om financieringsopties te verkennen, kunnen klanten de Volvo elektrische machinesite bezoeken, het model selecteren waarin ze geïnteresseerd zijn en de tool "bouwen en offerte" gebruiken om het model naar hun behoeften te configureren. Als ze de financieringstoepassing in de tool selecteren, volgt een dealer hen op. Klanten kunnen ook contact opnemen met hun plaatselijke Volvo-dealer voor een offerte.
NJC.© Info Volvo Construction Equipment
---------------------------------------------------------------------------------------------------------------------
Date de dernière mise à jour : 20/10/2022