Volvo CE upgraded L350H Wheel Loader focuses on Profitability
03/06/22-FR-English-NL-footer
La chargeuse sur pneus L350H mise à niveau par Volvo CE met l'accent sur la rentabilité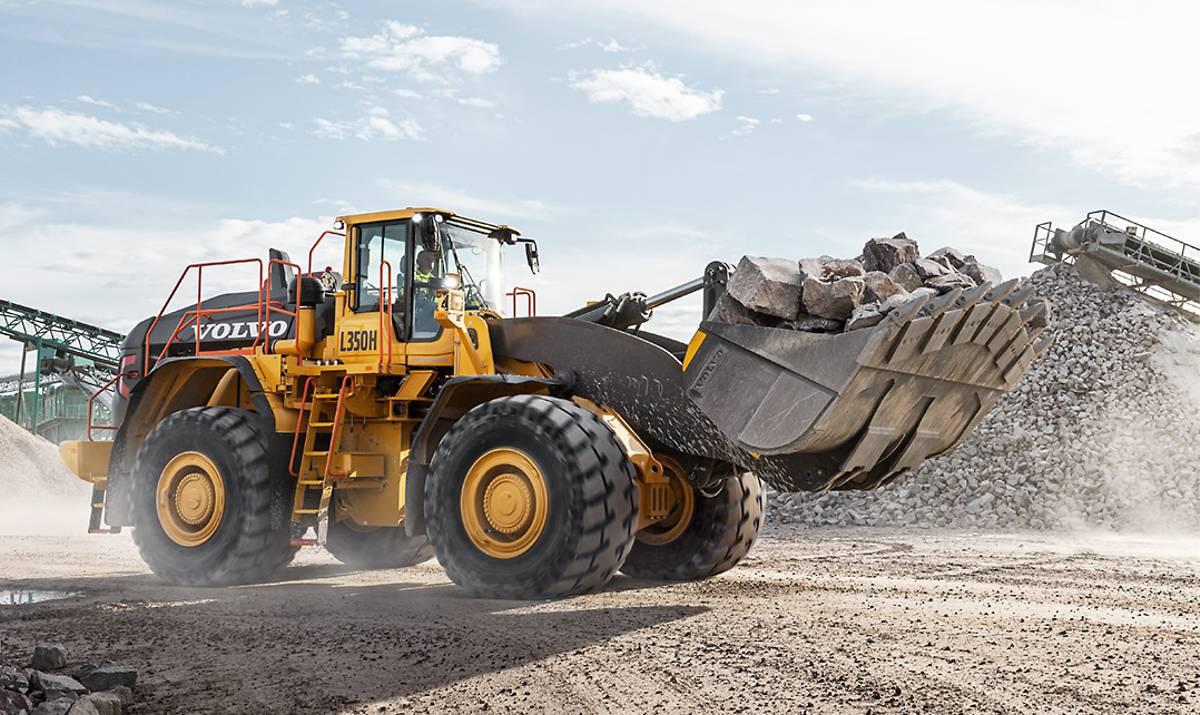 Conçue pour accomplir les travaux les plus difficiles, la chargeuse sur pneus L350H mise à niveau de Volvo Construction Equipment arrive après des décennies d'innovation, afin d'améliorer encore la rentabilité de l'exploitation des clients.
Doté d'une foule de mises à niveau, le L350H est prêt à s'attaquer à une gamme d'applications allant des mines et carrières aux infrastructures lourdes - mais maintenant avec une productivité et une efficacité énergétique accrues, le tout avec des coûts d'entretien réduits.
Fleuron de notre gamme de chargeuses sur pneus, la Volvo L350H est préparée en usine pour les applications lourdes grâce au bras de levage à barre en Z éprouvé avec double étanchéité sur chacune des broches et à la structure de châssis solide, qui est reliée par une charnière centrale supérieure renforcée et de nouveaux essieux Volvo. Qu'il s'agisse de chargement de grumes, de roches, de remaniement, de manutention de blocs ou de manutention de scories, Volvo CE dispose de l'ensemble spécialisé (de caractéristiques de la machine, de pneus et d'accessoires) nécessaire pour atteindre des performances maximales.
ÉVOLUTION DE L'EXCELLENCE
Cette mise à niveau robuste s'appuie sur le succès de ses prédécesseurs - un fier héritage qui remonte à la première chargeuse sur pneus L320 en 1985 - avec quelques améliorations notables. Un système hydraulique plus réactif, avec de nouveaux vérins de levage et d'inclinaison, et une pression de travail hydraulique accrue permettent des cycles de travail 10 % plus rapides et une productivité accrue.
Parallèlement, la chaîne cinématique améliorée comprend de nouveaux essieux Volvo et une toute nouvelle transmission Volvo qui permet d'équiper de série l'OptiShift de troisième génération. Déjà présente sur les chargeuses sur pneus Volvo L110H-L260H, cette technologie éprouvée intègre la fonction marche arrière par freinage et la fonction de verrouillage dans la transmission pour augmenter le rendement énergétique jusqu'à 15 %. L'efficacité est encore améliorée par un rapport de changement de vitesse optimisé et le nouveau convertisseur, qui fournit des rendements plus élevés résultant en une force de traction jusqu'à 22 % supérieure en fonction du rapport sélectionné et de la vitesse de la machine.
La machine présente également une forme encore plus robuste grâce à un nouveau palier de charnière central supérieur plus robuste et à des cadres mis à jour pour accueillir les nouveaux essieux et la transmission.
UN PARTENAIRE DE PRODUCTIVITÉ
Les clients peuvent continuer à travailler avec le L350H mis à jour plus longtemps et réduire les coûts grâce à des intervalles d'entretien prolongés - doublés à 1 000 heures pour le moteur et à 4 000 heures pour une vidange d'huile d'essieu, rendues possibles par un refroidisseur d'huile d'essieu avec filtration de série.
De plus, les clients peuvent réduire davantage les temps d'arrêt de la machine et augmenter la durée de vie des composants grâce à des caractéristiques renommées, notamment des essieux renforcés avec des arbres entièrement flottants, une réduction de moyeu planétaire et des paliers de tourillon d'essieu arrière sans entretien.
La connectivité télématique et les fonctionnalités établies, telles que la suite d'applications Load Assist accessible depuis l'écran Volvo Co-Pilot en cabine, améliorent encore l'efficacité et la disponibilité. À commencer par le système de surveillance de la pression des pneus en option qui permet de vérifier la pression et la température des pneus depuis le confort de la cabine et, ce faisant, contribue à prolonger la durée de vie des pneus et à économiser du carburant.
Les clients peuvent éliminer les surcharges, les sous-charges et les temps d'attente grâce à l'application On-Board Weighing, qui fournit un aperçu en temps réel de la charge du godet et de la charge utile du récepteur de charge. L'application Operator Coaching Advanced aidera les clients à utiliser le L350H à son plein potentiel. Il fournit des informations et des conseils en temps réel aux opérateurs, les aidant à travailler d'une manière qui offre une productivité et une efficacité énergétique optimales, ainsi qu'une usure réduite de la machine.
En outre, un portefeuille de services Volvo complémentaires - y compris le rapport de productivité, la formation EcoOperator et ActiveCare - fournit également des informations précieuses sur les moyens de réduire le coût par tonne et d'apporter des changements significatifs à la façon dont la machine est utilisée.
CONFORT GARANTI
Le L350H mis à niveau offre la même expérience inégalée à l'opérateur avec un confort, une commodité et une sécurité de qualité supérieure pour aider les opérateurs à obtenir des résultats optimaux. En plus de son ouverture de porte télécommandée, de sa climatisation et de son système de direction secondaire de série, il offre également une visibilité exceptionnelle complétée par les rétroviseurs chauffants à réglage électrique en option, ainsi que la caméra de recul et le système de détection de radar.
Les opérateurs peuvent configurer la machine en fonction de la tâche avec un choix de trois modes hydrauliques, un engagement de verrouillage personnalisable et un contrôle de l'effort à la jante, tandis que la fonction de nivellement du godet remet automatiquement le godet à niveau, à partir des positions de vidage et de recourbement, ce qui contribue à réduire la fatigue de l'opérateur.
Quelle que soit l'application dans laquelle ils se trouvent, la centrale électrique à usage intensif est prête à l'action - offrant un coût total de possession inférieur pour des performances plus rentables, en tant que version la plus innovante et la plus raffinée du Volvo L350 à ce jour.
NJC.© Infos Volvo Construction Equipment
----------------------------------------------------------------------------------------------------------------------
03/06/22-English
Volvo CE upgraded L350H Wheel Loader focuses on Profitability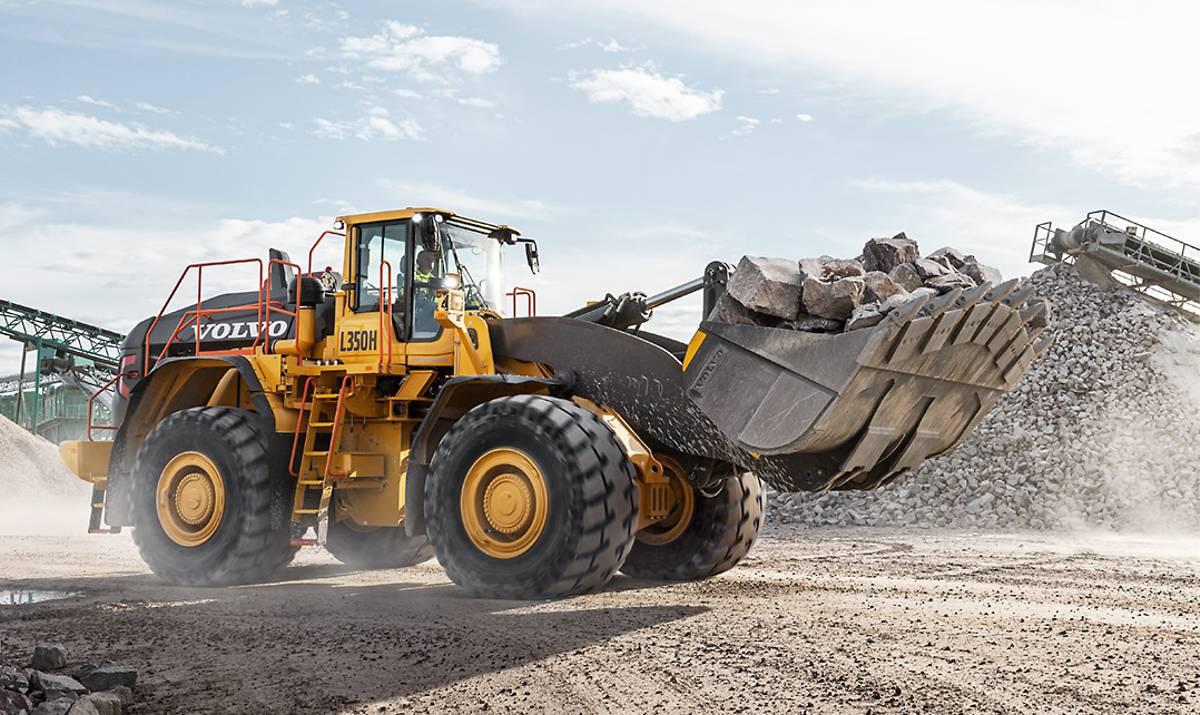 Built to take on the toughest of jobs, the upgraded L350H wheel loader from Volvo Construction Equipment arrives on the back of decades of innovation –to further enhance the profitability of customers' operation.
Complete with a host of upgrades, the L350H is ready to tackle a range of applications from mining and quarrying to heavy infrastructure – but now with greater productivity and fuel efficiency, all with lower service costs.
The flagship of our wheel loader range, the Volvo L350H comes prepared for heavy-duty applications as standard from the factory thanks to the proven Z-bar lifting arm with double sealing on each of the pins, and strong frame structure, which is joined by a reinforced upper centre hinge and new Volvo axles. Whether it be log loading, rock loading, rehandling, block handling or slag handling, Volvo CE has the specialized package (of machine features, tires & attachments) needed to achieve maximum performance.
EVOLUTION OF EXCELLENCE
This heavy-duty upgrade is built on the success of its forerunners – a proud heritage which dates back to the first L320 wheel loader in 1985 – with a few notable improvements. A more responsive hydraulics system, featuring new lift and tilt cylinders, and an increased hydraulic working pressure allows for 10% faster work cycles and higher productivity.
Meanwhile, the upgraded driveline features new Volvo axles and an all-new Volvo transmission which enables the third generation OptiShift to be equipped as standard. Already found on Volvo L110H-L260H Wheel Loaders, this proven technology integrates the Reverse by Braking function and the lock up function in transmission to boost fuel efficiency by up to 15%. Efficiency is further enhanced by an optimized gear shifting ratio and the new converter, which delivers higher outputs resulting in up to 22% more tractive force depending on selected gear and machine speed.
The machine also boasts an even tougher form thanks to a new, more robust upper centre hinge bearing and updated frames to accommodate the new axles and transmission.
A PARTNER IN PRODUCTIVITY
Customers can keep working with the updated L350H for longer and reduce costs thanks to extended service intervals – doubled to 1,000 hours for the engine and to 4,000 hours for an axle oil change, made possible by an axle oil cooler with filtration fitted as standard.
In addition customers can further minimize machine downtime and increase component life with renowned features including heavy-duty axles with fully floating shafts, planetary hub reduction and maintenance-free rear axle trunnion bearings.
Telematics connectivity and established features, such as the Load Assist suite of apps accessed from the in-cab Volvo Co-Pilot display, further improve efficiency and uptime. Starting with the optional Tire Pressure Monitoring System which enables the pressure and temperature of tires to be checked from the comfort of the cab and in doing so helps extend tire life and save fuel.
Customers can make overloading, underloading and waiting times a thing of the past with the On-Board Weighing app, providing real-time insight into the load of the bucket and payload of the load receiver. The Operator Coaching Advanced app will support customers in using the L350H to its full potential. It provides real-time information and guidance to operators, helping them to work in a way which delivers optimum productivity and fuel efficiency, as well as reduced machine wear.
Furthermore, a portfolio of complementary Volvo Services – including Productivity Report, EcoOperator training and ActiveCare –also provide valuable insights into ways to lower cost per ton and make impactful changes to the way the machine is run.
COMFORT GUARANTEED
The upgraded L350H provides the same unrivalled operator experience with top quality comfort, convenience and safety to help operators achieve optimum results. As well as its standard remote-controlled door opening, air-conditioning and secondary steering system, there is also outstanding visibility complemented by the optional electrically adjusted heated rear-view mirrors, along with the rear-view camera and radar detect system.
Operators can configure the machine according to the job with a choice of three hydraulic modes, customizable lockup engagement and rimpull control, while the bucket levelling function automatically returns the bucket to level, from both dump and curl positions, helping to reduce operator fatigue.
Whatever application they are in, the heavy-duty powerhouse is ready for action – delivering a lower total cost of ownership for a more profitable performance, as the most innovative and refined version of the Volvo L350 yet.
NJC.© Info Volvo Construction Equipment
--------------------------------------------------------------------------------------------------------------------
03/06/22-NL
Volvo CE geüpgradede L350H wiellader focust op winstgevendheid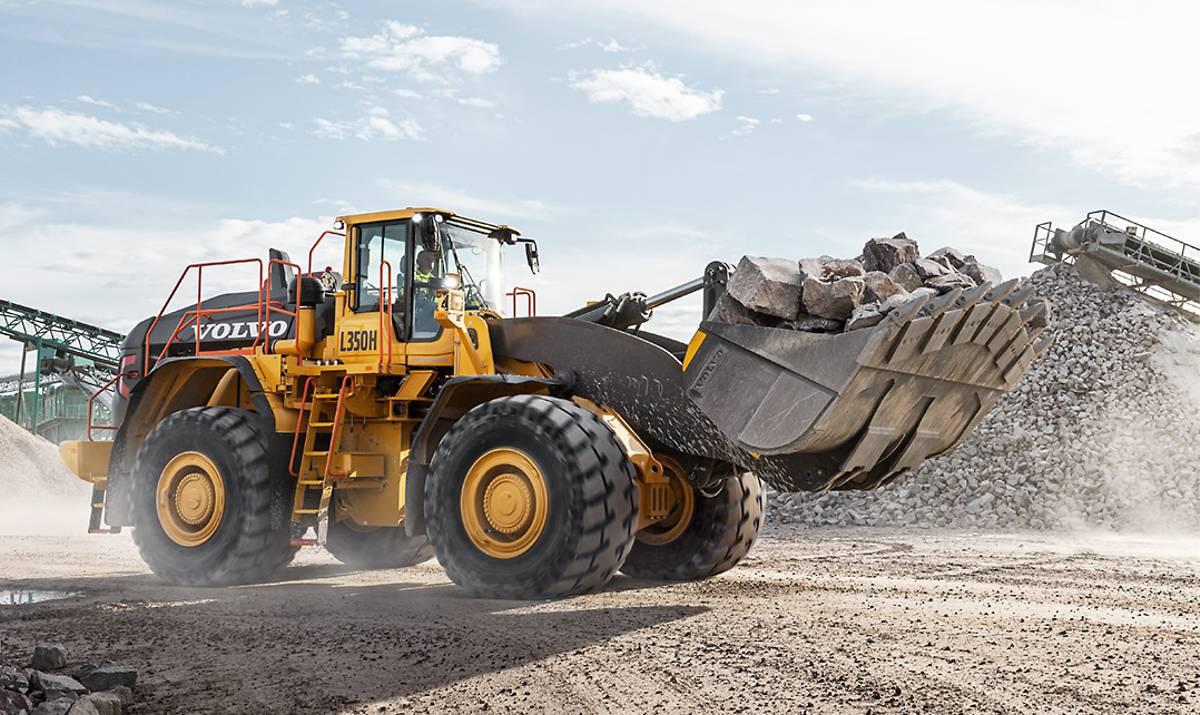 De geüpgradede L350H-wiellader van Volvo Construction Equipment is gebouwd om de zwaarste klussen aan te kunnen en is gebaseerd op tientallen jaren van innovatie om de winstgevendheid van de activiteiten van klanten verder te verbeteren.
Compleet met een groot aantal upgrades, is de L350H klaar om een ​​reeks toepassingen aan te pakken, van mijnbouw en steengroeven tot zware infrastructuur, maar nu met een hogere productiviteit en brandstofefficiëntie, allemaal met lagere servicekosten.
Het vlaggenschip van ons assortiment wielladers, de Volvo L350H, wordt standaard af fabriek voorbereid voor zware toepassingen dankzij de beproefde hefarm met Z-stang met dubbele afdichting op elk van de pennen en de sterke framestructuur, die is verbonden door een verstevigd middenscharnier bovenaan en nieuwe Volvo-assen. Of het nu gaat om het laden van houtblokken, het laden van stenen, overslag, blokbehandeling of slakkenbehandeling, Volvo CE heeft het gespecialiseerde pakket (van machinefuncties, banden en hulpstukken) dat nodig is om maximale prestaties te bereiken.
EVOLUTIE VAN UITMUNTENDHEID
Deze heavy-duty upgrade is gebouwd op het succes van zijn voorlopers - een trotse erfenis die teruggaat tot de eerste L320 wiellader in 1985 - met een paar opmerkelijke verbeteringen. Een beter reagerend hydraulisch systeem met nieuwe hef- en kantelcilinders en een verhoogde hydraulische werkdruk zorgen voor 10% snellere werkcycli en een hogere productiviteit.
Ondertussen is de verbeterde aandrijflijn voorzien van nieuwe Volvo-assen en een geheel nieuwe Volvo-transmissie waarmee de derde generatie OptiShift als standaard kan worden uitgerust. Deze beproefde technologie, die al te vinden is op Volvo L110H-L260H wielladers, integreert de Reverse by Braking-functie en de lock-upfunctie in de transmissie om het brandstofverbruik tot 15% te verhogen. De efficiëntie wordt verder verbeterd door een geoptimaliseerde schakelverhouding en de nieuwe converter, die een hoger vermogen levert, wat resulteert in tot 22% meer trekkracht, afhankelijk van de geselecteerde versnelling en machinesnelheid.
De machine heeft ook een nog sterkere vorm dankzij een nieuw, robuuster middenscharnierlager en bijgewerkte frames voor de nieuwe assen en transmissie.
EEN PARTNER IN PRODUCTIVITEIT
Klanten kunnen langer blijven werken met de vernieuwde L350H en de kosten verlagen dankzij langere onderhoudsintervallen – verdubbeld tot 1.000 uur voor de motor en tot 4.000 uur voor een asolieverversing, mogelijk gemaakt door een asoliekoeler met standaard filtratie.
Bovendien kunnen klanten de uitvaltijd van de machine verder minimaliseren en de levensduur van componenten verlengen met bekende kenmerken, waaronder heavy-duty assen met volledig zwevende assen, planetaire naafreductie en onderhoudsvrije taplagers op de achteras.
Telematicaconnectiviteit en gevestigde functies, zoals de Load Assist-suite met apps die toegankelijk zijn via het Volvo Co-Pilot-display in de cabine, zorgen voor een verdere verbetering van de efficiëntie en uptime. Te beginnen met het optionele bandenspanningscontrolesysteem waarmee de druk en temperatuur van de banden vanuit het comfort van de cabine kunnen worden gecontroleerd, waardoor de levensduur van de banden wordt verlengd en brandstof wordt bespaard.
Met de On-Board Weighing-app behoren overbelasting, onderbelasting en wachttijden tot het verleden, waardoor realtime inzicht wordt verkregen in de lading van de bak en het laadvermogen van de ladingontvanger. De Operator Coaching Advanced-app ondersteunt klanten bij het optimaal benutten van de L350H. Het biedt machinisten in realtime informatie en begeleiding, zodat ze kunnen werken op een manier die een optimale productiviteit en brandstofefficiëntie oplevert, evenals verminderde machineslijtage.
Bovendien biedt een portfolio van aanvullende Volvo-services – waaronder Productivity Report, EcoOperator-training en ActiveCare – ook waardevolle inzichten in manieren om de kosten per ton te verlagen en ingrijpende wijzigingen aan te brengen in de manier waarop de machine wordt gebruikt.
GEGARANDEERD COMFORT
De verbeterde L350H biedt dezelfde ongeëvenaarde ervaring voor de machinist met comfort, gemak en veiligheid van topkwaliteit om machinisten te helpen optimale resultaten te behalen. Naast de standaard op afstand bedienbare deuropening, airconditioning en hulpstuurinrichting, is er ook een uitstekend zicht, aangevuld met de optionele elektrisch verstelbare verwarmde achteruitkijkspiegels, samen met de achteruitkijkcamera en het radardetectiesysteem.
Machinisten kunnen de machine afhankelijk van de taak configureren met een keuze uit drie hydraulische modi, aanpasbare vergrendeling en trekkrachtregeling, terwijl de baknivelleringsfunctie de bak automatisch weer waterpas zet, zowel vanuit de dump- als de krulpositie, waardoor de machinist minder vermoeid raakt.
In welke toepassing ze zich ook bevinden, de heavy-duty krachtpatser is klaar voor actie – met lagere totale eigendomskosten voor meer winstgevende prestaties, als de meest innovatieve en verfijnde versie van de Volvo L350 tot nu toe.
NJC.© Info Volvo Construction Equipment
-----------------------------------------------------------------------------------------------------------------