Volvo Construction Equipment helps customers see the big picture with Connected Map
10/05/22-FR-English-NL-footer
Volvo Construction Equipment aide ses clients à avoir une vue d'ensemble avec Connected Map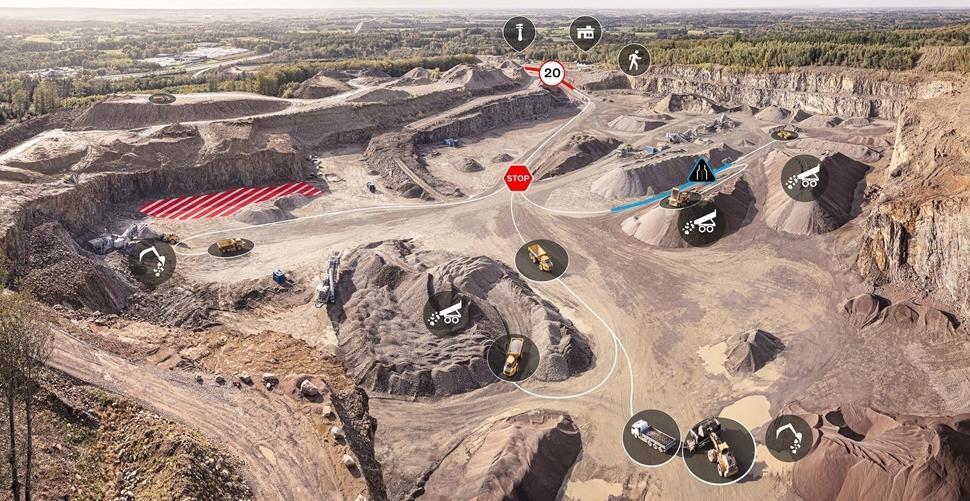 Volvo Construction Equipment a dévoilé sa solution Connected Map, un service de localisation qui fournit une vue d'ensemble du site pour toutes les machines - même celles qui ne sont pas des machines Volvo - et tous les véhicules sur un site, accessibles au personnel dans les machines (via Volvo Co-Pilot ou un appareil Android/iOS) ou au bureau (via la plate-forme web Office Portal).
Azadeh Fazl Mashhadi, du service d'offre de solutions aux propriétaires de sites chez Volvo CE, nous explique : « Avec Connected Map, les utilisateurs bénéficient d'une visibilité complète sur le site de travail. Elle leur donne en temps réel une vue d'ensemble de la position de chaque machine, de chaque véhicule et de chaque visiteur sur un site connecté à l'application, pour rendre leur activité plus efficace et plus productive. »
Azadeh Fazl Mashhadi poursuit : « Le gestionnaire du site a également une visibilité totale par l'intermédiaire de la page d'accueil, qui lui fournit à portée de main toutes les informations dont il a besoin pour optimiser les conditions du trafic afin d'atteindre une productivité maximale. De plus, l'augmentation de l'efficacité des opérations de transport permet aussi de réduire les temps de trajet, le mélange de matériaux, la consommation de carburant et les émissions. »
Comment le système fonctionne
Connected Map fonctionne en extrayant les données de localisation du système télématique de la machine ou des appareils Android/iOS avec carte SIM et les télécharge vers une plate-forme Volvo sur Internet. Qu'il s'agisse d'une machine Volvo, d'une machine d'une autre marque, d'un véhicule ou d'un visiteur temporaire du site, Connected Map affiche la position de toutes les unités sur le site disposant de l' application, soit via Volvo Co-Pilot, soit via un appareil Android/iOS.
Dans le cas des machines qui ne sont pas de marque Volvo mais qui sont régulièrement présentes sur le site, Volvo recommande d'équiper la machine d'un Co-Pilot générique/non Volvo, avec l'application Map. Il peut être acheté en tant qu'option après-vente auprès d'un concessionnaire Volvo ou, comme alternative, les opérateurs de machine non Volvo peuvent accéder à l'application Plan du site par l'intermédiaire d'un appareil Android/iOS avec une carte SIM. Les visiteurs temporaires du site peuvent accéder à l'application de la même manière, ce qui permet une familiarisation facile avec le site.
Connected Map permet de visualiser une série de fonctions et de points de repère typiques d'un site de travail, notamment les routes, pour aider les opérateurs à se déplacer sur le site, dans les zones de chargement, de déchargement, où une certaine vitesse est autorisée ainsi que dans les zones avec limitation. Les points d'intérêt comme les bureaux, les ateliers et les stations de ravitaillement en carburant peuvent aussi être visualisés, ce qui est particulièrement efficace pour les nouveaux opérateurs ou les chauffeurs temporaires. Des sections à voie unique (route étroite) peuvent être définies, ce qui permet d'avertir l'opérateur si une autre machine s'approche sur cette voie et contribue donc à éviter les embouteillages.
Des avantages considérables
Pour les gestionnaires de site, la page d'accueil facilite la gestion de sites plus grands et offre même la possibilité de gérer simultanément plusieurs sites. Non seulement la page d'accueil donne une vue d'ensemble visuelle de toutes les machines, de tous les opérateurs et des visiteurs temporaires sur le site, mais il permet aussi au gestionnaire du site de réagir aux conditions prévalant sur le site. Le gestionnaire de site peut introduire des mesures comme un trafic à sens unique ou des zones avec limitations, puis communiquer ces changements à tous les utilisateurs en un instant, ce qui contribue à améliorer la prise de conscience, à réduire les accidents et à augmenter la productivité.
Les utilisateurs de Connected Map peuvent aussi rester au courant de la localisation de leurs machines, grâce à la fonction de recherche de Connected Map, qui recherche et trouve des utilisateurs ou des machines en temps réel, avec la dernière position de la machine visible pendant 30 jours.
Loin du bureau, Connected Map permet à l'opérateur de se rendre plus facilement avec le site et de savoir où se trouve chacun - y compris les visiteurs - ce qui contribue à rendre ses activités plus simples, plus sûres et moins stressantes.
L'application Site Map est disponible gratuitement dans l'App Store et sur Google Play. Pour commencer à utiliser Connected Map et la page d'accueil, les clients doivent contacter leur concessionnaire Volvo.
NJC.© Infos VOLVO CE www.volvoce.com
-----------------------------------------------------------------------------------------------------------------------
10/05/22-English
Volvo Construction Equipment helps customers see the big picture with Connected Map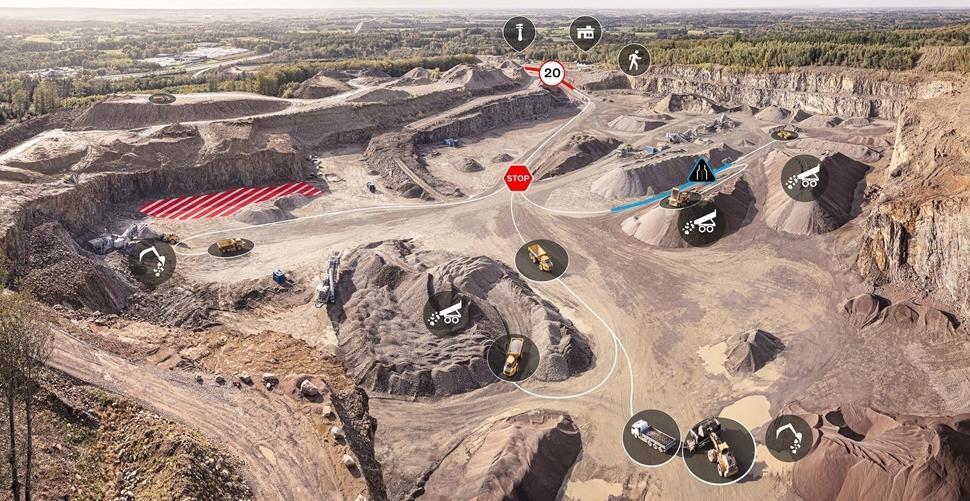 Volvo Construction Equipment has unveiled its Connected Map solution, a locator service that provides an overview of the site for all machines - even those that are not Volvo machines - and all vehicles on a site, accessible to personnel in machines (via Volvo Co-Pilot or an Android/iOS device) or in the office (via the Office Portal web platform).
Azadeh Fazl Mashhadi, from Site Owner Solutions at Volvo CE, explains: "With Connected Map, users have full visibility of the job site. It gives them a real-time overview of the position of each machine, each vehicle and each visitor on a site connected to the application, to make their activity more efficient and more productive. »
Azadeh Fazl Mashhadi continues: "The site manager also has total visibility through the home page, which provides him at his fingertips with all the information he needs to optimize traffic conditions in order to reach maximum productivity. In addition, increasing the efficiency of transport operations also reduces travel times, material mixing, fuel consumption and emissions. »
How the system works
Connected Map works by extracting location data from the machine's telematics system or Android/iOS devices with SIM card and uploads it to a Volvo platform on the internet. Whether it's a Volvo machine, a non-Volvo machine, a vehicle or a temporary site visitor, Connected Map displays the position of all on-site units that have the app, either via Volvo Co-Pilot or via an Android/iOS device.
In the case of non-Volvo branded machines which are regularly present on site, Volvo recommends fitting the machine with a generic/non-Volvo Co-Pilot, with the Map app. It can be purchased as an aftermarket option from a Volvo dealer or, alternatively, non-Volvo machine operators can access the Site Map app via an Android/iOS device with a SIM card. Temporary site visitors can access the application in the same way, allowing easy familiarization with the site.
Connected Map visualizes a series of typical job site features and landmarks, including roads, to help operators navigate the site, loading, unloading areas, where a certain speed is allowed as well as in restricted areas. Points of interest such as offices, workshops and refueling stations can also be viewed, which is particularly effective for new operators or temporary drivers. Single lane sections (narrow road) can be defined, which warns the operator if another machine is approaching in that lane and therefore helps to avoid traffic jams.
Considerable advantages
For site managers, the home page makes it easier to manage larger sites and even offers the ability to manage multiple sites simultaneously. Not only does the home page provide a visual overview of all machines, operators and temporary visitors to the site, but it also allows the site manager to react to conditions prevailing on site. The site manager can introduce measures like one-way traffic or restricted areas, then communicate these changes to all users in an instant, helping to improve awareness, reduce accidents and increase safety. productivity.
Connected Map users can also stay up to date with the location of their machines, thanks to the Connected Map search function, which searches and finds users or machines in real time, with the last machine position visible for 30 days.
Away from the office, Connected Map makes it easier for the operator to familiarize themselves with the site and know where everyone is - including visitors - which helps to make their activities simpler, safer and less stressful.
The Site Map app is available for free in the App Store and Google Play. To start using Connected Map and the homepage, customers should contact their Volvo dealer.
NJC.© VOLVO CE Info www.volvoce.com
---------------------------------------------------------------------------------------------------------------
10/05/22-NL
Volvo Construction Equipment helpt klanten het grote geheel te zien met Connected Map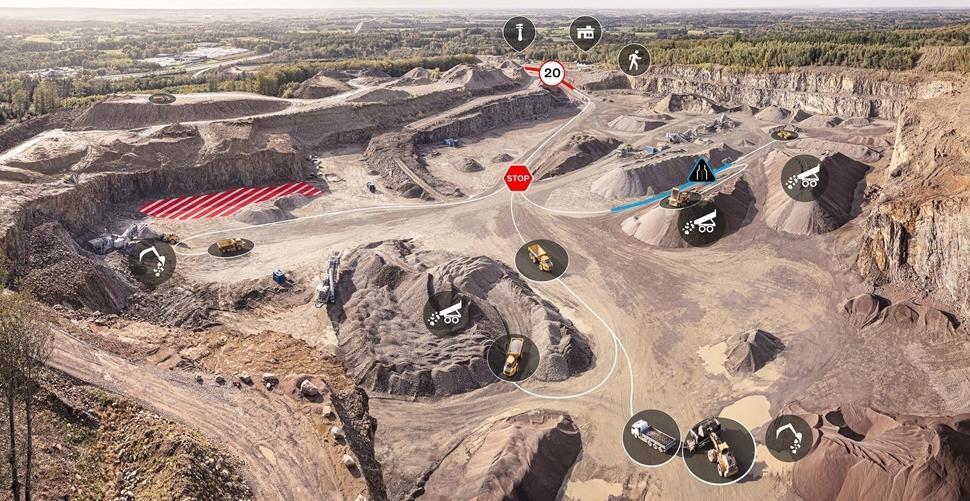 Volvo Construction Equipment heeft zijn Connected Map-oplossing onthuld, een lokalisatieservice die een overzicht geeft van de site voor alle machines - zelfs die geen Volvo-machines zijn - en alle voertuigen op een site, toegankelijk voor personeel in machines (via Volvo Co-Pilot of een Android/iOS-apparaat) of op kantoor (via het Office Portal webplatform).
Azadeh Fazl Mashhadi, Site Owner Solutions bij Volvo CE, legt uit: "Met Connected Map hebben gebruikers volledig zicht op het werkterrein. Het geeft hen een realtime overzicht van de positie van elke machine, elk voertuig en elke bezoeker op een site die verbonden is met de applicatie, om hun activiteit efficiënter en productiever te maken. »
Azadeh Fazl Mashhadi vervolgt: "De sitemanager heeft ook volledige zichtbaarheid via de startpagina, waardoor hij alle informatie binnen handbereik heeft die hij nodig heeft om de verkeersomstandigheden te optimaliseren om maximale productiviteit te bereiken. Door de efficiëntie van transportactiviteiten te vergroten, worden bovendien reistijden, materiaalvermenging, brandstofverbruik en emissies verminderd. »
Hoe het systeem werkt
Connected Map werkt door locatiegegevens te extraheren uit het telematicasysteem van de machine of Android/iOS-apparaten met simkaart en deze te uploaden naar een Volvo-platform op internet. Of het nu een Volvo-machine, een niet-Volvo-machine, een voertuig of een tijdelijke sitebezoeker is, Connected Map toont de positie van alle on-site units die de app hebben, via Volvo Co-Pilot of via een Android/iOS-apparaat.
In het geval van machines die niet van het Volvo-merk zijn, maar die regelmatig ter plaatse aanwezig zijn, raadt Volvo aan om de machine uit te rusten met een generieke/niet-Volvo Co-Pilot, met de kaarttoepassing. Het kan als aftermarket-optie worden gekocht bij een Volvo-dealer of, als alternatief, niet-Volvo-machinebeheerders hebben toegang tot de Site Map-app via een Android/iOS-apparaat met een simkaart. Tijdelijke sitebezoekers hebben op dezelfde manier toegang tot de applicatie, waardoor ze gemakkelijk vertrouwd raken met de site.
Connected Map visualiseert een reeks typische kenmerken en oriëntatiepunten van het werkterrein, waaronder wegen, om operators te helpen bij het navigeren op het terrein, in laad- en losgebieden, waar een bepaalde snelheid is toegestaan ​​en in gebieden met beperkte toegang. Bezienswaardigheden zoals kantoren, werkplaatsen en tankstations kunnen ook worden bekeken, wat vooral effectief is voor nieuwe operators of tijdelijke chauffeurs. Er kunnen secties met één rijstrook (smalle weg) worden gedefinieerd, die de machinist waarschuwen als een andere machine in die rijstrook nadert en zo files helpen vermijden.
Aanzienlijke voordelen
Voor sitebeheerders maakt de startpagina het gemakkelijker om grotere sites te beheren en biedt het zelfs de mogelijkheid om meerdere sites tegelijk te beheren. De homepage geeft niet alleen een visueel overzicht van alle machines, operators en tijdelijke bezoekers van de site, maar stelt de sitemanager ook in staat om te reageren op de omstandigheden die op de site heersen. De sitemanager kan maatregelen invoeren zoals eenrichtingsverkeer of beperkte gebieden en deze wijzigingen vervolgens in een oogwenk aan alle gebruikers doorgeven, waardoor het bewustzijn wordt verbeterd, ongevallen worden verminderd en de veiligheid wordt verhoogd.
Connected Map-gebruikers kunnen ook op de hoogte blijven van de locatie van hun machines, dankzij de Connected Map-zoekfunctie, die gebruikers of machines in realtime zoekt en vindt, waarbij de laatste machinepositie 30 dagen zichtbaar is.
Buiten het kantoor maakt Connected Map het voor de operator gemakkelijker om vertrouwd te raken met de site en te weten waar iedereen is - inclusief bezoekers - wat helpt om hun activiteiten eenvoudiger, veiliger en minder stressvol te maken.
De Site Map-app is gratis beschikbaar in de App Store en Google Play. Om Connected Map en de homepage te gaan gebruiken, moeten klanten contact opnemen met hun Volvo-dealer.
NJC.© VOLVO CE-info www.volvoce.com
------------------------------------------------------------------------------------------------------------------------