Volvo Construction Equipment Launches EC300E Straight Boom Crawler Excavator

28/02/23-FR-English-NL-footer
Volvo Construction Equipment lance la pelle sur chenilles à flèche droite EC300E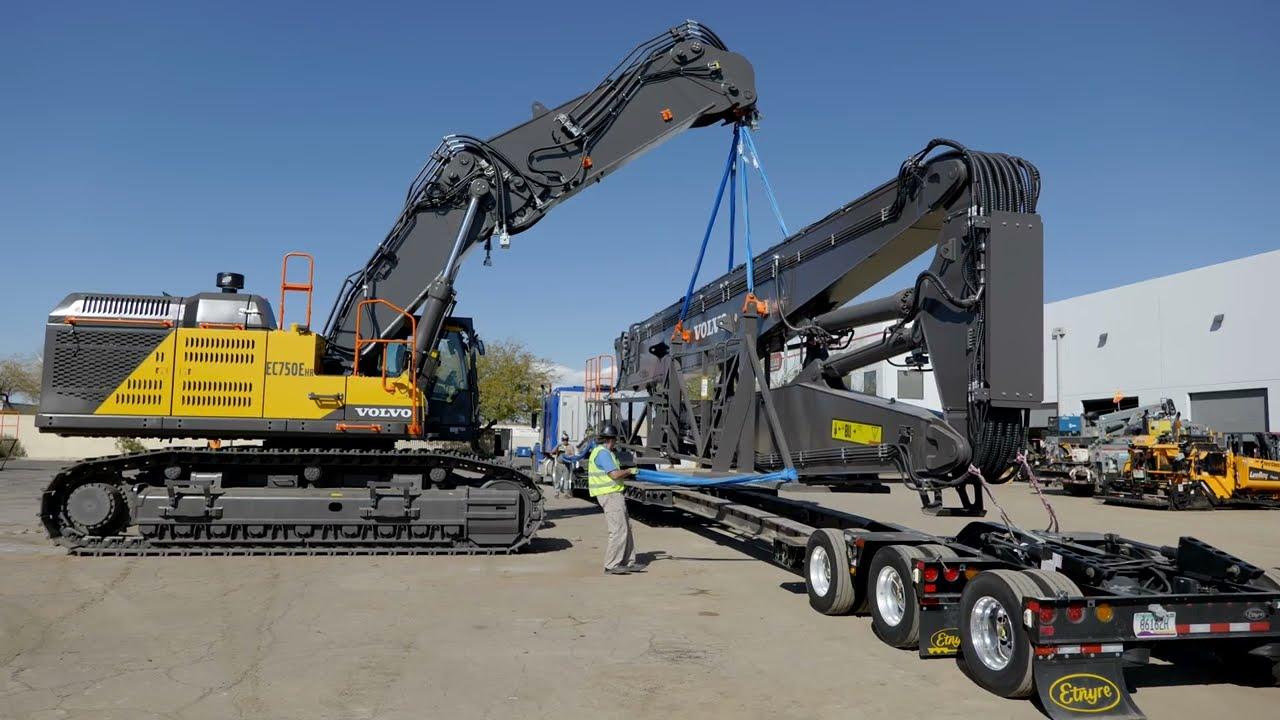 Image- Volvo Construction Equipment Launches EC300E Straight Boom Crawler Excavator
La société a également annoncé une première fonctionnalité dans l'industrie appelée Mode de levage pour flèche de démolition multiple qui permet à une excavatrice de démolition à grande portée de servir de support sûr pour le levage des composants de la machine d'une remorque au sol, ajoutant de la polyvalence à ces machines spécialisées.
« Pouvoir offrir aux clients une autre taille de pelle à flèche droite est passionnant, et le lancement au salon NDA semblait idéal », a déclaré Tony den Hoed, directeur des grands comptes, équipement de démolition chez Volvo CE. "Le segment de la démolition est en constante évolution, et nous sommes fiers de suivre le rythme en proposant des produits et des solutions qui assureront la sécurité et la productivité des opérateurs."
Flèche droite EC300E
La pelle sur chenilles EC300E Straight Boom rejoint le modèle EC380E Straight Boom dans la gamme de démolition Volvo CE. Plutôt que l'approche traditionnelle à flèche et bras des excavatrices axées sur l'excavation, cette chenille est équipée d'une flèche droite de 23 pieds de long et d'un bras spécialement conçu.
La flèche droite extra-longue de l'EC300E offre des avantages significatifs en termes de hauteur et de portée par rapport à la machine standard sur laquelle elle est basée. La cabine est protégée contre les chutes de débris grâce à une protection contre les chutes d'objets montée sur le châssis tout en offrant une vue dégagée sur le chantier.
La fenêtre de toit et la vitre avant monobloc sont en P5A, qui résiste aux chocs violents.
La flèche droite EC300E est dotée d'un cadre renforcé en tôle d'acier robuste avec protection à tête de boulon. Il y a aussi une protection d'infiltration robuste, un protège-ventre et un protège-chenille complet. Un couvercle de couronne d'orientation et des portes latérales robustes avec écrans et volets offrent une protection supplémentaire. Volvo CE a également ajouté une protection sur les vérins de godet et de flèche.
La flèche droite EC300E est livrée avec plusieurs fonctionnalités standard qui sont précieuses dans les applications de démolition. Il s'agit notamment de la tuyauterie auxiliaire X1 et X3, d'un raccord rapide et d'une conduite de vidange d'huile, ainsi que de conduites d'eau connectées à un système de suppression de poussière pouvant fonctionner en mode automatique ou manuel. Un contrepoids lourd assure l'équilibre et est facilement amovible pour le transport.
Une gamme complète de services Volvo est disponible avec cette machine, y compris des programmes d'entretien et des pièces d'origine Volvo du réseau de concessionnaires Volvo dédié. Les plans peuvent inclure des inspections d'usure de routine, des analyses d'huile, des accords de service complet et la formation des opérateurs.
Mode de levage
Le nouveau mode de levage pour la flèche de démolition multiple, spécialement conçu pour les excavatrices à grande portée Volvo, offre une flexibilité améliorée, des émissions réduites et un coût total de possession inférieur. Il peut être monté en usine sur n'importe laquelle des trois pelles à grande portée de l'entreprise : l'EC380E HR, l'EC480E HR et l'EC750E HR, chacune étant déjà compatible avec diverses extensions et flèches pour réaliser une large gamme d'applications.
Ce mode peut simplifier le transport de l'équipement vers les chantiers, car il permet à la pelle hydraulique de soulever en toute sécurité des composants tels que des berceaux et des flèches d'excavation ou à grande portée de la remorque au sol, auquel cas ils peuvent être installés en toute sécurité sur la machine.
"Le coût total de possession est réduit en éliminant le besoin d'une grue mobile ou d'une deuxième pelle, et la flexibilité est accrue grâce aux gains de temps", a déclaré den Hoed. "Les émissions sont également réduites en raison du nombre réduit de véhicules sur le site."
La solution consiste en un logiciel machine spécialement conçu pour le levage contrôlé d'équipements, ainsi que des avertissements visuels à l'extérieur de la cabine pour avertir les passants qu'un processus de levage est en cours. Le logiciel contrôle également la pression hydraulique et la vitesse du moteur, assurant une sécurité optimale tout au long de la machine.
Ce mode de levage comprend un accessoire de levage certifié, conçu pour s'adapter à la conception de joint modulaire brevetée de la flèche de démolition multiple et peut facilement être connecté à l'axe inférieur de la flèche. Lorsque tous les composants sont déchargés en toute sécurité, il est facile de passer à la flèche à grande portée ou à creuser grâce à ce joint hydraulique modulaire.
NJC.© Info volvoce.com/united-states/en-us/products/high-reach-demolition-equipment/.
----------------------------------------------------------------------------------------------------------------

28/02/23-English
Volvo Construction Equipment Launches EC300E Straight Boom Crawler Excavator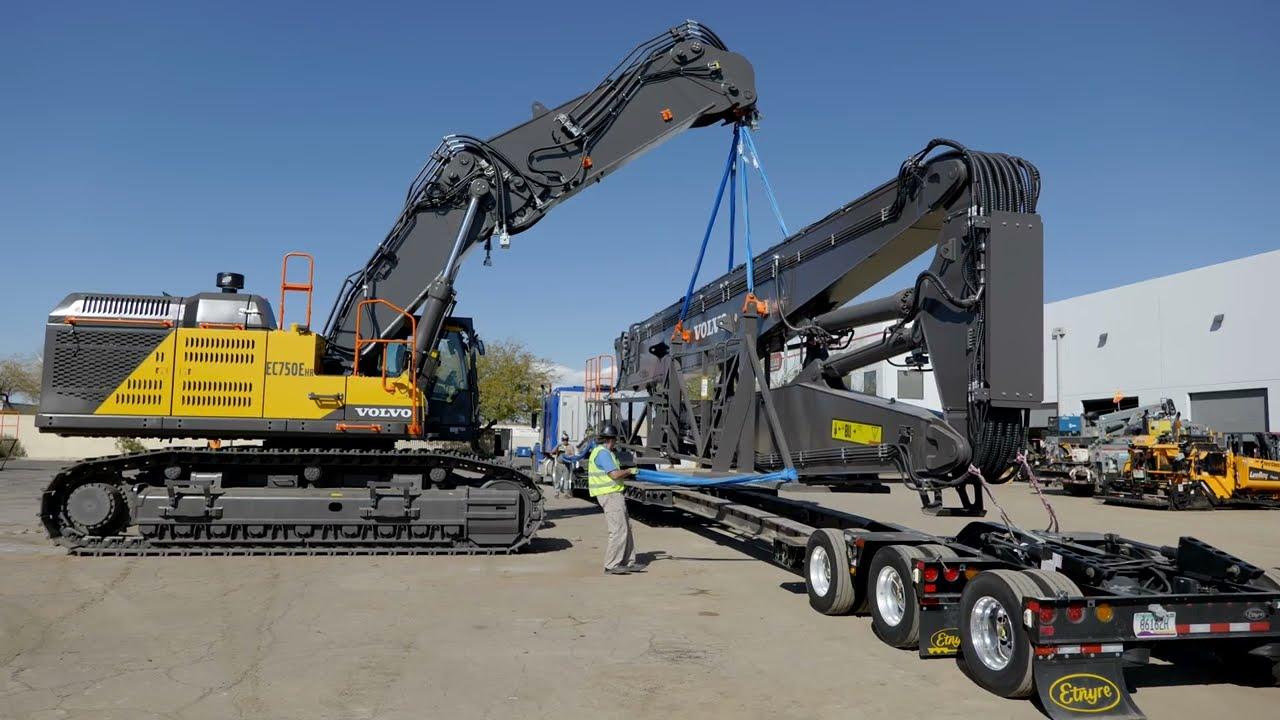 Image- Volvo Construction Equipment Launches EC300E Straight Boom Crawler Excavator
The company also announced an industry-first feature called Lifting Mode for Multi Demolition Boom that allows a high-reach demolition excavator to serve as a safe carrier for the lifting of machine components from a trailer to the ground, adding versatility to these specialized machines.
"Being able to offer customers another size of straight boom excavator is exciting, and launching at the NDA show felt ideal," said Tony den Hoed, key account director, demolition equipment at Volvo CE. "The demolition segment is ever-changing, and we are proud to keep up with it by offering products and solutions that will keep operators safe and productive."
EC300E Straight Boom
The EC300E Straight Boom crawler excavator joins the EC380E Straight Boom model in the Volvo CE demolition lineup. Rather than the traditional boom-and-stick approach of digging-biased excavators, this crawler is fitted with a 23-ft.-long straight boom and purpose-built arm.
The extra-long straight boom on the EC300E provides significant height and reach advantages over the standard machine it is based on. The cab is protected against falling debris with a frame mounted Falling Objects Guard while still providing clear views of the work site.
The roof window and front one-piece glass are made from P5A, which is resistant to high impact.
The EC300E Straight Boom has a reinforced frame made of heavy-duty plate steel with bolt-head protection. There also is heavy-duty undercover protection, a belly guard and a full track guard. A slew ring cover and heavy-duty side doors with screens and shutters offer added protection. Volvo CE also has added protection on the bucket and boom cylinders.
The EC300E Straight Boom comes with several standard features that are valuable in demolition applications. These include X1 and X3 auxiliary piping, a quick fit and oil drain line, and water lines that are connected to a dust suppression system that can work in either auto or manual mode. A heavy counterweight provides balance and is easily removable for transportation.
A comprehensive range of Volvo Services are available with this machine, including service plans and Genuine Volvo Parts from Volvo's dedicated dealer network. Plans can include routine wear inspections, oil analysis, full-service agreements and operator training.
Lifting Mode
The new Lifting Mode for Multi Demolition Boom — specifically designed for Volvo high-reach excavators — offers improved flexibility, reduced emissions and lower total cost of ownership. It can be factory-fitted to any of the company's three high-reach excavators: the EC380E HR, the EC480E HR and the EC750E HR, each of which is already compatible with various extensions and booms to carry out a wide range of applications.
This mode can simplify transporting equipment to job sites because it allows the excavator to safely lift components such as cradles and digging or high reach booms from the trailer to the ground, at which point they can be safely installed on the machine.
"Total cost of ownership is reduced by eliminating the need for a mobile crane or second excavator, and flexibility is increased thanks to the time savings," den Hoed said. "Emissions are also reduced due to fewer vehicles being on site."
The solution consists of machine software specifically designed for the controlled lifting of equipment, as well as visual warnings outside the cab to warn bystanders that a lifting process is underway. The software also controls hydraulic pressure and engine speed, ensuring optimum safety throughout.
This lifting mode includes a certified lifting accessory, designed to fit the patented modular joint design from the multi demolition boom and can easily be connected to the lower pin of the boom. When all components are safely unloaded, switching to the high reach or digging boom is easy, due to that modular hydraulic joint.
NJC.© Info volvoce.com/united-states/en-us/products/high-reach-demolition-equipment/.
----------------------------------------------------------------------------------------------------------------

28/02/23-NL
Volvo Construction Equipment lanceert EC300E rupsgraafmachine met rechte giek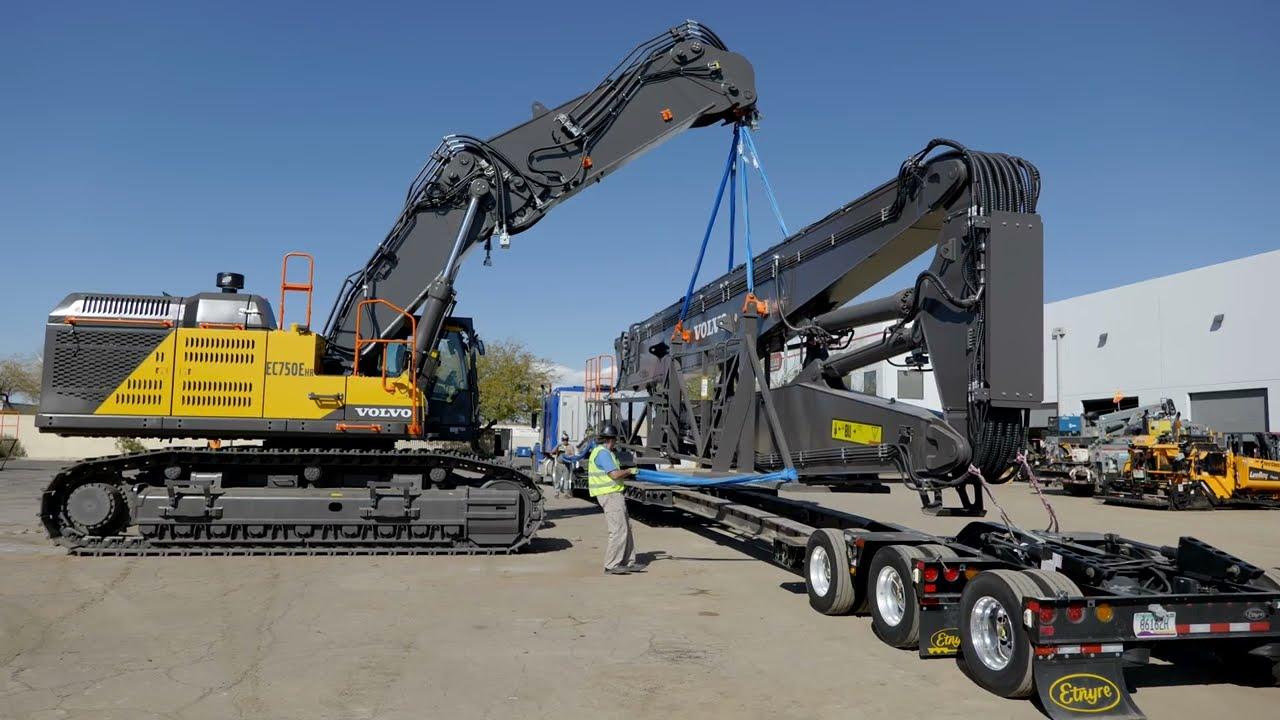 Image- Volvo Construction Equipment Launches EC300E Straight Boom Crawler Excavator
Het bedrijf kondigde ook een primeur in de branche aan, genaamd Lifting Mode for Multi Demolition Boom, waarmee een high-reach sloopgraafmachine kan dienen als een veilige drager voor het heffen van machineonderdelen van een aanhangwagen naar de grond, waardoor deze gespecialiseerde machines veelzijdiger worden.
"Het is opwindend om klanten een ander formaat graafmachine met rechte giek aan te kunnen bieden, en de lancering op de NDA-show voelde ideaal", zegt Tony den Hoed, key account director, sloopmaterieel bij Volvo CE. "Het sloopsegment verandert continu, en we zijn er trots op dat we daarin bij kunnen blijven door producten en oplossingen aan te bieden die operators veilig en productief houden."
EC300E rechte giek
De EC300E-rupsgraafmachine met rechte giek voegt zich bij het EC380E-model met rechte giek in de sloopserie van Volvo CE. In plaats van de traditionele giek-en-stickbenadering van graafmachines met vooringenomenheid, is deze rups uitgerust met een 7 meter lange rechte giek en een speciaal gebouwde arm.
De extra lange rechte giek op de EC300E biedt aanzienlijke hoogte- en reikwijdtevoordelen ten opzichte van de standaardmachine waarop hij is gebaseerd. De cabine is beschermd tegen vallend puin met een op het frame gemonteerde bescherming tegen vallende voorwerpen, terwijl er nog steeds vrij zicht op de werklocatie is.
Het dakraam en het voorste glas uit één stuk zijn gemaakt van P5A, dat bestand is tegen hoge schokken.
De EC300E rechte giek heeft een versterkt frame van zwaar plaatstaal met boutkopbescherming. Er is ook een zware undercoverbescherming, een buikbeschermer en een volledige baanbeschermer. Een draaikransafdekking en zware zijdeuren met horren en luiken bieden extra bescherming. Volvo CE heeft ook extra bescherming op de bak- en giekcilinders.
De EC300E rechte giek wordt geleverd met verschillende standaardfuncties die waardevol zijn bij slooptoepassingen. Deze omvatten X1- en X3-hulpleidingen, een snelkoppeling en olieaftapleiding en waterleidingen die zijn aangesloten op een stofonderdrukkingssysteem dat zowel in automatische als in handmatige modus kan werken. Een zwaar contragewicht zorgt voor balans en is gemakkelijk te verwijderen voor transport.
Bij deze machine is een uitgebreide reeks Volvo-services beschikbaar, inclusief onderhoudsplannen en originele Volvo-onderdelen van Volvo's toegewijde dealernetwerk. Plannen kunnen bestaan uit routinematige slijtage-inspecties, olieanalyse, full-serviceovereenkomsten en training van machinisten.
Hijsmodus
De nieuwe hefmodus voor multi-sloopgiek — speciaal ontworpen voor Volvo-graafmachines met een hoog bereik — biedt verbeterde flexibiliteit, lagere emissies en lagere totale eigendomskosten. Het kan in de fabriek worden gemonteerd op elk van de drie high-reach graafmachines van het bedrijf: de EC380E HR, de EC480E HR en de EC750E HR, die elk al compatibel zijn met verschillende uitschuifdelen en gieken voor een breed scala aan toepassingen.
Deze modus kan het transporteren van apparatuur naar werklocaties vereenvoudigen, omdat de graafmachine hierdoor veilig onderdelen zoals onderstellen en graafarmen of hoge gieken van de aanhanger naar de grond kan tillen, waarna ze veilig op de machine kunnen worden geïnstalleerd.
"De totale eigendomskosten worden verlaagd doordat er geen mobiele kraan of tweede graafmachine meer nodig is, en de flexibiliteit wordt vergroot dankzij de tijdsbesparing", aldus den Hoed. "Emissies worden ook verminderd doordat er minder voertuigen ter plaatse zijn."
De oplossing bestaat uit machinesoftware die speciaal is ontworpen voor het gecontroleerd heffen van apparatuur, evenals visuele waarschuwingen buiten de cabine om omstanders te waarschuwen dat er een hijsproces aan de gang is. De software regelt ook de hydraulische druk en het motortoerental, waardoor overal optimale veiligheid wordt gegarandeerd.
Deze hefmodus omvat een gecertificeerd hefaccessoire, ontworpen om te passen in het gepatenteerde modulaire verbindingsontwerp van de multi-sloopgiek en kan eenvoudig worden aangesloten op de onderste pen van de giek. Wanneer alle componenten veilig zijn gelost, is het eenvoudig om te schakelen naar de high reach- of graafgiek dankzij die modulaire hydraulische koppeling.
NJC.© Info volvoce.com/united-states/en-us/products/high-reach-demolition-equipment/.
---------------------------------------------------------------------------------------------------------------